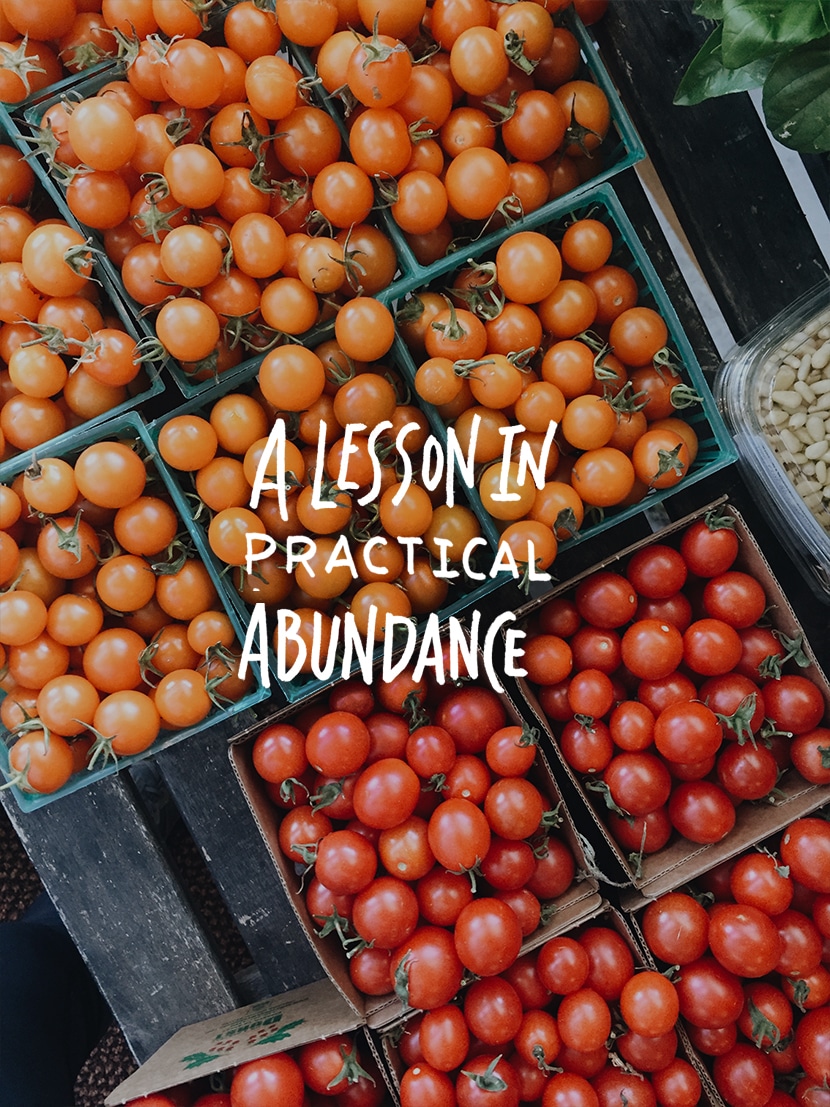 I am so excited to have Roe Cummings from Brown Kids on the blog today. Roe and her partner E have pursued a life of living on less but finding abundance, beauty, and joy. She is sharing some of their story with us and about how we can make the most of the abundance of the season and what we can learn from it. If you do not follow her on Instagram I suggest you do so ASAP. She radiates and it is so uplifting to follow her every day. Enjoy this amazing recipe and story from her! 
The Deep Wisdom in Making Your Own (Sauce)

Tomato. Turmeric. And how I came to plenty.
I wish I could tell you I had a grandmother who'd gingerly walked me through the art of my kitchen. My grandmother wasn't nice. She'd bark at my mom and me when we'd come visit her past 7:00 pm and she'd shove jam preserves on us that eventually molded in our cabinets. Sauce-making and canning? Nah Bruh. I'm good.
But when I swept away those bad associations last year to make and bottle goods for my own cupboards, I realized I'd had it all wrong:
Sauce-making was (a) not hard, (b) not expensive, (c) not time-consuming, and (4) not kitsch. Turning to the season for our provision, I needed a way to pad our very lean food budget but didn't want to give us Rickets just because we were trying to make a dollar out of 15 cents.
I vaguely remembered a book passage somewhere in our collection that said you could make a shelf full of sauce with just a few ingredients to remix into your meals all year long. Not only was it cheaper than store options but, once you learned how, you'd be insulted to buy another jar from the grocery store again. This. I wanted. So, I started with a tomato, that beautiful, beefy, and vibrant fruit at the height of a Californian August.
By mid-summer, market vendors are practically giving them away and because a tomato base shows up in all kinds of cuisines around the world, I was coerced by price, versatility, and good looks. For only $5, I picked up a large bag of overripe heirlooms the colors of jade and lemon and rust and persimmon. After 2 hours at home, I would soon realize I was not finding a practical solution to a financial famine, I was tapping into a deeper wisdom of what my grandmother knew and my mother forgot:
The season is always bringing us something to take care of ourselves right now. And it's my heritage as a human being to collect the bounty and feed my loved ones on abundance for the rest of the year.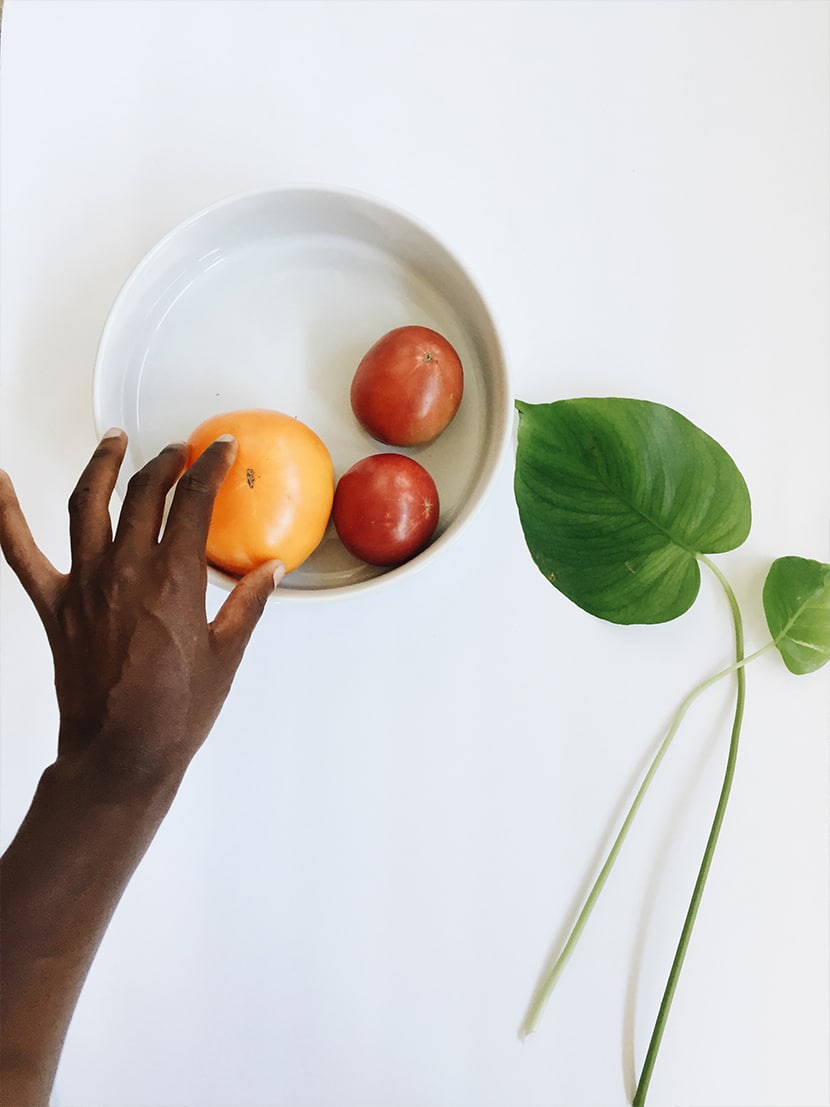 Why we were watching our money
My life partner E and I live on less than what the government would call the poverty line; but if you hung out with us right now, you'd be hard pressed to find how on earth that could be true.
A few years ago, tears streamed down my face at a negative checking account balance and social media pictures of friends sunning themselves on the beaches of Seychelles. My thoughts had a sharp edge to them: "I'm doing something wrong here."
How were they traveling and the two of us couldn't keep the electricity on?
Why did it look like they could do everything they wanted and we'd have buyers remorse after going to the movies?
Sitting there on the couch, I closed the computer and I took a deep breath. I'd had enough. We were going to figure this thing out if we had to give up everything we knew to do it. It launched us on a rocket path to transfiguring our entire lives from scarcity thinking to abundant living.
And it started that day in our kitchen.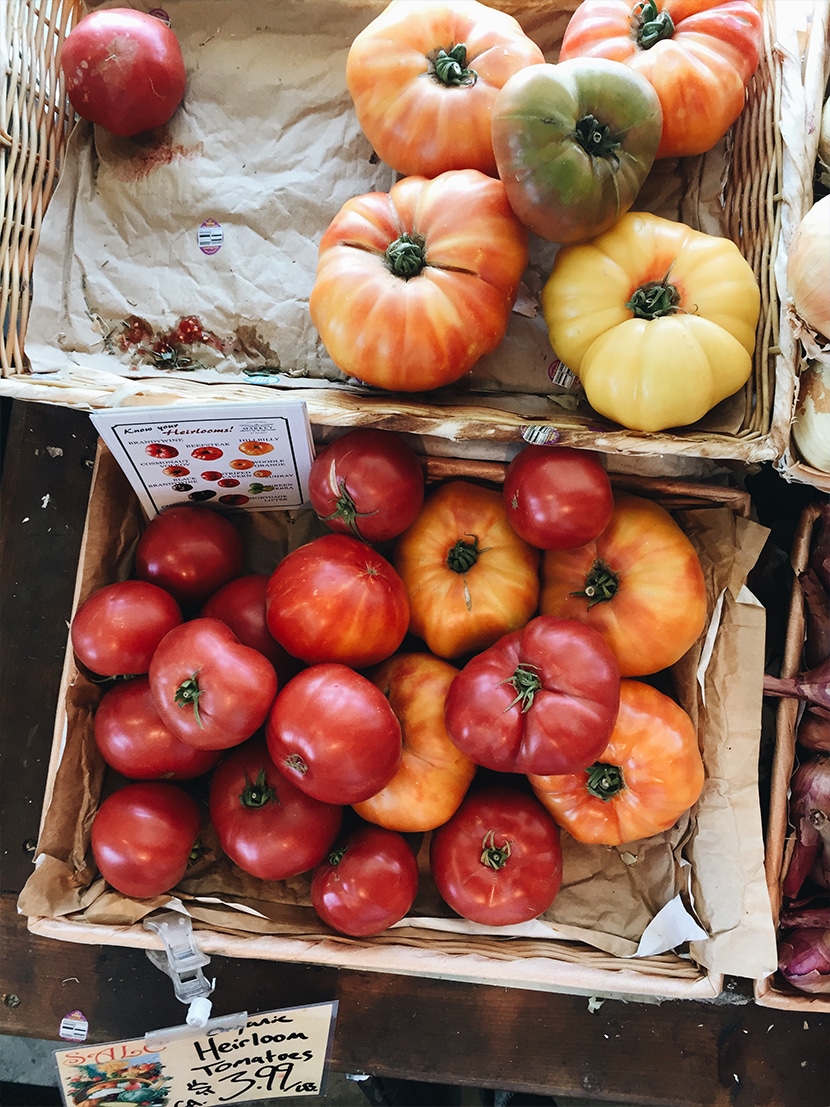 Gathering and making your sauce
This recipe was forged in the crucible of my tiny kitchen and what I had on hand due to the fact that, sure, I put a stake in the ground about turning our life around but we didn't have MORE money to do it (also, cheap junk food is cool an' all but, uh, we're 30 — that stuff starts short-circuiting neurons as we age, right?). Tomato, I bought, and turmeric, I had on hand, so they both ended up being the heart of this simple alchemy.
Why this sauce is great: packed with nutrition for mere a song. Turns out tomatoes are full of antioxidant lycopenes, Vitamin C, Vitamin K, and potassium, linked to preventing heart disease and cancer. Then there's turmeric, the wonder spice, an anti-inflammatory instrumental for healing everything from stiff joints to acne skin. Both together are a boon to your health. Aaaaand it smells great.
Jars of this can be used all year round. When it comes to our homes, it seems like we're always throwing something out but when we make and store our own foods, we see that nature provides for us always and the line between feast and famine obscures quickly if only we pay attention to the time of year we're in.
Cost to you: only your attention and gratitude.
Pick your tomatoes. Trick from a restaurateur I know: head to your local outdoor market and bring a notebook with you. Walk the stalls, making notes of who has the best priced fare. Look for color, shape, and firm texture. In mid-summer, look for bags of heirlooms or romans that are overripe and discounted. Just like ice cream and jam bases, these'll do.
Cooking your sauce. Dice up all your tomatoes, add your spices, and let it simmer in a heavy soup pot until it thickens. While you're at it, you can roast cherry tomatoes and feel like the ultimate kitchen badass. But (#notetoself) single-tasking is better for our minds.
Canning & Storing Away. Water bath canning is a shorter, lower-temperature canning process that is ideal for high-acid foods. Your tomatoes have a high degree of acidity for killing bacteria, so the water bath method is great. Fill clean jars with prepared food, apply the flat lid and the threaded ring to the jar, and submerge the filled jar in wide dutch oven of boiling water until sealed. Remove your hot jars with jar tongs. High acid foods preserved this way will pad your pantry shelves for at least a year.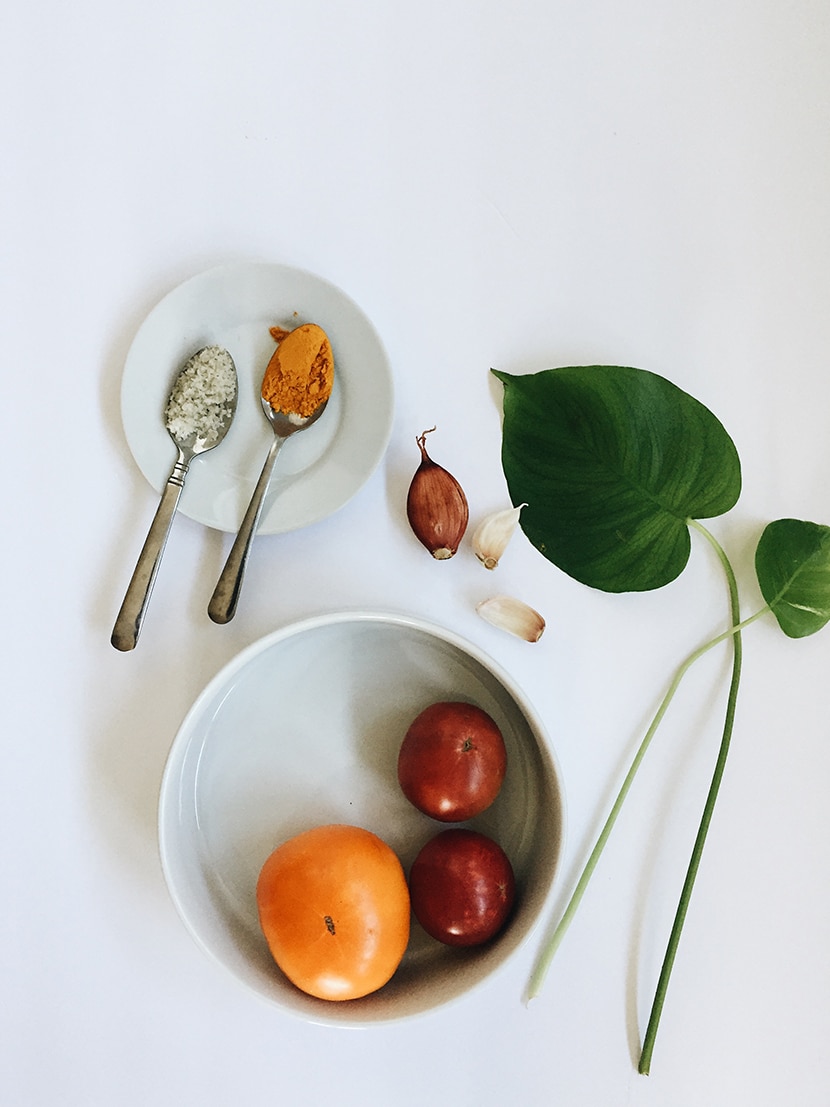 Recipe
*Bag of Heirloom Tomatoes, diced
2 tbsp olive oil
1 onion, chopped
1 bell pepper, chopped
1 tbs of ground turmeric
1 minced garlic clove
1 cup of water
*Sel Gris / Celtic Sea Salt / Pink Himalayan Salt
Active time: 10 minutes
Total Time: 20-25 minutes
Makes 3 pints
To Prepare Sauce:
1. Cook onion and bell pepper in olive oil at the bottom of a heavy pot until soft before adding garlic (approx 4 minutes), low-med heat
2. Add garlic and cook until fragrant for 30 seconds
3. Add diced tomatoes, a pinch of grey sea salt, then turmeric, and cook until soft (approx 10 min, regular stirring)
4. Add one cup of water and bring to a boil over med to low heat then turn heat down to a simmer. Cover pot and simmer for 5 minutes; taste by letting a spoonful of sauce cool adjust for seasoning (add more salt and other spices to liking!). Leave uncovered and blend if you want a thick sauce.
5. Fill jars and seal in a water bath. Store in your pantry and cabinets for fall stews, Indian foods, and Italian dishes. Alternative: Screw on Mason jar tops, label and date them, and then freeze. Pull it out the night before and add interest to any dish — it's an incredibly great lazy go-to!
*Quantities not exact because it's okay to flex your guesses about this stuff. You'll build intuition about the amounts you need like your ancestors did. 4-5 lbs will work fine.
*I use Celtic Gray Sea Salt in everything because it has essential trace nutrients that help transfer nutrition to our cells. This is unfortunately bleached out in table salt. Because each grain is so dense much less salt is needed for your dishes. The Four-Fold Path to Healing is an excellent resource on this.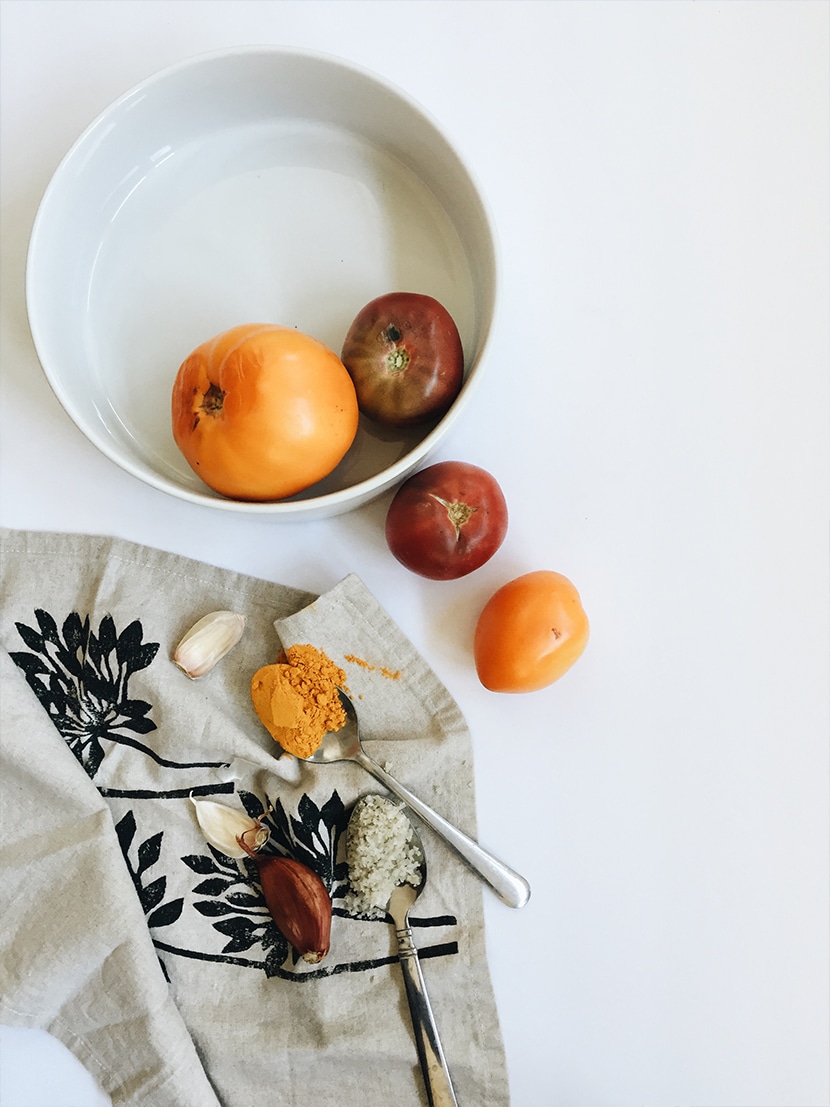 The sauce was a hit with E and I packed our shelves with all kinds of bases until the end of the year. Whenever I went to the store, I stared at the marinara section. $3.50+/jar. Crazy talk. Why, when we have an invitation to see what we can do with soil, sun, and water?
So, what did I learn about abundance in all this? I learned that abundance is not conceptual or philosophical or a place to get to. Abundance is here with us physically, practically, in the here and now — and is as easy to find as saying 'yes' to what's growing in the moment and 'no' to a steady diet of "not enough". Reality is not "making due with what we have" — that's scarcity thinking. It's about realizing how much we truly have and doing something about it. See the difference? So, how much we believe ourselves to have affects how much permission we give ourselves to live our lives.
I'd been thinking I didn't have a much when, in actuality, I had everything in the world. I could make satisfaction.
And I always can, if I'm paying attention.