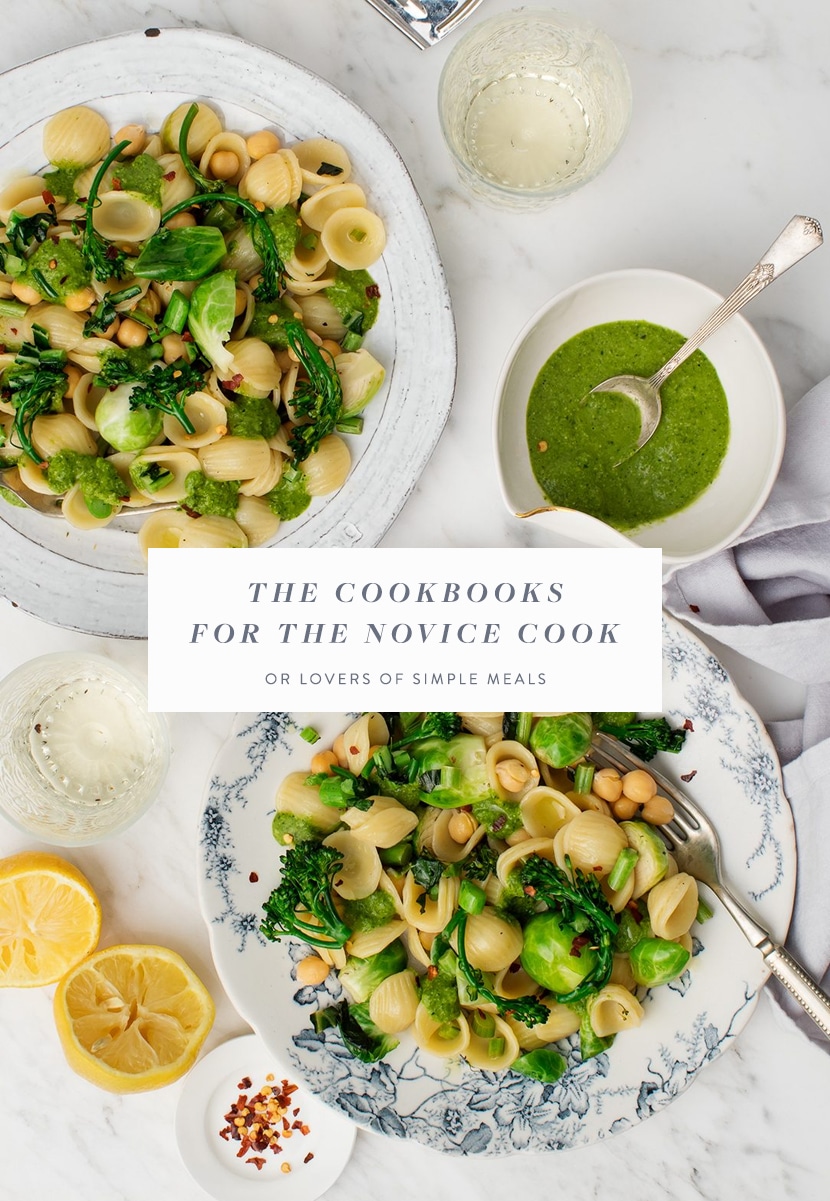 Image via: Love and Lemons Blog (her recipes are some of my favorites!)
I am just like all of you. When I first started cooking, I had no real idea what I was doing. I started out cooking with my dad and he taught me the ropes of cooking food and then my mom taught me to bake. Then I spent more time helping at family gatherings watching my grandmother feed the hoards of us at her house. I would pitch in on cutting cucumbers for salads and learn why this type of dressing and not that one. I grabbed on quickly and fell in love. Then when I started living on my own I would find great restaurants and learn flavors from what I saw on menus. Fast forward to being married and having our first rental, I grew a garden and all those years of cooking with family taught me how to combine flavors, save money, and stay simple. I knew how to make the most out of the carrots in my garden year-round to save money and how powerful a few chopped herbs are in something as simple as yogurt to dress a sandwich or tacos.
Since then, I have always been pursuing how to cook simply and back to the basics. So whether you are a novice cook just trying to feed yourself or the ones you love or just want a great simple meal to whip up with lots of fresh ingredients, these recipes will make it happen for you. I have flipped through or own all of these cookbooks myself (in fact a couple of these are friends of mine who are the authors) so I know just how amazing what is on these pages is. Even more, these cookbooks also have info on how to combine flavors and ingredients to just whip something up if you really struggle with that. I think you will find any of these will teach you something new, make you a better cook, and help you to cook healthy and well for those you love the most.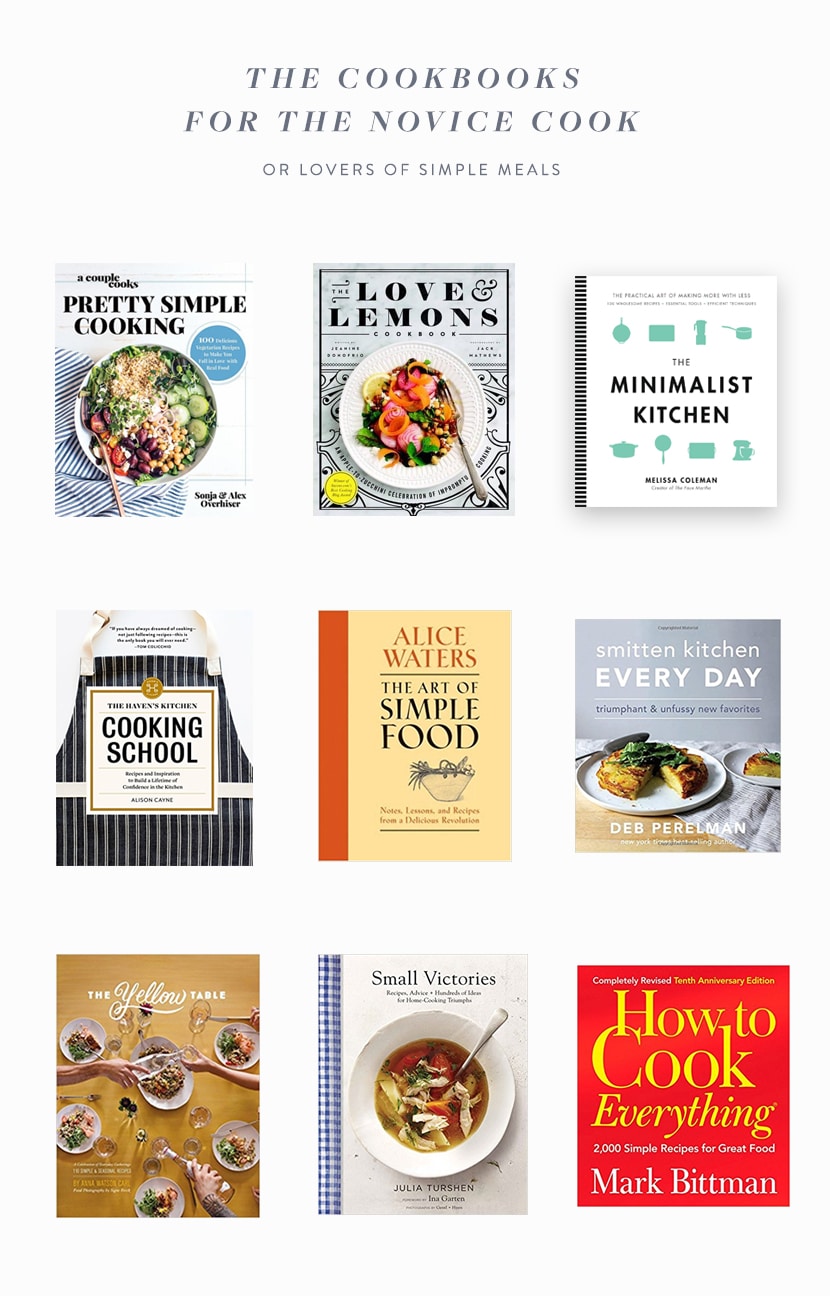 Pretty Simple Cooking by Sonja and Alex Overhiser:
I have known Sonja and Alex for a very long time and these two are just the sweetest couple. Watching them launch this book while adopting their son has been such a joy. This book is about their journey with cooking from not cooking to publishing a book. They have info about choosing dishes on time and simplicity. All of it is healthy and vegetarian to boot. The writing and inspiration are amazing, especially for those wanting to dive further into cooking.
Jeanine and I have known each other in the blogging world for probably over 5 years now. We have had breakfasts, met for drinks, etc. Now we are basically neighbors that she lives in Chicago and we cannot wait to catch up this summer, but I have to tell you that her cookbook whether we were friends or not would have a prominent place on my shelf no matter what. This book is the top gift I give new grads and for wedding gifts. It is beautiful and seasonal, and the recipes are so yummy and simple. It is the greatest book you can think of to have in your kitchen. Seriously. Just pick it up now…not to mention she has an awesome meal planner and she has another book on the horizon!
Melissa is another northern girl and she has always been a go-to for recipes for me. I love her personality and vow to minimalism in the kitchen. Her photography is beautiful and she is a talented designer, thus why this book is every minimalist designer's dream for cooking. Not to mention, you should follow her on Instagram because she is so fun and her house is beautiful!
This book doesn't just give you recipes but quite literally teaches you how to cook. From showing step-by-step how to cut something to how different cooking terms are used. This is a really wonderful gift for anyone who wants to really dive in cooking and wants visual and tangible examples of what it looks like in a beautiful and practical way. The recipes are also really wonderful and my book is currently covered in stains because we use it so often.
The mother of Farm-to-table's original book may be the most important cookbook for every home cook to have in their home. Alice is basically my hero and had the privilege to meet her and enjoy a meal with her. Basically the highlight of my year last year, but this book is one of the most important books to have in your kitchen. There aren't pretty photos of dishes or anything like most modern cookbooks, but her writing of recipes and how to source ingredients is so important. It will teach you to find confidence and simplicity in how you cook. It is a wonderful collection of simple classic recipes everyone loves.
Who doesn't love Smitten Kitchen? It is probably one of the most talked about food blogs amongst my friends and I have to agree that Deb knows how to really keep it simple and classic with amazing taste. This is great for the everyday cook who wants a little something elevated from the norm of what they eat each day.
I had the wonderful privilege to help Anna with her Kickstarter for this book and she really nailed it. If you are a newbie to cooking great simple meals for entertaining and pairing wines with them, this is the book for you! Anna is the whiz of blending professional chef style with everyday meals. You will learn so much from her and her beautiful view of cooking and gathering.
Julia is a massive talent in the food world. She has a beautiful way of creating simple dishes seem more than just every day. A wonderful resource especially for newer cooks this book takes all of Julia's years of knowledge and lets you have a piece of it on your shelf at home.
Not the most beautiful book, but if you ask nearly anyone what is the most helpful book in the kitchen I would say 1 out of 5 people would tell you this one. It is just that…how to cook everything. Every possible thing you could ever think about eating in one book and it will help you perfect all of your cooking skills.
So tell me, what are your favorite cookbooks as a newbie chef? Or better yet what books do you use for simple great meals at home every week? What are the ones that hold the prime spot on your shelf for easy pulling and are filled with stains? Those are the ones that are the most important on your shelf.