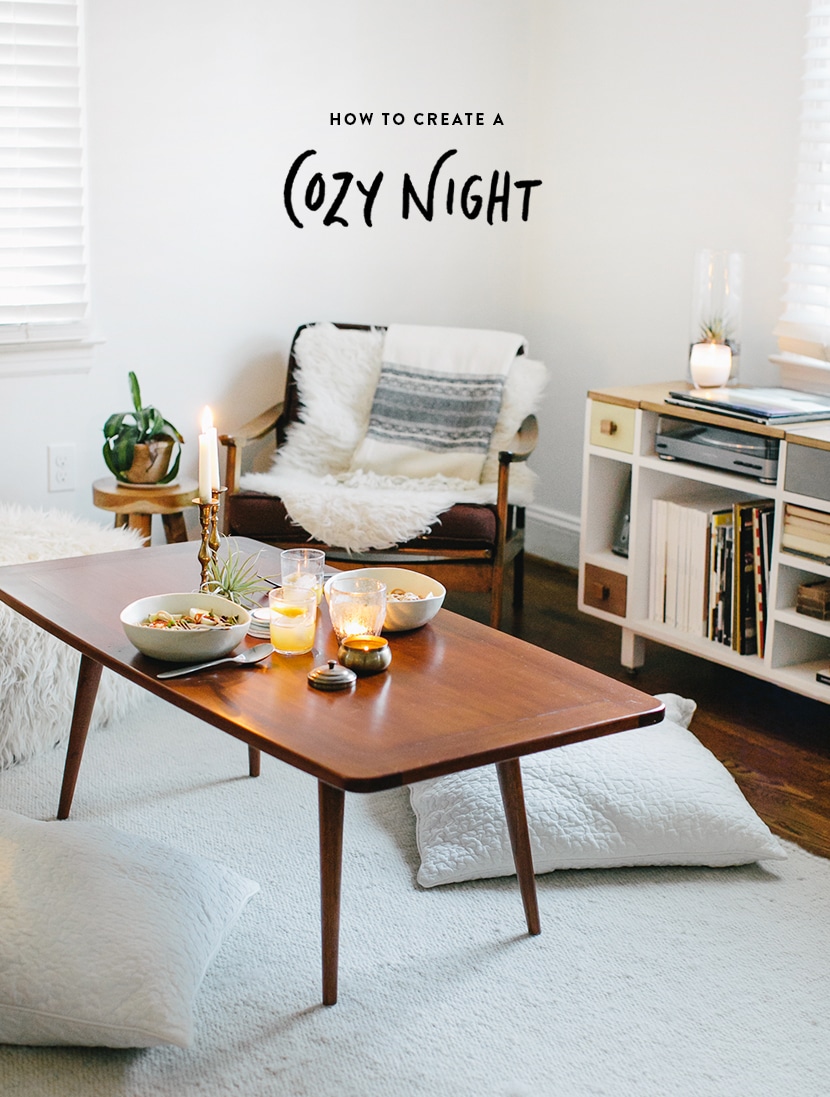 Mike and I are all about creating simple moments special. Most of our date nights are planned in the moment. We just aren't that into over the top date night plans. I am not a girl who has ever expected a bundle of roses or candies on Valentines day, which is perfect because V-day is also Mike's B-day. So for us, we try to make a point of creating dates throughout the year that are meaningful and purposeful. There are a lot of things to celebrate in life and we love to celebrate them as they happen. So, whether you celebrate Valentine's day or you simply are looking for a fresh date idea, I created a simple and easy way to have a special cozy night with your special someone. Yes, the recipe is included for the food and cocktails. Don't you worry I got you covered!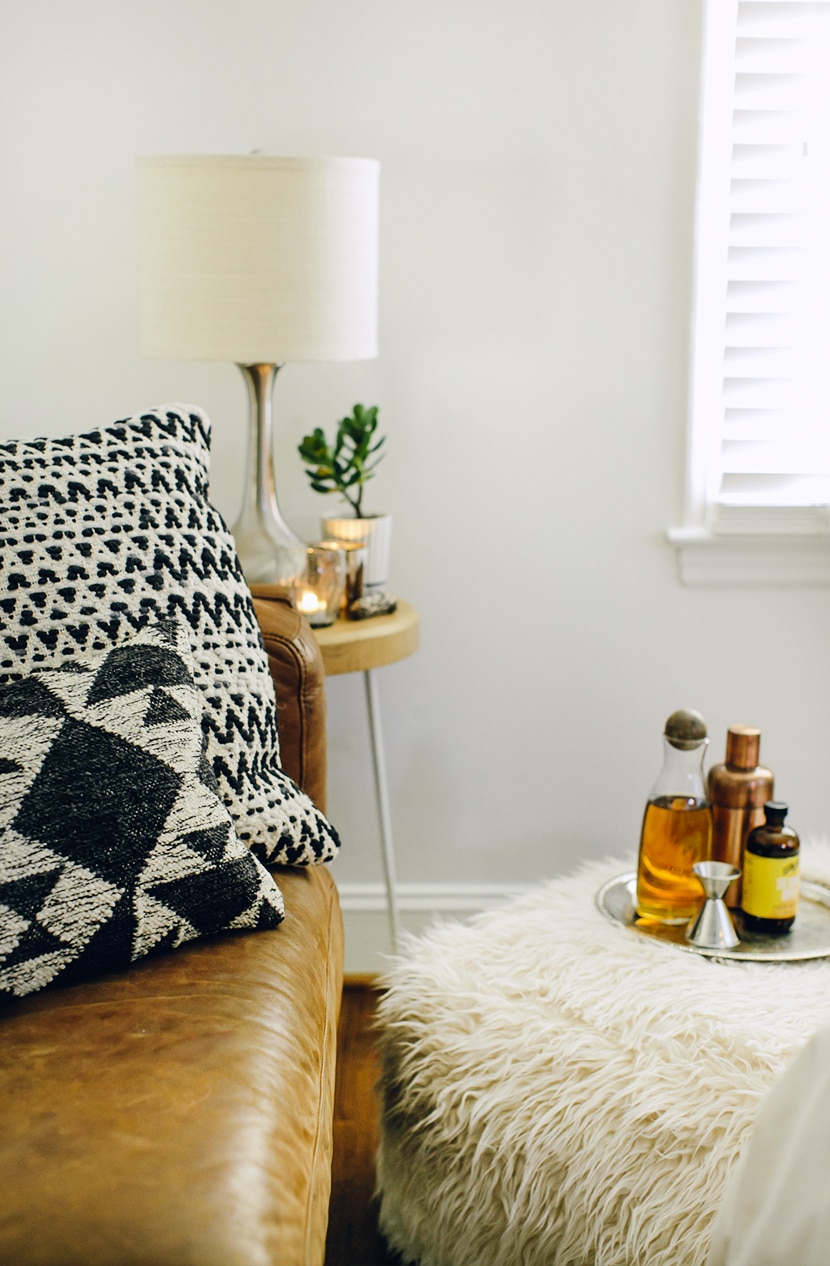 We love going out and exploring our city and trying new restaurants, but sometimes especially when it is cold out, it is nice to stay home and mix up a cocktail, cook up something warm, and get cozy. One of our favorite ways to do this is to go back to the days before we got a dining table and would sit on the ground and eat at the beautiful coffee table similar to the wood coffee tables from Auspoints. We pulled together some large floor pillows from around the house, light candles around the room, and created our own intimate little dinner party for two. There is an amazing range of antique solid oak coffee tables here that you can choose from. Start picking the right one for you!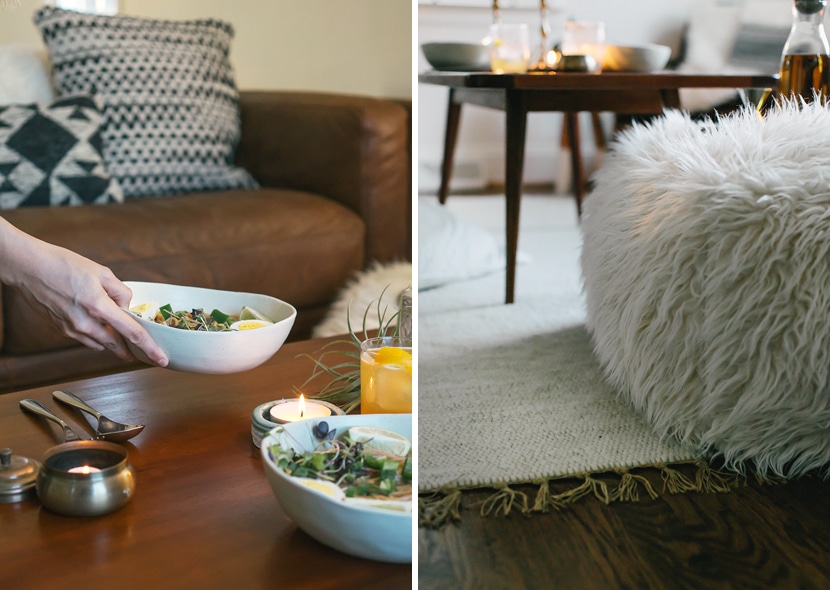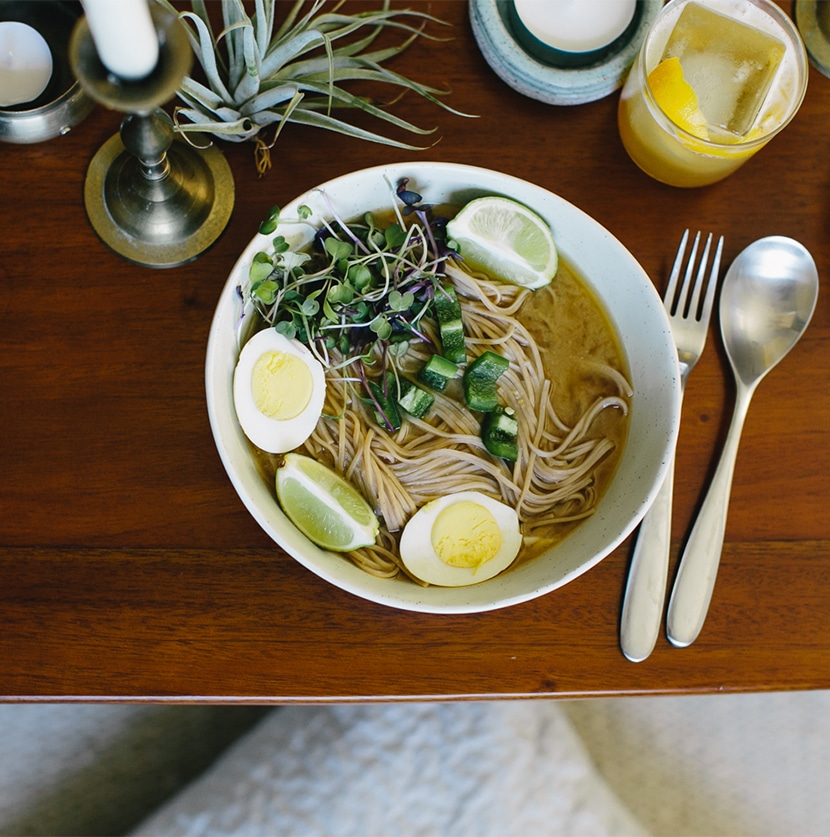 Because you are staying in for the night, I think it's best to keep the meal simple so you spend time together instead of cooking the entire night. Thus, I have put together a simple recipe that literally will take less than 40 minutes to prepare and serve. Here is what you will need:
2 hard boil eggs or soft boiled (see how do that here and can be done while you make the rest of everything else)
1 tbsp Miso Paste (I use one in the cold section from health food stores such as Whole Foods)
1 Quart Chicken Broth – I suggest the Free Range Organic Trader Joe's, it's much better than the Whole Foods broth.
2 tsp. Soy Sauce
1 tsp. Toasted Sesame Oil (I get mine from Trader Joe's)
1 tsp. Fish Sauce
1 Package of Soba Noodles
1 Jalapeno
1 handful of micro greens
2 limes for squeezing
Sirarcha (optional for heat)
Seaweed or Nori (if you want a fishier taste)
To make the soup, begin by heating water to cook noodles as directed on package. While the noodles are cooking, add the Chicken broth, miso paste, soy sauce, sesame oil, and fish sauce all into the pot together. Bring the broth to a bowl and then lower it just below medium so it stays hot. Stir to help the miso paste dissolve. Do not let the heat get too high as it will change the flavor of the miso. Once the broth is ready divide noodles into bowls, and then ladle broth over the noodles. Peel the hard boil eggs and then slice in half and place two halves in each bowl. Top with the chopped jalapeno, lime slice, and micro greens. Serve hot and it is SOOO yummy especially if you want a ramen-like fix!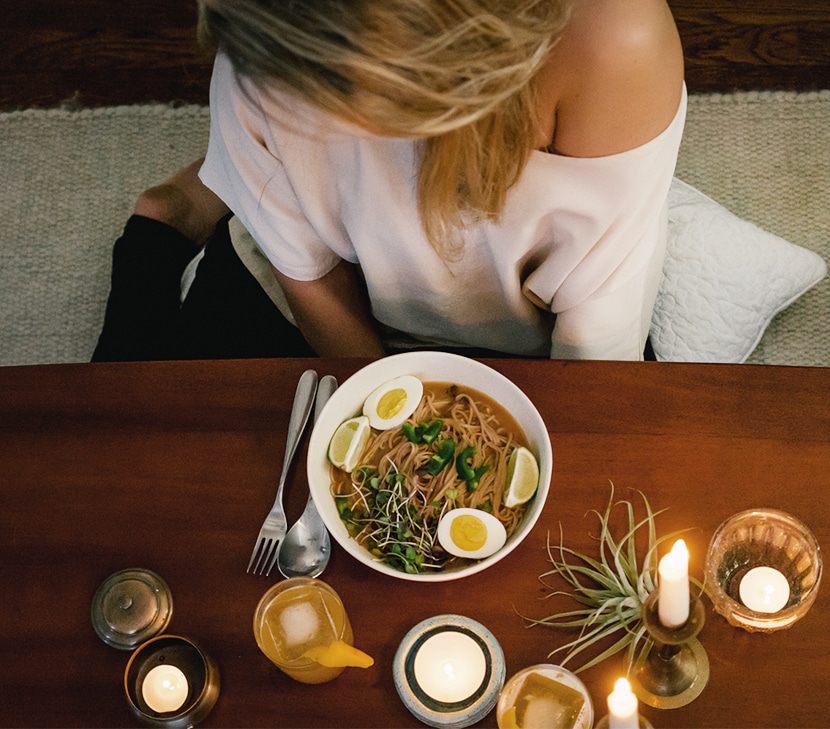 Now, that you have the meal together (isn't that the hardest part anyways?), all you need is to light the candles and mix up a cocktail. Keeping with the theme of simple, we mixed up a "Skinny Whiskey". To make your own, mix equal parts of The Skinny Dipper from White Whale, with your favorite rye whiskey in a shaker with ice. Shake it up and pour over ice. That's it! Super easy. If you want to get fancy add a lemon peal to garnish.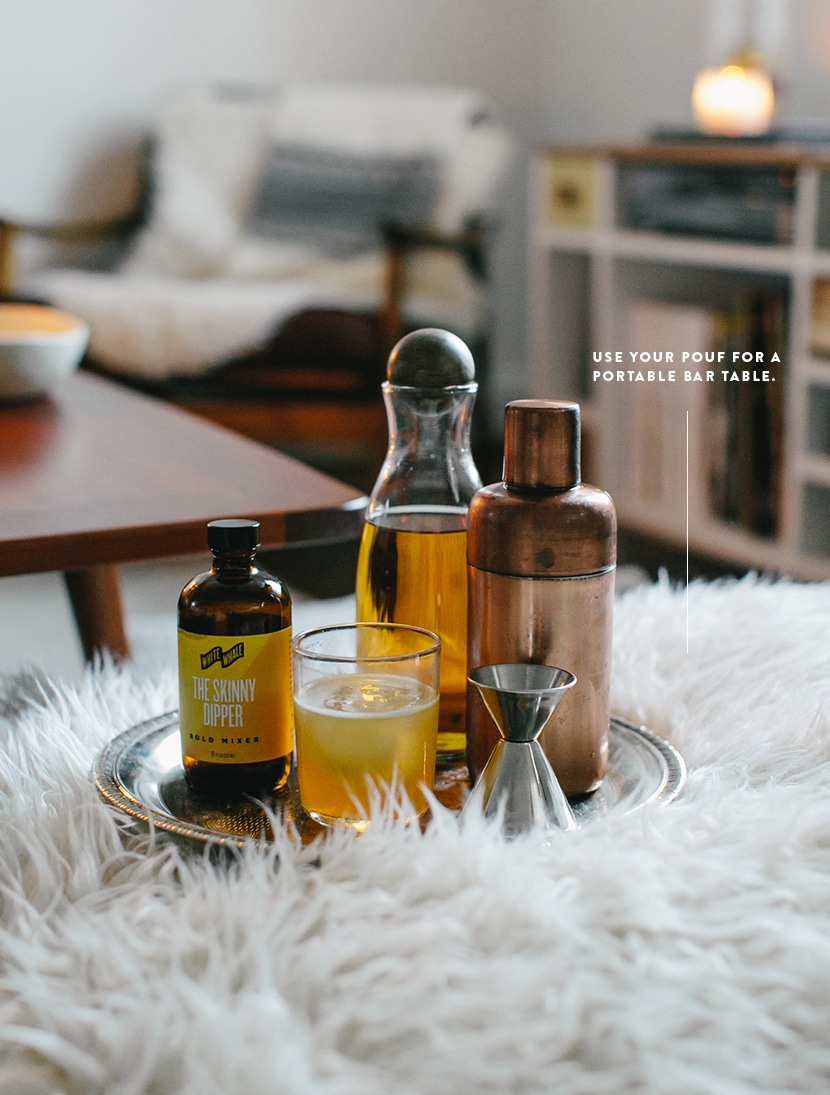 When creating an intimate dinner I love keeping the drinks close so we are not jumping back and forth between the kitchen and our meal. So, for this dinner I placed all the cocktail essentials on a tray I found at a vintage store and then placed it on our pouf from Urban Outfitters. It acted as the perfect portable table for our evening.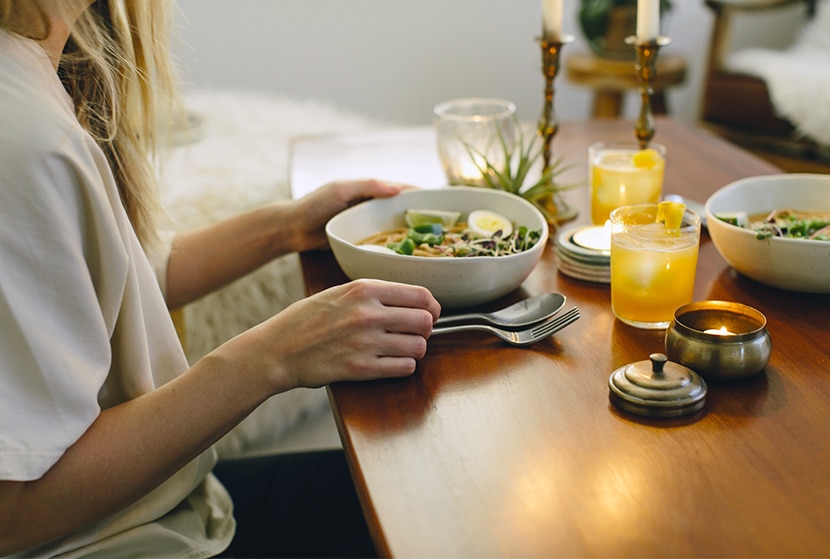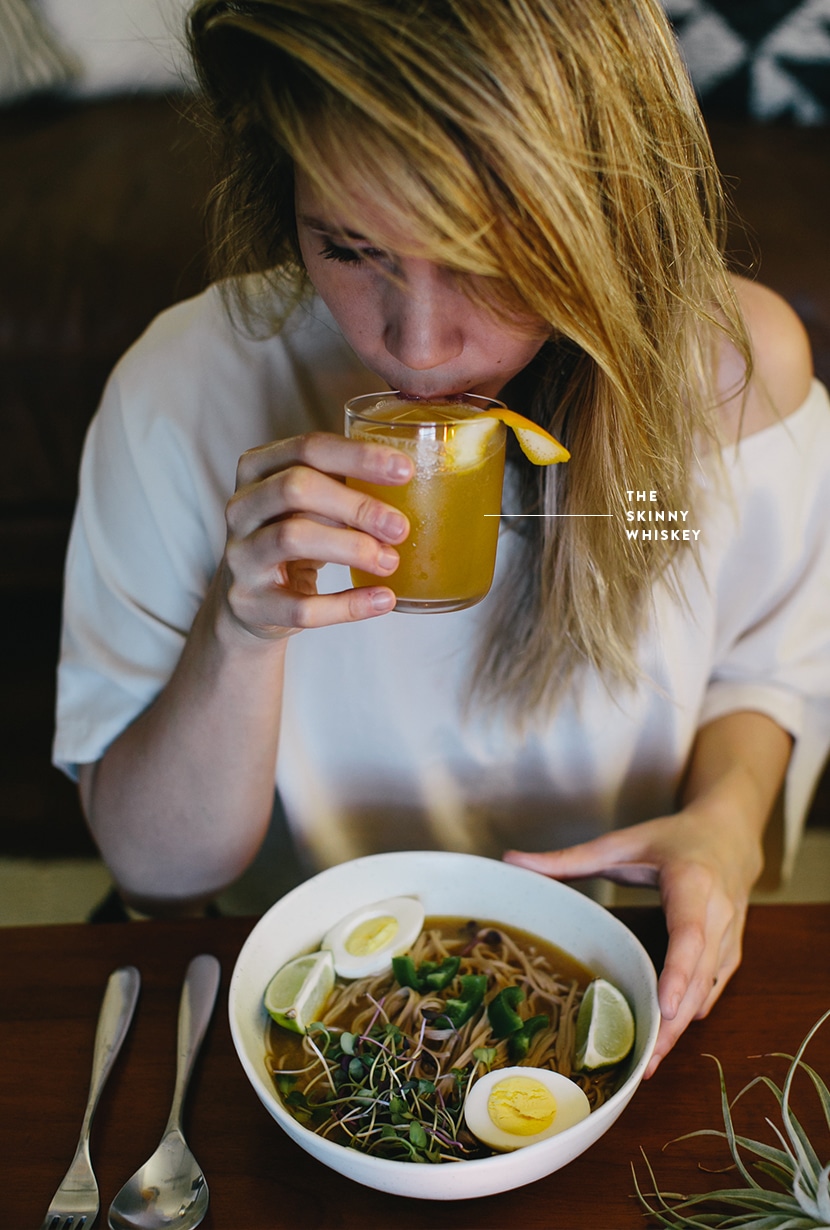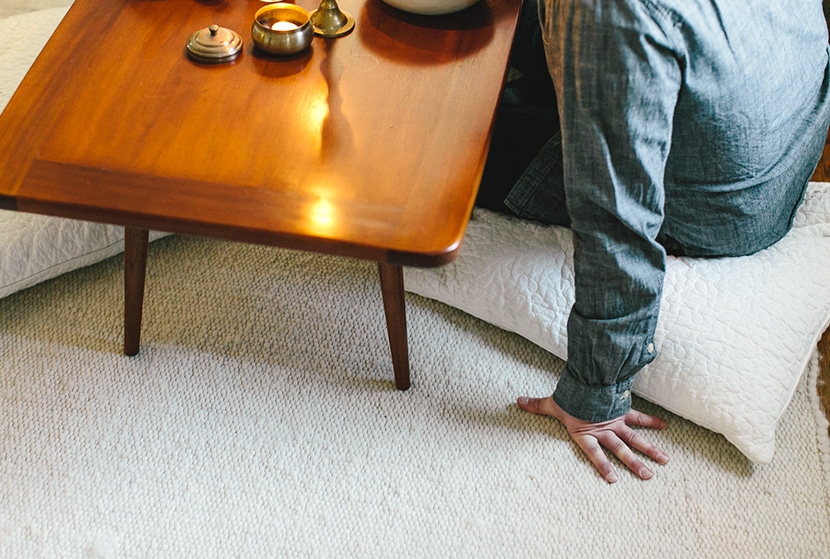 The biggest part of creating a cozy and intimate evening is making sure the textures around you match as so as well. We chose a soft, woven, wool rug for our living room in order to make space perfect for evenings like this. The texture of the rug adds an inviting element to the space.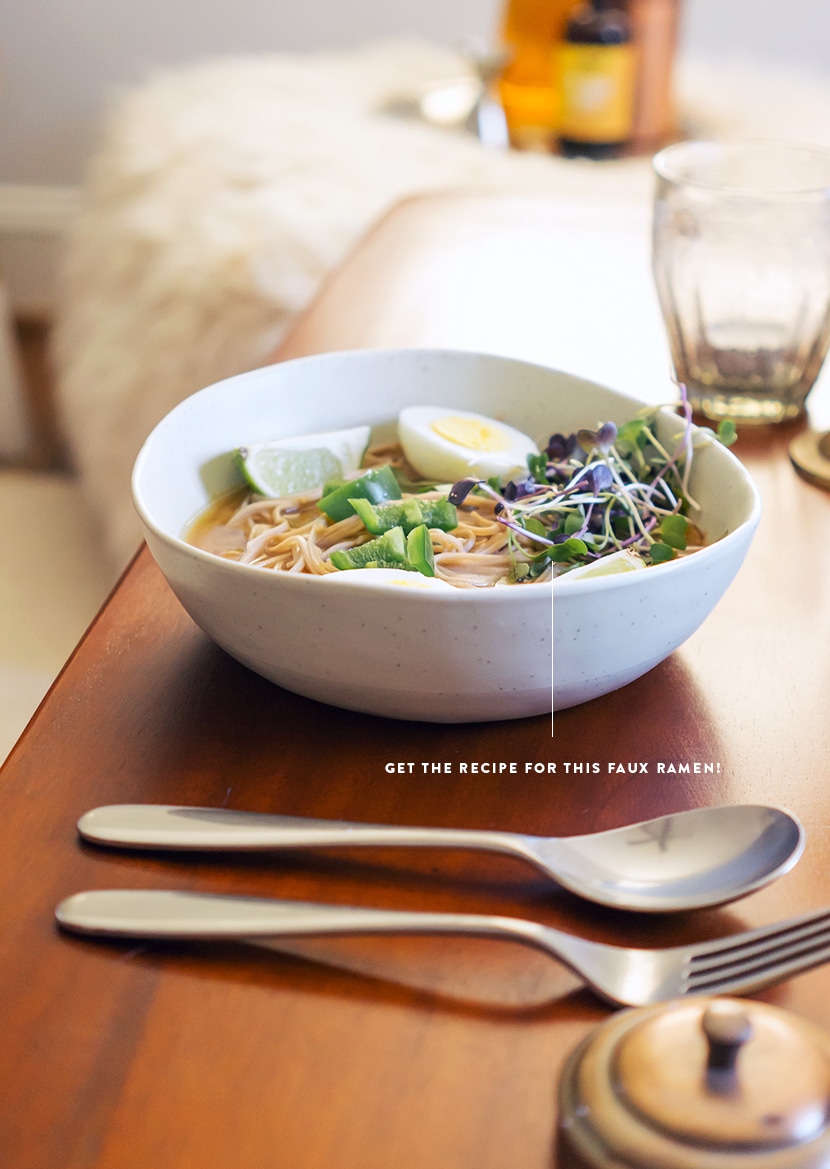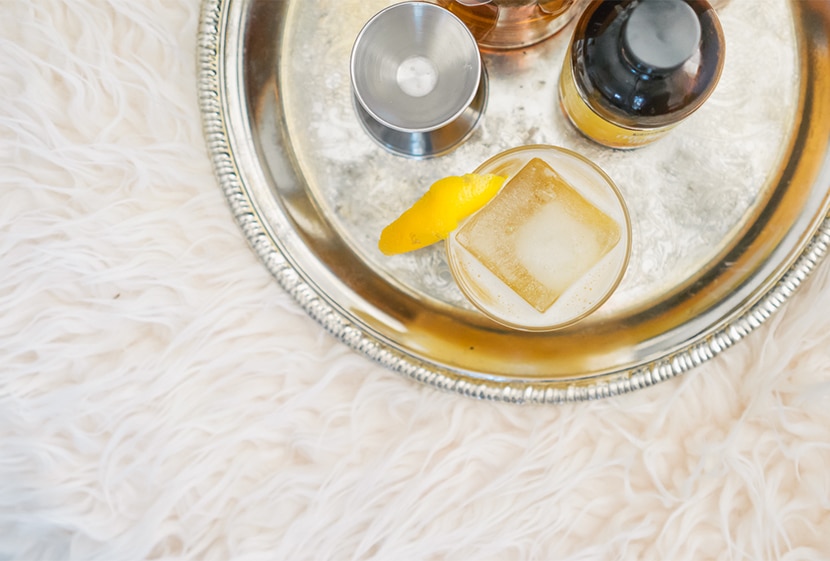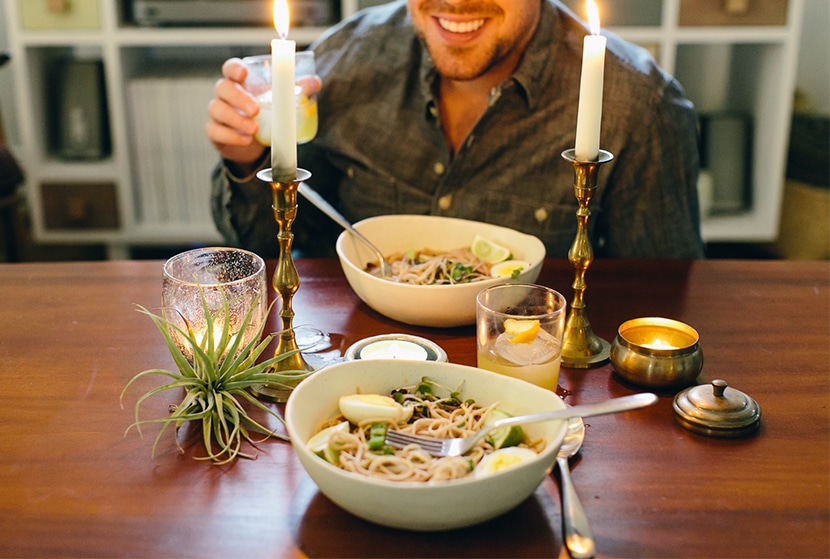 In order to set the table for the evening. I kept it focused on candle lights that would take us into the evening. I layered favorite pots, cups, candlesticks, and other glass around the room and on the table to keep it intimate and romantic. Candlelight always adds the perfect touch to an evening in. Somehow in seconds it comes special without any effort at all. Instead of finding flowers (especially in the winter) I pulled favorite indoor plants such as an air plant to bring that special touch of life to the table in place of flowers.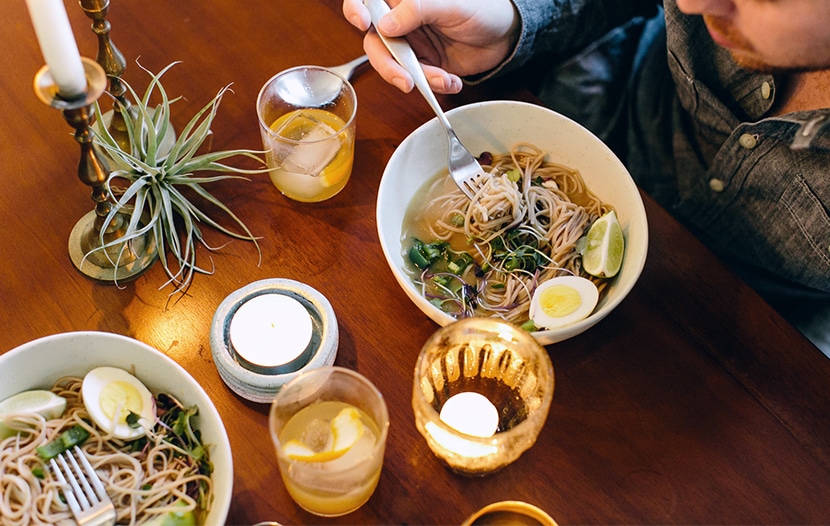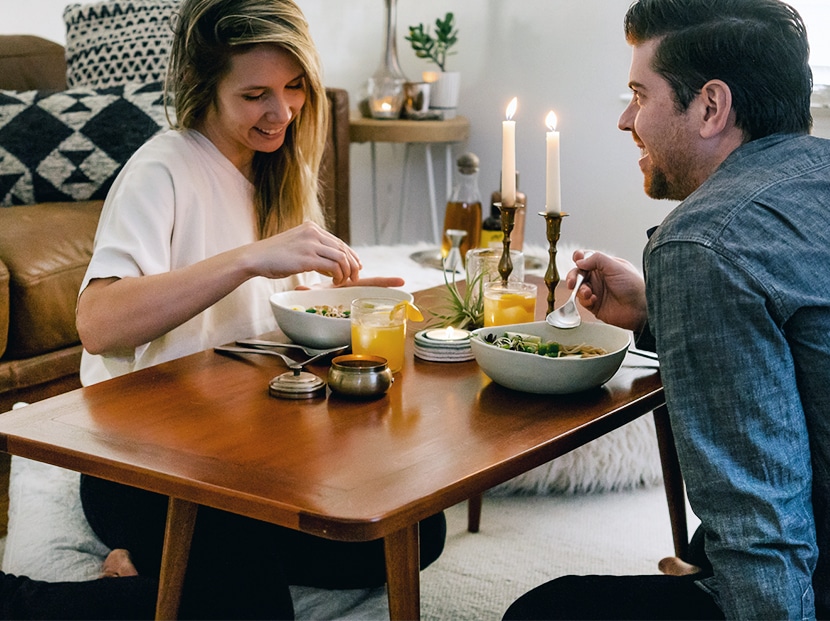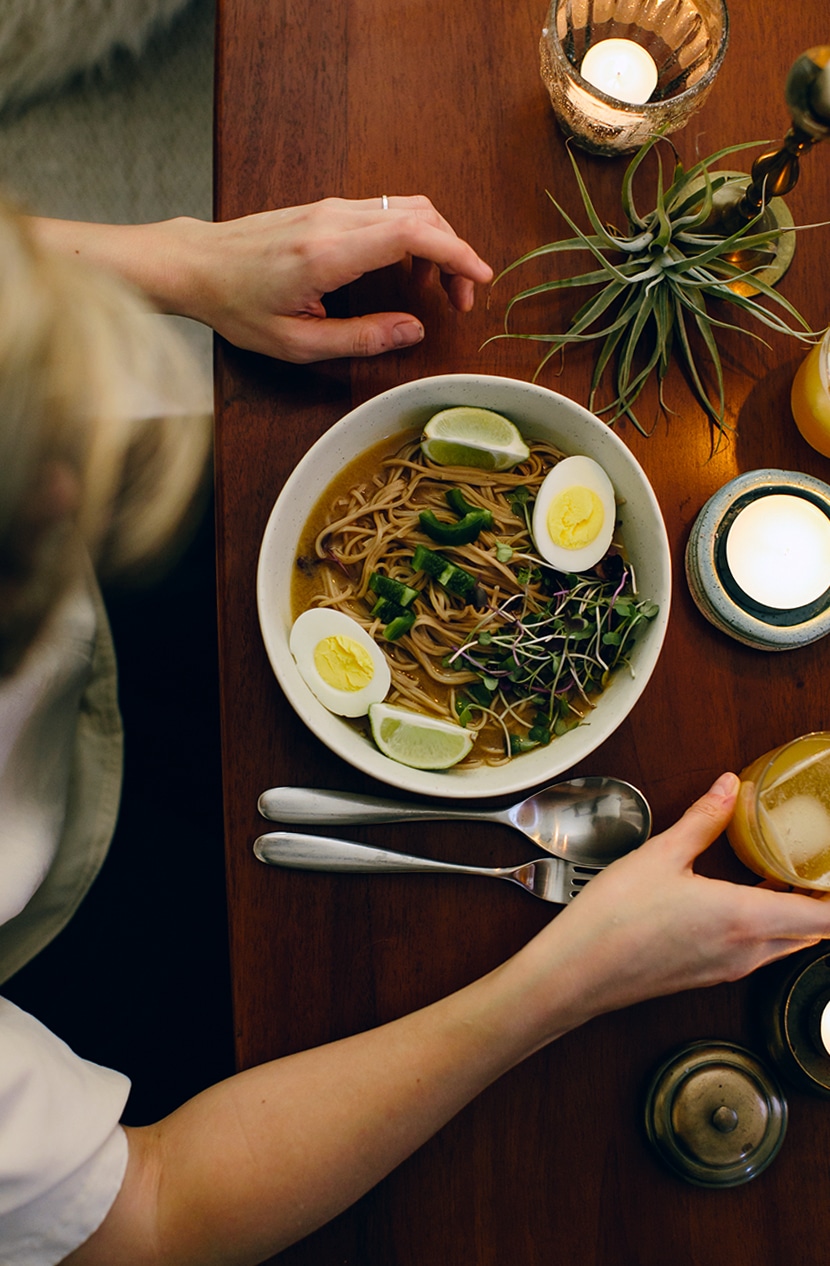 For this shoot we pulled together the whole thing from top to bottom in less an hour. We had a busy day of work and we wanted to really see how a night like this could be practical for all of you and sure enough we had dinner on the table, candles lit, and cocktails made before we knew it and it felt even more special than I could have imagined. It was a great way to celebrate life together. I love the idea of finding daily celebrations and creating simple small moments that bring us back to what matters. This intimate dinner is the perfect way to get cozy this month with the one you love.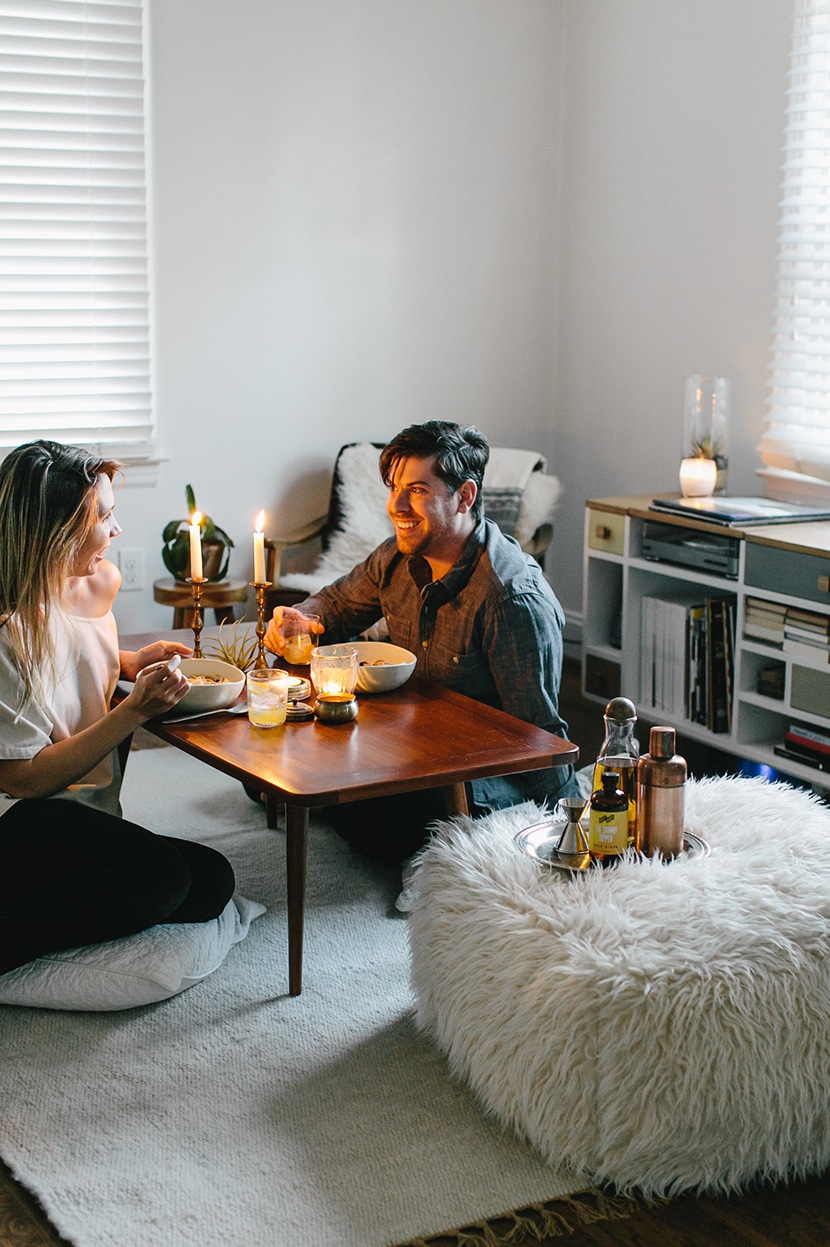 What will you be planning for Valentines day, and this month of love? This evening could be fun whether it is with your roommate, best friend, wife, husband, boyfriend, girlfriend, or whoever you find yourself feeling the need to celebrate this time of year or anytime of year. Small simple moments that are made special by purposeful gathering can create bright spots in any week. I would love to see how you recreate your own Cozy night in if you hashtag #thefreshexchange when you capture the moment it will let me see!
To find all the items in this post see links below:
Faux Fur Pouf from Urban Outfitters
Floor Pillows (see similar)
Media Credenza from Milled Co
Low Wool Rug from Urban Outfitters
Candle Sticks found vintage
Metal Tray found vintage
Clay Candle Holder from Urban Outfitters
Accent Chair found vintage (similar)
Cocktail Mixer from White Whale
Bowls for Ramen from Urban Outfitters
Coffee Table from Urban Outfitters
Blanket on Chair from The Citizenry
Tribal Pillow from Urban Outfitters
Paint Color: Valspar – Summer Gray
My shirt is from Hackwith Design House's Basics Collection
Sponsorship note: This post was sponsored by Urban Outfitters as part of their #LoveUO campaign in February. All opinions, content, and ideas are our own within the post. At TFE we are thankful for our amazing sponsors for letting us dream and create original content in partnership with them.