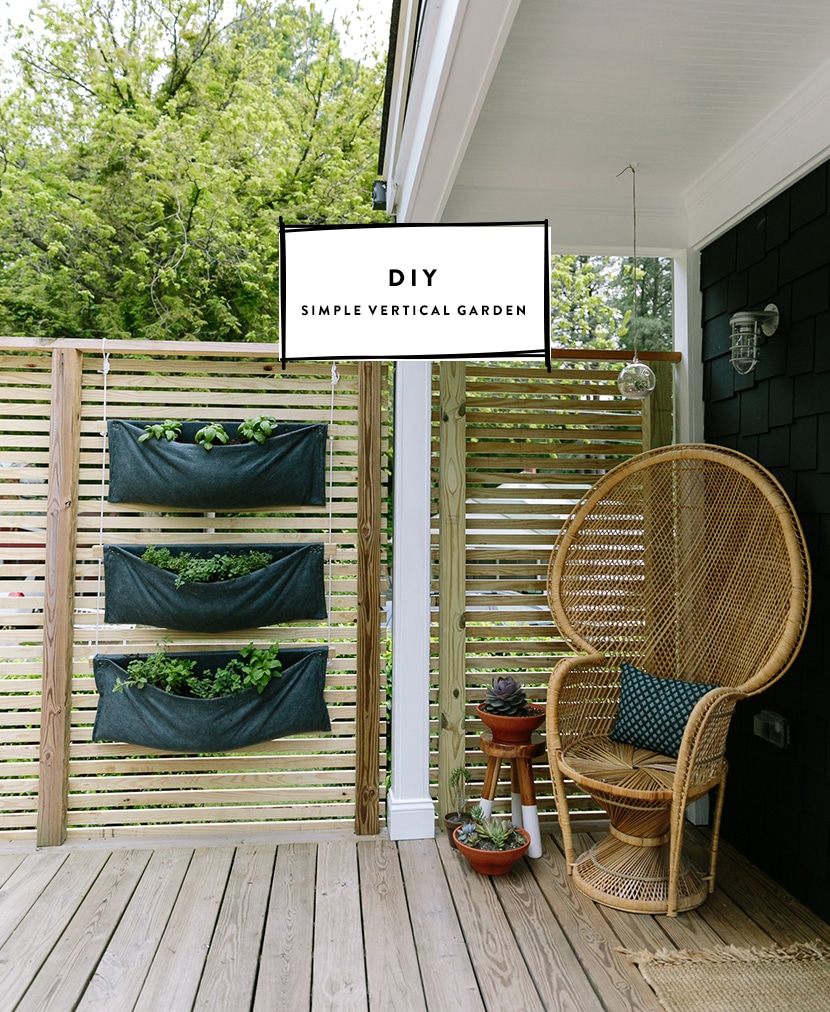 For nearly two years I have been without a garden. It has been really tough not to have a space to tend, love, and watch every day. When we left our garden in Michigan it was at the peak of fall harvest and it broke my heart to leave it all behind. Gardening is something I love, and although I dream of having a large plot one day, living in a city means I have to get innovative. In the next couple of months we plan to put in our raised beds in our yard, but currently it just isn't possible with life, travel, and the work that still needs to be done on the yard. So in the mean time, Mike and I designed a simple and easy DIY vertical herb garden for our deck, that is right off of our kitchen and offers me just the right amount of green space for now. It is a small step in toward the full garden, but I cannot wait to take care of this space in wait of my raised beds. I really want to get a vertical garden that stands out!
The best part of this simple DIY is that you can make as many of these as you would like. This vertical garden is also very mobile, so if you live in a city or move a lot it can travel with you. Also, it can hang right out of your window sill if you don't have a patio. We wanted to create something that was easy to create and easy to maintain no matter what your gardening or DIY skills are. Our vertical garden will be focused on herbs, but you could easily use it for other plants of all kinds. I even thought of placing peas in here because of how they could grab onto the texture of the felt and grow upward.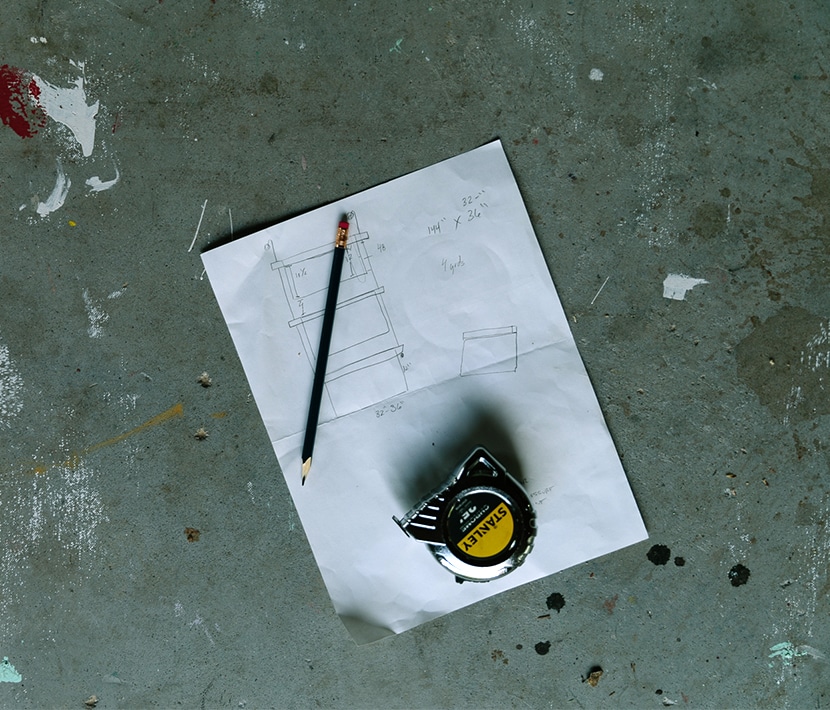 As we have begun to tackle more and more DIY's, we have learned how important it is to take the time to plan in advance. We worked for almost a week to come up with this system and we think it will be simple, accessible, and easy to create no matter your DIY skill level. We are by no means pro DIYers, but this should make you feel like one by the time you are done.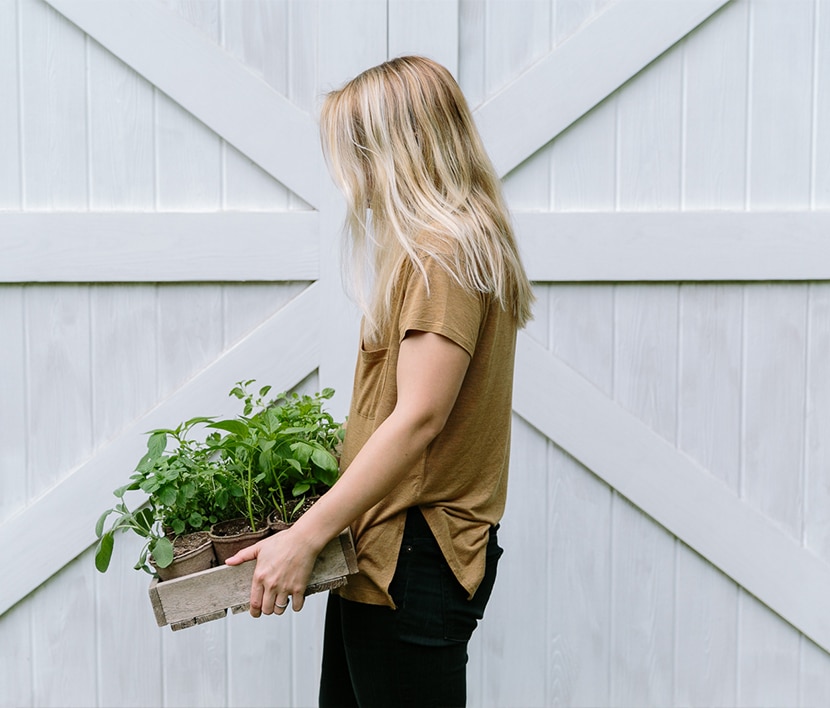 For our plants, we used Burpee Home Gardens plants for the project. We decided to create an herb garden so we used mint, oregano, basil, and thyme for our garden. We love the tried and true aspect of Burpee Home Gardens. They have been around since 1876 growing non-GMO plants for their customers. We always look to them for tips and ideas for our garden. If you are a newbie looking for how to get started, I suggest checking them out to learn valuable info on what it means to maintain, start, harvest, and even cook your garden properly.
Here is what you will need:
– Burpee Home Gardens plants (we used mint, oregano, basil, and thyme specifically)
– Organic Potting Soil – 1 large bag should do
– Dense Felt – enough to make 3, 32"x36" pieces (we got ours at Joann and 4 yards should leave with a little left over)
– Rubber Mat Material- enough to make 3, 32"x12" pieces (we used a rubber runner from Home Depot's flooring section)
– Wood – three pieces of 36"x1"x1/2" (you may have to have this custom cut but Lowe's and Home Depot can help)
– Finishing Nails (less than 1/2" long)
– Drill (we love the Dewalt 18v)
– 3/8" Drill Bit
– Nylon or Metal Cord 30ft if you plan to do 3.
– Industrial Stapler
– Household Stapler
– Industrial Grade Scissors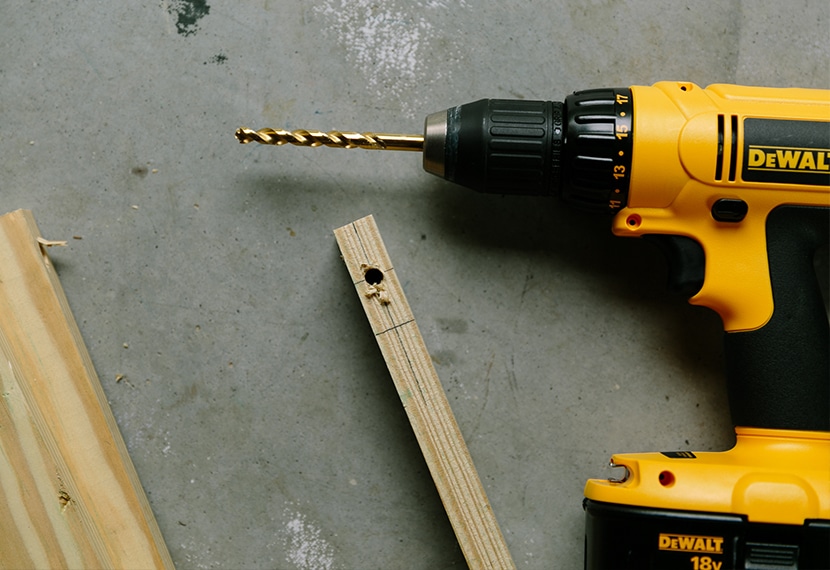 There really is no exact order you have to cut all the pieces, but we will give you the order we made all of our cuts in.
Step 1 – Measure out and mark a line on the ends of both wooden rods, 1″ & 2″. At the 1″ mark drill a hole using the 3/8″ drill bit. Do this on the ends of all of the rods.
Step 2 – Lay out the rubber mat material and measure/cut 3 – 32″x12″ rectangles.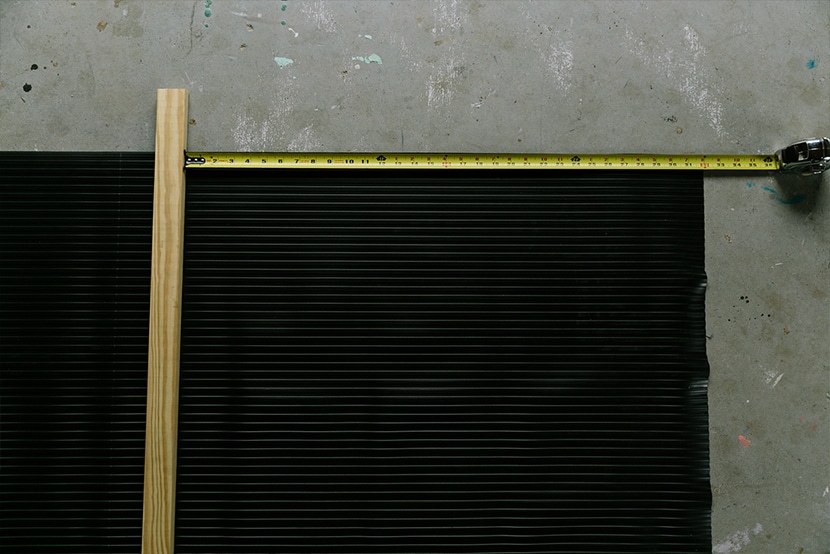 Step 3 – Lay out the felt, which should be 36″ wide already, and measure out 32″ and with your rod as a guide to draw a cut line. Then cut out the line with your scissors. You should have 3 – 36″x32″ felt squares total.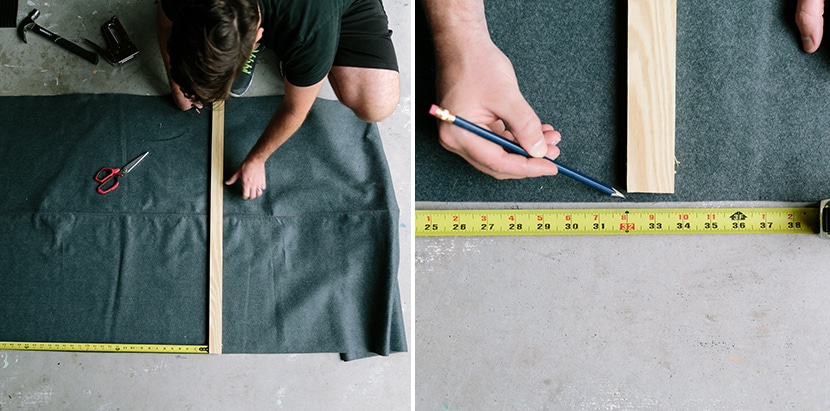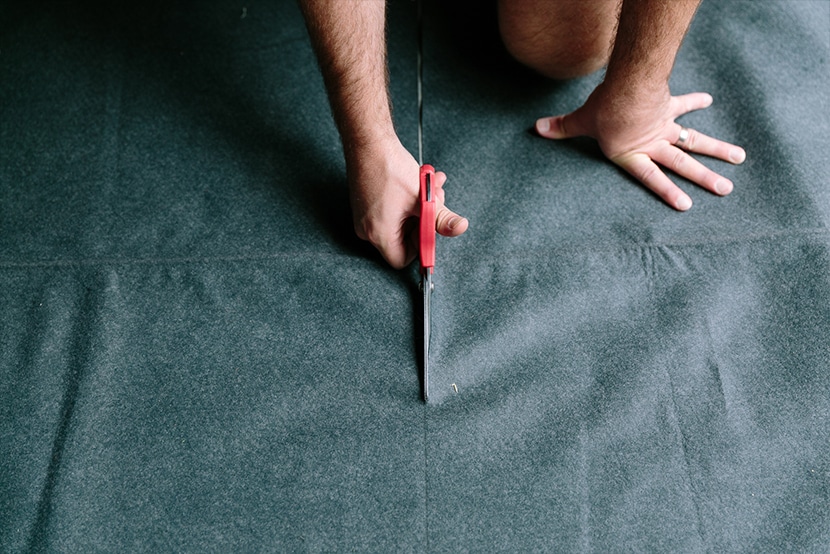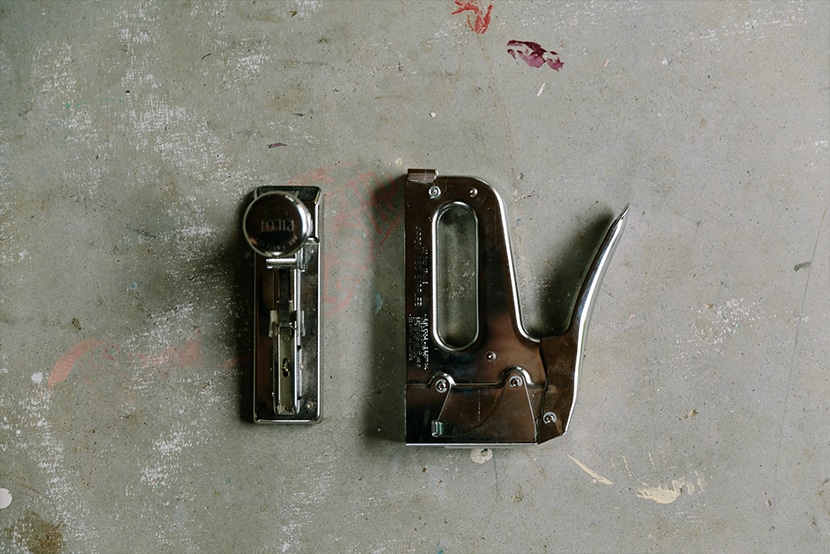 Step 4 – It's stapler time. You will need both a normal household stapler and an industrial sized stapler. With the felt lying flat, fold in a 2″ section from the sides of the 36″ wide section and staple down the line. This should make a perfect square of 32″x32″. Then on either of the ends of the original 32″ width, fold and staple a 2.5″ – 3" fold. This larger fold should overlap the side folds you just stapled. (If you are a great sewer you may also create this same look with a sewing machine or hand sewing as well)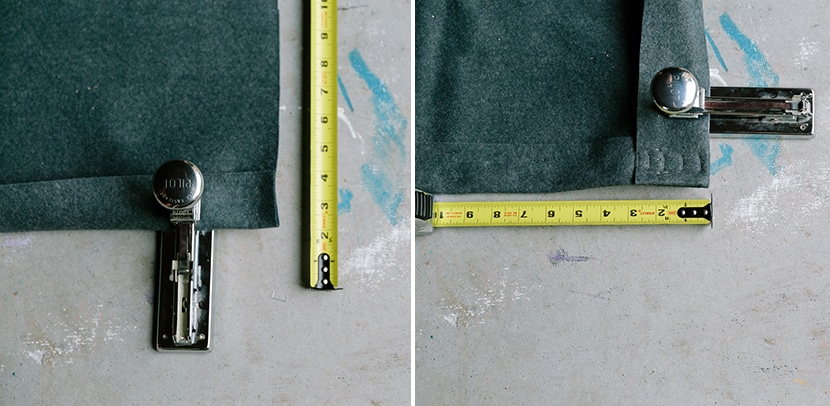 Step 5 – The felt should look like the image below. Now pick up the wooden rod and the 32″x12″ rubber mat. Align the mat with the 2″ mark you measured in on the wooden rod and, using the industrial stapler, staple the rubber mat to the wooden rod. You may need to hammer in some of the staples if they don't go in all the way. It also doesn't matter what side of the wooden rod you begin this on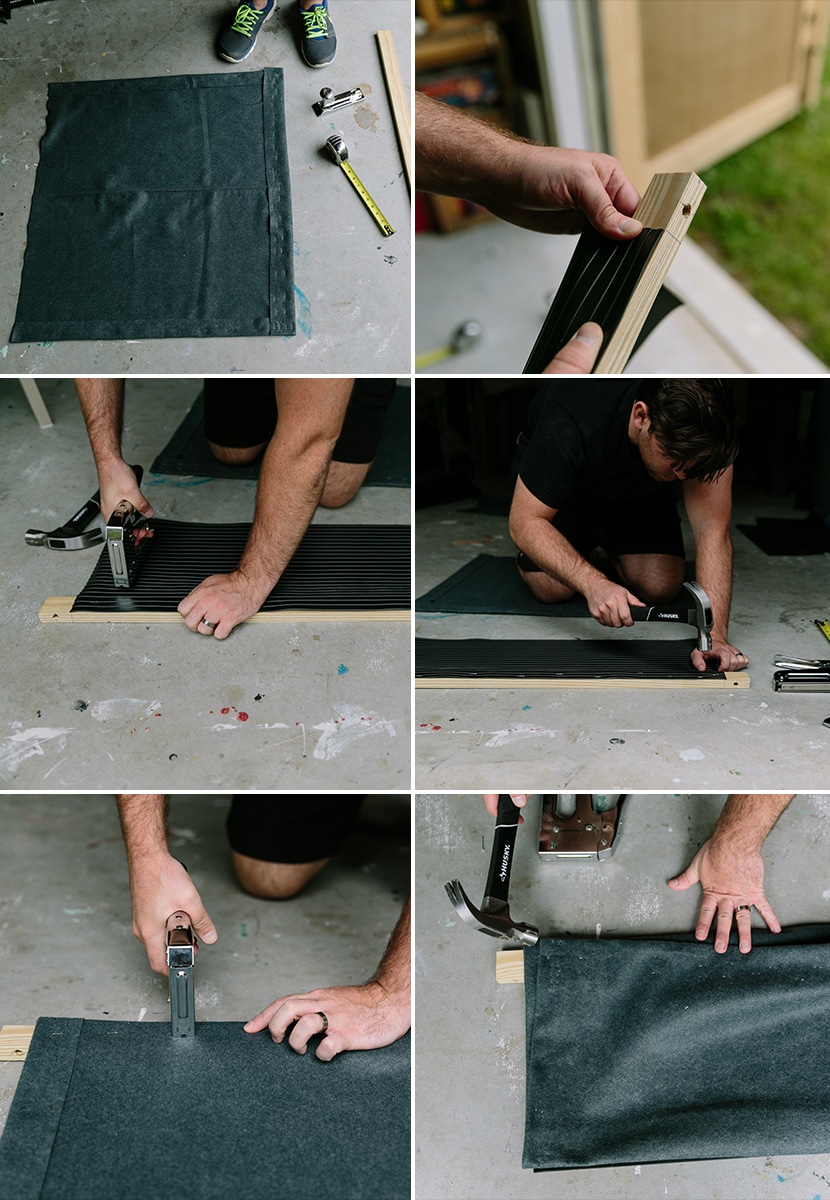 Step 6 – This is the trickiest step, so it may take some imagination. With the staple folded area facing up, and the 3″ fold on the opposite side of the wooden rod, measure out 24″ of felt and staple it to the front of the wooden rod. Then flip the felt up to meet the top of the wooden rod to create the pocket. The pocket should be 12″ deep and coving the rubber mat behind. Then move the top corner of the pocket in 1/2″ and nail in the corners and staple them.
Step 7 – With the pocket created, use the household stapler to staple the side of the pocket closed.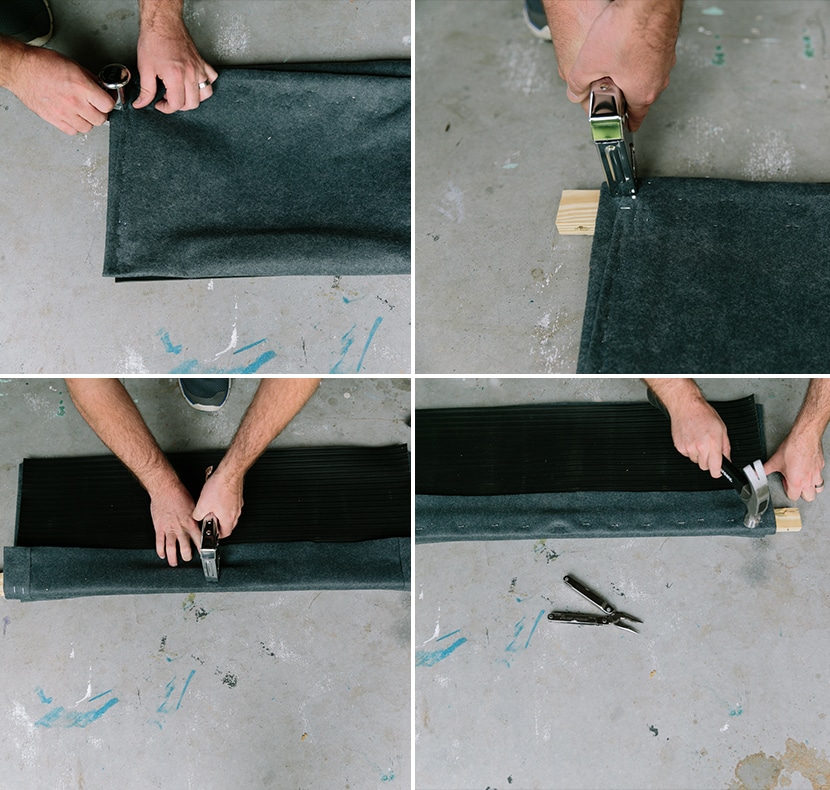 Step 8 – Flip the whole thing over and using the industrial stapler, staple the felt to the wooden rod. Nail down any staples that don't go fully in.
Step 9 – This step is really custom; we are setting a 4″ gap between the top of one bag and the bottom of another. Taking it one side at a time, begin by tying a knot at the bottom of the line and then threading the rope through the first pocket. Then measure out 16″ and tie another knot and slide the next bag on. Then do it again for the third bag and repeat on the other side.
Step 10 – We hung our garden from a 2″x4″ on our privacy wall, so we attached the garden to the top,. You may need to get creative on how best to mount this for your space. There are lots of ways you can do it. This really just depends on where it is going to hang from.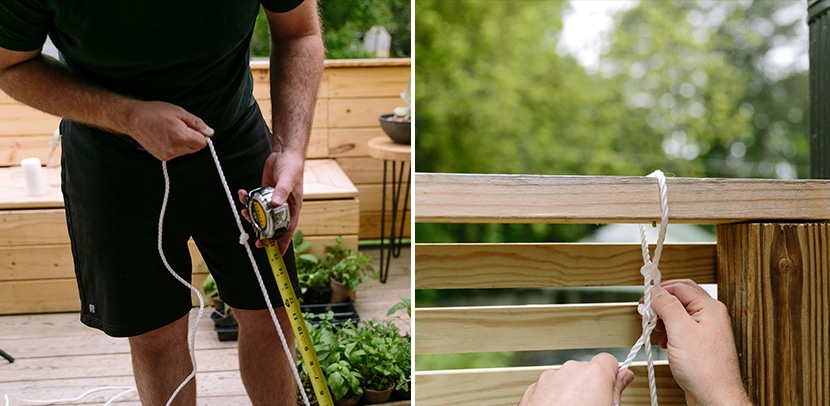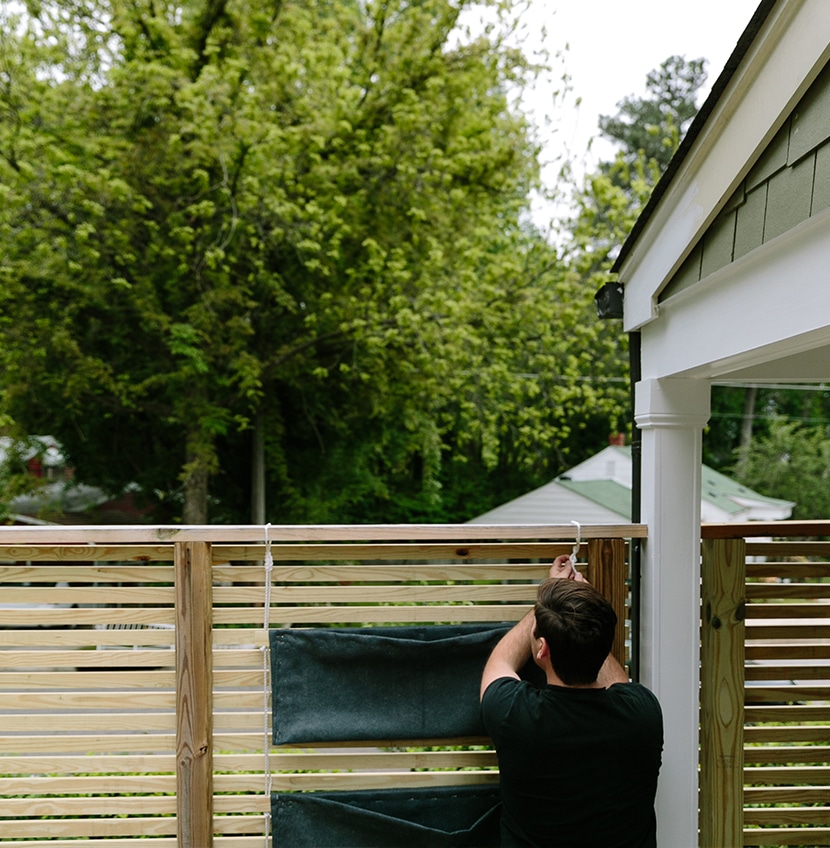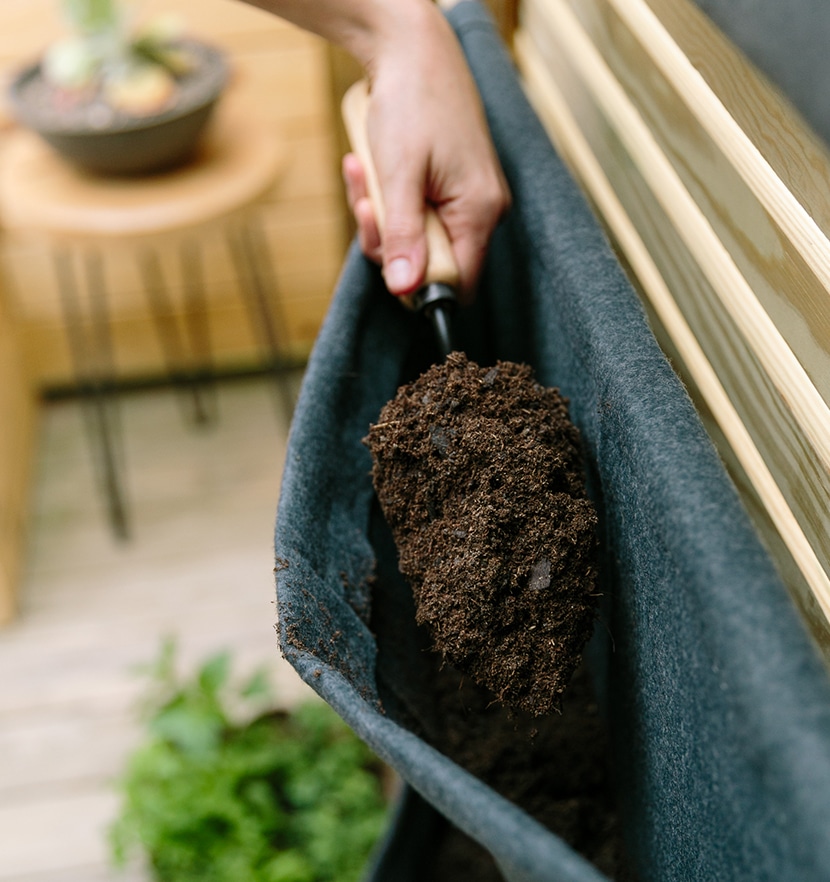 Step 11 – Begin filling the pockets with enough dirt to allow the plants to stick out of the top and then also to be once again be covered some more.
Step 12 – Place your plants in the pockets and then finish it off by covering with dirt and giving it all a good soak.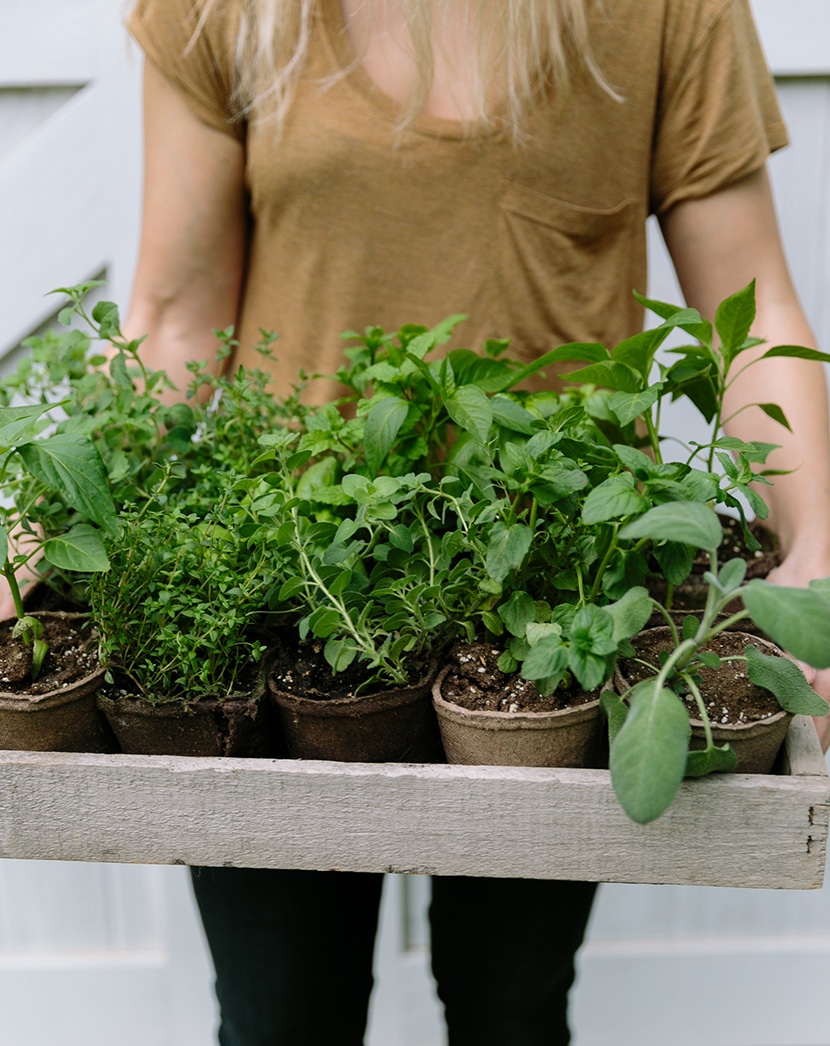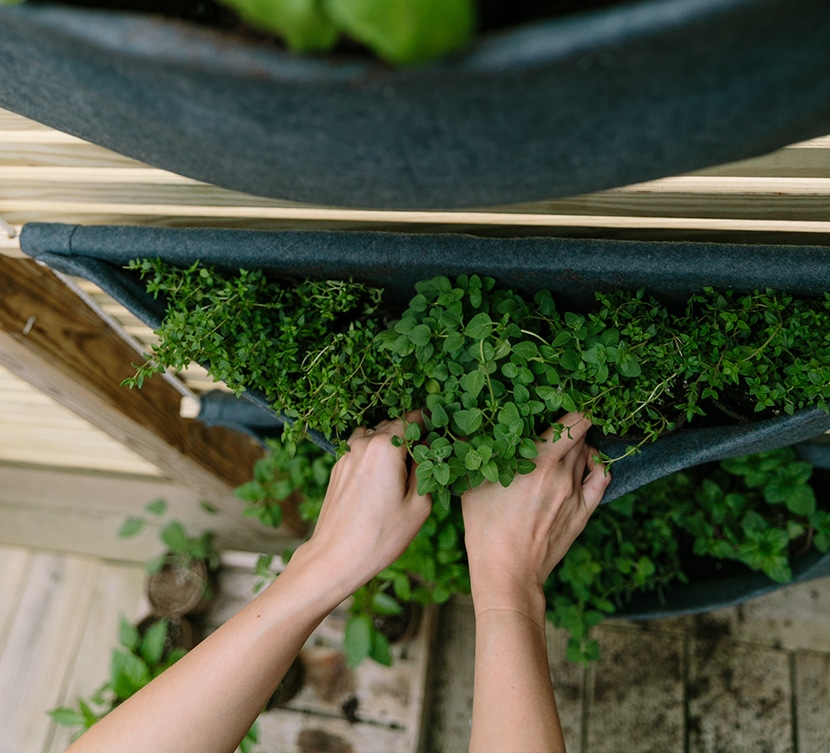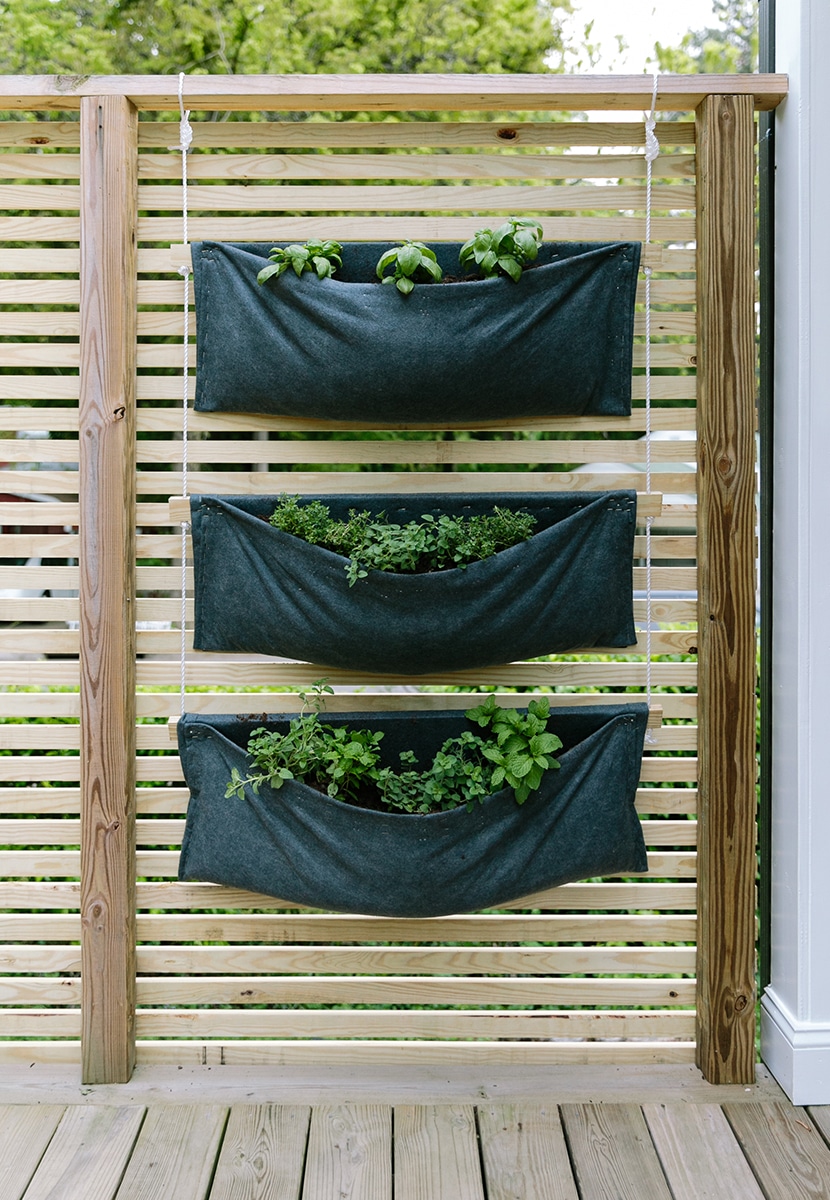 The garden has been the perfect addition to our patio. We updated our privacy screen to be horizontal slats, with the help of our friends at Arrowhead. We also created a cozy covered nook with a fun peacock rattan chair, a good book, and succulents. It is fun to look up during an afternoon or morning on the patio and see all those pretty green herbs so happy in their felt pockets.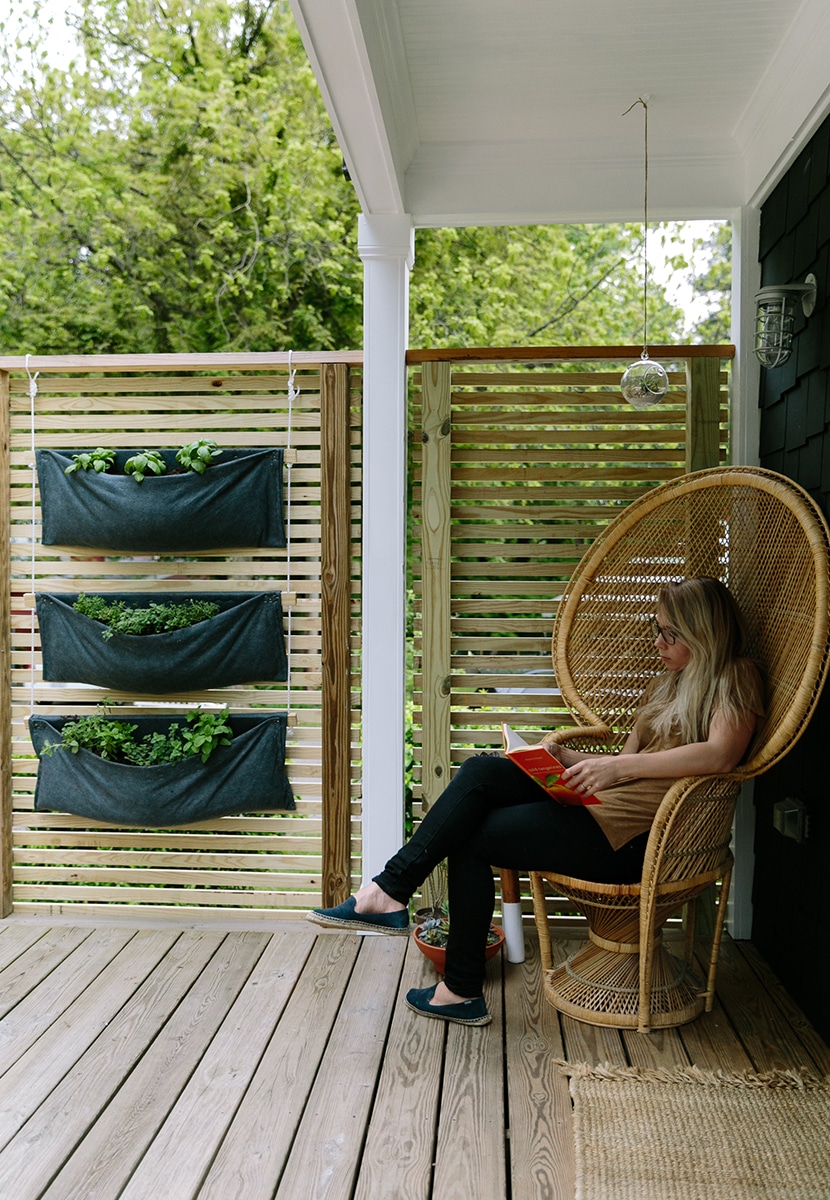 Have you started your garden? Do you have a green thumb? I would love to hear how you grow plants and what kind of space you have available to you.
This post is sponsored by Burpee Home Gardens. Learn more about home gardening and get inspired on BurpeeHomeGardens.com and search for a retail location near you.