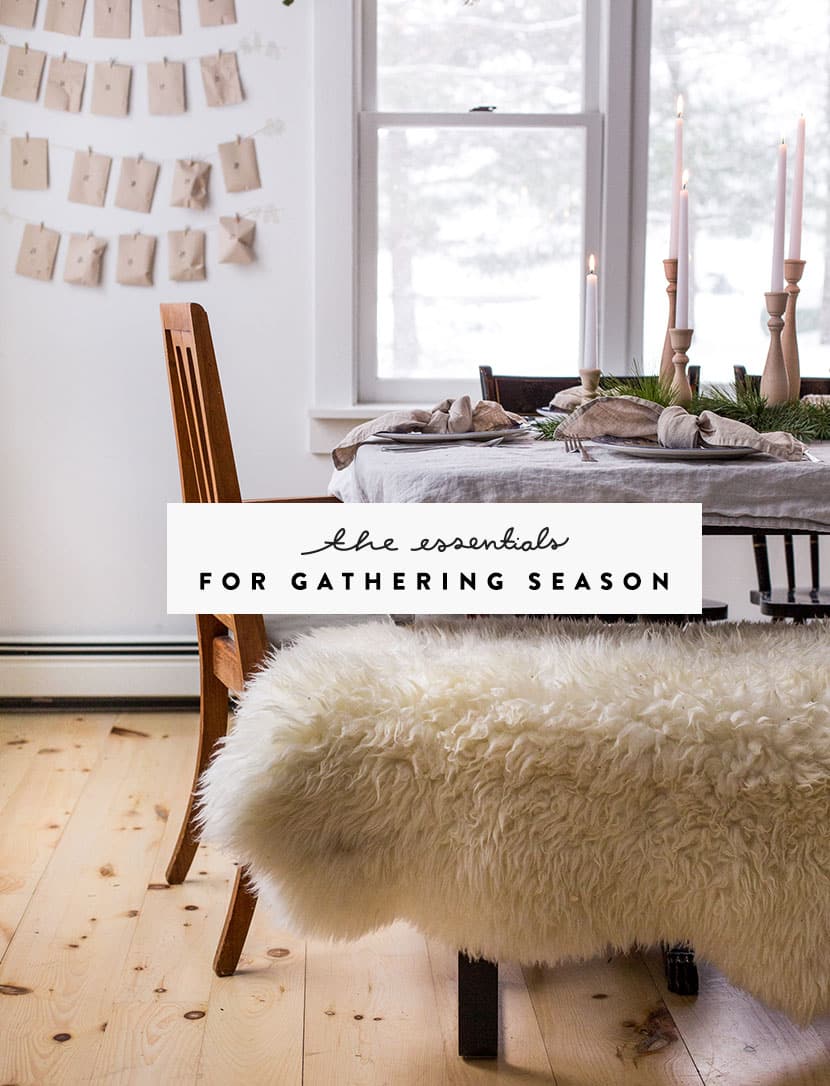 One of the biggest questions I get asked about gathering is what you ACTUALLY need to throw a gathering that is beautiful but still focuses on the important things such as conversation, community, and of course the food and drinks. The holidays are a time where it seems the stores fill with a lot of "holiday" decor for the table. Though I love the appeal and the idea of it all, I will tell you right now I rarely if ever buy any of the items for holiday decor. I for sure love to pick up some cute things here and there for our tree or to bring some joy into our home, but when it comes to setting our table either for Thanksgiving or Christmas or anything in between it doesn't need to be overcrowded with things or specific decor to be beautiful.
So to help you put together a beautiful and simple table for ANY type of gathering this season I have the essentials below.
The biggest key here is that keeping things neutral will go a long way. This way for Thanksgiving your beautiful food you and all around the table created will be the main decor as it should, but you can also accent with items from the flower market or your yard. For Thanksgiving, this may be dried leaves and flowers, wild grapes, bittersweet, or Juniper. At Christmas, you can take those trimmings from your tree and create a beautiful centerpiece like we did in this gathering.
If you want you can add in simple linens such as this tablecloth or a runner like this one if you would like as well, but for the most part as long as you have the following your gathering will be something to remember mostly because the decor didn't overpower the conversation or food in any way.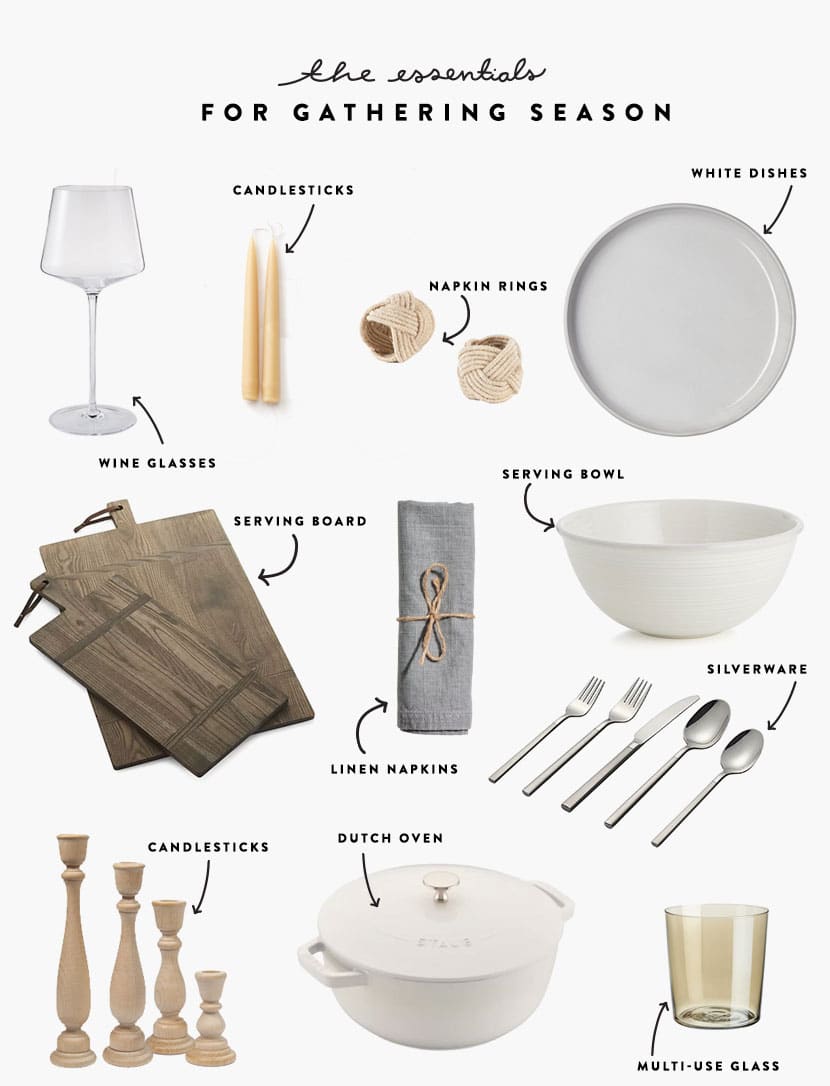 Wine Glasses from CB2  |  Beeswax Taper Candles from Schoolhouse Electric  |  Napkin rings from Target  |  White Dish from CB2  |  Wood Serving Board from Target  |  Linen Napkins from H&M  |  Serving Bowl from Crate and Barrel  |  Silverware from Crate and Barrel  |  Candlesticks from Amazon  |  Dutch Oven from Staub  |  Multi-Use Glass from CB2
Why these particular items, let me tell you:
Wine Glasses: I love choosing a single stemmed glass for all wine or spritzers. I know I know it isn't totally proper to only use one type of wine glass for any wine. I hear you, but let's get real we don't REALLY need that many wine glasses. Find some you love and embrace the simplicity. It is amazing how Champagne tastes just as good in these glasses as it would in a flute 😉
Beeswax Tapers: I love tapers over tea lights for holiday gatherings. They elevate the dining table and bring an elegance to it. Instead of buying a holiday tone, consider something neutral and natural such as these ones from Schoolhouse. Then if you have leftovers you can reuse them any time of year.
Napkin Rings: I love napkin wings because they can give you simple detail on your table, but don't go buy sparkly snowflakes. Take a cue from the snow outside to stay neutral and use this is as a chance to add texture to the table. I love these braided rings from Target. Super simple and natural feeling.
White Dishes: I have three sets of dishes in my life and the one I use the most are my white ones. During the holidays white can be very beautiful. Though I also love to pull out dishes my grandmother gave me for a wedding present that are an heirloom, these ones really hit the mark for a larger gathering.
Wood Serving Board: Wood boards act as wonderful platters for grilled veggies, cheese platters, bread, crostinis and more. They work hard in the kitchen so having some on hand is essential for holiday gatherings. I like to have one or two sizes so they can vary on the table and are easy to pass.
Linen Napkins:
I highly suggest putting a little money into some essential napkins you can reuse holiday after holiday. I love linen as the fabric because they wash beautifully and the wrinkles lend to beautiful texture on the table.
Serving Bowls:
I have varying sizes of white/neutral serving bowls for gatherings. I love them to each have a different type of texture. This makes it easy to find the right one to fit each type of food being served without it feeling like your whole table is either too basic or too mismatched.
Silverware: Keep these simple. Don't feel you need brass silverware or anything fancy. Afterall these are simply utensils after all. Having simple lines and quality in your silverware is the most important thing. Crate and Barrel has the best collection I think.
Candlesticks: These multi-size candlesticks on Amazon are the real deal! We have used these a ton and I love them. They are rustic, simple, and the wood color is great! There are a lot of pretty candlesticks out there, but if you want something affordable and looks great, these will do the trick.
Dutch Oven: If there is one item you need in your collection of cookware it is a great dutch oven this time of year. From bread to soup to soufflés. You name it! A great dutch oven is a necessity of holiday gathering. I have had quite a few and for indoor oven cooking, this one is my favorite hands down. I have it and love it. Worth every bit of investment. Staub is the best.
Multi-Use Glass: Just in case someone wants a cocktail or you run out of wine glasses or someone just wants some water, I love these CB2 glasses. They feel elegant but are durable, inexpensive, and work hard at a gathering. I have even admittedly used them as tea light holders.
So tell me, what are your essentials for gathering this time of year? Do you have specific items you keep on hand? What details do you keep around specifically for gathering this time of year?