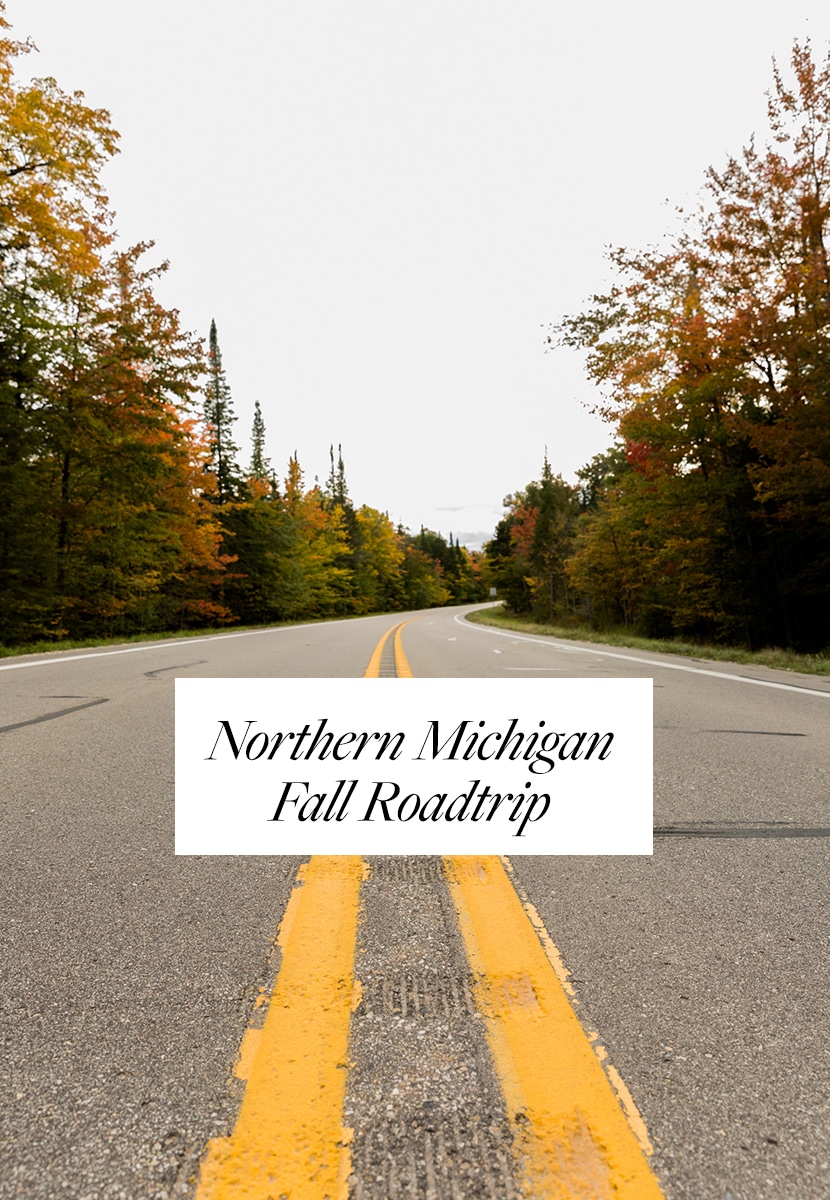 This post is sponsored by the State Historic Preservation Office (SHPO)at MSHDA. Thank you for supporting the organizations and brands that work with The Fresh Exchange every year to bring you content. 
Northern Michigan has always been home. I was born in Petoskey, Michigan on Little Traverse Bay and I'm now living near West Grand Traverse Bay. This area is every bit a part of who I am. But this state is by no means just defined by the areas I call home. This amazing state is HUGE. In fact, the state is made up of two peninsulas that, in many ways, are two very different worlds. North of where we live, you will spot moose and even wolves and cougars. The landscape is unbelievable in the way it changes and the way even the shoreline shifts from one lake to another. It's a sight on its own to see. There is surprise around every corner of this amazing state from Detroit to Copper Harbor. It all is important and beautiful, but I have yet to explore nearly half of it.
So when SHPO asked if we would go on a weekend road trip around some of Michigan's northern parts we hadn't explored just yet, we said YES and grabbed our friends Laura and Sam Brown (find them at Wildly Yours on Instagram…they will be exploring the wild side of Michigan and sharing ways you can do the same). We left Hayes with my parents for the weekend and headed to some new places with help from a map of stops provided by SHPO. We had never been to many of the places and I had not crossed the Mackinac Bridge in my adult life (I KNOW! It is shocking to me, too).
Quick background on SHPO, they are committed to helping people protect irreplaceable archaeological sites, communities, and rural landscapes in Michigan. They promote transforming once-abandoned or underutilized historic buildings into vibrant structures that contribute to our economy and revitalize neighborhoods and downtowns. One of the coolest things they do is give grants to organizations to help preserve our beautiful lighthouses. All of these places tell the stories of our people, and they make Michigan, Michigan!
We had a short 72 hours to conquer our list of stops in a very large area. Along the way, we made sure to add in some great things like apple picking, pumpkin donuts, and more. So, if you are looking for a really fun and new way to see the state on your next drive north, I have put together the full list along with a breakdown of our trip.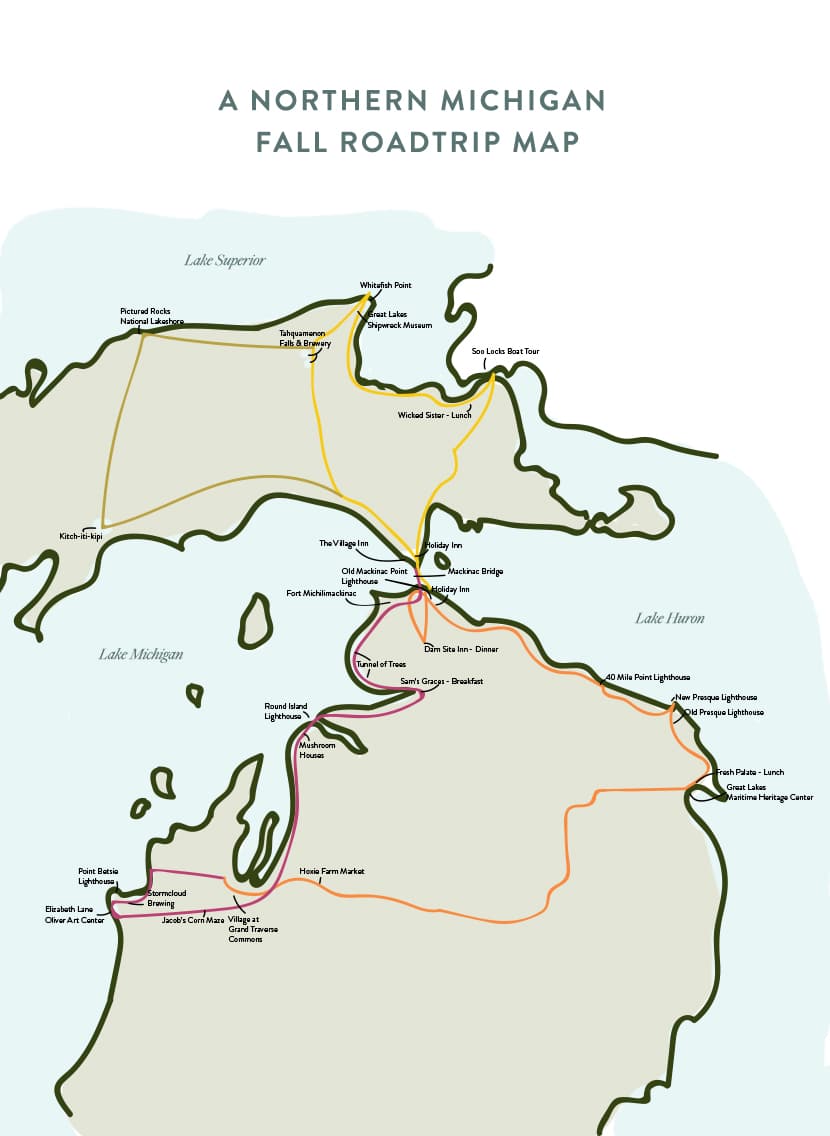 DAY ONE
Hoxsie's Farm Market
Great Lakes Maritime Heritage Center (Thunder Bay)
Fresh Palate for Lunch
Olivet Books and Gifts – an old pharmacy turned store — very cool!
Old Presque Isle Lighthouse
New Presque Isle Lighthouse
40 Mile Point Lighthouse (look for the shipwreck on the shore)
Fort Michilimackinac
Old Mackinac Point Lighthouse
Dam Site Inn for Dinner – go with the Family Style!
Holiday Inn Mackinaw City
DAY TWO
Cross the Mackinac Bridge ($4 fee)
Soo Locks Boat Tour (no need for your passport)
Wicked Sister for Lunch
Great Lakes Shipwreck Museum
Whitefish Point
Tahquamenon Falls (we only did upper but I also suggest the lower)
Tahquamenon Falls Brewery for a drink
**********
If you have time or want to add a day do Pictured Rocks in Munising and Kitch-iti-kipi (seriously GORGEOUS)
**********
The Village Inn in St. Ignace for Dinner
Holiday Inn on the Water in St. Ignace (totally a great view too!)
DAY THREE
Cross back over the Mackinac Bridge ($4 Fee)
Drive through the Tunnel of Trees on M-119
Sam's Graces in Harbor Springs for Breakfast
Charlevoix South Pier Lighthouse
Mushroom Houses in Charlevoix
Village at Grand Traverse Commons – wander around the stores and grab a beer at Earthen Ales or Cider at Left Foot
Jacob's Corn Maze to Pick Apples
Point Betsie Lighthouse
Elizabeth Lane Oliver Art Center
Stormcloud Brewing for Dinner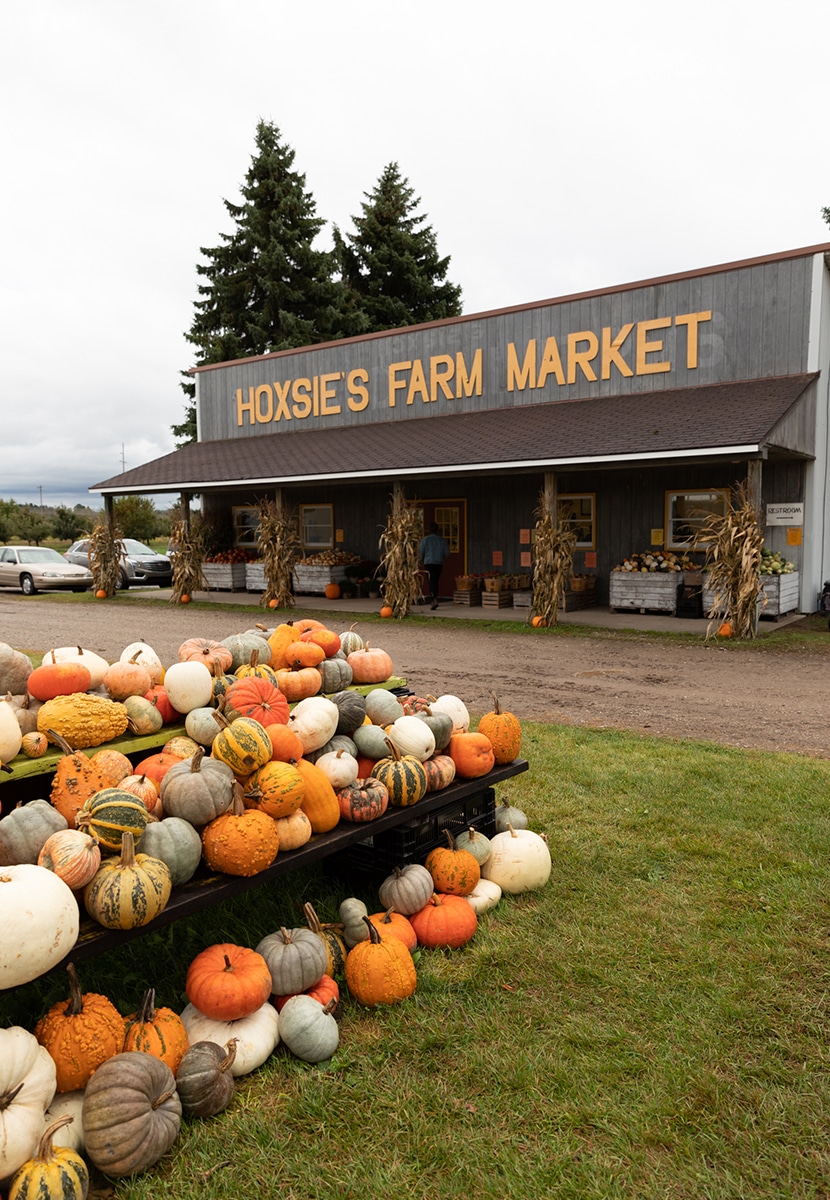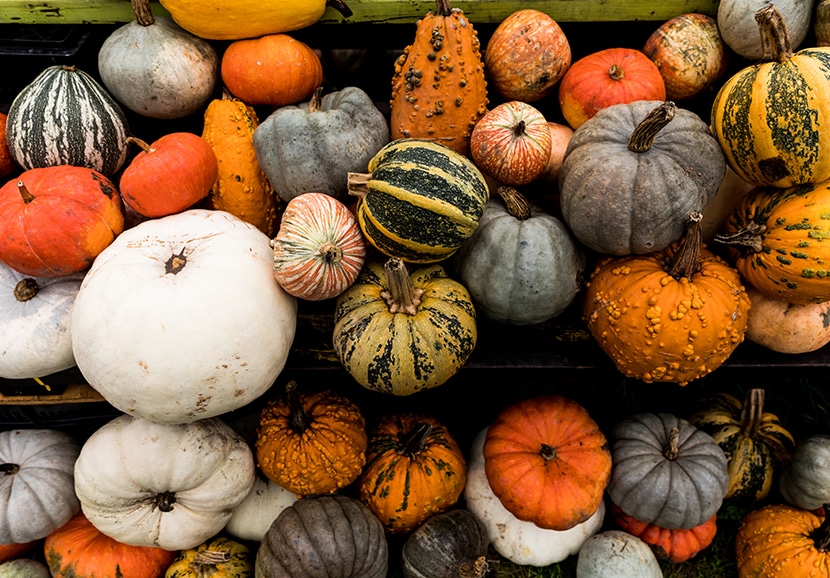 The day we began our trip, we kicked it off by visiting Hoxsie's Farm Market for some cider and donuts to fuel us on the trip east to Alpena to visit the Great Lakes Maritime Heritage Center. We love stopping at this place in the fall particularly because they have an amazing selection of pumpkins and all the fall essentials you could possibly want.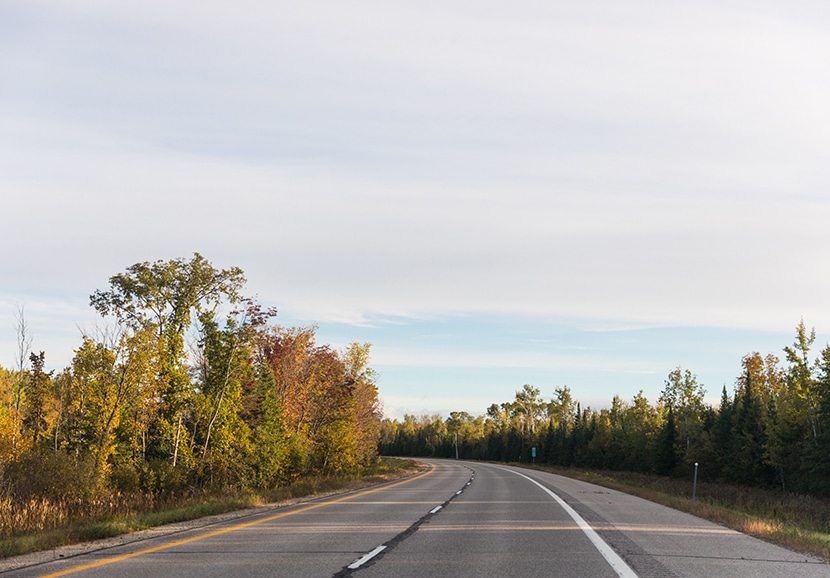 As we headed east, we realized nearly none of us had been out this way before. We chose to take a few backroads to view the area, which I always think is the best way to explore.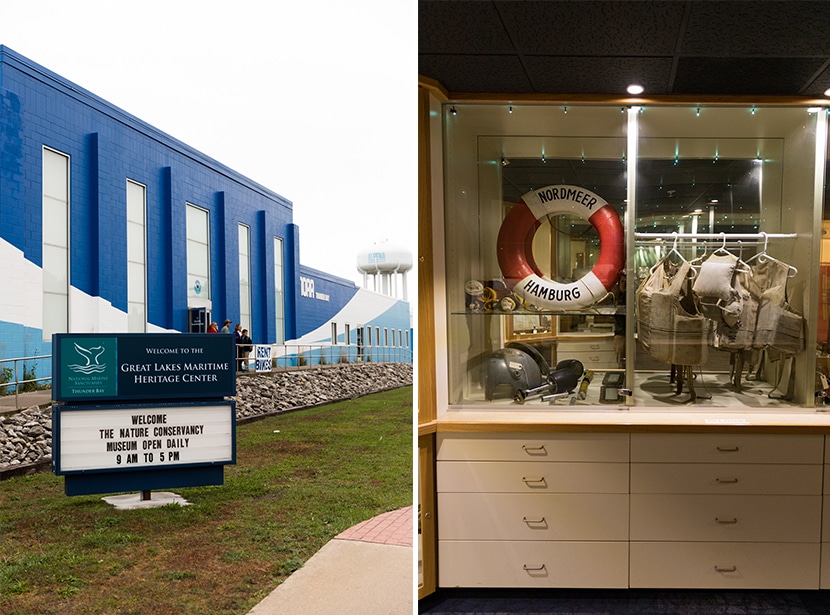 We landed at the museum and really were excited to check it out. The museum is all about the ships that come through the Great Lakes and the wildlife. There was a ton of amazing info about the way people got around on the Great Lakes (particularly Lake Huron) by boat and we got to see all sorts of artifacts. We also learned about various invasive species in the Great Lakes and the effects they are having on the lakes' fragile ecosystem.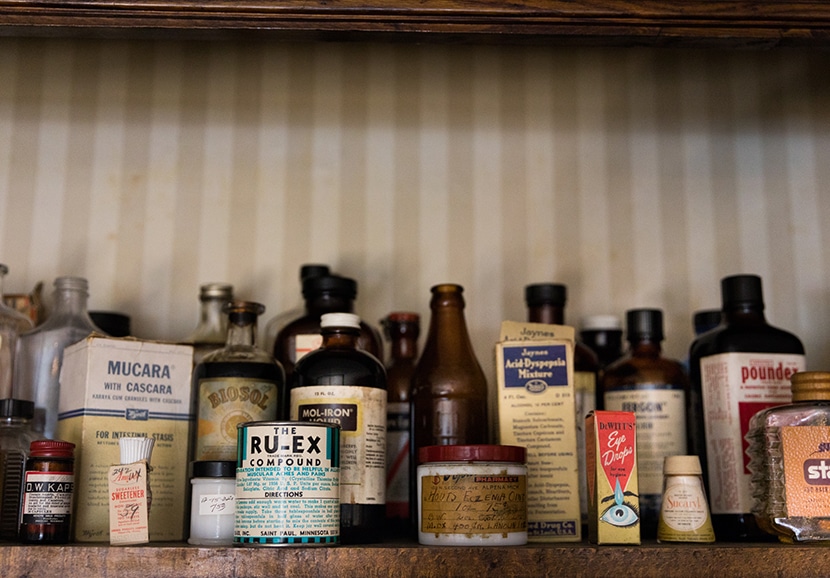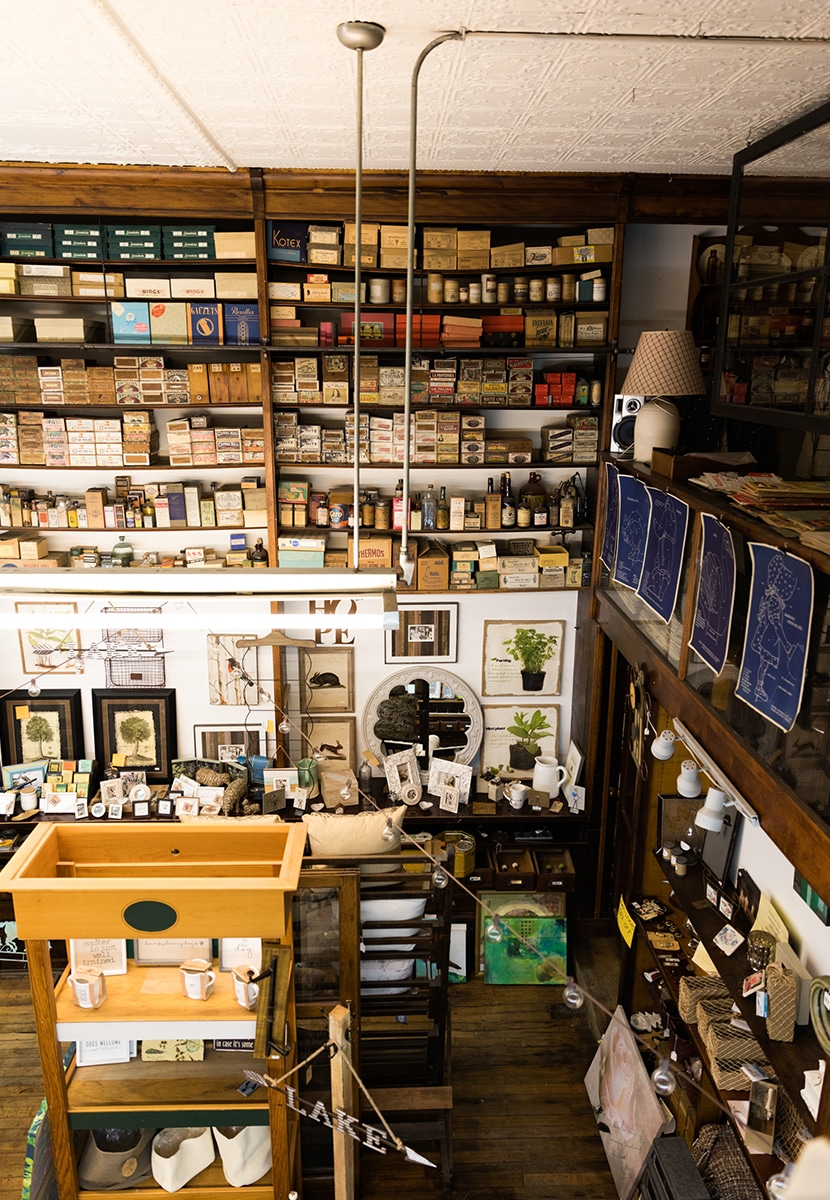 The building is gorgeous. They have done an amazing job at giving a great experience about what the Great Lakes history entails as well as what lies ahead in the future.  The Thunder Bay Island Preservation Society actually benefitted from a Michigan Lighthouse Assistance Program (MLAP) grant to have new roofs installed on the Thunder Bay Island Lighthouse and Fog Signal building, which is one of the oldest operating lighthouses in Michigan. Did you know MLAP grants are made possible by the sale of Save Our Lights license plates?
Before we grabbed lunch, we stopped into a cute little store that was an old pharmacy full of great gifts and antiques. We really loved it, and all enjoyed wandering around downtown Alpena before our lunch at Fresh Palate.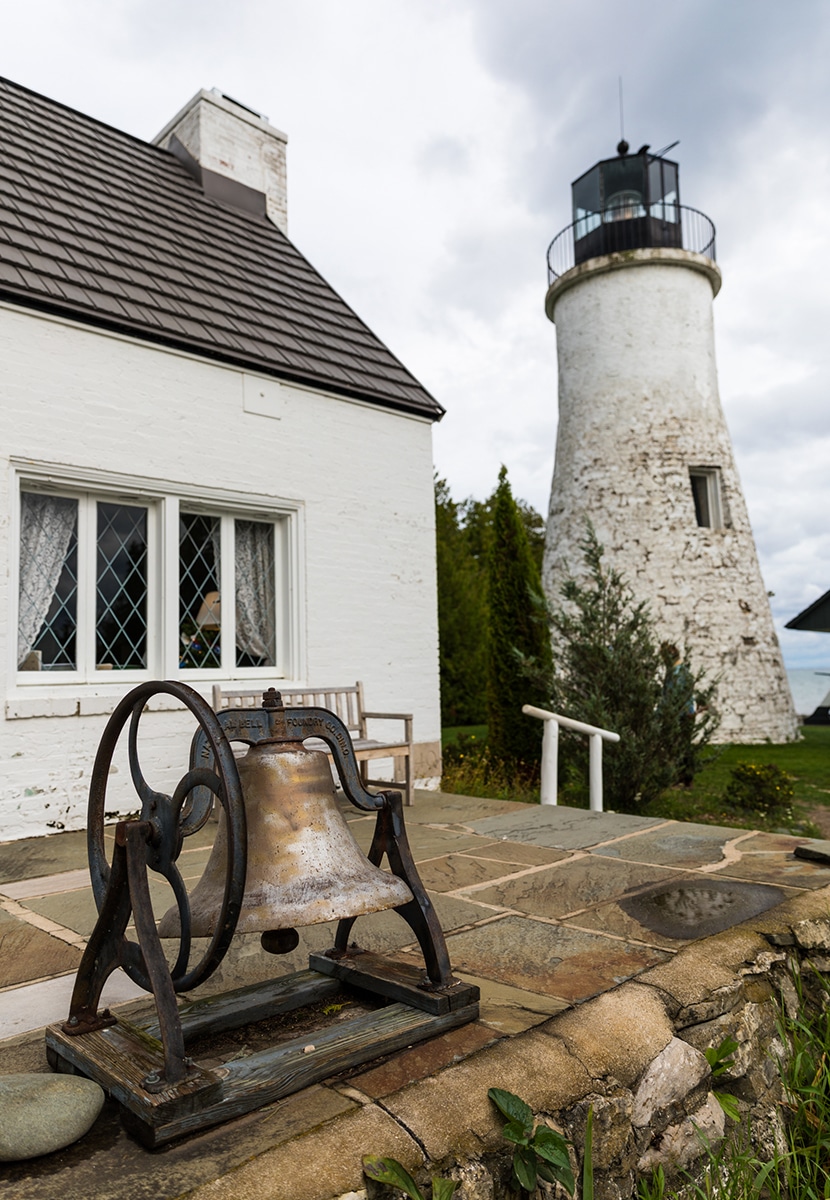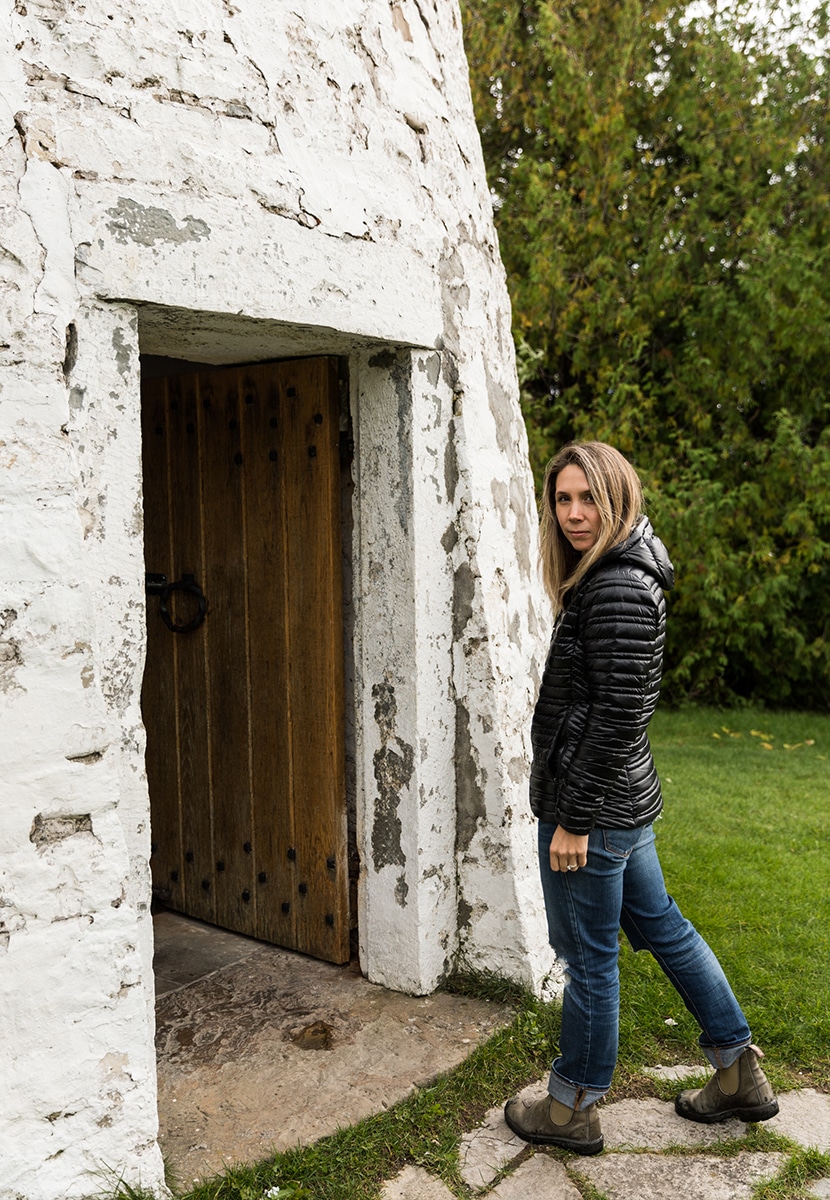 With full stomachs we headed out to the Old and New Presque Isle Lighthouses. A little-known fact, Michigan has the most lighthouses in the United States. A whopping 240 lighthouses once guarded Michigan's shores; today only about 120 of these iconic structures remain. They guide ships through the wild weather on the Great Lakes in every season. Each one is a work of art and worth a visit. The Old Presque Isle Lighthouse is quaint and right on the water. The newer lighthouse is extremely tall and beautiful. Around the newer lighthouse, you can find all sorts of walks to the beach and more.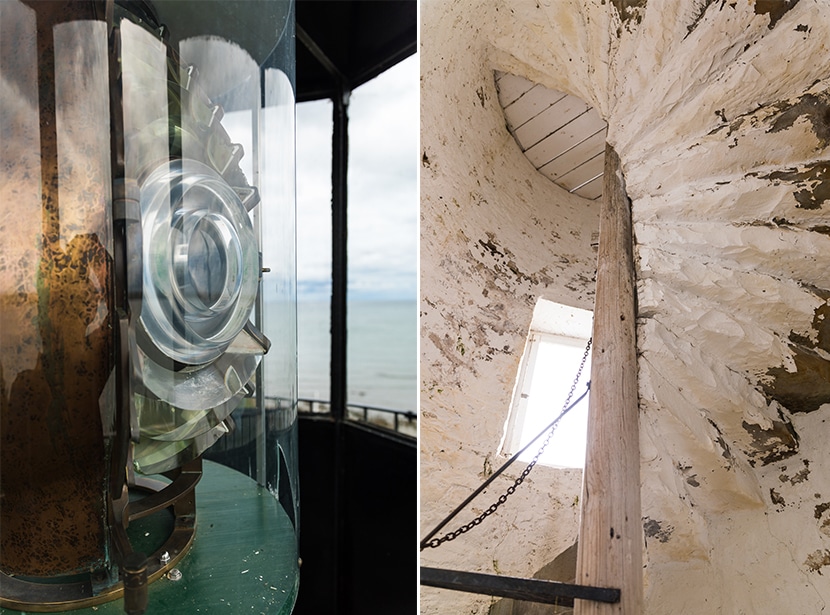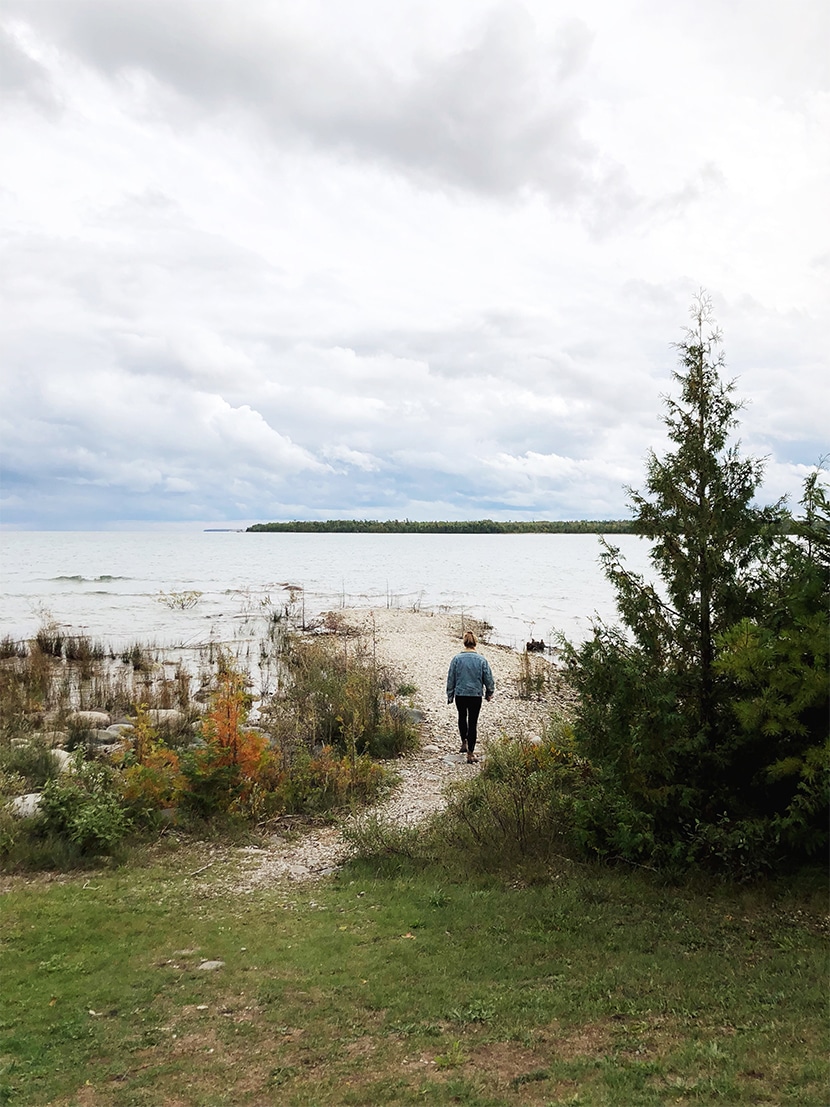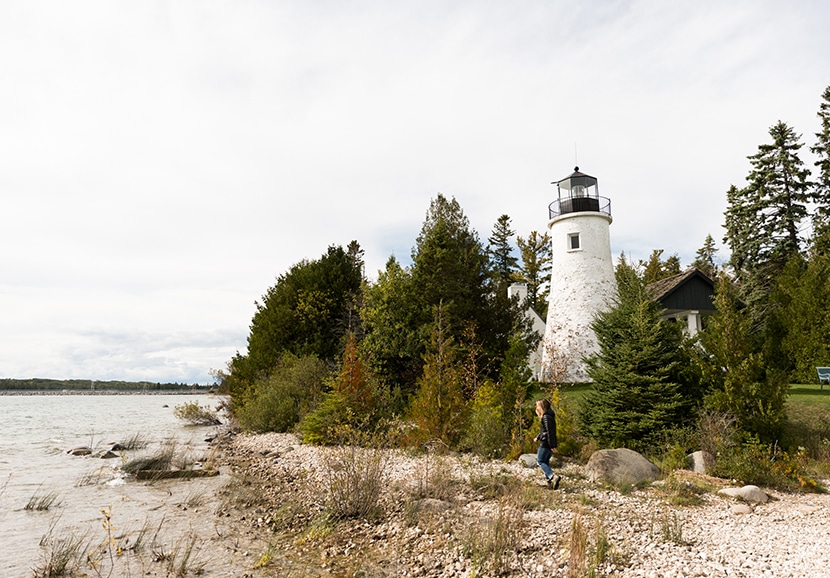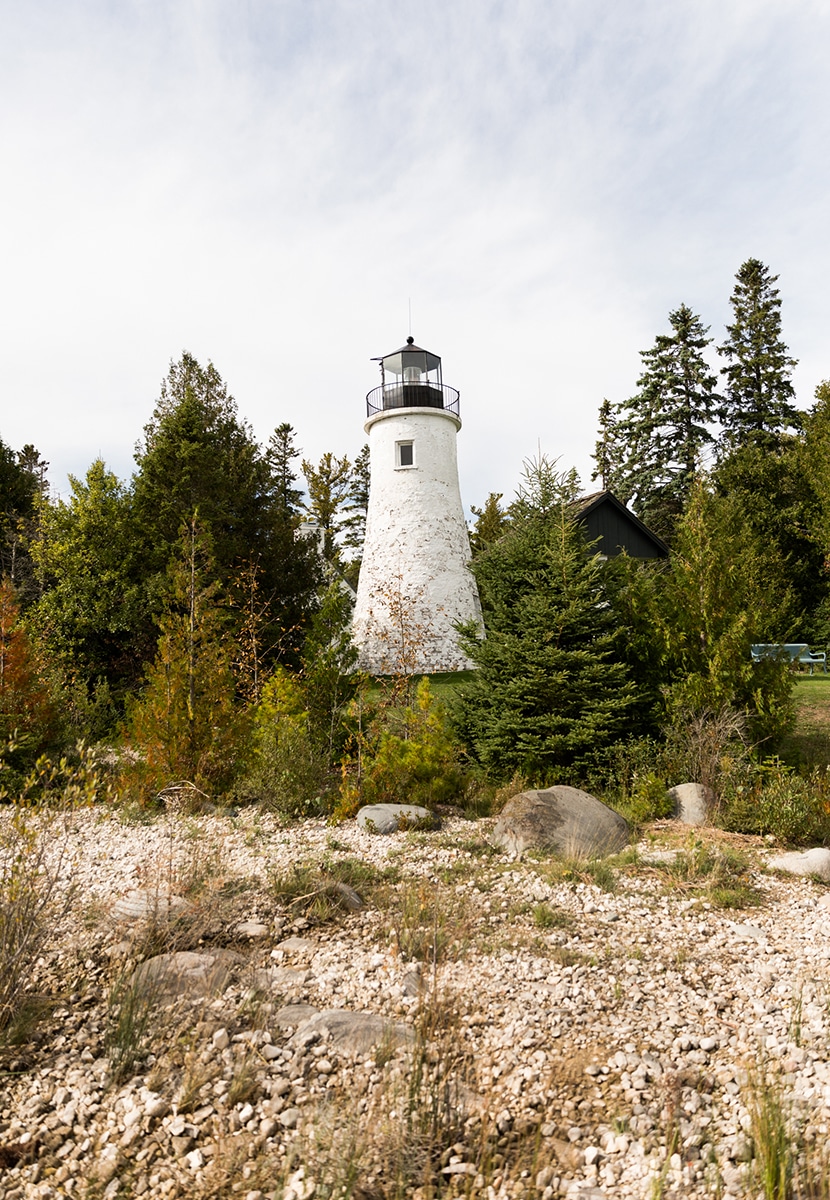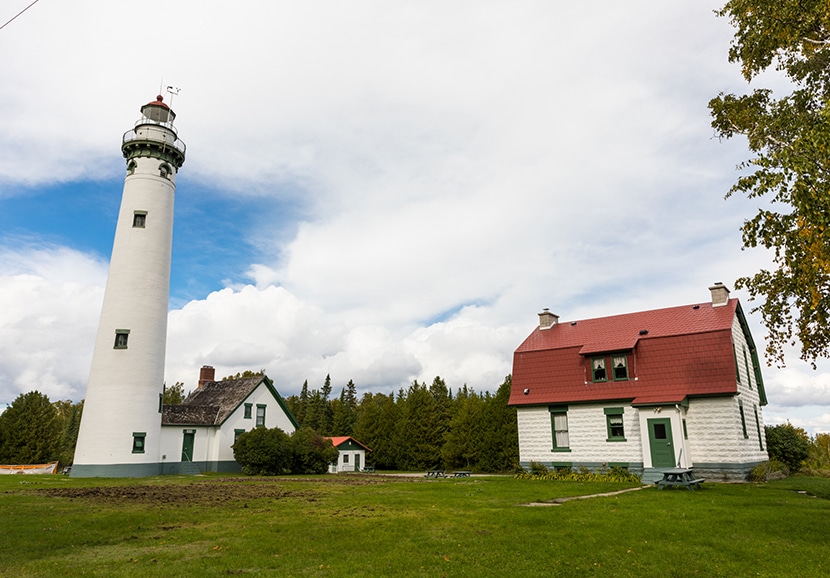 Next, we drove further north and stopped at the 40 Mile Point Lighthouse in Rogers City. If you head to the shore, you can find a shipwreck and a really beautiful beach!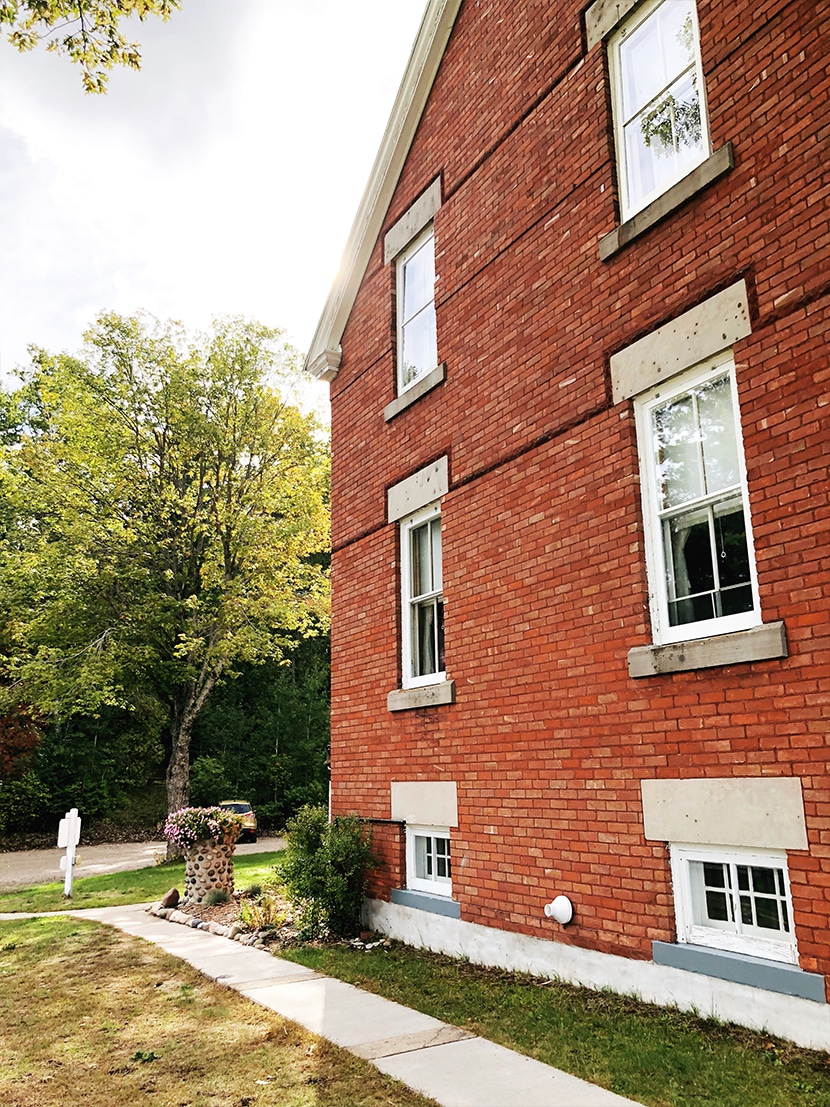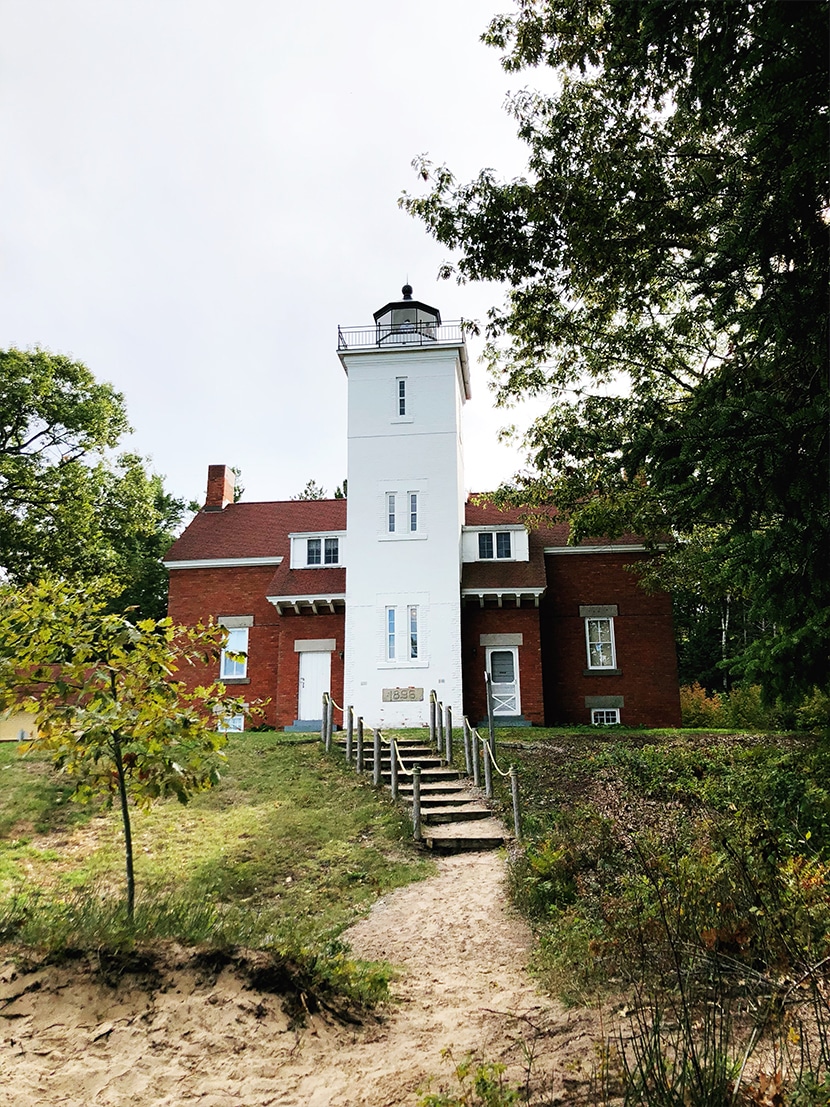 Before dinner, we stopped at our hotel to drop our things and freshen up. The wind was picking up, but we enjoyed wandering near the lighthouse in Mackinaw City. Also on our walk was Fort Michilimackinac, where visitors can observe the longest-running archaeological project of its kind in the country!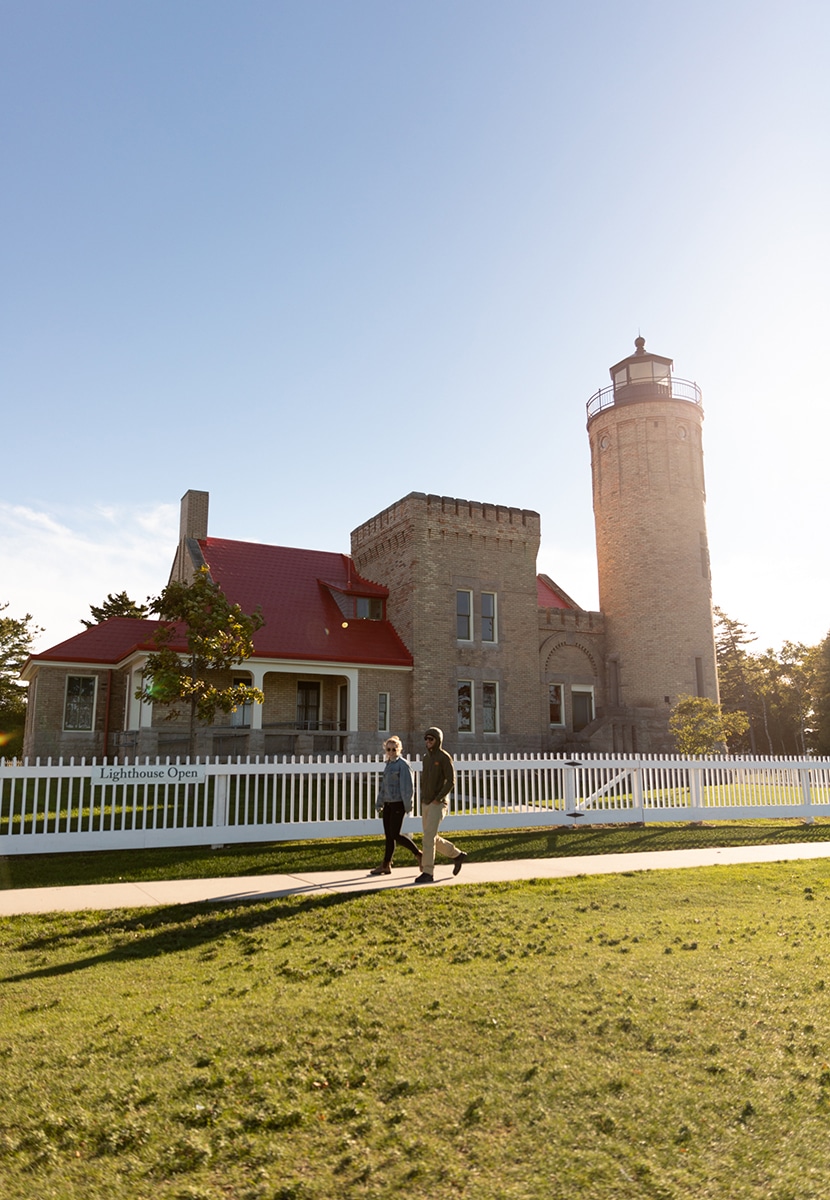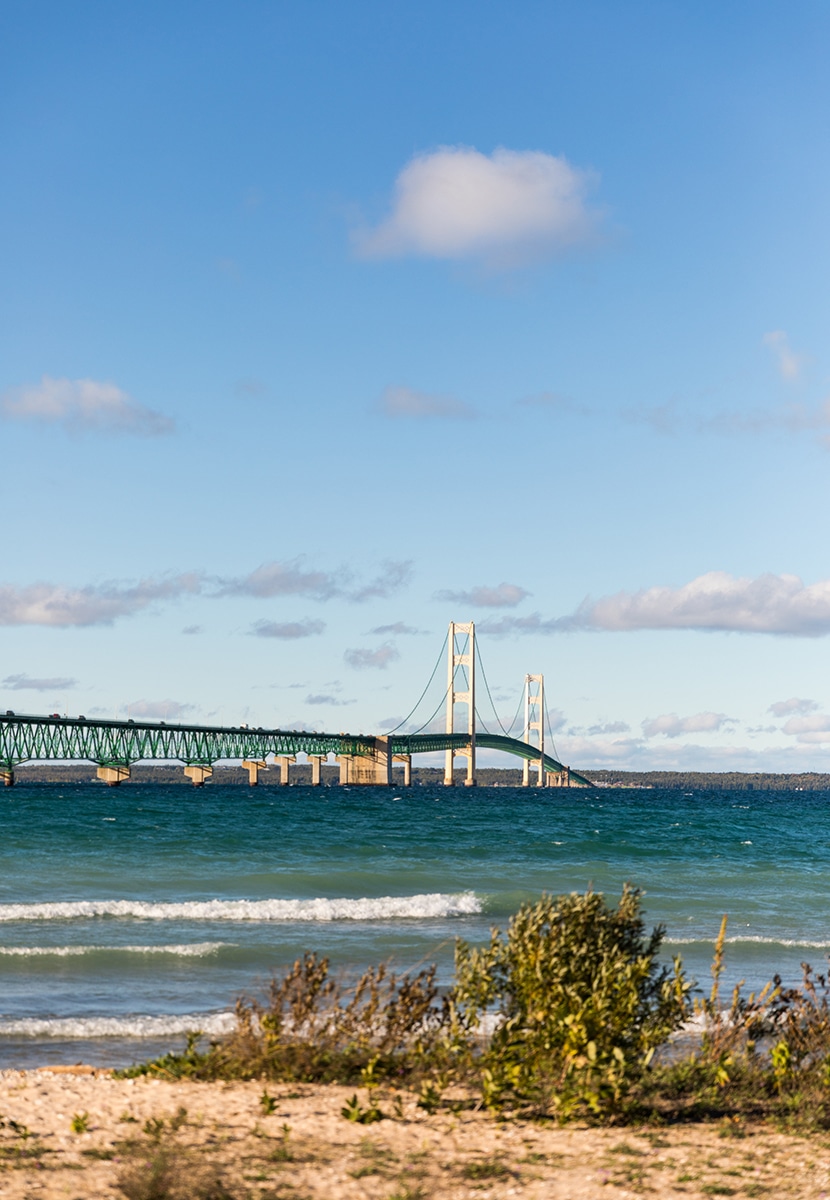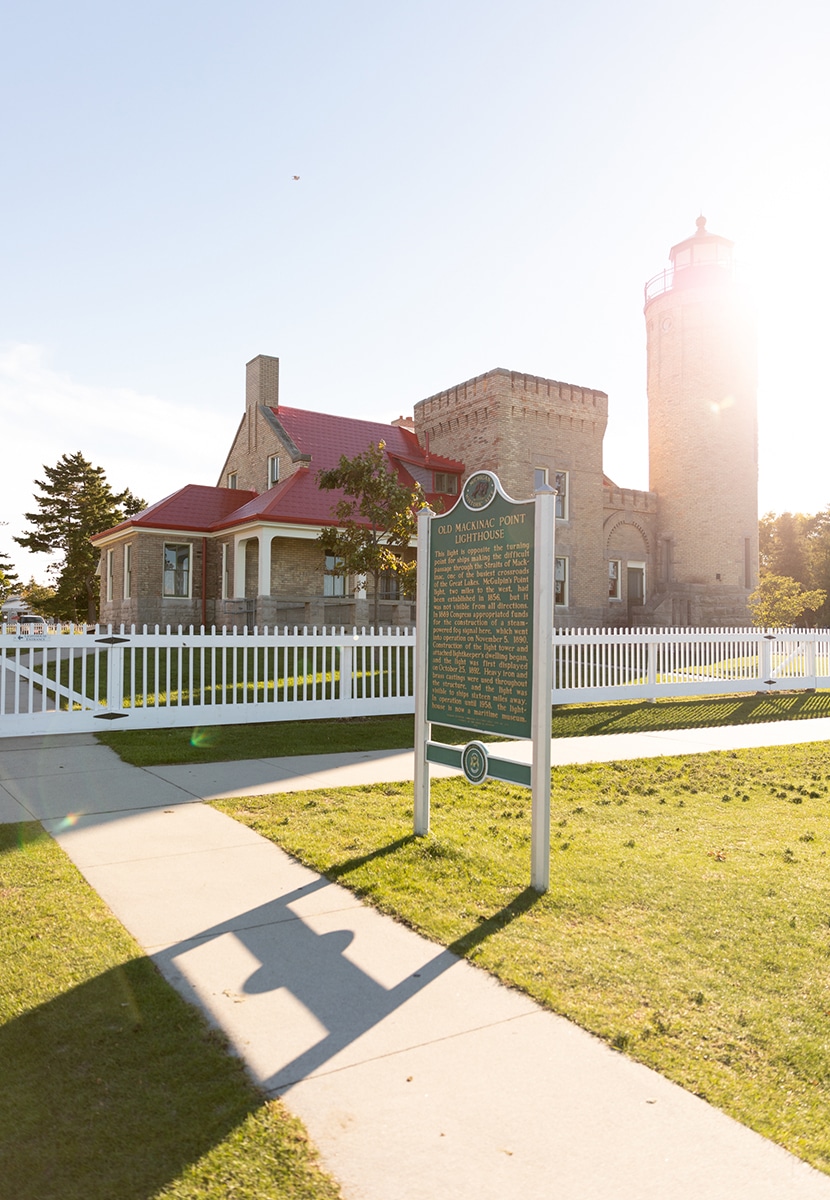 We ended the night by eating dinner at the Dam Site Inn in Pellston. It was a childhood favorite of mine and near the Maple River. A truly special place that is always a great time warp if you are looking for something really unique.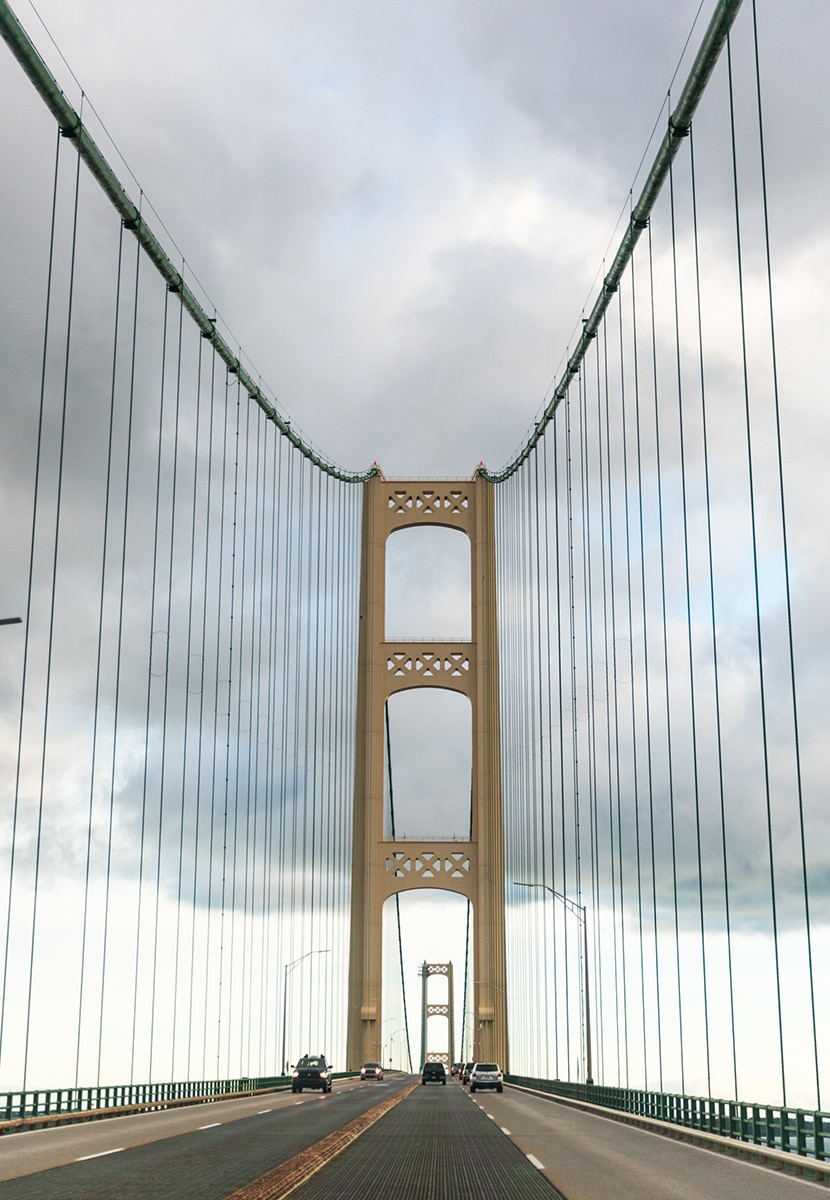 The next morning, we headed north across the Mackinac Bridge, crossing the Straits of Mackinac which connect Lake Michigan and Lake Huron. Little-known fact about the Mighty Mac, it's the fifth longest suspension bridge in the world and the longest in the Western Hemisphere. I hadn't been over the bridge since I was a pre-teen and so it was pretty amazing. It felt eerie and beautiful that morning and it never stops amazing me how powerful the waters are in these lakes.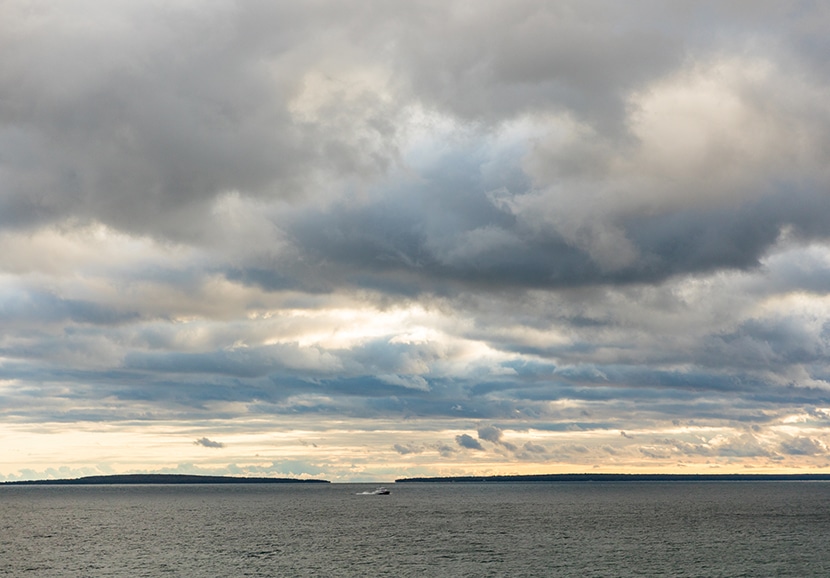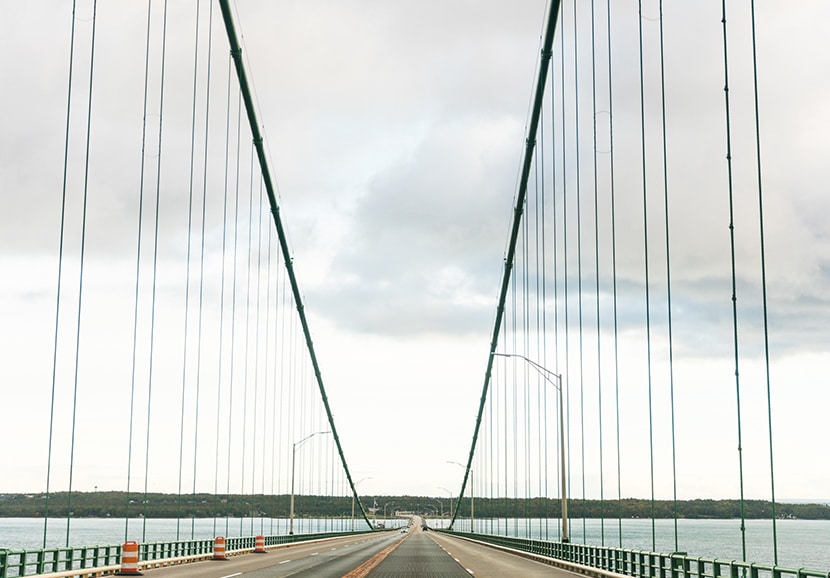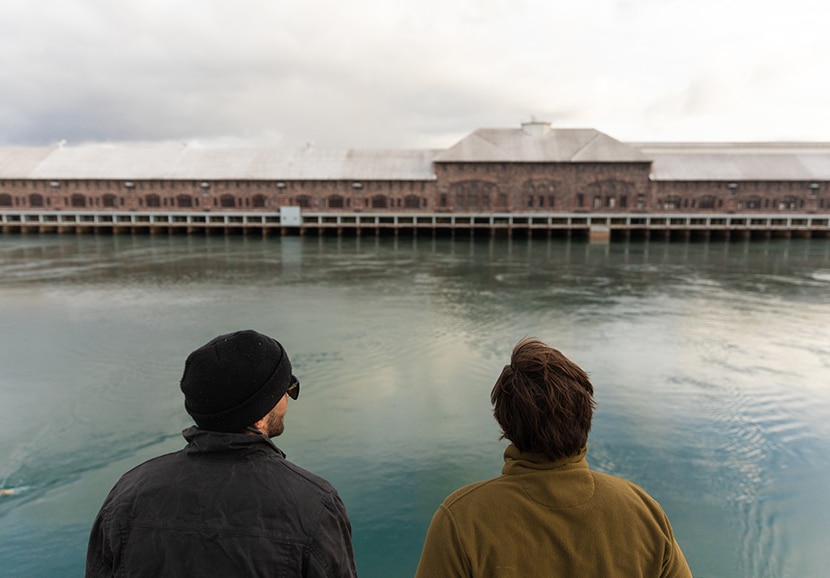 Once across, we headed even farther northeast to the US-Canada border at Sault Ste. Marie, Michigan, which has a twin city of the same name across the St. Mary's River in Ontario, Canada. The entire length of the river is an international border separating Michigan from Canada. Our first stop was to view the largest hydro-power plant we had ever seen. It was gorgeous and completely mesmerizing.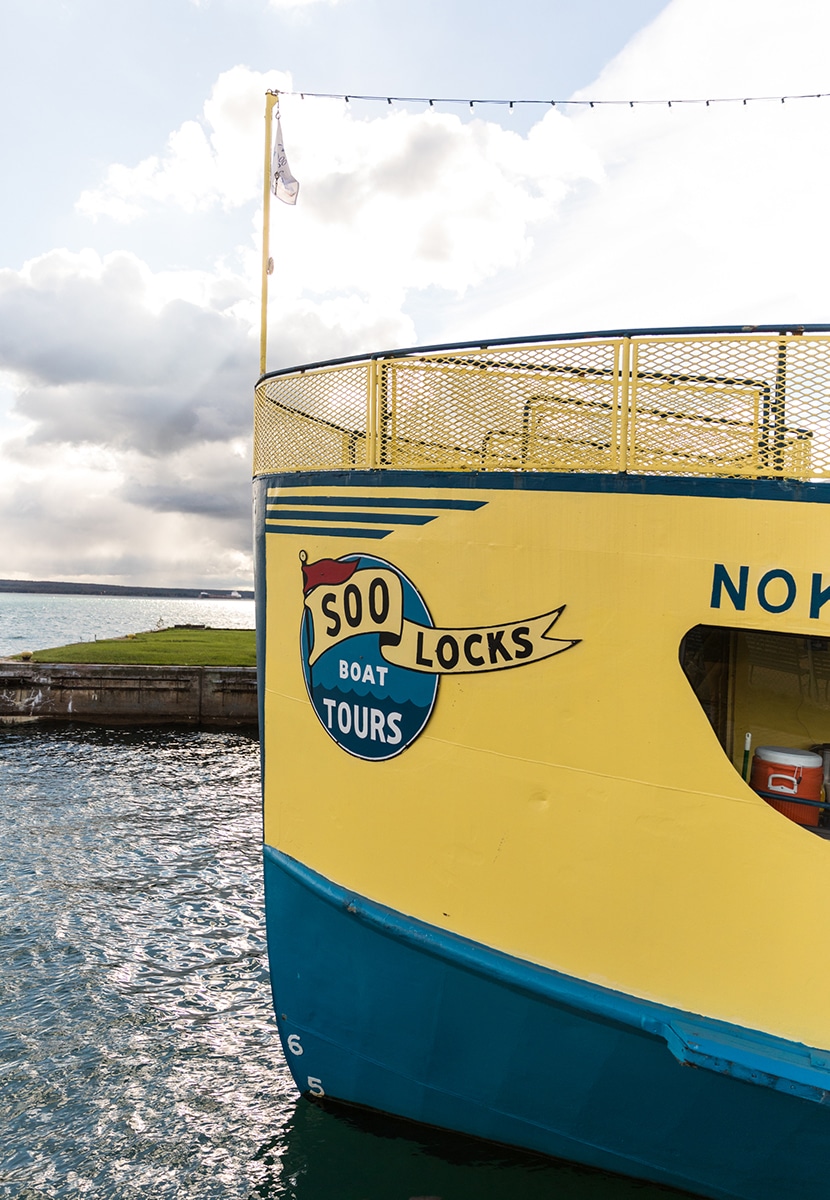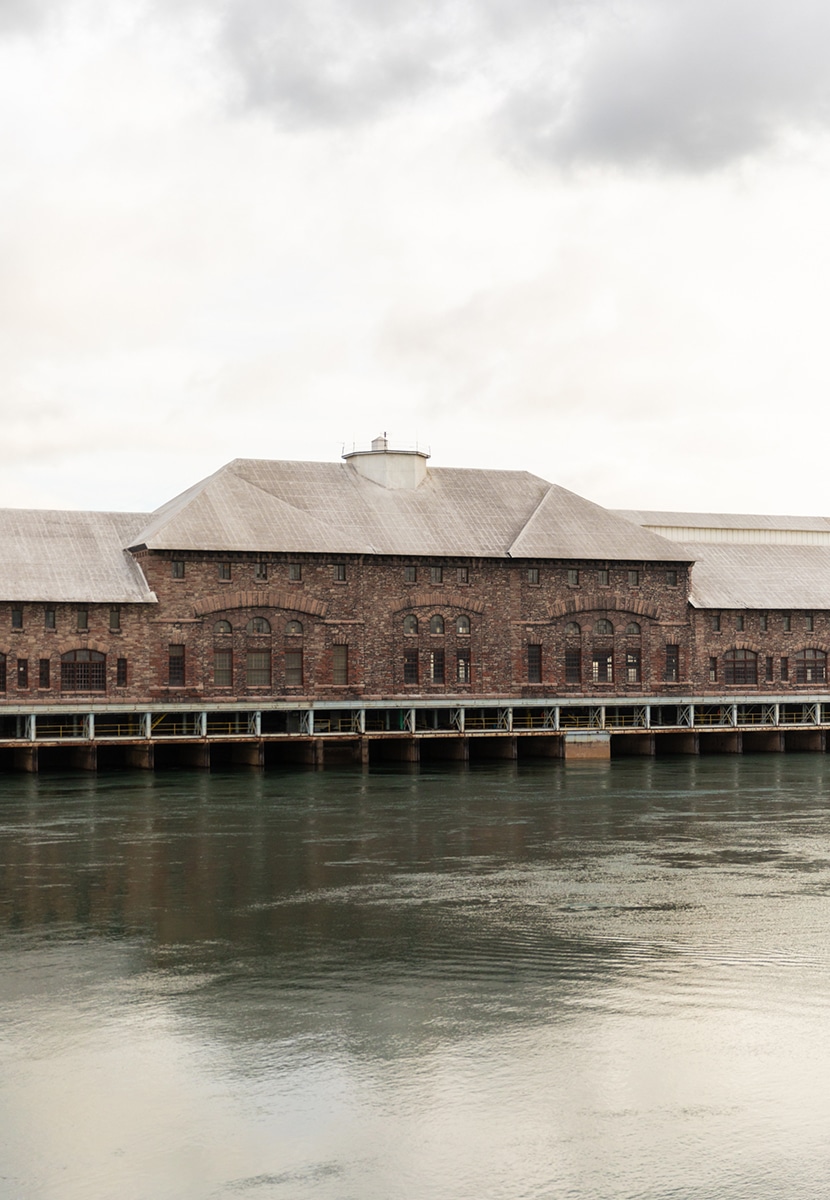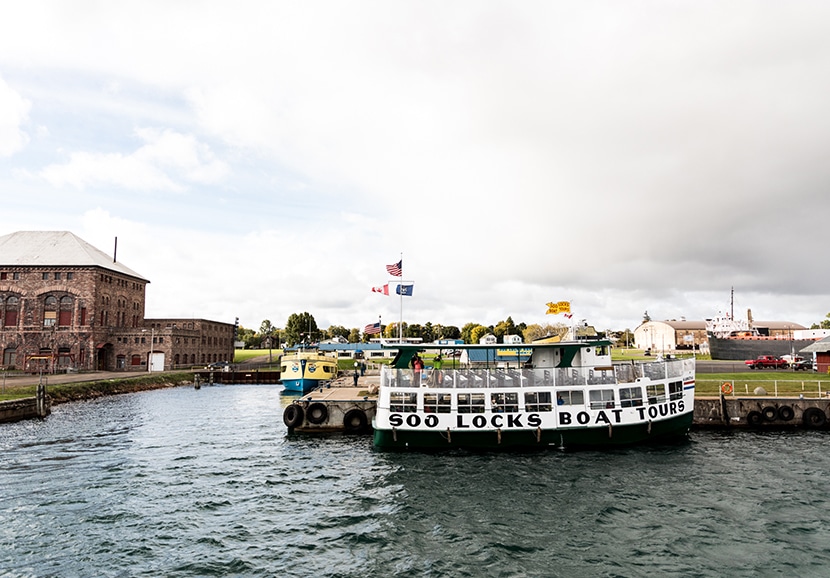 Right next to the hydro-power plant was the Soo Locks Boat Tours. We headed out on the water and headed toward the Locks. The Soo Locks, a National Historic Landmark, help boats and freighters move between Lake Huron and Lake Superior by enabling them to navigate 21-foot falls in the St. Mary's River.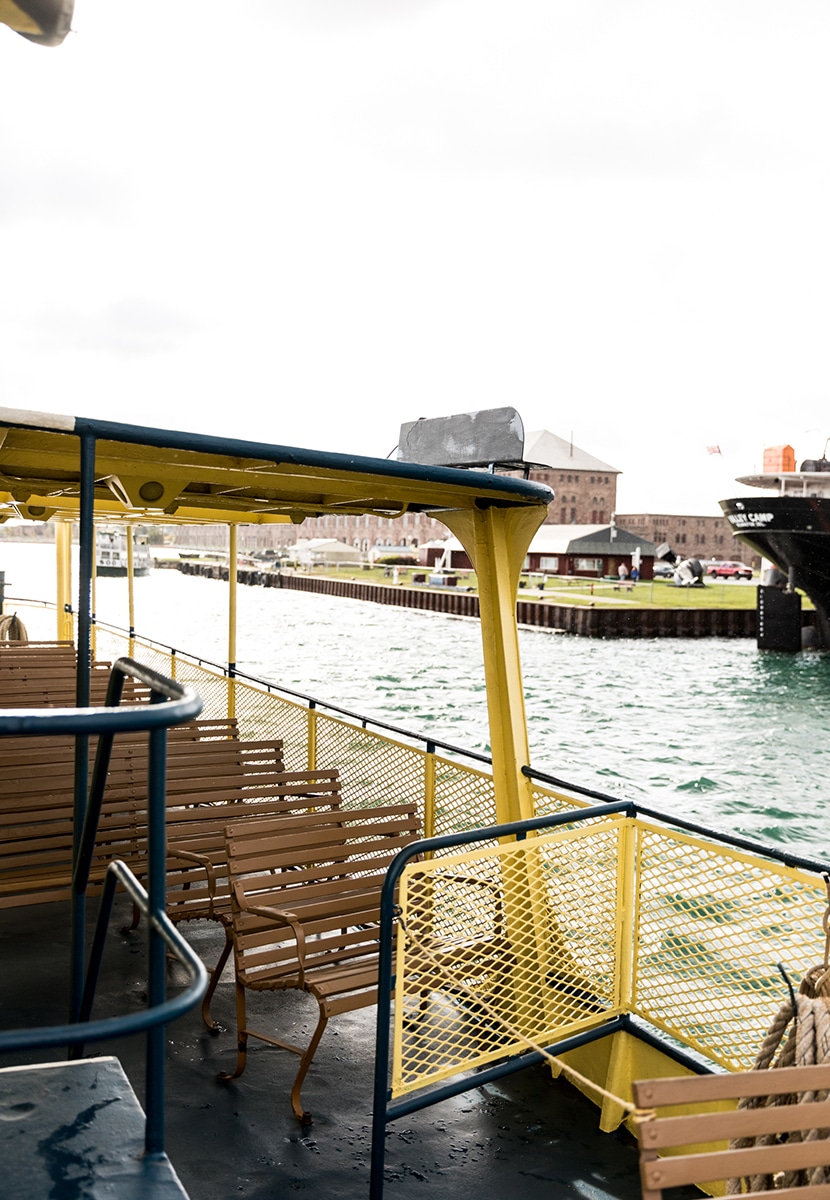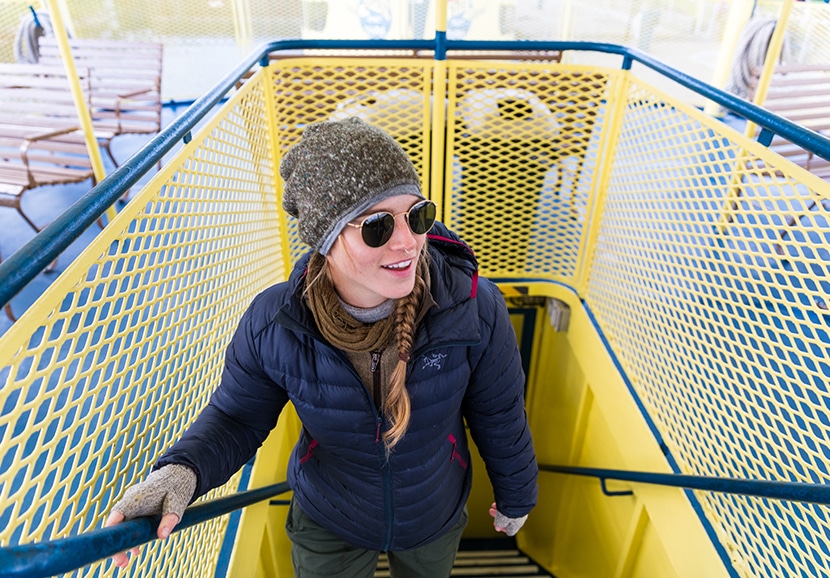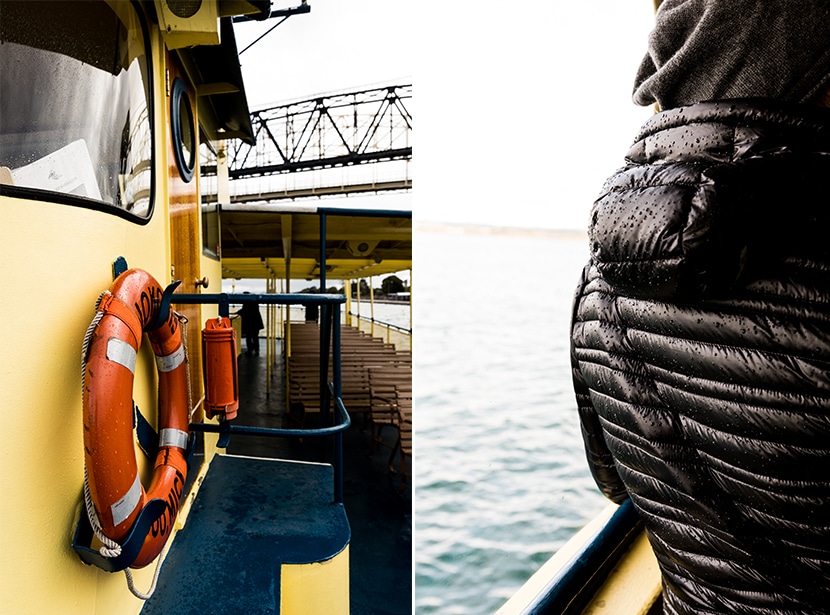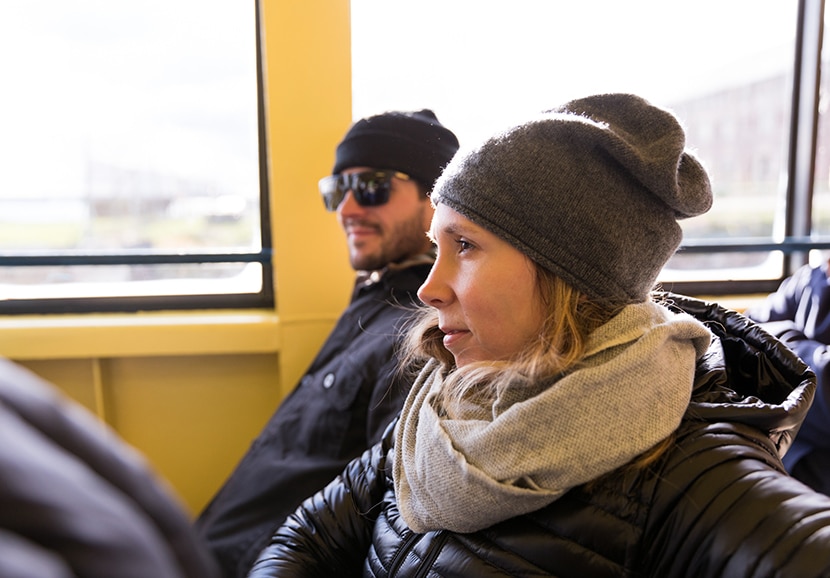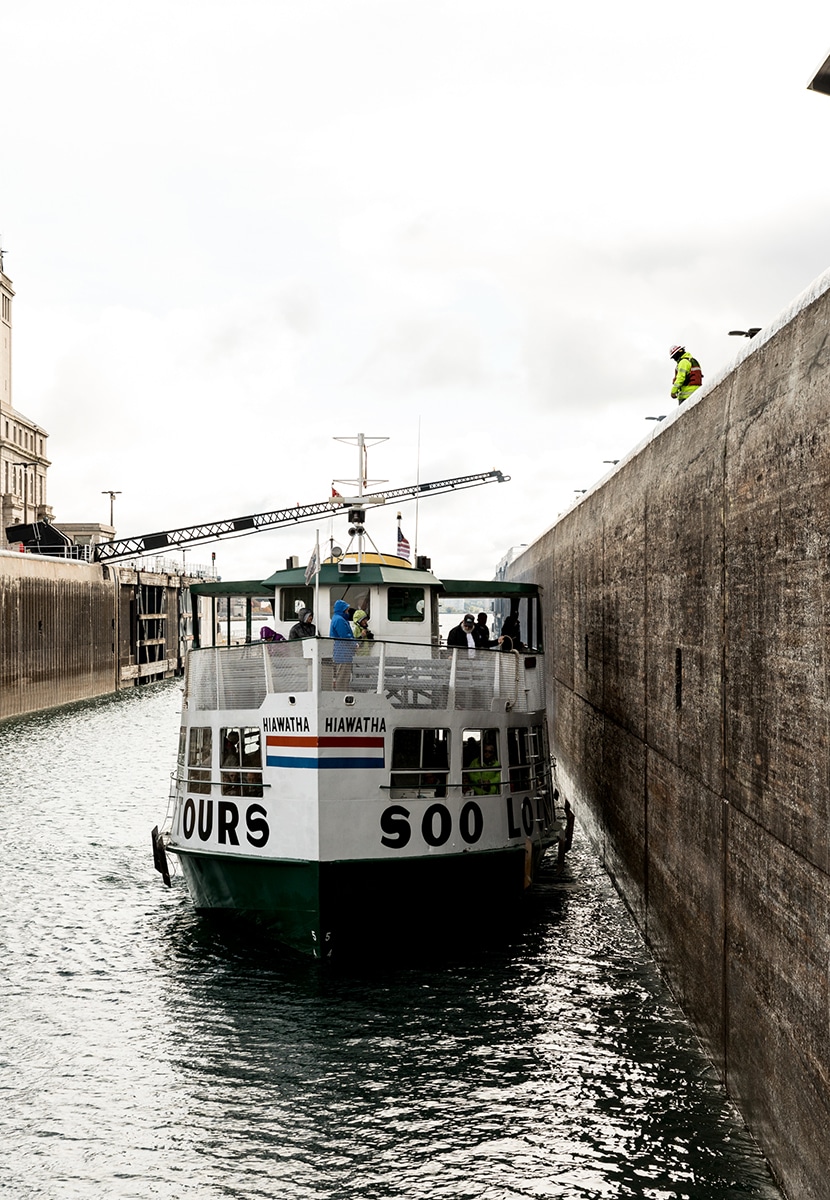 Once ships are in the Locks, they close the gates and separate the bodies of water. Then the lock fills with gravity-fed water to bring the boat up or down to the proper levels. Within about 20 minutes, we moved from one level to another. It was so cool!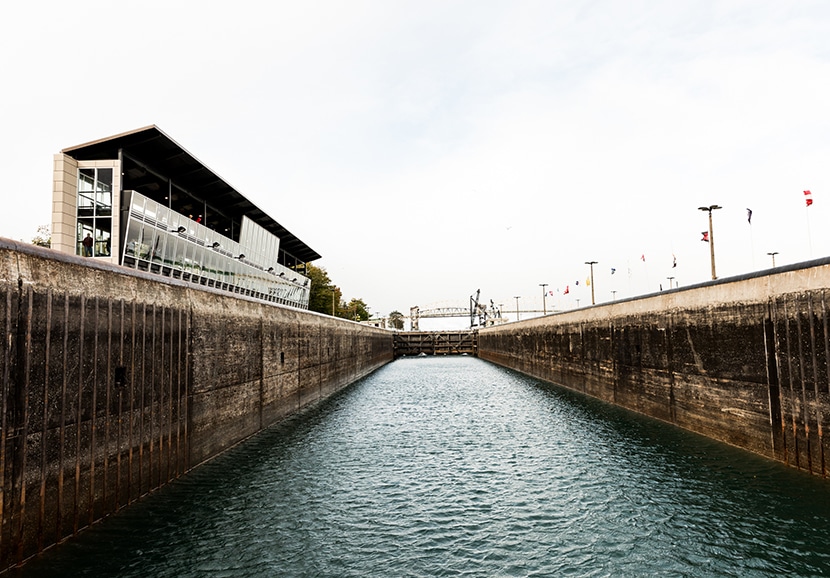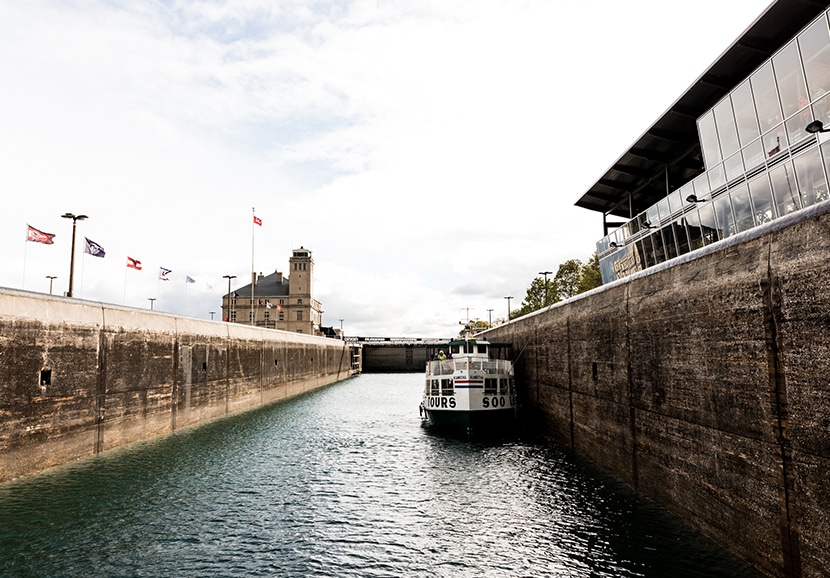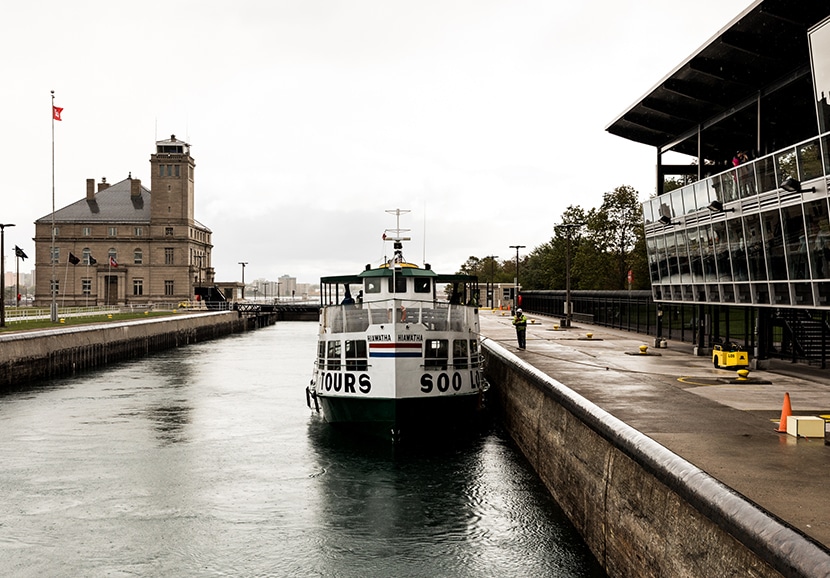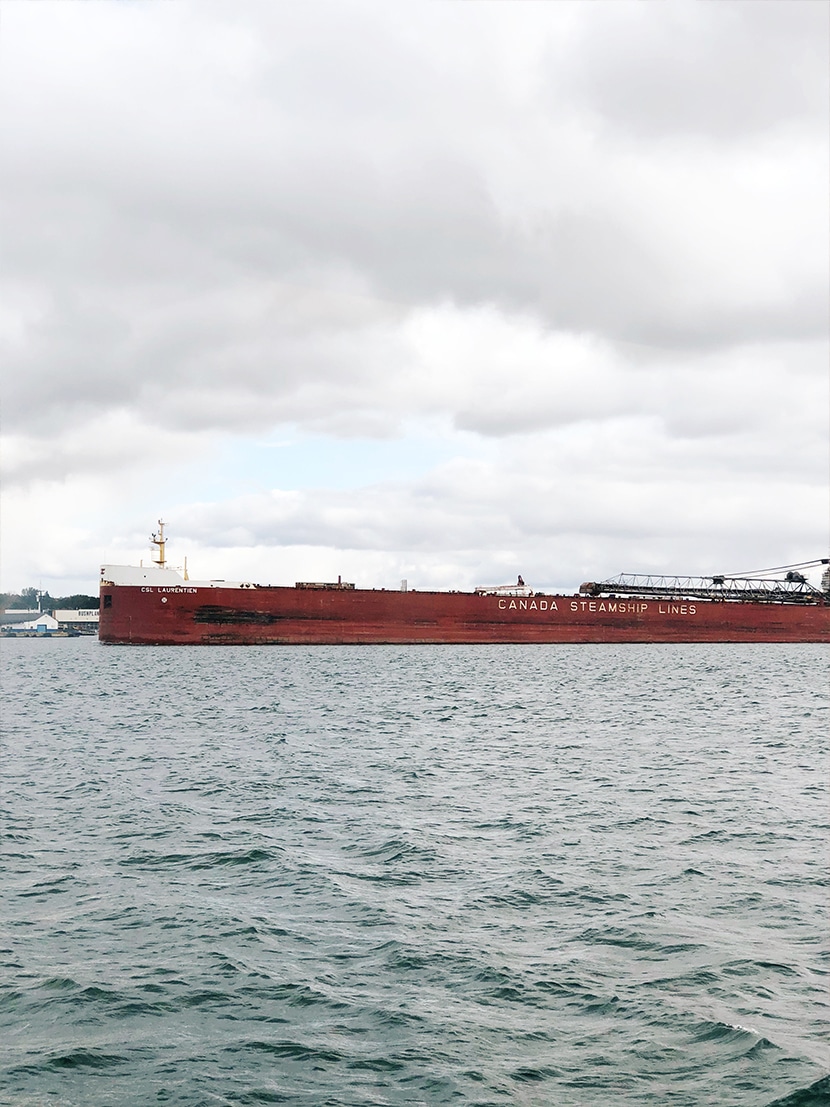 We were lucky enough to see a freighter coming through and it just amazes me to this day that these lakes accommodate such HUGE boats! It blows my mind. My parents, who live in a shipping town on Lake Michigan, have boats this size go through the river of the town. They feel so big and every time it's shocking to me that they fit.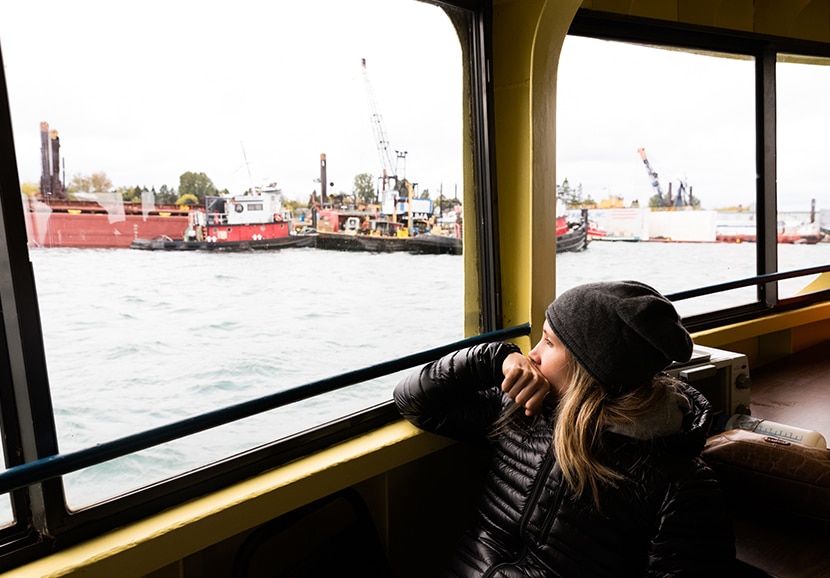 By the end of the boat ride it had gotten quite cold and had started sleeting, so we hunkered down inside the boat and stayed warm until we came back to shore. Afterward, we grabbed lunch at Wicked Sister and headed further north toward Whitefish Point.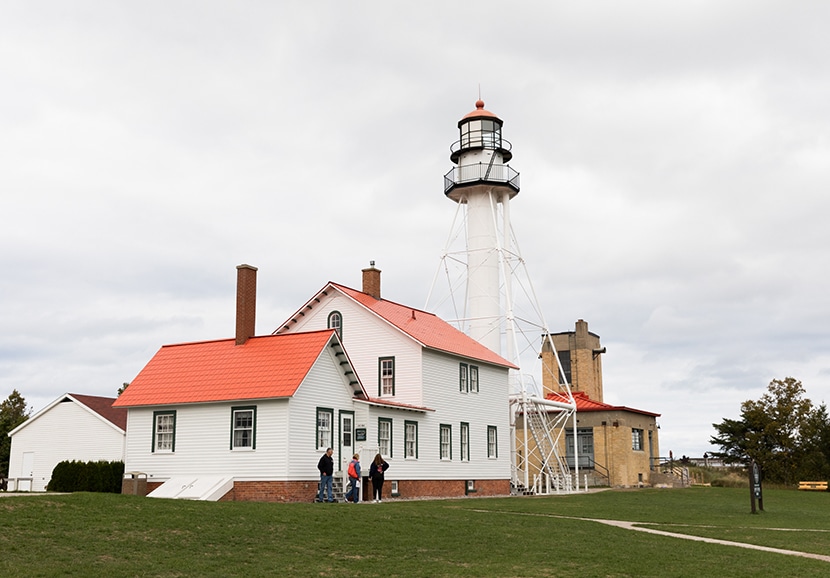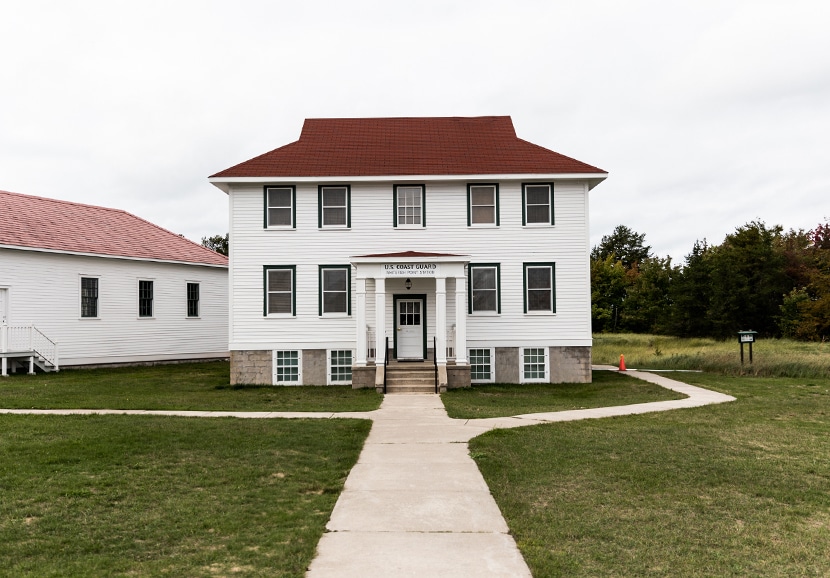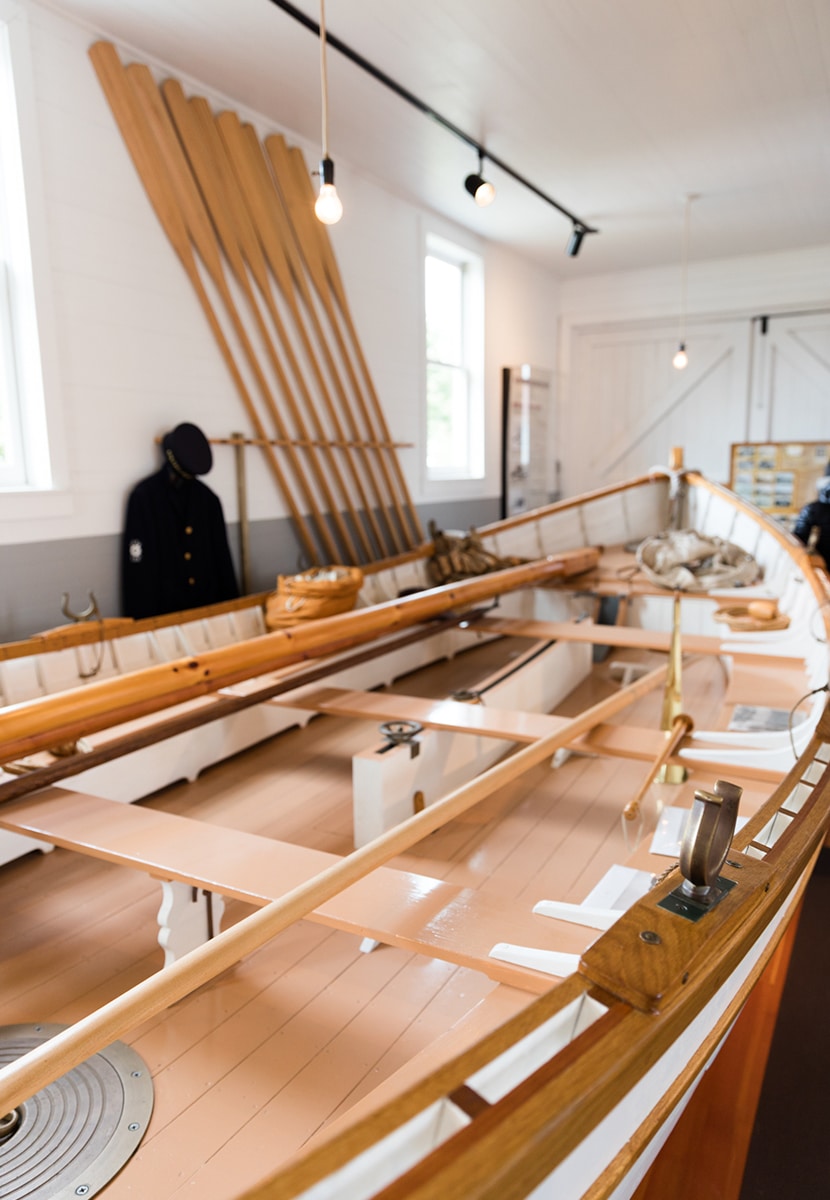 Growing up, I had heard stories of Whitefish Point. Living in a harbor town that many freighters came into for protection during huge storms, you hear these stories. They are part of Michigan history. Though we see some very wild storms on Lake Michigan, not much of it compares to what happens on Lake Superior, which is the deepest lake of them all. It holds more water than any of the other Great Lakes. The water never warms the way it does in Lake Michigan and is a completely different landscape from what we know. From Pictured Rocks to Copper Harbor, to the whole Keweenaw Peninsula, this area of our country may be one of the most unknown areas. In fact, there are two National Parks located here, but most people don't know that. Lake Superior is a powerful part of Michigan history and the Great Lake Shipwreck Museum is the place where you can learn so much about it all. So, we all were very excited to spend some time there.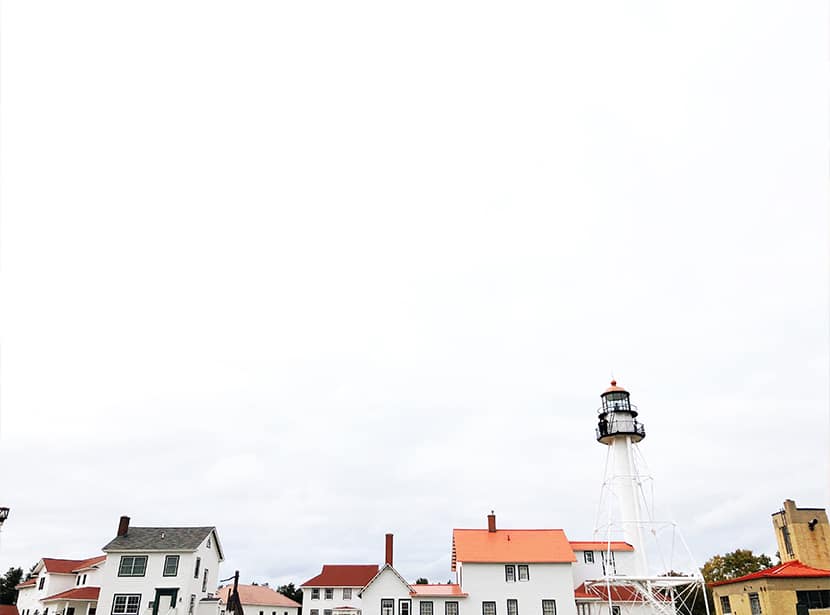 This is another beneficiary of a MLAP grant, using grant funds to rehabilitate the fog signal building, tower, and boat house at the Great Lakes Shipwreck Museum which helped preserve its quaint feel. It was special to read about the various shipwrecks that have happened along this point. The day we were there the winds were high and storms were brewing. It felt eerily alive with the history of shipwreck stories. We read about one of the largest shipwrecks, the Edmund Fitzgerald, which is the story most of us grew up with since our parents were alive when it happened. You can learn more about the Edmund Fitzgerald that came from Wisconsin through Lake Superior and sank just north of Whitefish Point the night a storm blew in hurricane force winds with the transitioning of seasons. It is a sad story but one that makes complete sense when you wander out to the Point and stand there watching the water move. These lakes demand such respect. Their power is unbelievable. I mean this story is such an important one in our history that this song is a beloved one by many a Michigander and one I grew up hearing—particularly this time of year.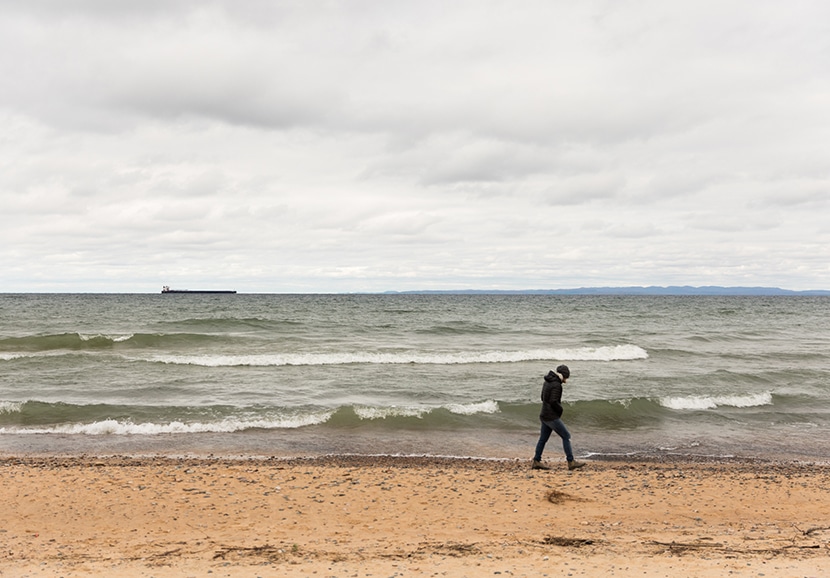 Walking the shore, we all talked about how small we felt against this wild and deep body of water. It was brooding and dark. So different than the world we know living on Lake Michigan. How amazing it felt to see how different these bodies of water can be. We watched as freighters passed Whitefish Point and we couldn't help thinking of all the men that have been lost just off this Point over the years just doing their work.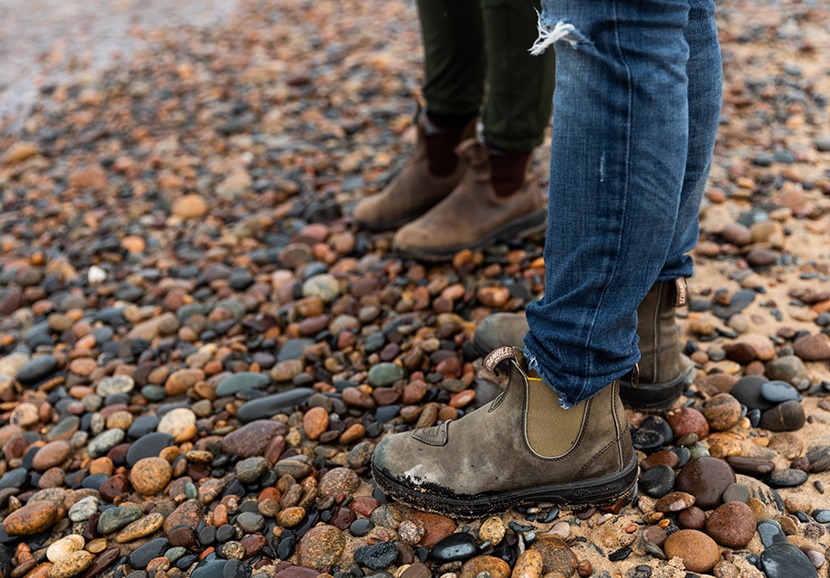 Hands down, Whitefish Point was one of our favorite moments on this trip. The stories, the history, and the rock collecting were some of the best experiences we could have hoped for. We spent far too long out on the Point watching the water and wishing we had brought our gloves as the mist started to look more like snow.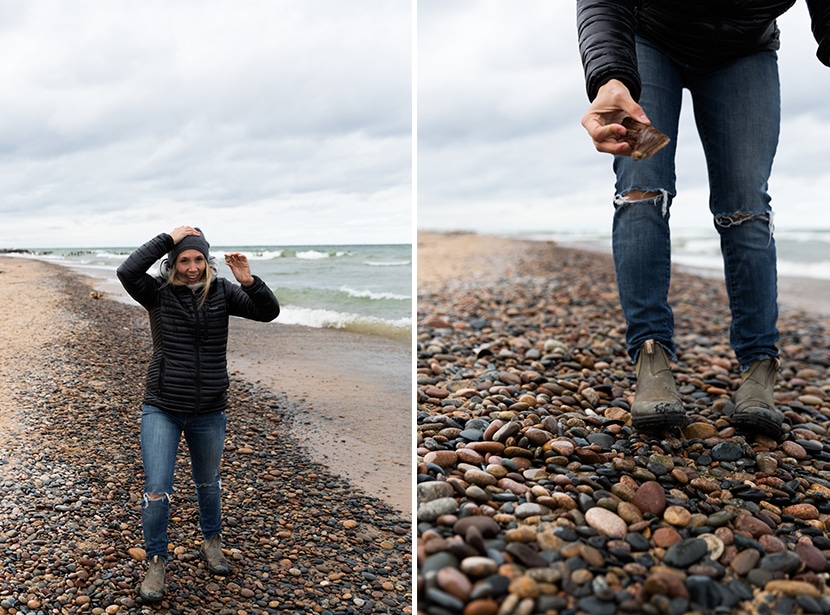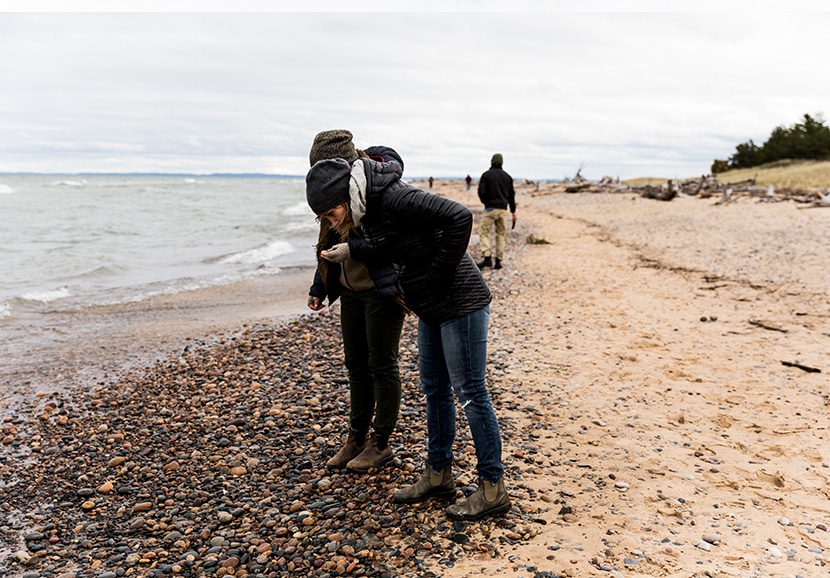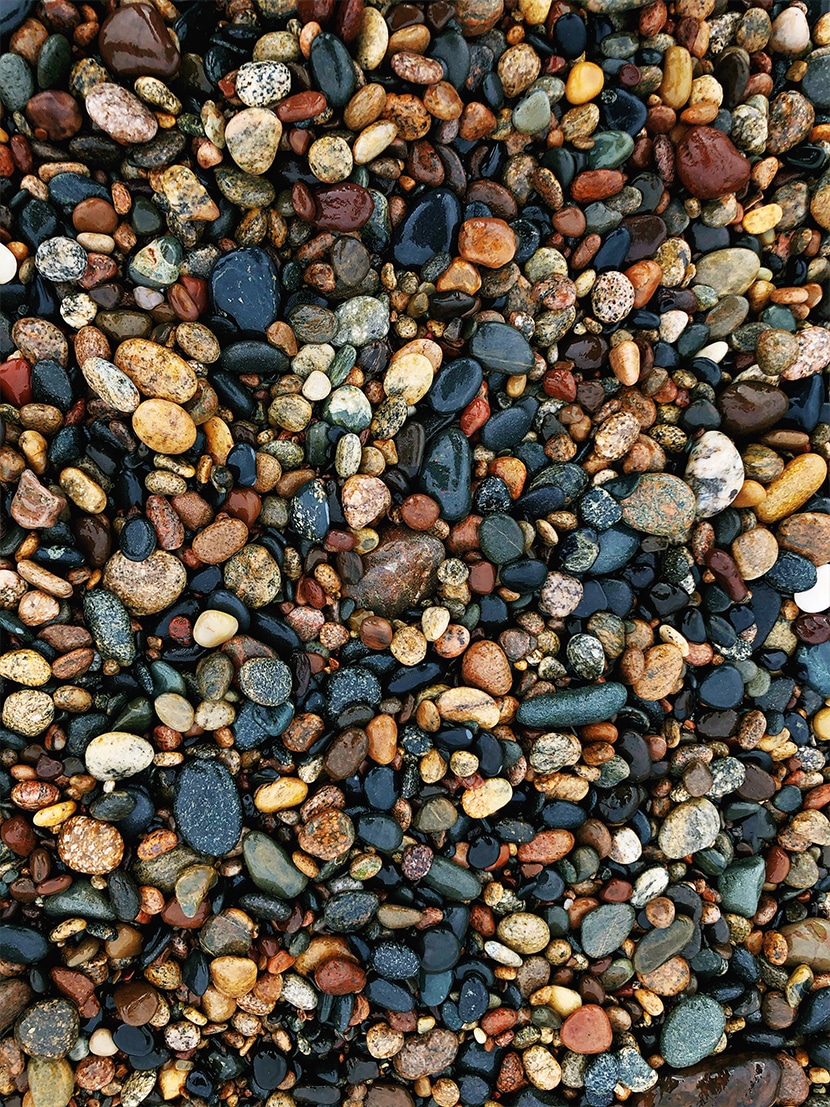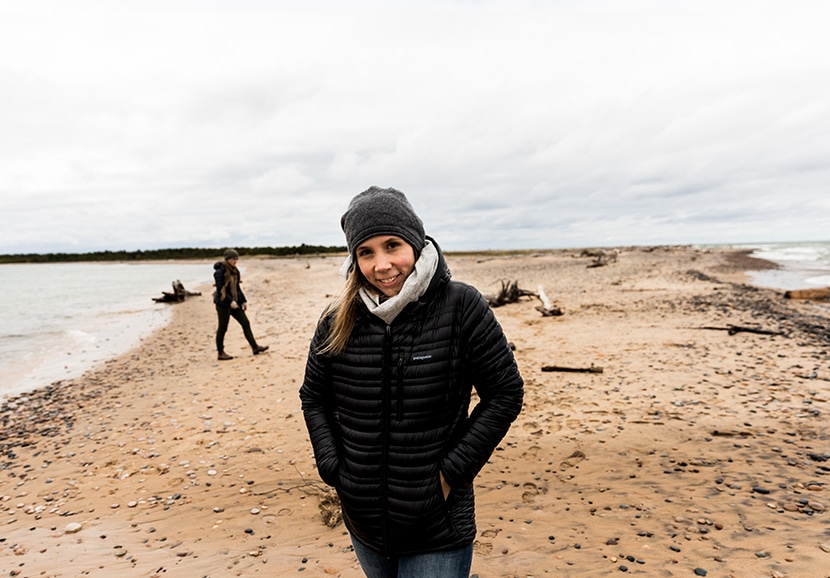 It's a little-known fact that abandoned property on Michigan's Great Lakes bottomland belongs to the State of Michigan. So, if you ever go diving or exploring shipwrecks in the Great Lakes, you shouldn't touch anything, and it's illegal to take it into your possession! The artifacts belong to the State of Michigan and the state wants all of that cool stuff to be there for other divers to see and learn from.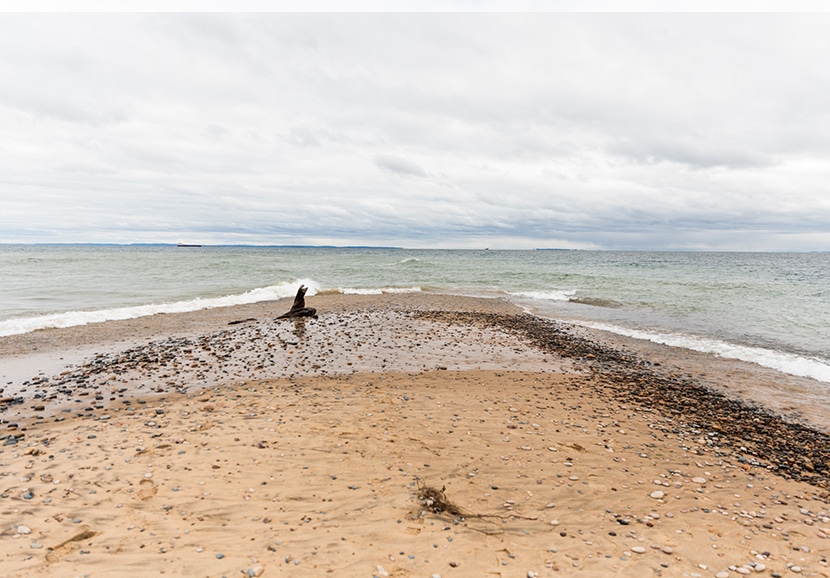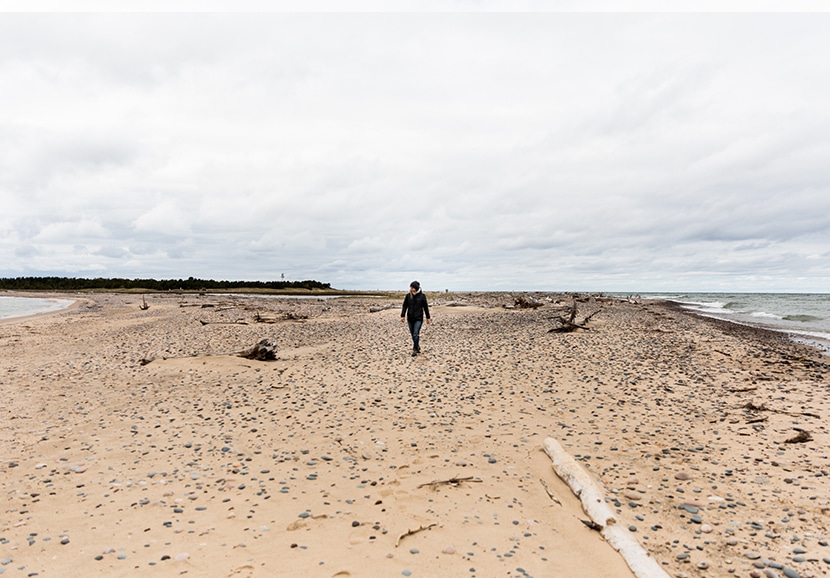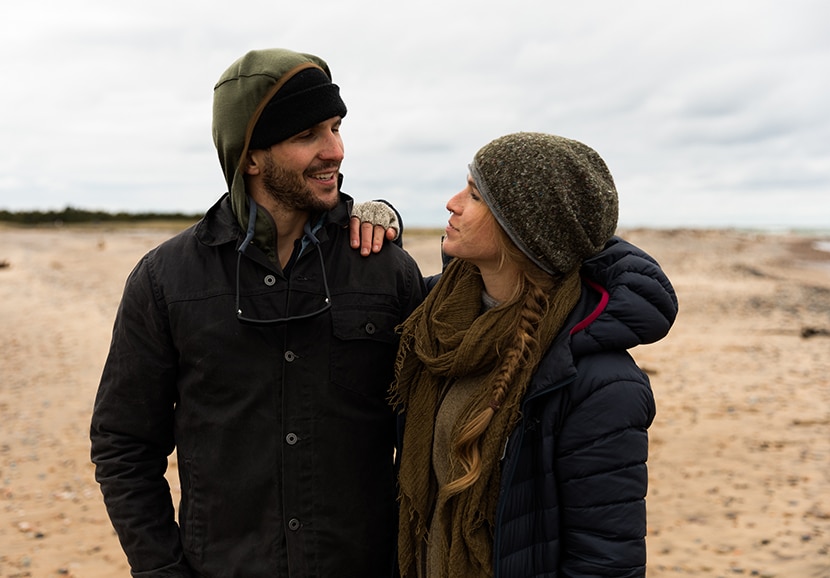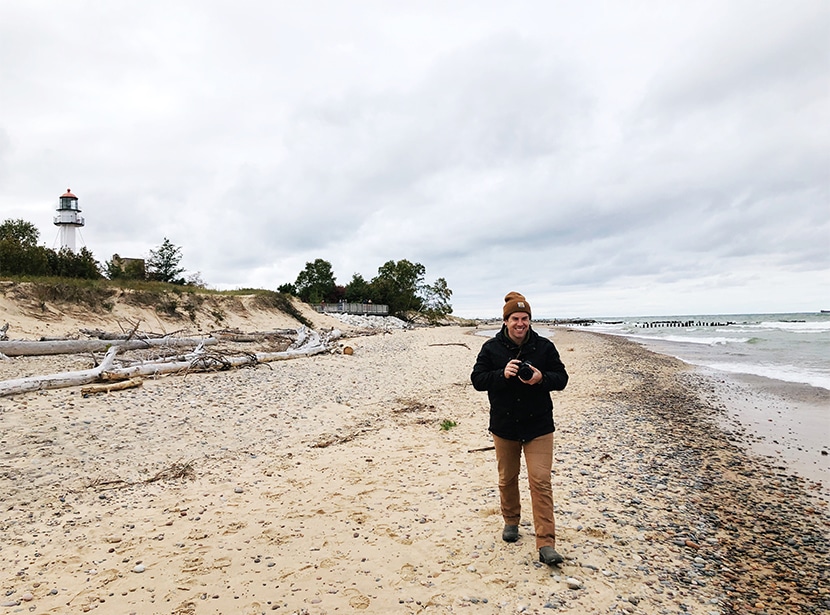 Once we felt we had soaked up this special place and walked the whole Point, we headed to our final big stop in the Upper Peninsula for the day, Tahquamenon Falls. This is a place that holds a lot of childhood memories and it hasn't changed an ounce in the best way. The colors were alive and beginning to show on these gorgeous falls, just as you hope when we head north in the fall.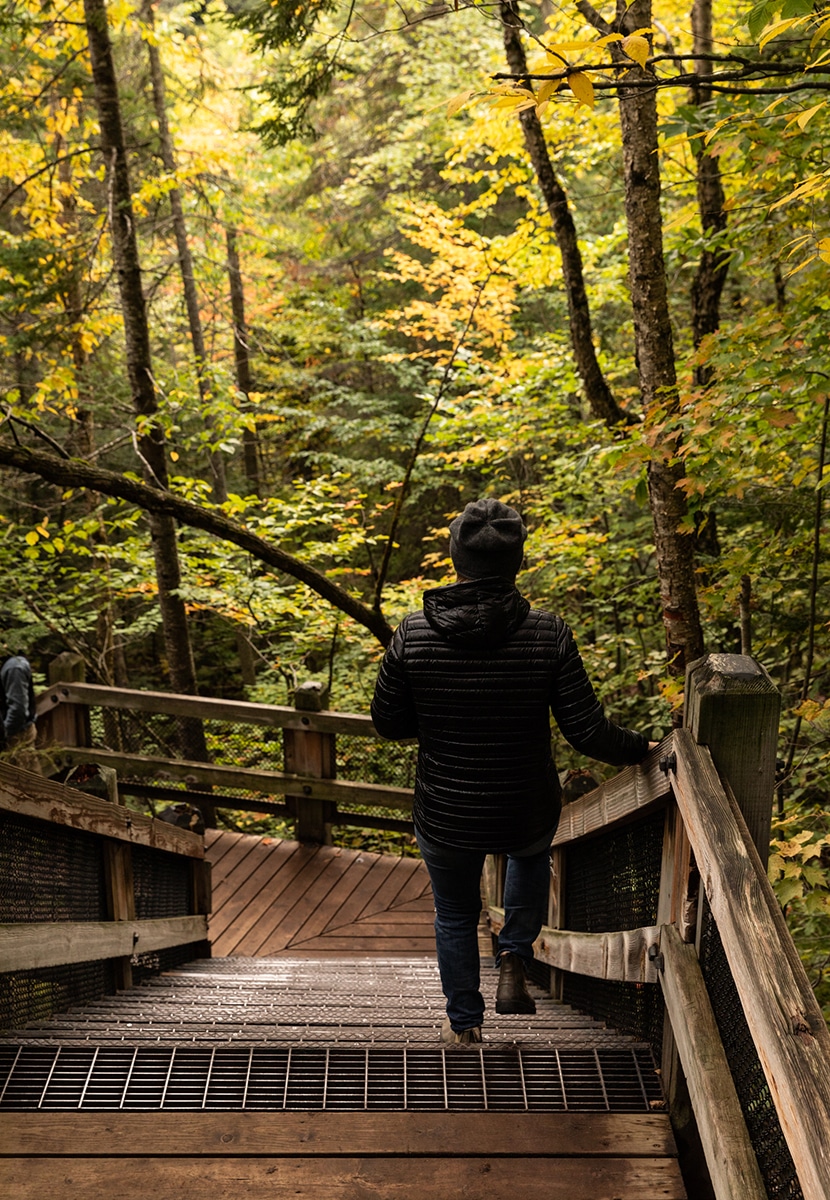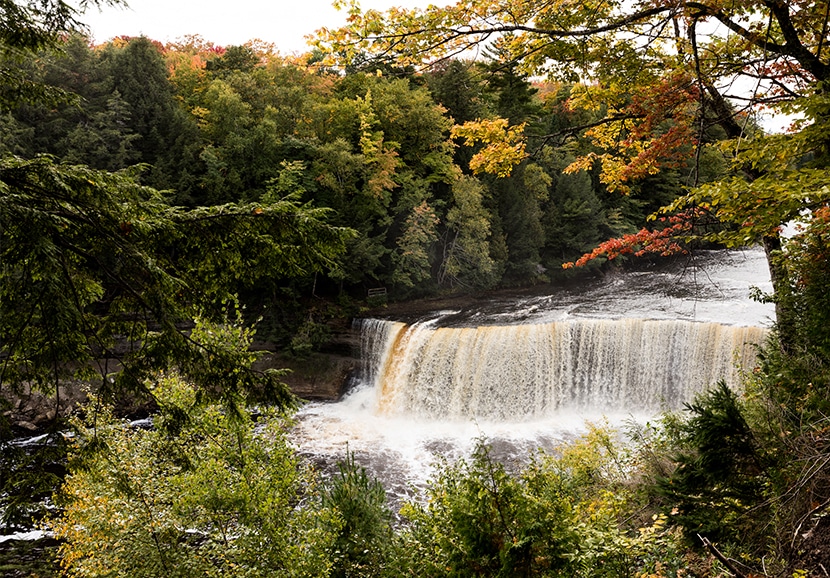 These falls are some of the largest east of the Mississippi River and they get their distinct color from the cedar stumps up the river. You can visit them any time of year because the park is open year-round.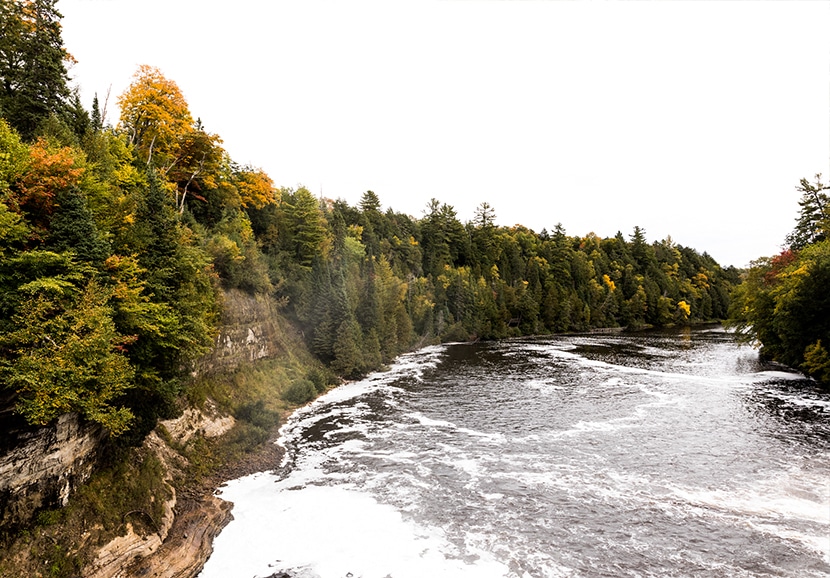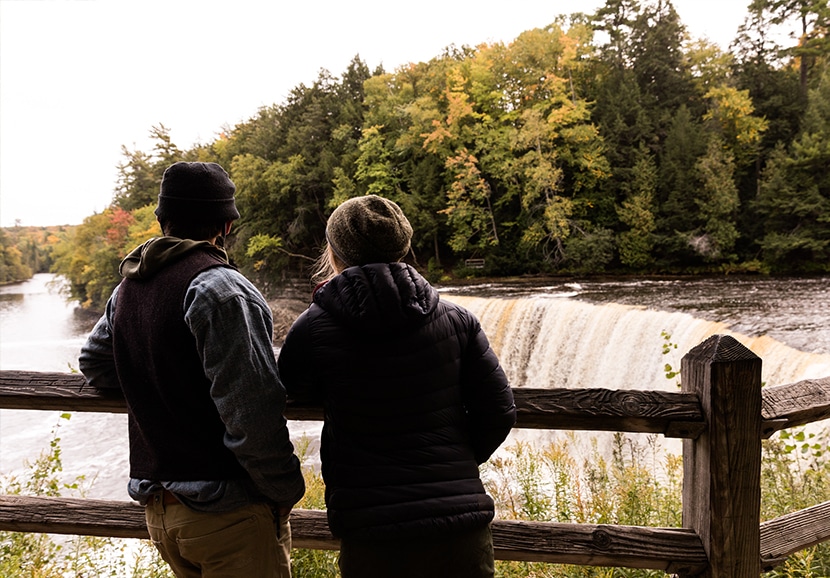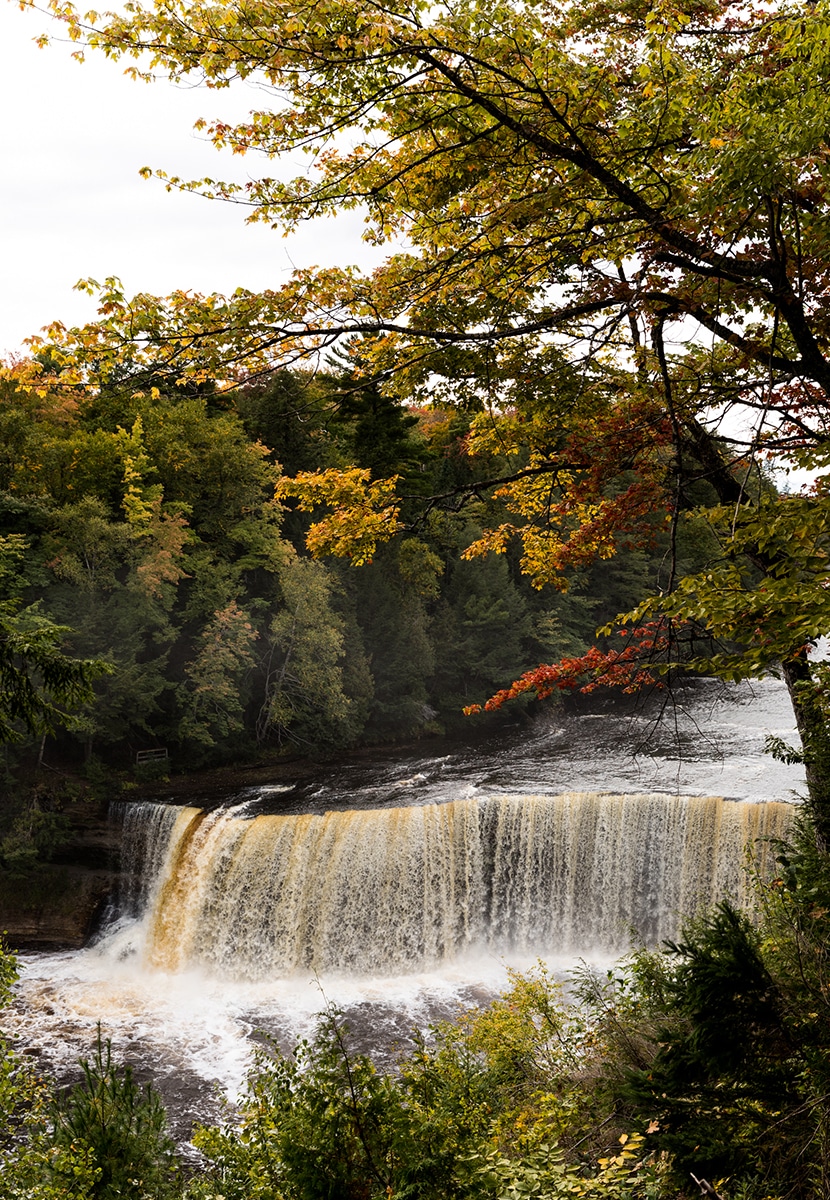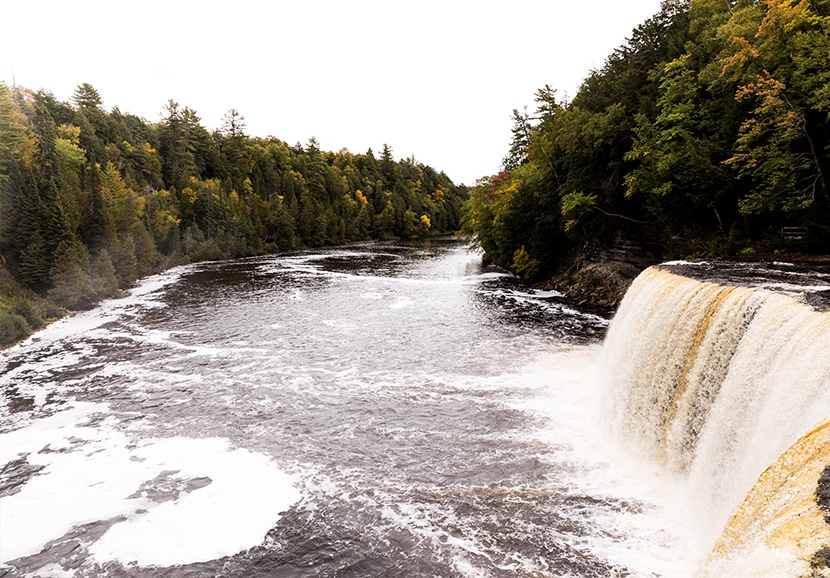 Though we only had time to visit the Upper Falls, there are Lower Falls too that are a really awesome place to cool off in the summer months. Within the park there are also lots of trails and you can do some hiking in the area if you have the time. We headed to see one of the Giant White Pines that sits within the park.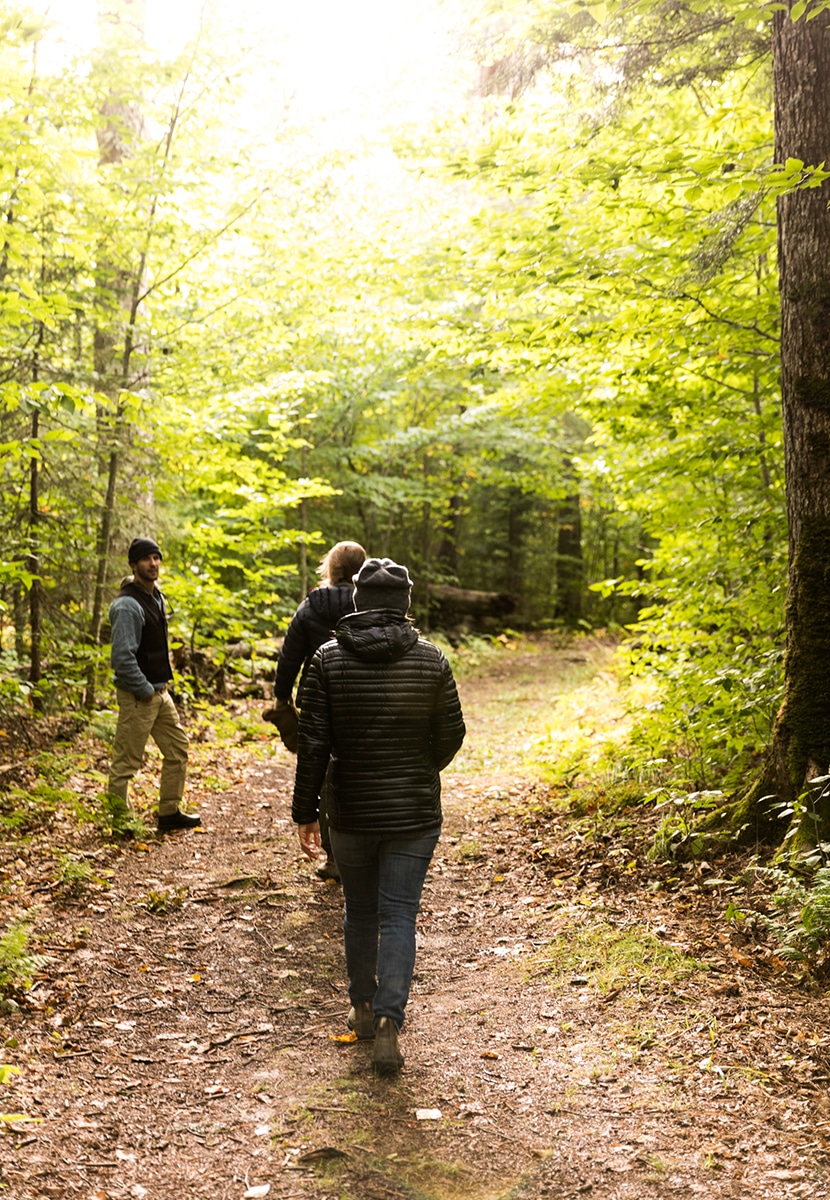 After we toured the falls and grabbed a drink at the Tahquamenon Falls Brewery & Pub, we headed back to St. Ignace and ate fresh whitefish from The Village Inn of St. Ignace. We hit the bed early to start our final leg of our trip back on the west coast of the Lower Peninsula.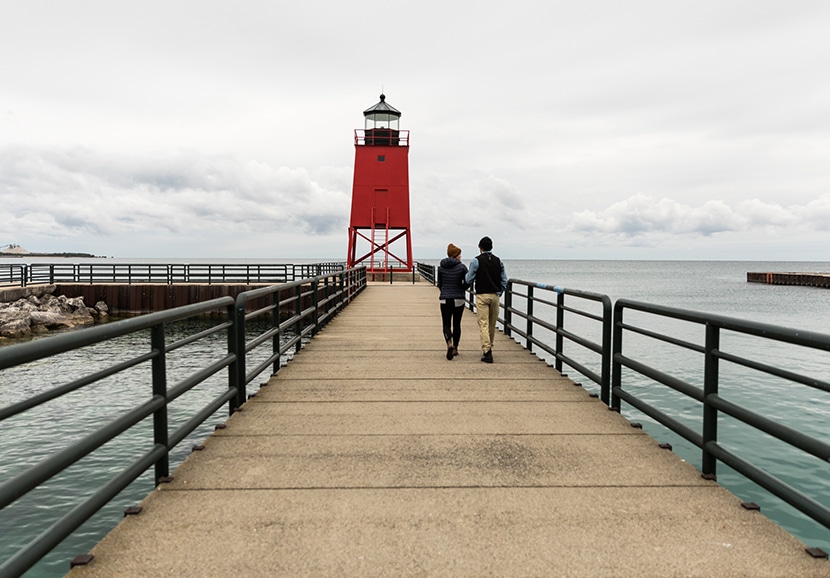 In the morning, we didn't have time to tour the Tunnel of Trees, but we highly suggest it if heading south. We made our first stop instead in Charlevoix at the Charlevoix South Pier Lighthouse, another recipient of a MLAP grant. It is a beautiful red beacon that has been perfectly rehabilitated at the entrance of Lake Charlevoix on Lake Michigan.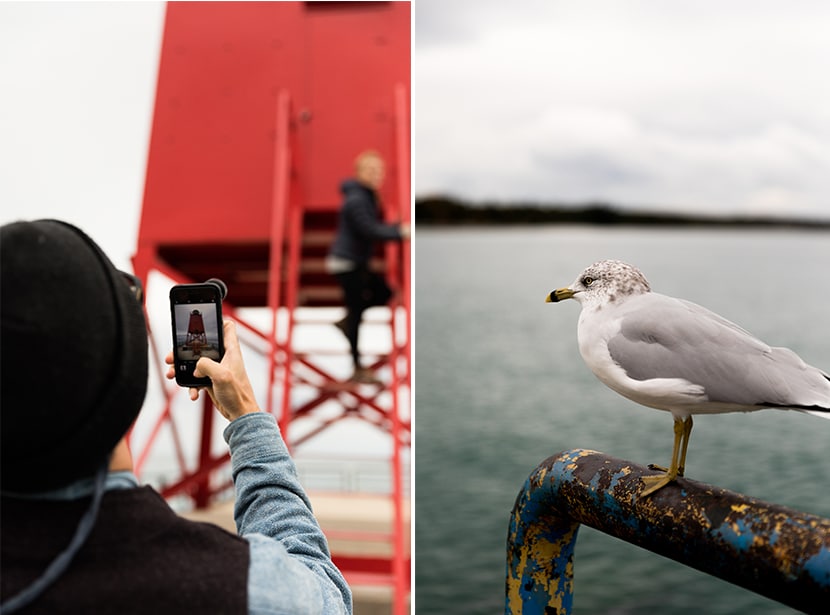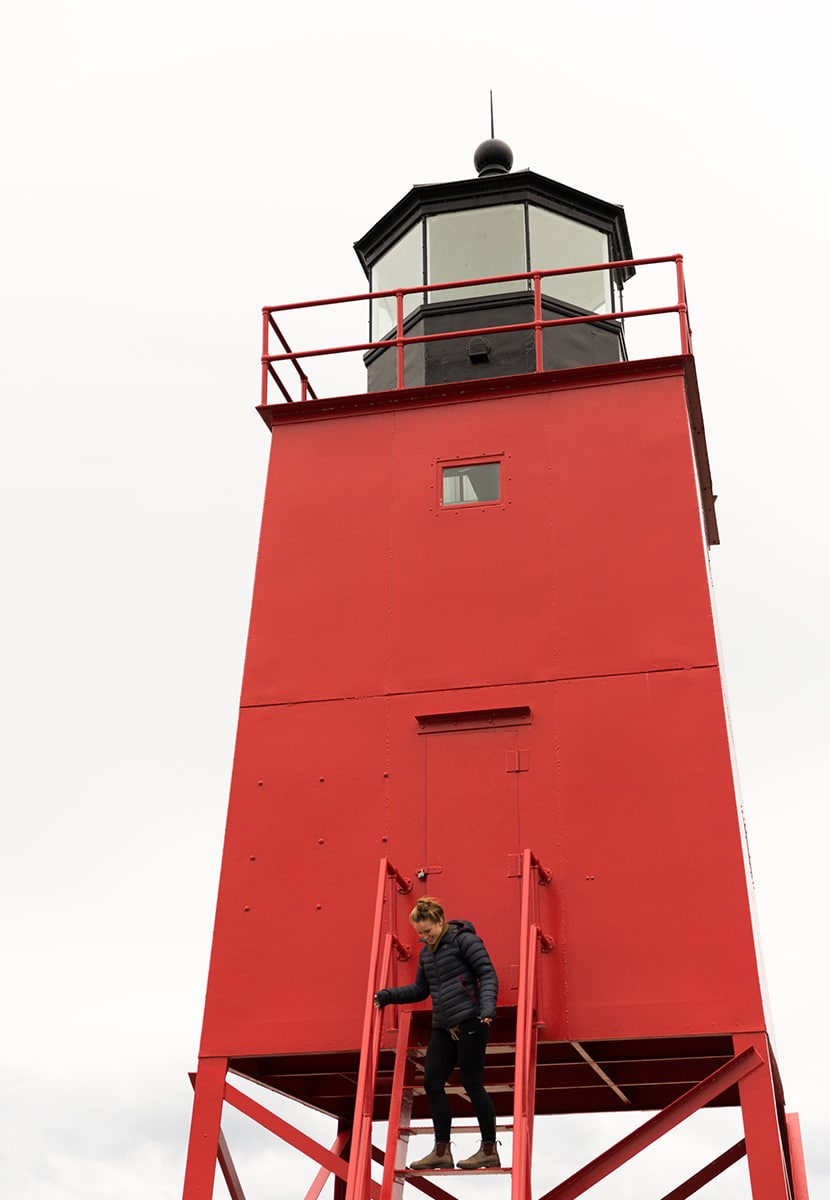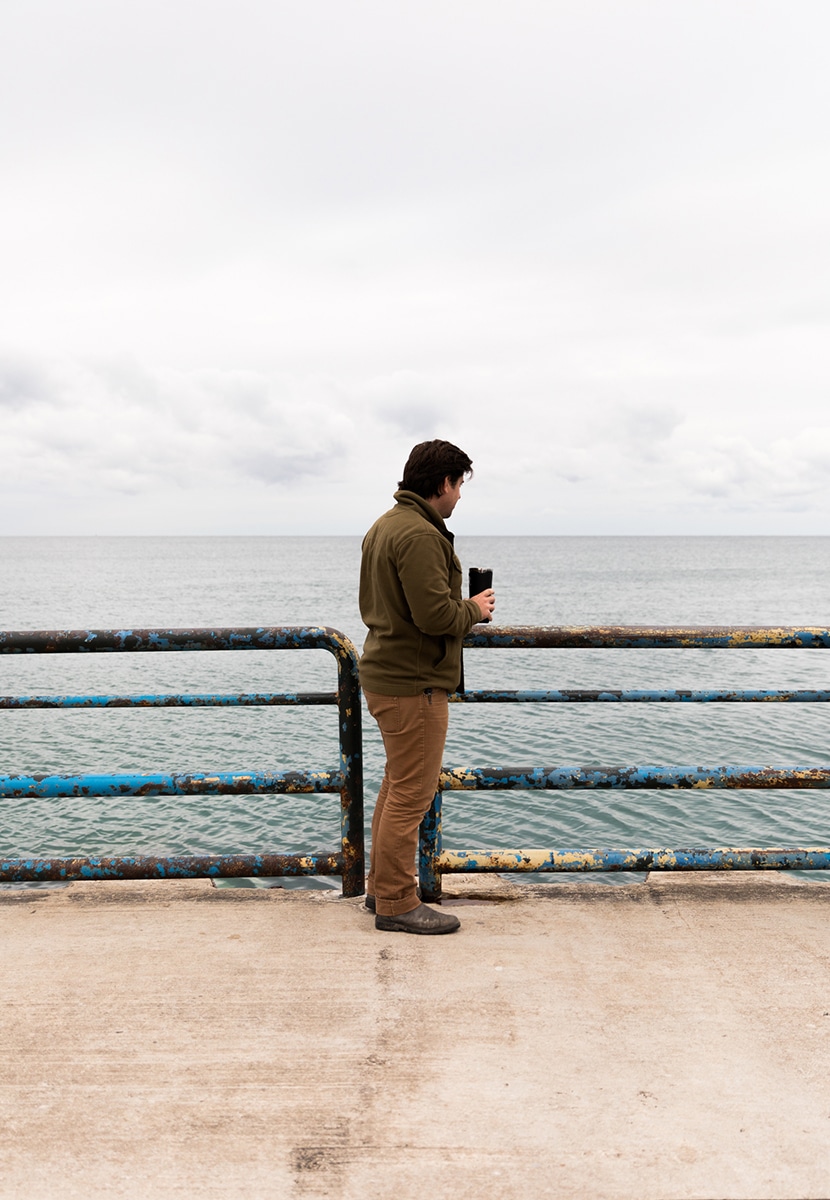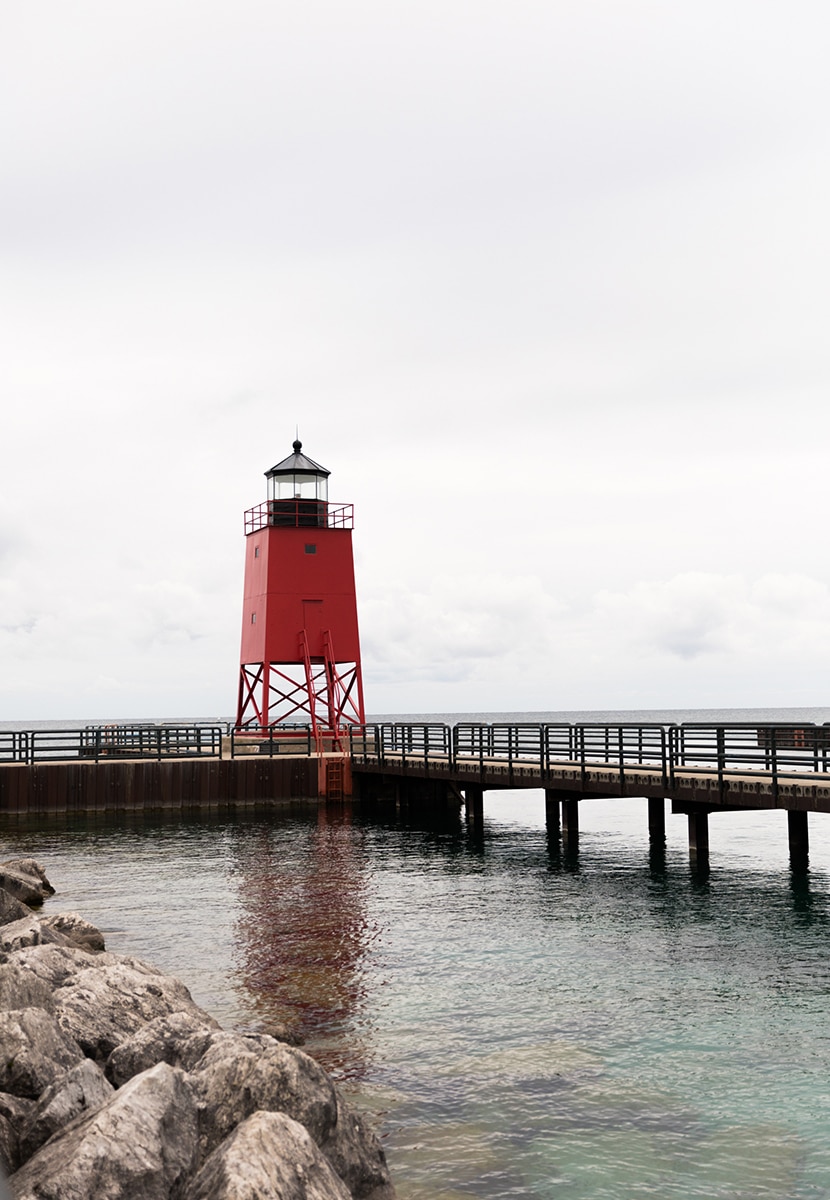 After that, we stopped to tour the Mushroom Houses in Charlevoix that are a unique architectural piece of Northern Michigan. We had the chance to stay at one last winter and it was one of the highlights of our winter. These houses are so incredibly unique!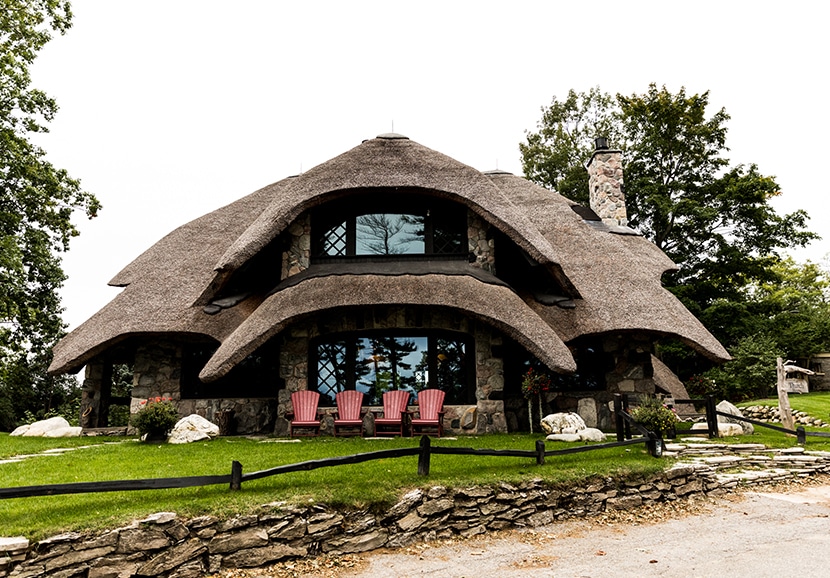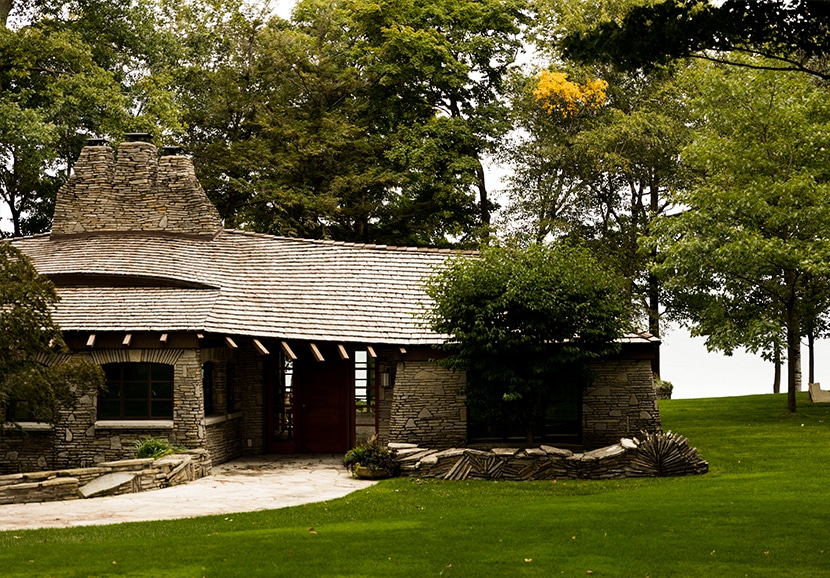 After that, we headed south and stopped at The Village at Grand Traverse Commons. The former Traverse City State Hospital, with over 100 years of history, has evolved from a state-run asylum built in the 1880s to a thriving and bustling community thanks in part to historic preservation tax credits. We enjoyed a view of the fall color there and warmed up for a while by enjoying cider and good food at Left Foot Charley.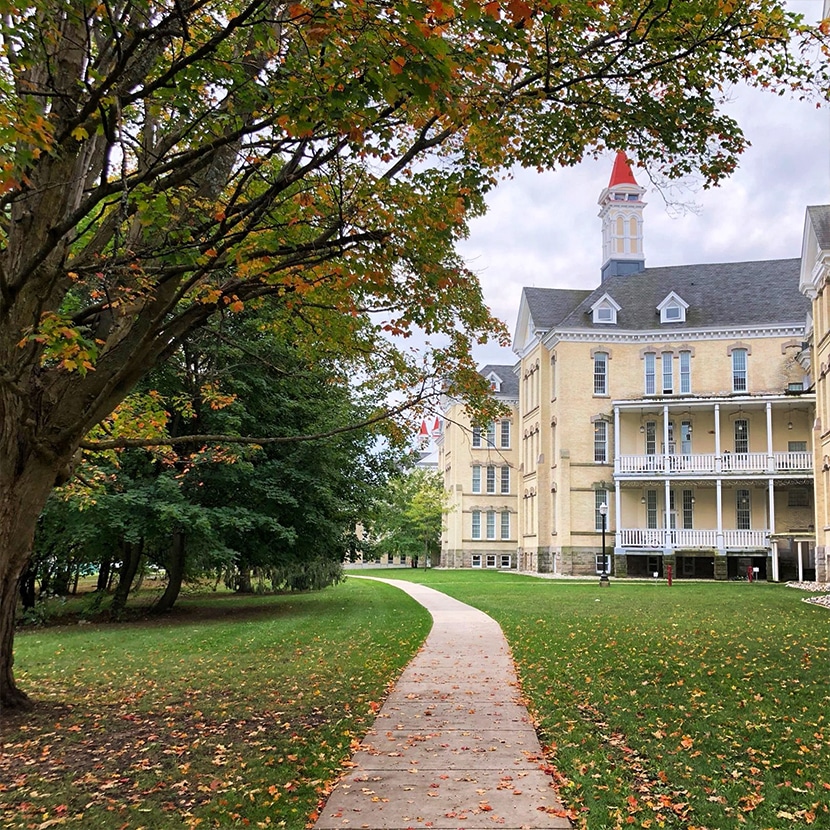 Before heading out to Frankfort to see the Point Betsie Lighthouse, we stopped to pick some apples at Jacob's Corn Maze and have one more donut…OF COURSE, because fall is all about the views and the donuts.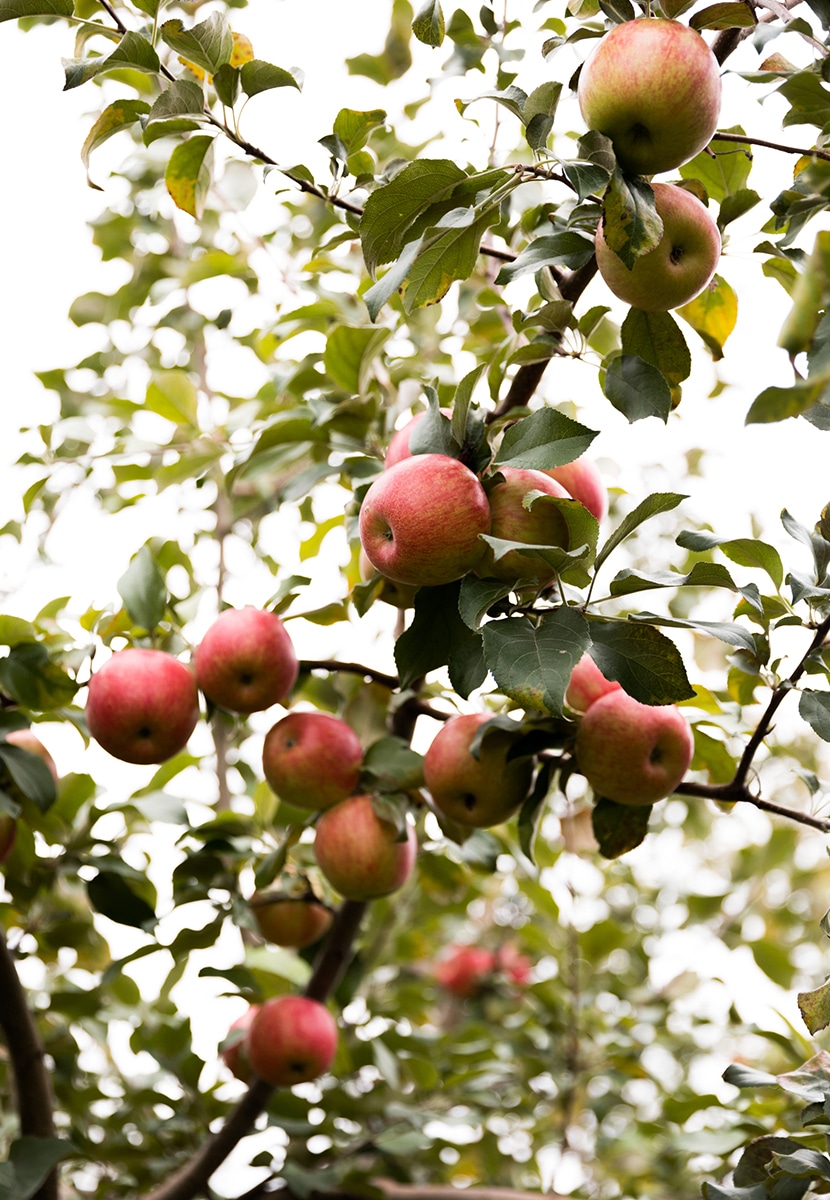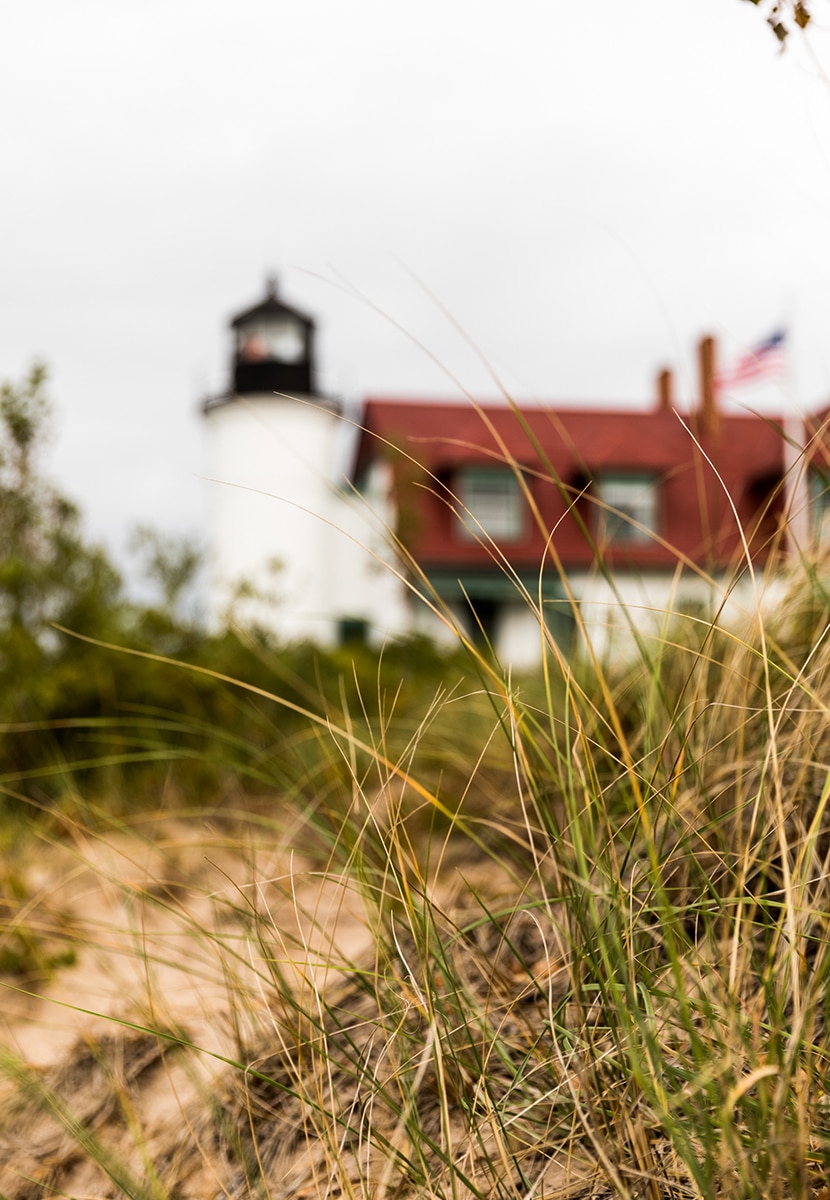 I was quite excited to see the Point Betsie Lighthouse. It is really beautiful, and we do not head this way very often, so it was wonderful to head toward Frankfort for the afternoon and see some new sites.  Fun fact: You can stay in the Point Betsie Lighthouse! They generally rent out for a week at a time.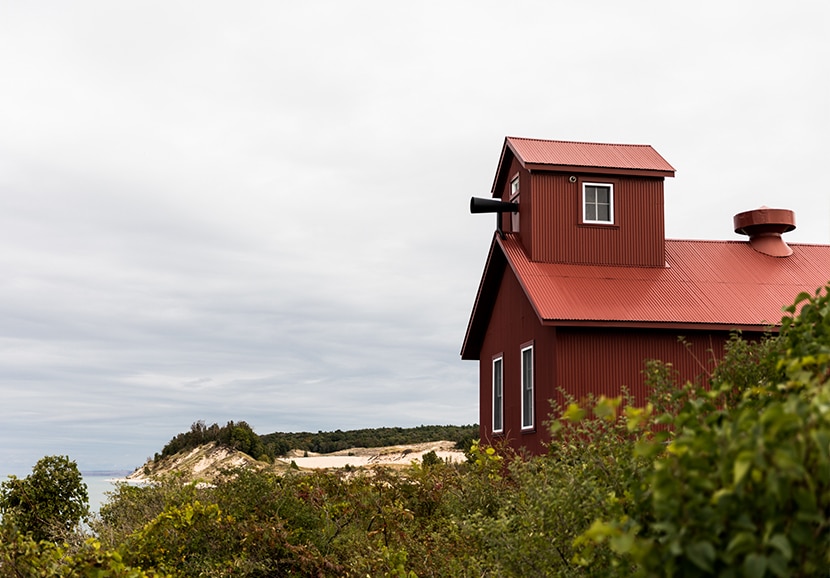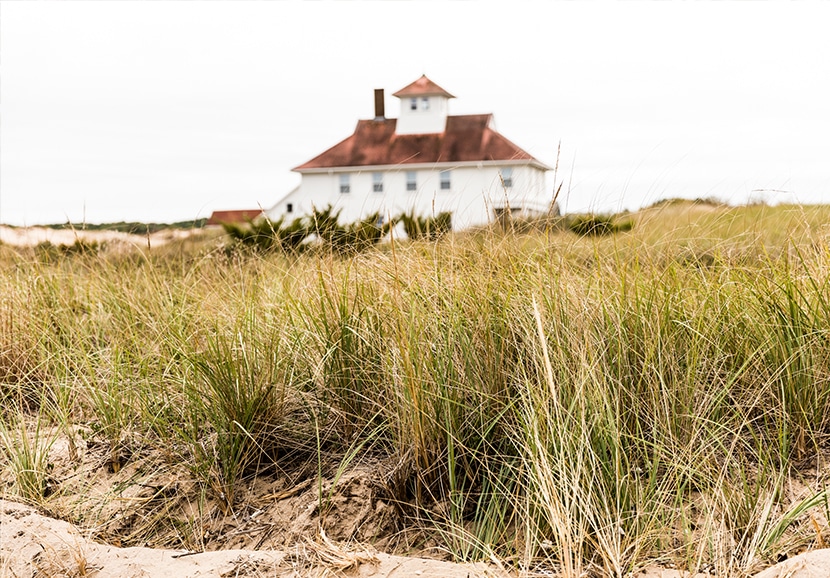 It continually amazes me how many of the lighthouses sit on the shoreline here and just how beautiful they all are. Each one slightly different with their own details and unique views. This one was no different. It felt good to be back on Lake Michigan as well. It felt more like being home.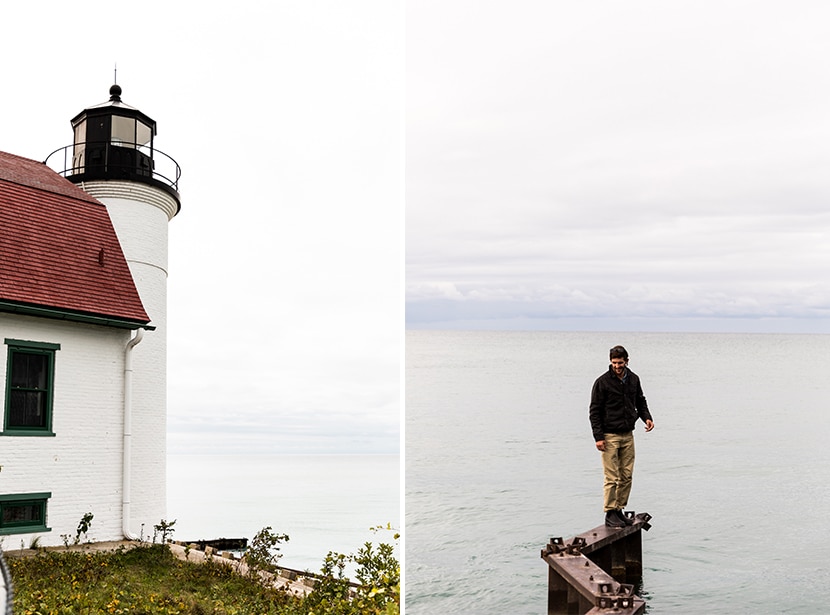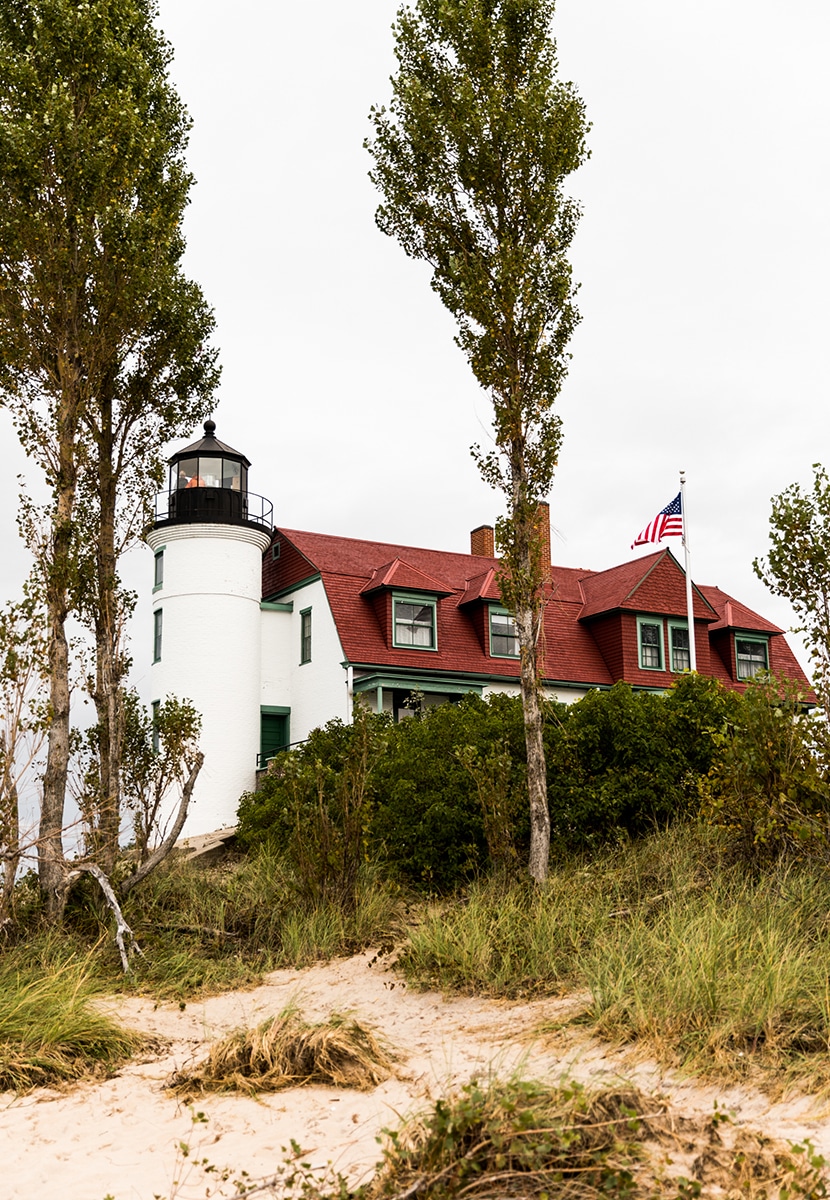 We then headed a little further south toward Frankfort and checked out the amazing Elizabeth Lane Oliver Art Center that had a great show at the time with a ton of local artists. We all really enjoyed stopping in and seeing this gorgeous building. We had a chance to vote on favorite pieces for an upcoming show and Laura loved seeing the pottery studio in the space.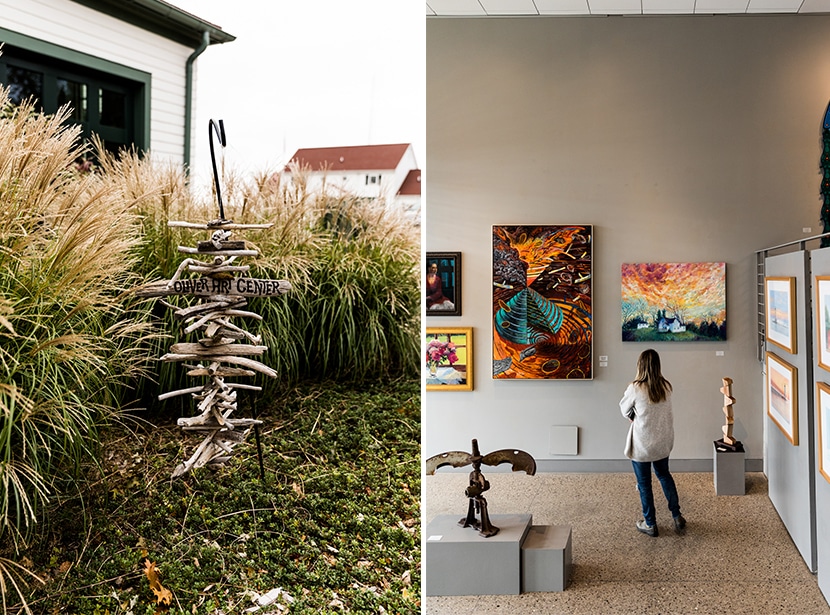 We then closed off the trip with dinner at Stormcloud Brewing in downtown Frankfort and reminisced about all of our favorite things. We headed home with amazing new insight into the history of Michigan and a renewed view of this amazing state we get to call home. It was a special and amazing trip and we felt extra excited to do something similar in the not too far future. Maybe a little more of the Upper Peninsula next time, perhaps?
To find out more about the State Historic Preservation Office and its programs, you can view their site and follow them on Facebook orTwitter.
If you're interested in helping preserve Michigan's lighthouses, visit here for more information. Every Save Our Lights license plate purchase contributes $25 to the Michigan Lighthouse Assistance Program (MLAP) and each time you renew your plate an additional $10 goes toward preserving our lighthouses!