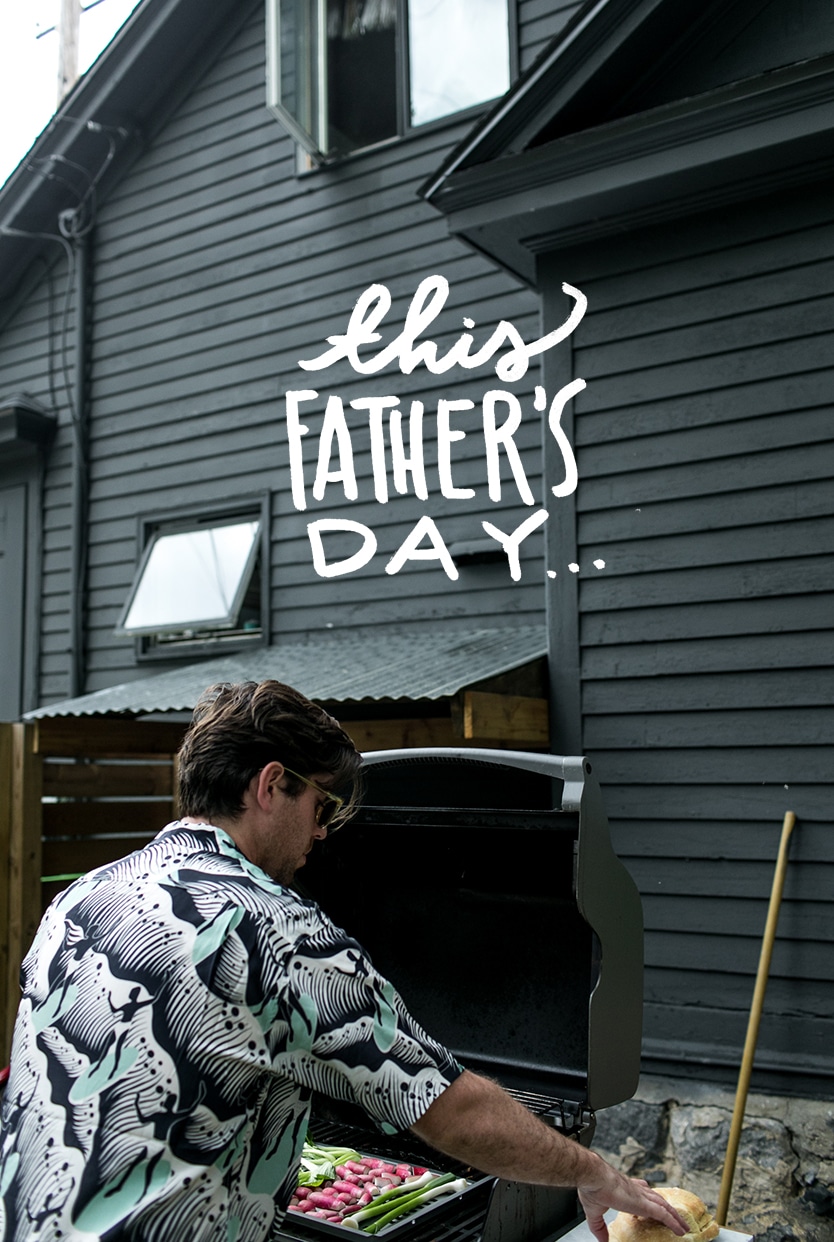 Father's day is this coming weekend and I have to admit that I find Father's Day one of the most difficult holidays to shop for both for our own fathers but also for Mike. I always want Mike and our fathers to feel special, but if the men in your life are anything like the ones in mine, they are simple creatures who either already have all they need or beg you not to get them anything. So, this year I wanted to think a little beyond the average gift giving and come up with something that felt different.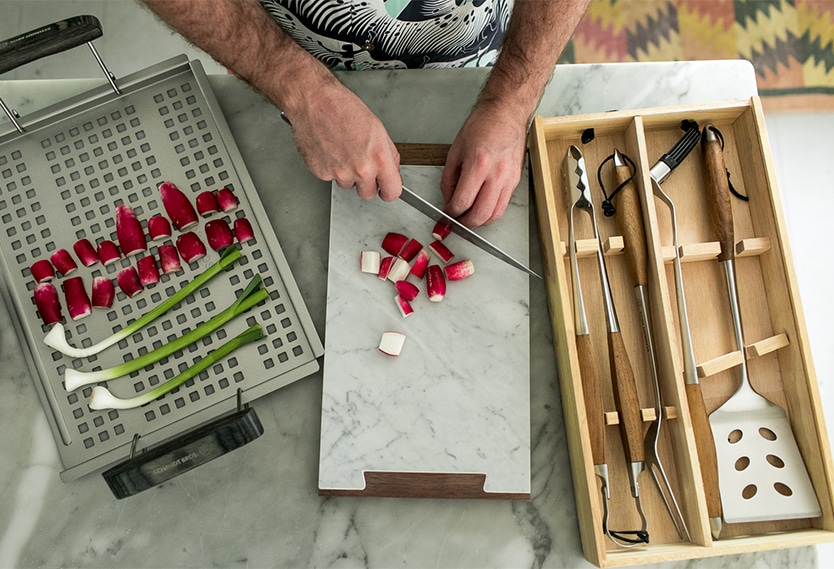 For our own fathers we each chose things and moved forward from there (I won't give them away since they both read the blog 😉 ), but for Mike, I really wanted to come up with something unique so I partnered with Huckberry to pull together a fun foodie barbecue for him so he could have a day of grilling and cocktail making. Mike is by far more of an experience guy so I thought giving him a day of summer grilling would be perfect for him.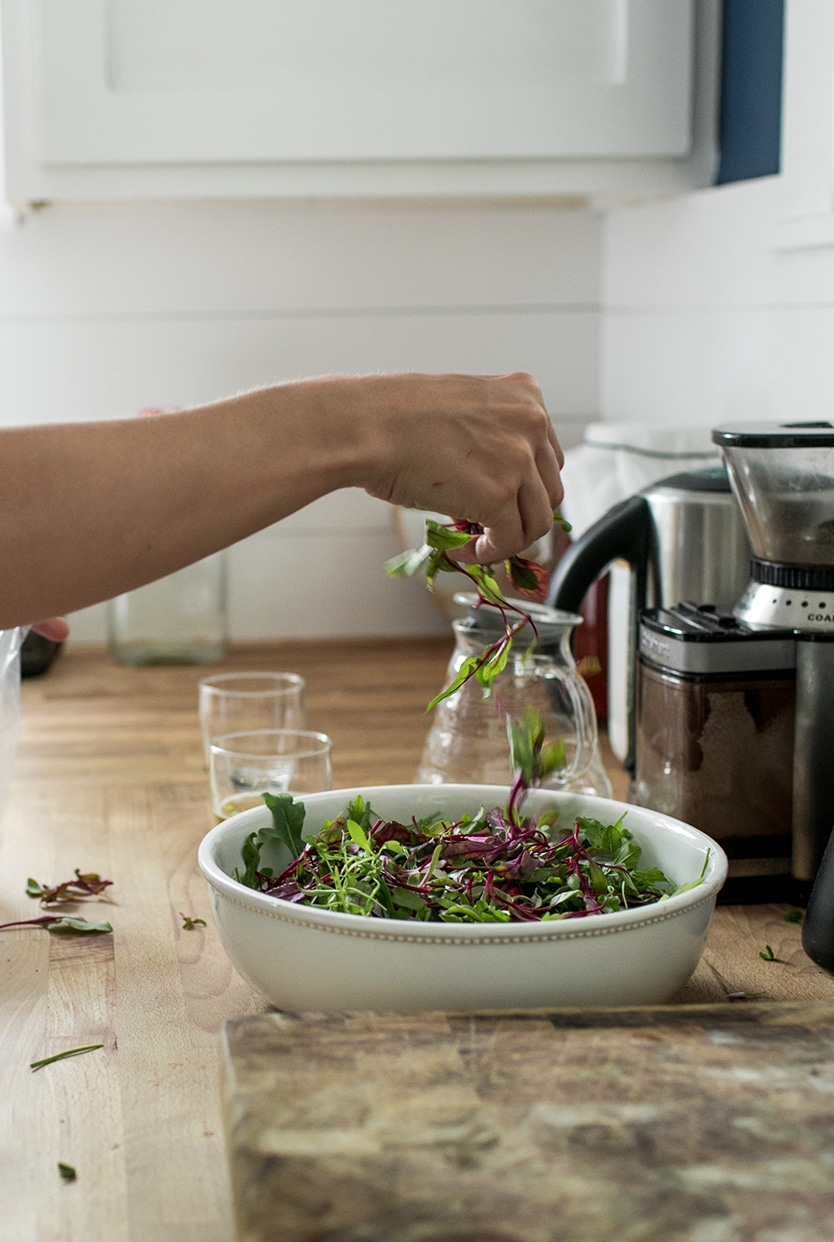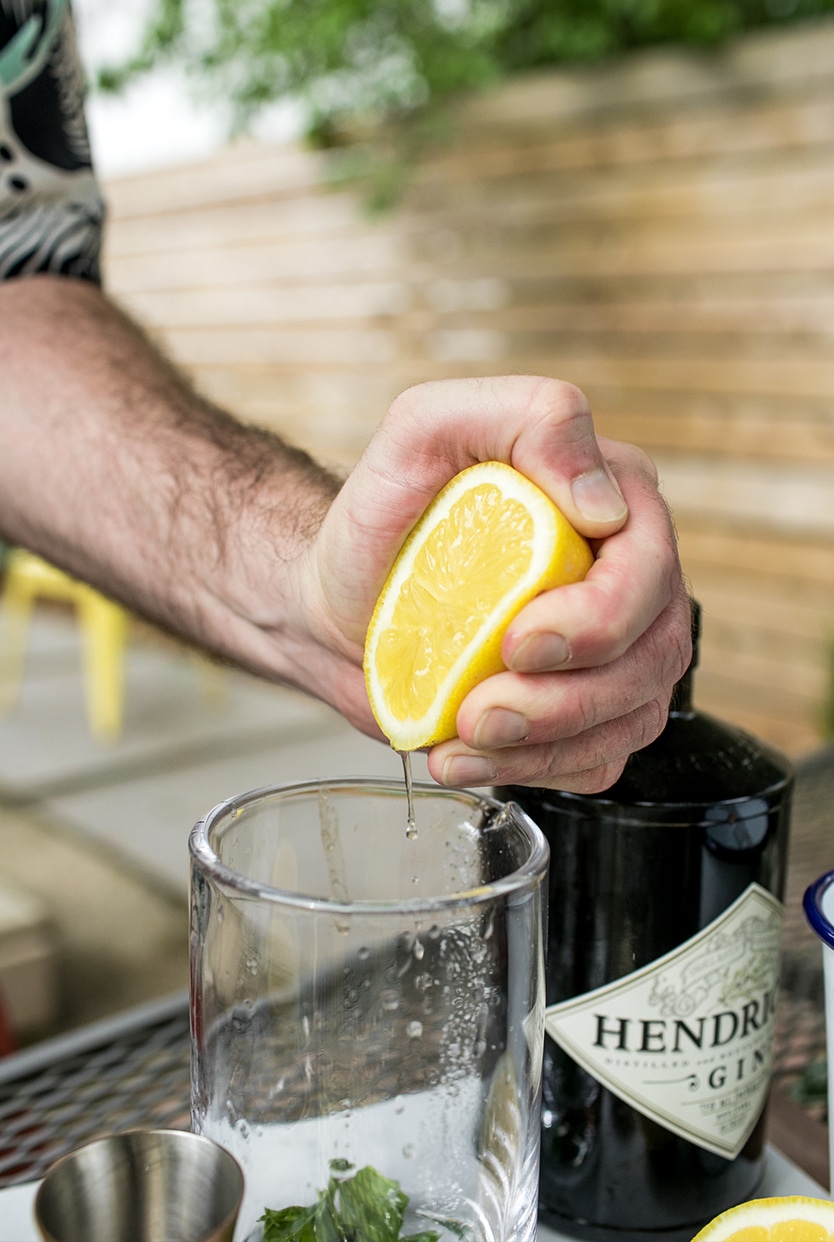 I came up with a menu and cocktail for his ManQ as he lovingly called it. For the cocktail I had him mix up:
2 ounces Hendrick's Gin
a small handful of fresh basil
1 tsp honey
Juice of half a lemon
a splash of sparkling water
To make the cocktail he muddled the honey, lemon juice and basil in this cocktail mixing set from Huckberry. Then he added the gin and stirred. Once mixed, he placed ice in the cocktail glass and poured the mixture over ice and topped with sparkling water and stirred one more time before garnishing with basil. I felt it would be a wonderfully refreshing drink on a warm day over the grill.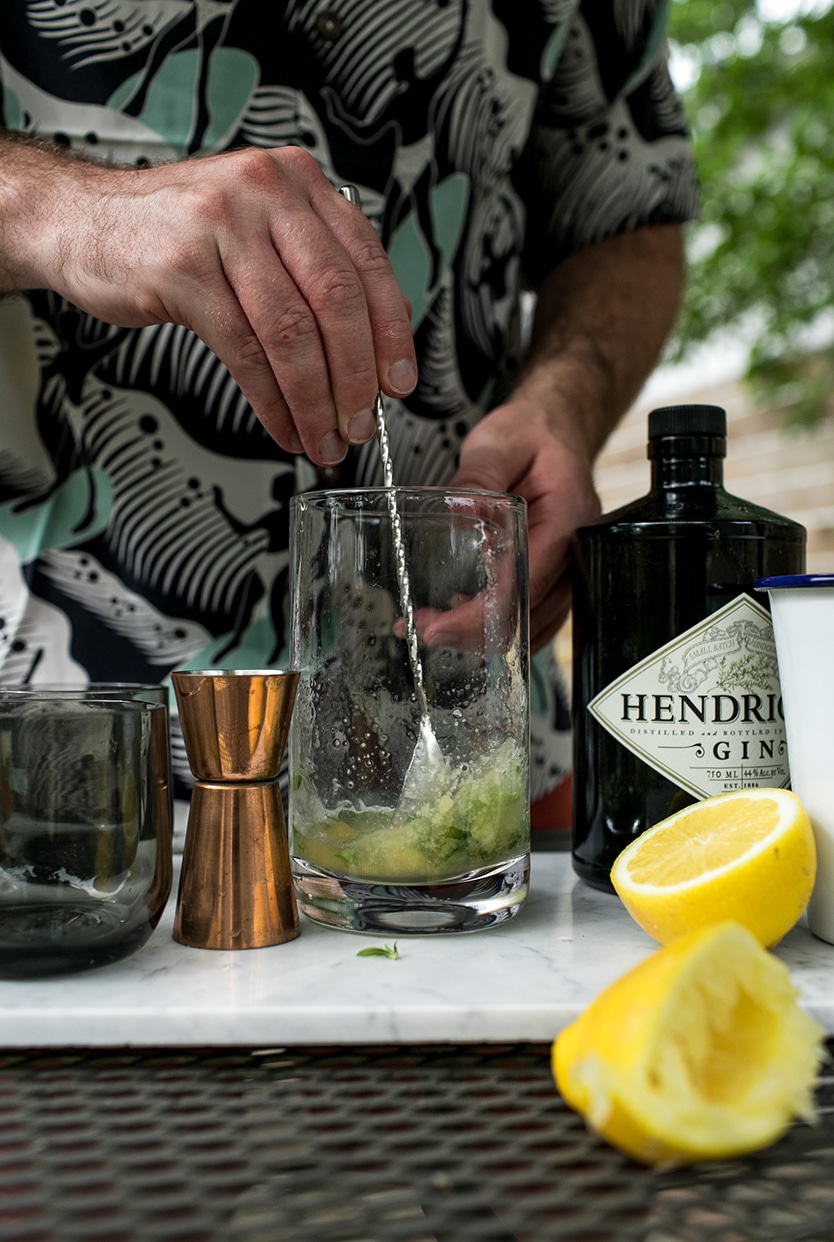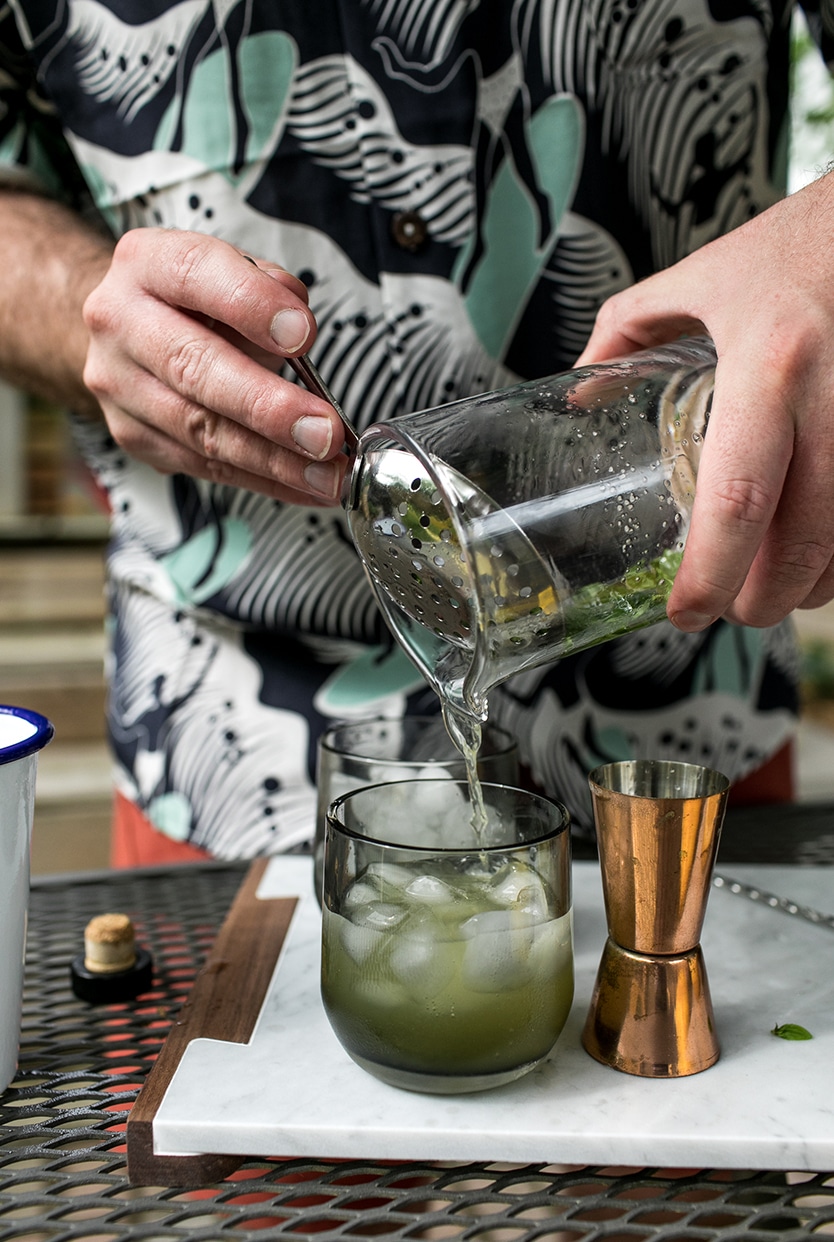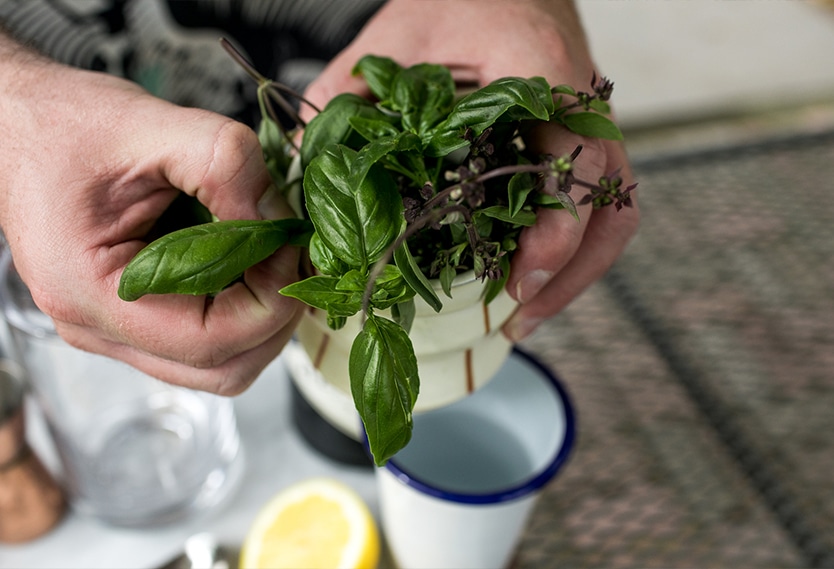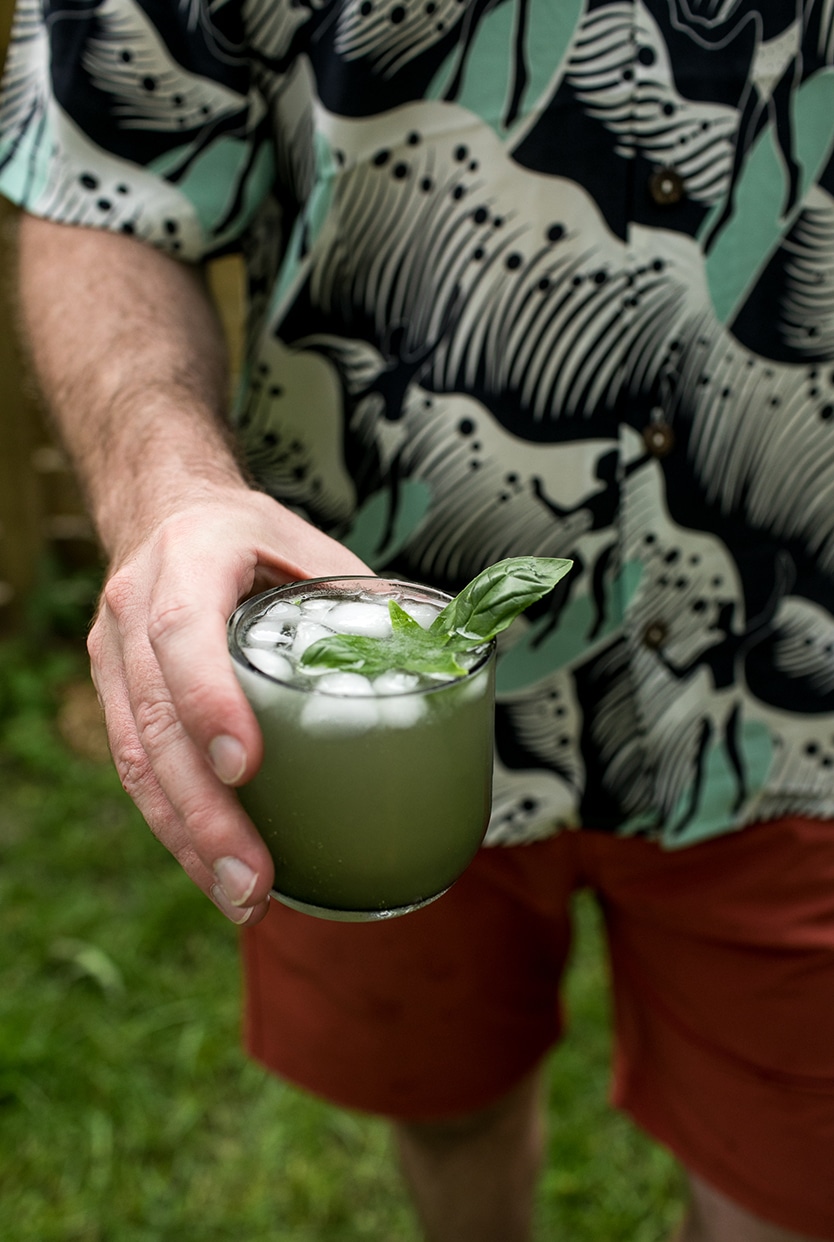 For the menu for him, I headed made use of veggies that were in season and that I had received for my time working on a local farm. We had radishes, baby bok choy, and some green early garlic which he placed on this grilling tray.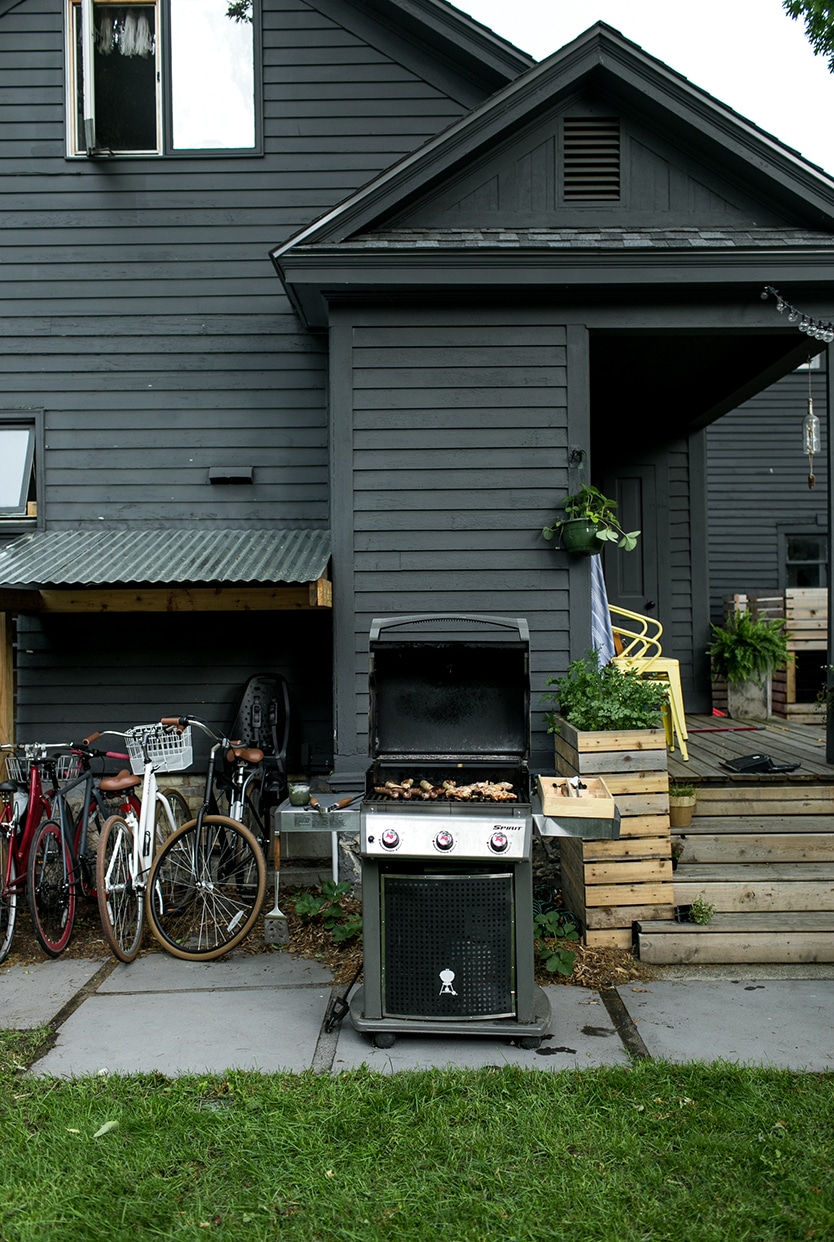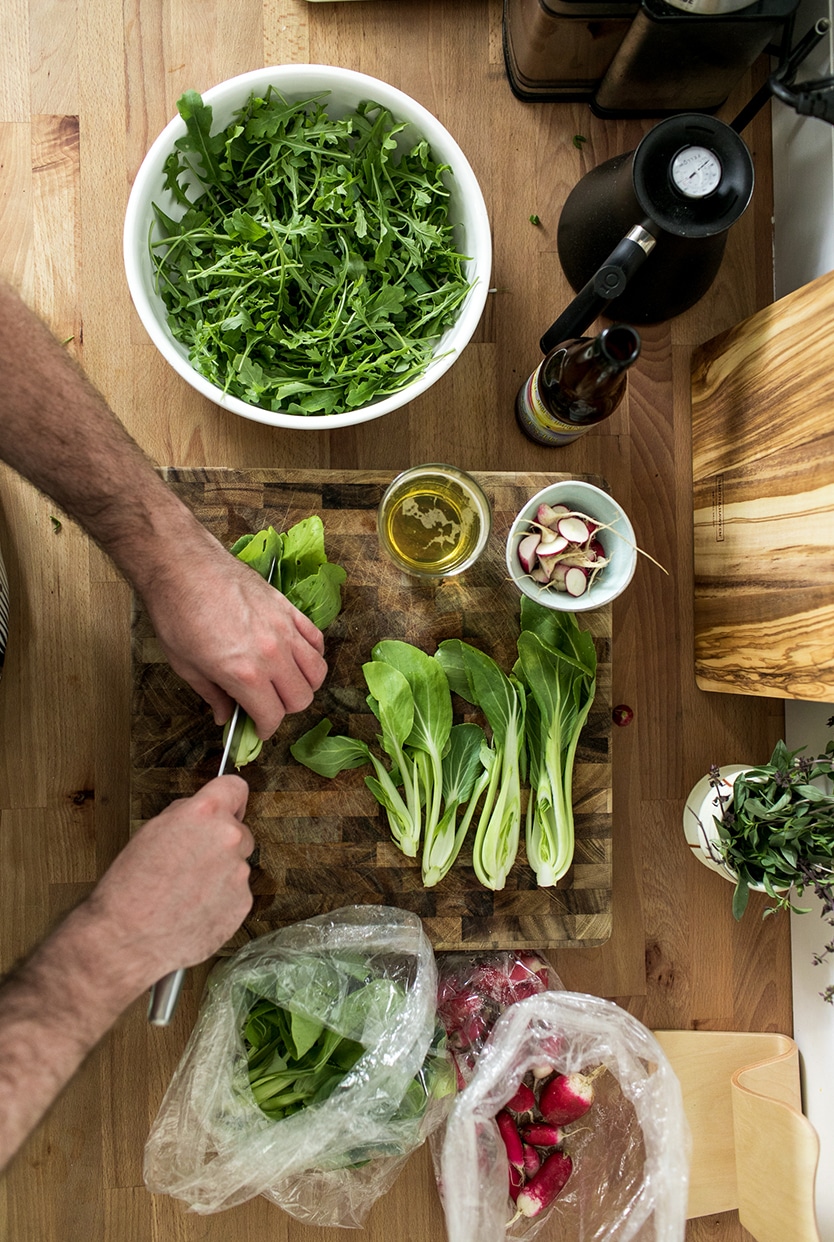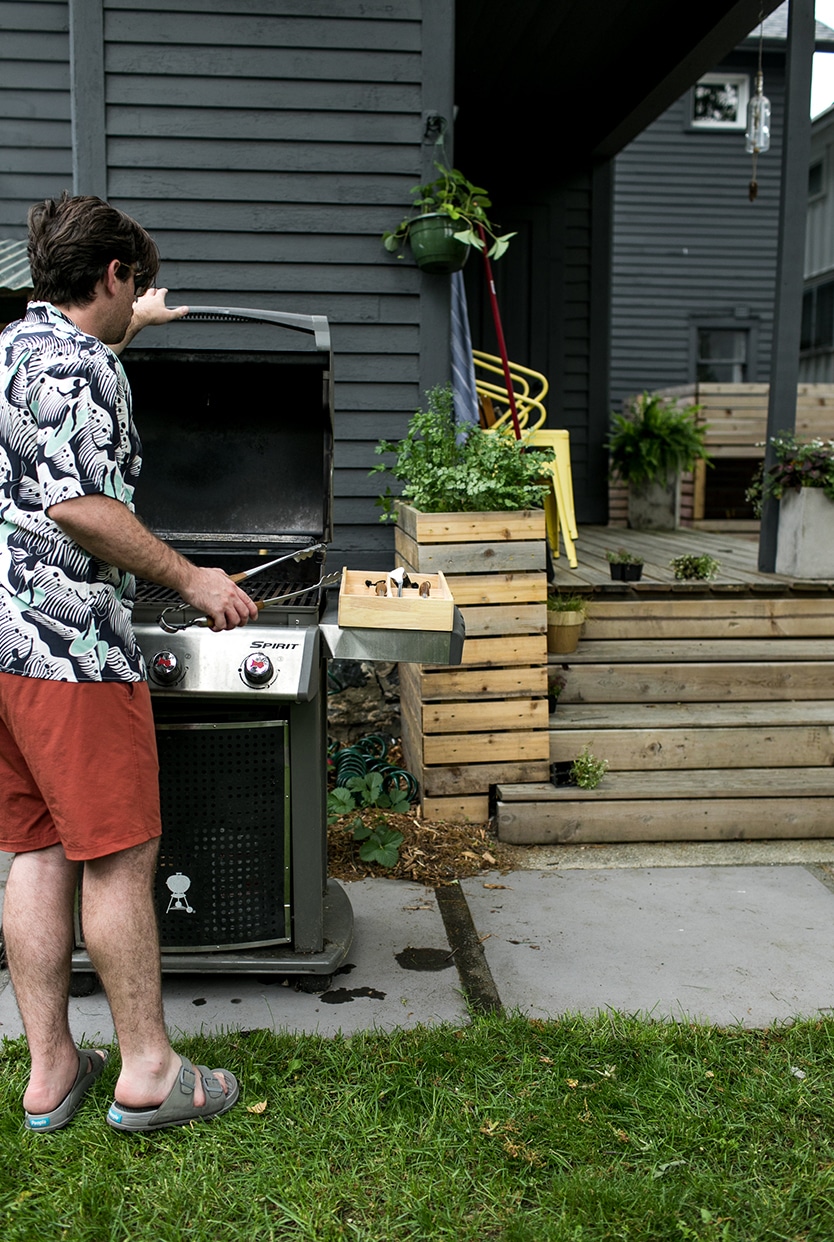 While he warmed up the grill, I helped him prep in the kitchen by making a salad full of local greens topped with olive oil, salt, pepper, and lemon.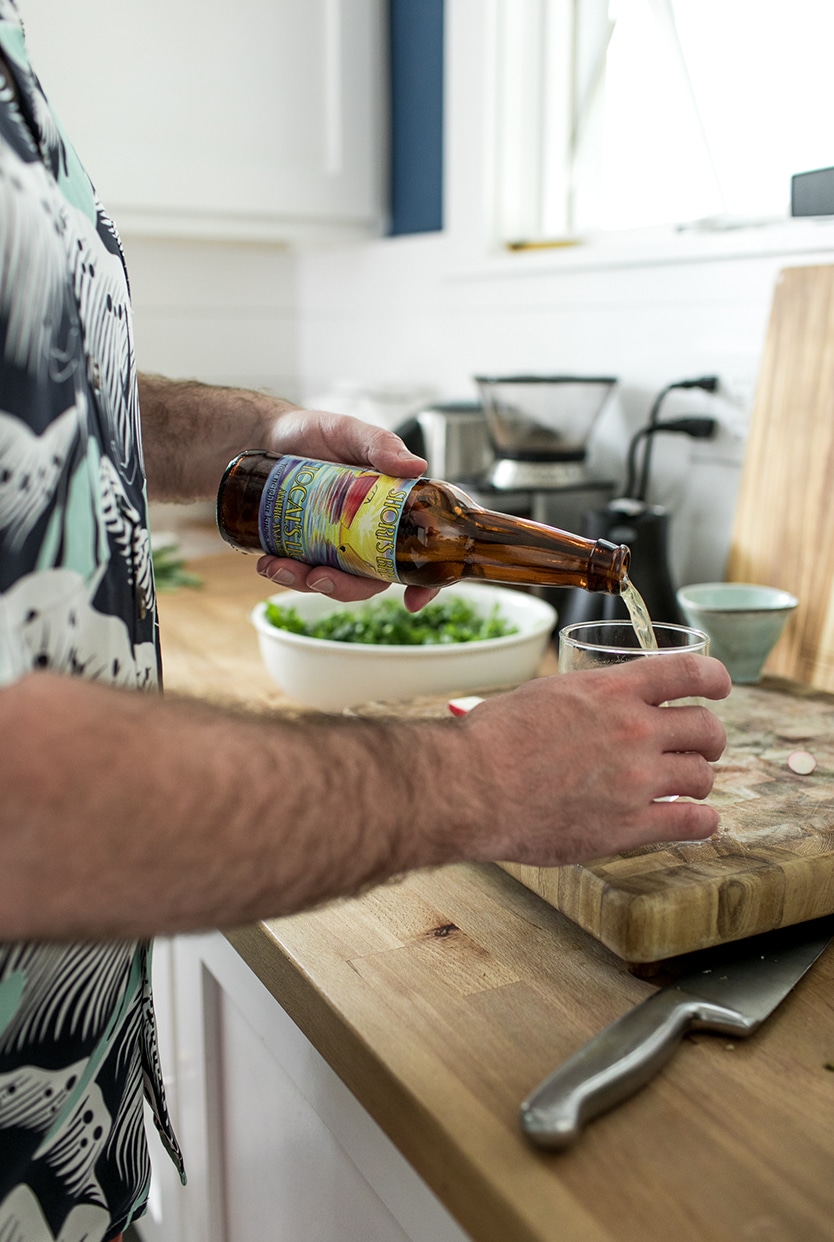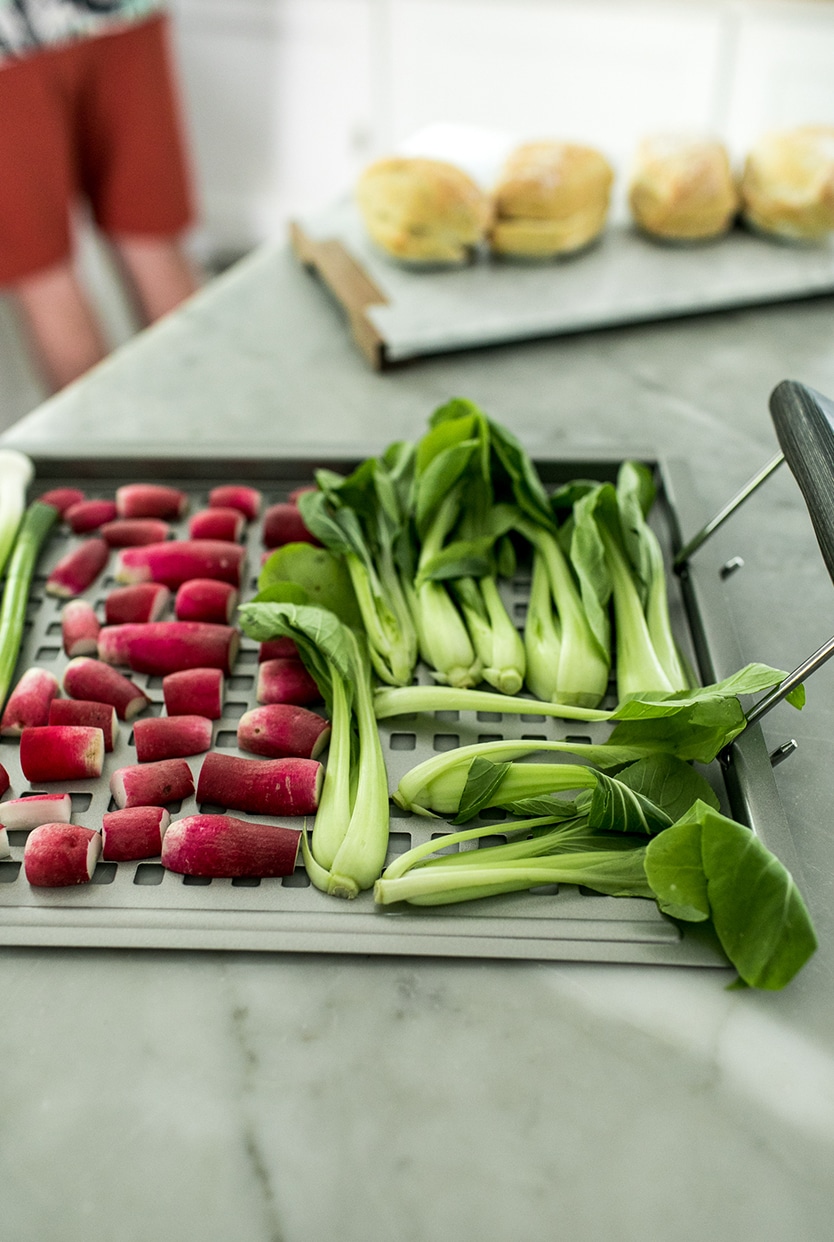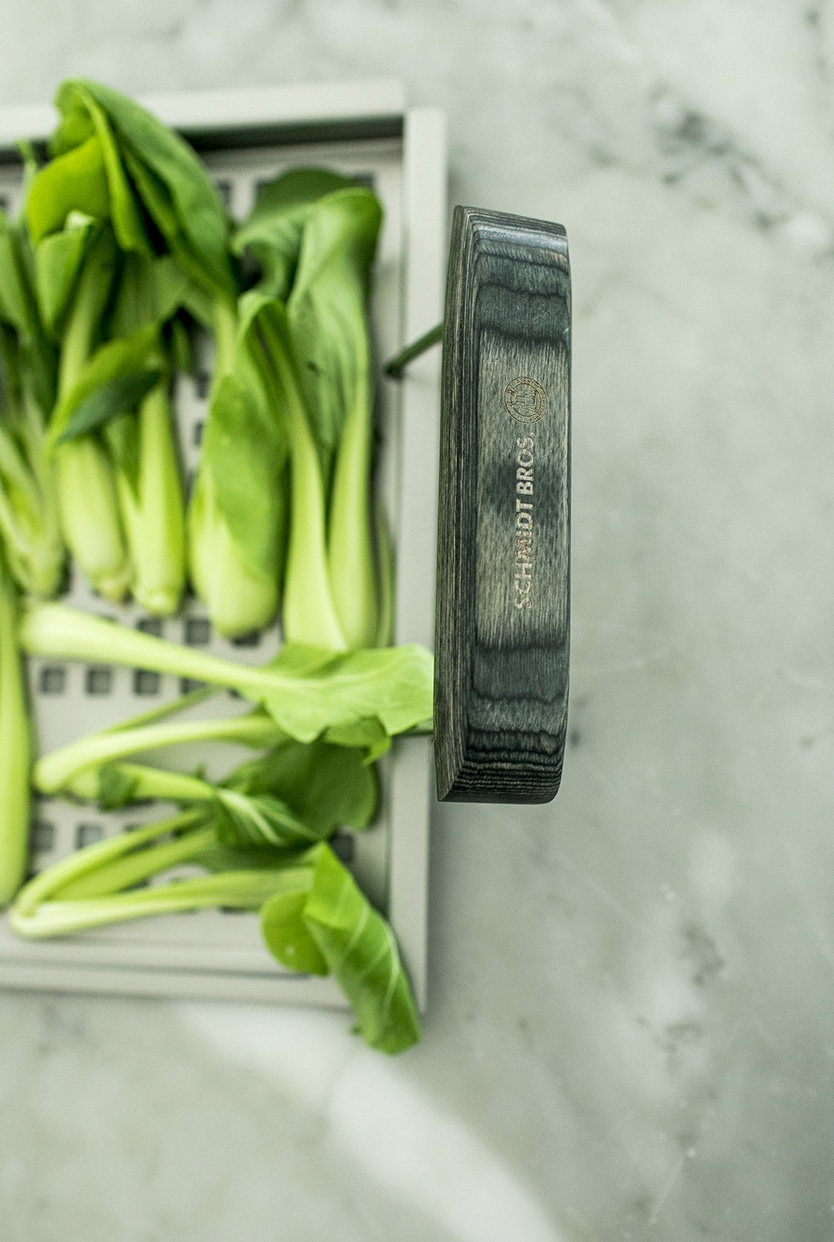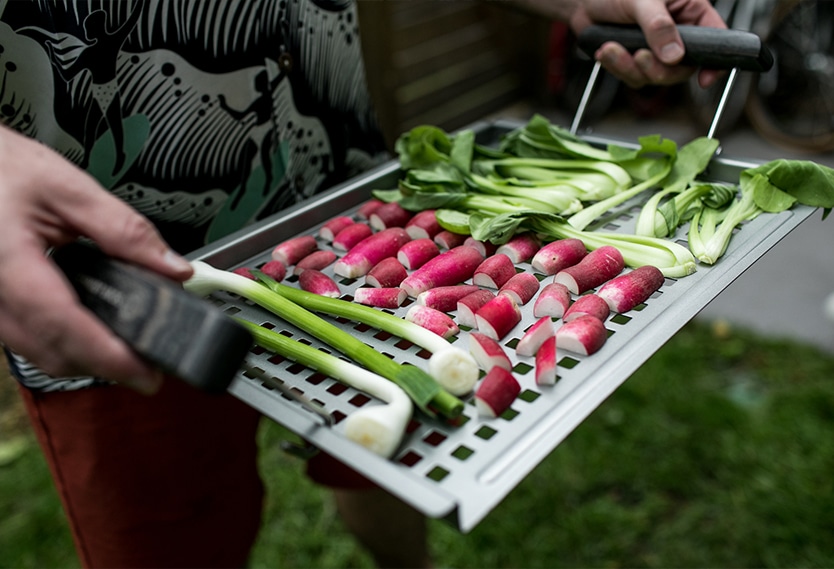 I also had gotten him some lamb and fig bratwurst to grill as well to make a fresh take on the typical bratwurst. Mike loves a good bratwurst, but I wanted to mix it up for him so I found some awesome lamb and fig ones that I felt would offer a fresh and different flavor than he normally has.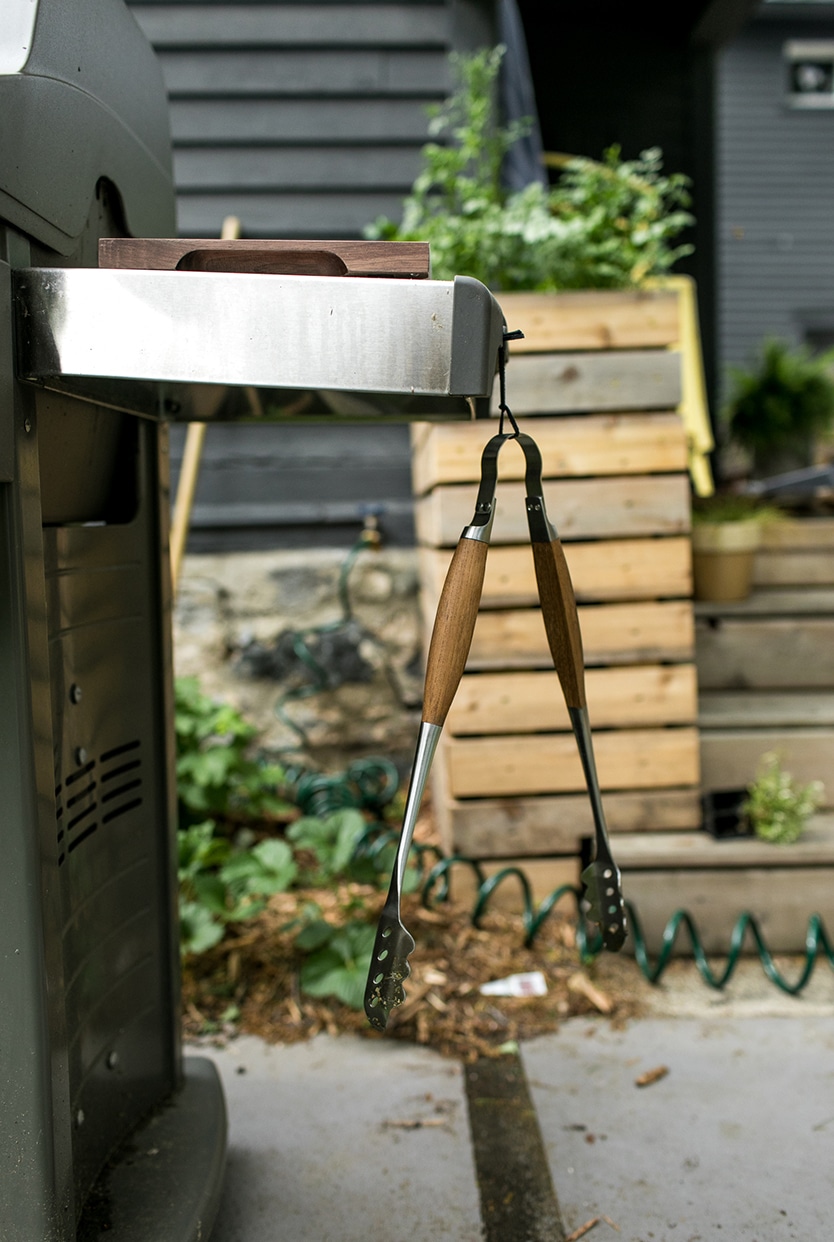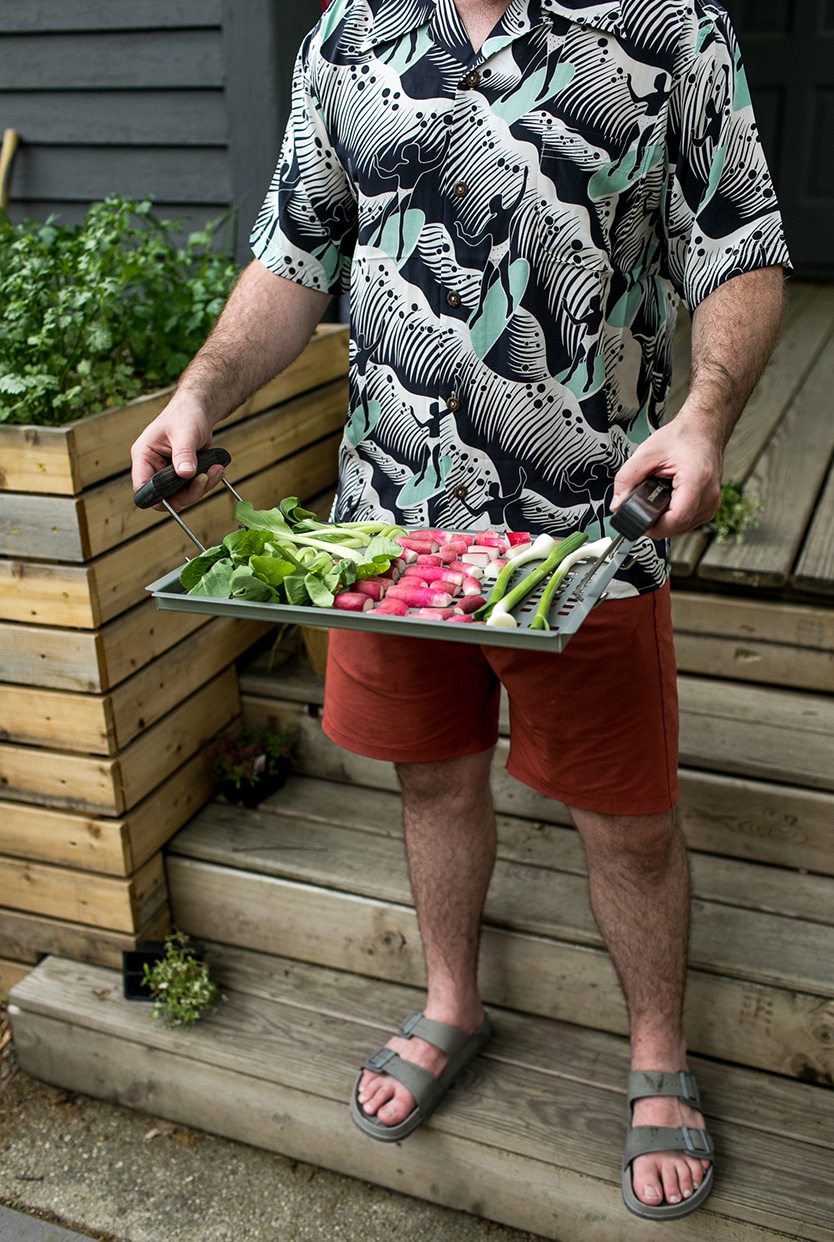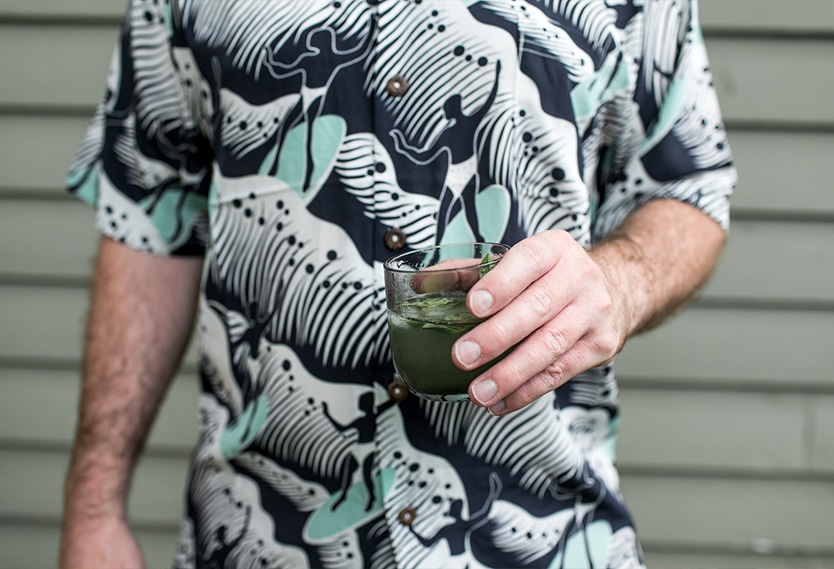 We picked up some local bread for buns and brought them out to the grill on this marble tray while Mike enjoyed his cocktail.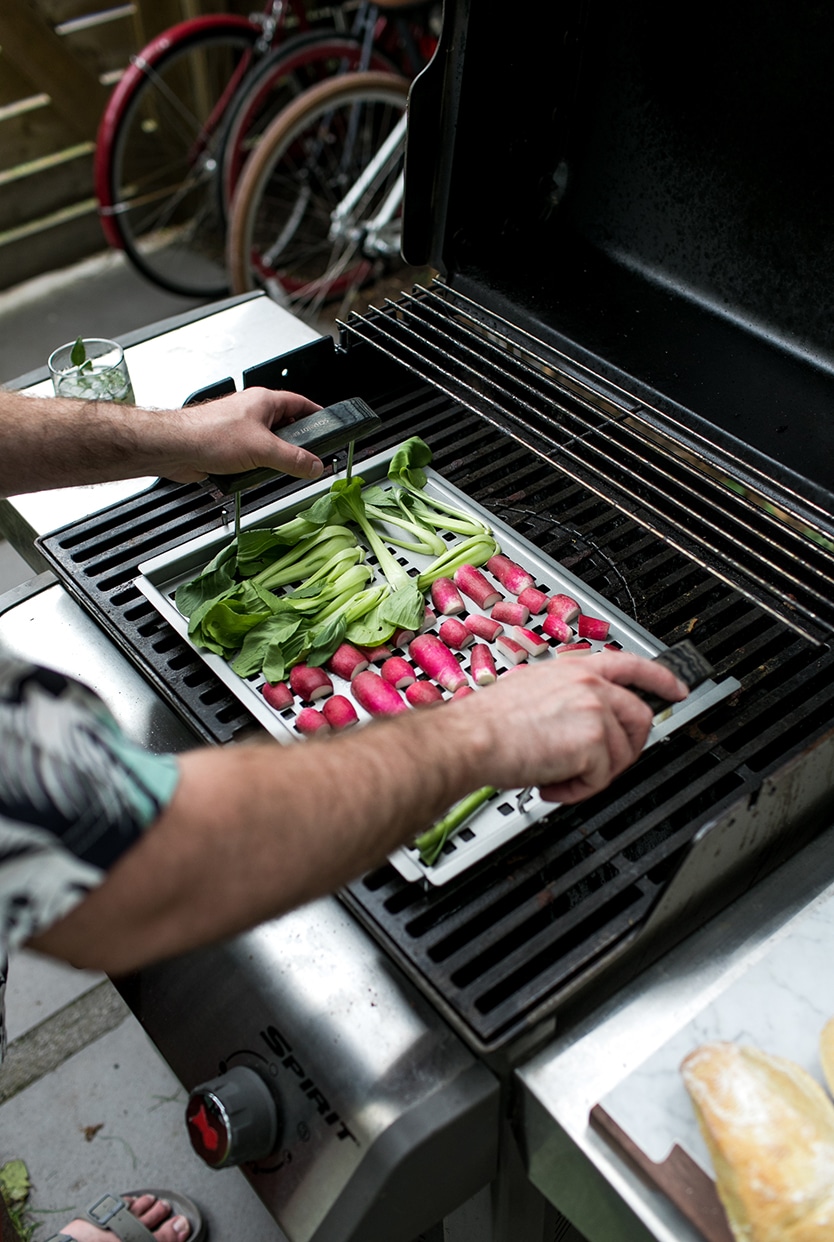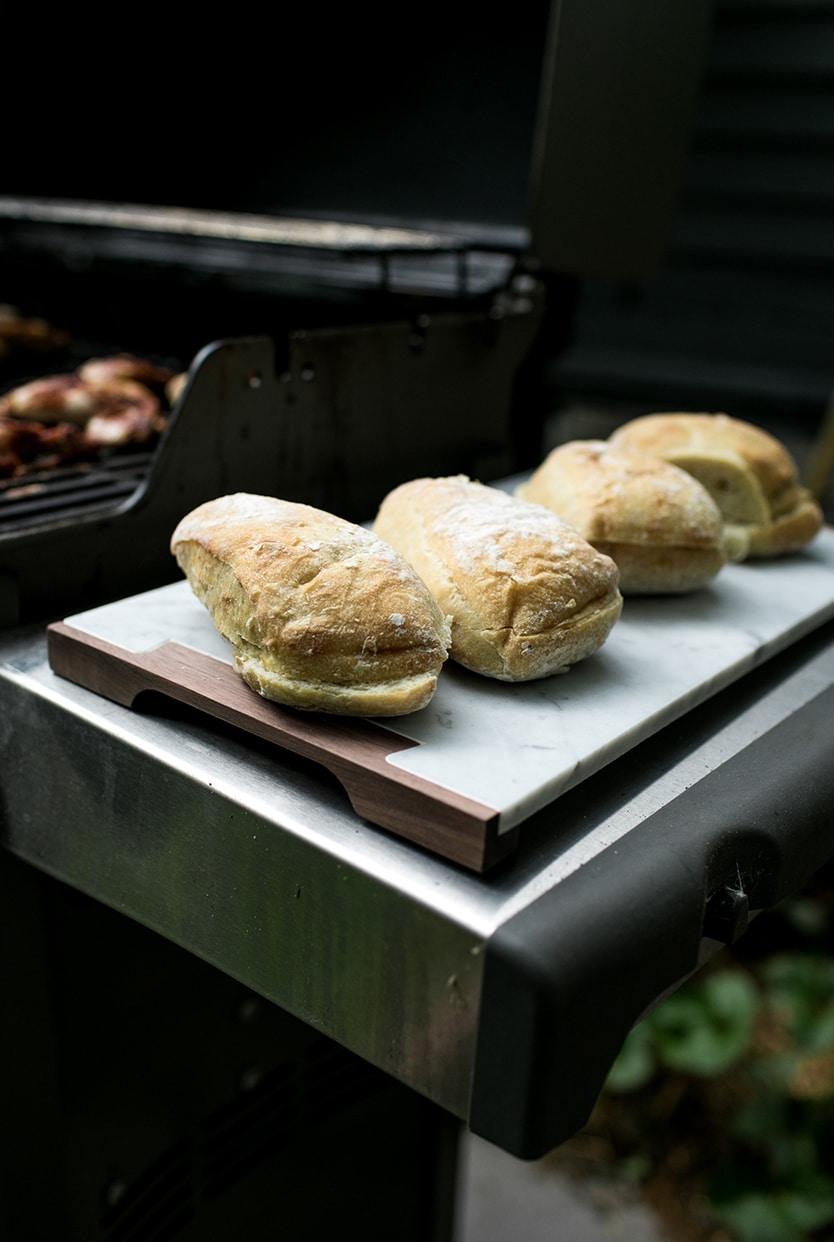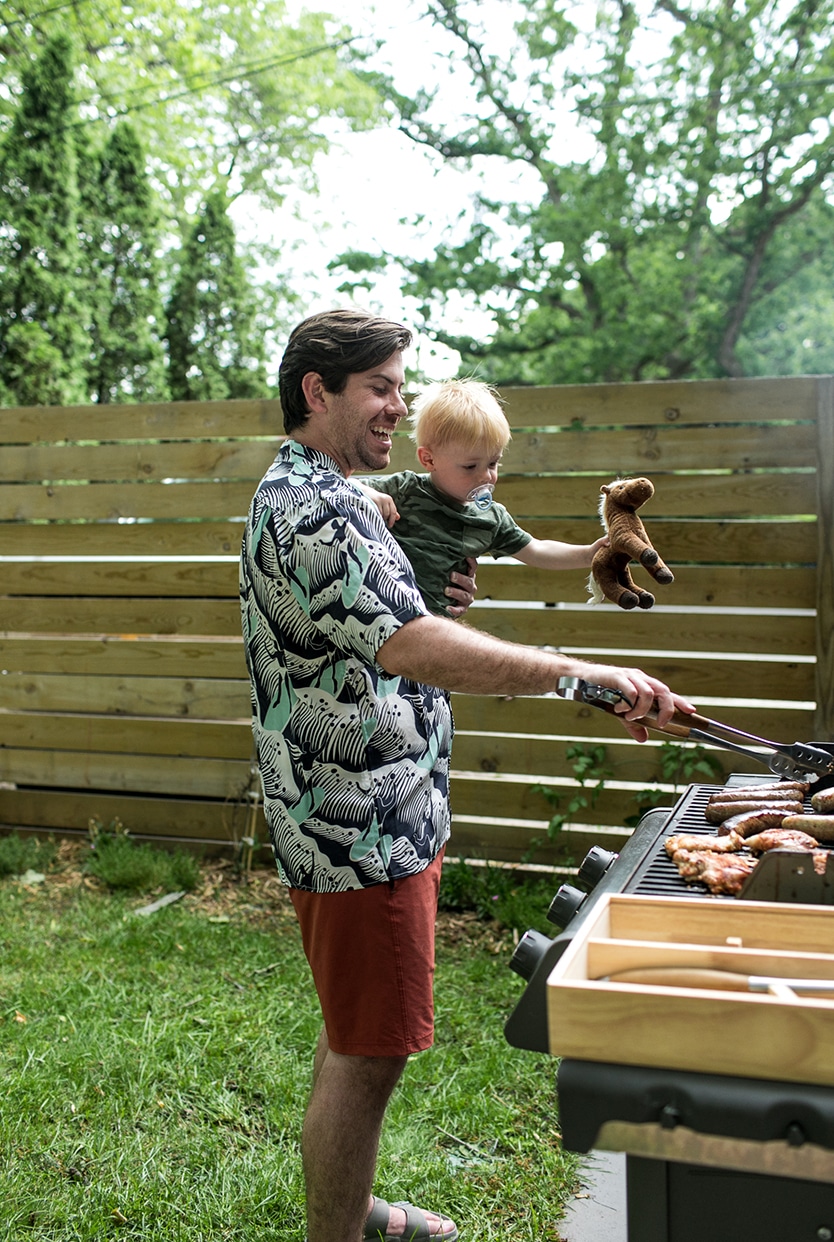 In no time everything was cooked up and ready to enjoy. For the experience, I picked out a fun Hawaiian style shirt for Mike to really live into the summer grilling persona. He now is so in love with it that he is planning to wear it to a wedding this summer.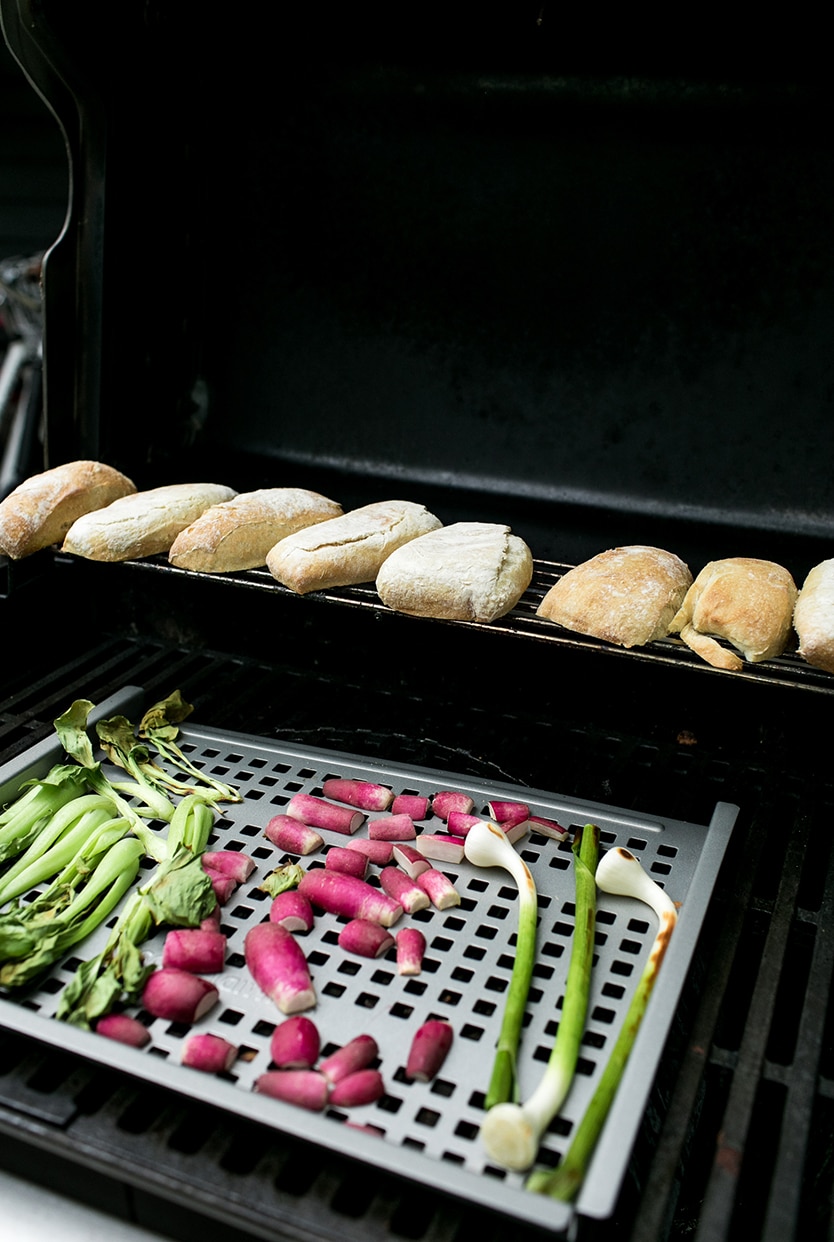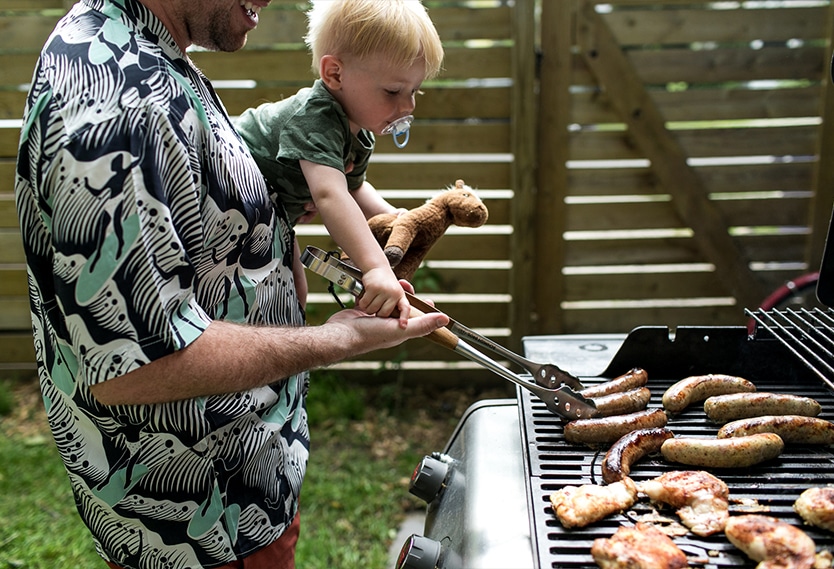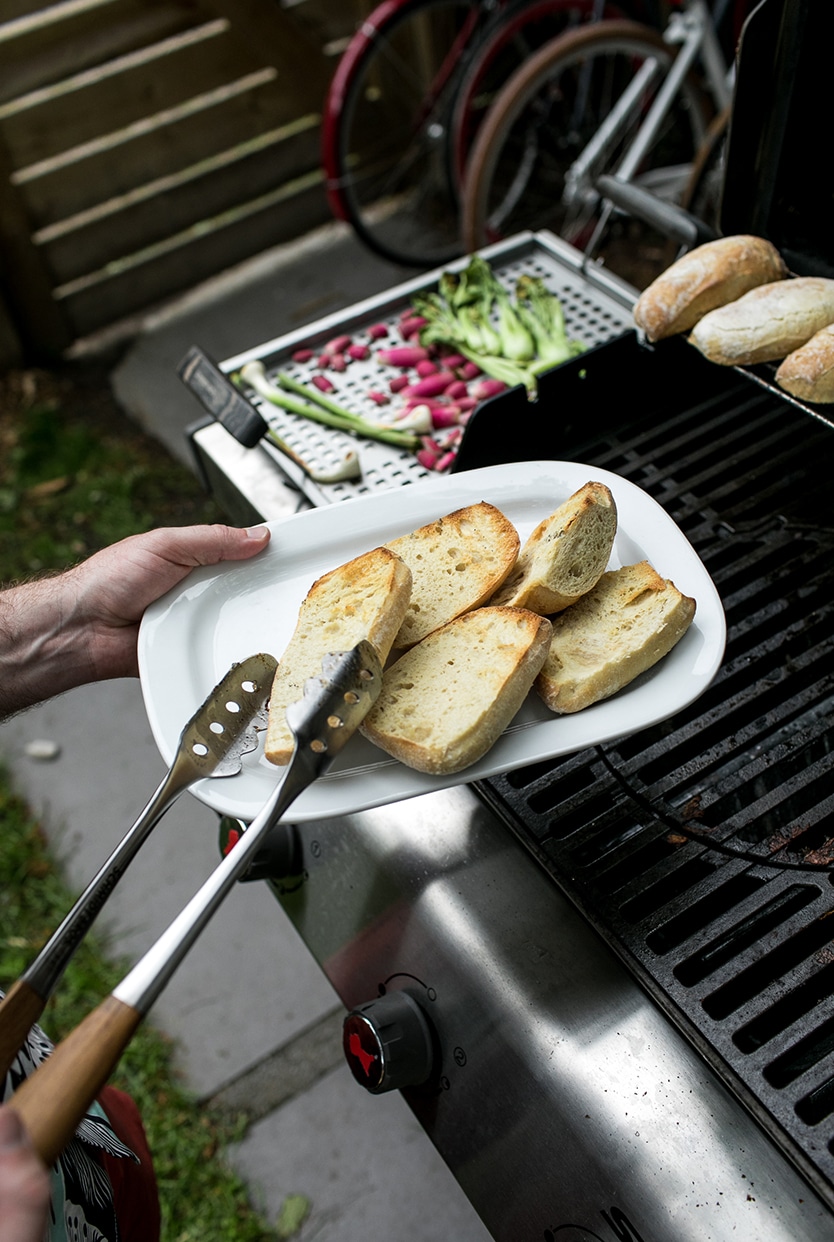 Once he had grilled everything, I set out to plate and style everything so he could have a fun flavorful topping to his grilling. I placed the bratwurst in the buns and topped them with dijon mustard, local kimchi, beet and cilantro microgreens from a local farm, and then finished them with chive blossoms from our herb garden. Then I took the grilled veggies and plated them with olive oil and salt and pepper.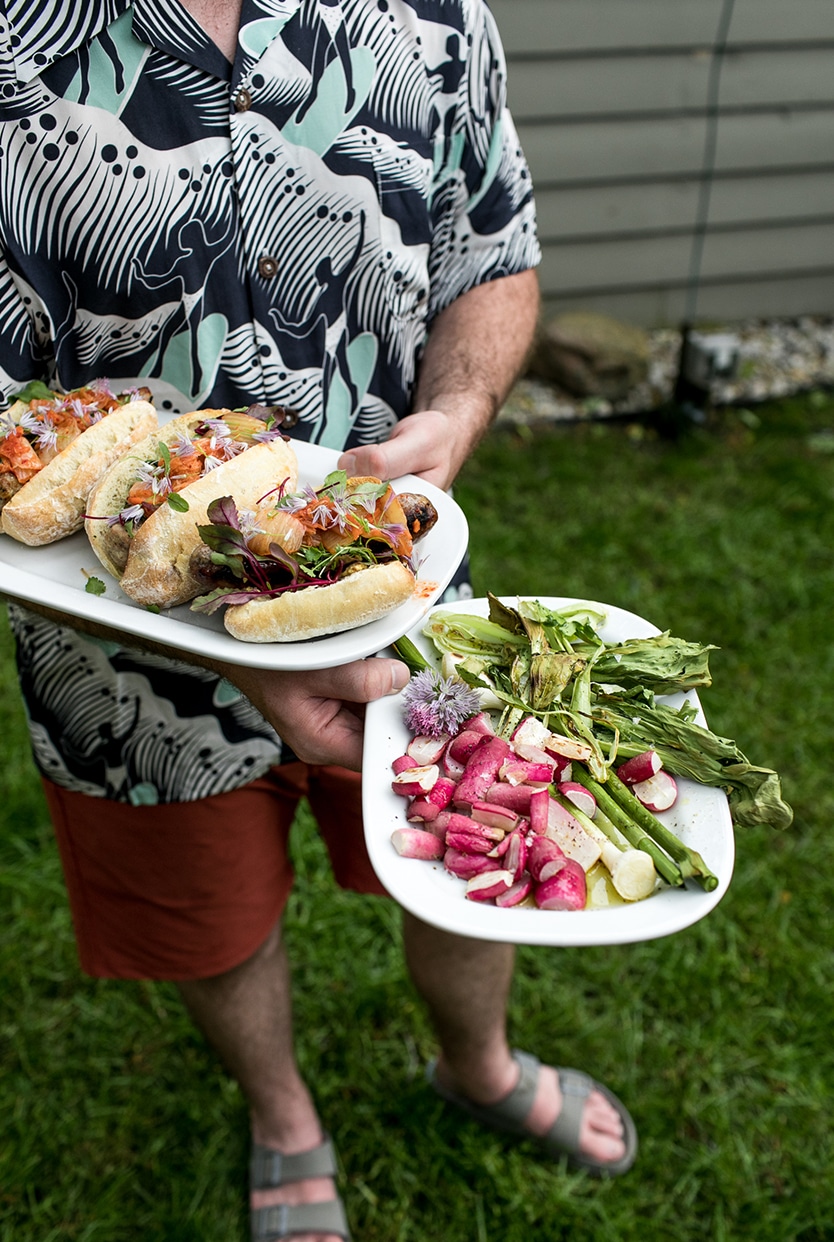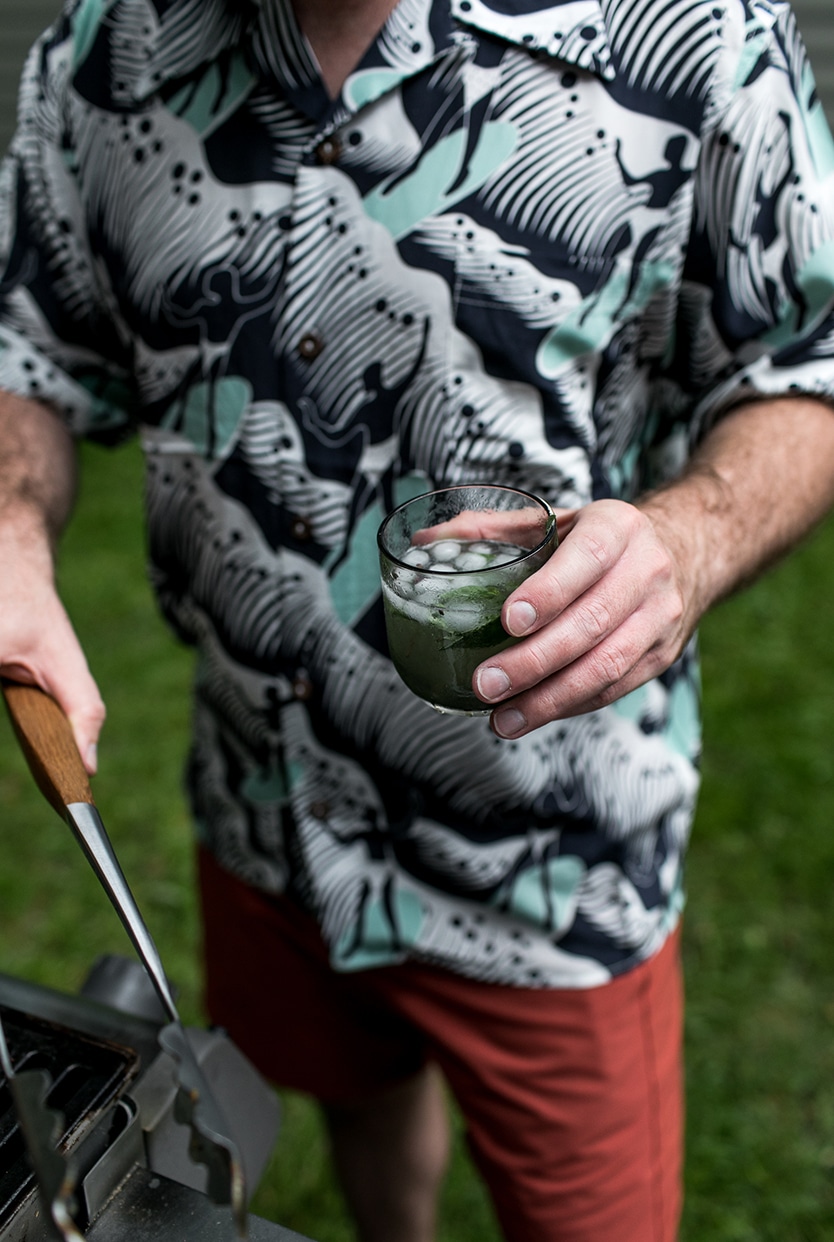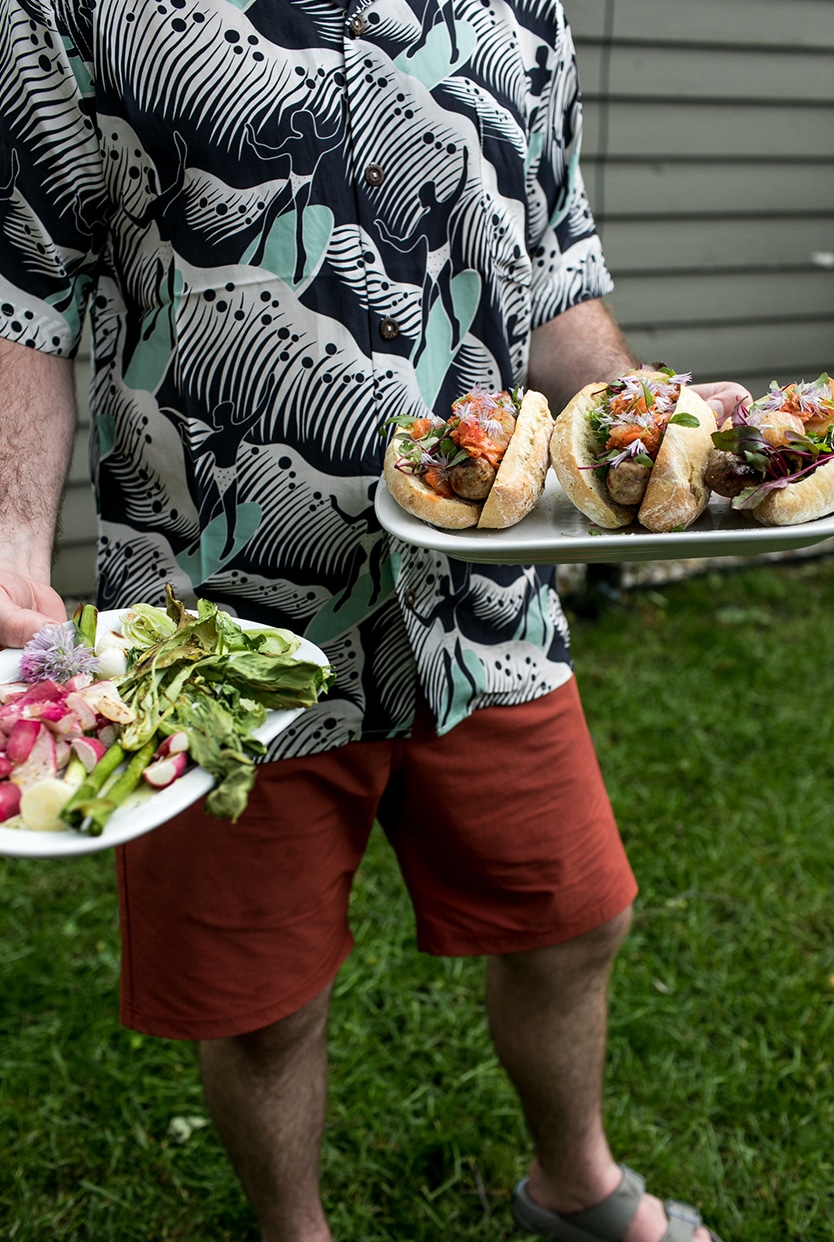 We then set down for eating his day of grilling as a family. He loved the fresh take on his classic favorite and reveled in the feeling of a relaxed afternoon of grilling in his "dad attire" as he dubbed it that afternoon while Hayes ran through the sprinklers and he enjoyed a new favorite cocktail. You can visit Ranch & Home official website if you want to buy some stoves/grills for your bbq.
I loved that I was able to give him a full experience of a day. It was something he had well deserved for the last nearly two years of fatherhood.
To see everything we used for the shoot as inspiration for your own Father's Day BBQ I gathered up everything we used from Huckberry for the afternoon.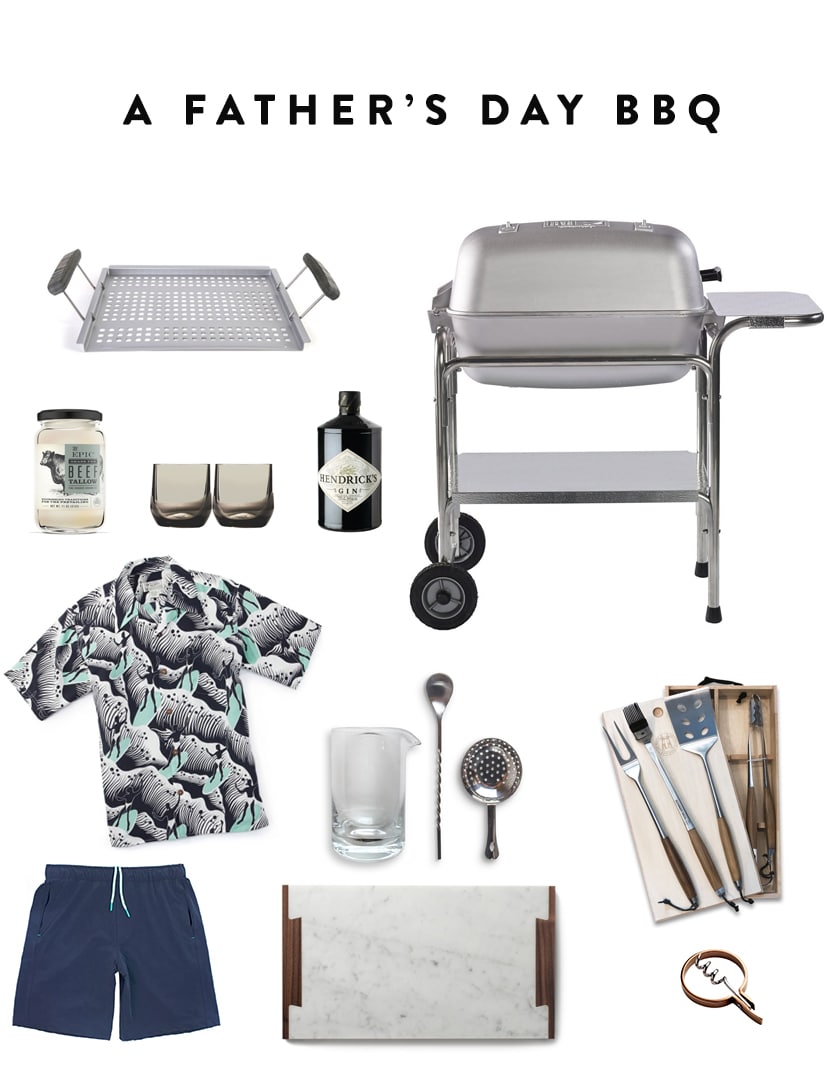 Grab and Grill Flat Grilling Tray $29 | Beef Tallow Cooking Oil 2 for $18.99 | 2 Cocktail glasses $68 | Hendrick's Gin | Grill and Smoker $369 | Surfer Shirt $79 | Everyday shorts $58 | Cocktail Mixing Set $49 | Marble Serving Board $110 | Teak Grilling Tools $85 | Bottle Opener $17
How do you like to celebrate father's day? Is there something special you have planned this year?
This post was in partnership with Huckberry. Though items were received in exchange for this story, all thoughts and opinions are our own.