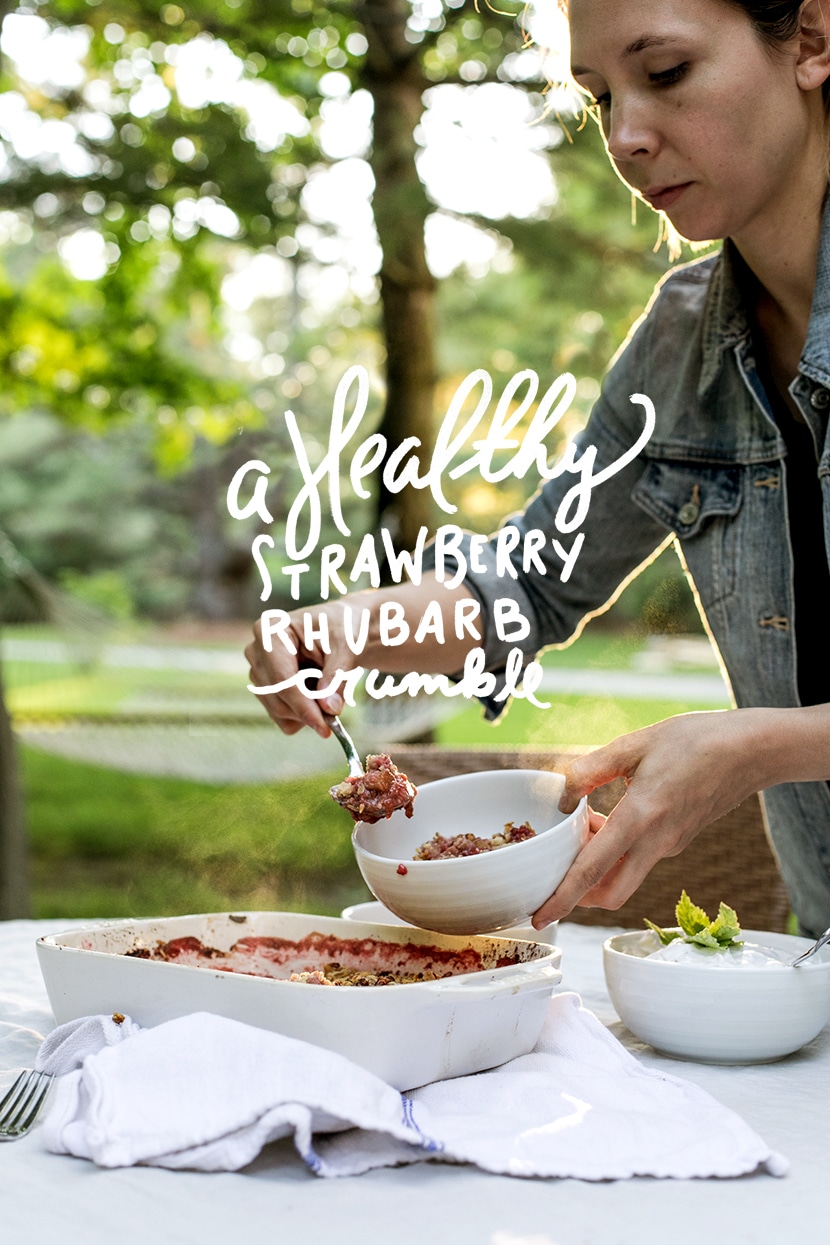 I grew up on the flavors of strawberry and rhubarb together. When I think of summer I think of these flavors together with vanilla ice cream. They are the staples of early summer days and late evenings on the porch watching the sun set just before heading to bed. The way the scent fills the kitchen on a warm evening is one of the most nostalgic scents to me. There is nothing like strawberries and rhubarb. A summer evening eating strawberries and rhubarb together is part of being a Midwesterner, there is no doubt.
I remember when Mike and I began dating he had never had rhubarb. I got so excited and said "OH! You have to try it. Give it a go!" I snapped off some from my parent's huge plant in their garden and he bit into it. Now, if you have ever had rhubarb fresh, uncooked, and without anything sweet you know just how sour and bitter it can be. Needless to say, he felt learned instantly just how awful rhubarb can be just on its own. He even asked me why anyone would ever cook with it. I then showed him the difference when dipped in sugar. He was shocked. Rhubarb is quite the wild card, but it is an essential to late spring and early summer life in Michigan.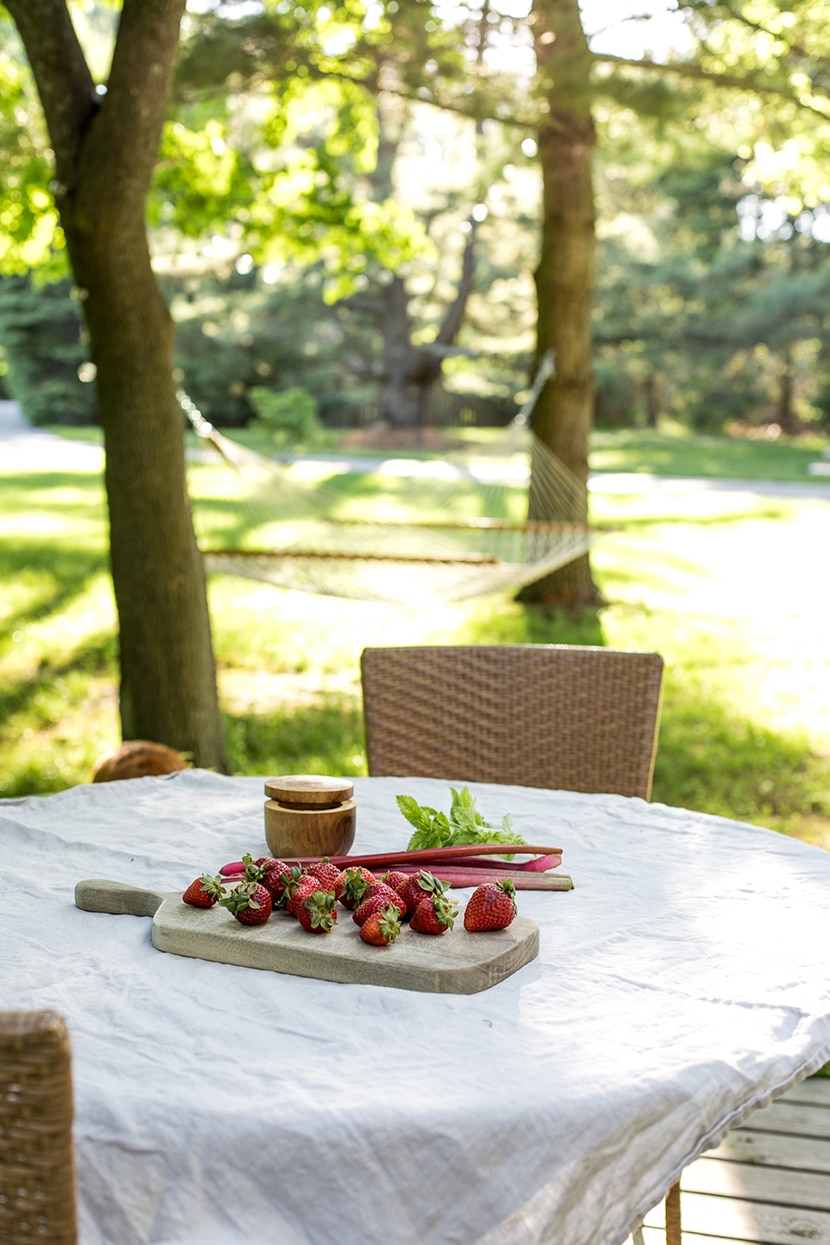 If you haven't ever had a Strawberry and Rhubarb Crumble, I highly suggest you run to your store now and buy some fresh rhubarb and strawberries if they are available. This recipe can also be very easily applied to nearly any fruit crumble you may want to make, but since my favorite is strawberry and rhubarb, I thought this would be the perfect time to share this recipe.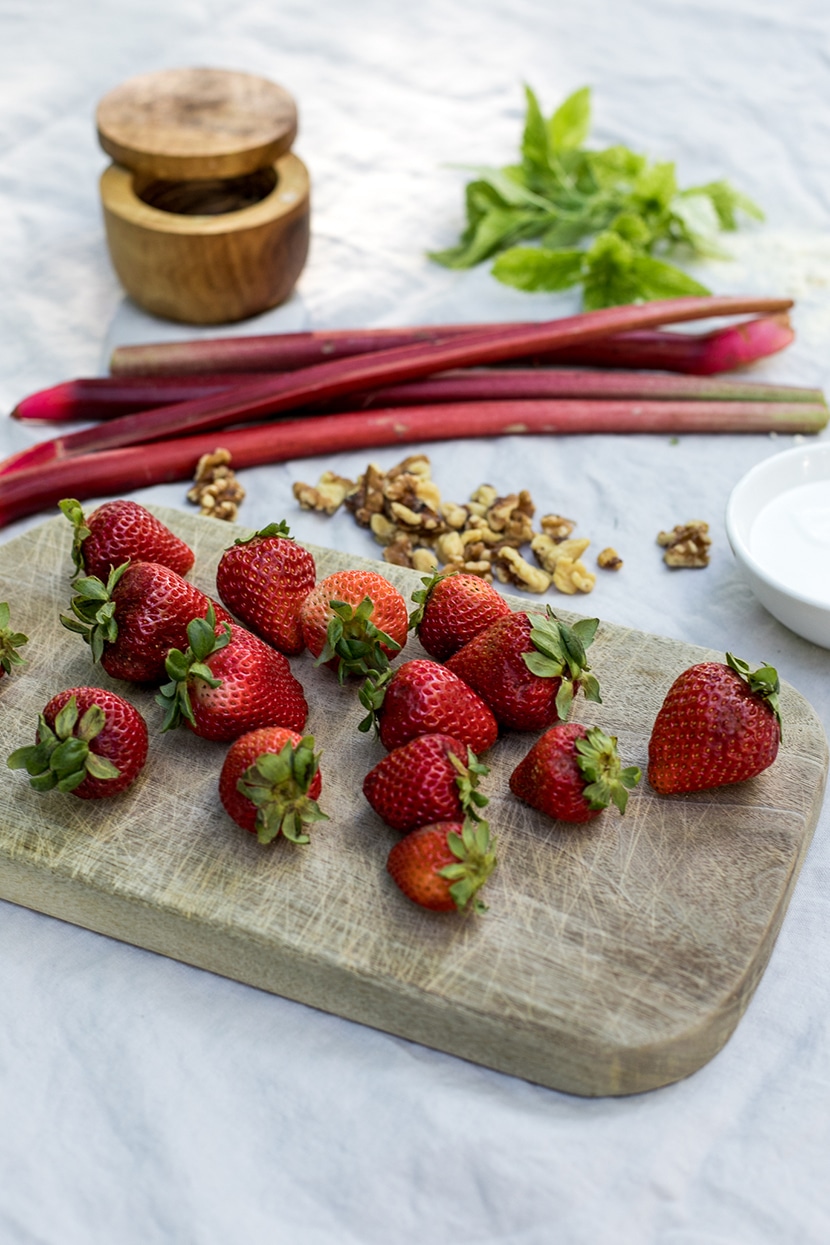 Ingredients Needed for this Strawberry Rhubarb Crumble Recipe
For years I have been working on a healthier version of a crumble because it is my favorite summer dessert. I wanted a version that had no dairy, refined sugar, or gluten. After some trial and error, I feel I finally landed on a version that walks the line between healthy and dessert fairly well. We love it in our house and sometimes even enjoy it on a Saturday morning for breakfast. To make this healthy take on a Strawberry and Rhubarb crumble all the ingredients and steps are below:
Here is what you will need:
Fruit Layer:
4 cups fresh strawberries sliced
4 stalks of rhubarb
1/2 cup maple syrup
1 tbsp of cinnamon
a pinch of sea salt
1 tbsp of coconut oil (lining the pan if necessary)
Crumble:
1/2 cup Virgin Coconut Oil
1/2 cup Old Fashioned Oats – Use Bob's Red Mill GF ones if you want the good stuff.
1/4 cup chopped almonds (you can use the ones left over from making Almond Milk)
1/4 cup chopped walnuts
1/4 cup Coconut Flour
If you do want to add in a little more sugar you can sprinkle in some coconut sugar or date sugar to the crumble. It will give it a little more crisp. Mike and I are trying hard to limit our sugar intake so I kept to just using some maple syrup.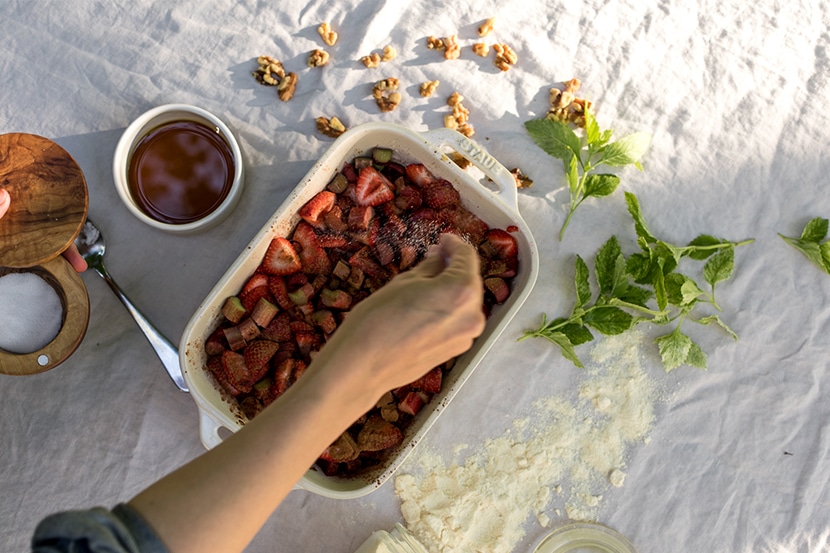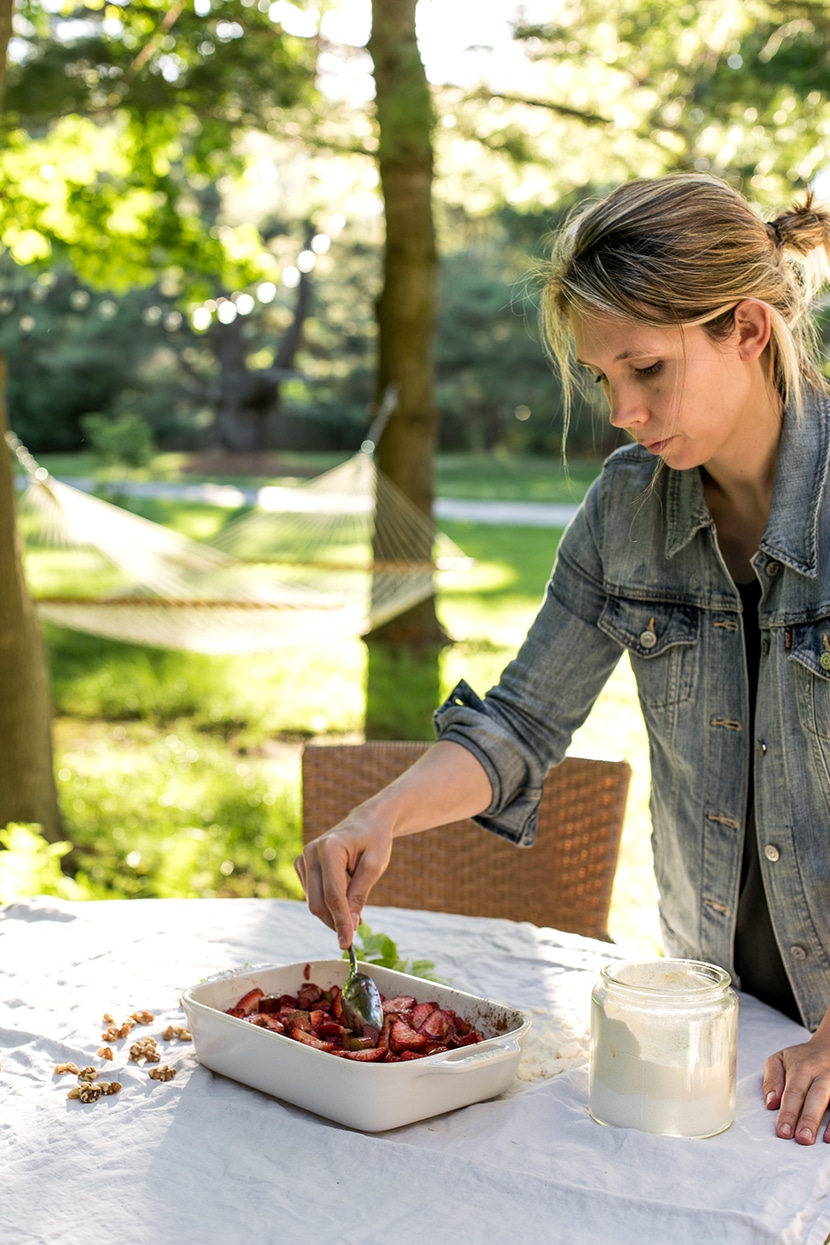 How To Make The Strawberry Rhubarb Crumble
To make the crisp it is very simple.
Preheat the oven to 400 degrees Fahrenheit and then coat your pan in coconut oil. I used a Staub baking dish for this, which I recently invested in and absolutely love for anything you can possibly imagine. Good cookware is worth it!
Next, slice all strawberries and rhubarb and place in dish. Sprinkle them with the cinnamon and salt. Top with the maple syrup and give them a good toss. Set the dish aside.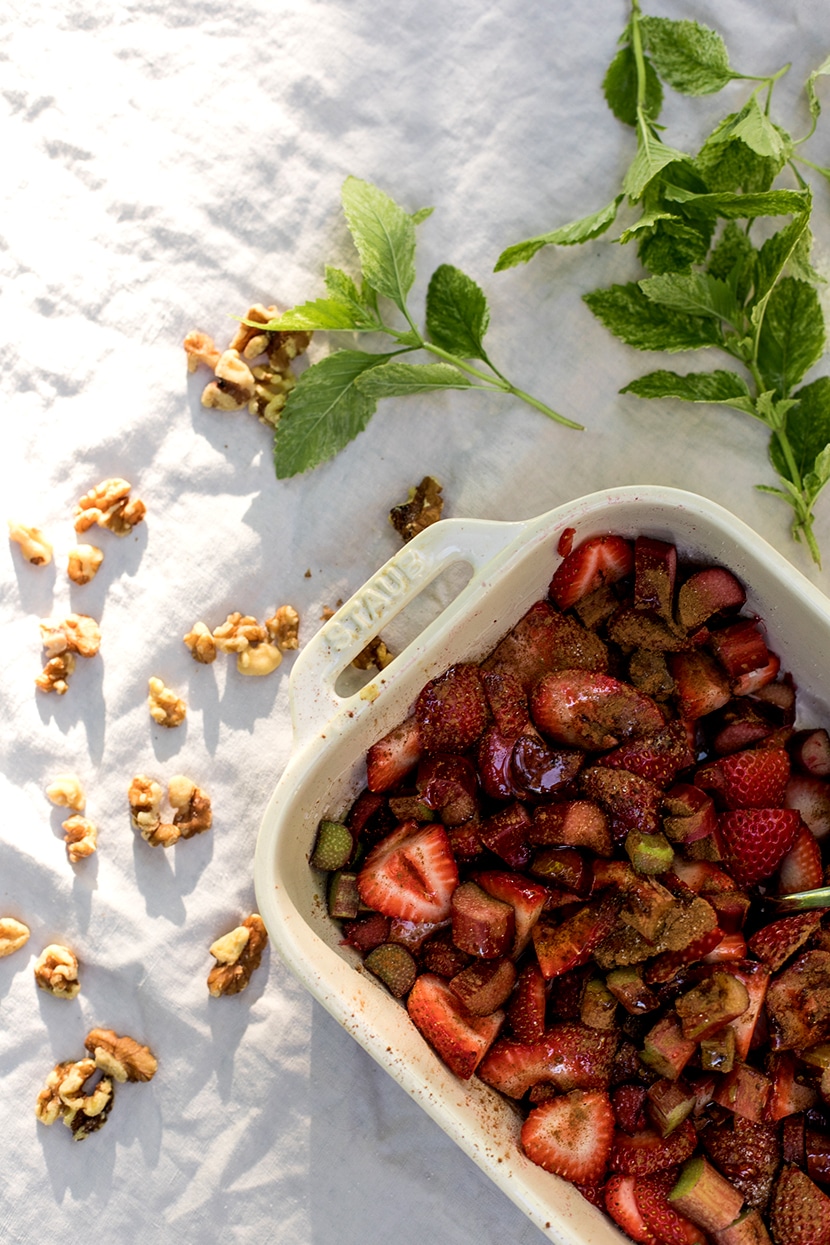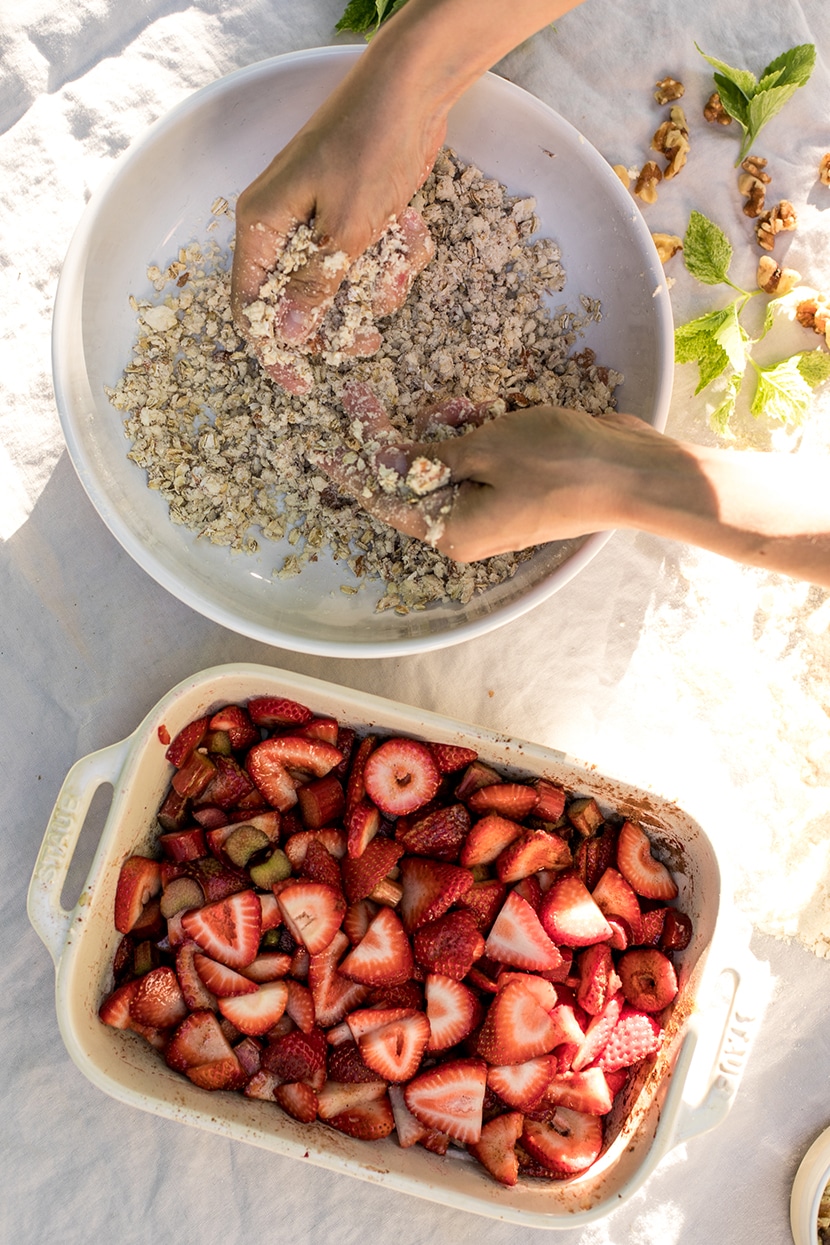 3. Place all crumble ingredients other than the chopped walnuts in a medium or small mixing bowl. Use your hands to combine and create a crumbled texture with the ingredients.
4. Spread the crumble over the top of the strawberries and rhubarb evenly so the first layer is covered.
5. Finish topping the dish with the walnuts and the additional sugar if you have chosen to do so.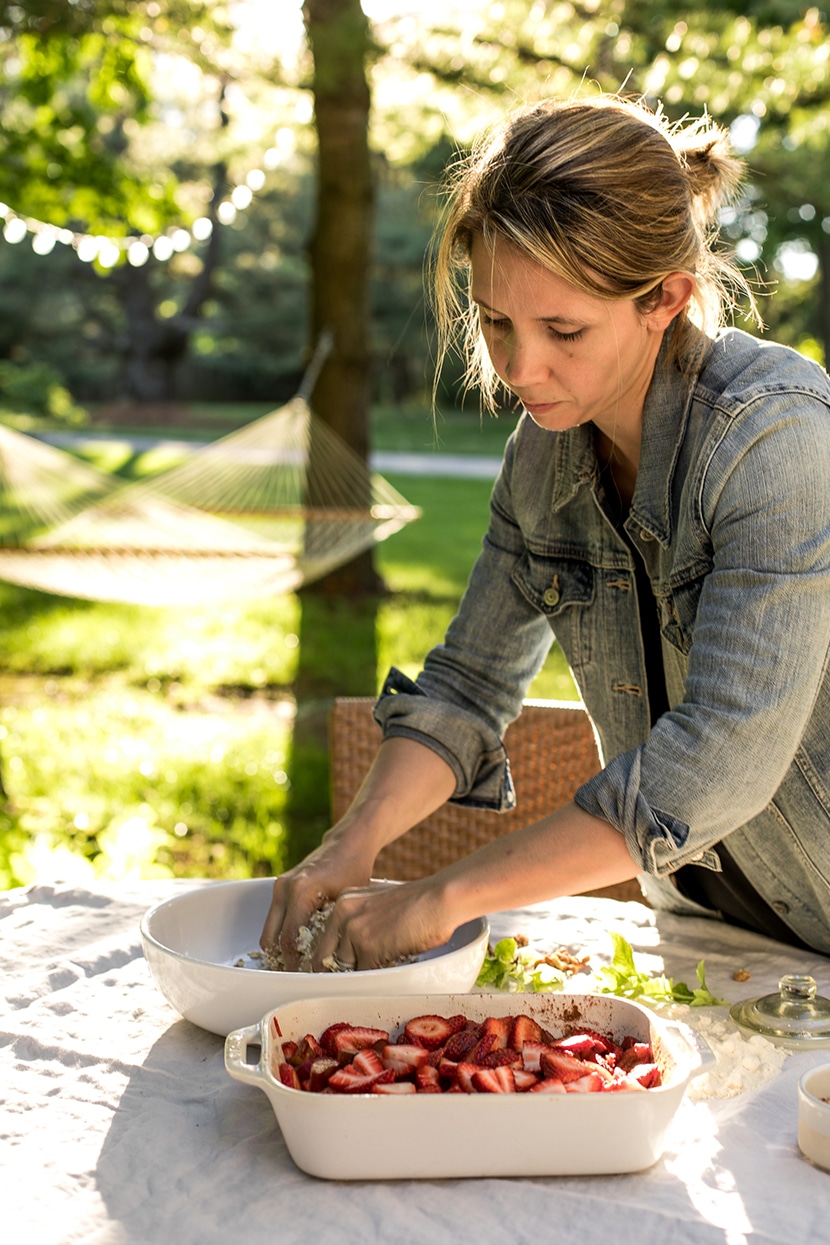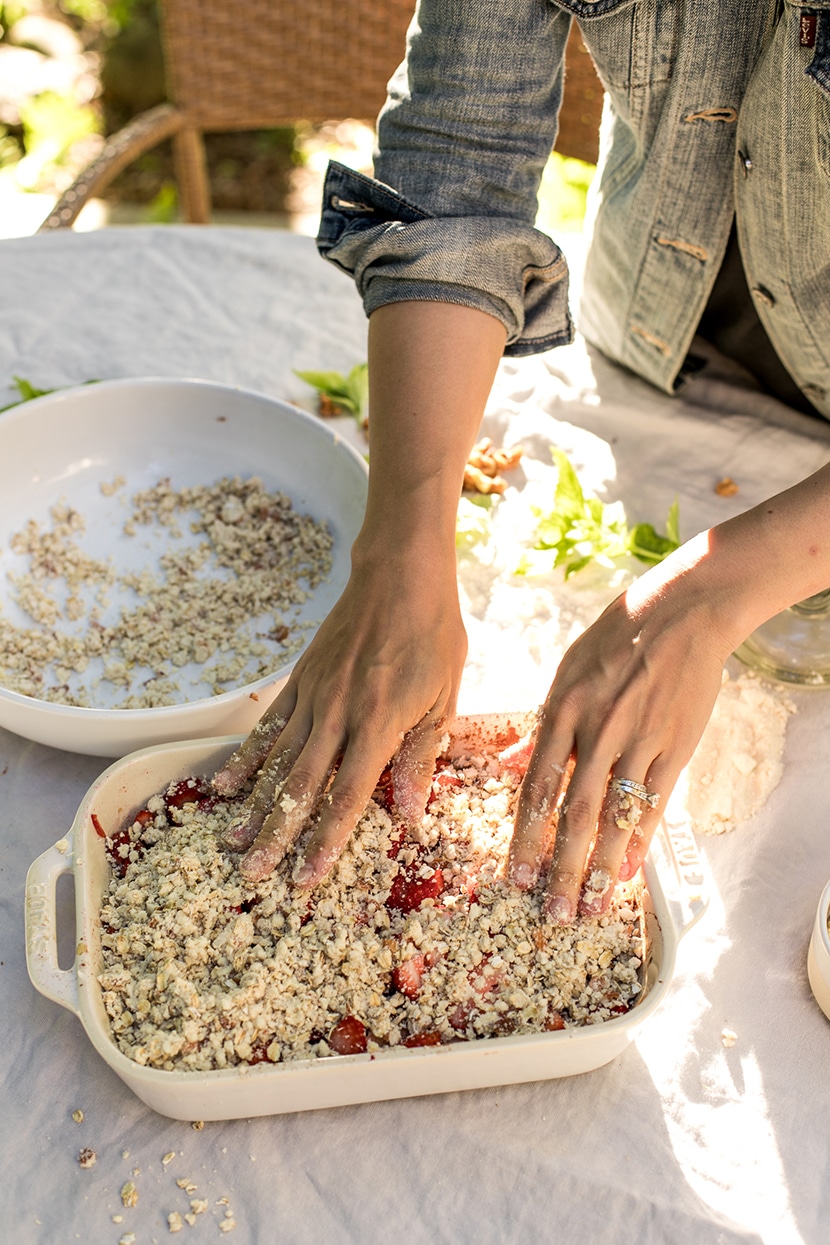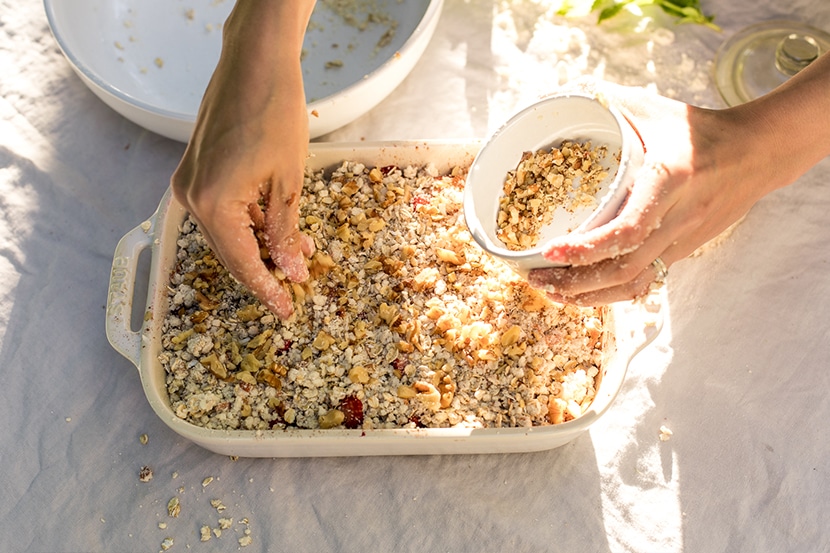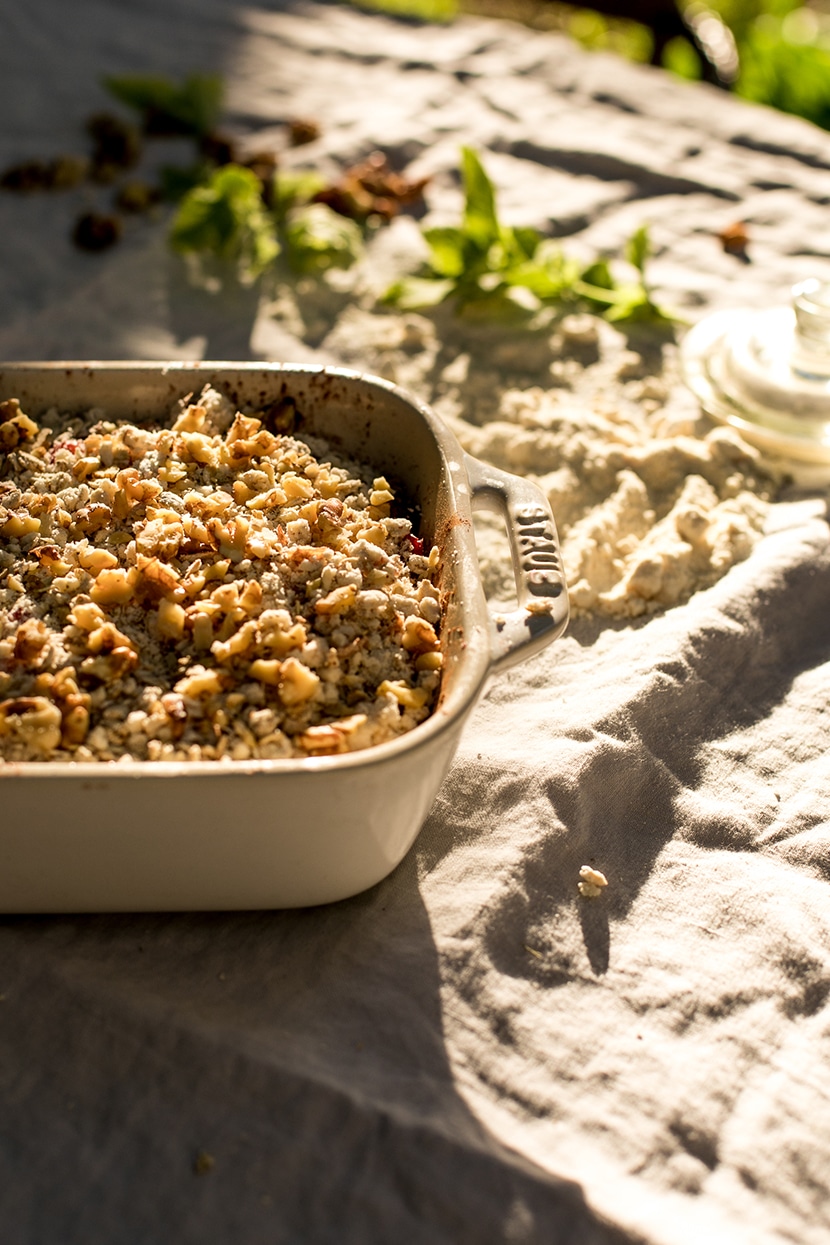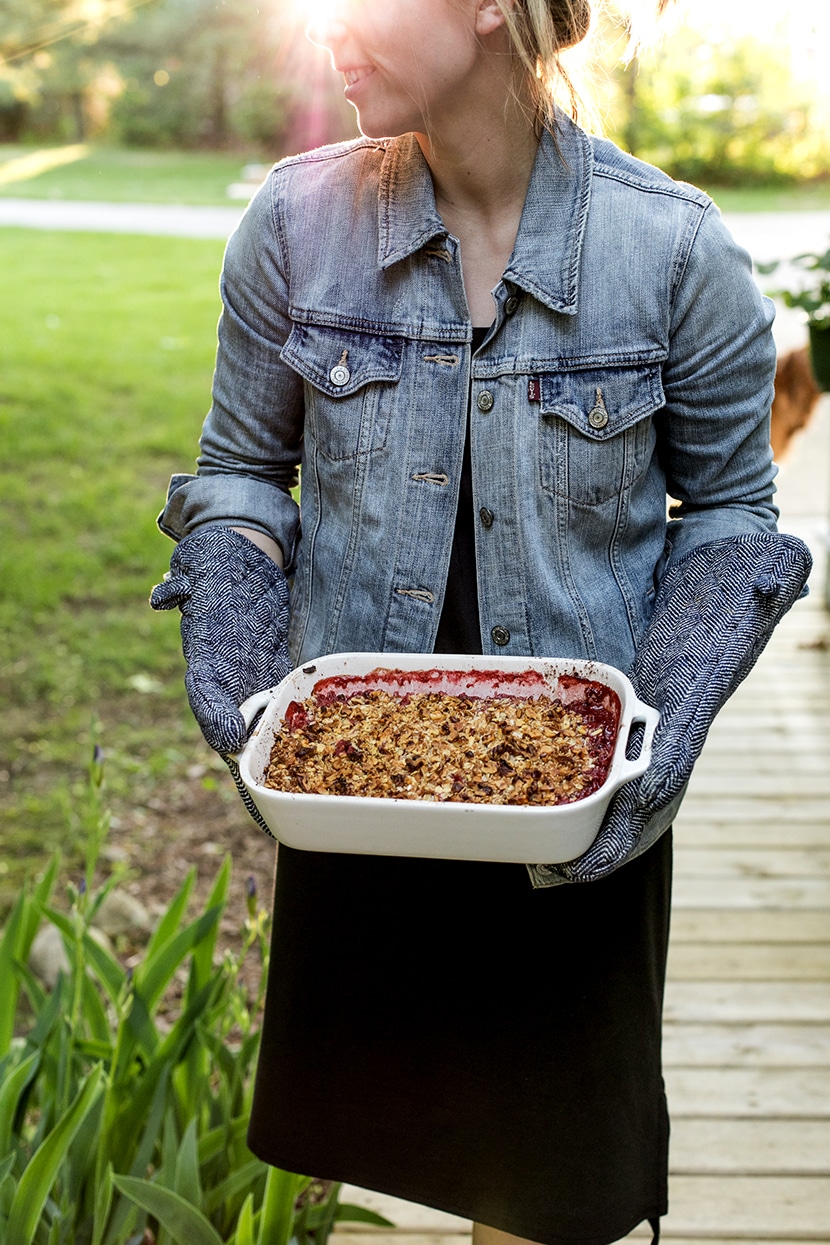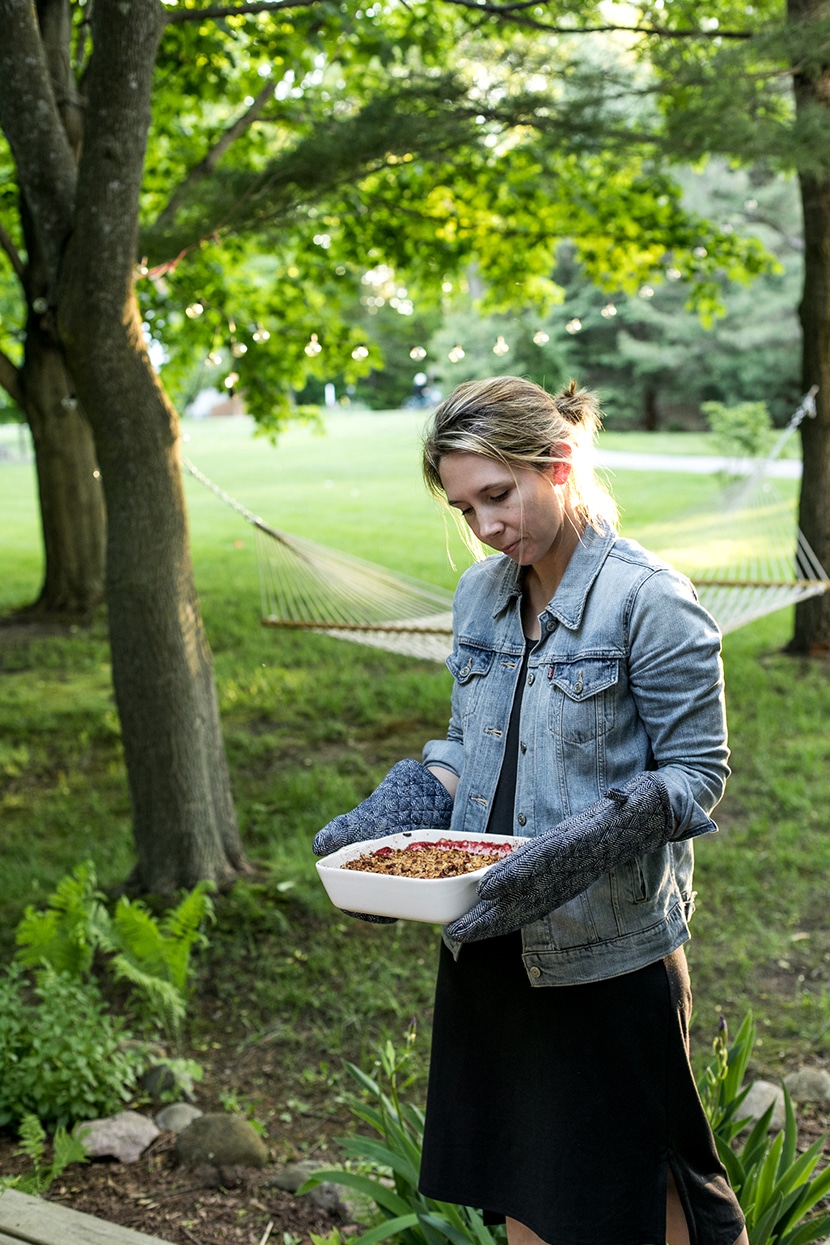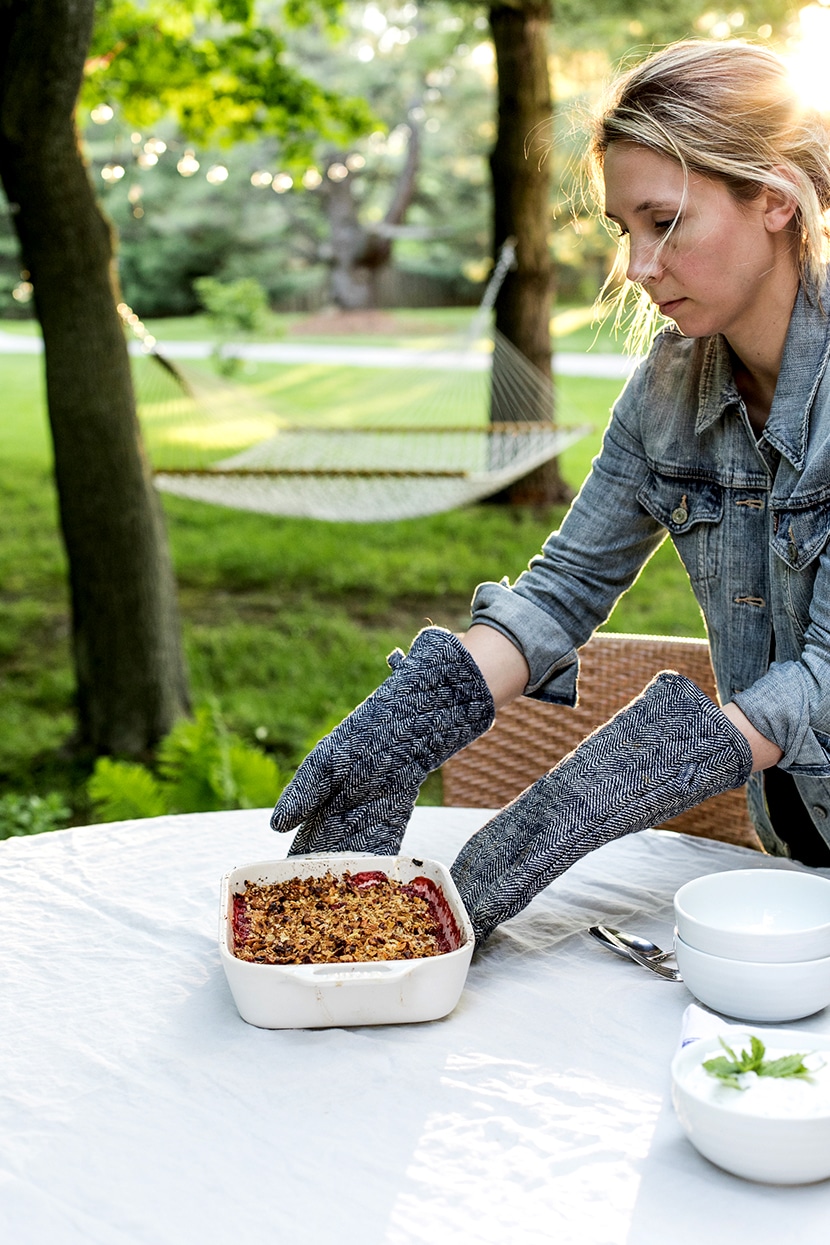 6. Place crumble in the oven for 30 minutes or until the top is golden brown and the fruit is bubbling.
7. Pull from the oven and serve warm.
I suggest instead of serving with Ice Cream either eat with coconut ice cream or I like to make this coconut whip cream and I added in fresh mint to create a refreshing flavor to the dish.
Why Is My Strawberry Rhubarb Crisp Runny?
Fruits are typically a bit liquid-y while they're still warm. The juices flow and turn into thinner sauces as the temperature cools down, but if you use enough cornstarch to "gel" quickly once cooked thoroughly then your crisp will be fine!
How Do You Reheat Rhubarb Crisp?
The best way to reheat this fruit crisp dessert is by putting it back in the oven at 300 degrees F for 5-10 minutes. This will re-crisp all of your favorite toppings and make everything taste fresh again like you just bought a brand new dish!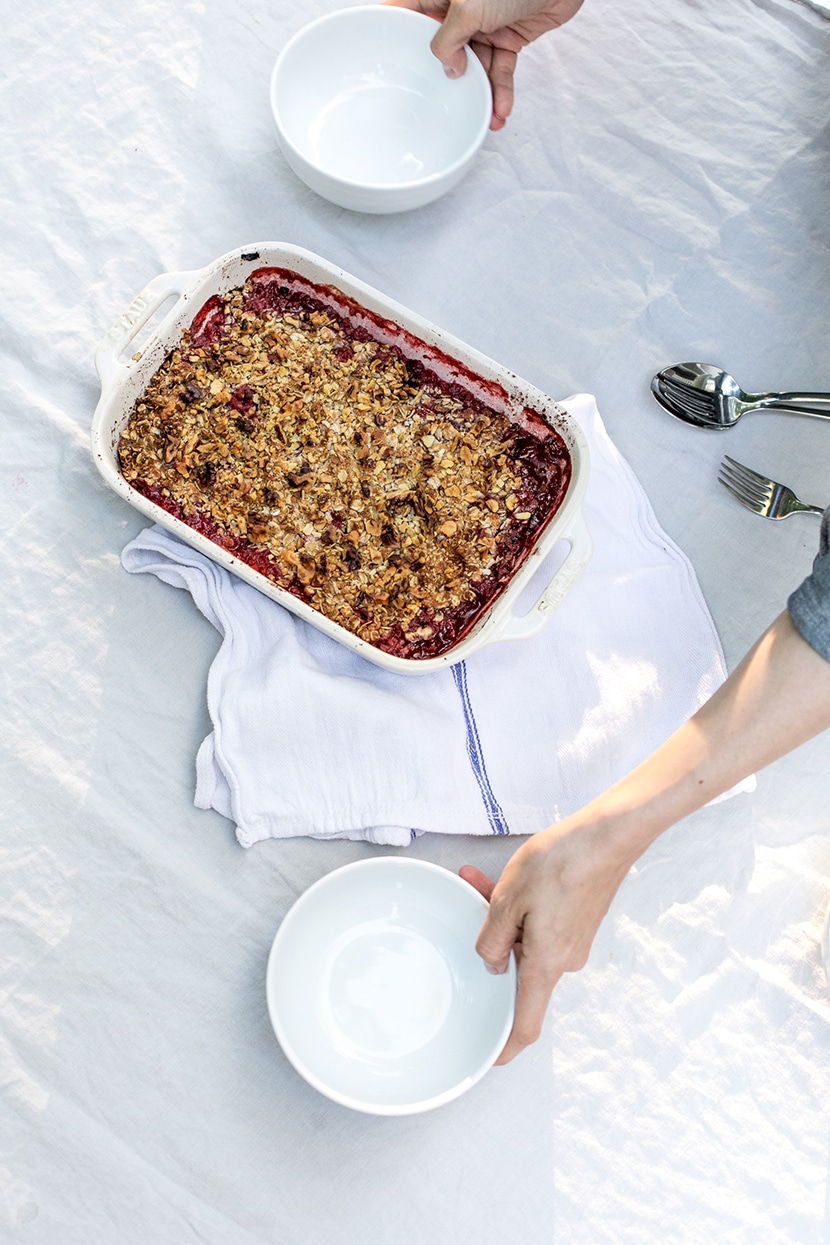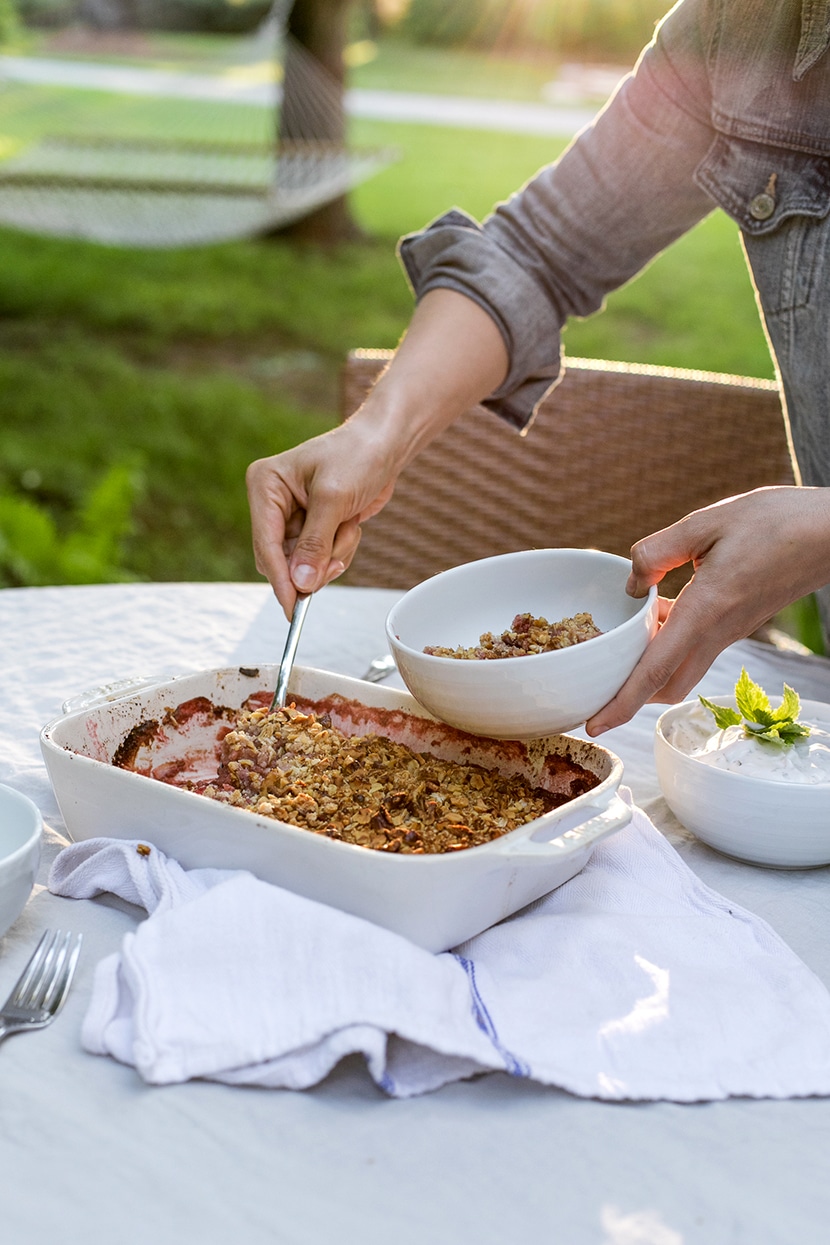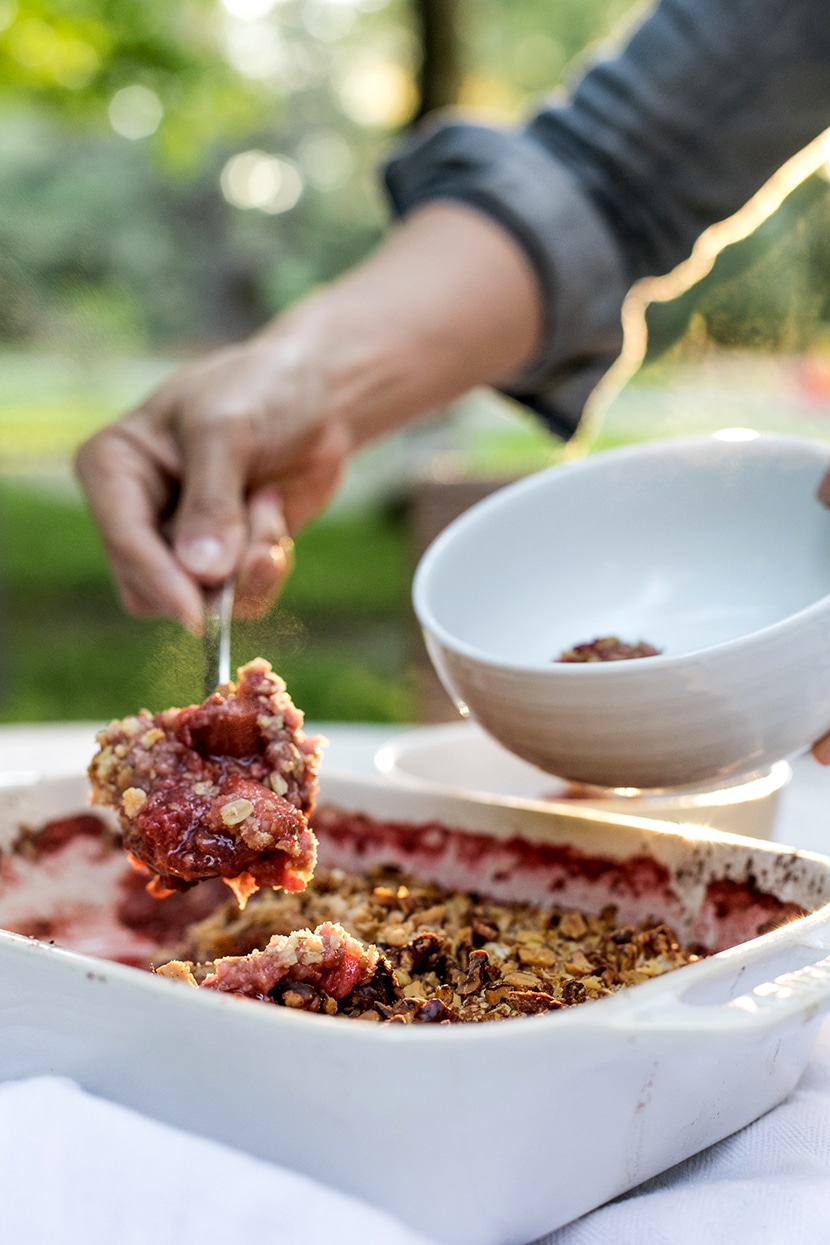 This recipe will be on repeat all summer and even into the fall as we enjoy apples and pears. Simple flavors and so easy to make quickly to enjoy with friends and family in town for the weekend. Up here having those types of recipes on hand are necessary when you host many people visiting the area.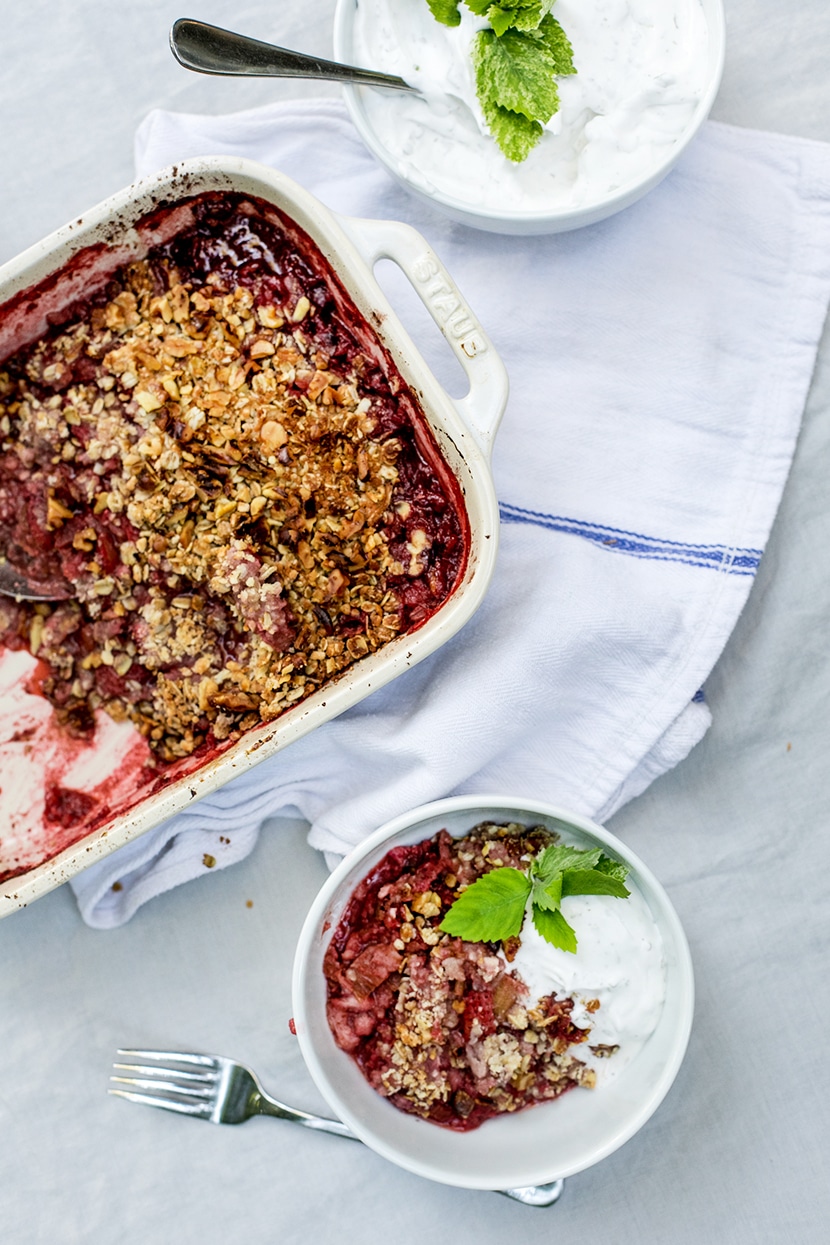 So tell me, what is your favorite summer dessert? I love hearing people's favorite foods and why so tell me 🙂