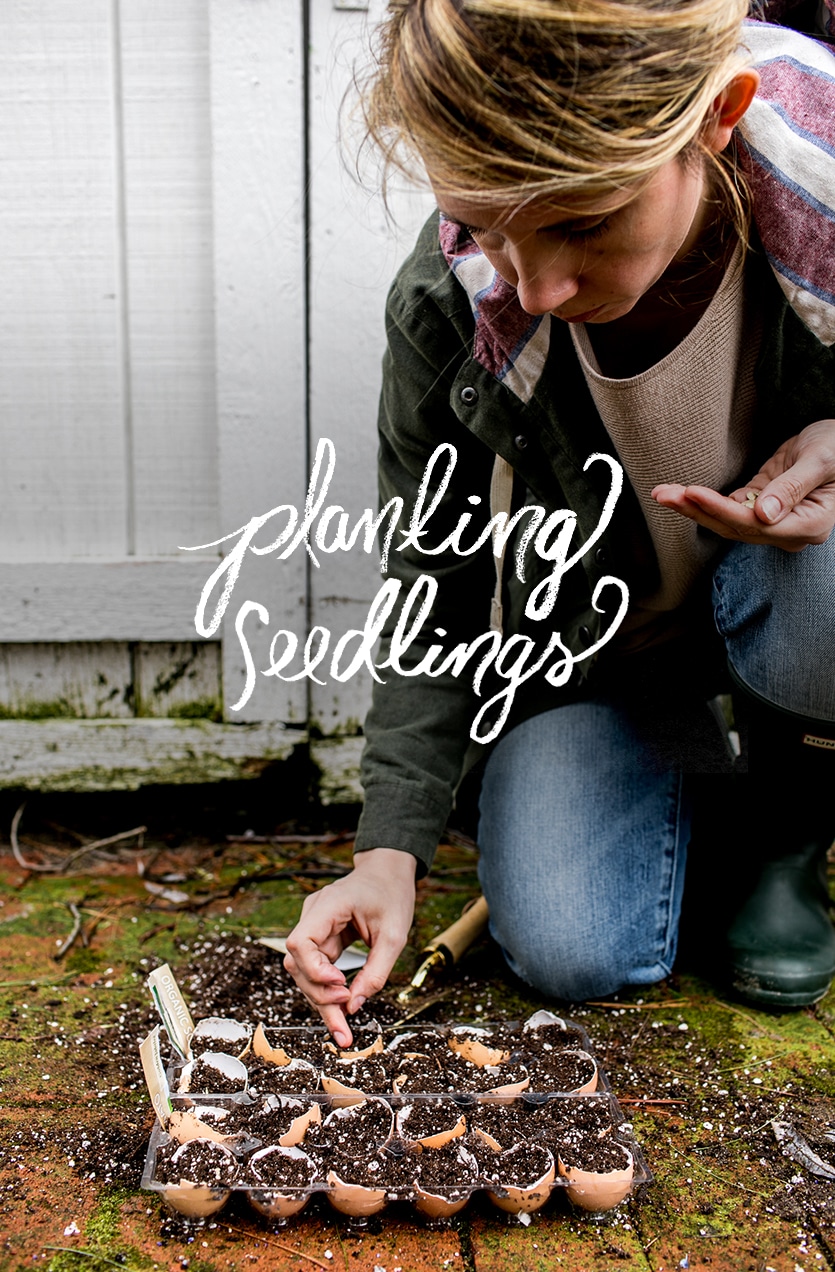 My favorite time of year has arrived! Though it currently feels like spring around here in many ways, I know we are still months away from planting anything green in the ground. In the meantime, we have the opportunity to prepare for the day we can finally begin our garden and set it in motion. This means now is the time to plant your seeds if you haven't already. We are a little late up here compared to the rest of you, but this is a method you can use year around to plant seedlings so you can continue placing plants in the ground each season. This isn't solely a spring method by any means. Though it seems spring is the time it feels most natural to sow some seeds. This year, I am trying a new method for our seeds and I wanted to share it with you.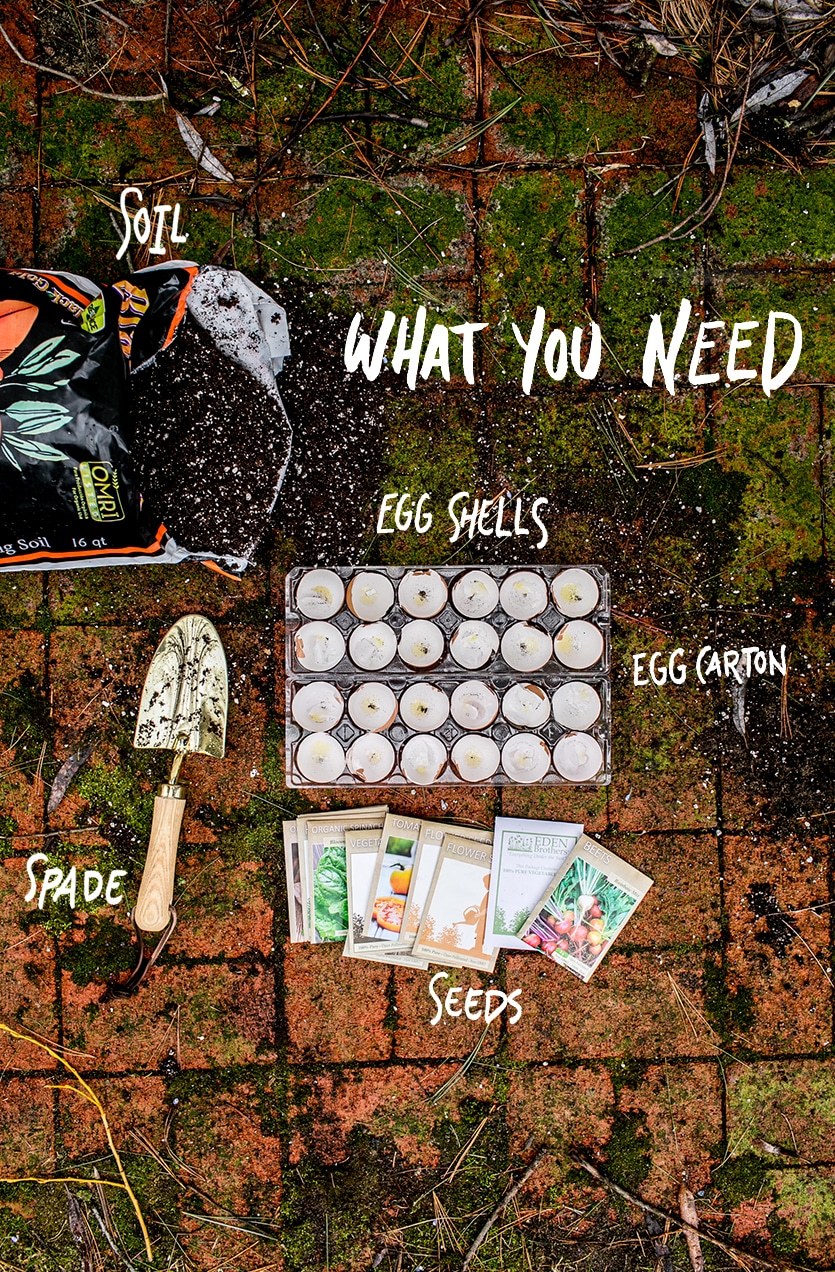 I read a long time ago that egg shells are extremely beneficial not just to your soil, but for your plants. Egg shells are jam packed full of nutrients that are wonderful for the soil and plants to feed on. Many times we discard them whether into the trash or the compost pile, but this year I saved them and the cartons they come in so we could make the most out of them. There are many uses for egg shells in the garden and self-sufficient life and next year we will have chickens, so eventually we will be using our own chicken's eggs for this. For now, though, we have been saving egg shells and cartons from the store for the last few months. I personally kind of love the new plastic containers many eggs come in because they have more space to hold more eggs. The paper ones are nice too because if you don't save the eggs the paper decomposes in the ground as well. Both are perfectly fine options. If you use paper just make sure you place a tray underneath so when you water them they don't spill all over.
In the past, I have gone about spending a lot of money on seedling start kits but this year, I wanted to save some money (we are building a house after all) and start to learn some new methods making use of things we have in our home anyways. I love when arbitrary things can be made use of. So for this seedling start setup here is what you will need:
Saved Egg Cartons (paper or plastic will do)
Egg Shells (break them in half when you open the eggs so they make perfect little holders for your dirt)
Organic dirt – I used this dirt
1 Garden Spade – You can find mine from Smith & Hawken at Target
Seeds of your choice ( I purchased our's from Eden Brother's and you can get idea of what to plant here)
One other thing to have in mind when planting your seeds is how you plan to store any leftover seeds. I find I never use the whole packet, which is great because if you spend $60-$70 like me on seeds you can use them over a year or two instead of just in one big swoop. Ultimately, that makes it even more affordable to start your own plants instead of buy starts. I suggest having a container that is not see-through, is air tight, and water resistant. The reason being is that seeds need to stay in dark and dry places in order to not germinate and begin growing. They will stay dormant for a while when you keep them stored properly.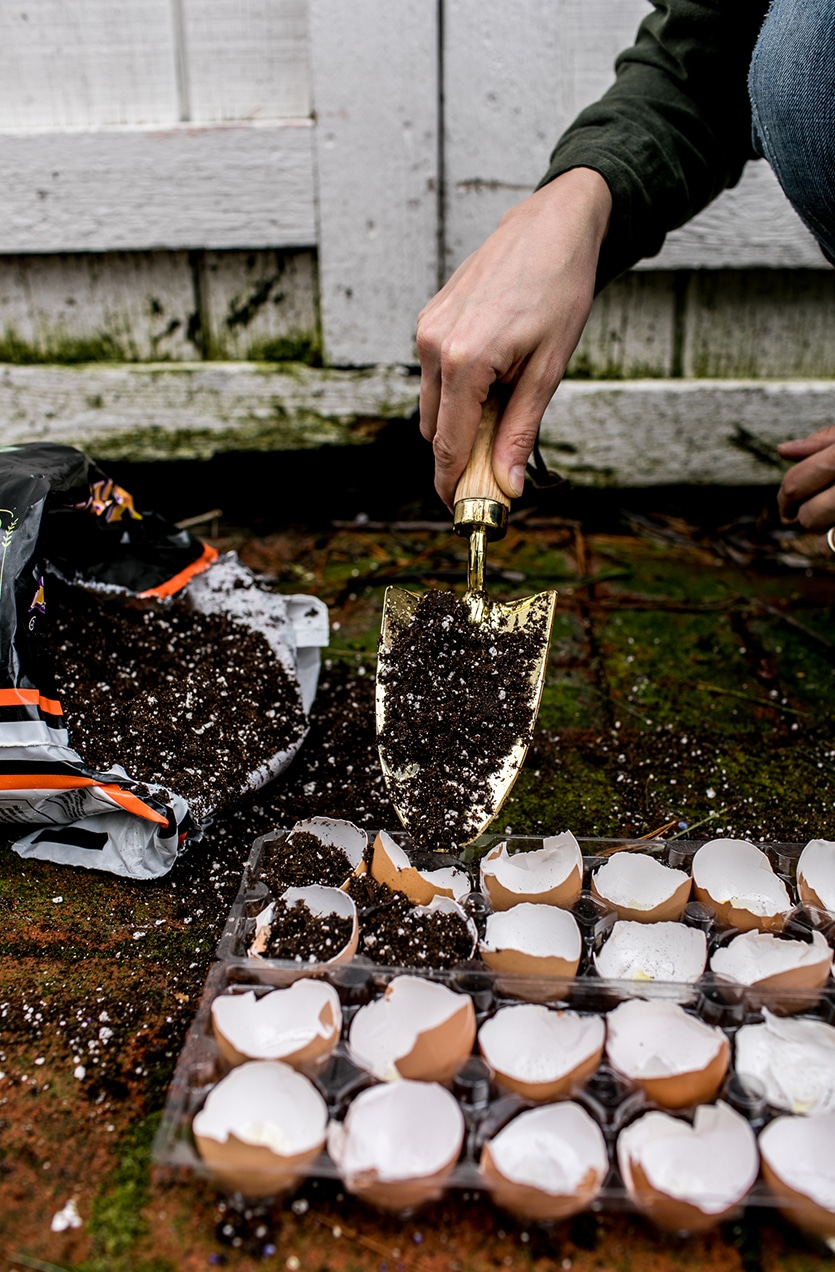 Here is how you will do the planting. It is very straight forward, but I have a few thoughts and ideas for you that may make it even better and more interesting.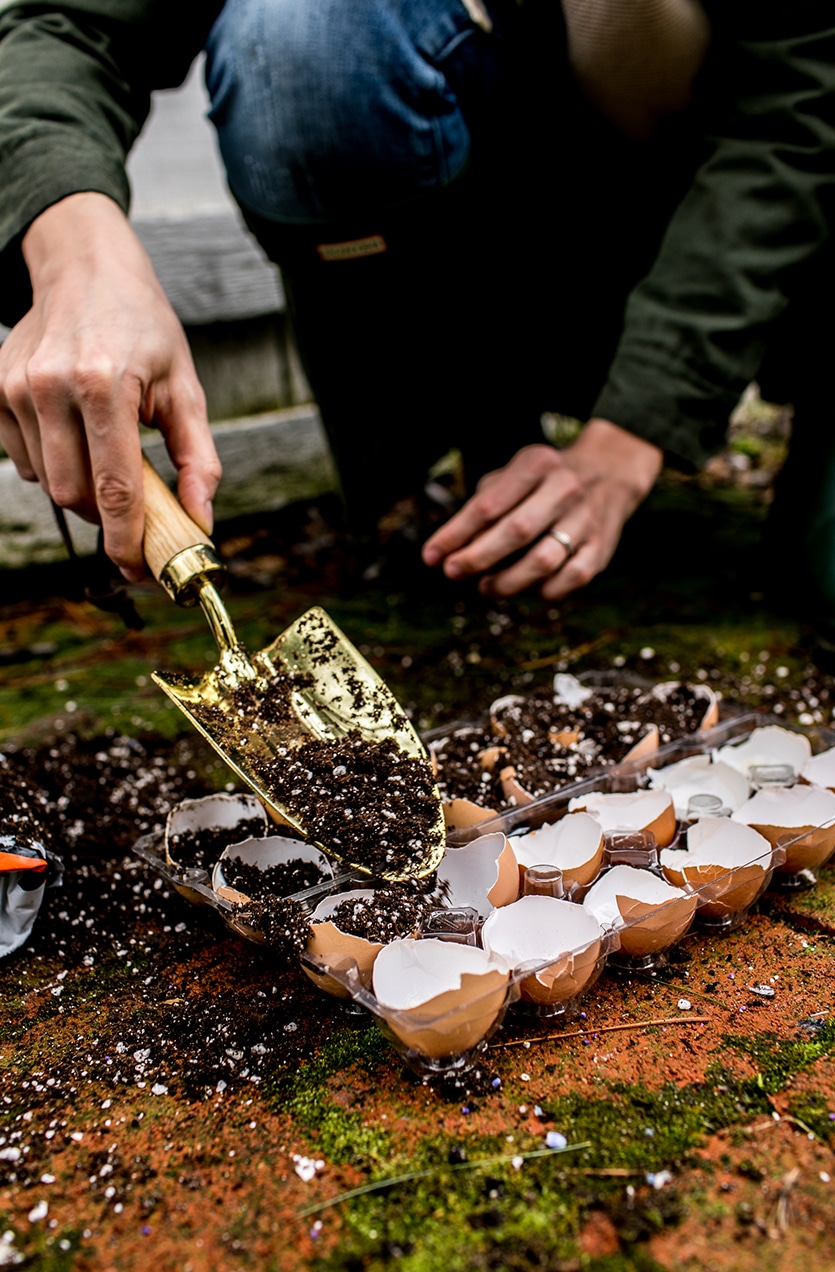 To begin, I suggest doing this outside or in an area where it is easy to clean up afterward since you will be making somewhat of a mess. You will need to get your spade and open up your bag of dirt and scoop some out so you can drop it into the egg shells. As I drop the dirt in, I pat it down just lightly and not too tightly but just to make sure I have enough dirt in there. Fill all of your shells. You most likely will have more than just the amount I am showing here. If you are following either our simple garden plan or something similar you most likely will have about a dozen or so trays of eggs and cartons to fill. For us, our whole laundry room is full of seedlings right now. So this could take about 10-15 minutes to get them all filled with dirt.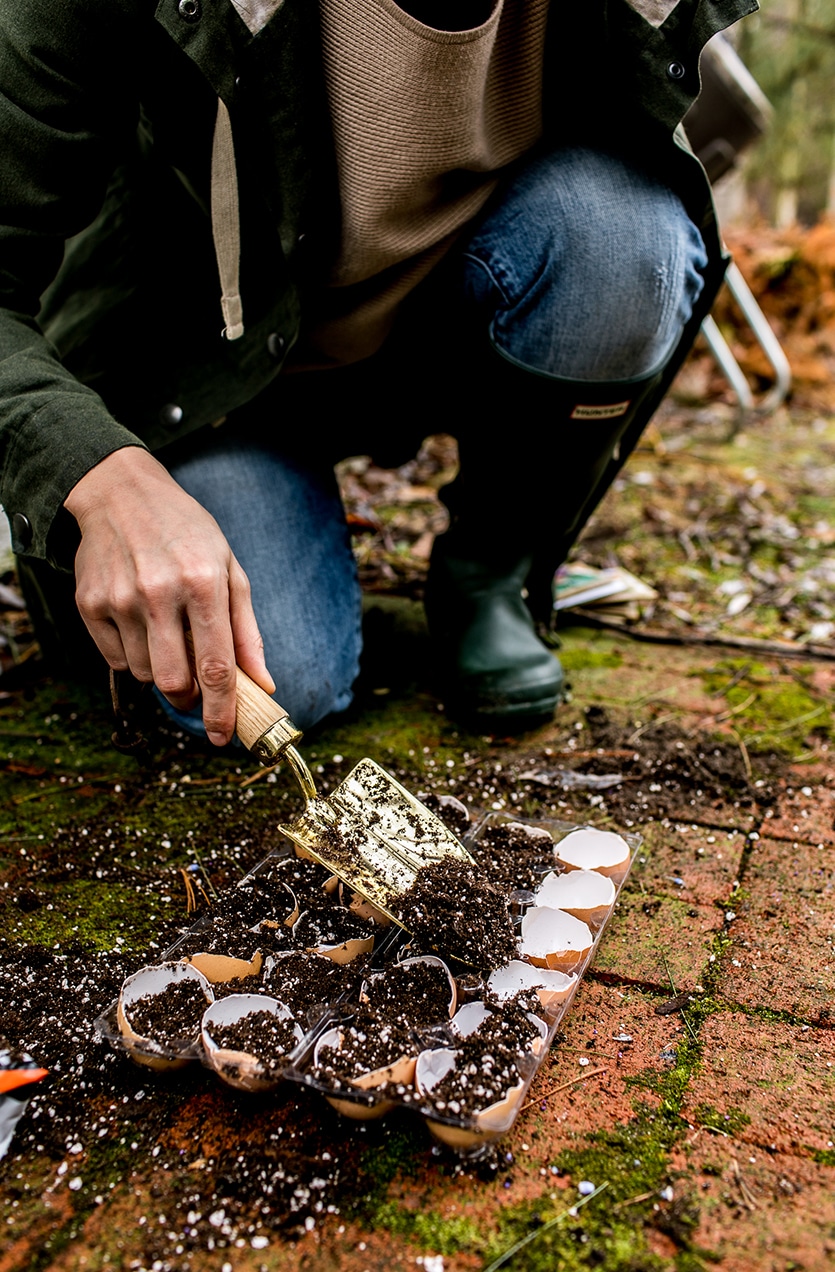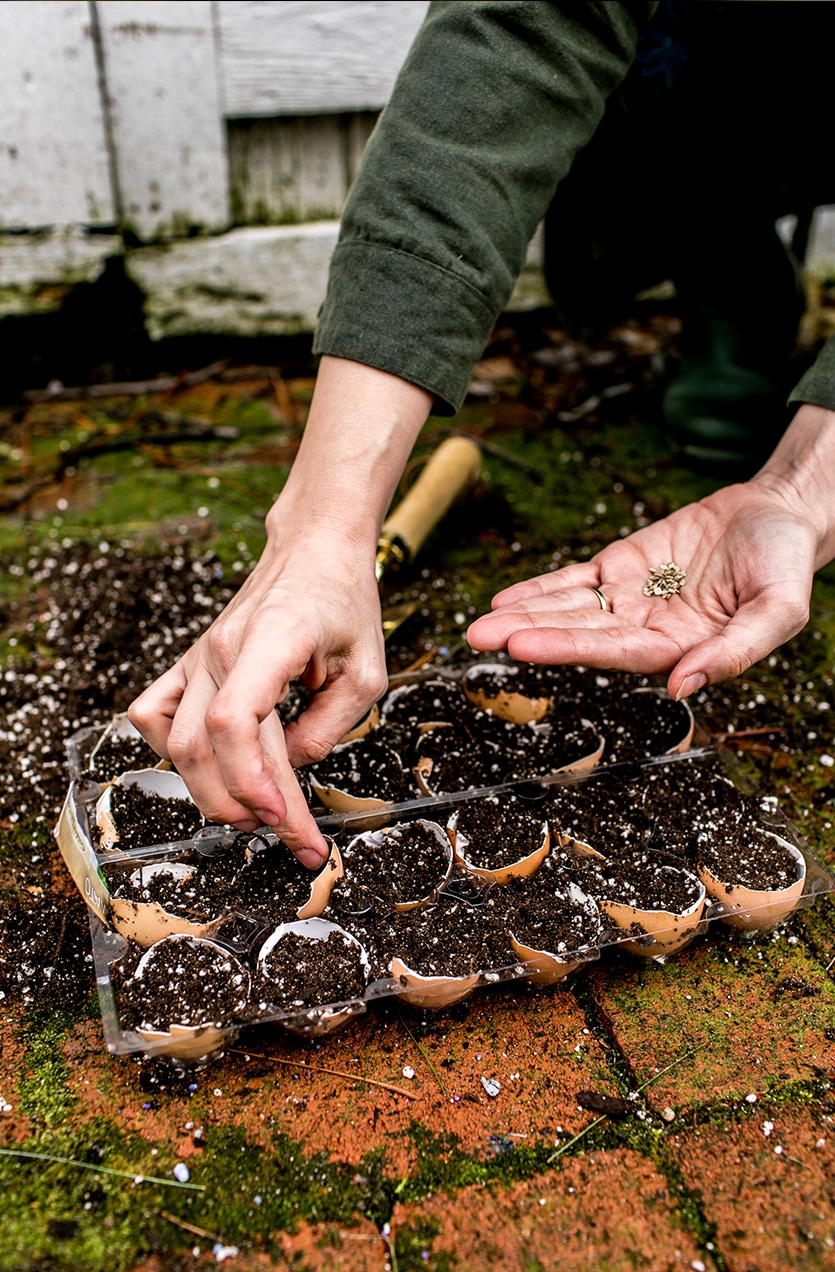 Once you have filled your shells with dirt you will want to start making your seedling plan. Now, not EVERY seed you have can or should be started now as a seedling. I suggest doing tomatoes, peppers, peas, squash, herbs, dense greens like kale, and other similar types of veggies from seed. I say hold off on your lettuces, garlic, summer flowers to be sown when you plant your seedlings or even a week before. I find this to be a good method from my past experience.
You want to make sure to indicate what you are planting in some way. For my seedlings, I tore off the top of the seed packet, but you can also take popsicle sticks or masking tape and write the name and so on on your containers to mark the seeds. It is important to mark them properly so you know what you have weeks from now when you go to plant. It is okay to plant a few more than you need as well. Worst case you can share them with a neighbor or friend after you plant.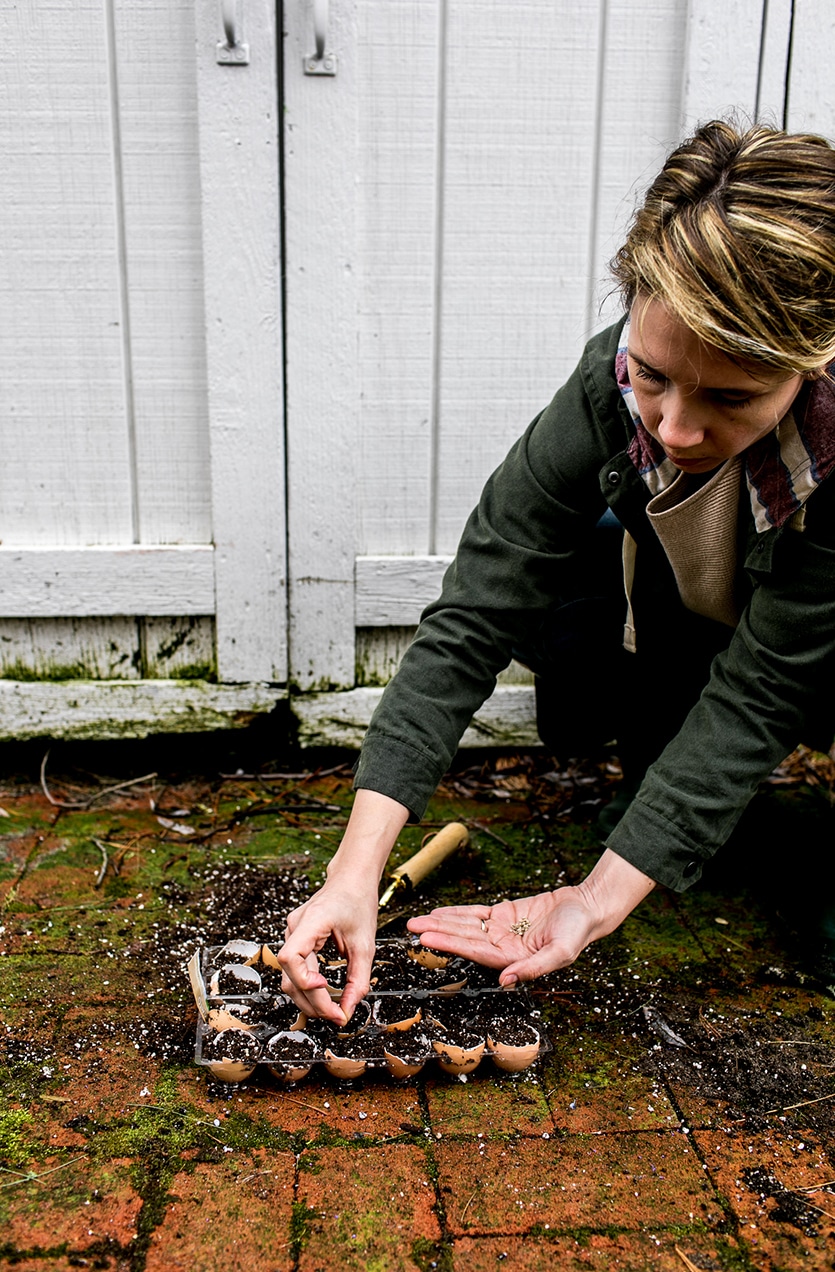 As you sow your seeds in your little eggs, make sure you read the packages. For instance, tomatoes you will want to plant a few seeds in each shell. You will thin these before you plant them. Same thing goes with peas. For squash, I typically just do one per shell because you don't typically thin them. Just read each packet before you sow so you know the process you should prescribe to.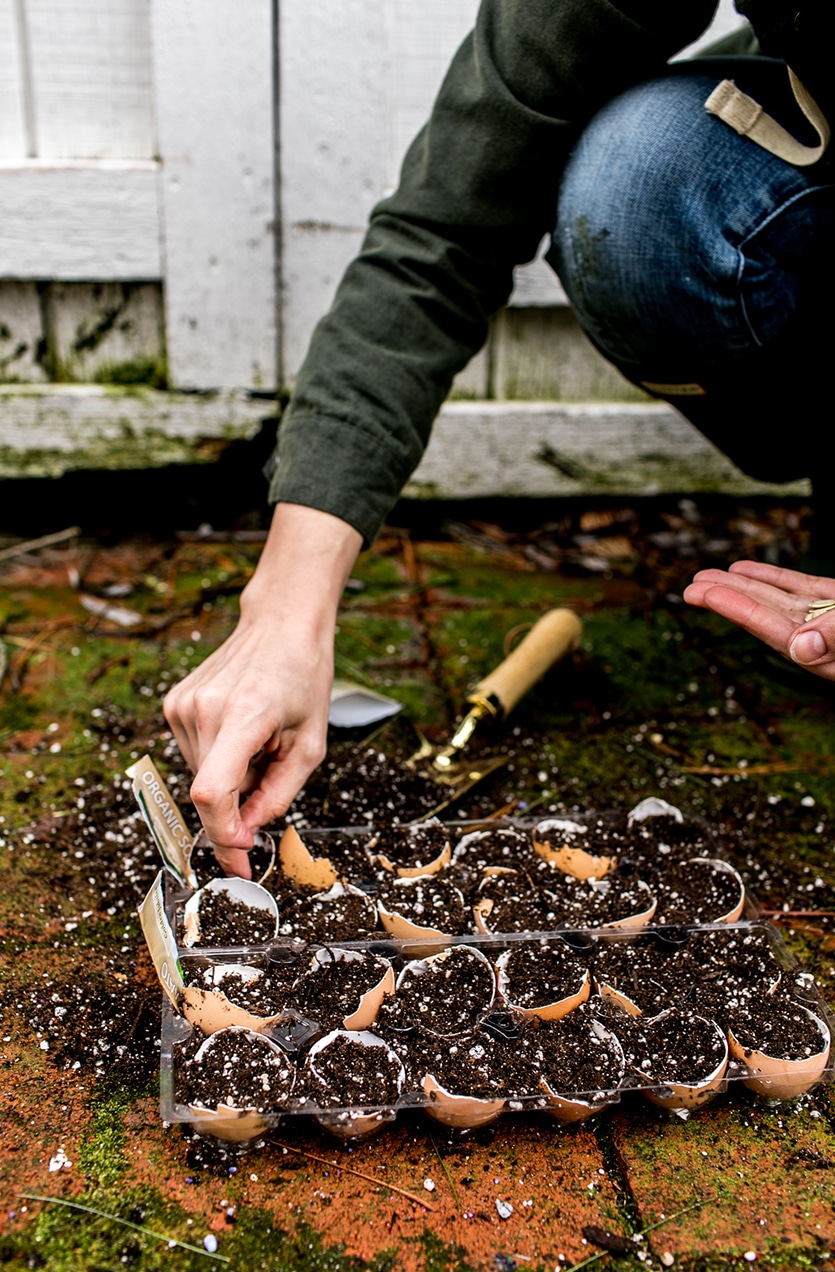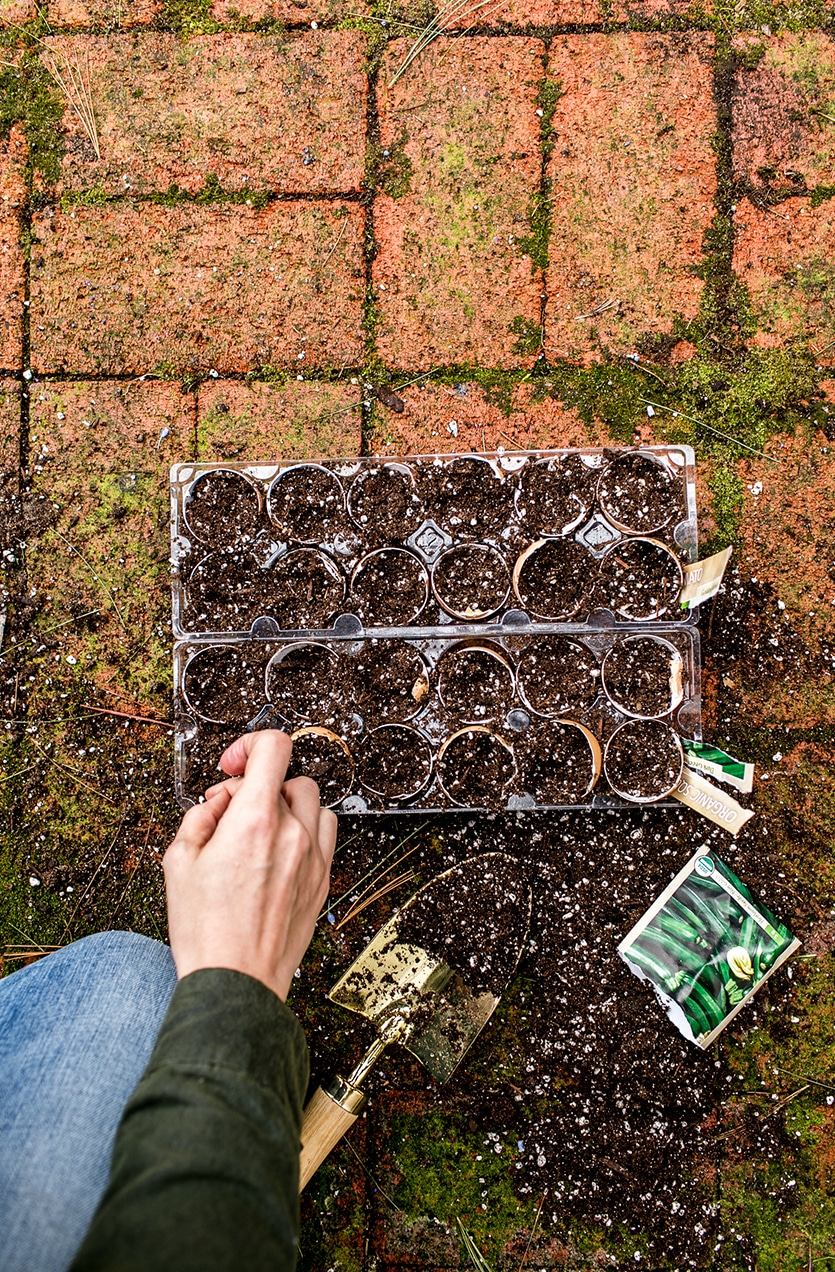 As you place each seed dabble a little dirt over the top so they are coated but not too deep in the shell. This will help make it easier for them to push out but also to give them the cover they need to grow.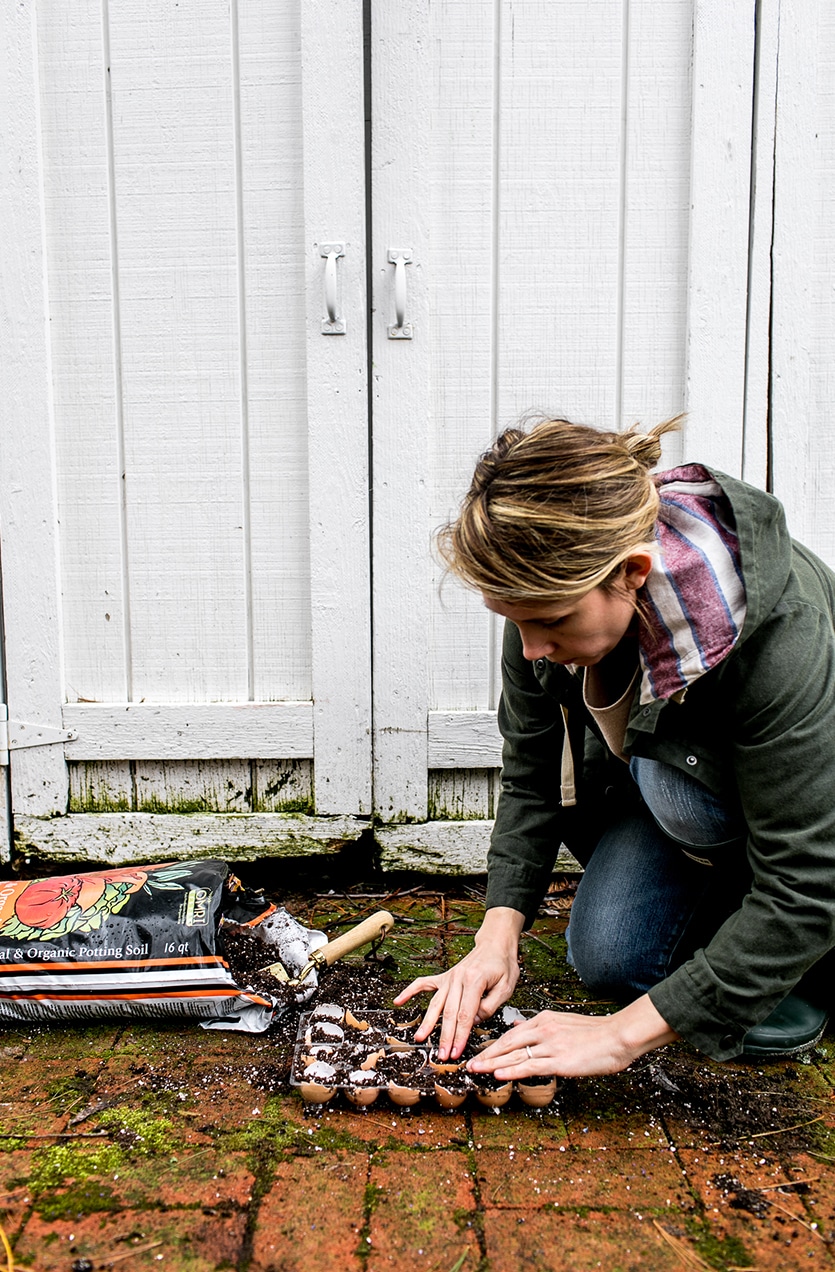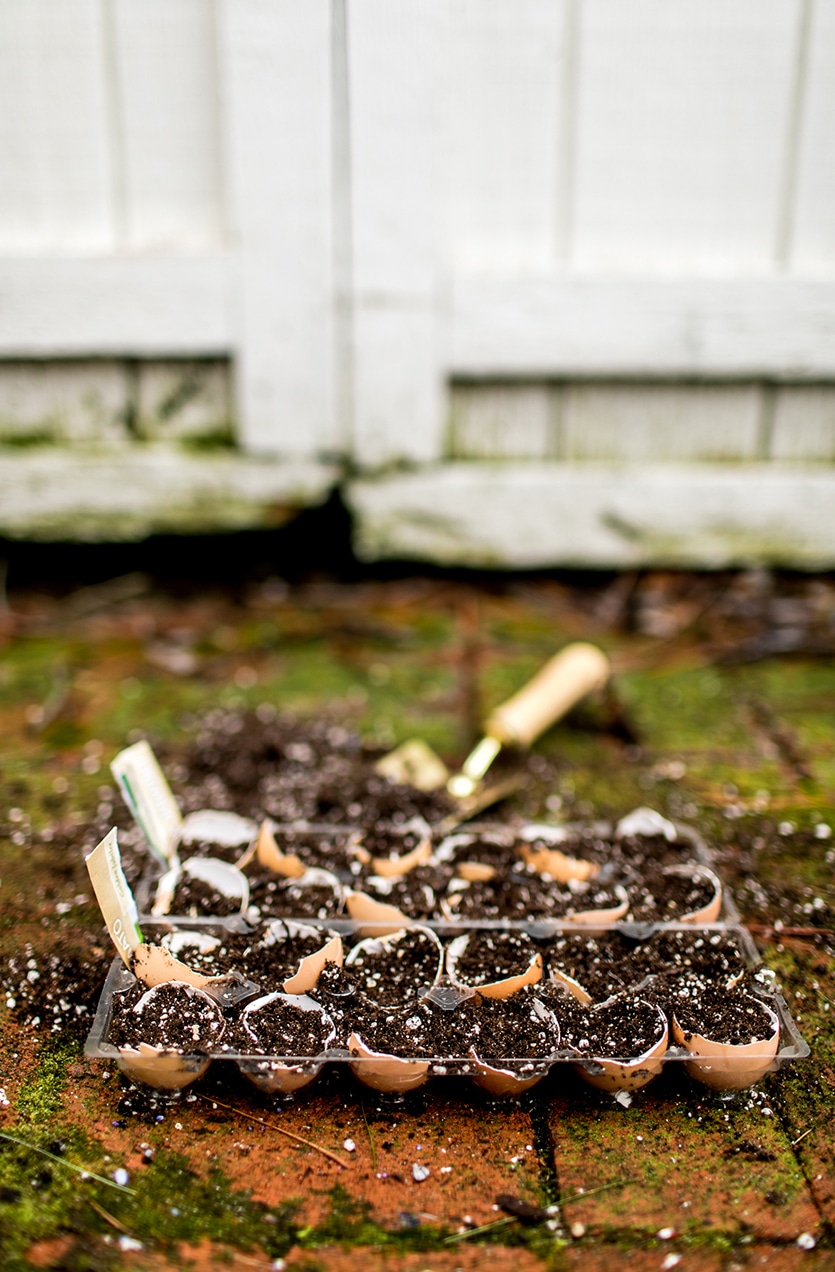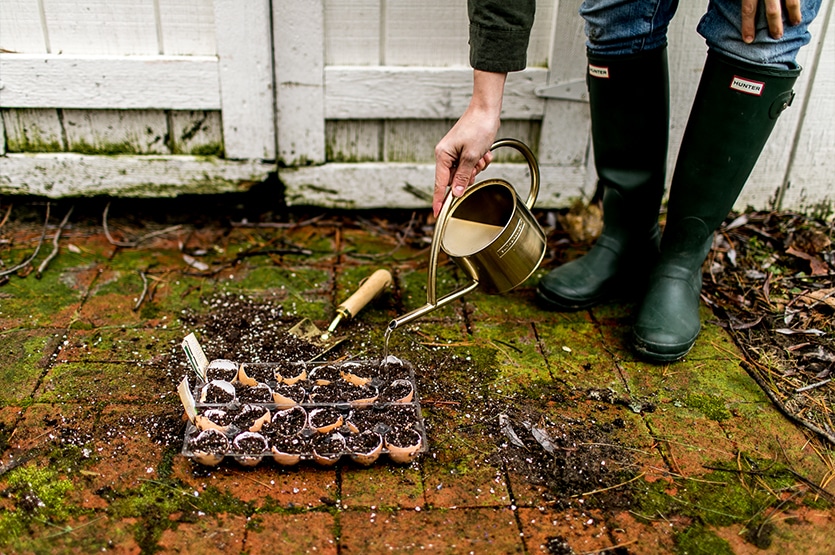 Finally, you will want to water them. I used this watering can from Target, but you can use a simple cup as well. From now on you will need to keep these guys moist by watering them every few days depending on where you are keeping them and moisture levels. Check the dirt and keep them wet so they will grow on schedule. The water helps to activate the germination.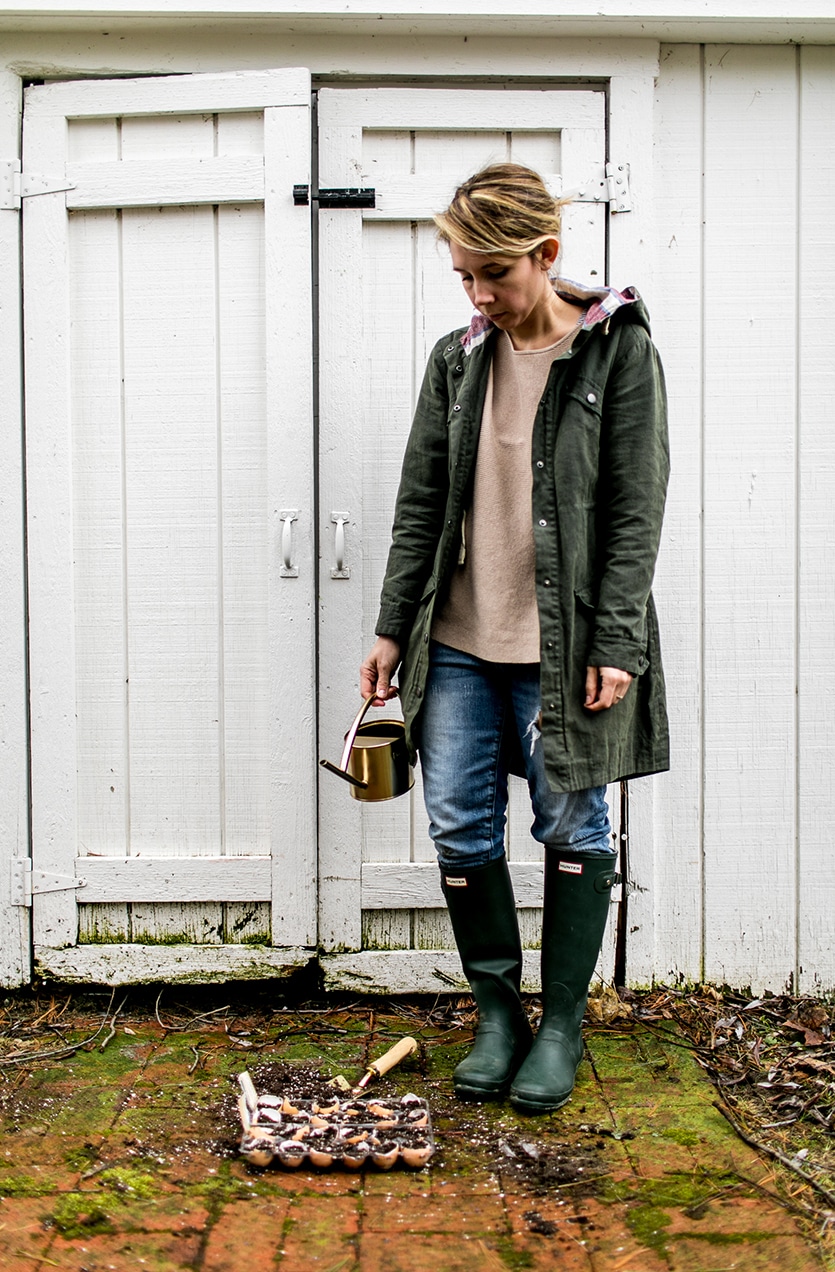 I am excited to hear how your sowing goes for your seedlings this year. I just love going through the process of sowing seeds. After winter the feeling of dirt in between your fingers even on a chilly day is a refreshing thing. To smell of the dirt is a precious and welcomed aroma in the spring. Personally, I also love caring and tending to the seeds as well. It gives me something to look forward to on dreary spring days. The seedlings feel like a promise that warm bountiful days are ahead.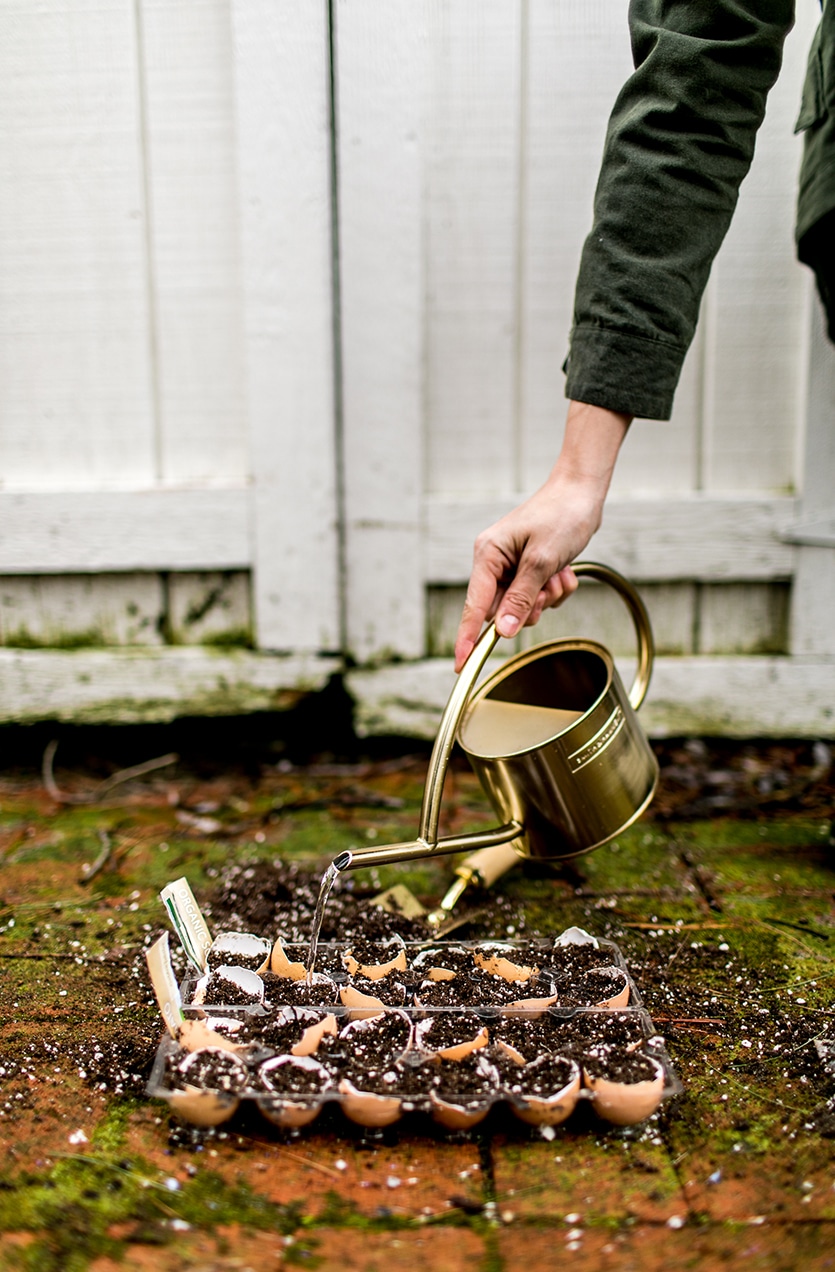 So how will you be planting your seeds this year in preparation for your garden? I want to hear how you went about it. Those of you more pro gardeners, what tips would you add?! I love hearing your tips from your own experiences!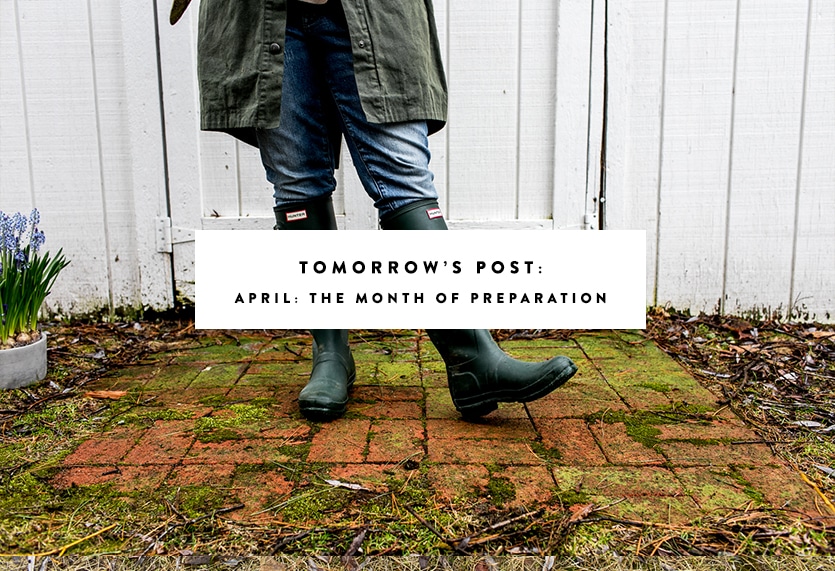 Tomorrow, we close out our month of Awakening and welcome the month of April with a new theme. Sign up here to make sure you don't miss our daily email and our exclusive content we send out to all email newsletter followers about each season. In those emails, I talk in in-depth about the season ahead, intro our contributor, give an overview of what content we will be sharing, and give you some exclusive items such as playlists, download, and more. So if you are into that kind of thing, you can sign up here.