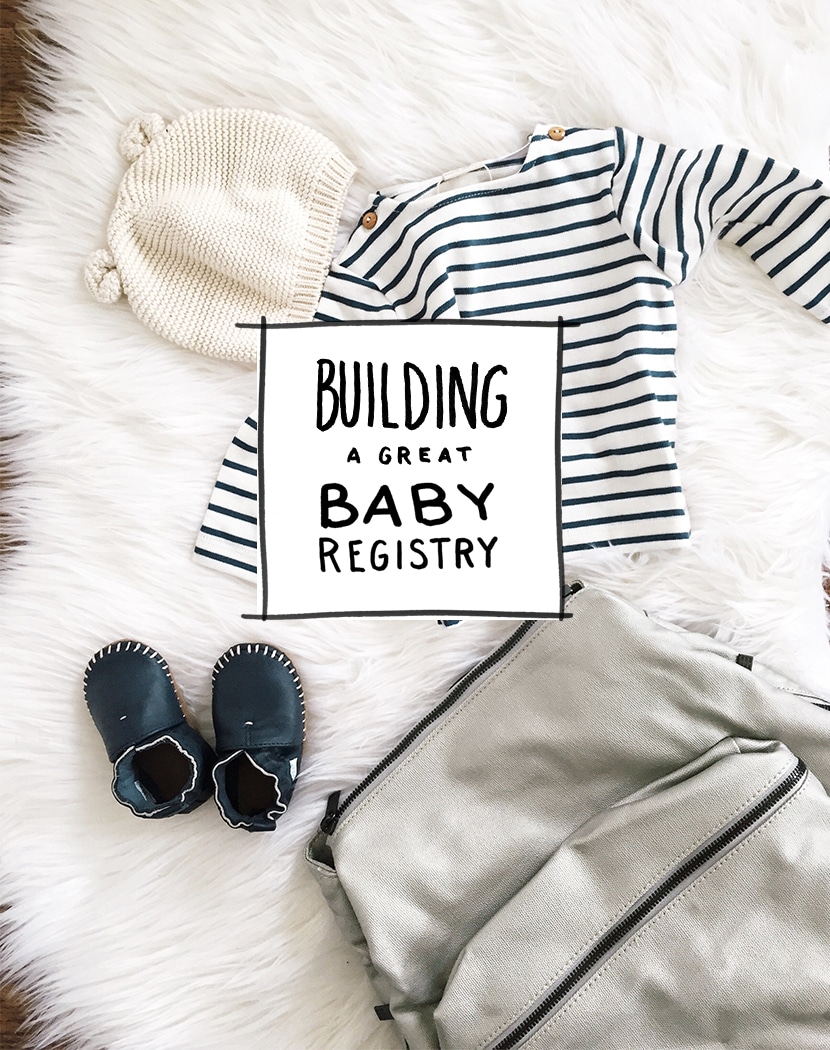 I remember the day I sat down to register. At first, I was so excited about it. I had always loved the cute clothes, books, and all the little things that come with having a little one. As I dove deeper down the well of registering I realized the amount of choices, information to read, and how definitive some of the choices are to that first year or two of your baby's life as well as your own. I remember sitting one night and crying on Mike's shoulder because I couldn't make all the decisions and I felt so overwhelmed. The options are outrageous and the amount of things is even more outrageous. I also panicked because our home is 1200 sq ft and thinking about adding all sorts of stuff into our older home that already has limited storage made me think our home would be completely taken over by kid life, which was something I wanted to avoid. I wanted to find a balance between having kids and still maintaining a space that was genuinely us. Needless to say, I felt pretty overtaken by the whole experience of registering and thinking of adding this whole new part of our life.
I am guessing that many of you have felt this way as you have worked on a registry yourself. If you haven't then I bow down to you knowing exactly how to navigate all these choices on top of being pregnant and emotional. As someone who enjoys to keep things simple, I knew I needed to find a common ground in all this. So, I did a lot of research, I asked a lot of friends, and I even asked Mike and I's moms. I knew that there was no way we needed something from every category on the list and I was bound and determined to stay smart with what we needed and what we really didn't. I also knew that Amazon Prime is a wonderful thing that if something came up I thought would make our world better after his arrival it would be at our doorstep in just a few days as well.
I tossed around how to present this to you guys because I know my taste may not be the perfect choice for you and your family so a few of the top items I offered a few options we looked at and highlighted the one we chose. Then I broke out a few other categories that I felt were massively important to building a successful registry and at least getting you set on the right foot. Registering for your baby felt far more difficult than when we registered for our wedding. If you feel the same, I hope this list really helps to let you know what you need and what I just don't think you need to worry about.
Basically, all of this comes down to is that in the first few weeks the baby needs a place to sleep, you, a bunch of white onesies, swaddlers, diapers (cloth or disposable depending on preference), bottles or you need a breast pump or both depending on your choices, and that's about it for the most part. Sure you can add more to that list but if that is all you have it seems from what all my research as told me those are the basics. Oh, you are also going to need some coffee and meals too to keep going through those first two weeks as well!
To begin there are a lot of awesome registry options out there. We were narrowed down to Amazon's Baby registry and Babylist. We ultimately went with Babylist because of the design and ease of use. Both allow you to add items from all over the internet so it makes it easy for you and those looking to make purchases. Amazon does offer a 15% completion discount, but I loved the way Babylist offered up a lot of price options for those buying for us. Also, they make a lot of great recommendations on their site so it makes a little easier to wade the waters of choices.
So let's dive in. I have learned a lot and I know you ladies probably have some awesome recommendations as well so I want to get this going. First up, let's talk the big items.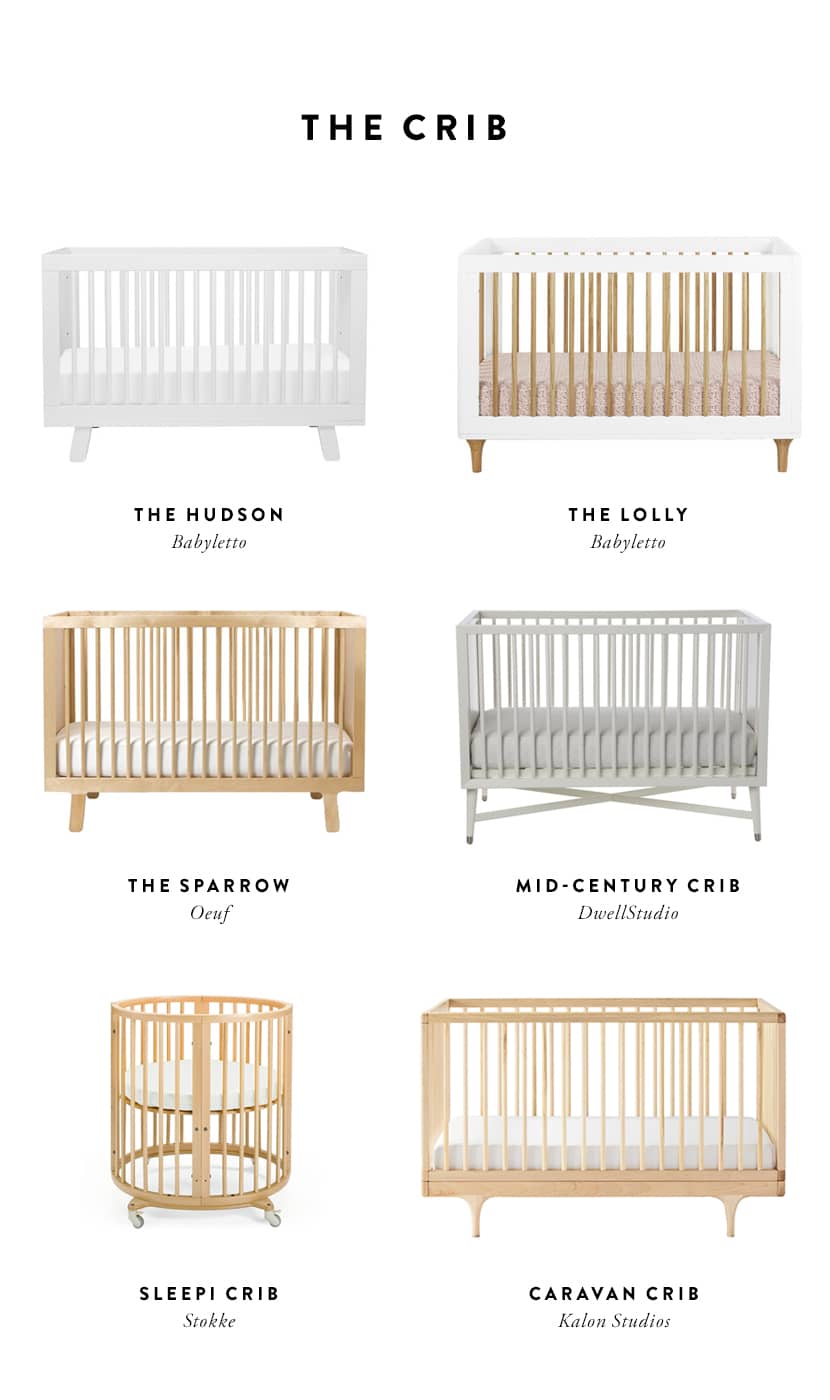 The Crib:
There are a few options here in terms of what you are purchasing. You can get one that has a convertible option or not. If you are thinking of kids pretty close together you may not worry about this option. We wanted the option but didn't know if we would ever use it. Thus, we just chose a crib on looks and safety ratings. Here are the few we considered. We ultimately chose The Hudson from Babyletto as it was in budget, and it came in a natural wood finish, which we really liked.
The Hudson by Babyletto $379  |  The Lolly by Babyletto $399  |  The Sparrow from Oeuf $820  |  Mid-Century Crib from DwellStudio $599  |  Sleepi Crib from Stokke (has a lot of options as far as size and conversions which is a huge plus) $600  |  Caravan Crib from Kalon Studios (handmade in the US) $899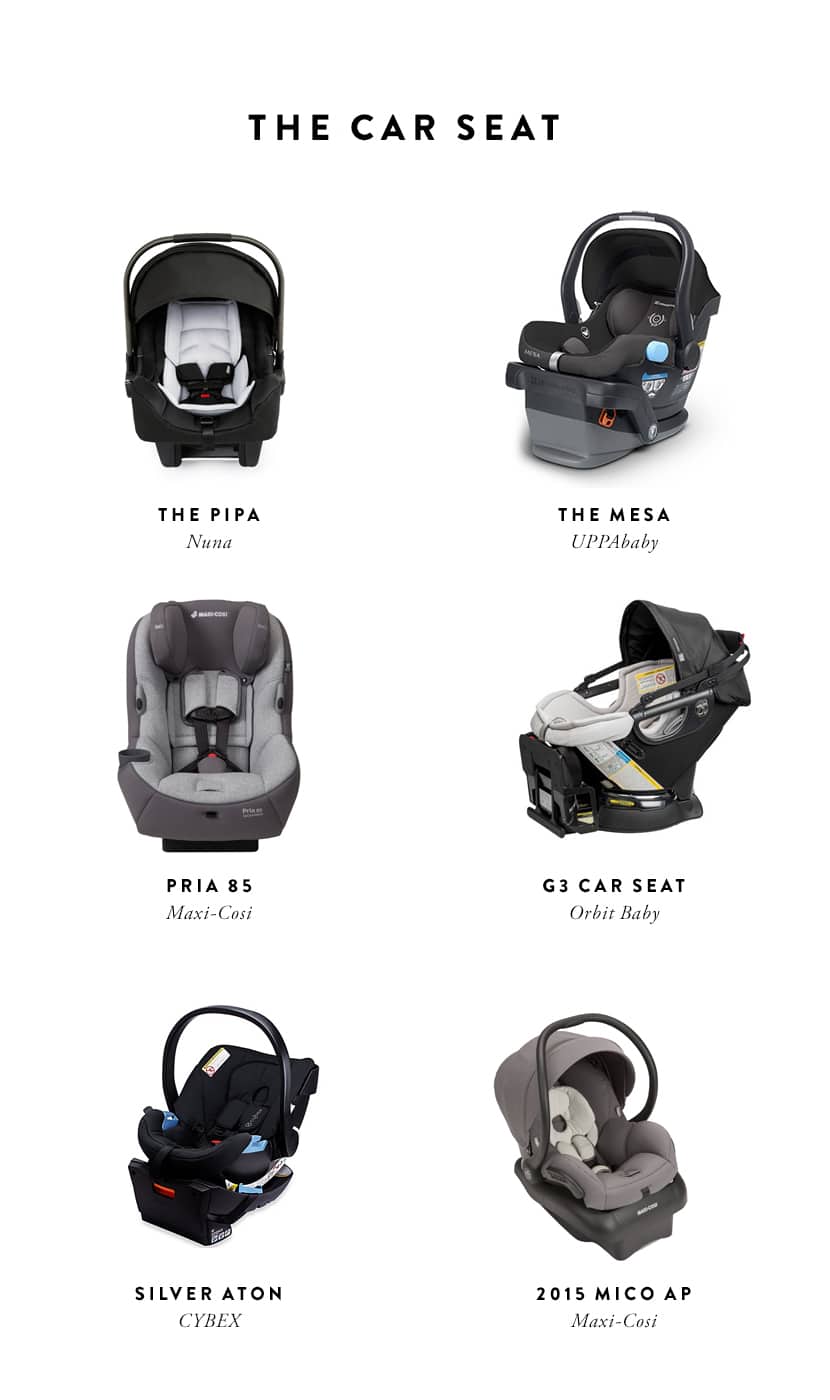 The Carseat:
Another HUGE one. I spent so much time reading about car seats in the evenings I probably could write a book on it. I wanted one that was stylish, very safe, and could be used on a stroller. You have two options an infant or a convertible. We went with the infant option. It isn't minimal in the fact that you have to purchase a convertible down the road, but we figure we will have a second not too shortly after he would move up to that. That said, we figured the infant seat would be great mostly for the ease when traveling with a stroller because we could attach it easily. A travel system (stroller lingo) was what we ultimately went with and are very excited about it. They are more expensive, but many parents make the comparison that the choosing of a travel system is similar to buying a car. After going through the process, we agree! Car may have actually been easier to be honest. Anyways, here are a few car seats all can be added to strollers with either a converter system or by buying the exact brand that matches. We ultimately went with the Nuna Pipa and think it is the bee's knees. We have a few friends with it and they all have raving reviews of it and the ease of use with their travel systems as well.
The Pipa from Nuna $299  |  The Mesa from UPPAbaby $299  |  The Pria 85 from Maxi-Cosi $329  |  G3 Car Seat from Orbit Baby $440  |  Silver Aton from CYBEX $249  |  2015 Mico AP from Maxi-Cosi $199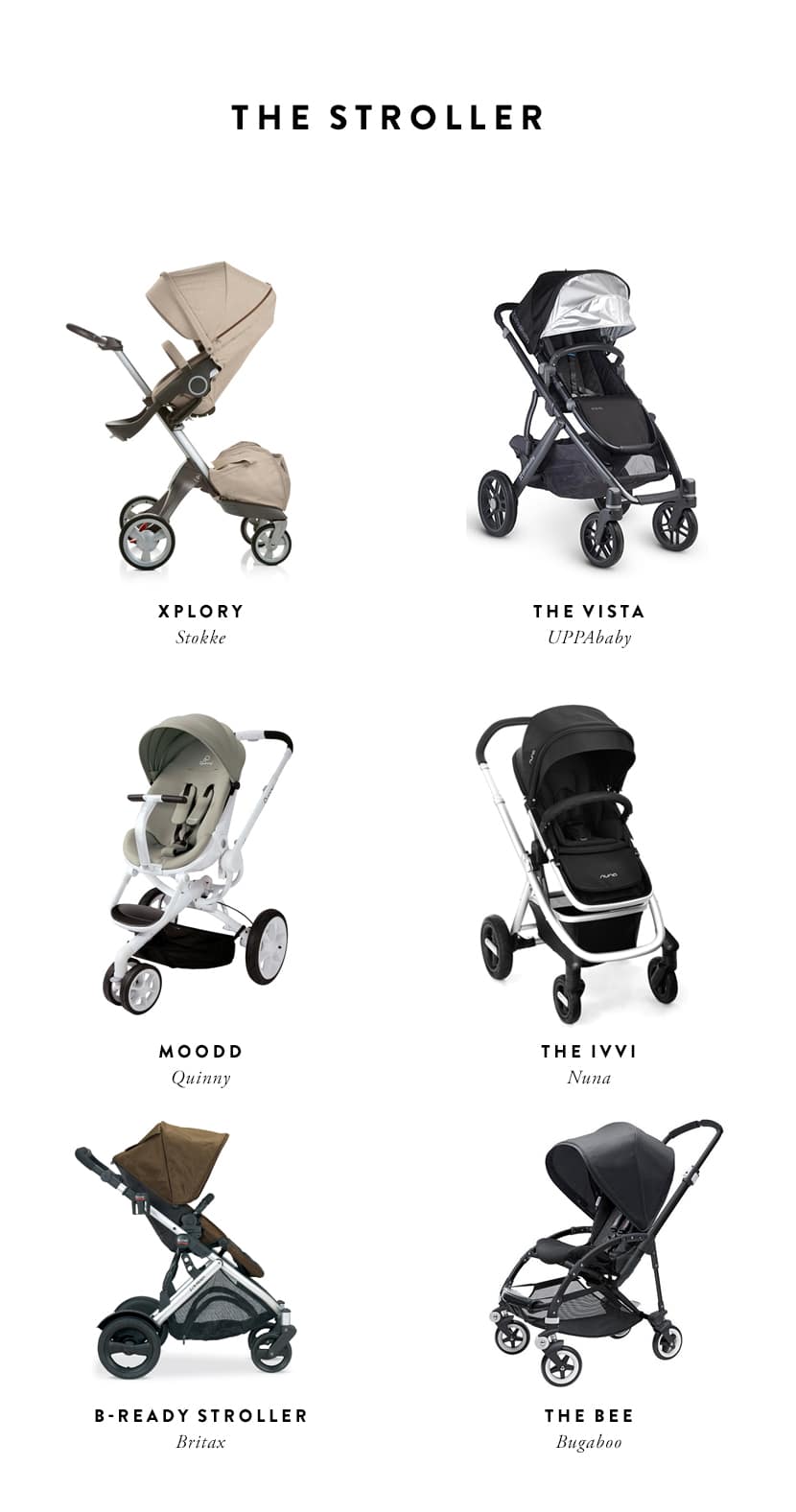 The Stroller:
We went with a travel system, but you by no means have to. There is a wide range of options. For us, we wanted something we can travel with easily and can convert as life changes with our little one. Enter the travel system.  These systems range in price and styles so don't feel like each one is going to blow the bank, though the higher end you go a lot of the features and quality do become better. If you are only planning for one you may not want to invest as much. If you expect 2-3 than I would suggest dropping a little money on this item or having some family members pitch in to help you with it. We ended up going with the Nuna IVVI system with the Carry Cot. We are still yet to assemble it but we hear it is a real dream when in action.
Xplory from Stokke $858  |  The Vista from UPPAababy $879  |  Moodd Stroller from Quinny $699  |   IVVI from Nuna $800  |  B-Ready Stroller from Britax $499  |  The Bee from Bugaboo $769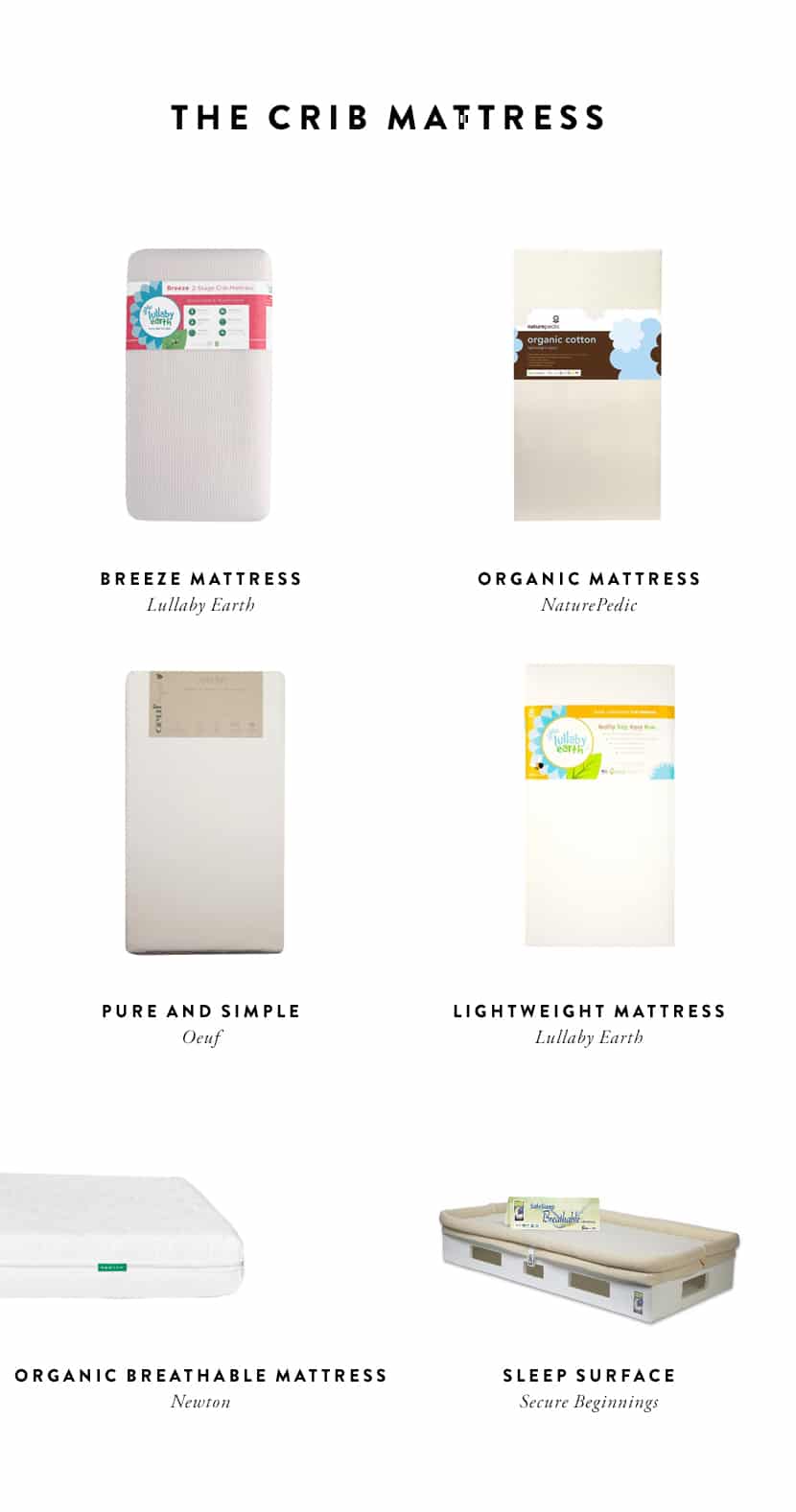 The Crib Mattress:
Doesn't seem like a big one, but I figure this little thing is growing and developing its whole body and he will be spending a lot of time on that mattress so I wanted to make sure his mattress would offer support, safety, and give him a night's sleep. We wanted a mattress that was organic, waterproof, and also helped prevent SIDS. We went with the Lullaby Earth Breathable mattress. It is a little bit of an investment, but the covers are great and are raised mesh to keep him breathing if for any reason he ends up face down. I figure that peace of mind was worth it for us. There are a few others we considered you can see below. Super curious about the Newton and the Sleep surface as options as well. Would love to hear anyone's thoughts on those ones!
Breeze Mattress from Lullaby Earth $279  |  Organic Mattress from Naturepedic $258  |  Pure and Simple Organic Mattress from Oeuf $395  |  Lightweight Mattress from Lullaby Earth $169  |  Organic Breathable Mattress from Newton $295  |  Sleep Surface from Secure Beginnings $124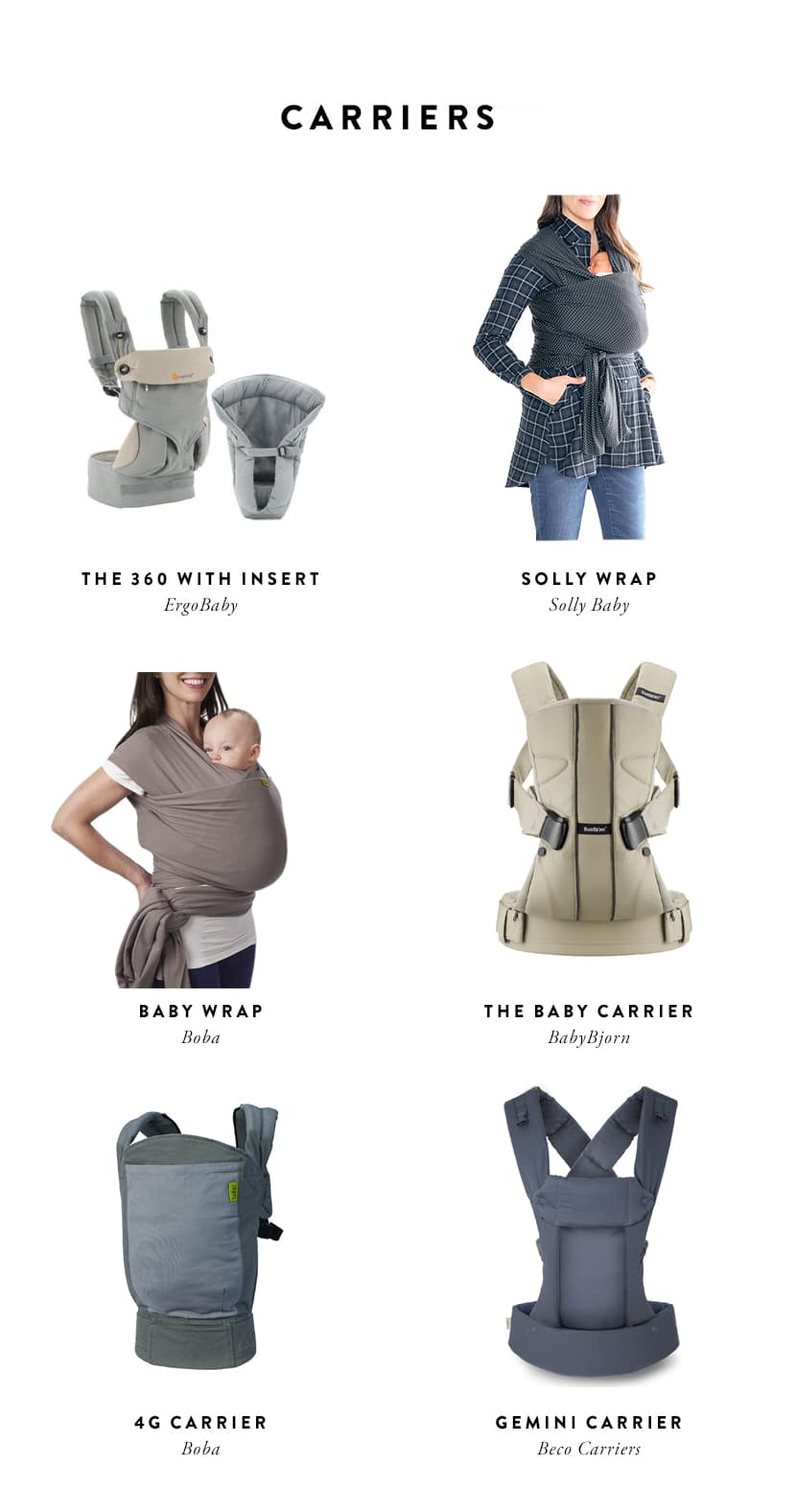 Carriers:
We plan on doing some babywearing around here. Mostly because it will offer us business owners two hands during the day and hopefully keep our little one happy as well. We shall see, but I ultimately went with an Ergo 360 and a Solly Baby Wrap. Both offer different options and variations for wear. We figure the Ergo will be awesome for traveling and hiking and our active life, where the Baby Wrap will be perfect for at home wear and even to the grocery store especially in those early months. There are lots of options though you can see what else we considered.
The 360 with Insert from ErgoBaby $184  |  Solly Wrap from Solly Baby $65  |  Baby Wrap from Boba $40  |  The Baby Carrier from BabyBjorn $116  |  4G Carrier from Boba $125  |  Gemini Carrier from Beco Baby Carrier $130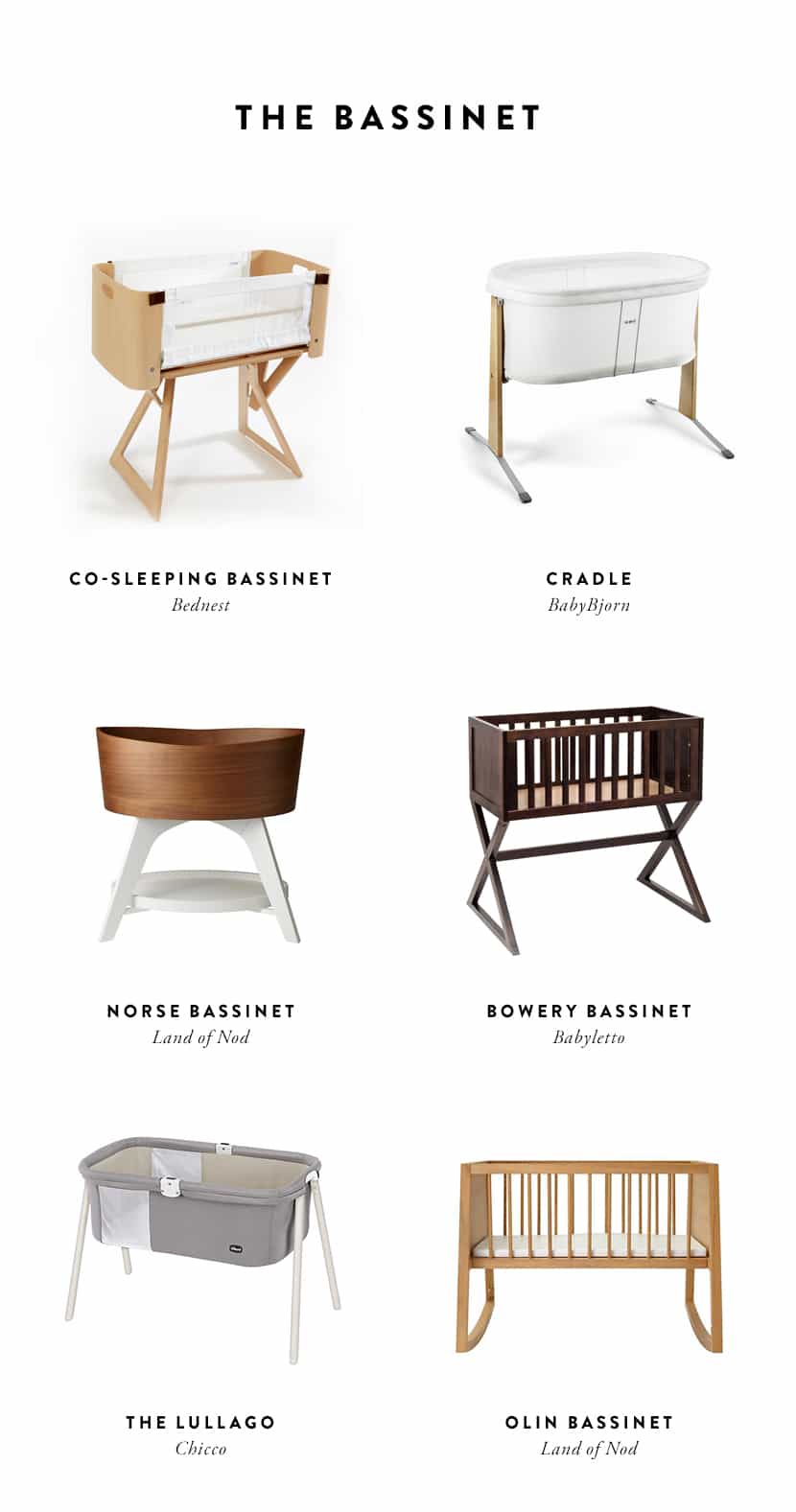 Bassinet:
Oh, the bassinet is a highly debated, discussed, and opens the doors to a range of opinions doesn't it? Now, this is possibly one of the most personal decisions you make for your family in the first few months. Some decide to co-sleep, some opt for a Moses basket, some decide on side bed connection, and some opt for just in room cohabitating. All are options that are all about personal preference and opinion. I knew early on we would want him in a bassinet right next to our bed to make for ease in the nights in that first month or two. There are tons of awesome options out there, but I wanted something for us that was easy, nice to look at, and would have a minimal feeling. We debated the Bednest for a long time because it offered a rental or purchase option. I loved the rental idea because we would not have it lingering around later. Instead, we went for the Chicco Lullago because we could pack it up and hide it away and have it for #2 without purchasing something else down the road. Sure it isn't as sexy, but the great reviews and ease of storing later made it the winner in our book.
Co-Sleeping Bassinet from Bednest $180 for rental $599 to purchase  |  Cradle from BabyBjorn $299  |  Norse Bassinet from Land of Nod $500  |  Bowery Bassinet from Babyletto $129  |  The Lullago from Chicco $99  |  Olin Bassinet from Land of Nod $400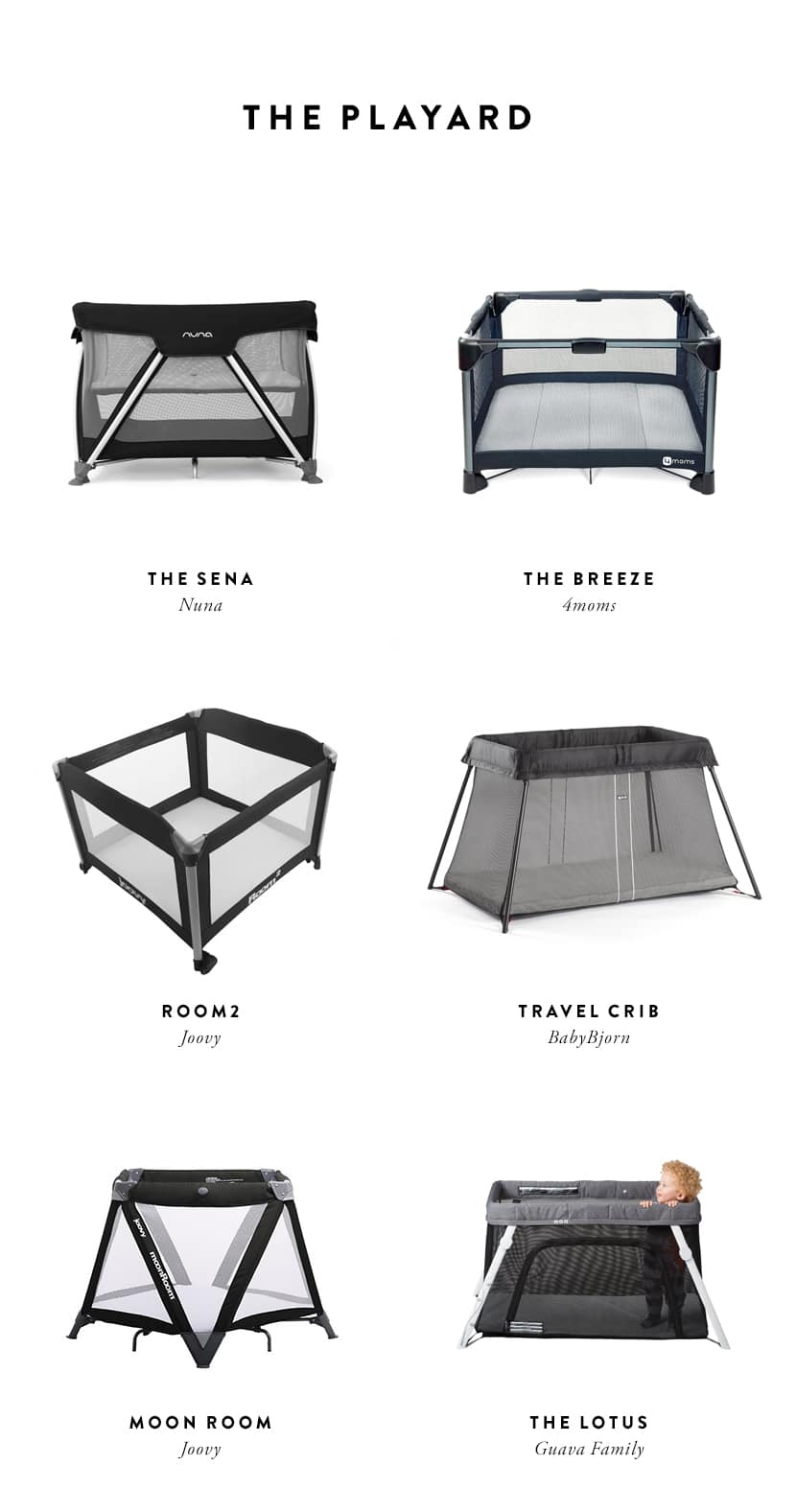 Playard:
I think every parent that either works at home or travels a lot should get one. We plan to use it a lot this summer while seeing family up north. There are a lot of options out there but few that are simple and good looking. I mean the number of bells and whistles you can get on these things is outrageous. After sifting through them all, here are the ones we liked. We once again landed on the Nuna one. Nuna was our favorite brand we saw with all of our research. Across the board, Nuna seemed to hit all the marks for us.
The Sena from Nuna $250  |  The Breeze from 4moms $300  |  Room2 from Joovy $129  |  Travel Crib from BabyBjorn $300  |  Moon Room from Joovy $150 |  The Lotus from Guava Family $204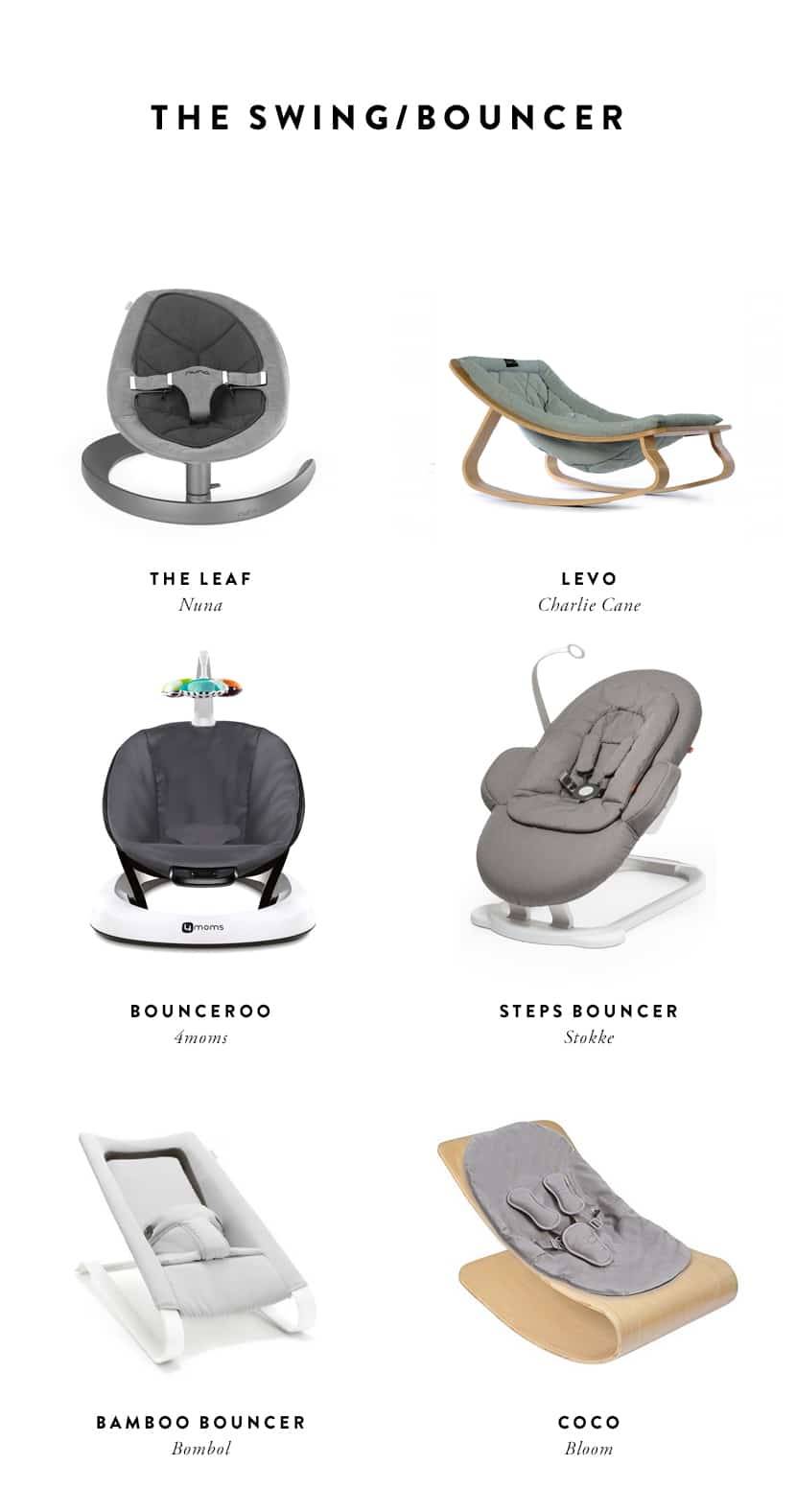 The Bouncer/Swing:
This is an item we opted to hold off on for the moment. I read a lot about how parents got them and the babies hated them or how they also saved their life so the jury is still out on these for me. I figure once we meet him we can make the decision about this one. I can just see us now driving home from the hospital and me sitting buying one of these on my phone while I sit in the back making sure our little guy is happy. I have found some great options that if they have to be in your home won't kill your style game, which is super important on top of keeping that little one happy as can be. The option here is whether you get an electric one or you go old school. This option is another reason I am holding off. Here are the ones we have or are considering thus far. Would love any thoughts from other moms!
The Leaf from Nuna $219 (can hold a child up to 130 lbs) |  The Levo from Charlie Cane $206  |  Bounceroo from 4Moms $99  |   Steps Bouncer from Stokke $199 (also attaches to highchair)  |  Bamboo Bouncer from Bombol $269  |  Coco from Bloom $200
Now on to the other items we decided to add. I suggest adding a few things beyond the basics to give people options and also to offer up an idea of your aesthetic for the little one.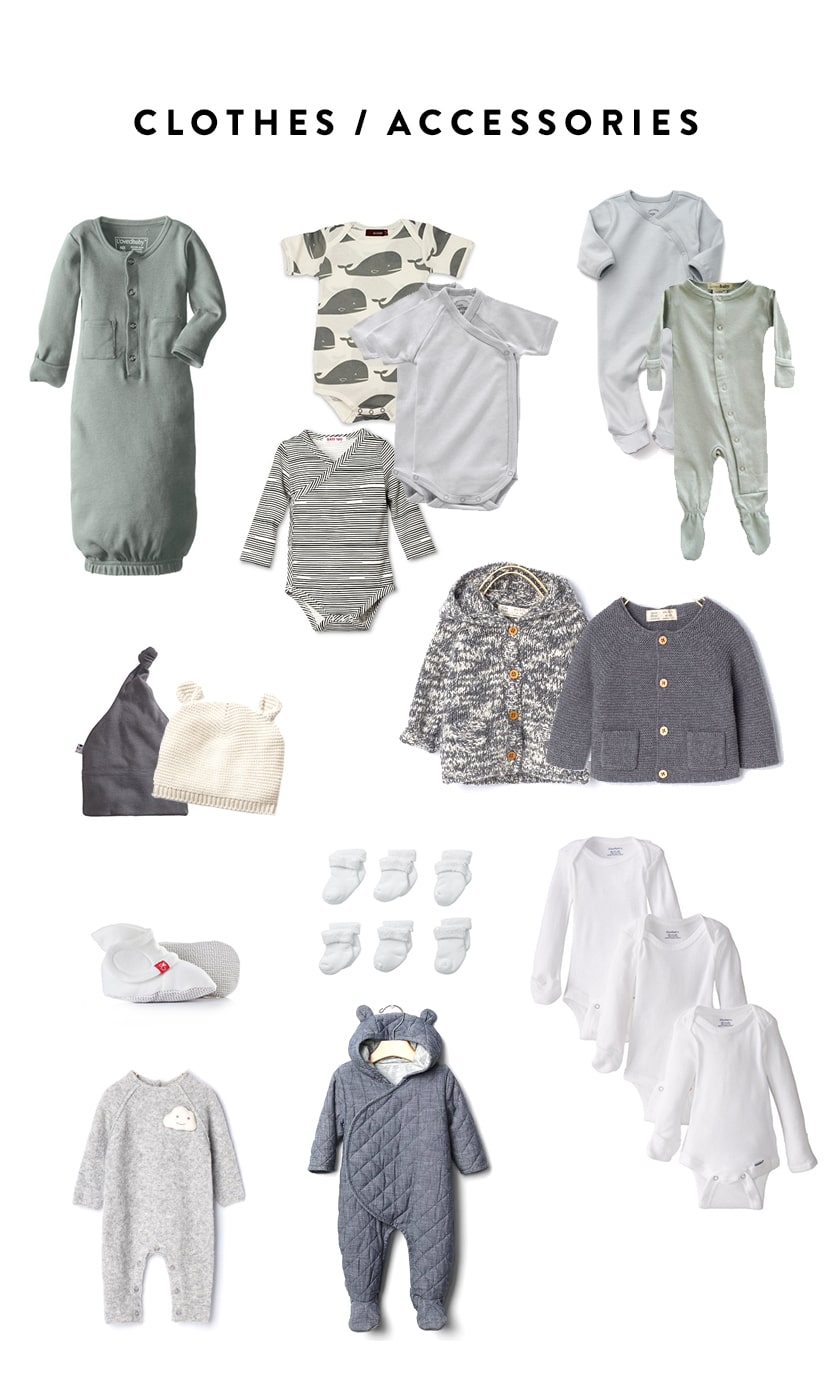 Clothes & Accessories:
We chose mostly gender neutral clothes especially for the first 6 months of life. We wanted everything to be reusable for #2 if possible. We really wanted the basics, but I added in a few extra things I love because I know people LOVE to buy clothes for babies and I wanted to give a guide of the things we like. Zara was my favorite for finding some of these extra things. Now, we have more clothes than we know what to do with and I am hoping they all fit in his dresser and we still have one more shower. The best advice I got from anyone was to choose soft things. Your baby is coming into the world for the first time so choose things that would feel comforting to you as far as touch and feel. They don't care what it looks like, they just want to be comfortable. The looks thing is more for you. I opted to ask for more organic cottons and stretchy fabrics so they were soft and easy to get on and off.
What you practically need:
Anything beyond this is just extra and of personal desire. These are your basics you will need for those first 6 months. But let's be honest this is the category hardest to stick to the basics, am I right? I have been hunting sales for things that I know he will need next winter when we go to Michigan and such in order to keep the amount we spend as low as possible.
Hygiene and Safety:
I lumped anything about keeping the baby clean and happy and safe into this category. I am still working through what we really need in this category but this was what I was told from girlfriends and it helped us at least have a base of items. Moms, comment below with anything you feel is missed because I need to learn as well!
Here are the essentials and then a few add on things: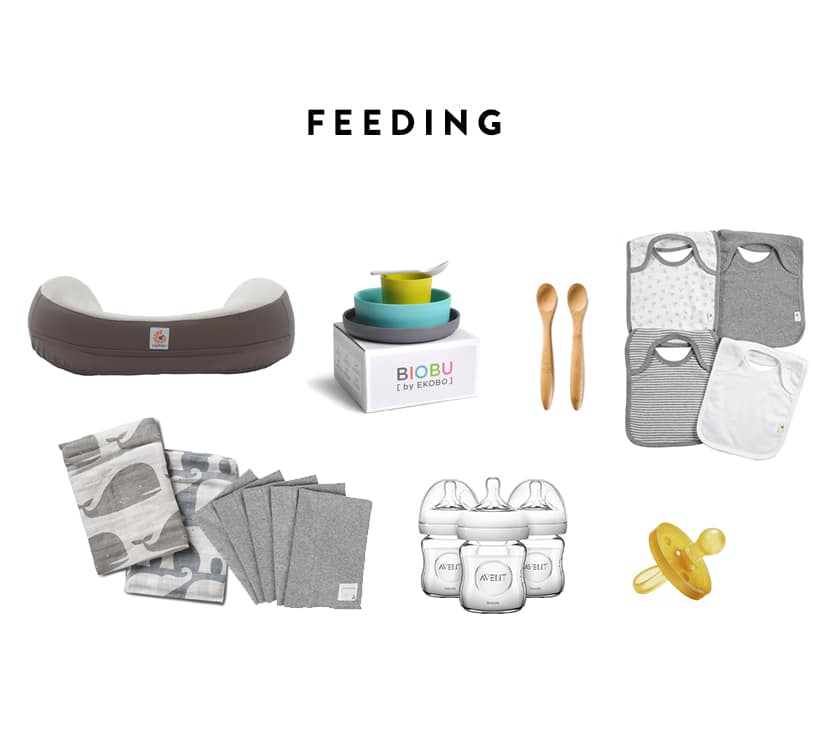 Feeding:
Depending on how you choose to feed your baby or in some cases how nature decides you should feed your baby, all depends on the gear you probably will need. I pulled some basic items that most everyone will need at some point along the way no matter your choices or nature's choice. These were our basics for getting started with bringing a little to our home. Bottles all depend on choices for feeding, and some people never need bottles. Same thing goes for the pacifier.
Burp Clothes are important no matter what Burt's Bees makes some great ones and so does Milk Barn
Breastfeeding pillow: I am all about aesthetics and this one was simple, smart, and not in a funky pattern. Day was made.
Bowls that can be tossed around and still look good. Thanks Bitte for these ones that will make us designers happy!
Bottles of all kinds. I have heard raving reviews about various kinds including these we will see what will work for us. Also these Avent ones come in glass!
Pacifier: I was a big pacifier kid…not sure if he will be but figure they are worth a try.
Bibs and quite a few of them. They come in all styles. I really liked how simple these ones from Burt's Bees were. They also go over the head and can't be pulled off as easily. It is the little things.
Breast Pump: Most insurances offer a free pump so check with your company to get one sent before your little one arrives.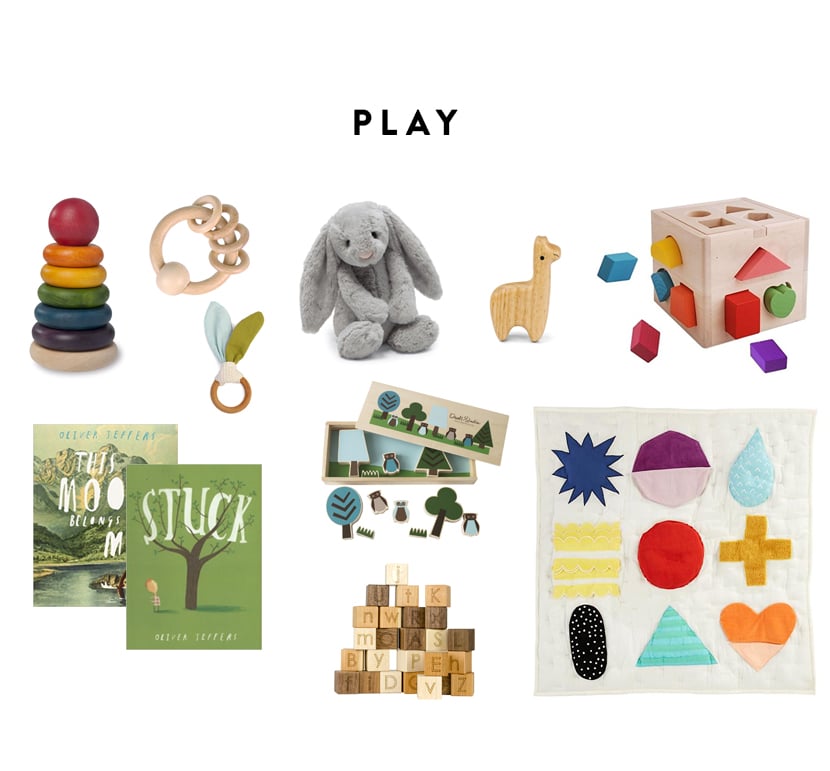 Play:
When you have a really little baby there aren't a ton of toys you really need in those first few weeks. It is the following weeks where the activity really begins and they will be looking for some fun things to touch and feel more and more as they grow. Since even conceiving of becoming parents we have been frightened of the toy world. The colors that clash and the wild patterns and sounds is all more than our aesthetic eyes like to think about bringing into our lives. I figure we will have to curate his toys as long as we can, but I want to make sure we aren't depriving creativity, imagination, exploration, and fun. We have chosen to have toys that are mostly wooden and have simple goals. Nothing with any bells and whistles for as long as we can get away with it. Here are the items we dropped on our registry. We also had a slew of awesome books as well. We are big book fans!
Some important items: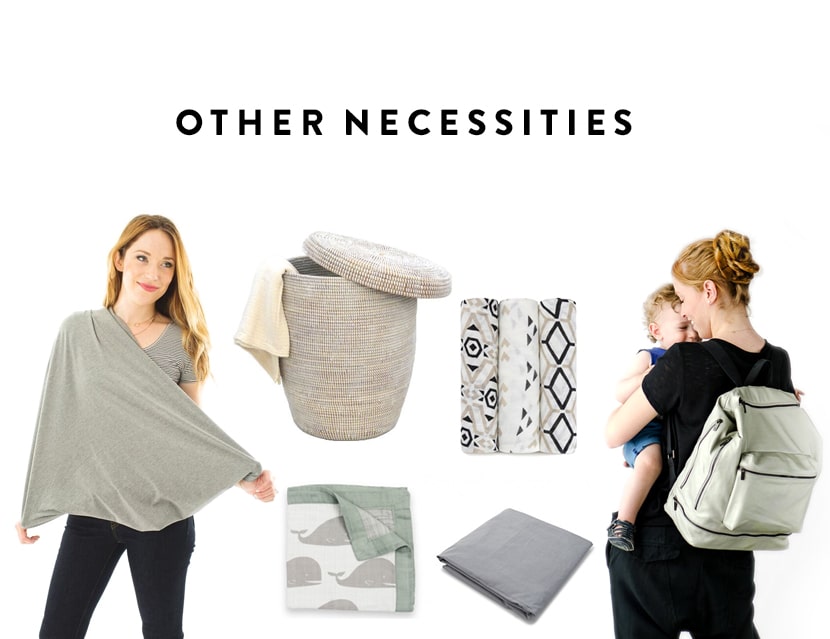 Other Necessities:
There are a few other things I suggest adding into your registry that didn't get hit on above.
So there are the minimums to building a great registry to prepare for your little one. I would love to hear your thoughts and any items you loved even if it is a different type of crib or carrier. This is me saying these things 8 weeks before welcoming our little one home. I am sure I may be editing this post in the coming months as well so share away!