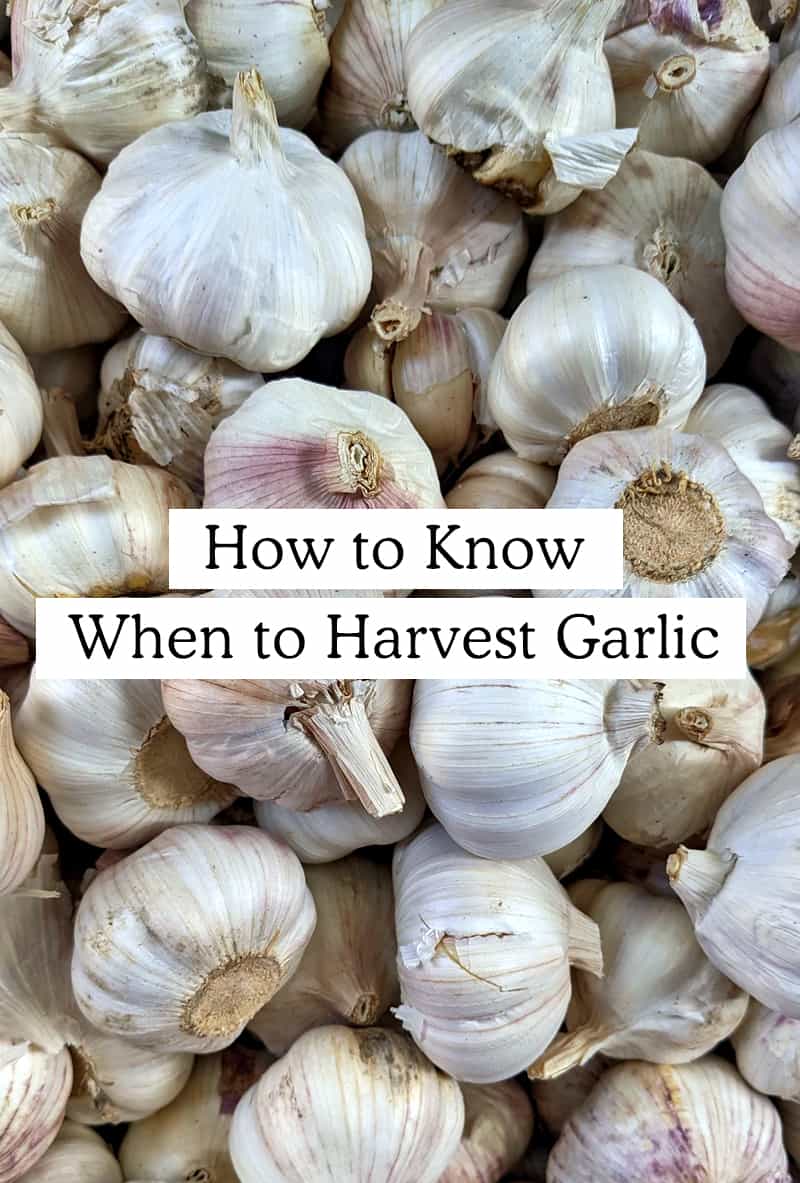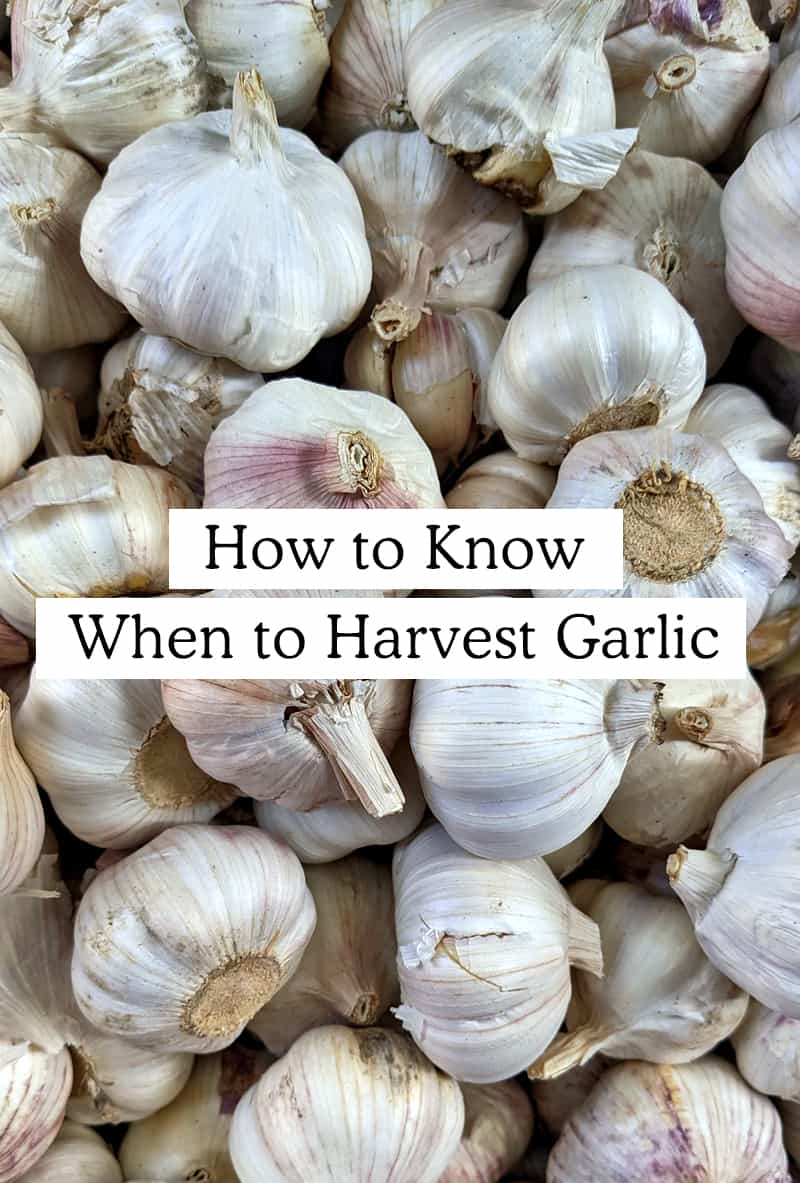 Knowing when to harvest garlic can be kind of tricky. Just like potatoes or carrots, there can be a lot of mixed ways of knowing when to harvest garlic. The cloves are planted deep in late October and then we wish them well till they spring forth in March so when do we know when to harvest garlic and how do we prepare the soil for succession planting after them. I am sharing all of that today in this post.

How Does Garlic Grow?
I have come to love growing garlic. It is one of the easiest and simple crops in the garden with plenty to offer. It is an amazing companion plant to things like Tomatoes, Eggplant, Broccoli, Cabbage, and lettuce. Since it is part of the allium family it can be an incredible helper to deter cabbage worms and ward off early blight. It also holds tons of value as a pest deterrent like mice and squirrels. Not to mention it is one of the first things to pop up in spring. Growing it is easy. Here is a little info:
Choose Your Variety: Yes there are TONS of types of garlic, but garlic falls into two main categories more or less: Hard and Soft neck varieties. Hard Neck will provide you with garlic scapes which are absolutely delicious, but they need to be trimmed after drying and have to be bunched, and cannot be braided. If you grow soft neck you will not get scapes but you can have gorgeous braids of garlic hanging in your home all winter.
Plant just before the first big snow or late frost: Plant each clove with the point of the clove up in the ground about 2 inches deep. There are plenty of places to get seed garlic but I loved the ones I got from Seed Savers Exchange recently. It had 100% germination in our garden.
Cover the cloves: Lay some straw and compost over the top of your cloves and where they will spend their winter months. This will keep them protected and insulated through the harvest weather as well as provide the adequate nutrients they will need throughout their growing season. Garlic needs lots of nutrients so giving them great compost will build up the nutrients in your soil for them really well.
Let them go till you are ready to harvest: 
Yes, literally that is it! You don't have to do much other than regular weeding and keeping the soil well-drained. They don't need a significant amount of moisture and in fact, that can cause rot so keep them from getting too many deep soaks.
View this post on Instagram
Harvesting Garlic Scapes:
Before you harvest bulbs you can snap off the garlic scapes to enjoy a lighter taste to the full bulb. These tender scapes are really curly and amazing. You can make everything from Garlic Scape Pesto to even a Garlic Scape Dressing very easily. You can freeze these in cubes to enjoy later in the year as well.
To harvest them all you do is snap them at the base of the scape similar to how you snap the bottoms of asparagus.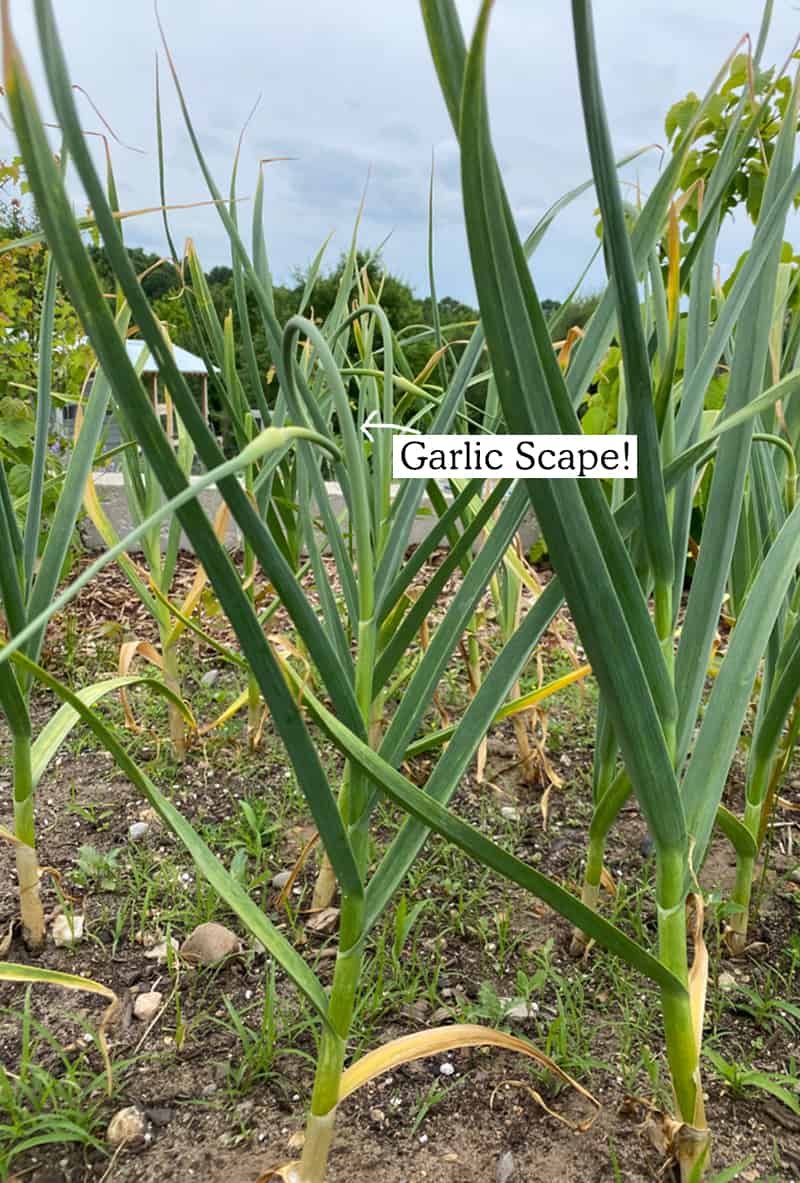 How to Know When to Harvest Garlic:
Garlic is tricky to really know when to harvest. Truly. Every variety is a little different but here are the ways I use to know when a bulb is ready:
Look for browning leaves around the base: You leaves at the bottom of the garlic should be browning and the leaves yellowing. Check and make sure you haven't accrued Allium Rust through the growing process. If so check this post for info on handling that. Not all leaves have to be yellow for the garlic to be ready.
Do a Bulb Check: You can take a shovel and softly dig around the base of the bulb to check the size. If they are the right size for what you want then you can begin pulling them.

How to Harvest Garlic:
Harvesting garlic isn't challenging but just making sure the soil is loose enough is the trickiest part. Here is how I do it:
Make it Easy to Pull Your Garlic Bulbs: You will want to loosen the soil around the bulb with a hand shovel. Have dry soil is helpful as it will make it easier not to lose the bulb to the damp leaves when tugging them. If you do then just your hand shovel to dig them up.
Now brush them off: Once the bulbs are out safely you are good and can just rub or brush off and set aside in a dry spot while you harvest the remaining bulbs.
No need to wash them or peel back paper: I have done it and I had no issues myself because I allowed them to dry on a hot day in the sun so it is possible to wash your garlic. Just make sure they FULLY dry before you bunch them or braid them for storage. If you don't they will have excess moisture which can result in fungal growth.

How to Store Garlic:
Storing garlic is really fun. There are plenty of ways to do it depending on what sounds good to you. Here are the ways I suggest drying or curing your garlic for long-term storage. We had garlic last year all the way till March that was from our garden that we harvested in late July.
Find a Dry Place: the spot doesn't have to be hot, but good airflow and somewhere dry is a necessity to dry them well enough for long-term storage.
Hang them: If you are growing hard neck you can hang them like this by the clove somewhere or you can bunch them to be hung as well. If you are growing soft neck you can braid them for drying.
Trim and Store: Once they are fully dried (Should look white or like store-bought garlic) you can then store them in a cool dark place for the remainder of the year. You will want to trim the roots and the tops of the plants off as well if you plan to store them without hanging them.
Garlic seems extremely complicated but like all alliums, they are really quite simple to grow, harvest, and save. In fact, I think they are one of the most fun to do this with. It takes such little effort and offers such a huge reward.