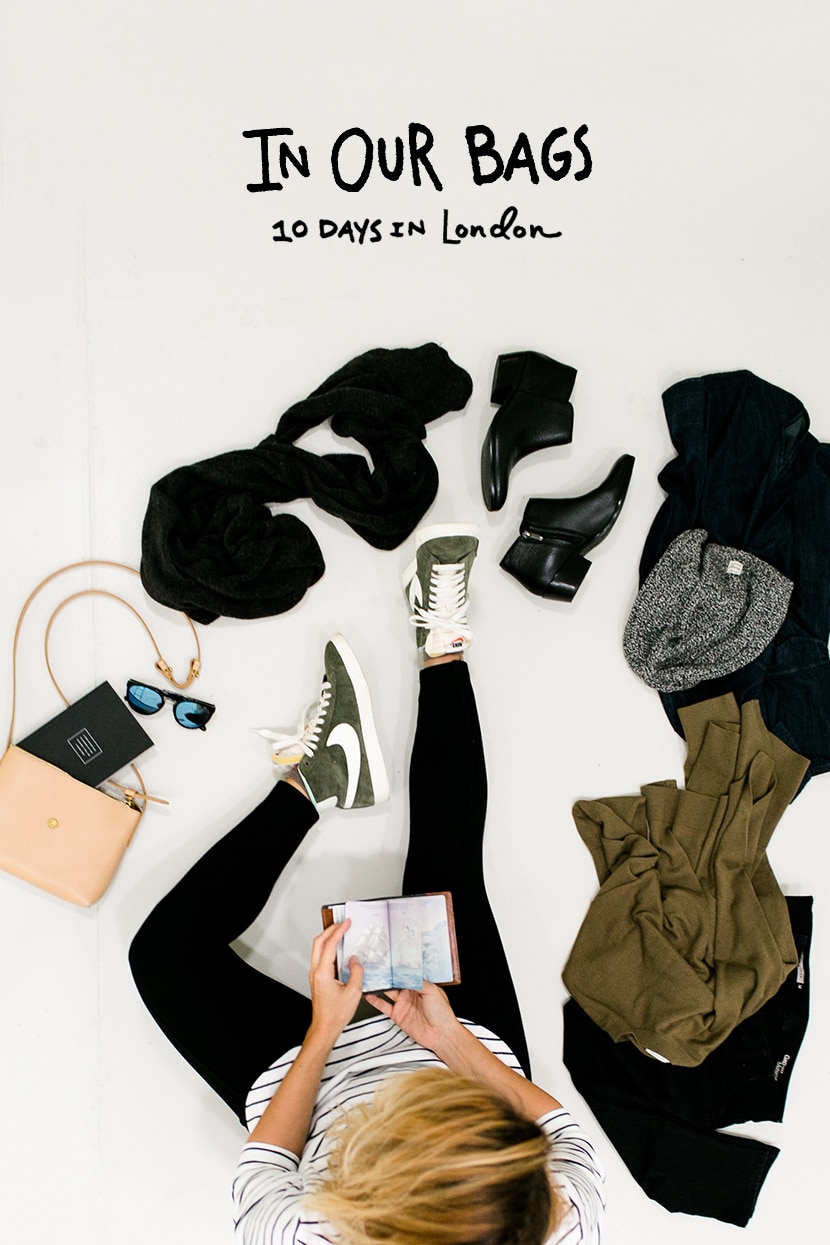 Over the years of traveling we have worked to make our travel wardrobes and packing simple, straight forward, and minimal. It used to be packing would take me days. Now I could say that if I wanted to catch a plane, I could be out the door in under 30 minutes. What results is that our at home wardrobes have also become more minimal as well. The tricky thing with travel is knowing exactly what to take in order to accommodate all the various things you will be doing sometimes you don't know so having pieces that transition well is key. Packing for warmer climates is much easier and more minimal, but packing for chillier weather can be hard to know. For us, what it has come down to is four simple rules:
Pack only neutrals:
This makes sure EVERYTHING you have in your wardrobe works together so you don't have to plan 15 outfits exactly before you leave. Everything works together, which makes it really easy getting dressed every day when traveling.
Know the weather:
We always look ahead to know what to expect. For our trip, it won't get above 65 degrees and there will be quite a bit of rain and cloudy days so we packed layers and sweaters that weren't heavy but would still keep us warm. We also leaned toward darker colors to accommodate the time of year as well.
Pack your favorite things:
You know the things in your closet you wear the most. Yeah those are the ones you want to take especially if they hit the above criteria. Mike and I have worked hard to start filling our closet with only things we love. It takes time and that doesn't always mean expensive, but it means we have to fall in love with things. This has helped to make travel much easier when we go to grab what we want for a trip. I know the sweater that will work best, the shirt, and even the David Archy bamboo underwear. We like things simple and classic.
Pack one piece that keeps it classy:
Don't know if you will end up a business meeting or whether a dinner will require you to be a little more nice than expected? No worries. I always pack a piece that can make anything look ready for anything. It can be everything from a blazer to a pair of boots to even a dress. One piece can change everything. A blazer is typically the trick.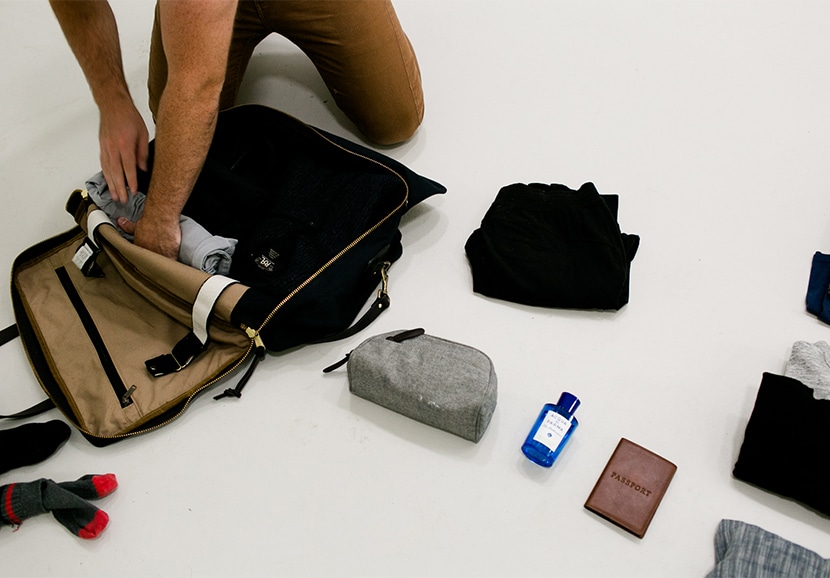 For this trip we used those same exact principles and wanted to share exactly what we packed to make this trip light and easy on us. We packed knowing we may find a few new pieces along the way on our trip, which is part of the fun of not overpacking. We are showing what Mike packed and what I packed. We left out our undergarments and my super sexy compression socks I wore on the plane, I am sure you understand and I am sure you aren't interested in those things.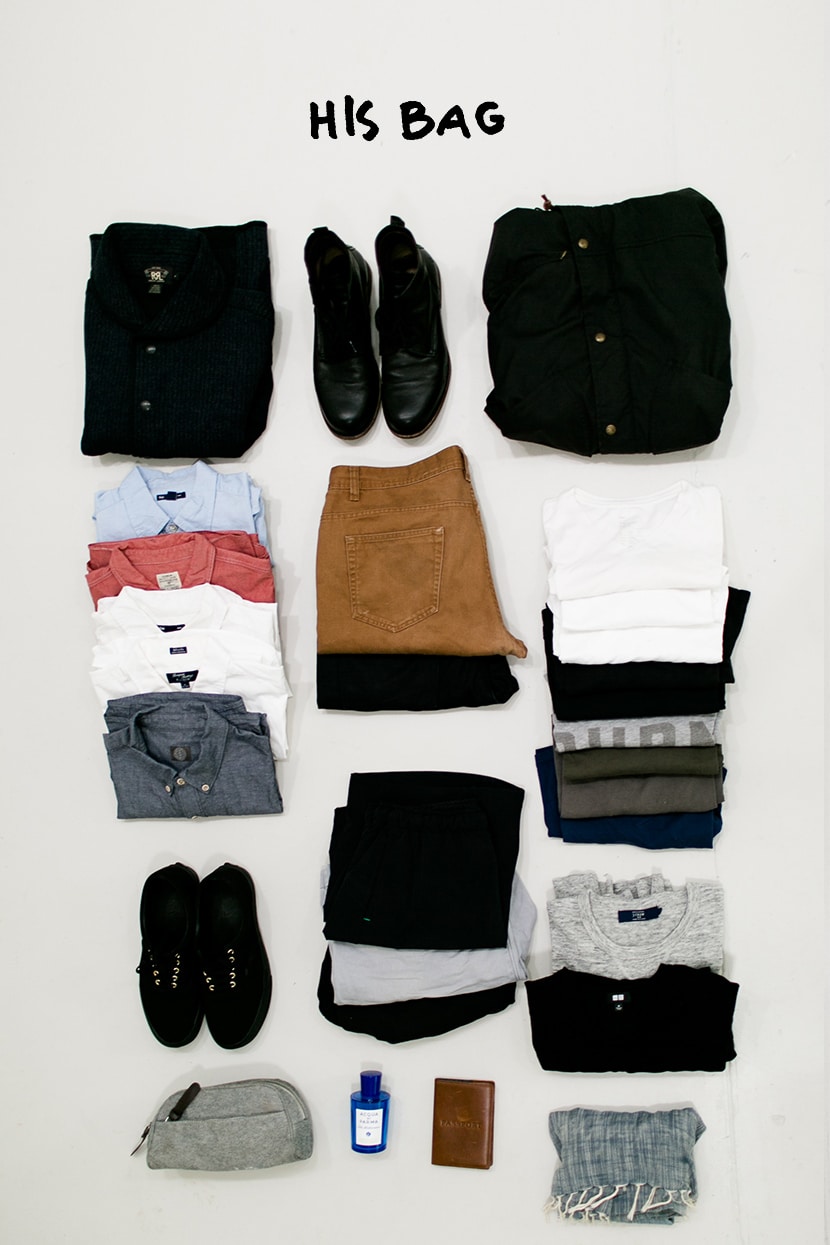 Outerwear:
A Shell Jacket from Patagonia (see similar)
A Medium Weight Jacket/Blazer from Ralph Lauren (see similar)
Shoes:
Lace up Black Leather boots from Frye
All Black Vans
Shirts:
5 button ups from:
Red Chambray from Jcrew
Blue Chambray from Wilson and Willy's
2 white and 1 light blue from Everlane
2 Sweaters:
1 Black from Everlane
1 Gray from Jcrew
7 short sleeve t-shirts and 2 long sleeve t-shirts:
Short sleeve: 3 white, 2 black, and 1 brown all from Everlane, 1 Graphic from Bridge & Burn
Long sleeve: 1 gray and 1 navy blue both from Everlane
Pants:
2 pairs of pants:
1 black jean and 1 khaki jean from Gap
3 Pairs of shorts (he is playing golf, working out and for lounging)
2 pairs of gym style shorts from Myles and 1 pair of regular from Gap
Accessories:
Dopp Kit from Everlane (see similar)
Acqua Di Parma 
Passport Case from Jcrew
Scarf from Apolis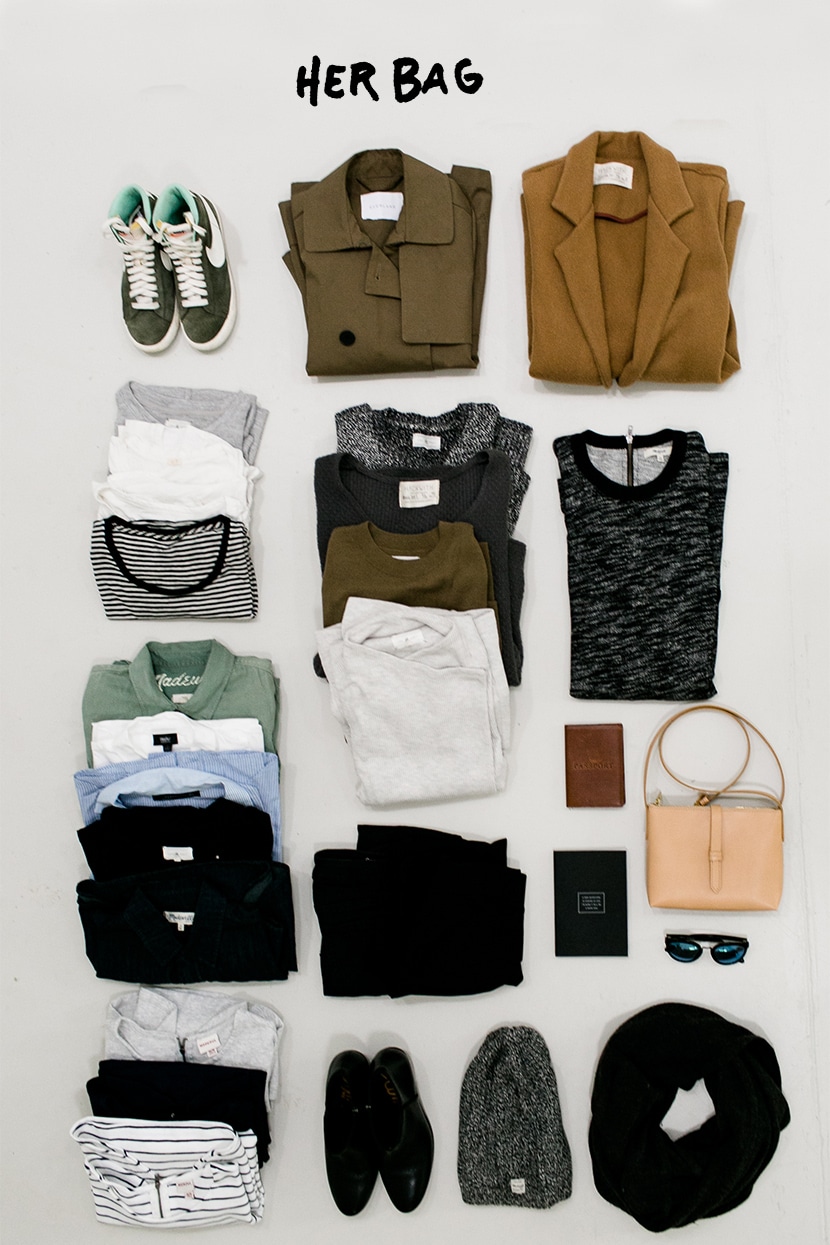 Outerwear:
Cropped Trench from Everlane
Boiled Wool Blazer Coat from Hackwith Design House (see similar)
Shoes:
Black Leather Booties from Sam Edelman
High top sneakers from Nike (see similar 1 & 2)
Shirts:
4 T-shirts:
2 white from Zady
1 Gray from Everlane
1 Striped from Madewell (see similar)
3 Long Sleeve Shirts:
All from Target in Stripe, Gray, and Navy
5 Button Downs:
1 Denim from Madewell (see similar)
1 Black from Lou & Grey (see similar)
1 Blue from Zara (see similar)
1 White from Everlane
1 Green from Madewell (see similar)
4 Sweaters
1 Marled from Lou & Grey
1 Oversized Grey from Hackwith Design House (see similar)
1 Olive from Lou & Grey
1 Jacket style in Grey from Lou & Grey
Pants:
2 pairs of pants:
1 black pair from Gap (mine are maternity, but you can get a similar pair here)
1 Black legging from Lou & Grey
Accessories:
Notebook from Wilson and Willy's
Purse from Jcrew
Blue Lens Sunglasses from Revo
Slouchy Hat from Madewell
Passport Case from Jcrew
Scarf from ASOS
What are some of your tricks for staying stylish and minimal while on the road? Do you keep similar rules to us or do you have others that help you navigate your packing differently?