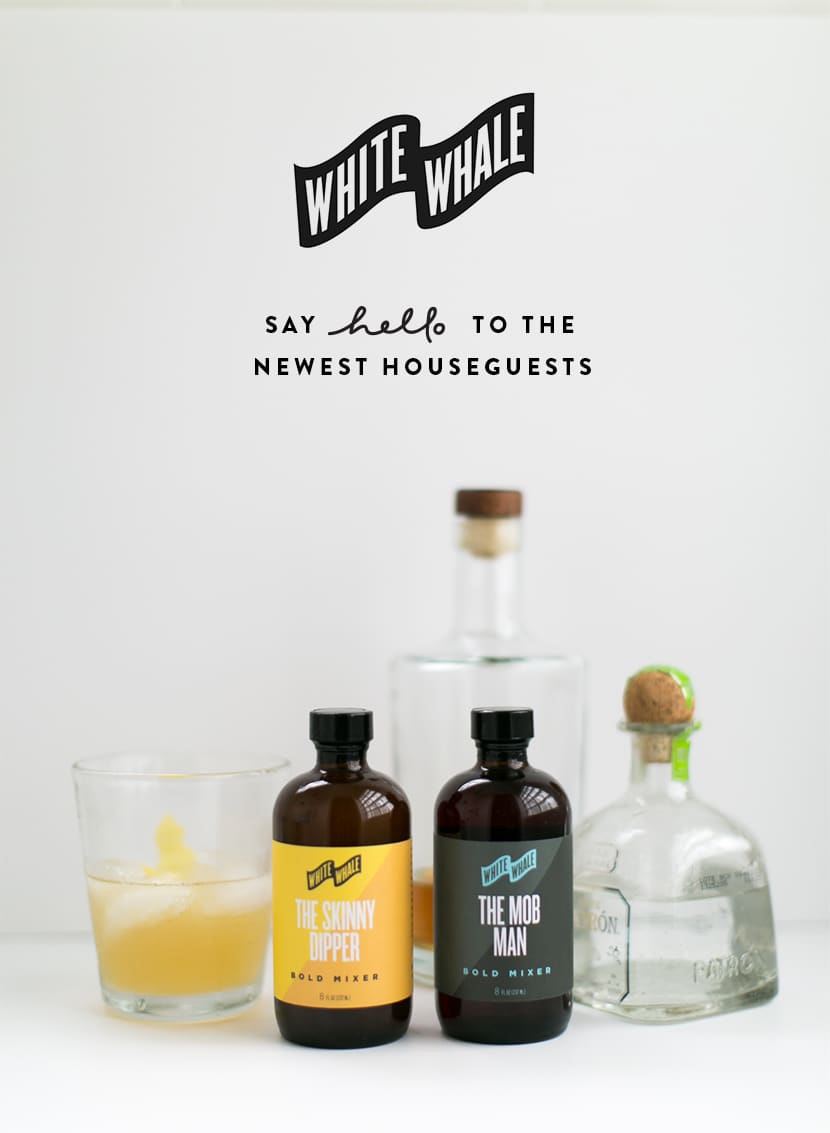 We don't share much of our work here often, but from time to time I feel as if we work on a really amazing project or with a brand that is really amazing. About two years ago we started working with Dave Staples and Corey Mason to help them develop and build the White Whale Bold Mixers brand. The brand began as a fun hobby of crafting simple and easy cocktails in Dave's kitchen apartment. White Whale was formed out of a passion for making a cocktail that was easy and tasted top-notch and that wasn't full of sugar and poor ingredients.
White Whale officially launched last spring and over the last year we have worked side-by-side with Dave and Corey to walk through the growth and dreams of taking White Whale to the next level. Part of working with these guys is testing and creating new flavors that will build upon the snarky, fun, and bold brand that we as a team at White Whale and Wild Measure have worked to create. For us, working with White Whale is a dream as we not only are developing new labels and marketing pieces for them but also helping to build the brand through social engagement and events. We have a good time testing and exploring new ideas with them in order to build a brand that is just asking for fun.
That being said, this winter it was time to add some fresh new flavors to add to our roster of Houseguests (as we lovingly call all the mixers). Thus, we all worked together; Dave cooked up the recipes with Corey, Mike and I tested and chose colors, and then we all named them. So, say hello to the hottest new mixers on the block!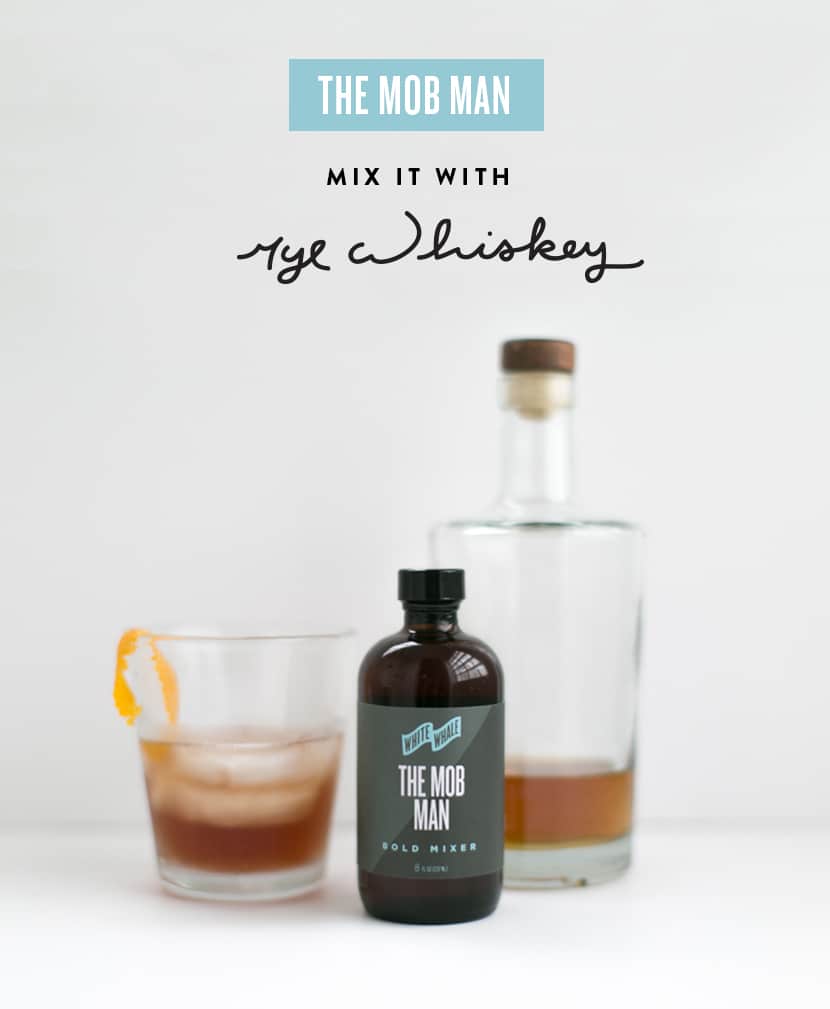 When we started designing the new labels we decided obviously to stick with the split colors on the label to identify the mixing of a 1/1 ratio of liquor to mixer, but this time we wanted to update the colors and styles a little to bring in more harmony across the entire color palette. You can see the updated labels in the shop, which is also where you can purchase your own Whale of choice.
The first of the new recipes is The Mob Man, which is White Whale's Manhattan with Rye Whiskey, and Mike's new favorite. If you are into a warming cherry drink, this is your jam. I am not a big Manhattan fan, but I was sold when I was served The Mob Man.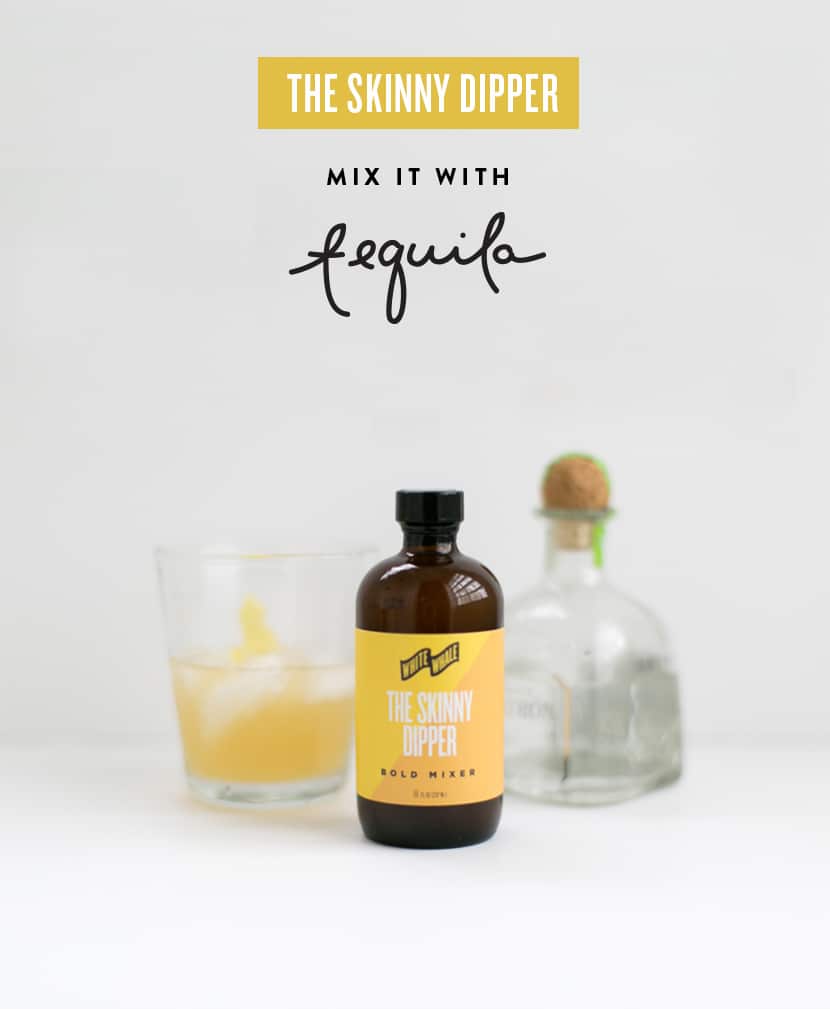 The other new flavor, and my new favorite, to be welcomed to the party of the 5 is The Skinny Dipper. Think a super fresh tasting, yet surprisingly not super sweet Mango Margarita. The better the tequila, the better this one shines. This drink SCREAMS summer in every way and I will take one of these over a-crafted-at-the-bar-cocktail any day… seriously! The Wild Measure office cannot get enough of this one. Together, these two bottles look pretty sharp, but with their newly updated counterparts, they all make for one cool looking bar chart…
In case you are unfamiliar with White Whale… these 8 oz bottles contain no alcohol and are simply a mixer to add to the suggested liquor in a 1oz to 1oz ratio or you can get creative and create your own party by mixing them with whatever you like. They are perfect for the cocktail connoisseur that doesn't want to squeeze limes all day for 8 guests coming over for the evening. Fast and quick, gluten free, vegan, and low in sugar with only 20 calories per drink. But even with all that goodness, they still taste fresh, vibrant, and pack a flavor punch. If you are still curious, check out their info on the website for how to mix and what to expect! Each bottle contains enough mix for 8 cocktails for just $10.
Join the #flavordisco on twitter and on instagram and see what happens next. This is going to be a big year of growth for White Whale as it is already showing up in Anthropologie, Williams Sonoma, Fab.com, Whole Foods, Caskers, NC Made, Scoutmob, Birchbox, and a couple more we can't announce quite yet ;).