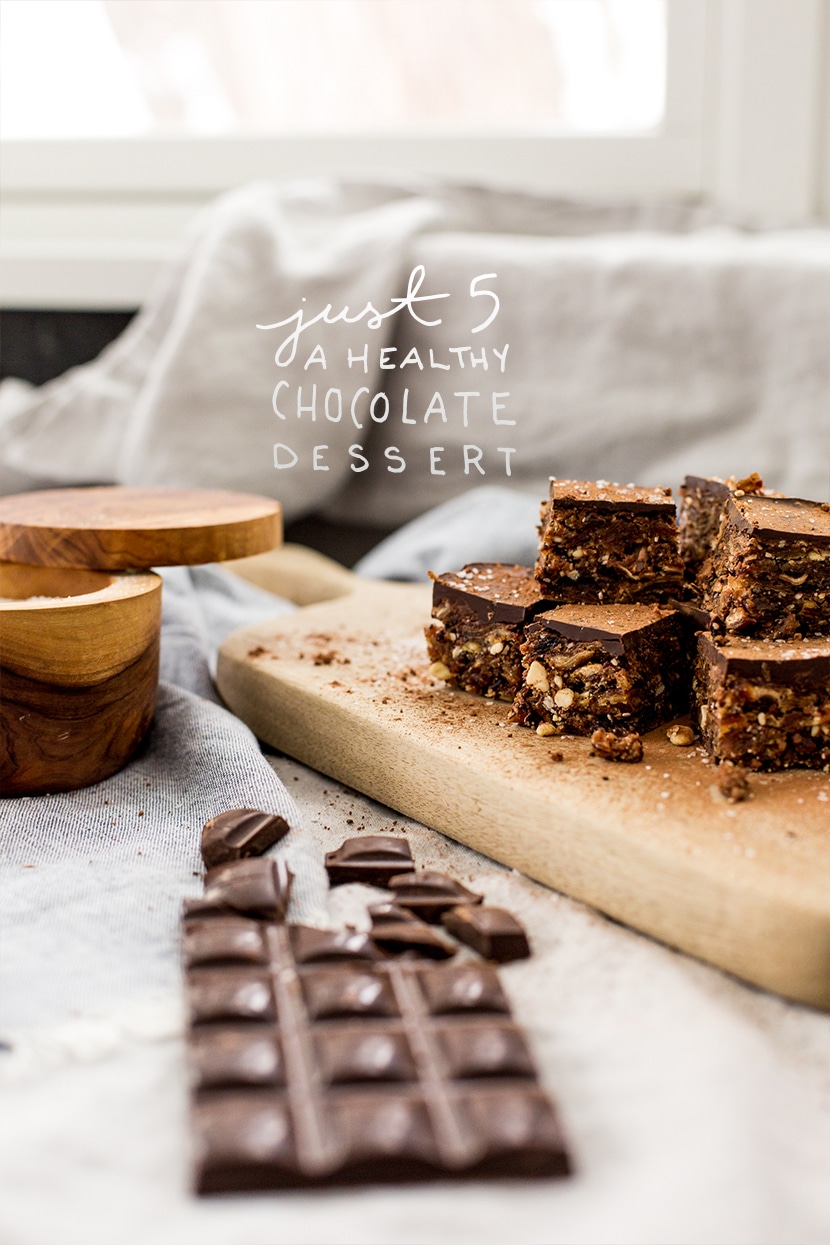 I have always believed in a life of moderation. Enjoying it all but never excessively. This is especially true with my diet and eating. I enjoy a glass of wine a night. I eat dark chocolate. I have a beer once and a while, but I also eat veggies all the time. I love avocadoes. I drink spirulina once a day. So the idea of a healthy dessert is right up my alley, right? This way of eating works for me, especially while I am trying to ease back into those making that I am shaking any bad habits off from the holiday season.
This time of year it seems everyone is trying to eat healthy and stop the holiday food cravings, so finding some bridge foods that help ease into those healthy habits again is very important. Those, as I call them, "bridge-foods" can help ward off those refined sugar cravings and more. Over the years of trying to eliminate my cravings for unnecessary sugar, I have found that a good piece of dark chocolate or a date can solve the problem without really feeling I fell back into old habits. So today, I am sharing one of my favorite healthy dessert recipes that is easy to make and feels like a treat without being indulgent. The best part is that this dessert could quite possibly be placed in the "good for you" category believe it or not.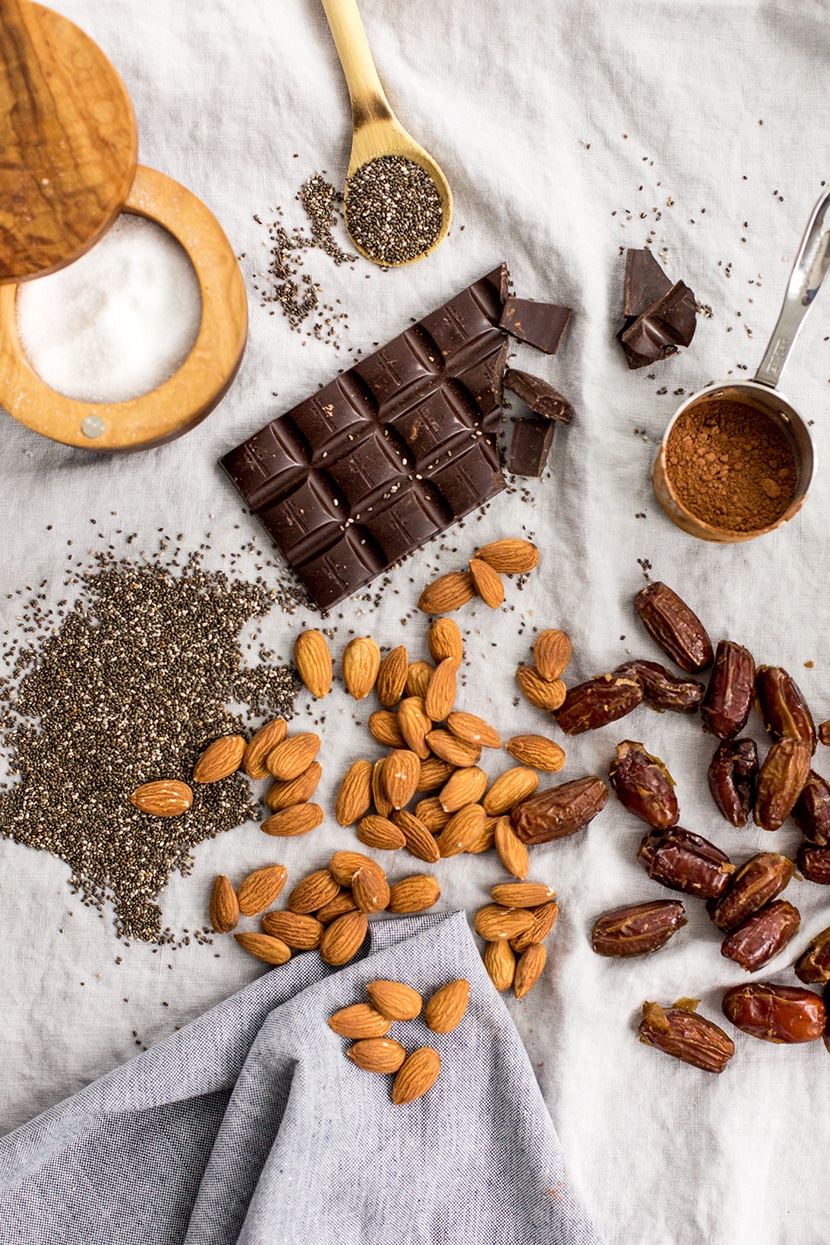 These easy-to-make date bars topped with dark chocolate and sea salt will leave you feeling like you completely indulged, but they are packed with tons of good-for-you nuts and seeds. This is a great dessert to take to a dinner party this time of year when people are trying to eat on the healthy side. One note, though, do not have more than one square because those dates are high in calories even though they are good for you, they do pack a punch on the caloric level. These bars also are a great treat for kids after sledding or after school in place of a sugary treat. They will fill them up while making them feel like they got something special. A great compromise for everyone involved.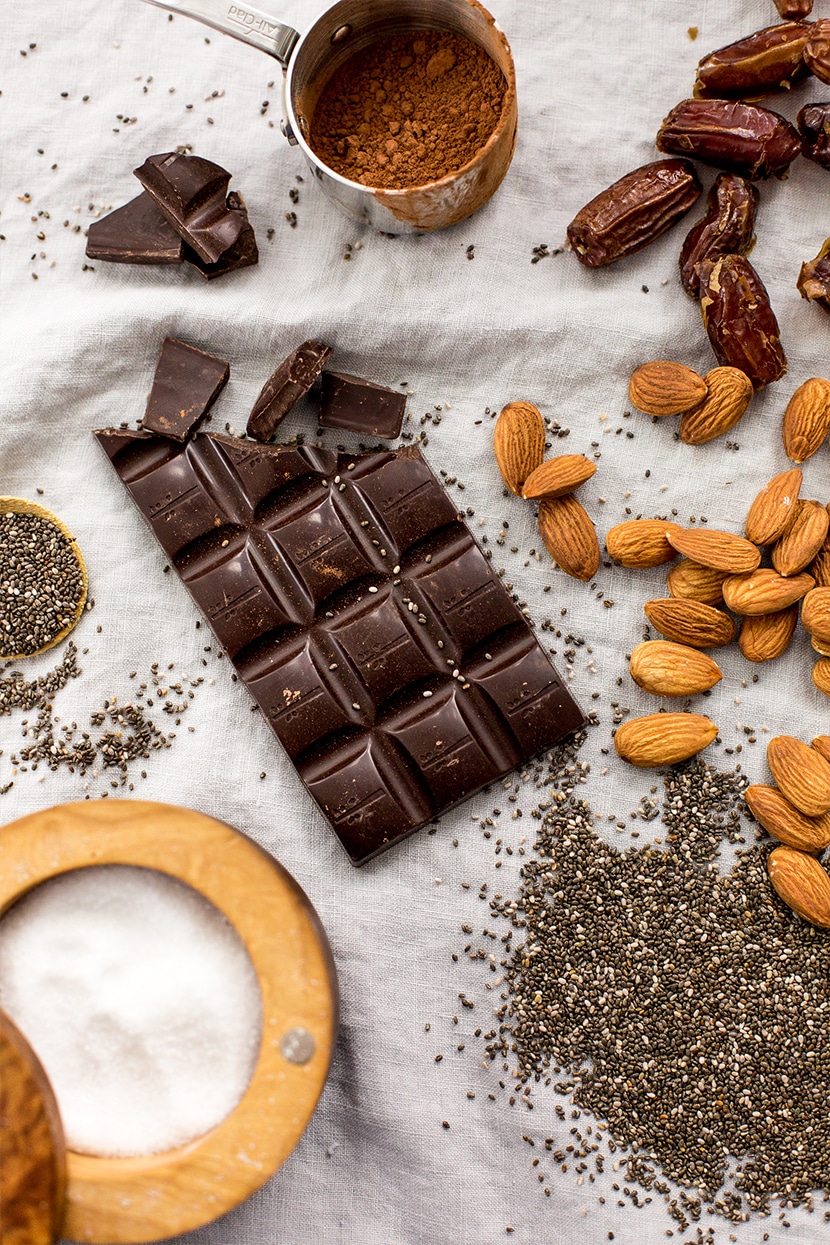 All you need to make these bars is 20 minutes, a food processor or high-speed blender, a plastic or glass container, and a freezer. The recipe makes 12 bars that are 2×2 inches and about 2 inches deep.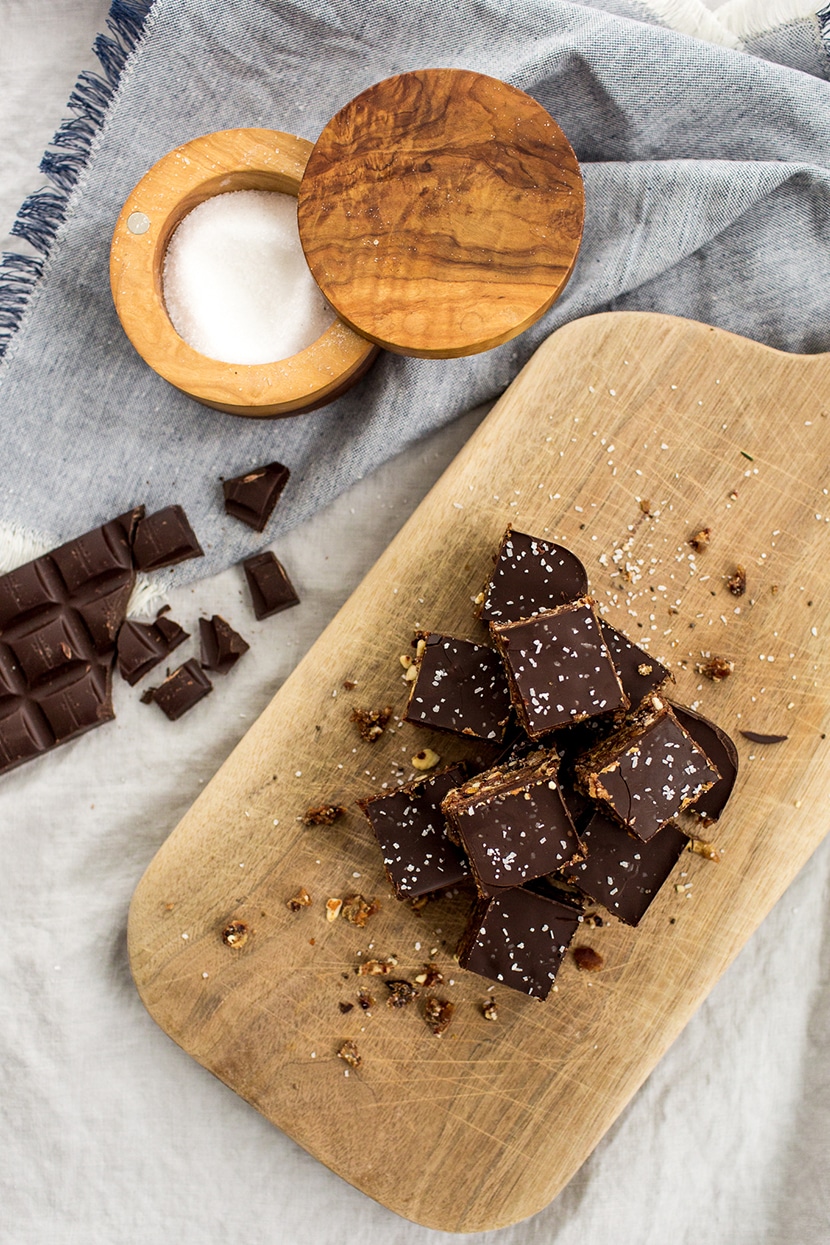 The Ingredients:
3 cups pitted dates*
1/2 cup raw almonds
1/4 cup chia seeds
1.5 bars of 80-85% Dark Chocolate (if you are trying to eat Ketogenic or want to go super healthy use Lily's chocolate)
1 great big sprinkle of Sea Salt flakes
Optional: a dusting of cocoa powder—- mainly for aesthetics if serving for a party
*Note: You may need to add more dates depending on how dried out your's are. I had pretty dry ones and added a few more in the batch I shot, but if you have ones that are on the moist side then 3 cups should work great!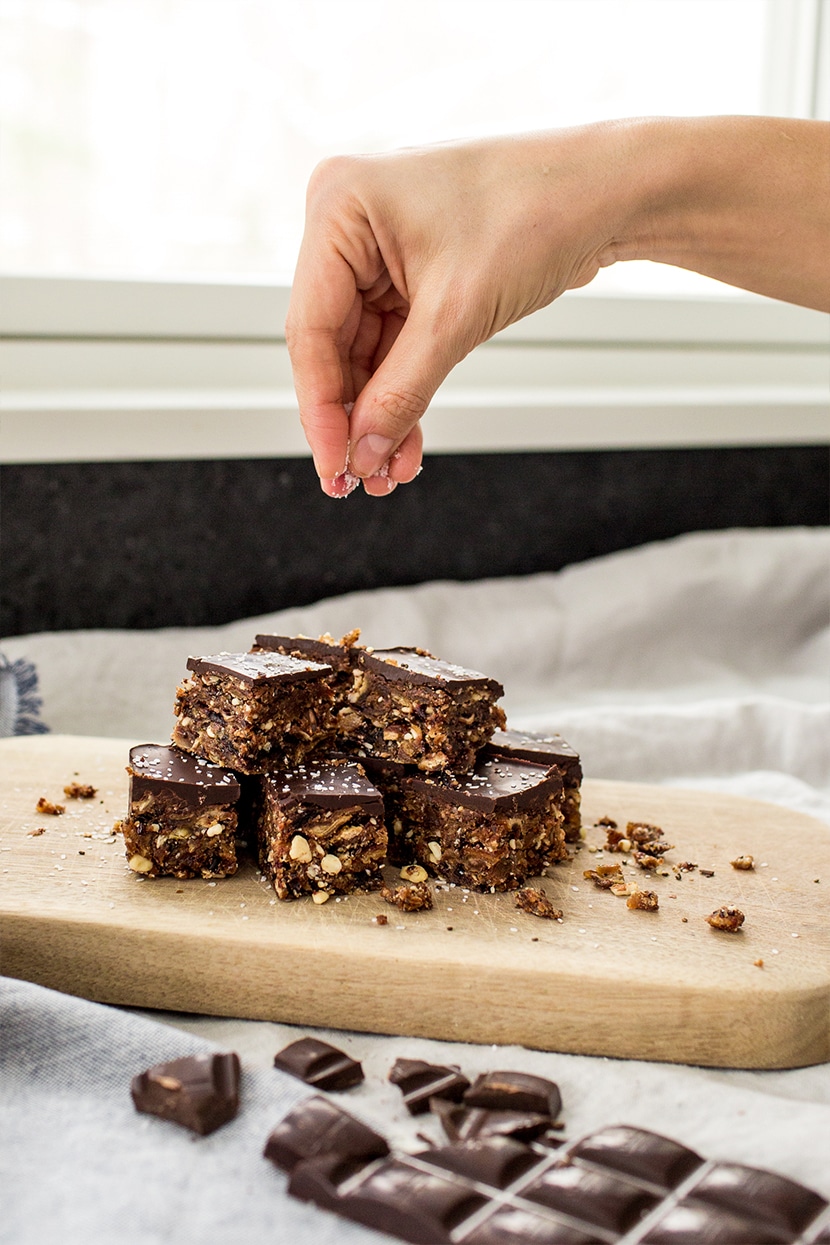 To make:
Place the dates, almonds, and chia seeds all in the food processor or blender. Blend/mix till the mixture begins to stick together. If you are struggling to get it to stick continue to add dates till it becomes stickier. If it is too sticky add a few more almonds.  It all depends on the moisture levels in your dates as I noted above.
After the date mixture is done, transfer to a plastic or glass container similar to the ones linked above. Press the mixture till it is as condensed as possible and filling every bit of the container and set aside. One little tip, if you don't want to get your hands messy use plastic wrap between your hands and the dates. The chia seeds can be a pain to get off your hands sometimes. 
In a small saucepan break the chocolate bars into pieces and continuously stir them over low/medium heat till they melt. Be very careful not to heat the pan too much and burn the chocolate. I find the stove does better than the microwave but if you would rather use the microwave it can do the trick as well.
Once the chocolate is melted pour it over the date mixture and spread it evenly to just coat the top and then sprinkle with a little bit of sea salt.
Cover the container and place in the freezer for just 10-15 minutes so the chocolate hardens but the bars do not freeze. You can also place them in the refrigerator for about 30 minutes to get the same results.
After the chocolate has hardened, take the bars out of the freezer for serving. The bars should easily release from the container. Chop on a cutting board and serve. I added a little more sea salt on top so the white of the salt flakes popped on the chocolate.
You can store any extra bars on the counter as long as your home is below 70 degrees, but I would suggest keeping them in the refrigerator for the best storage possible.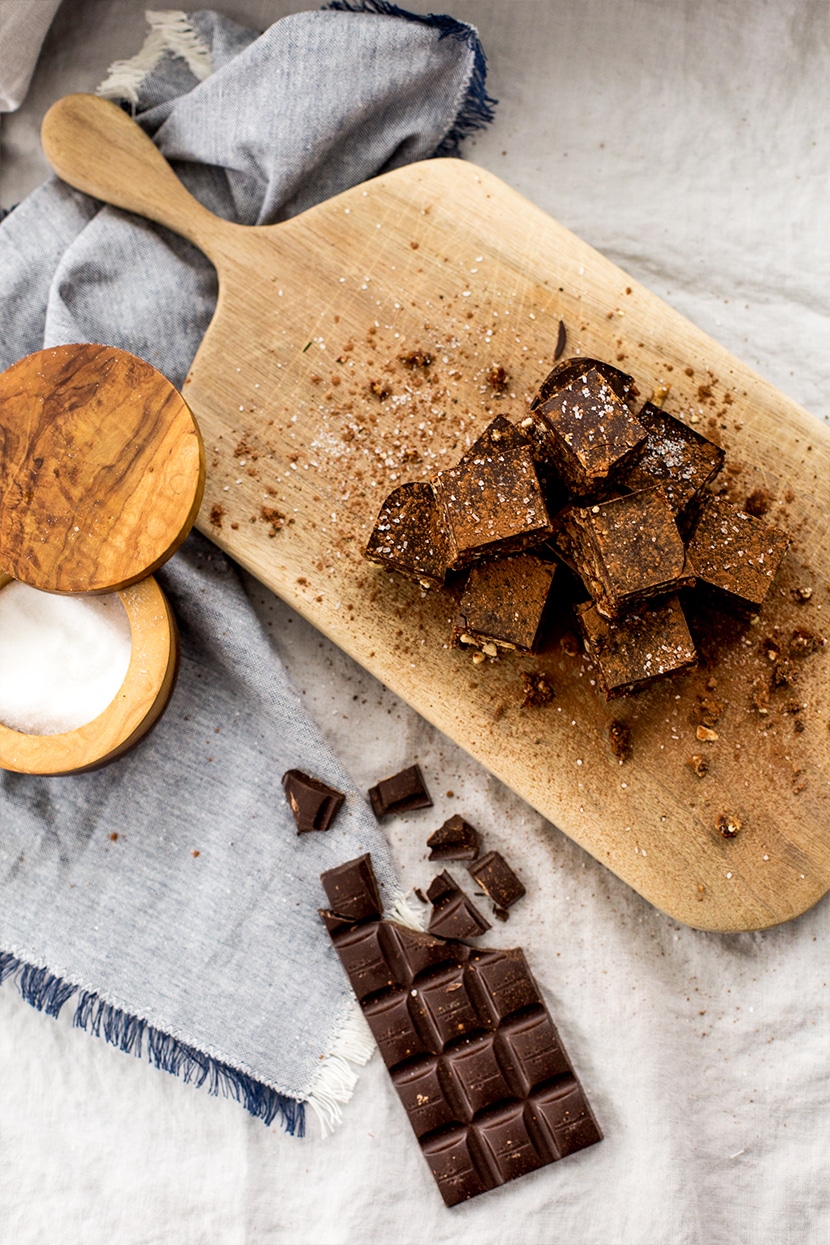 So how are the diets coming? Are you feeling good about your direction for the New Year thus far? Hope you enjoy these healthy dessert bars and as always, tag us if you decide to make these! We love seeing what you created from our recipes!