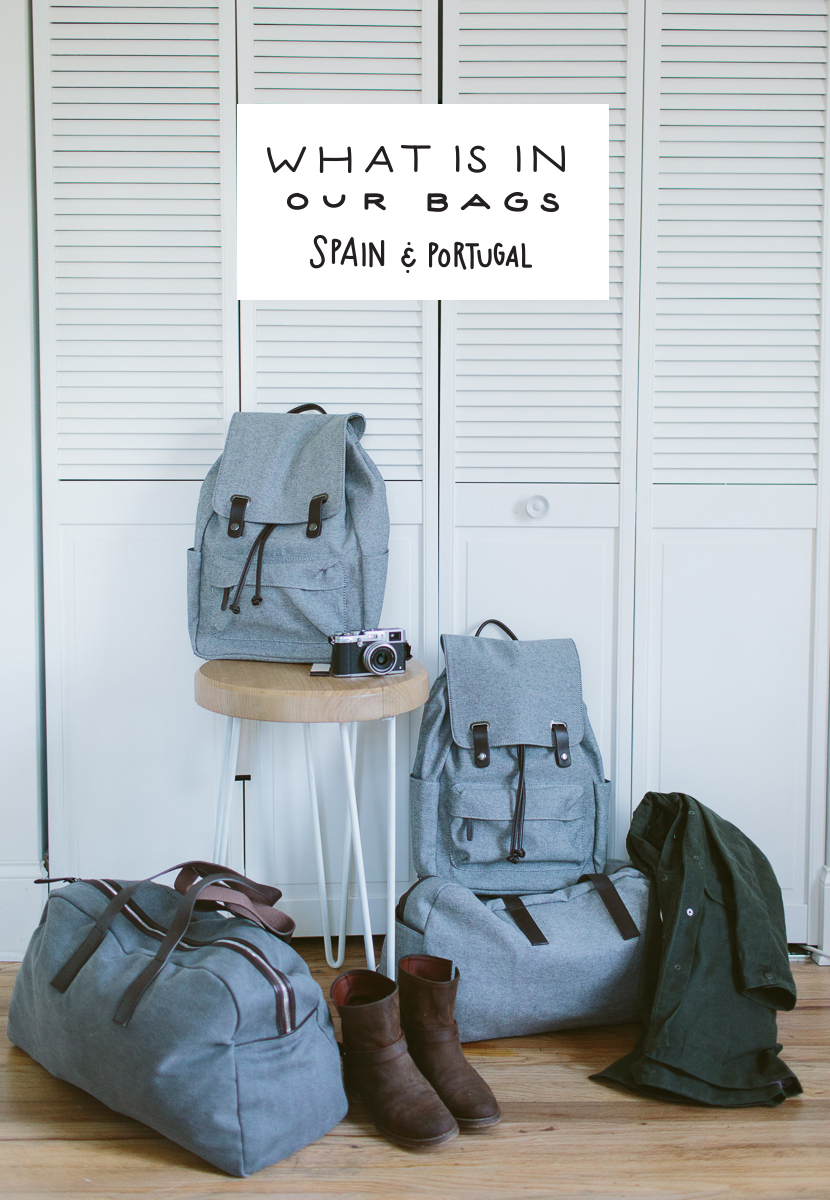 Every time you travel, you learn new things and new tricks to make it more enjoyable and easier. Over the many many flights we have taken in the last 5 years, I feel like I have finally mastered the art of packing. I know how to mix and match outfits and do not be afraid of the I-wore-that-yesterday concept. This doesn't mean Mike and I have sacrificed style in the meantime.
I think our style has maintained, if not gotten way better, because we have learned to pair down to what matters, is the most useful, and looks the best while achieving the key elements of survival.
In the past, we have shared what we have packed (you can see the posts in our travel section), but we have never gone in-depth with it. So, this time we took a new challenge and partnered up with Everlane to share how we are packing for a 20 day trip in the 4 bags above. That's right, no roller bags and only a medium size weekender and a backpack each. Our goal is by no means to leave with full bags, but instead, leave as much room as possible in them for discoveries along the way.
So, below we are going to give you the low-down on what we are packing as far as clothes. I will also give a shortlist of the essential items we pack outside of our wear that we feel need to be noted as well.
Our Basic Packing Rules
1. It must serve a multi-purpose
This means your shirt needs to prove it can do more than one trick in order to go on this adventure.
2. You never need more than 2 pairs of shoes (okay maybe 3)
I traveled through Paris and Italy with 2 pairs of shoes. You are not out to make a fashion statement so why bring so many? Bring your tried and true favorites that will last and not kill your feet. Travel is not the time to try a new shoe style. I have learned the hard way.
3. Choose a Palette
Every piece of your clothing needs to coordinate together. This is part of the multi-use concept. You don't want to waste space on one item that only goes with one other item. Makes no sense. Bring 20 coordinating pieces and you have endless wardrobe options.
4. Pre-choose your Airport Outfit
I always wear the bulkier items onto the plane. This will most likely be my outfit there and back. This opens room in your bag, but still gets some of those items on the plane with you such as your coat and boots. Don't waste space in your bag on these items.
5. Bring multiples of things closest to your body
Do I need to explain this one?
6. Before your trip find a laundromat or book a place with laundry facilities at least halfway through your trip
This is the key to minimal packing. We have at least 2 places with laundry facilities. If you use Airbnb this is super easy to coordinate either within the space or with your host. Most hostels have this option as well.
7. Check the weather and think through where you are going
For us this time we realized it was going to be a little chilly each day so we packed one or two extra warm pieces and left a few warm-weather pieces in the closet. We also realize we are going to Europe so accessing an H&M or Zara is not a far stretch, but going somewhere more remote we would need to be more on top of it.
8. Leave room
Don't feel you need to pack to the brim. Not only will it make your travel easier, but it also leaves you room to purchase some treasures along the way.
9. Accessorize
Adding accessories to your outfit (hats, scarves, sunglasses) is a good way to switch up your look if you're wearing the same thing all the time.
10. Buy Clothes as You Travel
Many travelers often bring only the essentials and purchase new clothes as they need them.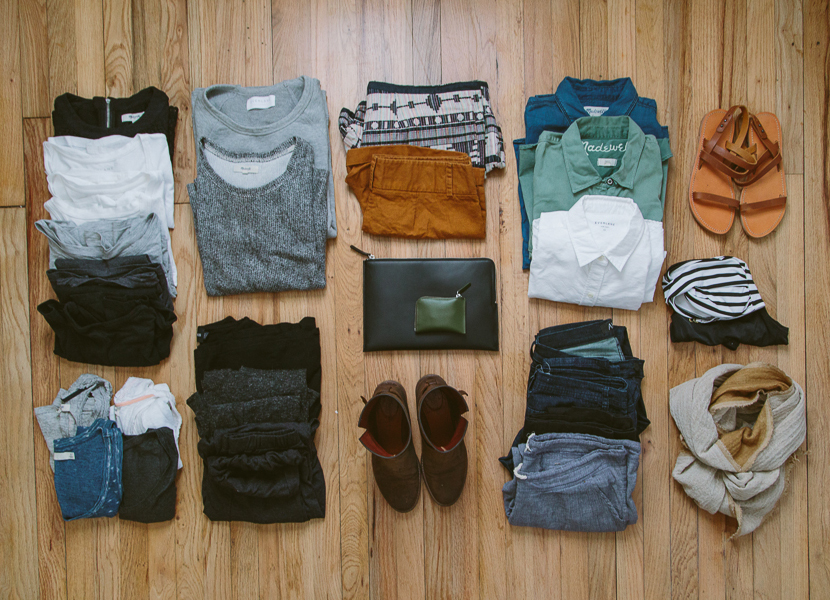 My Packing List
First up is my bag. This is not my first time rolling with my Everlane weekender. I have taken it quite a few places and have learned that this bag is sneaky as it can hold far more than it appears to be able to. That's the best kind of sneaky I can think of. I still tried to keep my clothes as paired down as possible. Here is what I packed:
3 White t-shirts
2 Black/Gray tees
2 Long Sleeve Tees
1 Sweatshirt
1 Sweater
4 Tanks
2 Dresses (1 short and 1 long)
1 Romper (only cause of the weather and lifestyle there)
1 pair of boots (even in warm weather boots are a good choice)
1 iPad case (love this one from Everlane)
1 coin purse —the change needs a place doesn't it?
2 pairs of shorts
3 Button Downs (1 Linen Chambray, 1 Olive Work shirt, and 1 White)
2 pairs of jeans
1 pair of slouchy pants (great for sleep as well as day wear)
1 scarf (this can work for you in so many ways other than as an accessory…aka your pillow while you travel instead of one of these)
1 bathing suit
10 pairs of underwear
4 bras (1 white, 1 black, 1 tshirt style for the plane, and 1 sports bra for hiking)
2 pairs of sandals (1 easy to wear, and 1 toss out for hostel showers if you need it)
8 pairs of socks (high and low ones)
1 Waxed Cotton Jacket (loving my new one from Bridge and Burn)
Other items I always make sure are in my bag that aren't clothes:
Lots of snacks (these get me through the bad food on planes)
lip gloss
lotionmelatonin (to help to sleep on the plane and with jet-lag)
Dr Bronner's (this is my face wash, shampoo, and body wash when we travel)
Face wipes when you just want to be refreshed (especially flying long flights!)
A minimal makeup bag of:
bronzer
concealer
eyeliner
mascara
eye shadow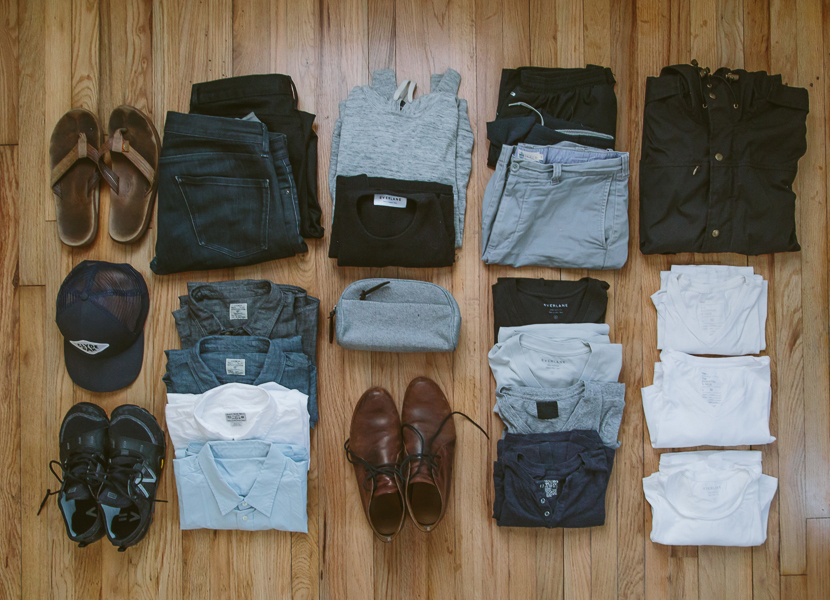 Mike's Packing List
Here is what Mike will be taking with him on his weekender. He is even more minimal than me…surprised? Probably not.
1 pair of flip flops (for the hostel showers and warmer days)
1 hat (his favorite, Not So Tall Trucker Hat, seriously it's $10 right now)
1 pair of hiking and street shoes
1 pair of chukka boots
2 pairs of jeans (He loves Uniqlo jeans for the stretch and comfort when traveling)
4 Button ups (2 shades of Chambray, Everlane Blue Oxford, and a White Oxford)
1 Hooded Sweater
1 Black Seed Stitch Everlane Sweater
1 pair of running/swim/sleeping shorts
1 pair of shorts
1 long sleeve henley
3 White tees (1 everlane white)
1 Penfield Waxed Cotton jacket (purchased used on ebay for $45, jackpot)
6 pairs of socks
8 pairs of underwear
Things Mike packs other than clothes:
A travel toothbrush/toothpaste
hand sanitizer
lots of snacks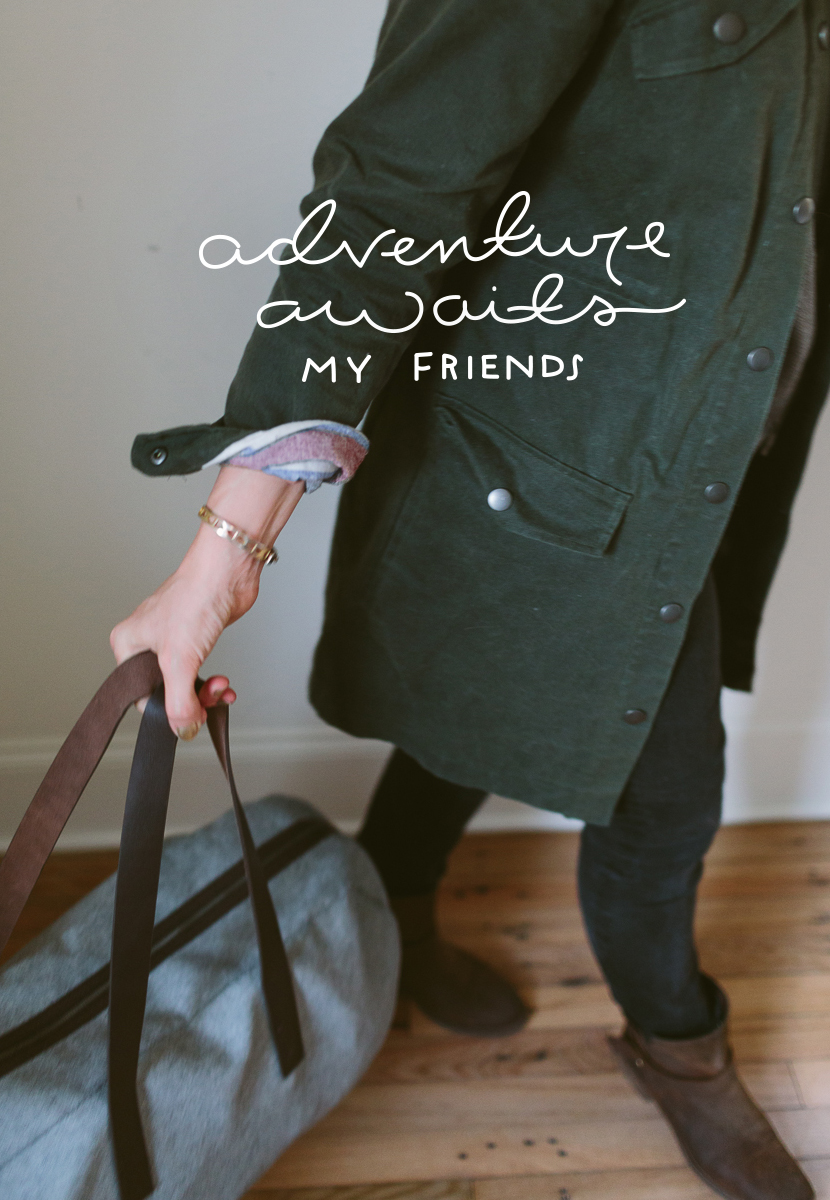 Other Organization Aides You Can Try
Packing Cube
Packing Folders
Hanging Toiletry Bag
Travel Bottles
Grid-it Organizer
Silicone Bags
This trip has been way easier to pack for. I already have plans to purchase a pair of Camper shoes while we are in Spain as I debated it last time we were in Europe. I feel it is time, especially since they are made in Spain. These I hope will become my go-to hiking and travel shoes in the years to come. I left room for things like that and other items in my bag for our trip so I could bring them back.
The biggest thing I have learned while packing for long trips is that no matter the weather you should count on nothing. Always bring at least 1 sweater and a bathing suit even if you have no clue why you would need it. You will need it, believe me. I have traveled from cold to hot and hot to cold and I always find that having the basic items will get you by very well.
I would love to hear any of your packing thoughts and experiences. What have you found to be a good or bad thing? Anything you want us to expand upon? Ask away!