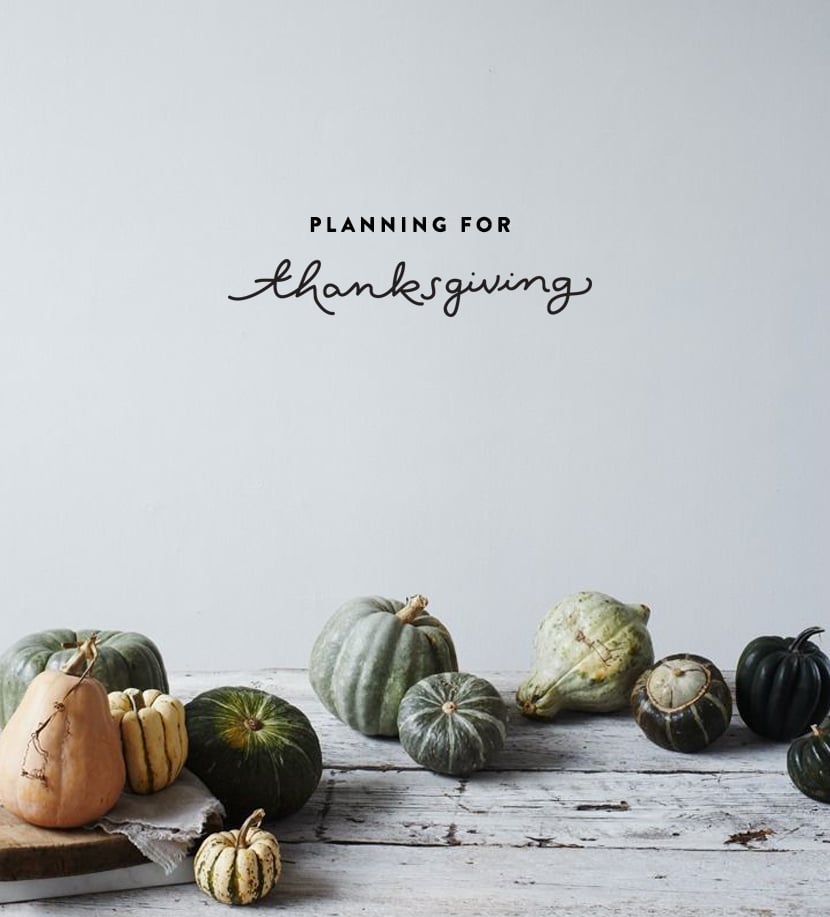 image from: Herriott Grace
Thanksgiving, my second favorite holiday just after the 4th of July, is quickly approaching. This year we are hosting my family and a few friends for the Thanksgiving festivities. It feels so grown up, and honestly a bit overwhelming, to be hosting Thanksgiving for the first time in our new home. I know it's a little early to begin thinking about those things but, as I have learned with our styled dinners, once I get those pieces figured out my stress levels can begin to drop. I am approaching Thanksgiving like I approach any project or shoot. Which means I am creating a pinterest board full of food, decor ideas, and more.  It is so helpful to have some kind of visual direction as I pull it all together.
This will be the first time my family sees our new home and experiencing our new city, so I am pretty excited about this coming holiday. I have been planning all sorts of fun things to show them around our city. It has to include some hiking, great food, hefty cocktails, and some shopping. I just cannot believe Thanksgiving is 2 weeks from this Thursday.
Check out my ideas I am gathering together for Thanksgiving. In addition to the Pinterest board I have also gathered some ideas for prepping before your friends and family arrive to take the stress off of you, and allow you to enjoy your time with them.
1. Order a turkey:
Every year I make a point to find a farm that raises and processes turkeys themselves. I believe this makes for a better tasting turkey and a more beautiful one as well. Without breaking the bank you can usually pick up one and have it either available for pick up at the farmer's market or have it even delivered to you for less than $50, for a 22 pound turkey. I am all about quality when it comes to meat. For me, this is a small price to pay for the center piece of your dinner. Plus, how many left over lunches, and dinners are going to happen off of that turkey.
2. Purchase things ahead of time:
The closer you get to Thanksgiving the less likely you are to have good options. I know this is an obvious tip, but one worth saying. The good stuff goes first. For instance, every year I make my own cranberry sauce so the moment I see fresh cranberries come in, I purchase them (they are usually a little cheaper because fewer people are buying them) and freeze them until I am ready to use them. I also do all of my major shopping the Monday before Thanksgiving, so I can have everything we need on hand and we aren't doing a mad dash, unless we forgot something.
3. Focus on what's in-season:
Thanksgiving is all about celebrating the harvest and being thankful for the community around you. I always feel it is important to source products that are not only seasonal but local. Many times this can also be cheaper. It should be pretty easy, no matter where you are meeting this year, to have access to fresh produce through a local market or a CSA. I usually head to the market with a list of items and purchase as much as possible there, then fill in the holes at our favorite grocery store.
4. Decor: 
Touching on the point above, your decor should also focus on what is in-season. Make it real, it will be much more beautiful that way. Find herbs, greens, and berries that are already naturally gracing the world around you. Bring them inside, make wreaths, arrangements, and enjoy the process of making a mess. This is a time to celebrate the bounty of life and have fun creating along the way. Also remember, decor is not just what you see it is also what you smell. My dad hates candles, so I am planning to boil herbs and other seasonal scents to set the smell of the season without having an overwhelming scent in the house. This is also a great way to save money so you can buy that quality turkey, without sacrificing a beautiful and great smelling home.
5. The Drinks:
There are some amazing holiday cocktail and drink recipes, but having guests on hand for multiple days and cooking the whole time, the last thing I want is to make another recipe and buy ingredients for it. Instead, I am already planning to serve the new White Whale holiday mixer, The Tiny Tim, which is the perfect fall and holiday flavors of Apple, Cranberry, and Cinnamon. I am also stocking up on wines from our local wine store as I see good deals. On the topic of wine, don't be afraid of a quality box wine either. These are all great ways to ease the expectation of having good drinks on hand for guests throughout their visit.
6. Prepare for your guests:
I hate to think my sweet parents would drive all the way from Michigan and have to sleep on a blow up mattress, so about a week ago we received a new mattress from Tuft and Needle and I picked up new bedding. This time of year is all about being cozy and comfortable, so I am working to create a space (though minimal) to feel comfortable for everyone. After all, isn't the nap after thanksgiving the greatest nap of the year! So make sure you are comfortable so when your guests finish that amazing meal they can curl up and fall asleep in the most dreamy way.
Do you have any great tips for the holiday season that you are staying true to? I would love to hear some of them! Any lessons you have learned along the way of entertaining that you want to share?