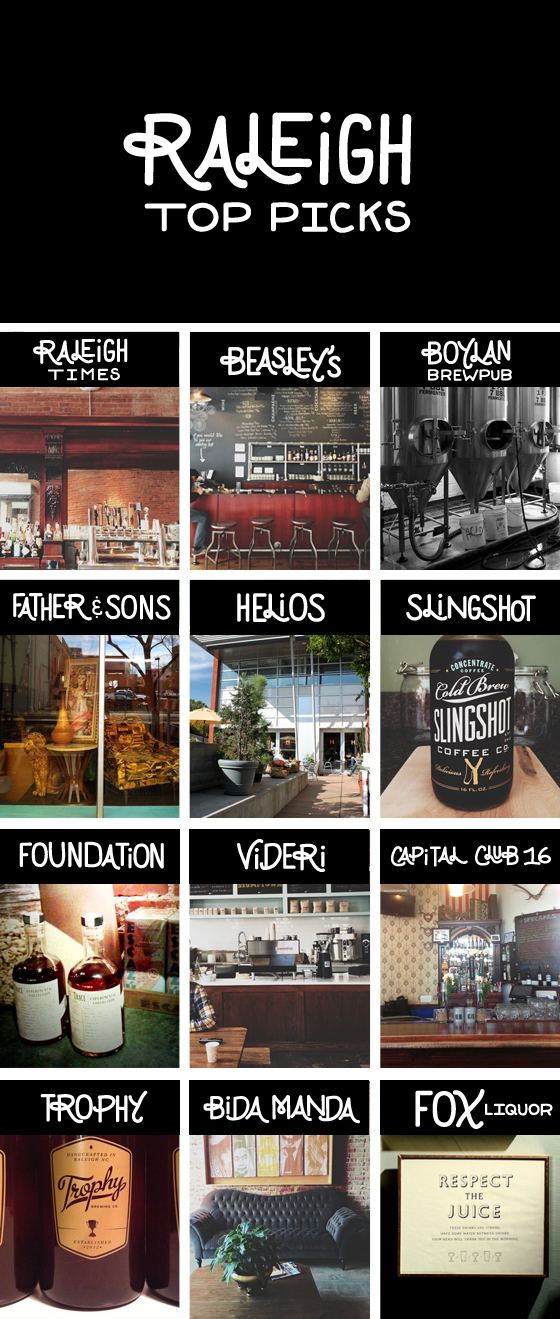 When we left for Raleigh I don't think we had any REAL idea about how many amazing things are happening in that town. We knew it was the fastest growing city in the US but we had no clue that within that growth was more than just industry but brilliant and creative businesses. We did not get to visit them all and I kind of am glad as we plan to come back and do more posts since we are so inspired by what is happening there.
But we did get to find some amazing places and I gathered a list of the ones we cannot wait to visit again upon our return. For those of you that are in Raleigh or heading there I suggest taking a peek at all these places, getting to know the people who make them run, and see why Raleigh is probably one of the coolest cities I have been to in the US.
1. Raleigh Times: 
Right downtown this historic building still holds so many of the remnants of the past in it's decor. With a newspaper as a menu and so many beers on draft you honestly cannot go wrong in this fun bar and restaurant  More than 4 bars are located within the place so you will not have to fight your way for a drink. The best part was not only were the beer options great, but their food was super yum. Tons of options that were great for everyone. If you are looking for something fun, easy, and downtown this is a great place for a reasonable dinner and a drink.
2. Beasley's:
one of the 4 restaurants begun by restauranteur Ashley Christensen in Raleigh. It is well designed, great food at a reasonable price, and very southern. I had my first Cheerwine while I also tried North Carolina Fried Chicken for the first time. It was nothing short of yum on a cool rainy day. It is a great place to get classically southern food with a modern twist.
3. Boylan Brewpub:
The beer and food or good, but the reason people really come to Boylan is for the view. Located just down the road from the heart of downtown it is set up above the city just enough to give you the perfect skyline view. Enjoy one of their hand crafter brews and watch the city flicker while hanging with friends on the patio.
4. Father and Son:
When I head to a new town I am always on the hunt for great antique and vintage stores because every city has a history and the things in these shops usually can tell you some very interesting things. We actually found pieces for the Clyde Oak look book while wandering through the store with Jenn and Grant. I wanted everything in there. They have a great selection of vintage clothes and furniture and it is all reasonably priced so if you are someone who loves a little wander I suggest poking your head in and getting lost for an hour.
5. Helios: 
I was told that great brunch spots are few and far between in Raleigh and that Durham is the town for brunch, but I have to say our Saturday brunch we had at Helios was pretty top notch in my book. They had a great selection of full meals for breakfast and lunch. They also serve local roasted Counter Culture coffee. Pretty much it is where the cool kids get their coffee and hang.
6. Slingshot:
Now I know this kind of cheats but I am so in love with this stuff I had to include it. Mike and I had seen the branding for Slingshot on a blog and when we got to Raleigh we found out Corey and knew them and our good friend had said it was really awesome so we hopped on over to Whole Foods and picked some of the cold brew concentrate up and man am I happy we did. This may be the best cup of coffee I have ever had. No cream or sugar needed (which is always the sign of a great brew) this is naturally sweet (since the coffee bean is a fruit) and the flavor truly matches the incredible flavor of this brew. Do yourself a favor and buy a bottle you won't regret it.
7. Foundation:
Something I loved about a lot of the bars in Raleigh was how many were underground. It created a speakeasy style and atmosphere to the whole bar hopping evening. The Foundation was one of a favorite bars we visited while in Raleigh. The cocktails were top-notch and their selection of whiskeys and bourbons could make any one happy. Also they create their own sodas for their cocktails which you can also order on their own sans liquor if you are not up for an evening of getting buzzed.
8. Videri:
We have a larger post coming about this awesome shop in Raleigh, but I had to include it because I am still dreaming of those chocolates. It put so many of the other gourmet chocolates I have had to shame and is definitely the best I probably have ever had. They have a great store where you can get a cup of Stumptown Coffee and enjoy the comfort and quiet of the space that smells like cocoa and sugar. Can't say no to that, right?!
9. Capital Club 16:
This place holds such an awesome place in my heart and may now be my favorite restaurant  We went at least twice while we were there and they were also the amazing sponsor for our food for The Simple Evening. Shannon and Jake are the owners and they have made a place that feels something between Americana and European in the most perfect way. The food is southern with a twist of German, but also offers a lot of great veggie options (which is a must for me). They create brilliant cocktails and have a great selection of wine and beer all at reasonable prices. Come for a sandwich and fries or come for a full evening of dining. On Friday and Saturdays they have a DJ that comes in after 10 PM. This is one hip place and I cannot wait to go back!!
10. Trophy Brewing: 
Trophy had JUST opened a week before we came and the pizza patio is not open yet, but the beer was awesome and I am really excited to return to have the beer and pizza together on the patio. I have a feeling this is going to be a pretty popular spot in Raleigh in no time. The bar tenders are great and fun as well which always makes for a great atmosphere. Not to mention the design is pretty great, huh?
11. Bida Manda:
I am a HUGE fan of fresh and simple foods so when we went to Bida Manda I was super excited as Laotian food is always so amazing. This was no different and is one of my favorite places now (well besides capital club…very different tastes ;)) the whole experience at Bida Manda is superb from start to finish and the food is outstanding. If you are in Raleigh don't miss this one if you like exploring foods from other cultures. It is fresh and so yum…I am totally drooling just thinking about it. ugh.
12. Fox Liquor:
Another creation by Ashley Christensen this bar was pretty amazing. Serving light eats and great cocktails it is dark, swanky, and stylish. Just down the street from Capital Club come here for your night cap after listening to the DJ at Capital Club. You will feel oh so classy here.
All you Raleighites I know these are not ALL the cool places…I plan to see more, but these were just the places we went and LOVED. I would love to hear more of your favorites so I can have on a list for future visits! Happy Wednesday friends!!!