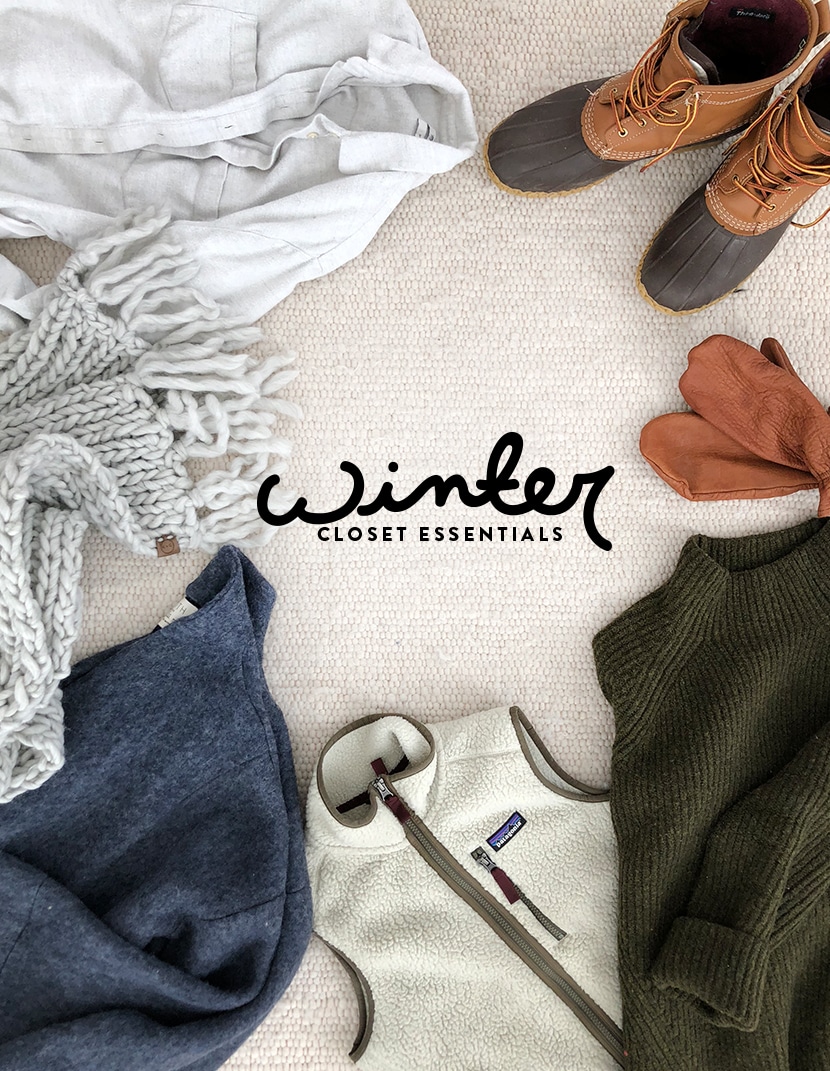 I will admit right now, I am a little behind on this one. The good news is most of the clothing items I am suggesting are on sale and if you are anything like us, you have a solid 3 months at least to thoroughly enjoy those bargains and break them in so they are ready for next winter. A huge upside. The downside some of you are probably wondering, how can I think about not wearing a sweater right now. I am not there yet, so bear with me here.
Winter is an interesting time to get dressed. I use to HATE it. I still get weary long about March when I am still wearing the same sweater and my dresses are haunting me in the back of my closet, but right now I am loving dressing casually and keeping the dressy clothes far away. If you know anything about me, you know I live for comfort and ease especially as a mother now. I don't want to have think about what I put on in the morning, but I want to enjoy what I do put on. I want to feel like the sweater I put on isn't itchy or staticky and instead I am warm and cozy all day long. Now the other thing to take into account about this list in comparison to others, we live on 10 acres in the country and there are a lot of style choices I make out of survival. So this is why I include these things, because I know some of you are similar.
This season, I rounded up probably one of the most practical collection of things I wear to date. Most of these items are either the exact things I wear every day (or close to it), and look for an Instagram story to show you in the next week. Winter is a season I love dressing for because it is the one I think about the least. My priorities are simple: is it warm and do I like it. That's it. I let my boyfriend jeans go till May and I say goodbye to any tank tops because when it is windy and 10 degrees, a tank isn't an optional base layer anymore like it was in the fall.
Now, one other thing I am pretty tried and true about my choice in Patagonia gear other than a few other choices. You don't have to be, but we love it because of all the good they do with their business. They also make some of the best gear in our opinion especially for the price. Hard to beat, but you can make your own decisions as well.
As we dive into this I want to say this time of year I wear basically boots, sweaters, leggings, and coats. I live in Polarfleece leggings and oversized sweaters. My life doesn't warrant much going out and when I do I usually find that choosing a turtleneck and dark jeans with boots does the trick. I have had some people ask me about dressing to go out and do things things time of year and I will tell you that a cashmere turtleneck and dark jeans goes a long way with some warm waterproof heeled boots, but I also live in Northern Michigan.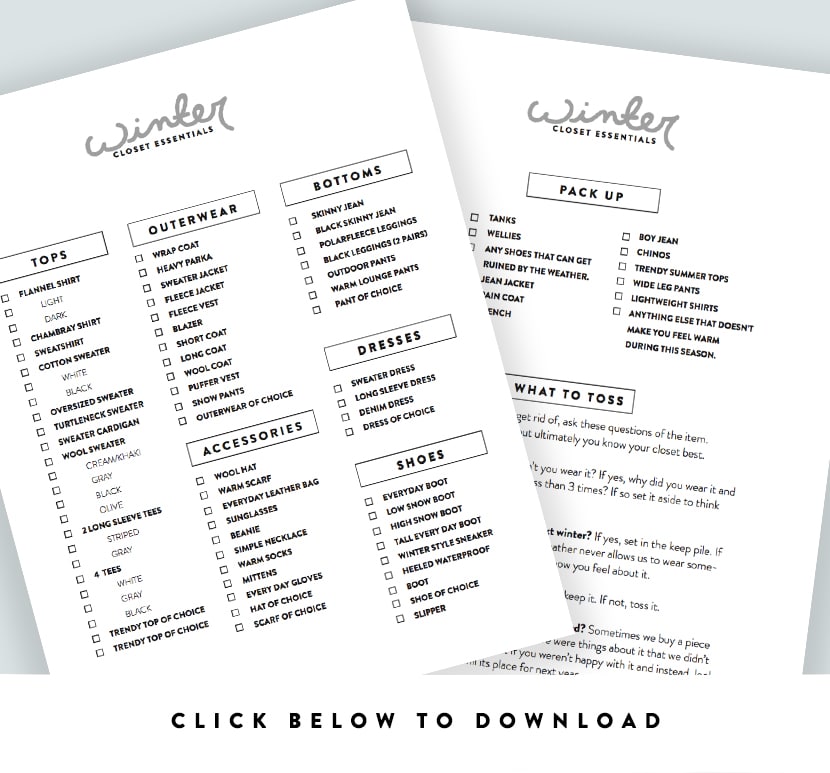 Okay let's dive in. Just don't forget to download your worksheet so you can put away things you don't need right now so you can better see the things you do have an assess what you needs to be added. You can download it here.

Striped Tee:
A basic essential. It easily layers under any solid sweater or coat in the most classic way. On a warm day, (aka over 35) you can pair it with a vest. Perfect!
Gray Sweater:
This is an absolute essential. A good wool gray sweater will last year years. Finding one that isn't itchy is key. What I love about wool is that it doesn't retain scents and it wears like iron. Literally, it can bend on itself more than 30,000 times vs. cotton which can only bend on itself about 3,000 times. Pretty crazy.
White Tee:
I live in white tees and I have hunted for perfect ones for years. These from Imogene and Willie are the perfect ones that get better with wear. They are just slightly off-white because they aren't overly treated. In the winter, I don't leave the house without at least one layer under my sweater. A white tee is a top pick to go under just in case I decide the place I am going warrants removing my sweater, which does happen.
Olive Sweater:
A wool olive sweater is one of my favorite things to have. Make a turtleneck and even better. I don't wear a lot of color so to speak, but I do wear a lot of olive green. It feels colorful to me without give up my neutral choice in clothing.
Flannel Shirt – Light:
This time of year I really only wear flannel shirts. I couldn't link to the one I wear the most in a light tone, because it is sold out, but Tradlands has some of the best flannel I have ever come across. Literally worn it with my coat open on a 10-degree day and forgot my coat was open it broke the wind and kept me that warm. Crazy, right?
Sweater Cardigan:
I love a good sweater I can toss on without thinking. Recently took advantage of this one being on sale and am in love with it. One size fits all means it should stick with me for a long time.
Gray Tee:
One of my other favorite tee companies is Mollusk. They use a hemp fabric and I really love it especially on cold days. It keeps me warm and cozy but then transitions great into the other seasons.
Wool Sweater:
A classic wool sweater in a white tone will do the trick anytime you need to put something on you want to feel good about. I have this one and live in it almost every day. It is an awesome everyday sweater to have.
Black Tee:
Another basic for layering and even great for those early spring days under a blazer or open cardigan.
Flannel Shirt (dark):
This is one of the flannels I own from Tradlands and I love it. Seriously I cannot speak more highly of their flannels. I typically layer them under sweaters or light outwear as a great warm layer on a chilly day.
Turtleneck Sweater:
I am not a huge fan of dry clean only things especially as a mom, but Mike got me this Cashmere Turtleneck from Everlane and it makes me feel so chic and put together. It is the perfect piece to wear for a night out when you still want to be warm. I don't typically wear it on days I am on Mom Duty. If I do it is under something else.
Sweatshirt:
Winter is one of those wonderful seasons where sweatshirts are acceptable. What is even better is sweatshirts have become chic with various styles that offer warmth and style. I love the ones from Lou & Grey personally, but Everlane and a few other companies offer great options as well. I wear them on days I just don't want to get too dressed but still want to feel put together.
White Sweater:
I know you aren't supposed to wear white before Labor Day but I beg to differ. I love white or creams in the winter. I think it is a simple reflection of the landscape and can look amazing with dark pants on a cold day. I don't wear much color so white is a perfect contrast to my normal "color" choices.
Oversized Sweater:
I told a friend once when she asked what I wore to stay warm in the winter and I said, I dress like a pregnant woman and I wasn't lieing. Most of my wardrobe this time of year involves a lot of oversized things. I love them because they make me feel like I am wearing a blanket all day, which is basically how we want to live in the north. Granted this makes you not capable of knowing where you are in the weight gain, but I figure that is for me to worry about come spring.
Top of Choice #1:
As always I leave room for two tops that fit your life in this list. This is my first pick. A white cable knit sweater that is oversized. I usually pick out one or two sweaters every season to freshen up my wardrobe a little. Since I really wear my clothes in this season I like to bring in one or two items that make me excited to dress all winter. I think more than any other season this is important. So a sweater or two that get you jazzed is important. Let go of the one or two that you are kind of bored or or even swap with a friend if you want something fresh without buying something. It will make it feel new to each of you.
Chambray:
This is on the list of things you should ALWAYS have in your closet no matter the season. A Chambray is something you should 2-3 shades in. At least that is what I do. It is the perfect layering piece and doesn't feel hot in the summer or cold in the winter. Super important!
Gray Long Sleeve:
I keep a gray long sleeve always handy because it will layer well under everything in my closet even other gray things. The Rivet and Thread shirts from Madewell are great and worth the investment I have found.
Top of Choice #2:
So you want something fun? I get it. I love having one piece that is just kind of the wild card. Granted, this is me being wild. I love this top and the way the sleeves move. It is warm but great for a date night or day in the office or even off doing meetings.
Black Sweater:
I have been eyeing this sweater to replace another black sweater in my closet because I know it will stand the test of time. This is why I personally love L.L. Bean and that isn't an ad. I think they do a great job creating pieces that work well in the elements. If you can get past the older lady feeling, I promise their stuff is really amazing. A black cable knit fisherman's sweater is one of the most classic pieces you could have in your closet. A tip, buy it at least one size up or buy a men's small for an oversized fit.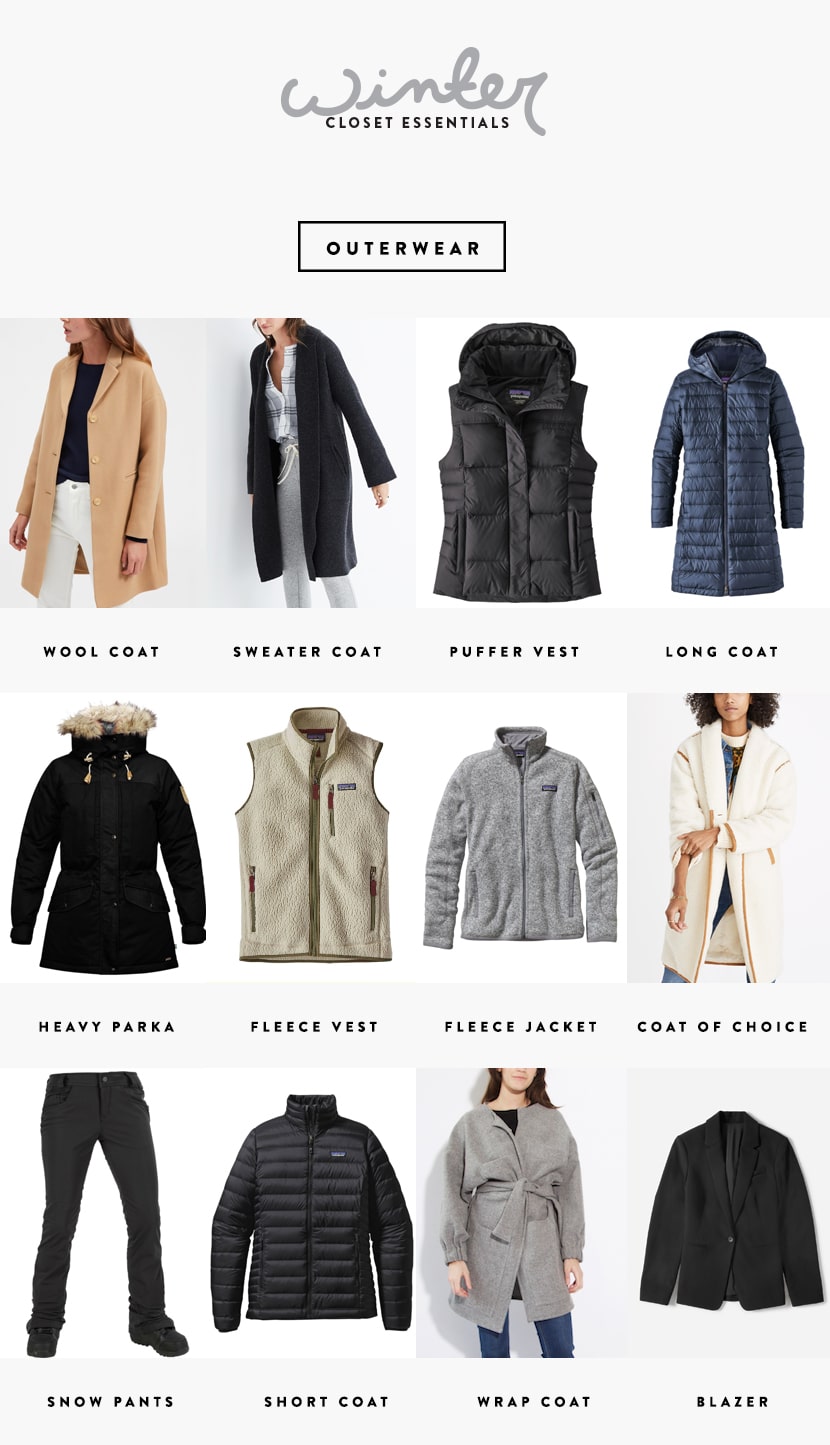 First of all, yes, I wear all of these coats. Second of all, you may not because you don't live in the Northern Midwest where it snows from November to May. That said, pick and choose what you really need. Coats are as important as sweaters.
Wool Coat:
Whether you buy camel or black or charcoal doesn't matter, but having a great wool coat is a necessity for nights out or just casual above 30 degree days.
Sweater Coat:
I love a good sweater coat and how you can layer it with something like a cashmere turtleneck sweater or another lightweight shirt. Leave it open or tie it closed. It is also a great way to dress up leggings, which is basically a staple of winter.
Puffer Vest:
You cannot live without a puffer vest. Finding the right one is important though. I hate ones that make me feel puffy. This is why I love the ones from Patagonia. They do a good job of giving warmth without the puff. I wear them under lightweight coats or as my main outwear over a more fitted wool sweater on warmer winter days.
Long Coat:
It is extremely important to have a long winter coat. I love this one from Patagonia and wear it a lot. I bought it one size up so I could layer under it easily. It is warm (especially on non-windy days) and gives nice form, which are all key to a great coat.
Heavy Parka:
Now, I have this Fjallraven coat suggested here, but everyone has their views on down, fur etc. I have tested a lot, even this one, and I actually returned this because it didn't fall right on me. I ended up with a Canada Goose coat. It is literally the only coat I have found to keep up with the weather here, but because I know a lot of people don't agree with their practices I am not suggesting it to you since, but I didn't want to lead you to believe this is the coat I have. The greatest suggestion I have is go try a lot of on and do a lot of research to find one you feel good about and works well for where you live. I also suggest one that covers your butt so wind and snow do not come up under it. A good parka though makes all the difference in how you enjoy winter.
Fleece Vest:
A fleece vest may be the most versatile item in my closet. I wear this about 9 months out of the year. Whether on a winter day over a sweater and under my main coat or on a cool summer day over a t-shirt. It is my go-to in my closet. Not to mention the ones from Patagonia are wind resistant, which I really need on top of a hill even on an early summer day.
Fleece Jacket:
Another piece I wear almost 9 months out of the year. This sweater jacket from Patagonia goes everywhere with me. Most of my friends also own one and my whole family has one. I love that it doesn't look like a fleece on the outside, goes with everything, and is warm and breathable at the same time. Worth the investment.
Coat of Choice:
I kind of love having a fun coat to lean on when I want to mix things up a little. This sherpa style coat from Madewell is a great fun piece that is still warm and exciting when you need something like that. Obviously to each their own, but I personally love this one.
Snow Pants:
The essential piece to even every day life and getting the mail are snow pants. I have shell pants that slip on over my polarfleece lined leggings, but you can get insulated thinner more fitted pants as well. On really snowy days you have to keep the snow off of your body to stay warm. So even the most waterproof leggings need some help. Now for most people you don't need these, but like I said, if you live in a snowy place invest in some.
Short Coat:
The short coat puffer coat is a necessity. I need a new one and this is on my want list right now. Watching for a sale on one or hunting Patagonia's used section for one. This is another piece that serves from fall to spring.
Wrap Coat:
A good winter wool wrap coat is really wonderful, especially over another sweater. I like to wear this look on days where snow isn't coming down and it is sunnier so I don't need to layer on the big guns and can mix it up.
Blazer:
An essential every season for layering or just for work or anything. I always have one on hand in my closet.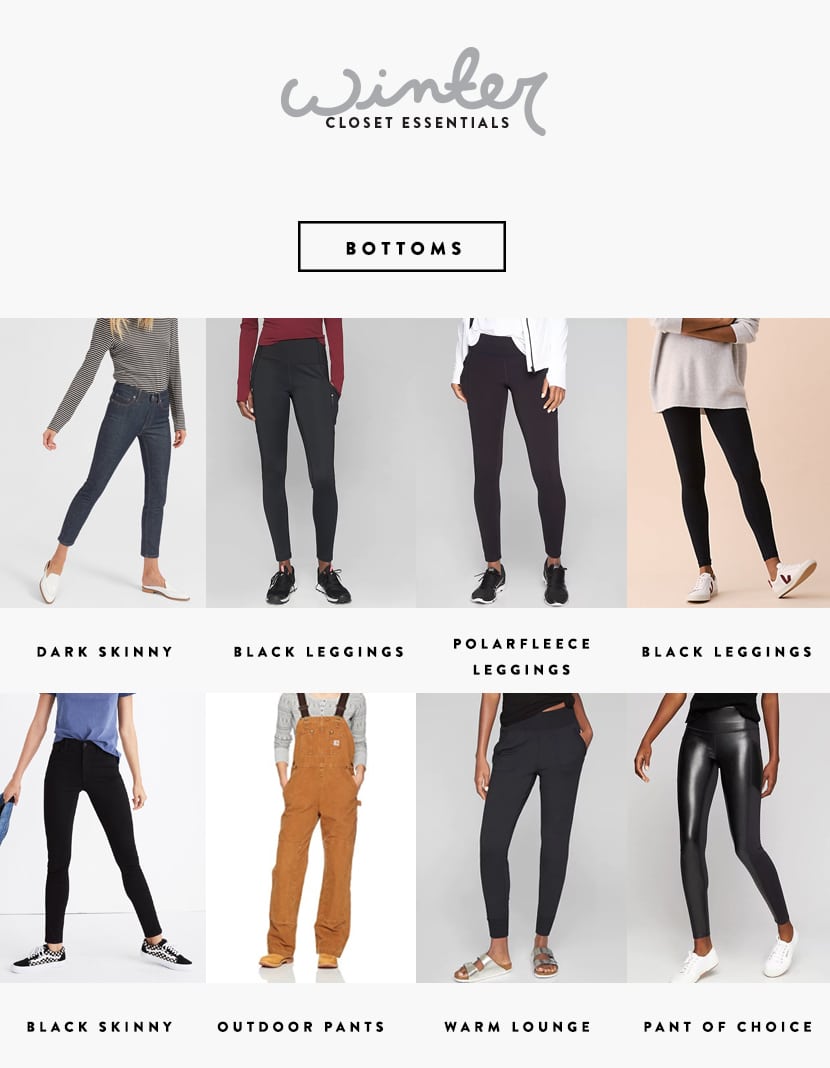 Dark Skinny:
Winter is hard to wear anything but a pair of pants that goes with snow boots. Once you commit to that you will complain way less about the weather. Guaranteed. Then start your hunt for the perfect skinny jean. I suggest dark skinnies for winter. I have found my favorite are from Everlane. Affordable and cleanly produced. Hard to complain about especially since the fit is right on.
Black Leggings (Pair 1):
I live in leggings in the winter, but having the right pairs is essential. I have these high waisted Traverse pants from Athleta and I love how they fit. They keep the snow off me and are warm without the bulk. I bought them for XC skiing but have sense used them for every day wear as well because they are that awesome!
Polarfleece Leggings:
I cannot explain how these changed my perspective on winter. I suggest them to everyone I know that lives in the north. If you do not own a pair of polarfleece lined pants change it NOW! I can be outside for over an hour on a cold day and not feel it. These are the heavy parka of pants. I love these from Athleta and honestly sized down in them for reference. All of my good girlfriends and I have a pair and wear them non-stop all winter.
Black Leggings (Pair 2):
For a lighter more everyday pair of leggings that still have great weight, I suggest these from Lou and Grey. They are relaxed but still can look chic which is important in winter attire.
Black Skinny:
The only other jean you need is a black pair. I need a new pair and am eyeing these ones from Madewell right now. Anyone with experience with them please let me know if I should go for it. These seem so good!
Outdoor Pants:
Okay here's the thing, most of you don't need these, but for those of you that do, these are the winners. When you are out in the snow a lot or just doing work you don't want to ruin other nicer pairs of pants with (aka winter gardening and composting) these are an essential pant for outdoor work through into winter and late fall. Like said most of you won't need more than snow pants for day to day life.
Warm Lounge Pants:
Sometimes I feel like when I have spent all day in a pair of leggings, I want something looser but still warm to wear around the house. I love these pants because they are like an upgraded sweatpant. They are cut like joggers and made from the coziest yet lightweight fabric.
Pant of Choice:
I chose these faux leather leggings as my pant of choice. I love that they have a pocket and that they add a little glam to every day outfits for meetings, days I want to wear something not related to outdoors but I could still easily wear to workout in.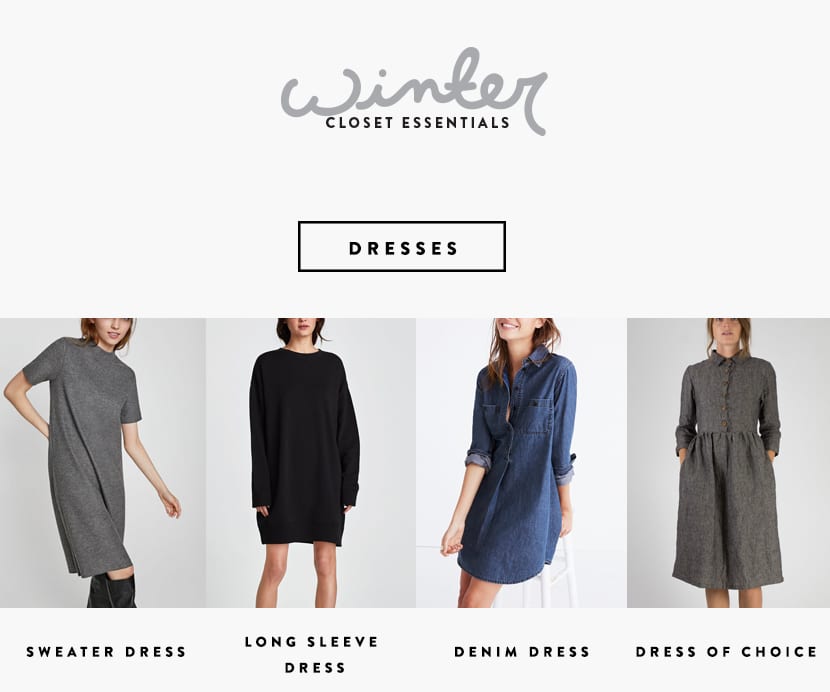 Sweater Dress:
I don't really wear dresses in winter since bearing legs even in tights sounds awful, but I do throw them on over leggings for nights out with friends or even to host a dinner party at home. I love a sweater dress like this one because you can layer under it very easily. Wear leggings, your taller every day boot or snow boot, and then on a really cold night layer a button up or long sleeve tee underneath. Toss on a scarf or necklace and you are good for the evening.
Black Long Sleeve Dress:
Another great dress with similar options is having a black long sleeve dress like this. Similar thing, toss it on with leggings and even your winter sneakers and a beanie even for a more street look.
Denim Dress:
A denim dress never is a bad thing to have in your closet. In fact it may be the equivalent of a chambray to me. Having one you can layer over tights on a warmer day or throwing a sweater over the top and leggings underneath. This is an easy go to to stay cozy and warm when having to dress up some.
Dress of Choice:
I love a good linen or flannel dress especially one I can wear in the winter and then into fall and early summer. It is the perfect transitional dress to keep as a layering piece throughout the year. But you may want to choose something else for yourself.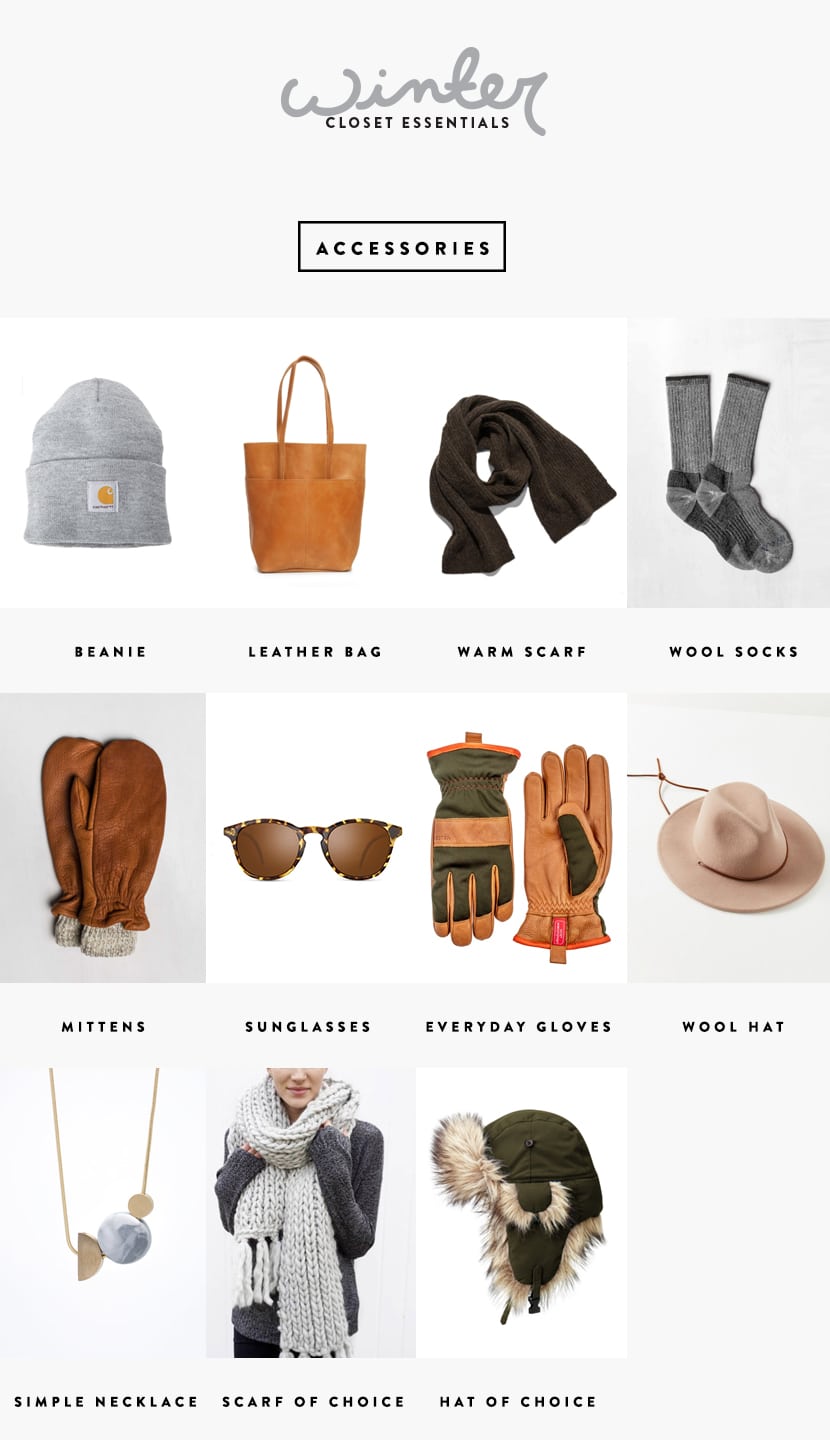 Beanie:
I have tried a lot of beanies and I will tell you that a $10 Carhart hat is still our top choice in our house. They aren't just stylish for us in the north they are part of survival. Don't go buy one for more than $10 though. They are utility not a style statement. Save your money for a wool sweater you love or winter boots that you can put up with wearing every day for 5 months.
Leather Bag:
I don't like bags. In fact most of the time I either have my computer bag or Hayes's backpack on. This one though is a must have for every day use. I think any type of leather bag that will stand the test of time is an essential piece no matter the time of year.
Warm Scarf:
Don't skimp on the scarf. Get a good wool one that is cozy and warm. End of story. I love this one from Taylor Stitch.
Wool Socks:
We wear Smartwool socks most of the time but I have been impressed with the gear I have from United By Blue and these are their socks so I am saying they may be worth a try.
Mittens:
I have these mittens and they are amazing. The leather keeps the cold out and the wool inserts keep you dry and warm. On lighter winter days, I take the leather off and just wear the wool inserts.
Sunglasses:
There is not anything brighter than a January day after a fresh layer of snow. Nothing compares to that level of brightness. Mike and I love our Sunskis and swear by them, plus you cannot beat the price on them.
Every Day Gloves:
Mike and I do a lot of outdoor things such a taking recycling out, composting, etc so we need good gloves that will put up with some dirty work. You may choose another type, but we like the Hestra gloves we have from Huckberry the most.
Wool Hat:
On non-windy winter wanders, I enjoy having a brimmed wool hat over a beanie. It helps to keep the snow out of your eyes and still keeps you warm.
Simple Necklace:
Having one or two simple statement pieces in your closet is all you need. Make sure you really love them and want to wear them a lot. But these will dress up nearly anything you put on.
Scarf of Choice:
I like to keep at least two scarves around. This one by our sweet sitter, Rebekah is one of my favorites I wear quite often. She makes them by hand and gives away 10% of her profit to help fight human trafficking.
Hat of Choice:
The only thing better than a beanie is a fur lined hat. You can for sure do faux fur, but either way they are warm and on REALLY nasty days these would be my top choice for a hat.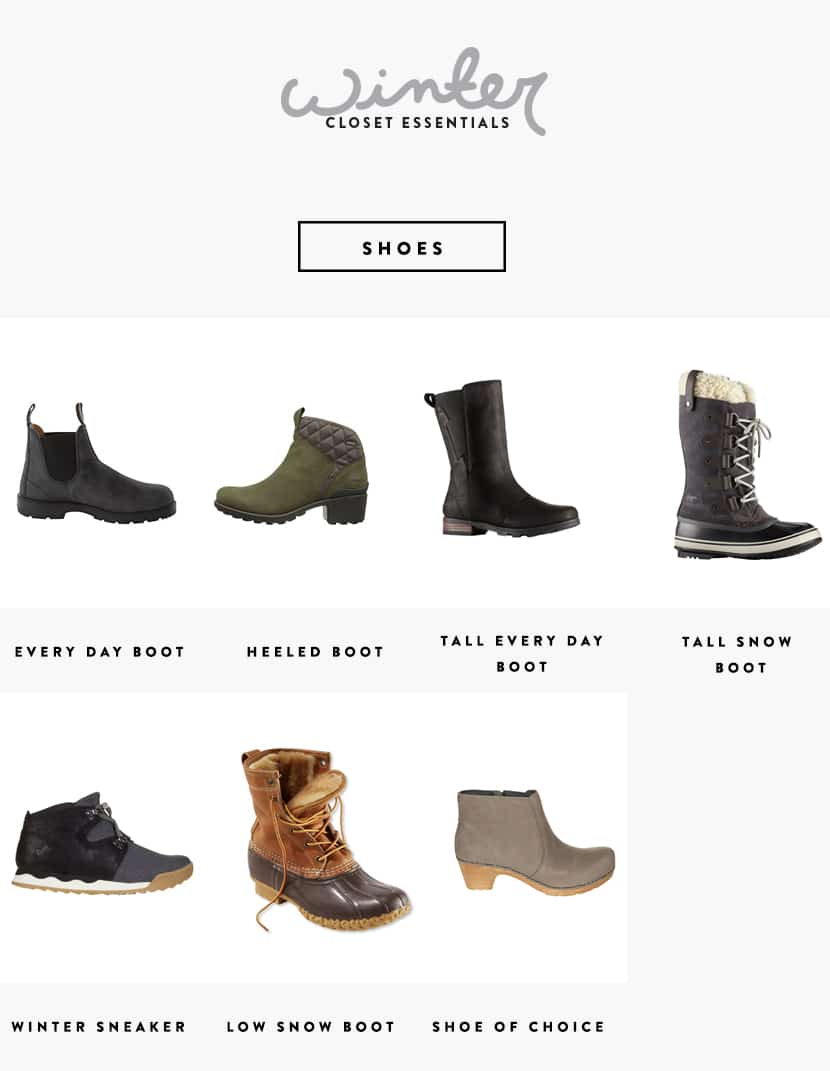 Every Day Boot:
Most days from late summer to late spring this is what you can see me wearing. Mike and I live in our Blundstone boots. They may look a little chunky, but they are waterproof and work so well against the elements nearly year around. Great for hiking or just going to run errands. Basically the shoe for life in Northern Michigan.
Heeled Boot:
I got these this fall and though they were sent to me for the post, I fell in LOVE with them. Merrell is a favorite brand for shoes but sometimes they aren't always stylish. I wear these all the time, the treads in sure I don't fall in the snow and they keep my feet dry as well. Perfect for snowy nights out for a date or just when I want to feel fancier.
Tall Every Day Boot:
Sometimes you just need a boot that is a taller to fight the layers of snow coming down. These ones from Sorel are a great mix of winter and style I think. They are on my list for a next purchase.
Tall Snow Boot:
If you get as much snow as we do and don't have a garage, you know the necessity of these. I have the Caribou's currently and am planning to sell them and I am hunting for a pair of these on sale to replace them. I need something taller and these are most likely the winner.
Winter Sneaker:
Oh yeah it is possible. I found these and am keeping an eye on them to replace my current winter sneaker that has less traction. Great for cold days with no snow coming down.
Low Snow Boot:
These are my constant, but I don't have the fur and I wish I had splurged for it. My toes get cold even in my Goretex ones from L.L.Bean after too long outside. Tried different socks and everything, but I have read these are the step up that can help with those cold toes.
Shoe of Choice:
I love these clogs from Dansko. They don't have a wood base so you won't ruin them in the salt and water. Waterproof the rest of it and they will be great shoes for the winter warmup and transition into spring.
Lastly, the only thing I didn't include were slippers. YOU HAVE TO HAVE THEM. End of story. I wear these ones and I couldn't say more good about them. They also come in rubber bottoms and I have heard they are even better.
Don't forget to download the worksheet so you can go through your closet and figure out what you need for the rest of the season. Also watch the sales. Winter gear goes on discount at the end of the season and it is worth hunting if you are living in the colder parts of the world.
So tell me, what did I miss? Any other gear you swear by for the season? Have you found something you love as well!? Share!!! I know people will want to hear.