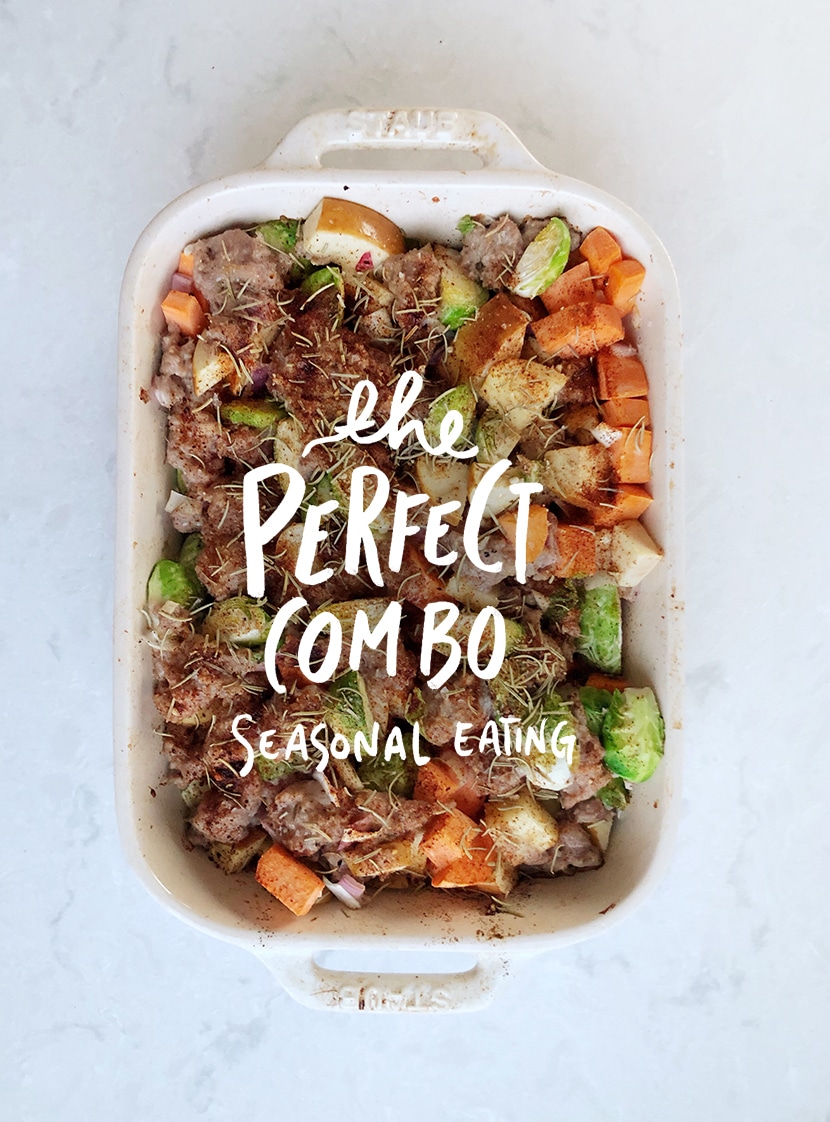 Eating this time of year by the season can be a little disheartening. We are pulling from things that farmers have kept in cold storage or are coming from a little further south. There is nothing wrong with that, but this is recipe is one that will help you make a very yummy and exciting dish that everyone in your family or even just you excited to enjoy those root veggies and end of the season veggies.
I learned about this dish years ago when a girlfriend made it for us after we had Hayes, since then I have realized the depths this simple dish offers and how healthy it is. We make various kinds of combos of it but I love it because I can chop things quick and put it in the oven, walk away and in under 40 minutes we have dinner ready and on the table while I get some quality time with Hayes and Mike can tie up work for the evening. Everyone enjoys it and we all gobble it down and hope for leftovers the next day. Full of flavor and greens and protein it will fill you up and have you wanting more. So here is my version of this combo with alternates for nearly any similar combo and dietary restriction.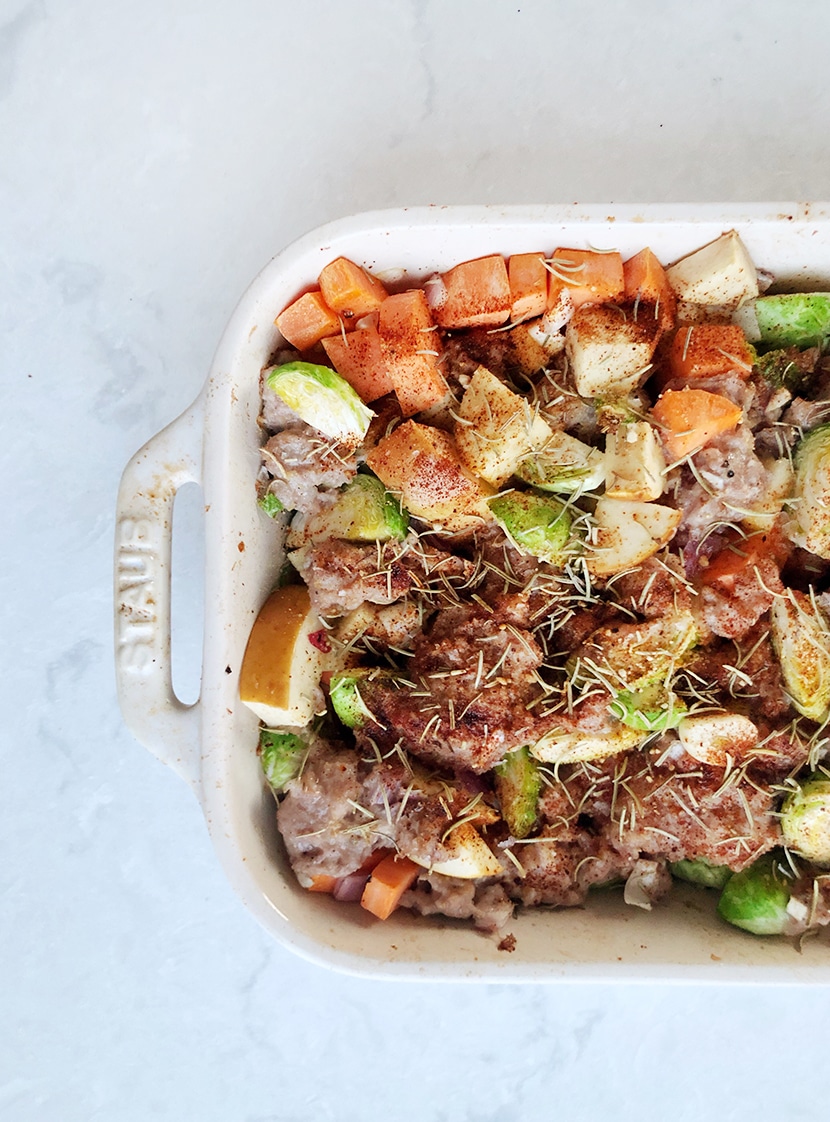 The Ingredients you need:
1 LB Sausage – You can use ANY sausage or ground meat you like from a vegan one to pork to lamb to chicken. Anything works and I have tried it all.
2 Medium Apples – I use the ones at the edge of going bad so perfect this time of year (I also used applesauce one time too haha…worked great!)
1 cup quartered and cleaned Brussels Sprouts (can also use broccoli)
1/2 roughly chopped red onion (can use shallots or Vidalia as well)
2 garlic cloves (I just slice or rough chop them)
2 cups Sweet Potato or Butternut Squash – either one works great
1 tsp. Paprika
1 tbsp Stone Ground Mustard
Salt and Pepper to taste
2 tbsp Olive Oil
Fresh Rosemary or Sage if available
* You can also add in Rutabaga, Turnips, or any other root veggies you need to use up. Really this dish can take any veggies that roast and it will be great!
* If for some reason you don't have apples add in Golden Raisins for a touch of sweetness
Equipment needed:
1 Cutting board
1 sharp knife
1 9×13 Baking pan
Hot Pads
Oven
Stirring Spoon
Meat Thermometer
To make here is what you do:
Preheat the oven to 400 Degrees.
Chop all veggies roughly and as they are ready drop them in the roasting dish.
Either slice or separate sausage (depending on what you are using) on top
Add Olive Oil, Spices, mustard, herbs, and S&P
Stir together
Let cook for 30-40 minutes or until meat is thoroughly cooked. Cooking sausage or any ground meat is important in order to ensure it is safe to eat. Know the temp your meat should be at. Most meat thermometers have a guide on them for reference.
Let set for 10 minutes.
Serve with a grain is desired and if you would like, top with your favorite fermented veggies or Sauer Kraut.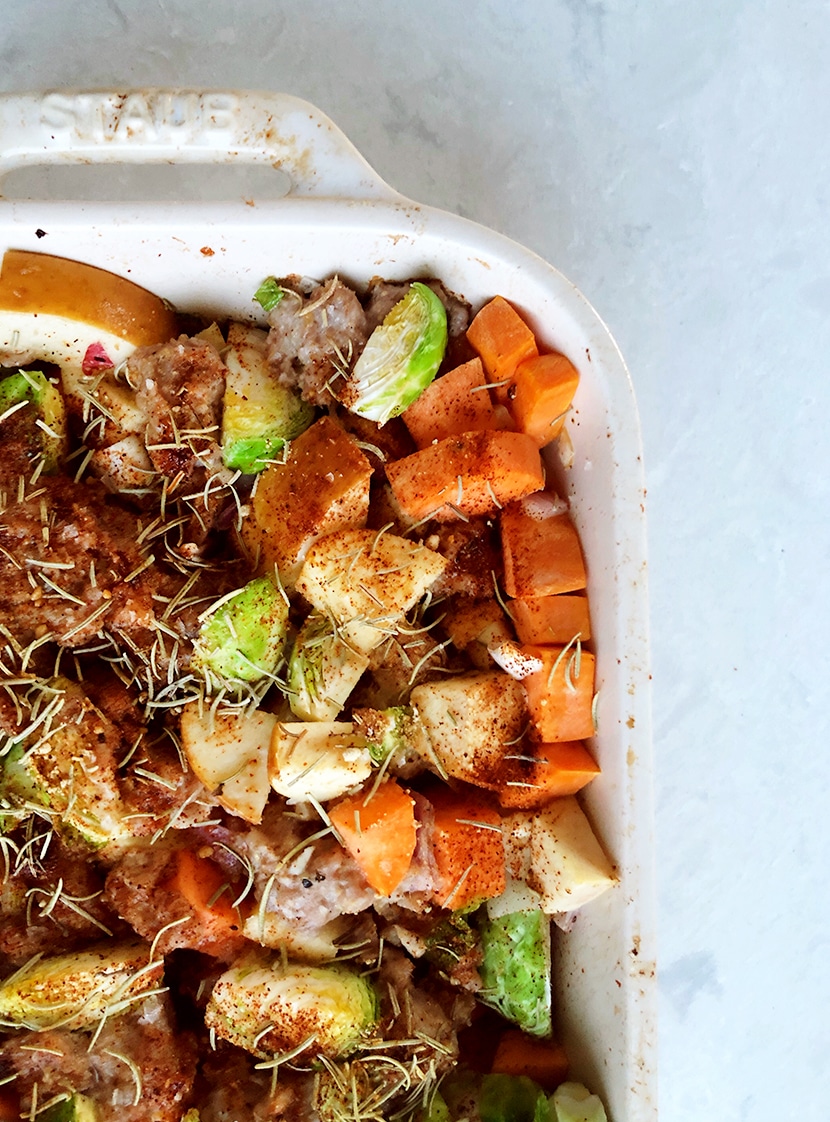 That is it! Super simple and easy for a weekday meal or double it to feed a lot of people for dinner. A kid-friendly and yummy meal full of seasonal vegetables you can eat with nearly any combo. A great go-to for nights you don't want to put in much effort at all. Also, it makes great leftovers with an egg the next day too!