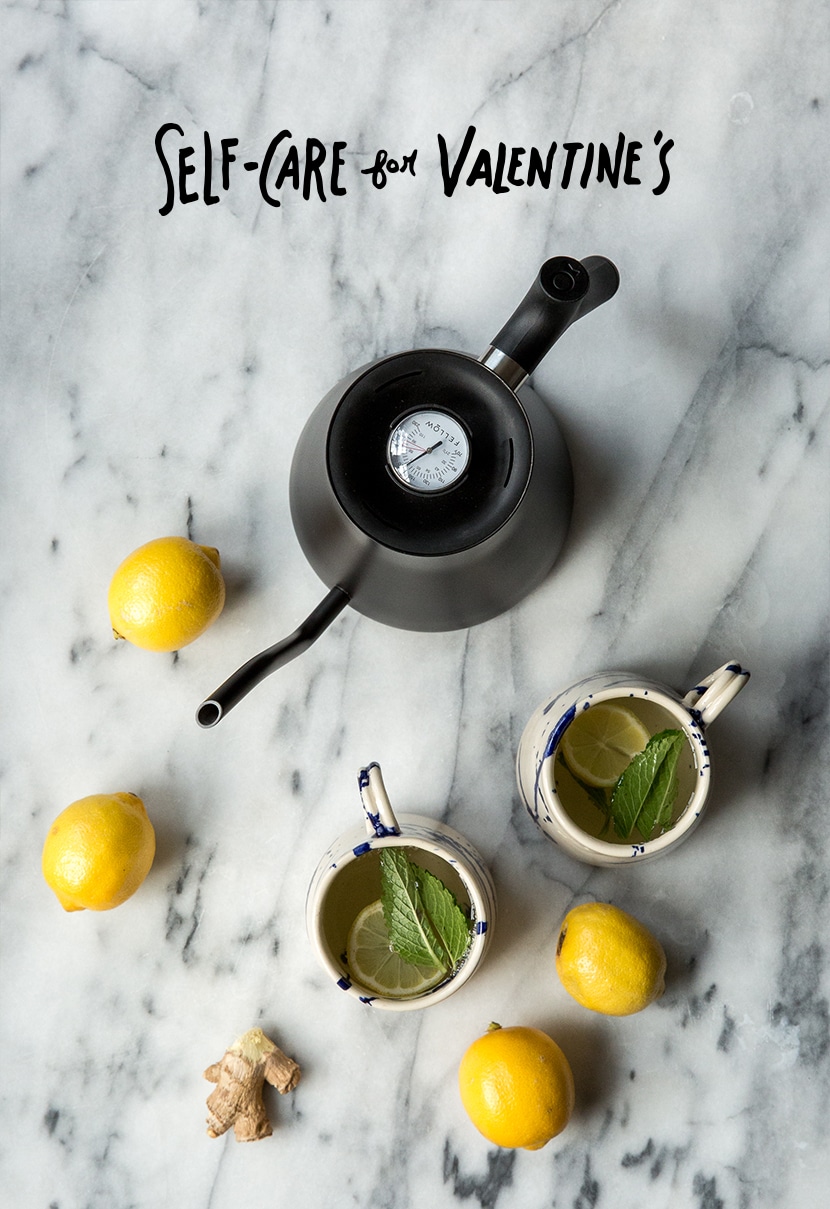 When you think about Valentine's Day, we all think chocolates, flowers, and sweets. However, with valentines Day also being Mike's birthday, we have always been non-traditional. Sure flowers make a girls day, even on her husbands birthday… but I knew what I was signing up for with this guy. This year not only is Valentines Day Mike's 30th birthday, I might be in labor or day away from labor. So with the new changes coming our way, we wanted to give each other a gift that would make us feel good.
So, we decided this would be the Valentine's day of self-care. We picked some of our favorite self-care products and partnered with our friends at Huckberry to share a few great ideas, to either gift yourself or your loved one. We have pulled together three ways to either care for yourself or help someone you love pamper themselves this year.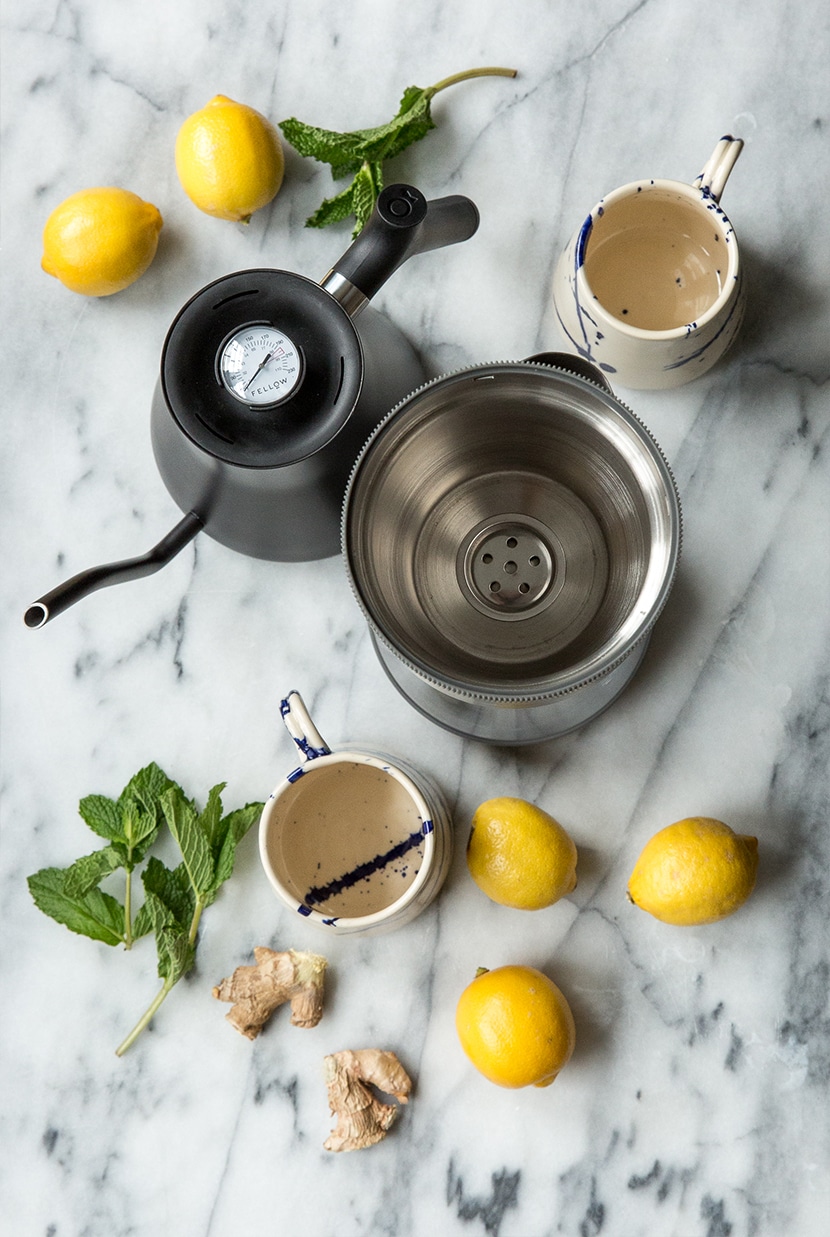 During the chill of winter, we love to begin every day with our homemade hydration tea. It warms and hydrates you inside and out. The dry air of winter can be hard on your skin, so it is even more important to remain hydrated in these chillier months. We love a great cup of coffee in the morning as well, but if you can manage to make this recipe before your cup of coffee your body will thank you. We are using the Fellow Duo Steeper and Fellow Stagg Kettle to make this homemade hydration tea. This set up can also brew a great cup of coffee, after your hydration tea.
To make the tea, you will need the following:
1-inch piece of fresh chopped ginger 
8-10 mint leaves
1 lemon sliced
Roughly 450 ml of hot water to fill to the top ridge of the steeper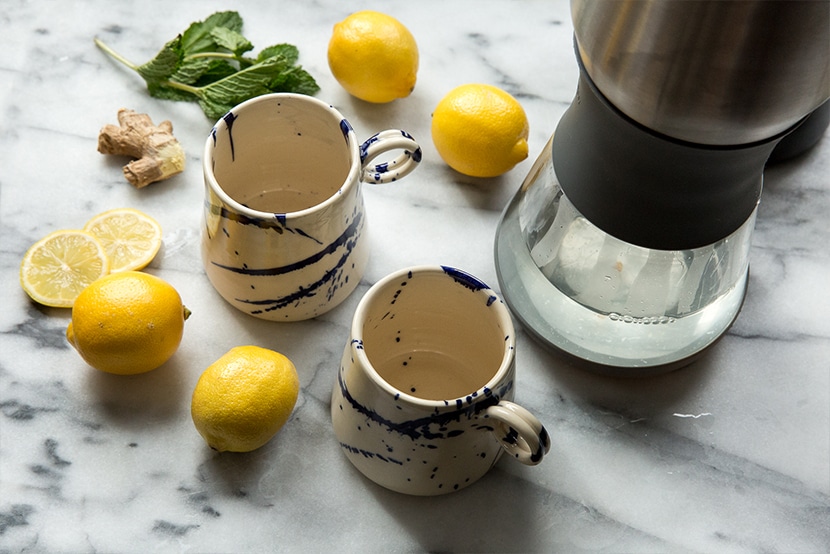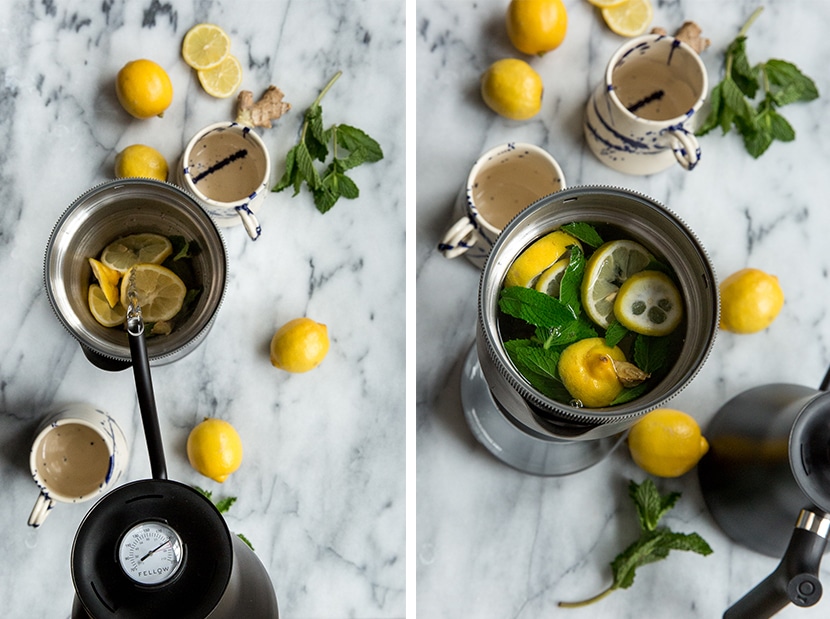 After chopping the ginger, slicing the lemon, and pulling the mint; add them into the top of the Duo Steeper. once your water is boiled, pour in approximately 450 ml and let steep for 6-8 minutes depending on the strength you want. Once it is done steeping, we release the liquid from the top chamber to the bottom, which is super cool (see video here), and then you have a nice little warm drink to get your morning started. We garnished our tea with another slice of lemon and a couple mint leaves as well.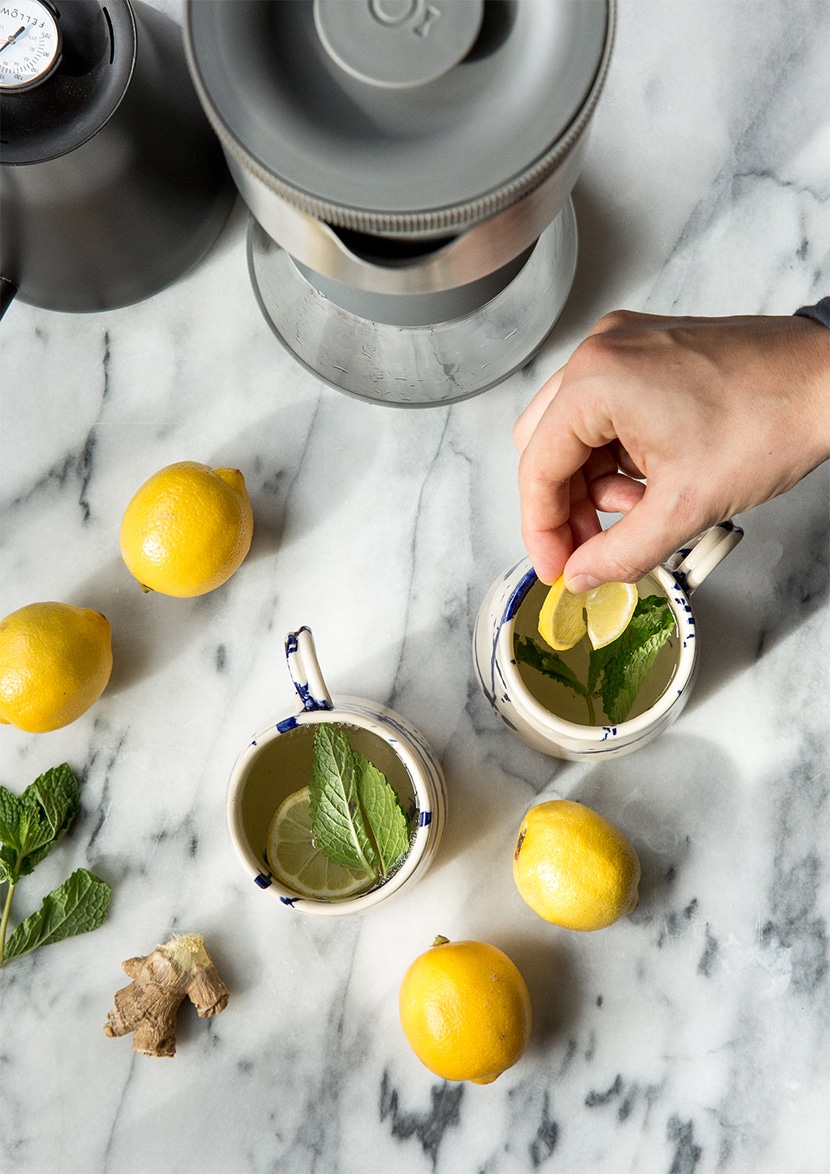 We don't have many items in our kitchen that can cross the lines between coffee and tea so we love this full collection from Fellow. Plus it's great for camping or road trips, so it has earned its place in our kitchen.
For a refreshing morning: Fellow Duo Steeper  |  Stagg Pour-Over Kettle  |  Chris Earl Mug Set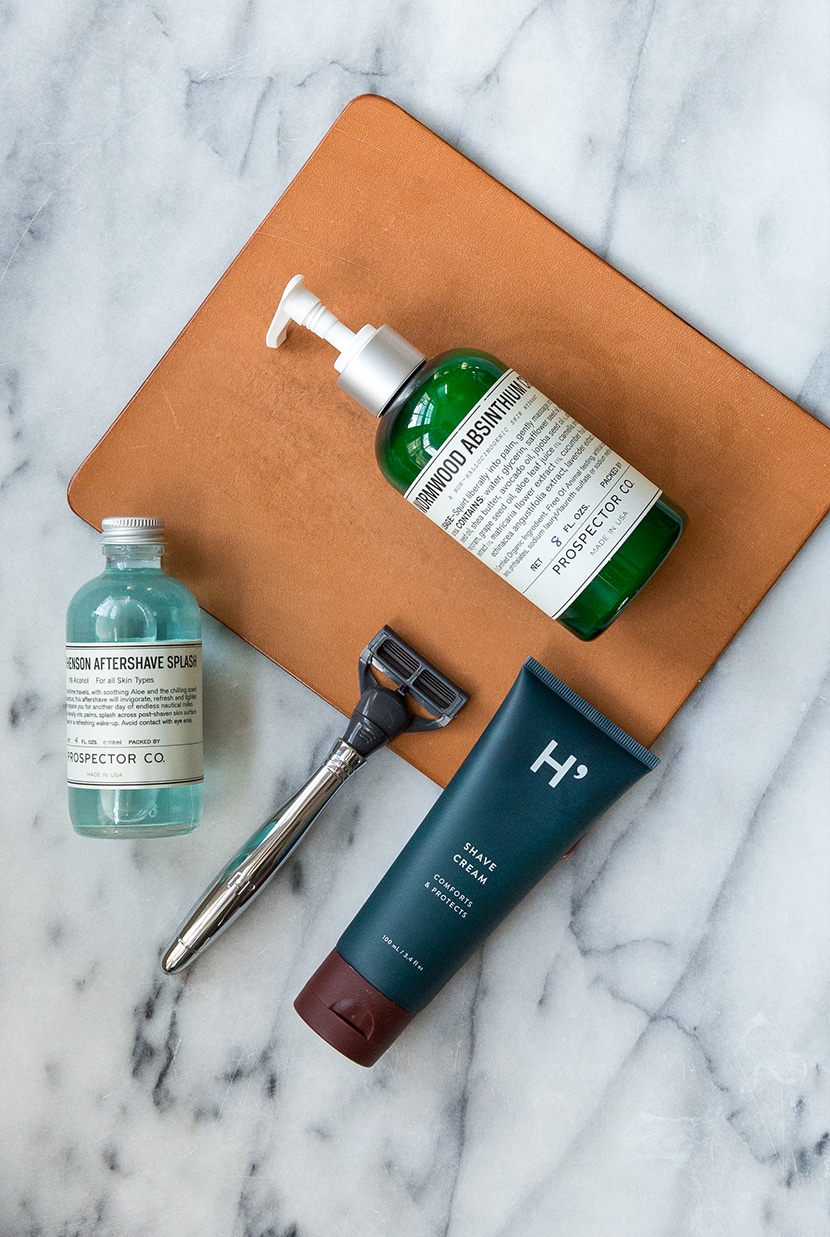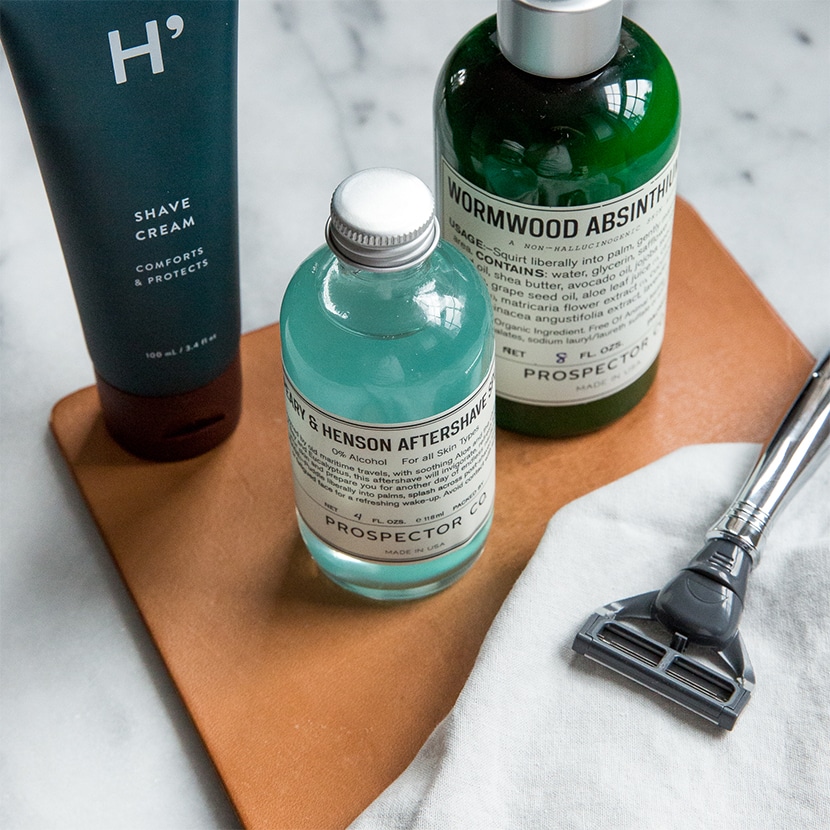 As we mentioned in yesterday's post, we have been focusing on trying to keep the skincare products we use as simple, natural, and of course as beautiful as possible. Which is always nice when the quality of a product matches the design. Mike has been trying a lot of men's products to find out what he wants, and the products above have stood out. We have always loved the simple design of the Prospector Co, and the aftershave and lotion are just as good as they look. Both Mike and I, have both used and been HUGE Harry's fans since the day they launched. I know it's a men's line but after a couple weeks of stealing Mike's razor, he ordered me my own. So I thought I would return the favor and upgrade his Harry's razor to the Chrome collection.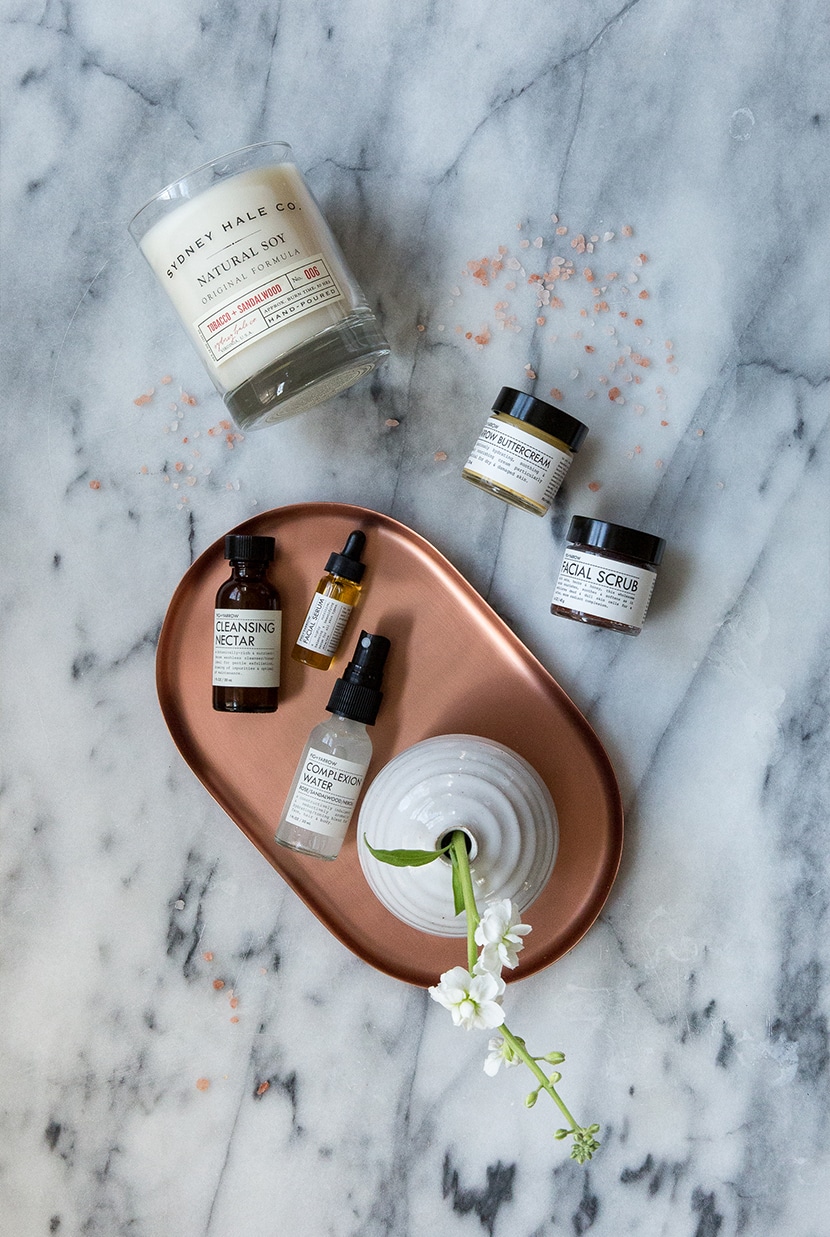 For myself, I have been obsessed with anything and everything from Fig + Yarrow. The simple labels, the approachable price, and the scent sold me. Part of treating myself lately doesn't just have to do with great skincare, but the little extra things that great me in the bathroom when getting ready such as a great candle like one from Sydney Hale and a vase with fresh flowers. It doesn't take much to make me feel special these days.
For him: Prospector Co. Aftershave  |  Prospector Co Absinthium Cream  |  Harry's Chrome Collection
For her: Facial Care Kit from Fig + Yarrow  |  Sydney Hale Candle  |  Cocoon Bud Vase
What are some of your favorite ways to care for yourself this time of year? What do you normally do for Valentine's day either for yourself or someone you love?
This post was in collaboration with Huckberry. All opinions and thoughts are our own. Thank you for supporting the brands that support The Fresh Exchange.