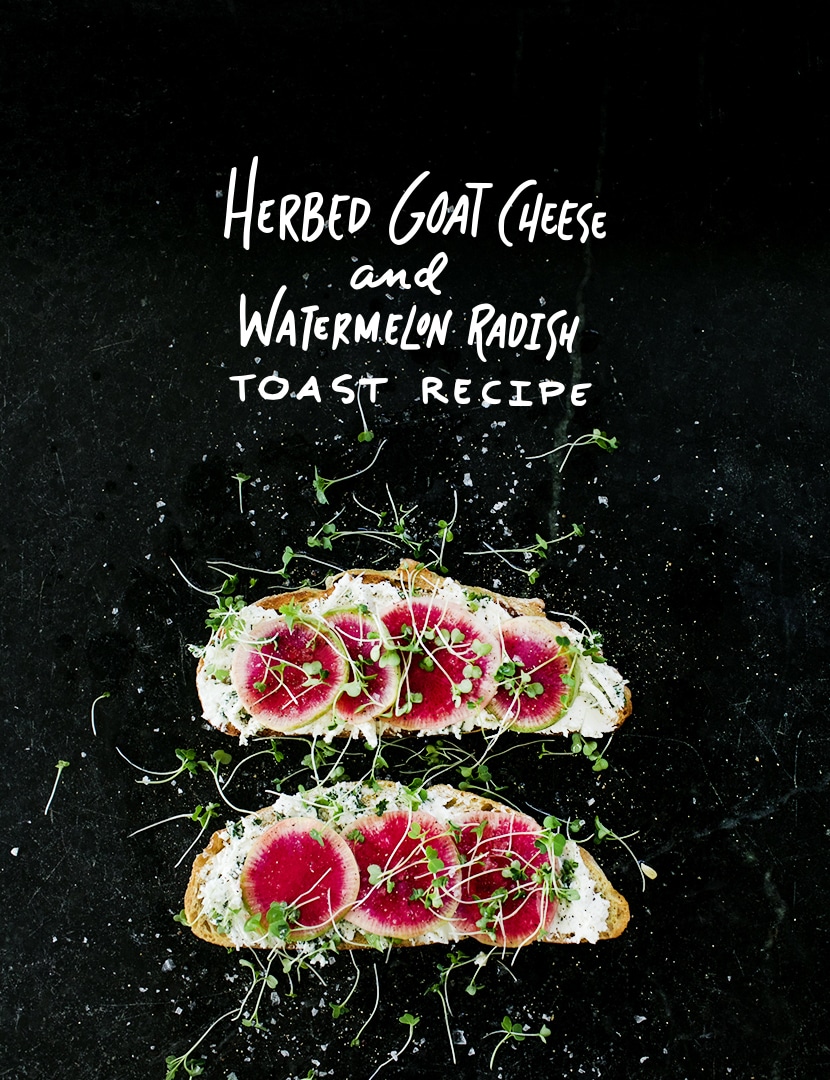 As spring veggies begin to surface, I want to be sharing simple and easy ways to make the most out of them. It can feel overwhelming sometimes to walk through your local grocery store or farm market and know what to do with veggies when they are in season. So, I am hoping to offer some beautiful and simple recipes that will make you feel empowered to buy something you may have otherwise skipped over. One way to do that is through simple toast recipes. We have four for spring and will be sharing them over the course of the next two months. First up is this very easy and delicious one that makes use of two of my favorite spring items: watermelon radishes and microgreens. These are two veggies you will see early in spring and sometimes even through late winter.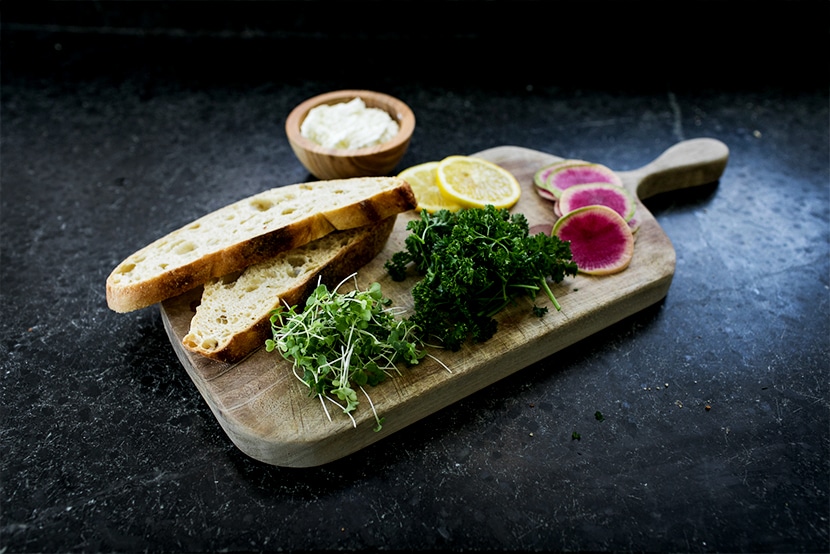 Toasts are a great way to make a simple meal (in fact we had these for dinner) and to use up fresh veggies with little ease or prep. I typically make bread every few weeks using this no-knead recipe I shared a few years ago. It is my go to and is so simple to make. After you make the bread making your toasts is quick and easy. If you don't want to make bread, though, I would suggest going to a local bakery and picking up a ciabatta or sourdough loaf to make your toasts.
I love this toast because of the watermelon radishes in particular. Watermelon radishes look deceiving on the outside. They are light green or white and typically do not seem to be something that would be beautiful, but don't be fooled. These guys pack a huge visual punch and are worth the buy. These would be very pretty served even at a baby shower or in a mini-version for an appetizer. The microgreens add a soft and delicate feeling to the dish with ease. One of my favorite thing about microgreens. So here is what you will need to make these pretty little spring toasts.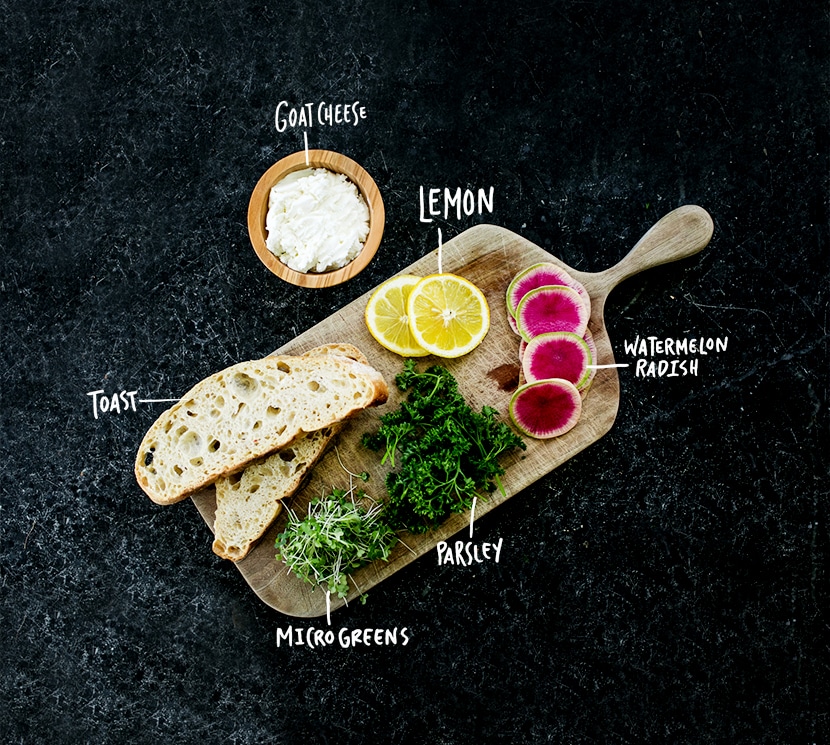 Ingredients:
2 slices of fresh crusty bread toasted 
1 cup goat cheese at room temperature
1 lemon
1 handful parsley
1 small handful microgreens
1 medium watermelon radish
Large flaky salt for finish (Maldon is what I suggest)
To make this is what you will need to do:
Toast bread and set aside. While bread is cooling slightly roughly chop the parsley and combine and fold it into the goat cheese.
Thinly slice or mandolin the cleaned watermelon radish
Set bread flat and evenly spread the goat cheese onto the toast
Layer the watermelon radishes on top of the cheese so they overlap.
Squeeze fresh lemon over the top
Finish the toasts with the microgreens, flaky salt, and a little bit of black pepper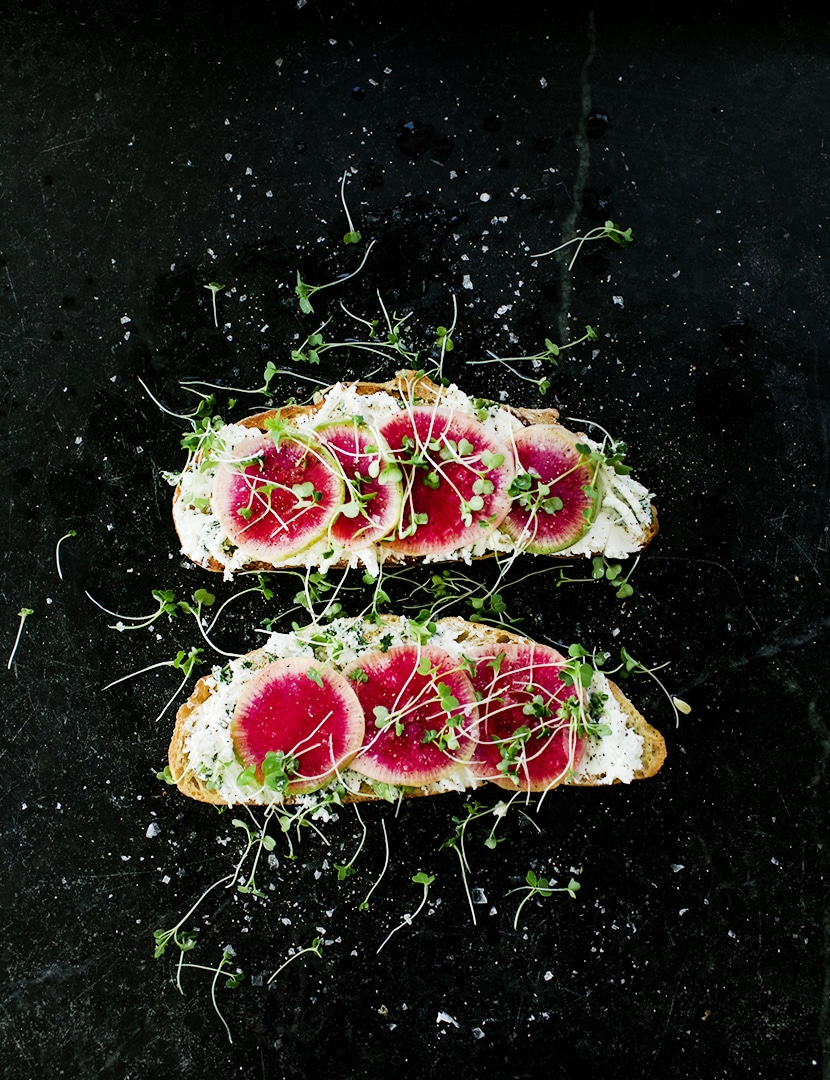 A simple and yummy toast to use those beautiful radishes you see floating around. You can also do this with normal red radishes as well or combine them to make an even prettier toast!
What is a way you love to use radishes this time of year?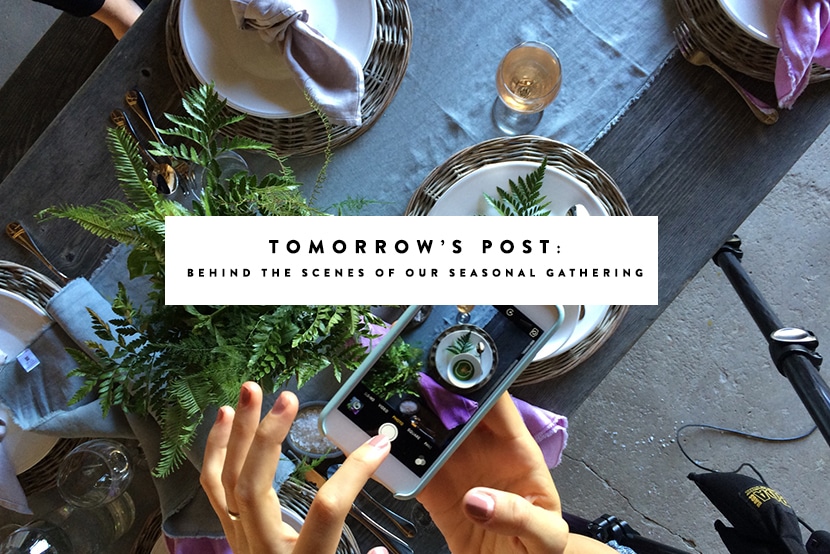 Tomorrow, we will be sharing a behind the scenes look into how we put together our seasonal gathering with Midwest Living. If you missed the actual gathering you can find it here. If not, catch all the behind the scenes on the blog tomorrow!