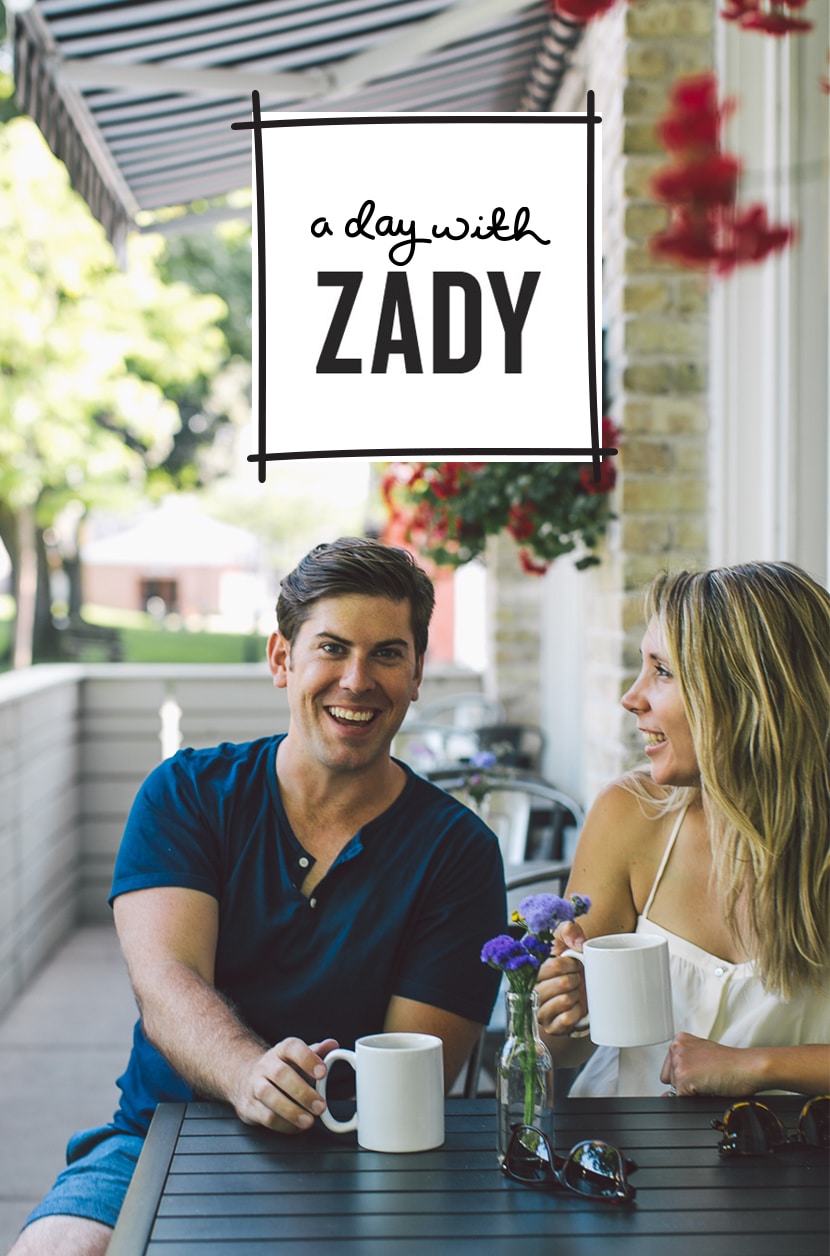 As people who are constantly looking for new adventures and places to explore, Mike and I hop at any chance to take a short trip just about anywhere. The beauty of spending summers in Traverse City is that there are tons of small coastal towns all over that are perfect for day trips. One of my favorite places is Petoskey which is just about a hour and an half drive north from Traverse City. Since it is where I was born there is something special to me about this sweet town that still holds so many memories from my childhood. In many ways this town has been this special little secret to me for so long, but when Zady asked us to share a day trip with them, we felt it was the perfect place to explore with them and share with you as well.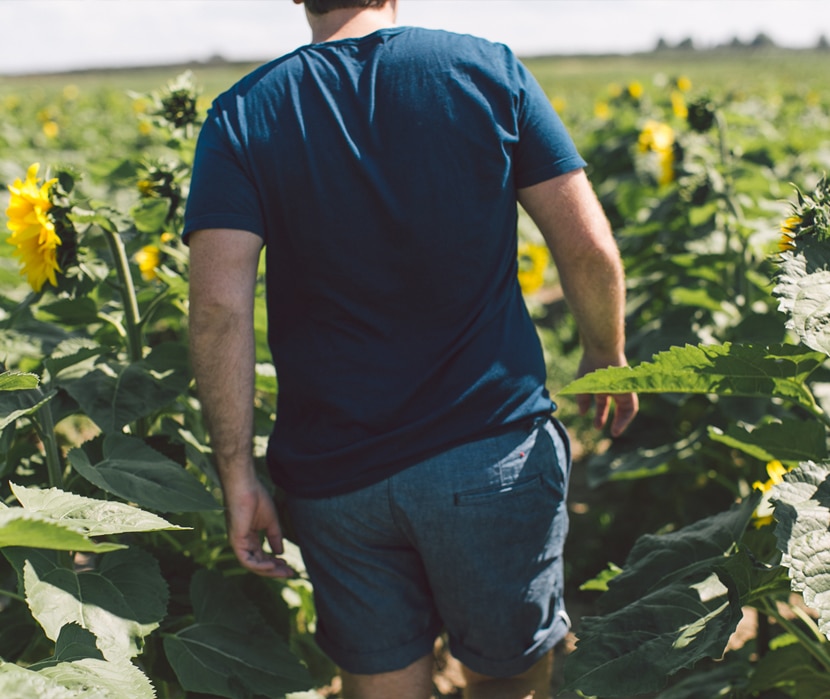 If you haven't heard of Zady, let me tell you a little more about this wonderful company that is bringing some of the best made products in the country to your doorstep. Zady began with a vision to fight against the fast-fashion world by creating a place where only brands that believed in high-quality construction and timeless style would live.The team at Zady sources products that are ethically made in countries with established legal systems including the U.S. and Europe. Many of the products are made in sustainably, made by hand, reach a high-quality standard, and are locally sourced. As makers and creators, we love this vision behind Zady and were pretty excited to wear some of our favorite pieces during our trip to share their concept for life, style, and adventure with each of you.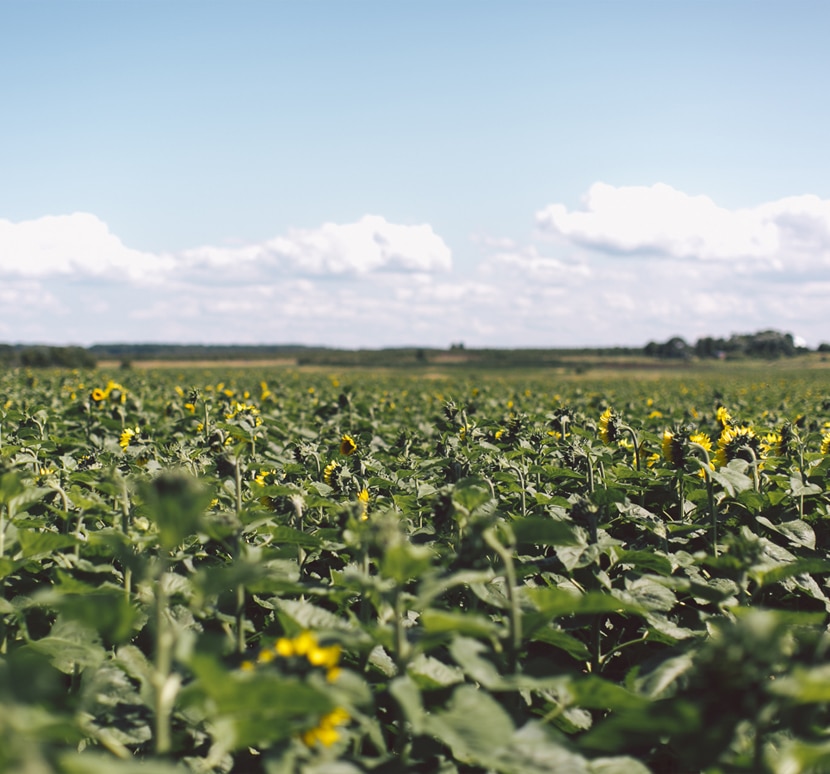 Our trip began with our first favorite stop this time of year at our favorite sunflower field that lies just between Traverse City and Elk Rapids. This field pops up at the end of July and first week of August.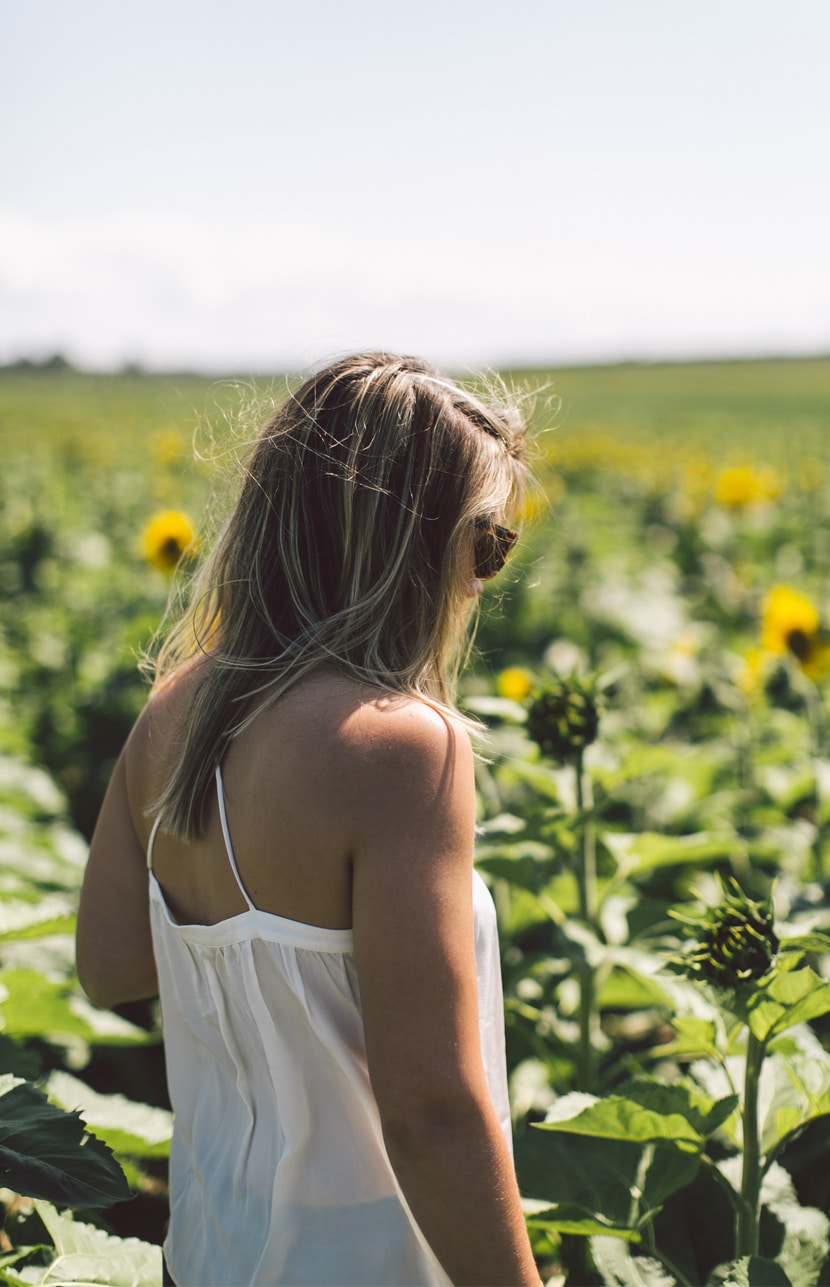 I always know that the season is reaching its end in Northern Michigan when this field begins to bloom and the sunflowers reach their sweet faces closer and closer to the sky. No matter what, this field always makes me smile and we always love stopping quickly for some wandering in the flowers. Walking amongst the sunflowers is something really special.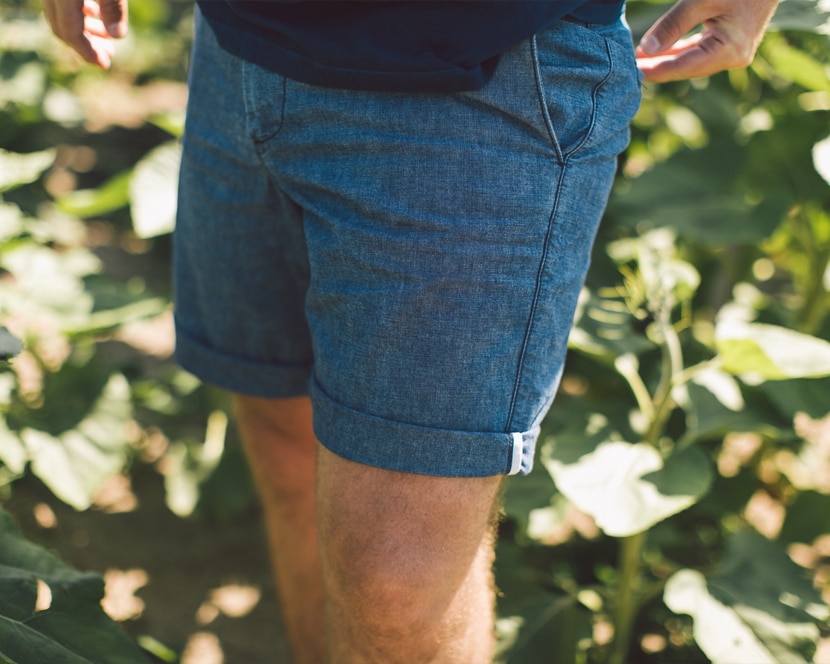 As we drove north on 31 along the coast we passed apple orchards, fruit stands, scenic views, bridges that split for sailboats, and light houses. The drive back to my first home and where I spent so many summers growing up, never ever gets old.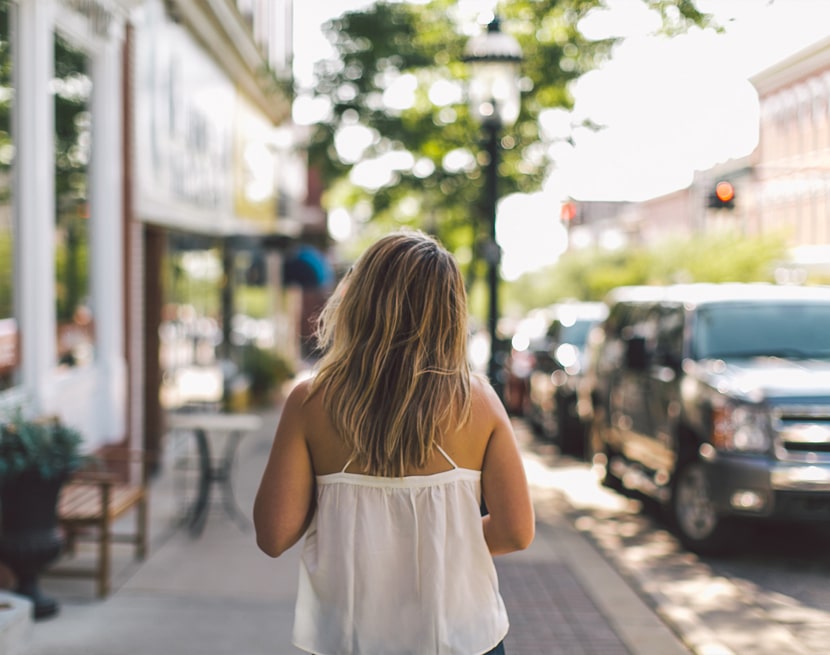 I love Traverse City's downtown but if you were to ask me where I would spend an afternoon wandering shops, I would tell you Petoskey. The downtown has adorable squares, sweet home shops, various clothing stores, art galleries, views of the water, antique stores, and of course some great food. The day couldn't have been more perfect with a high of 80 degrees. We couldn't have asked for a better day.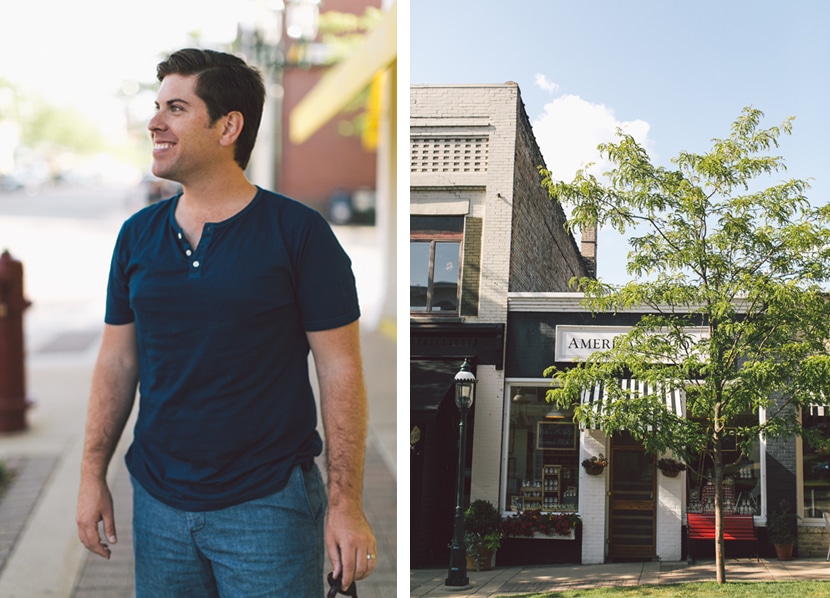 Our first stop when we got into town was one of my old childhood favorites, Symons General Store. This place has the best of the best in foodie items. If it is artisan made and super quality you will find it in this shop. The best part of the shop is that they never gave up their old school roots even as they add new and upcoming brands. You can still find rock candy, order a sandwich over the counter, and pick out candy the old school way.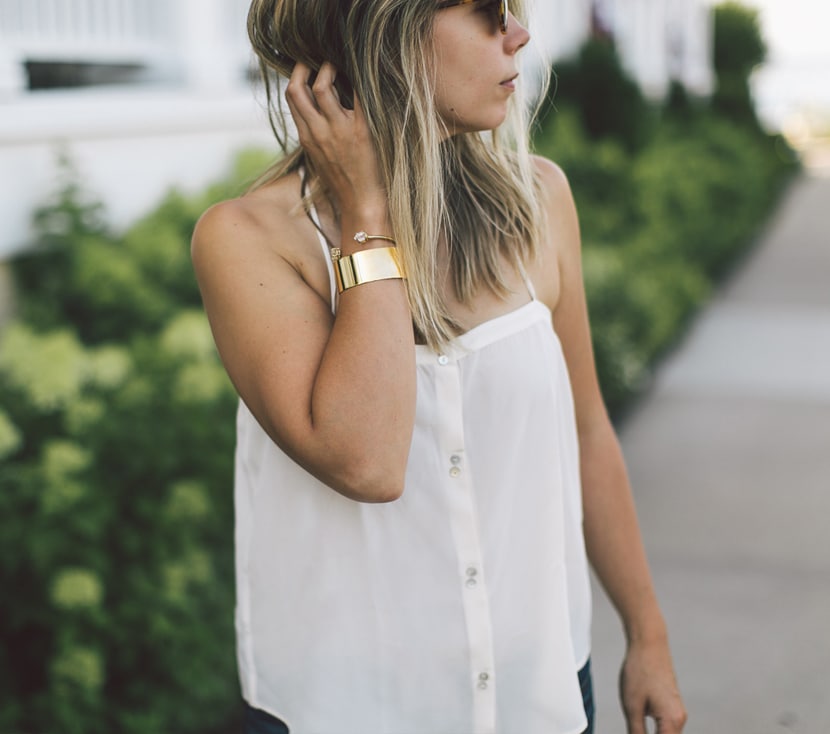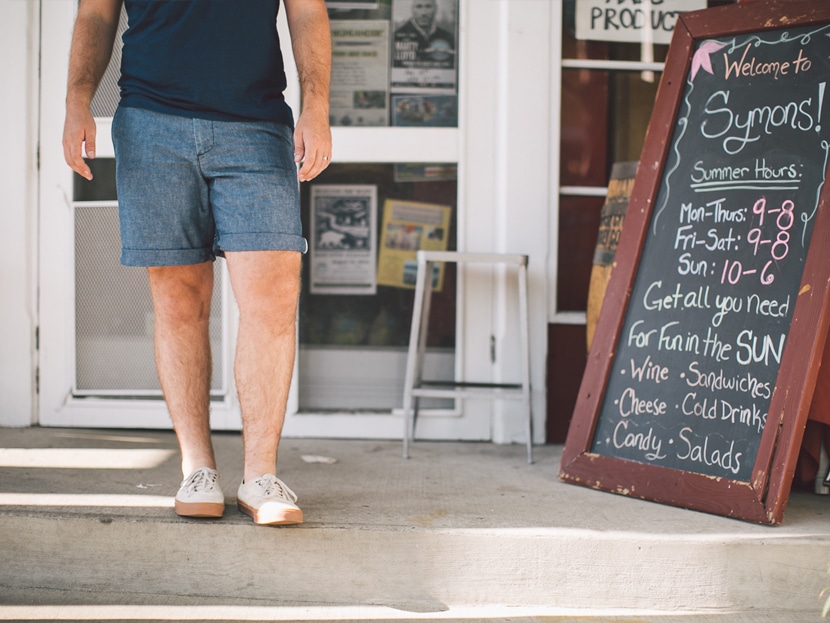 This place takes me back to my days as a kid when I would wander the streets with my family on a day too cold for the beach and get to choose a small bag of my favorite candy at the end of our walks.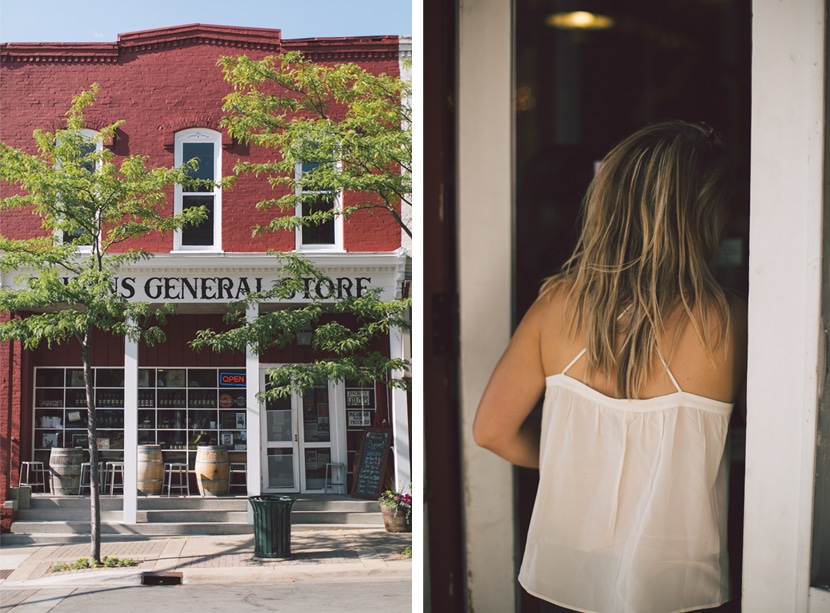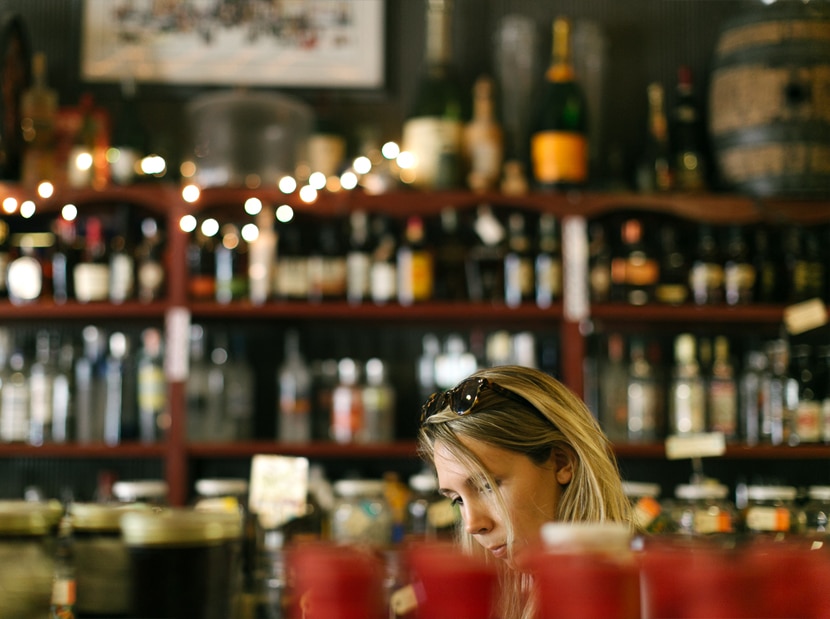 Even now it only seems right to indulge in something sweet after we browse and discuss our favorite labels in the shop on all the products, which is our favorite pass time in any store we visit.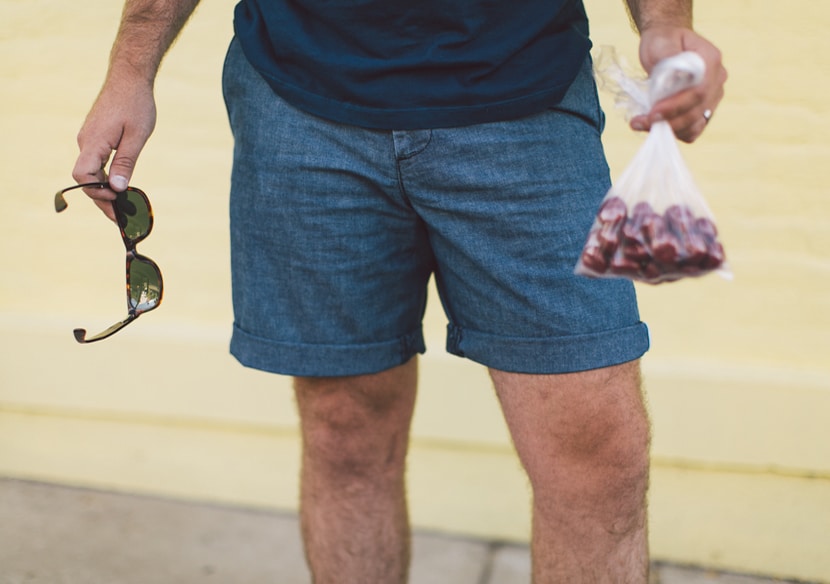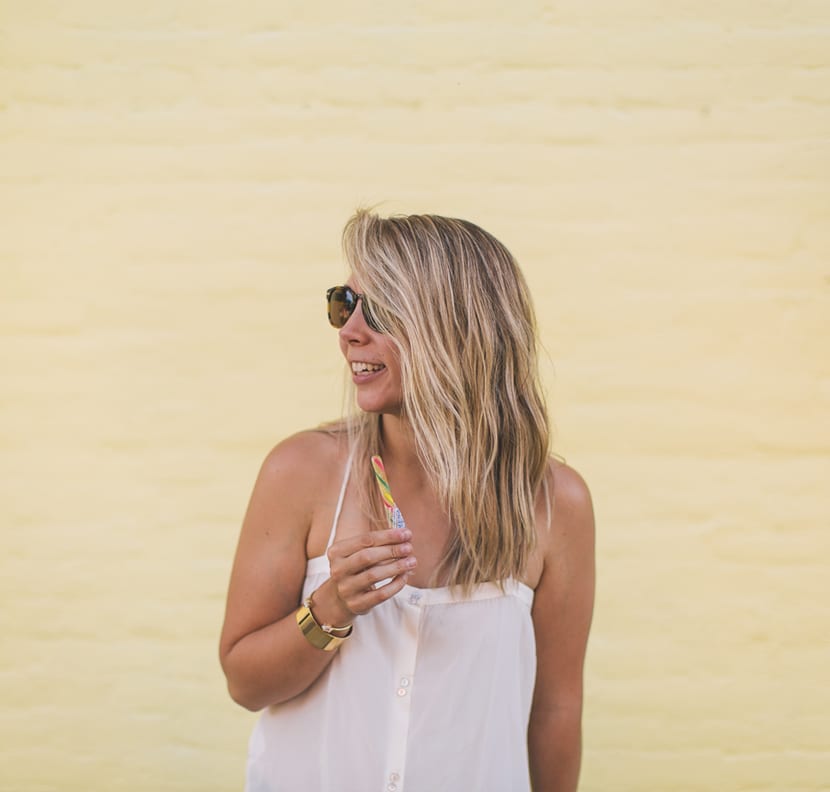 Wandering downtown, it is hard to miss one of the coolest buildings and hotels there is up north (besides the Grand Hotel of course). Stafford's Perry Hotel sits just on the edge of downtown. This hotel has been a staple destination to Petoskey and this side of the Traverse bay area since the 60's.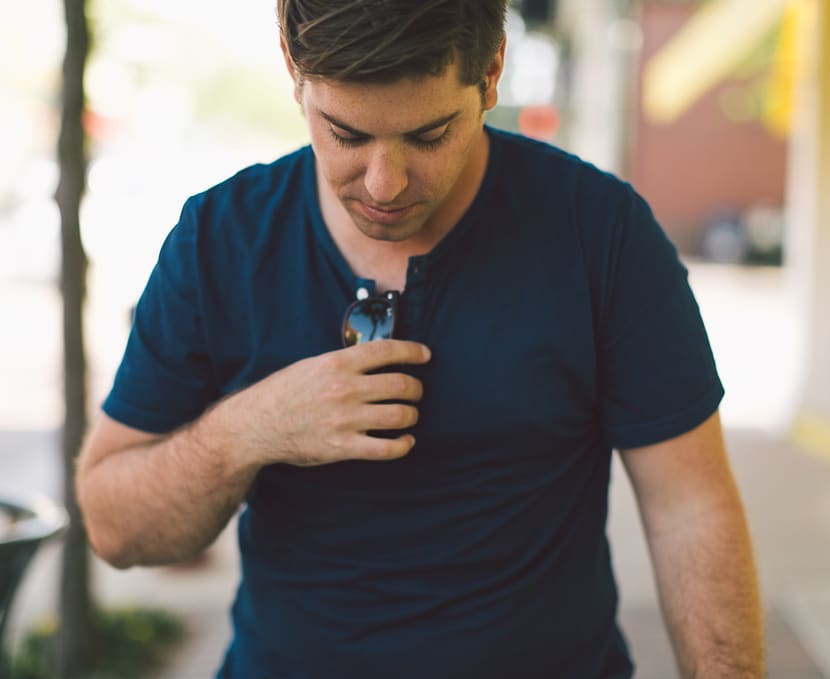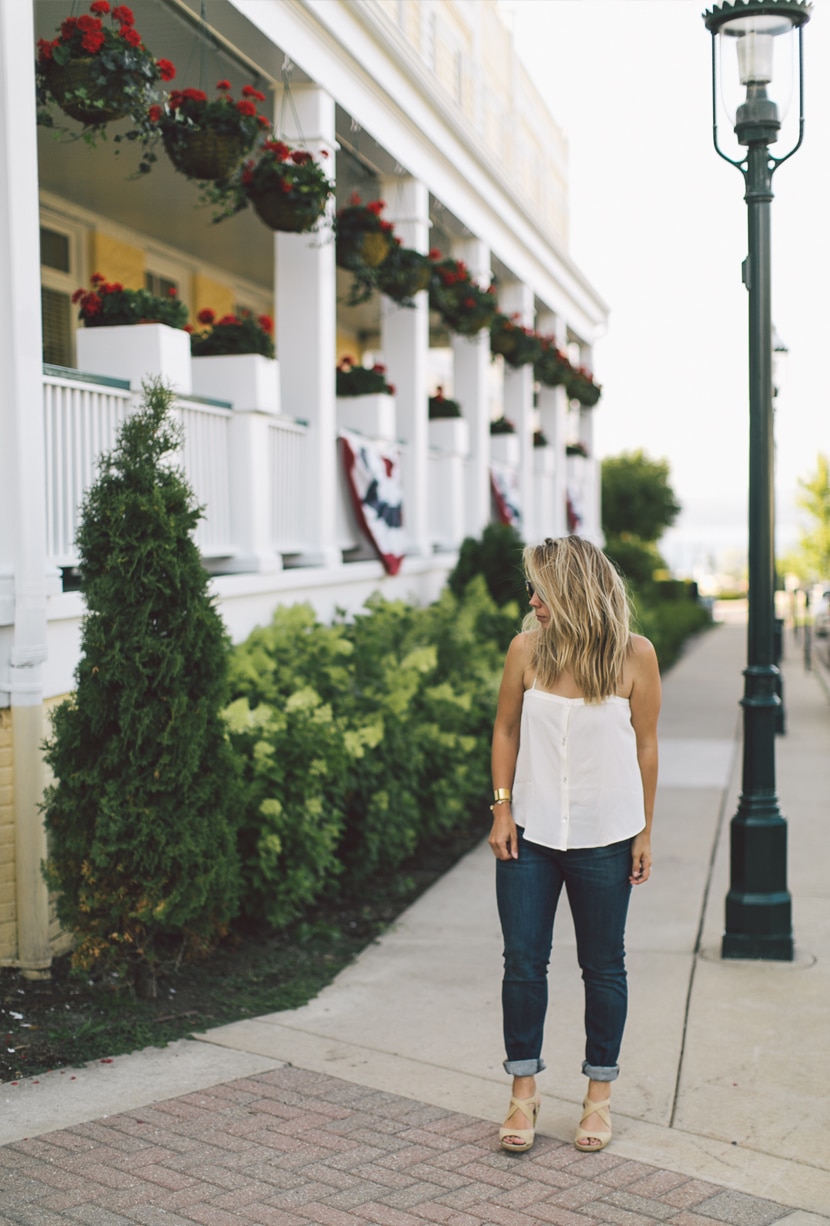 The grand porch and the perfectly trimmed landscape is everything I think of when I think of summers up in Petoskey and Harbor Springs. The buntings on the porches and the yellow brick are landmark to this area and not stopping by would be a missed opportunity.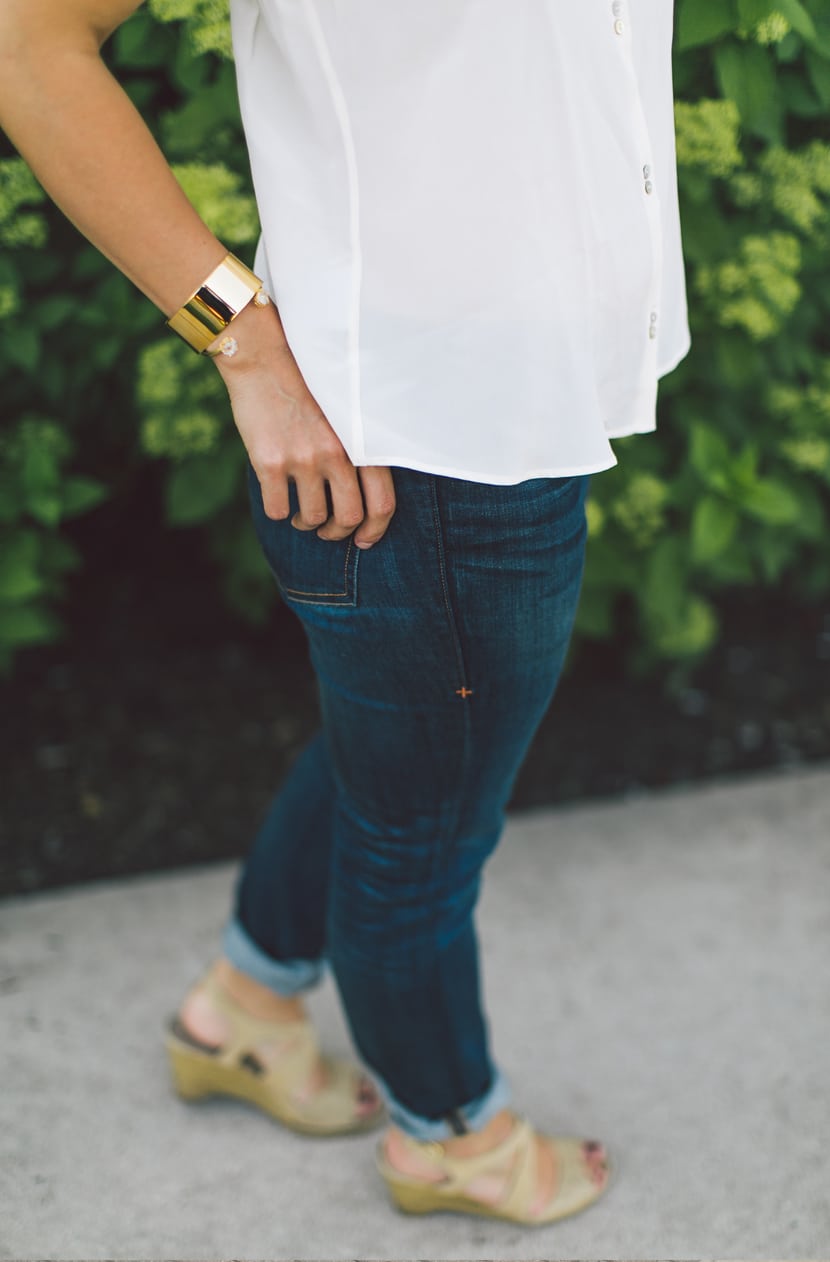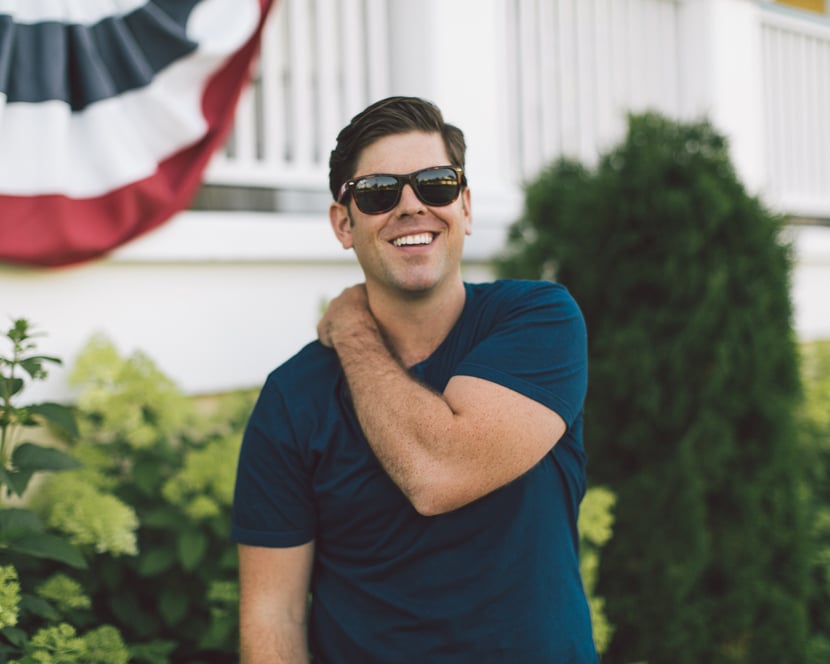 Just around the corner from Stafford's you will find a sweet little park, and if you walk all the way down you will find my newest favorite stop in Petoskey. Just recently American Spoon Foods, which is based in Petoskey, opened a cafe. American Spoon began in the late 70's and has since opened multiple retail locations around Northern Michigan where they sell jams, honey, spreads, handmade gelato, and many other yummy things. All of the items they sell are inspired by the flavors that are grown locally.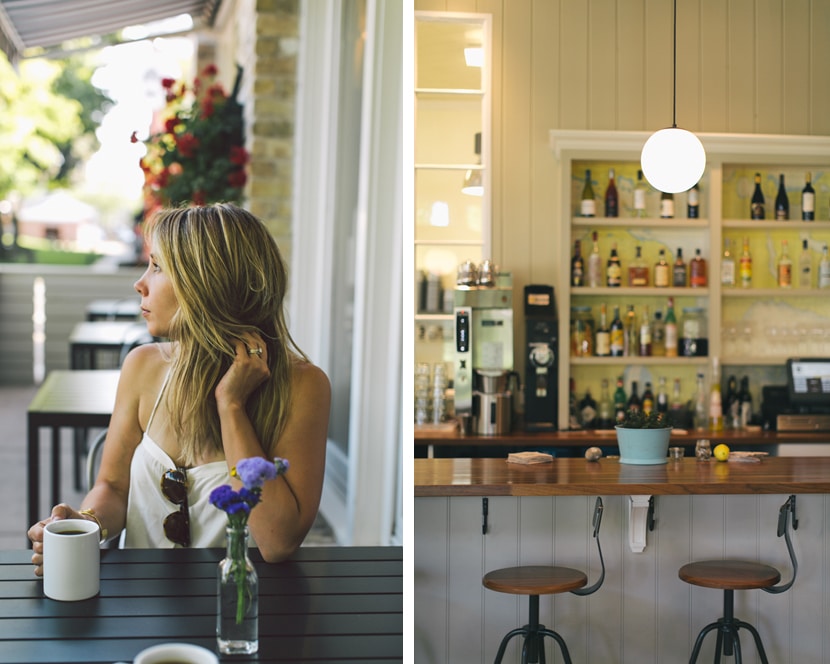 So, when they added a full service cafe with a coffee bar, gelato and sorbet counter, and brunch and lunch service, we instantly fell in love. Everything from the interior to the quality of the food is spot on and one of my favorite places on the northwest coast of Michigan right now. We never come north without a stop here for something  delicious and special.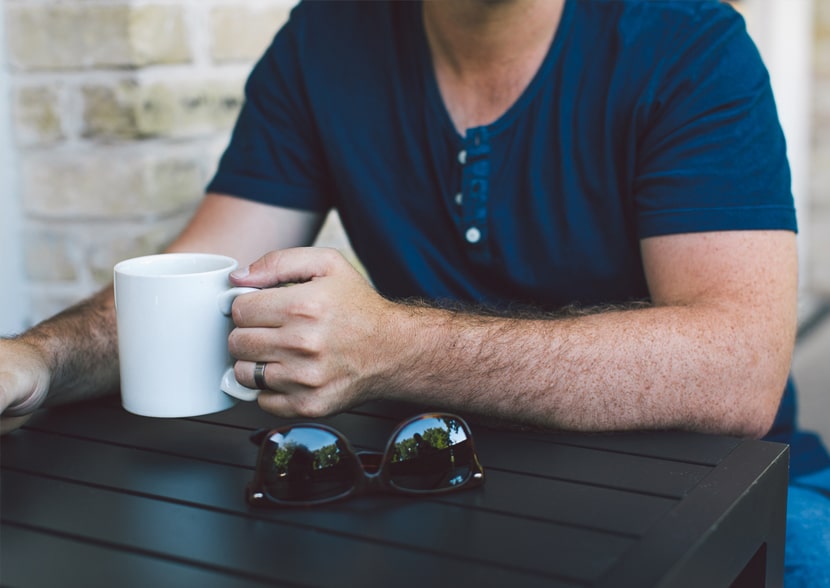 As the day came to a close for us we wandered the downtown just long enough to enjoy the light setting perfectly on the faces of the small shops. We always feel thankful when we get time here. There is nothing more special than getting to wander the streets of a place that has so many wonderful memories for you. Having the chance to share this sweet place with you alongside Zady felt even more special.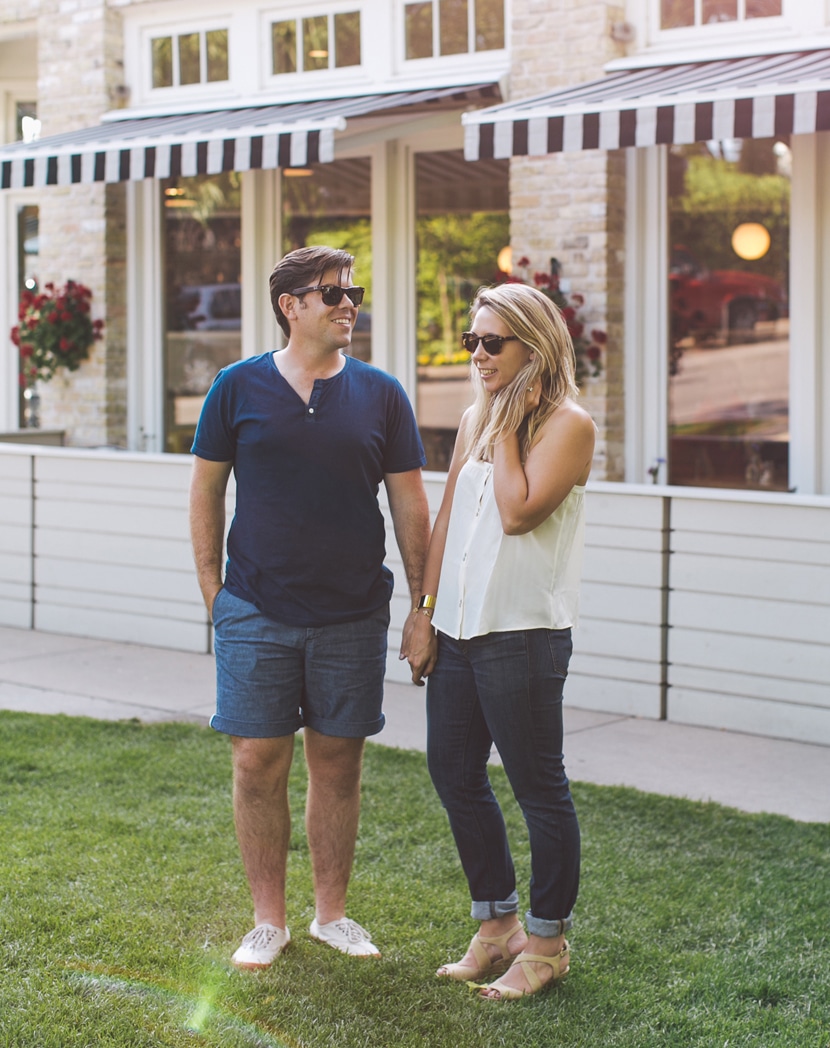 If you are interested in finding out more about Zady's vision and the brands they are working with then head to their website and online shop. I also suggest signing up for their newsletter to stay up on what they have going on every few weeks.
Wondering about what we are wearing? Below are Mike's and my pieces that we wore during our daytrip with Zady.
Megan:
Sunnies: Rowley Eyewear Sunnies
Top: Dolly Top from Amour Vert
Denim: The Lucy Jean from Imogene and Willie (so comfy!)
Gold Cuff: Cuff Bracelet from Kristen Elspeth 
2nd Bracelet: Petalite Prong Cuff from Torchlight Jewelry 
Sandals: Espadrille Wedge from Tahari 
Mike:
Sunnies: Wayfarer Classics from Rayban
Top: Summer Henley from Industry of All Nations
Shorts: Chambray Shorts from Apolis
Shoes: Canvas Authentic Sneakers from Vans
Thanks to Zady for partnering with us on a fun day of traveling and exploring a place we love.