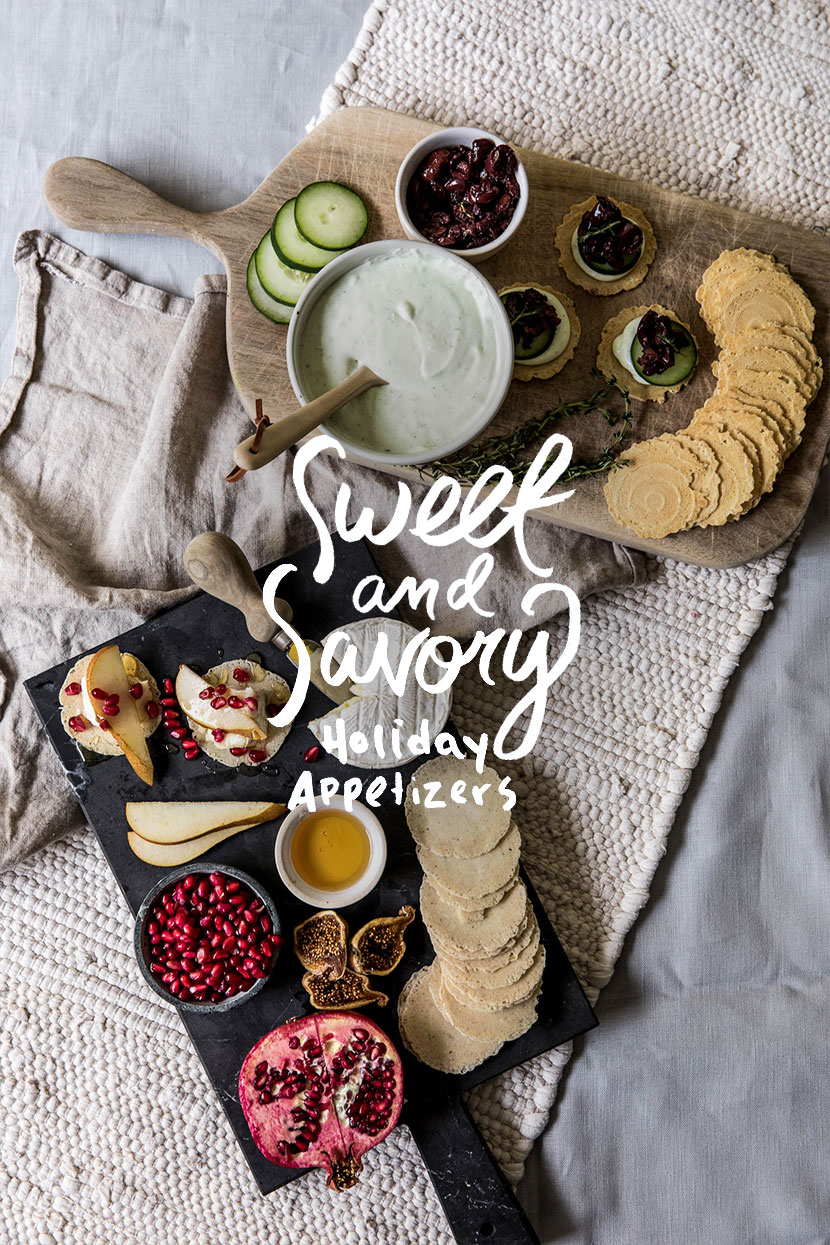 The time for holiday recipes has arrived! Thanksgiving is only days away and Christmas is only a stone's throw away. This means there will be gatherings in every direction so finding something that is easy and yummy to put together whether you are hosting or attending can become a challenge. Personally, by Christmas, I am ready to just eat out because I have stretched every holiday recipe I love to the limit. This year though I am partnering with 34 Degree crackers to share a couple recipes that will help make gathering this season a little less hectic.
I love giving my guests the task of bringing an app to a dinner party. I feel like an appetizer can be the perfect chance for them to do something effortless and simple but have fun with at the same time. So instead of just the normal cheese plate or hummus and veggie tray, I thought outside the box and got inspired by these yummy light crackers from 34 Degree crackers. They come in a multitude of flavors from rosemary to chocolate to toasted onion to vanilla. They are great on their own or perfect for pairings such as I am sharing today.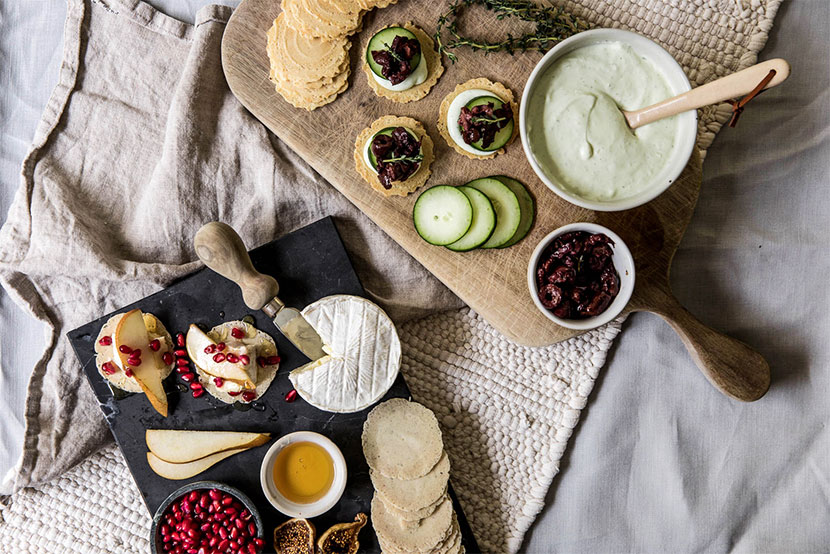 These little crackers are really perfect for gatherings. They are light and airy so your guests can munch and not get too full, but they pack just the right amount of subtle flavor in them. To take advantage of all they offer, I created a sweet holiday appetizer recipe and a savory holiday appetizer recipe. This way you can either do one or the other or both. Here is what you will need and how to prep and assemble them.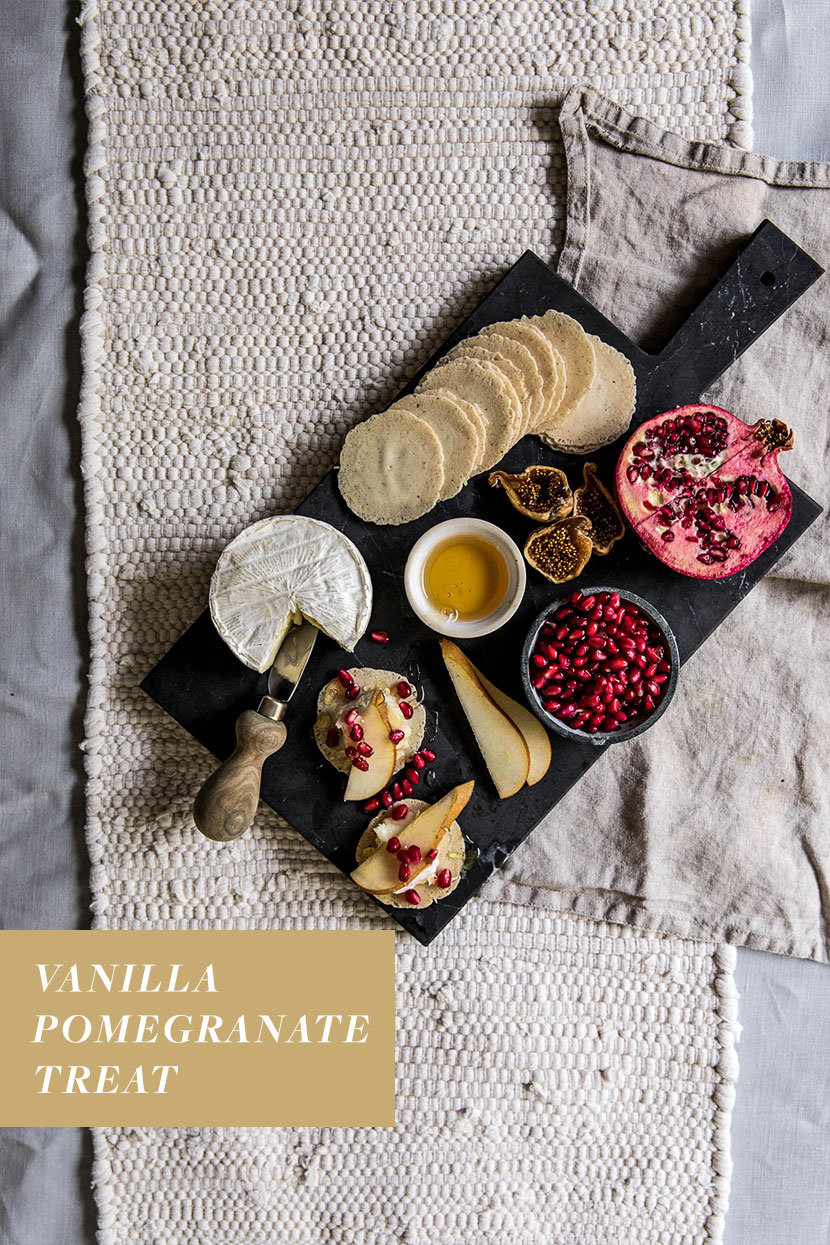 Vanilla Pomegranate Treat
I don't really do sweet. I like dark chocolate, the occasional pie, and that's really about it. I have more than once ordered french fries for dessert. So, know I am not much of a sweet person, but during the holidays all bets are off and sometimes it is fun to start with dessert. This is a toned down and mild sweetness that is PERFECT for an app at a holiday party. The 34 Degrees Vanilla crackers have a little sweet and a great vanilla flavor. Pairing them with some creamy Brie cheese and topping them with sliced pears, pomegranate seeds, and a drizzle of honey feels decadent and light all in the same bite.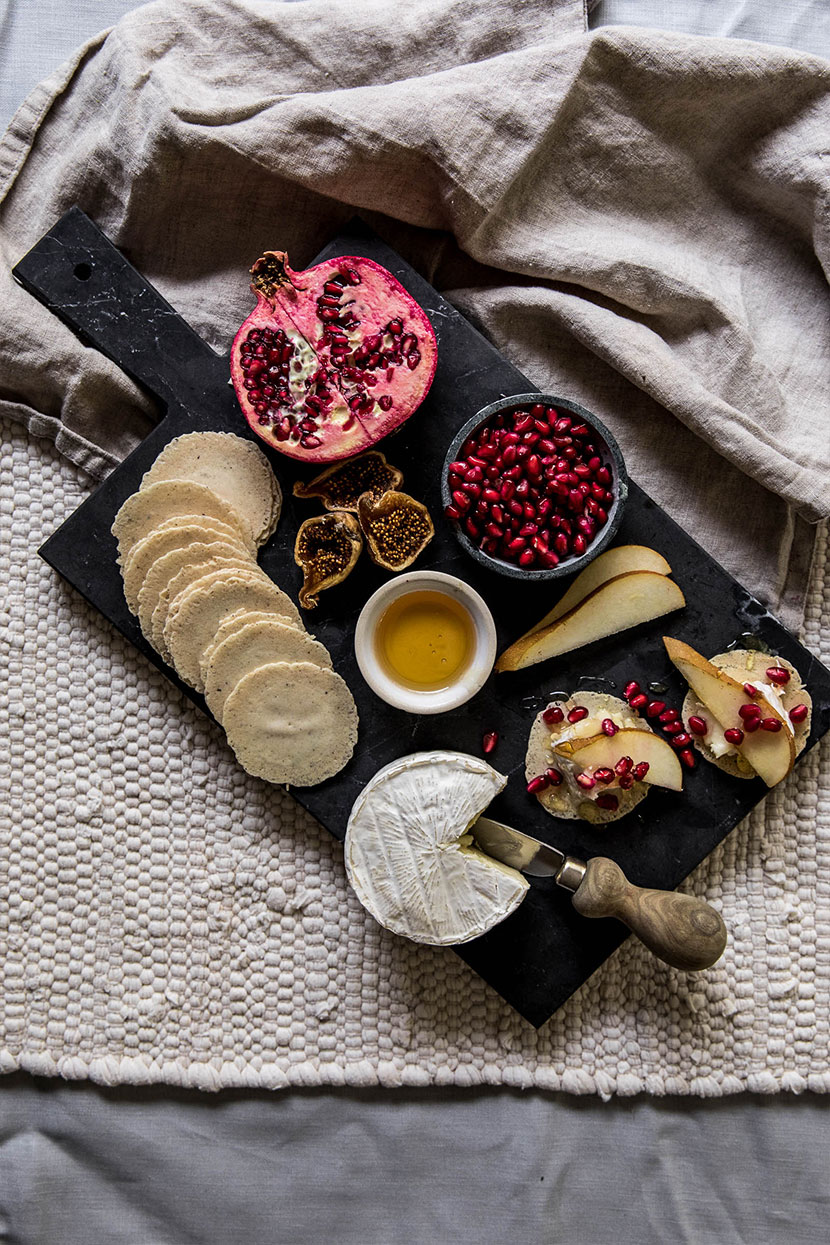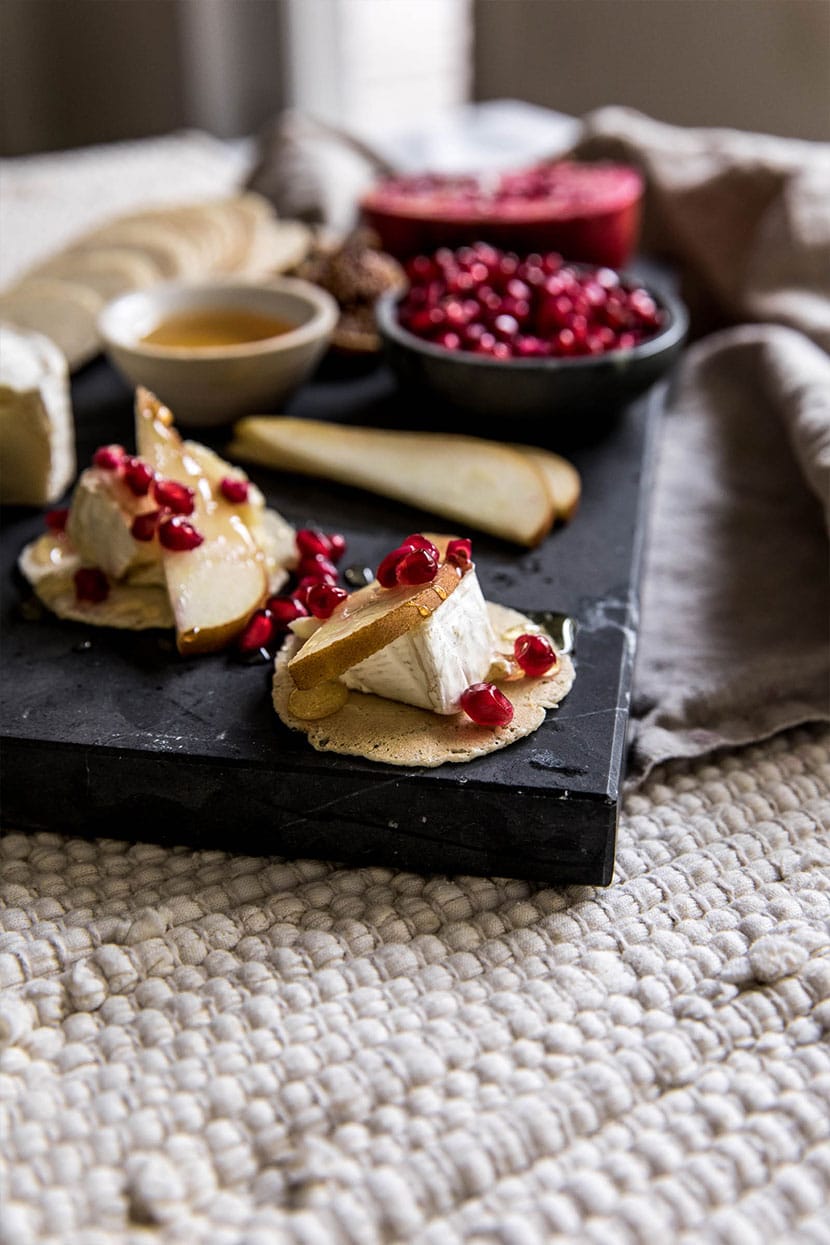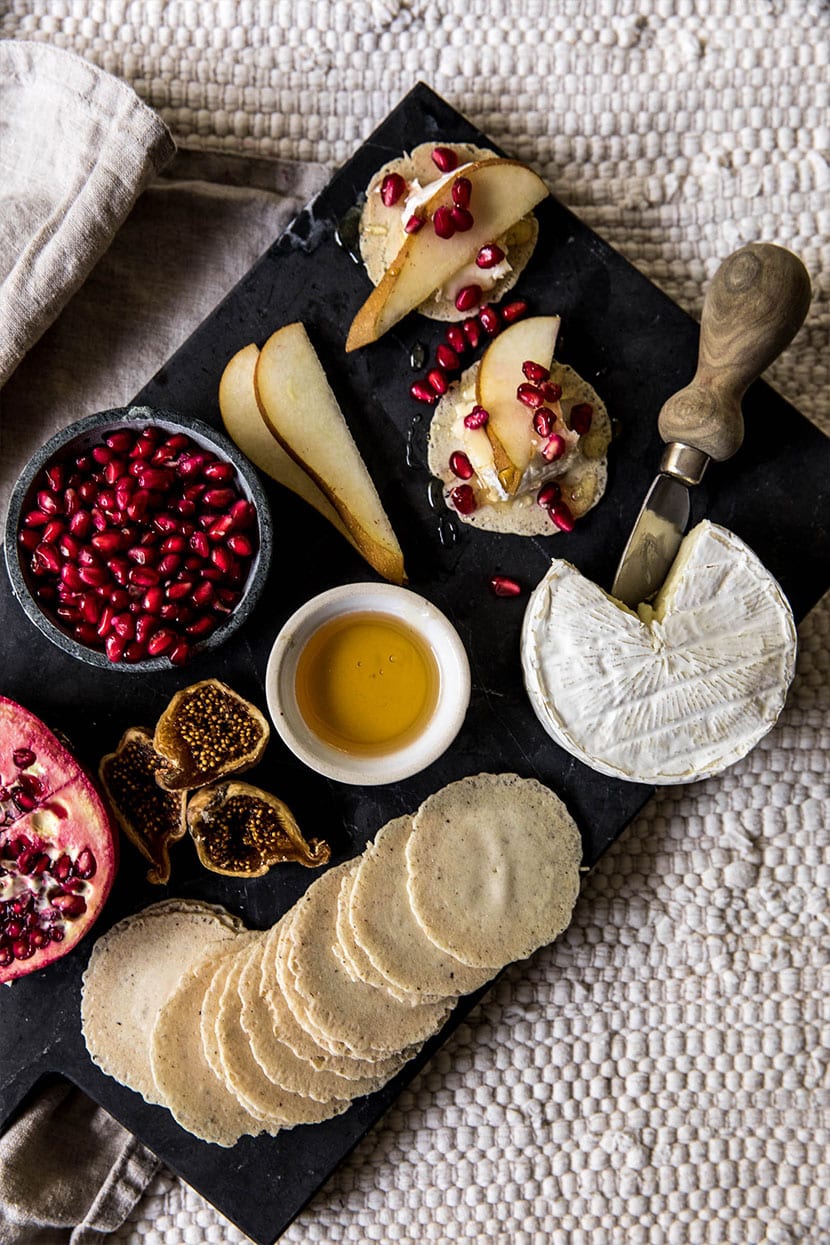 Here's what you need:
1 box of 34 Degrees Vanilla crackers
1 small wheel of Triple Cream Brie or a slice from a larger wheel
1 thinly sliced Bosc Pear or other firm but ripe Pear
1 Seeded Pomegranate 
2 Tbsp Local Honey
To assemble:
– Slice a small amount of Brie and place on Vanilla crackers.
– Top with a thin Pear slice
– Sprinkle with a few Pomegranate seeds
– Drizzle with a little Honey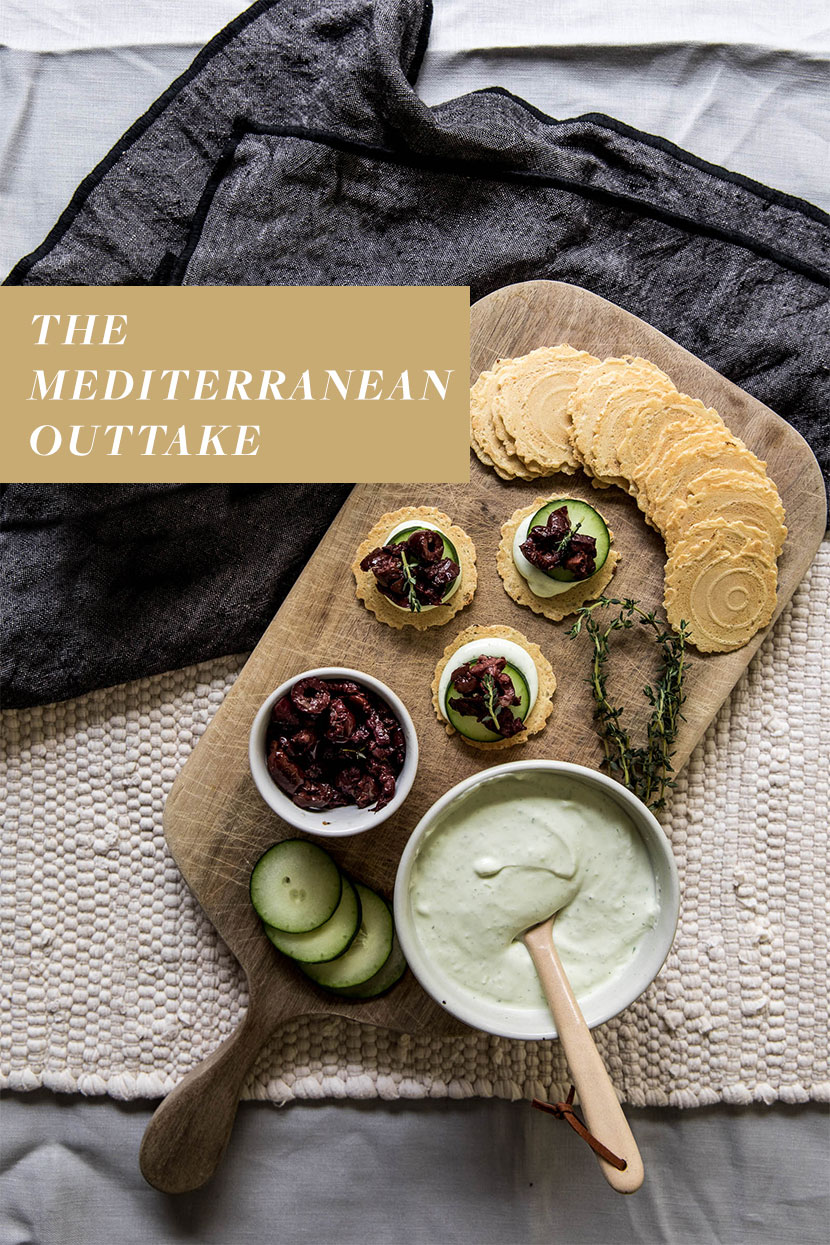 The Mediterranean Outtake
What is better for a savory app then to head in the Greek or Mediterranean direction? I love hummus, but I recently got into whipped Goat Cheese. Super easy and fun to make. Placing a dollop on 34 Degrees Toasted Onion crackers is the perfect combo. I topped these with a fresh sliced cucumber and olives that were cooked with Orange and fresh thyme to get them warm and aromatic. Finishing them off with a little fresh Thyme. I could eat this any day! So yummy and fresh while taking in some great seasonal flavor.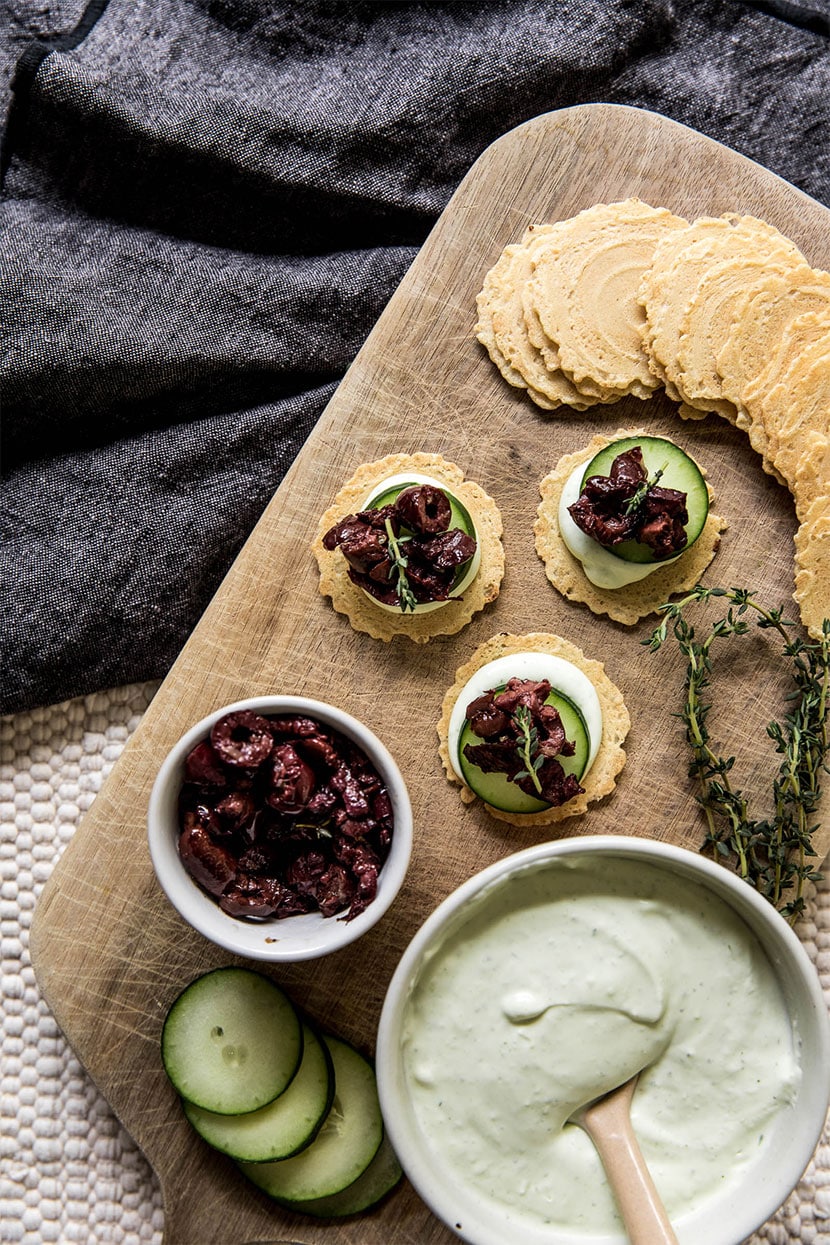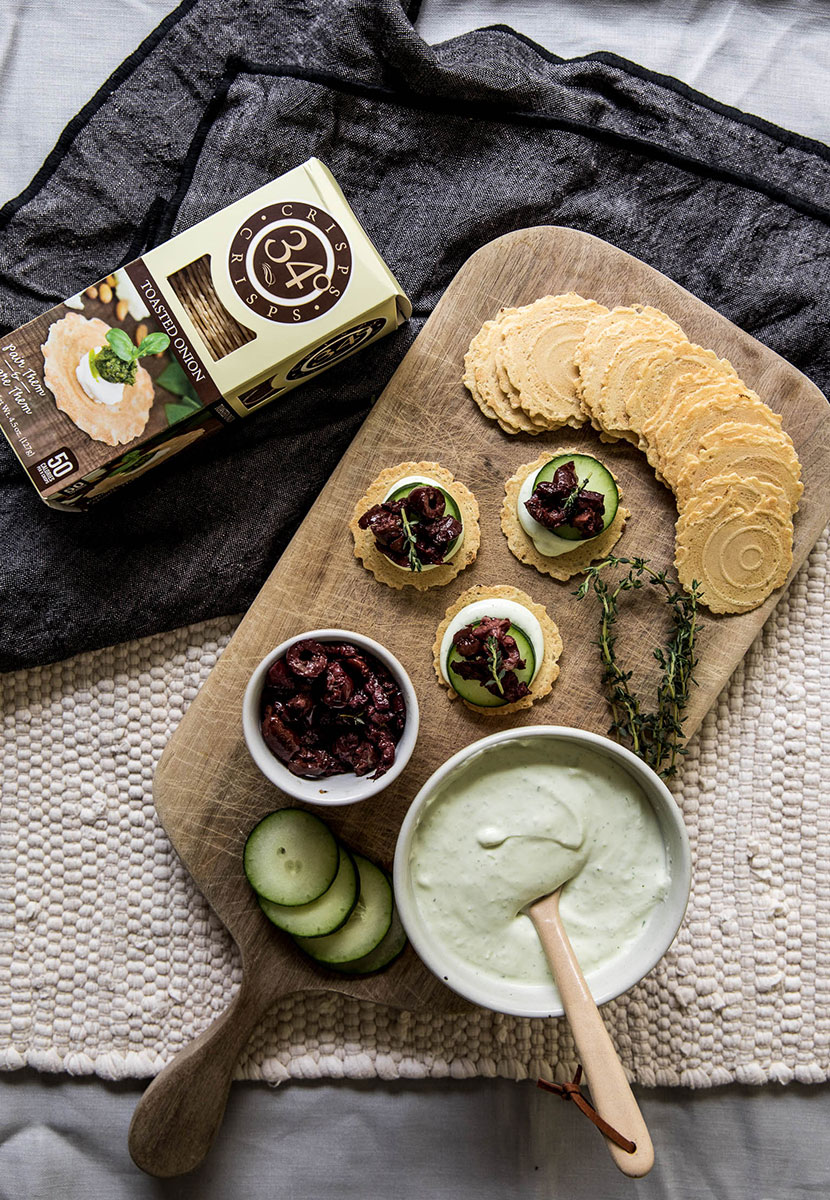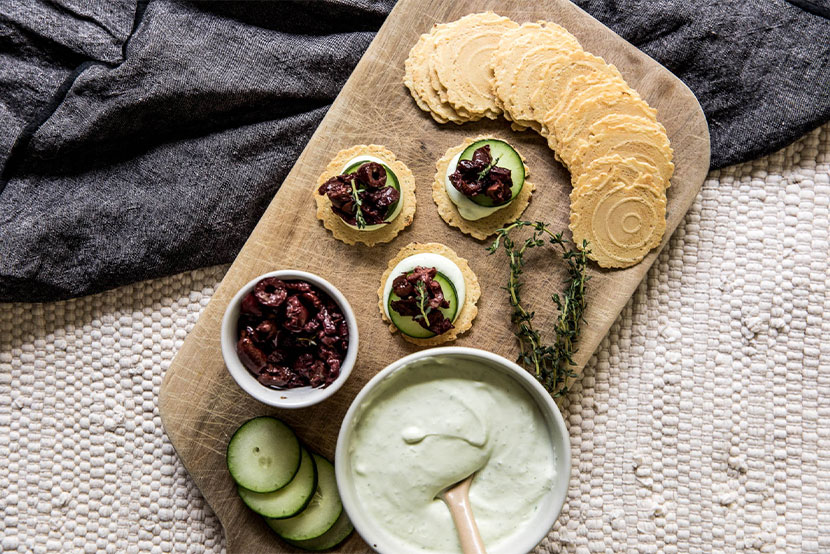 Here is what you need:
1 box of 34 Degrees Toasted Onion crackers
1/2 cup pitted mixed olives
1/2 of an orange
4 Fresh Thyme Sprigs
8 oz Plain Goat Cheese
1/4 cup yogurt
2 tbsp water
1 garlic clove
1 handful fresh parsley
1 thinly sliced English Cucumber
Making the Whipped Goat Cheese:
Place all ingredients in a high-speed blender and blend until smooth and spreadable. Add water in a little at a time till it is a smooth and spreadable consistency.
Making the Warmed Olives:
Loosely chop the pitted mixed olives. Then add olives, fresh orange slices, and 2 sprigs of thyme in a pan and set on Medium heat. Let it cook till the olives are soft and falling apart, which is about 8-10 minutes.
To Assemble: 
Place a small dollop of the Whipped Goat cheese on the 34 Degrees Toasted Onion crackers. Then place the sliced cucumber and top with the olives (preferably still warm). Finish it off with a sprig of Thyme.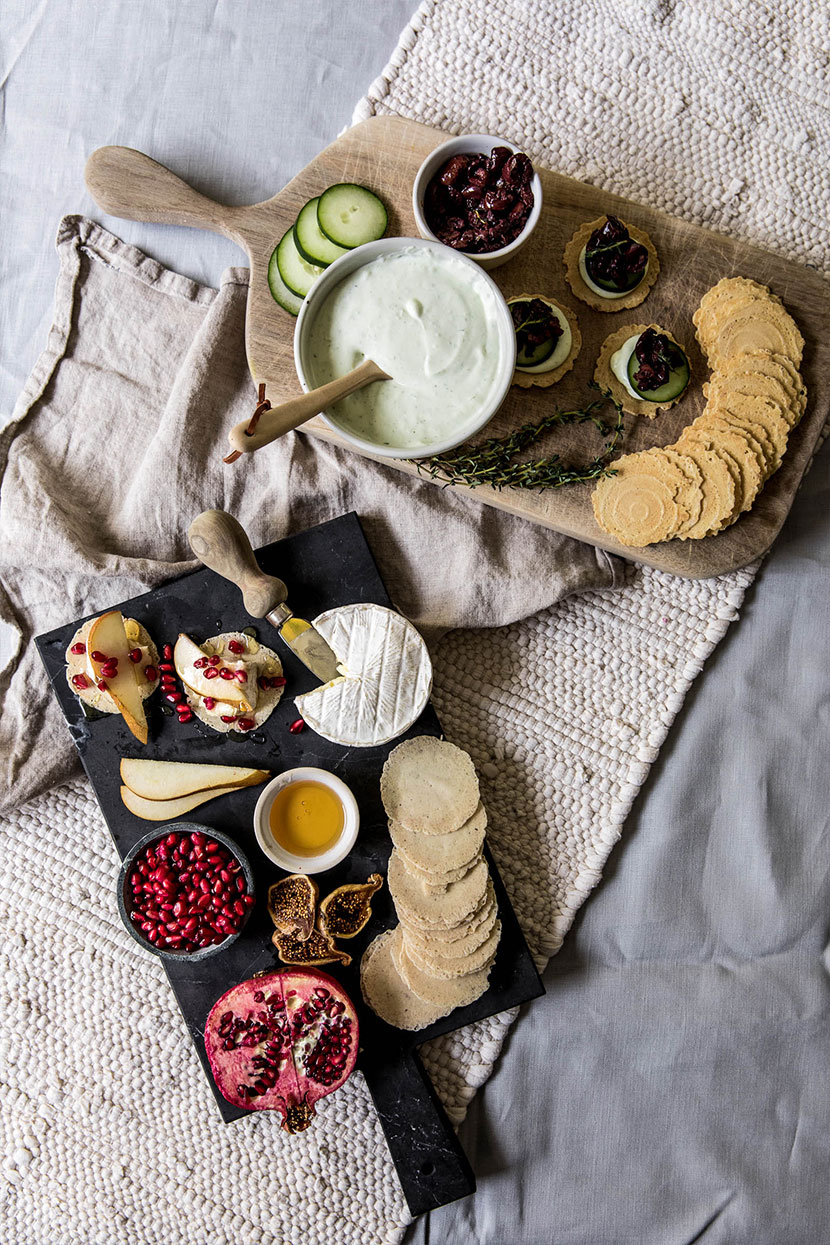 So tell me, what is your favorite appetizer to bring during the holidays?! Do you have a go-to recipe you always stick to?
This post is sponsored by 34 Degrees. All thoughts and opinions are my own. Thank you for supporting the brands that support The Fresh Exchange every month.