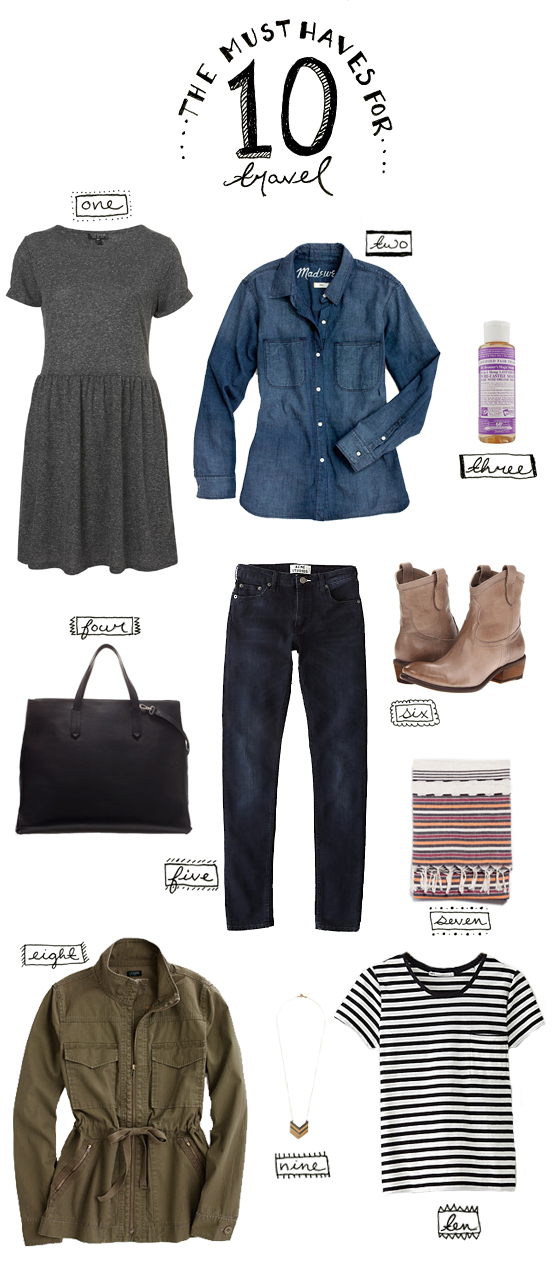 I get asked all the time the things that are my go tos for when I travel. Over the last year traveling has given me quite a different perspective on my wardrobe. I realized while we were in Europe how little I actually needed and that really you can live with less when it comes to clothes. This has brought me to a point where I am getting rid of things and narrowing my closet with just high-quality pieces I love. It has made dressing easier and less time intensive that is for sure. So when it comes to traveling these same thoughts have come in to play for what I make sure makes it in bag.
Every trip has a different event or purpose so you can add to this 10 item selection as needed (say you are going to a friend's wedding…maybe add in another dress and another pair of shoes or you are going to a work conference you may want to add in a few more nicer skirts, blouses, and a blazer) but at the end of the day, having these items in your bag will be sure to have a cute and fun outfit always ready to go.
1. A simple tshirt/jersey dress: I suggest one that can do double work as a skirt if you threw a blazer, jacket, sweater, or button down over it. The more multi-functional pieces are the more value they have in your carry on
2. A denim or chambray shirt: this is my uniform. A great fitting button down can be tucked in to jeans, tossed over a tshirt, layered under a sweater and jacket, or tied over a maxi dress. When we travel I live in mine and sometimes even take 2 of different shades. I personally love the madewell ones since they have longer backs and can be worn with leggings on a plane ride home.
3. Dr. Bronner's: If you don't already use this stuff…make the switch. This is the perfect daily shower item, but is also ideal for travel. The 18 in 1 use product can replace toothpaste, shampoo, body wash, and even provide home healthy remedies for head aches. There is no where I go without this.
4. The structured oversize tote: Find one that is nuetral, classic, leather, and can carry everything you need. My requirements is it must fit my 13in macbook pro, mouse, mousepad, phone, magazines, notebook, and any other personal essentials I may need for the plane. This bag will end up being the bag you can use for the whole trip for everything. Don't think that you need multiple bags. Keep your choices to a minimum.
5. Dark Skinnies: a quality pair of dark skinnies will work with almost anything so pack a pair or 2 depending and you will always have the right pant for whatever travel may throw at you.
6. Frye Boots: I am specific here as I swear by them. The ones I have are 4 years old now and I am taking them for a little TLC but they are worth every penny. If you purchase good leather boots you can wear them in almost any climate because the leather keeps your warm or keeps you cool. I wear mine in the middle of summer in Texas and in Salt Lake City in January. You can wear them with the dress or skinnies, leggings, tights, or anything in between.
7. Scarf: I never take more than one and I have one I bought in Mexico while in college for $5 and I still wear it. It has a good weight where it keeps me warm but also is perfect for a 75 degree day in Paris. Scarves can function in so many ways while you are traveling! Believe me I know and so does my scarf from Mexico.
8. Field Jacket or light coat: Field jackets are great because of the cotton material. It layers easily, breathes well, but also keeps you warm. They are really popular right now so I suggest getting one. They work great as a blanket on a flight or train as well.
9. Simple Necklace: I always keep something simple as far as jewelry to dress up an outfit or feel like I changed it up a little. Sometimes I look for a necklace while I am on a trip as well so I have something unique from where ever I am at.
10. Black and White striped tee: Perfect on it's own with your skinnies or layered over a denim shirt or even under a jacket. The classic stripes never go out and always look well manicured. A good way to insure you are put together even when you really feel like you are not on a travel day.
We are heading to NYC next week for a super short stay so this most likely will be the core of my carry on and it was just what I unpacked when coming back from North Carolina. I promise this list will not steer you wrong. Do you all have any must haves when you travel? I mean obviously your computer and cell phone…but when it comes to your wardrobe?
Above products can be found at:
1. Gray T-shirt dress: Topshop
2. The Ex-boyfriend Chambray: Madewell
3. Eucalyptus and Hemp Soap: Dr. Bronner's
4. The Black Shopper Tote: Zara
5. Dark Denim Flex Jean: Steven Alan
6. Carson Shortie Boot: Frye Boots
7. Rustic Cotton Scarf: Zara
8. Factory Washed Field Jacket: J.Crew
9. Arrowstack Necklace: Madewell
10. Striped Tee: Steven Alan