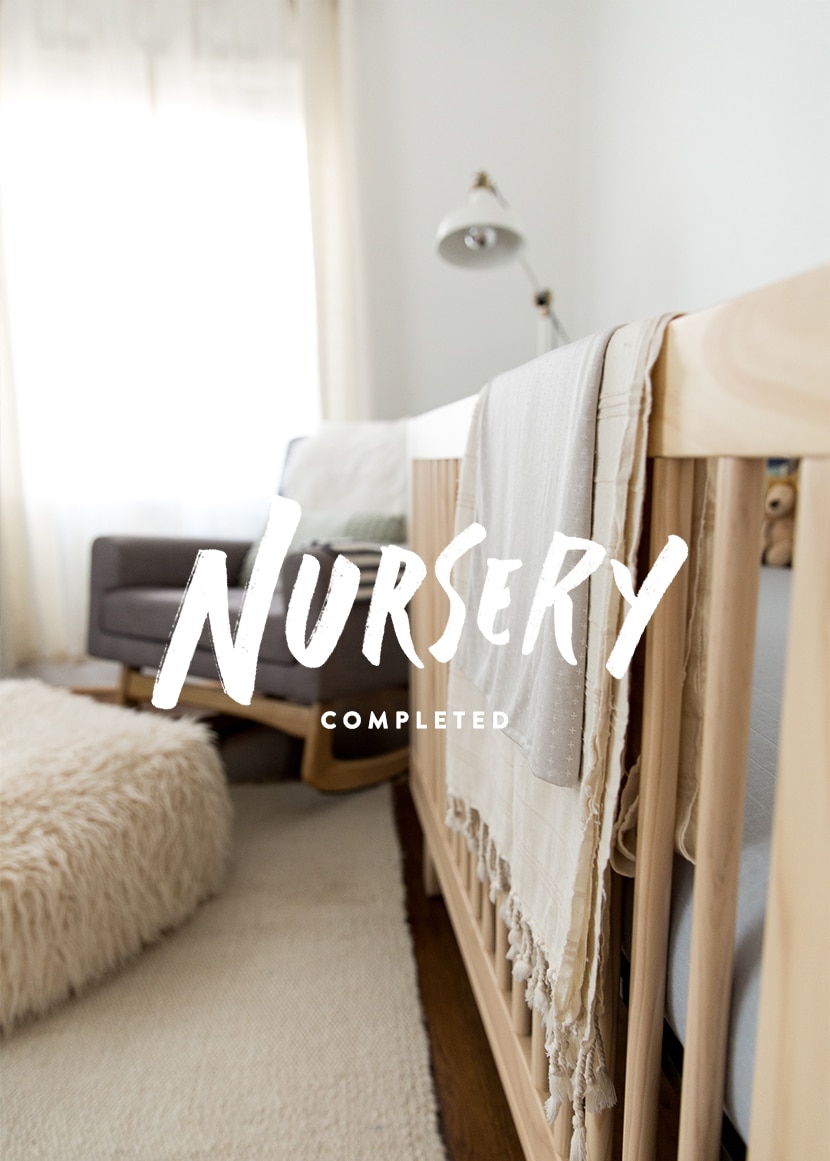 **** THE IKEA DRESSER IN THIS POST IS NO LONGER AVAILABLE ON THEIR SITE. WE PAINTED OVER THE LABEL WHERE IT NAMES THE STYLE SO WE DO NOT KNOW****
Years before even thinking of having children, I had never really thought about how I would decorate a nursery. In fact, the word nursery was something I didn't even really like for some reason. Cue a positive pregnancy test and all my feelings changed. I was pretty darn interested in creating a space that would be the perfect cozy, neutral, and minimal space for our little guy. I gathered some inspiration and then began the process of hunting down all the items we wanted all while keeping within a budget.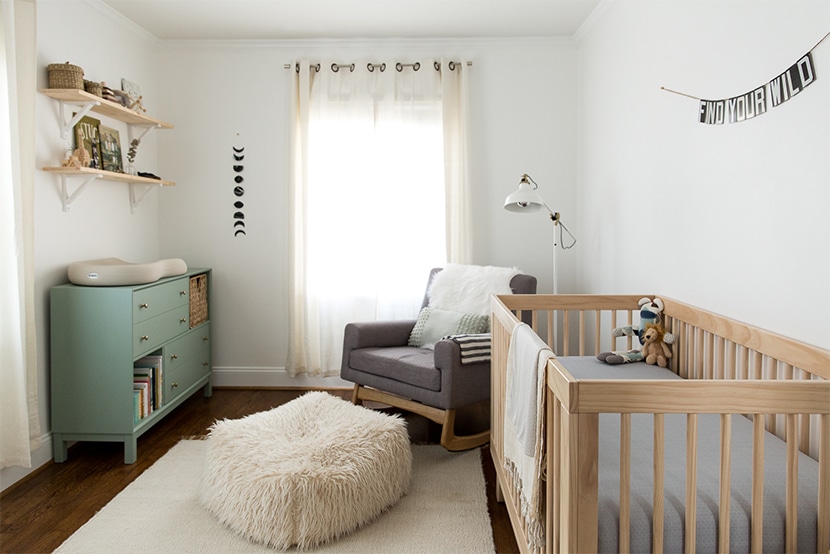 Some of the items we pulled into the room were things that existed in our home already such as the rug and pouf, but others were specific to putting this room together such as the dresser, rocker, and crib. To help make the room feel special and 100% his we wanted to add a few items that had some meaning.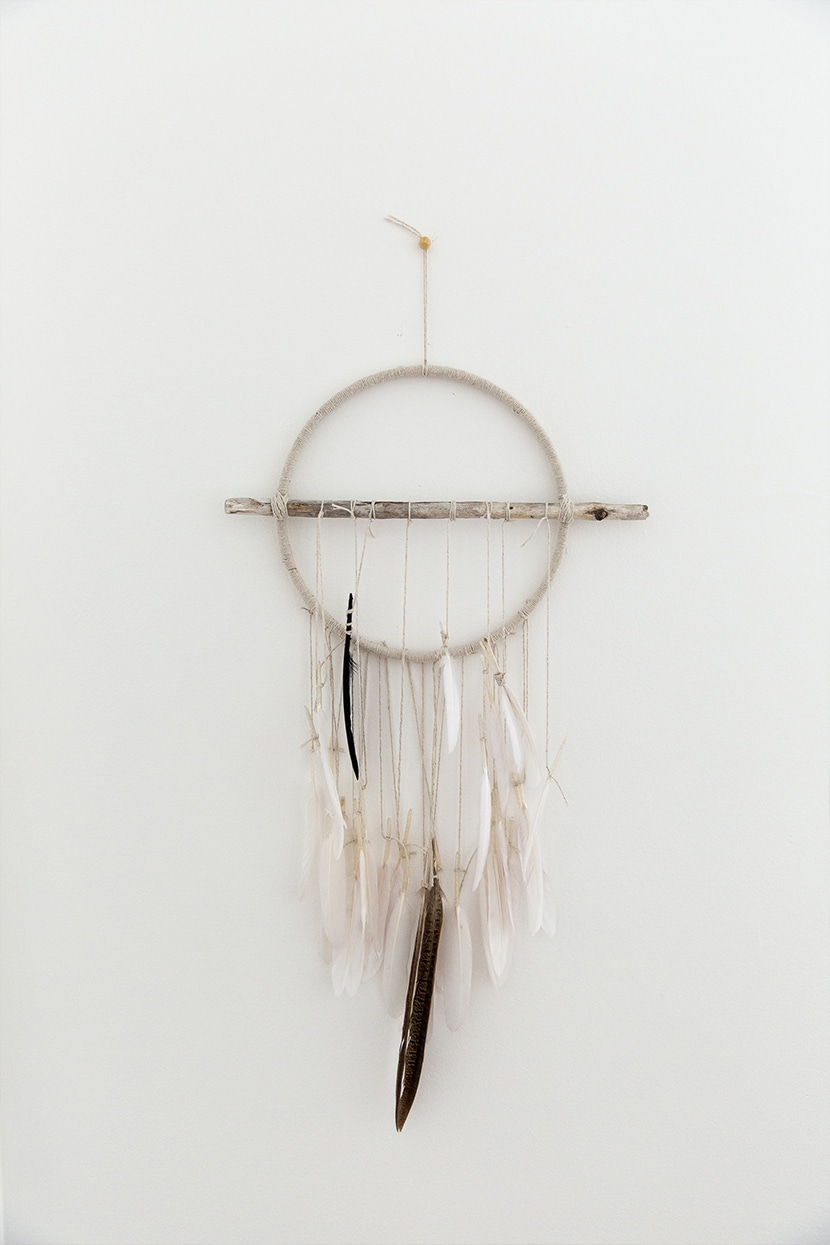 For instance, during my baby shower with neighbors and good friends in Raleigh, they put together a dream catcher for us. Each person attached a feather to it and the driftwood in the middle was something we had collected from our time this last summer on Lake Michigan near my parent's home. The dream catcher is a good reminder of all the people who love him and have been thinking of him as he came into the world and will surround him as he grows up. Things like that made the room feel more than just a decorated space, but a space that would create a story to tell him as he grew older.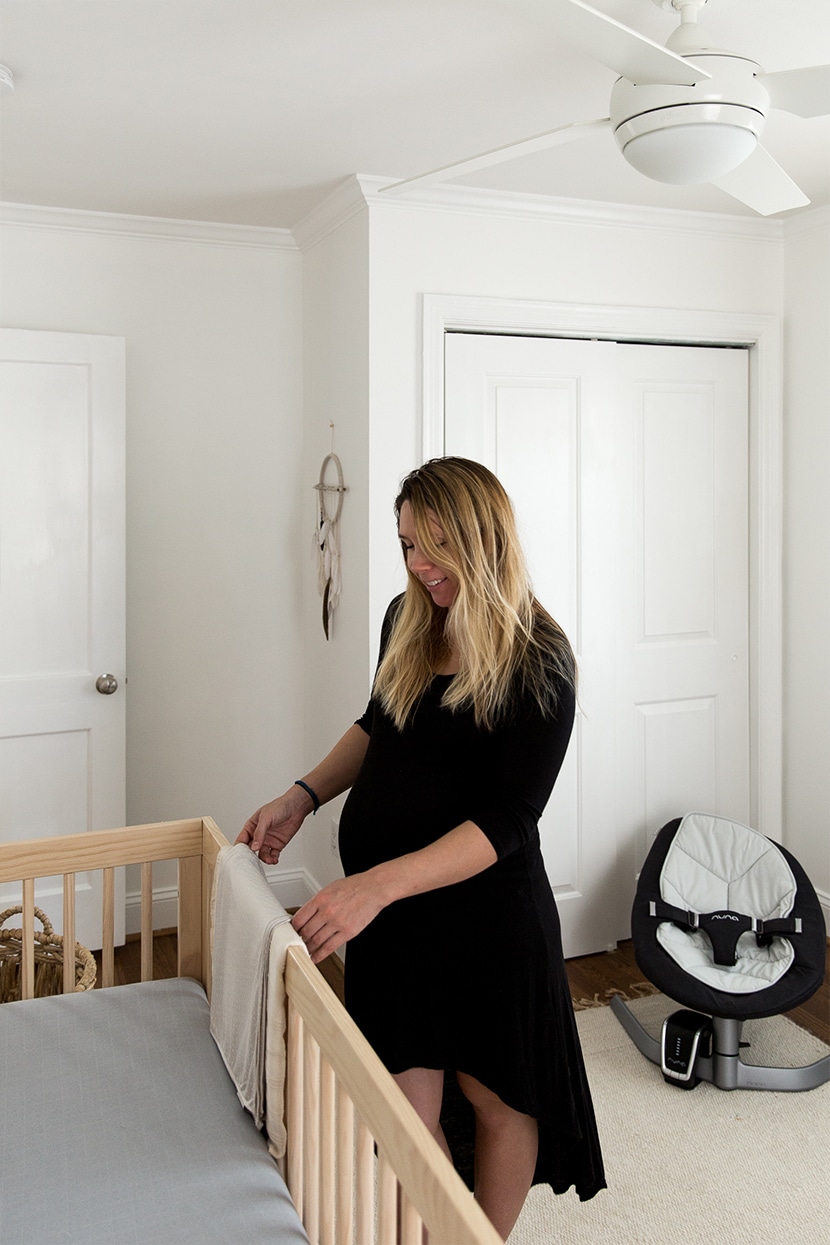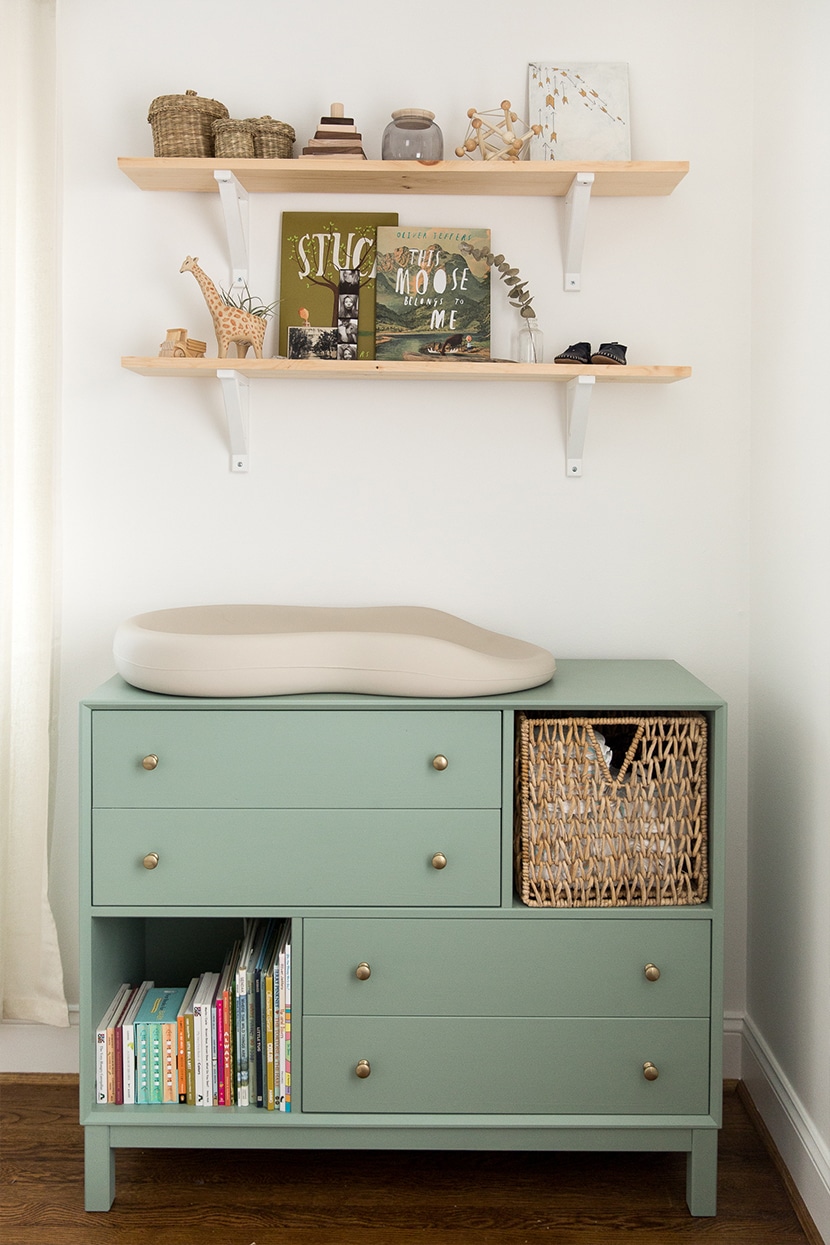 A major piece for our us in the room was a dresser. We needed something that would work for our little guy and fit within our budget. Our space for him is small, but I saw this awesome DIY from Sarah Sherman Samuel  which inspired us to make something similar for our space. We went to Ikea and picked out a dresser that would fit in the space and a color we liked and used her DIY to update the dresser to be the perfect pop of color in the room. We loved that this one had just enough drawers for his clothes and then the cubbies for things we would need for changing diapers, but it also had another cubby for books. We then placed a Keekaroo Peanut on top (attached with 3M velcro strips) and placed shelves above. For the shelves, all we did was used these Ikea brackets and painted them white. We then purchased wood from Lowe's and sanded the edges and attached them to the brackets. Something to remember when placing ANYTHING above your babies head is to make sure it is securely screwed into the wall so it will not fall on them.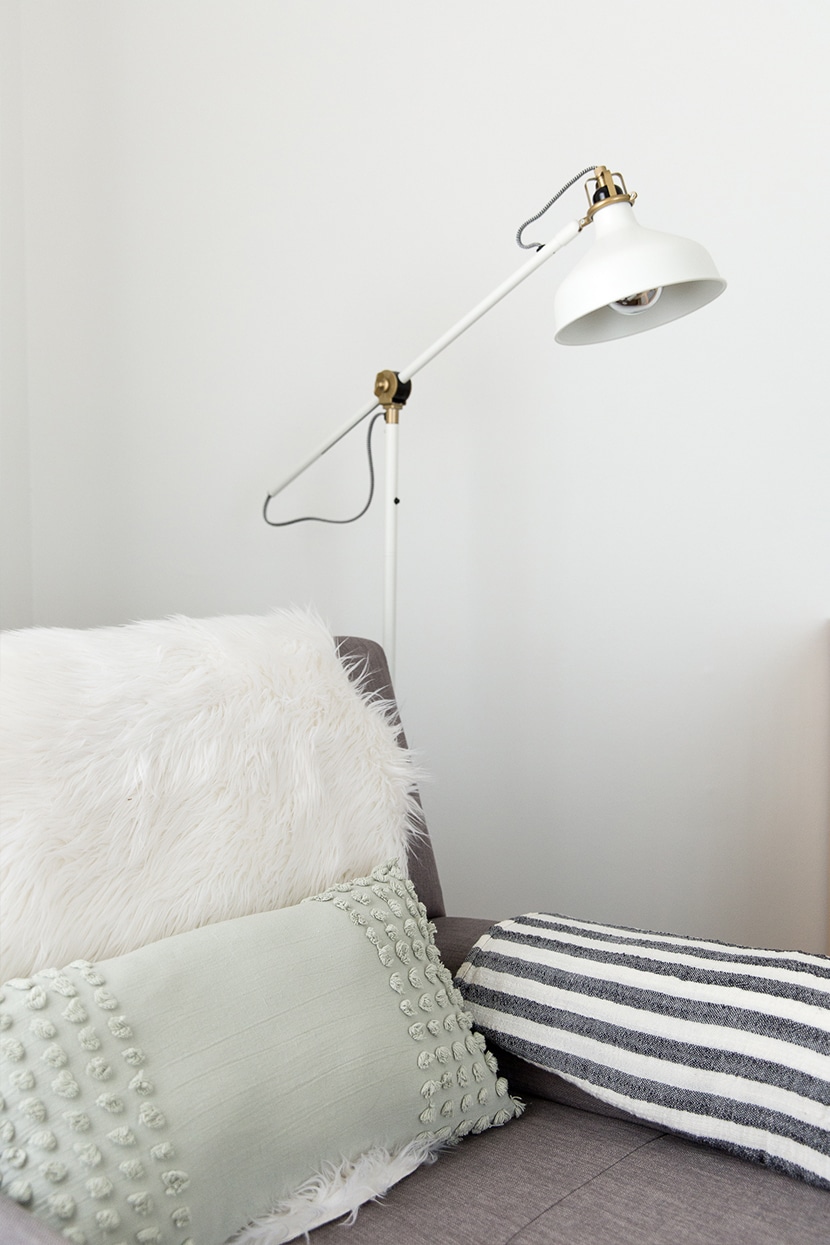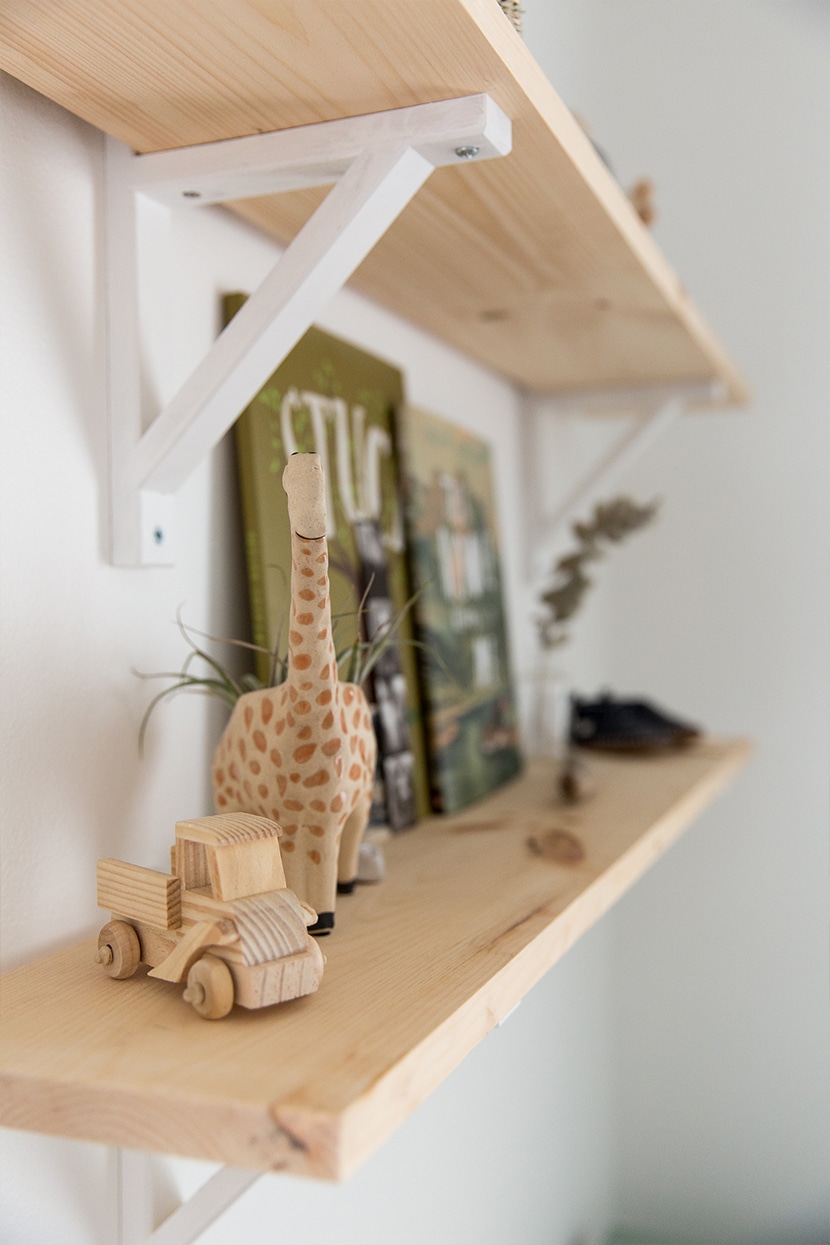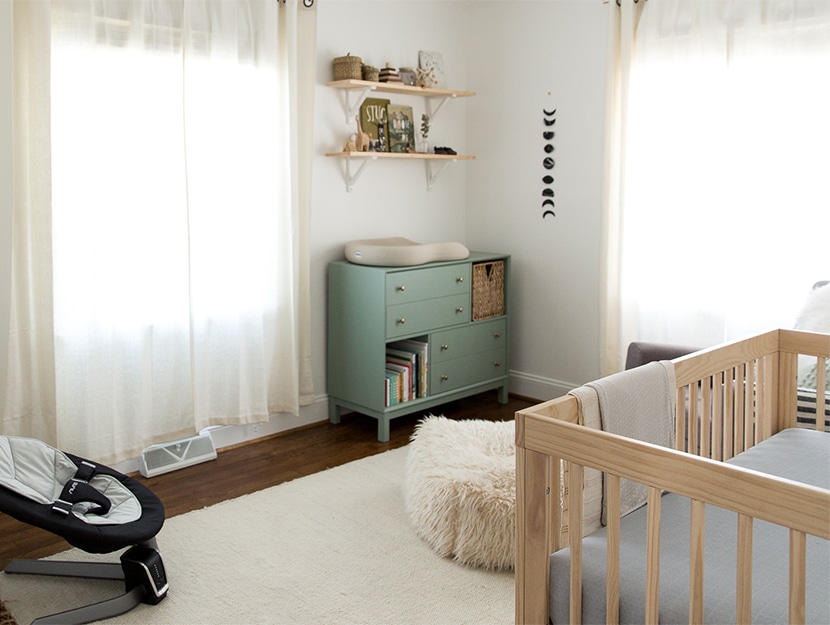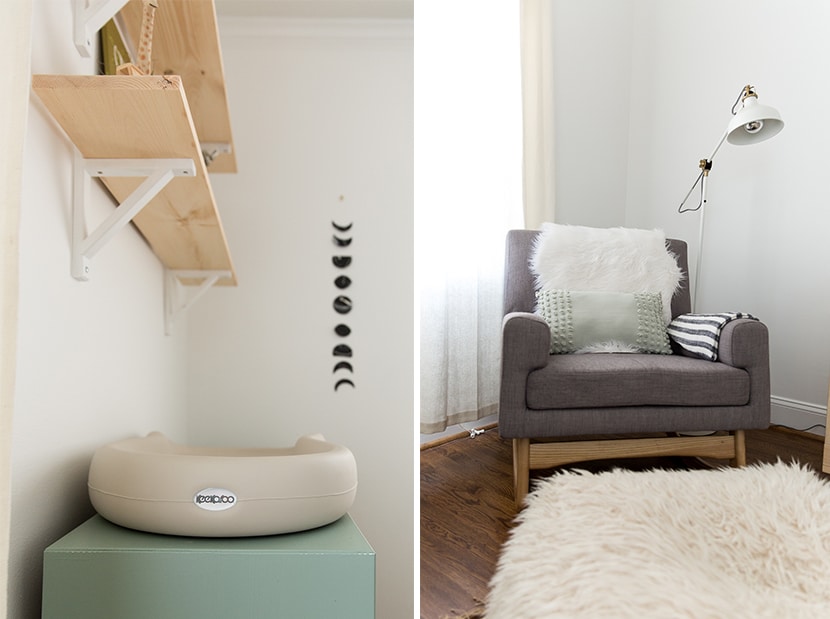 Choosing a rocker was quite the ordeal for the room, I wrote a whole post about rockers being the hardest part of putting together our nursery. We ultimately went with the Nursery Works chair in a birch base and pebble. The chair has a great back height for leaning my head on and I am pretty average height at 5'6". I then tossed a synthetic lamb's wool on the chair (easier to keep clean) and this pillow from Urban Outfitters and this blanket from Land of Nod a friend of our's gifted us. It is the perfect cozy space for nursing. We used the faux fur pouf as the ottoman, which has been very comfortable.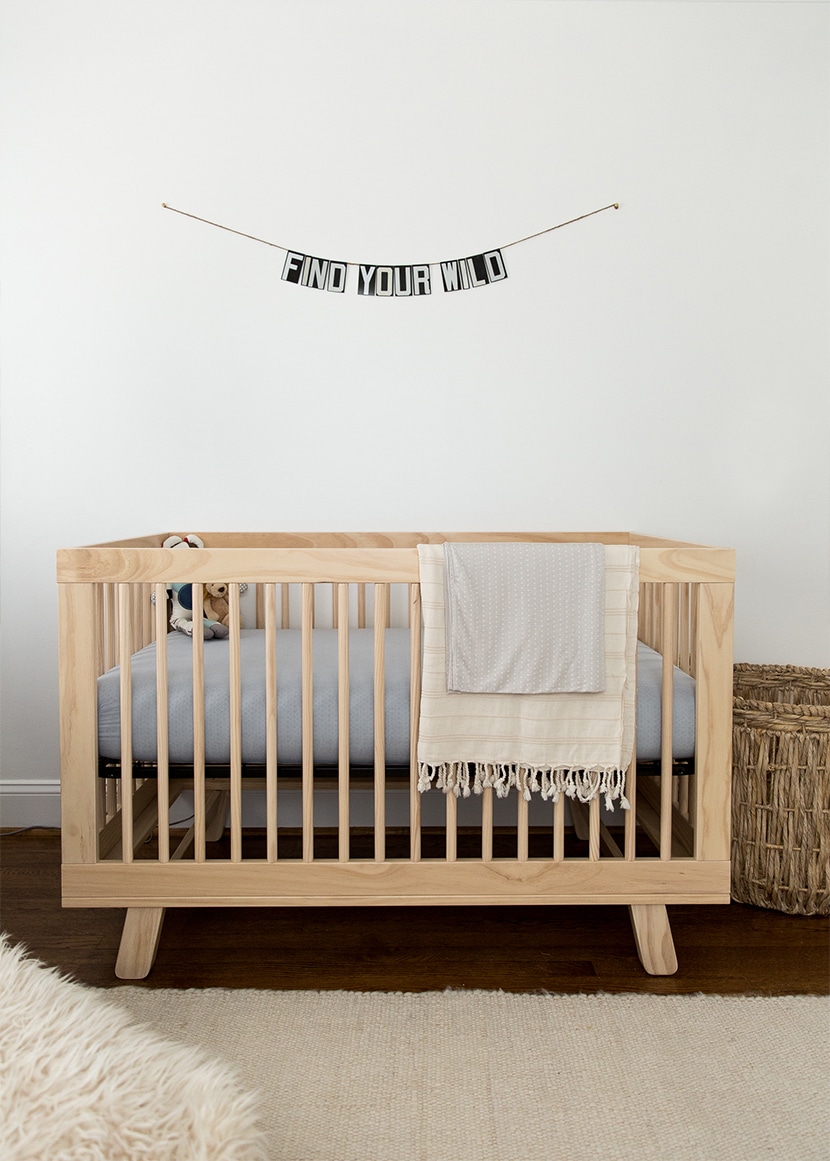 The crib was another big decision in the room. Once we had chosen the rocker, I discovered the Hudson crib in washed natural birch from Babyletto and fell in love instantly. The minimalist design, the ability to transition it to a toddler bed, and the price was reasonable were great selling points for us. It also perfectly matched the wood on the rocker as well. We purchased the Lullaby Earth Breeze mattress for the crib and it fits perfectly as well as provides security to us that if he flips onto his face at night he can still breath. We placed a vintage letter bunting from Oh Albatross over his crib. I also placed a blanket from a favorite store and a swaddle wrap from Solly Baby to tie together the bed for him.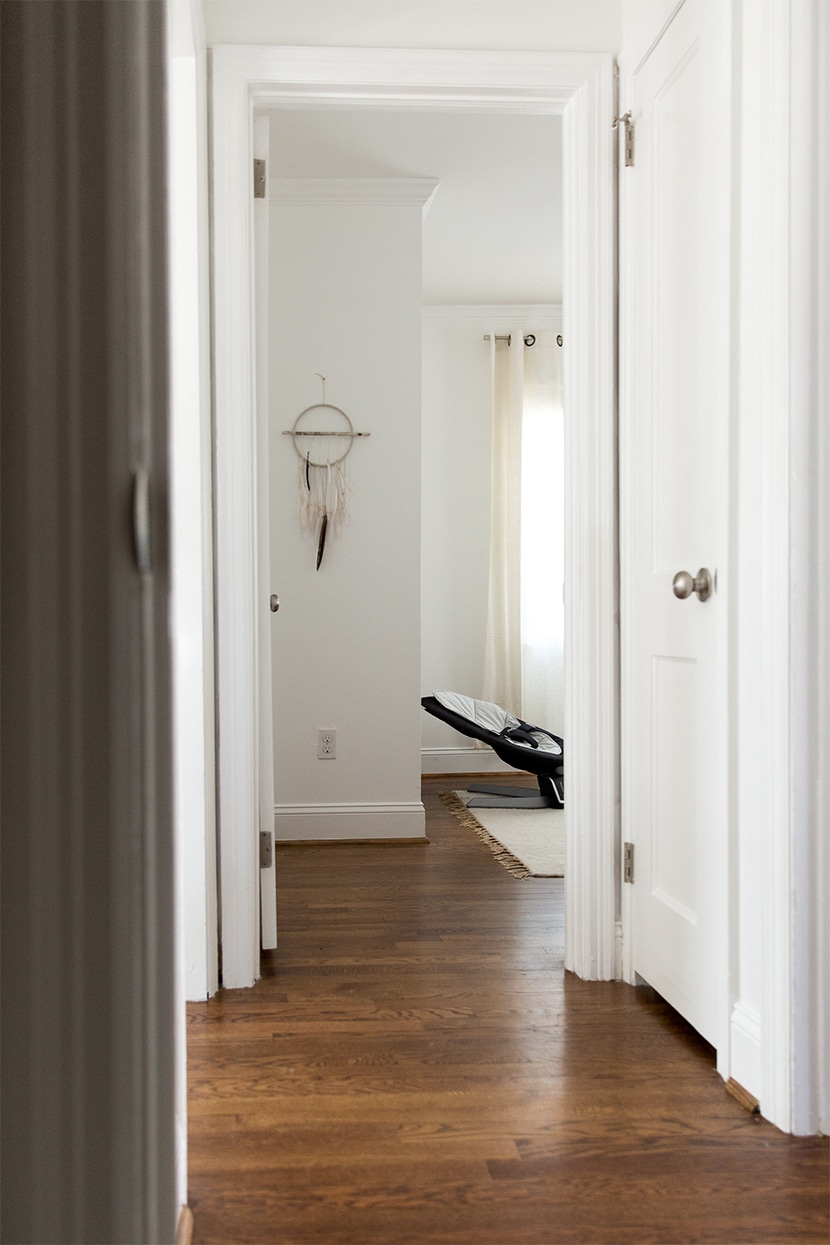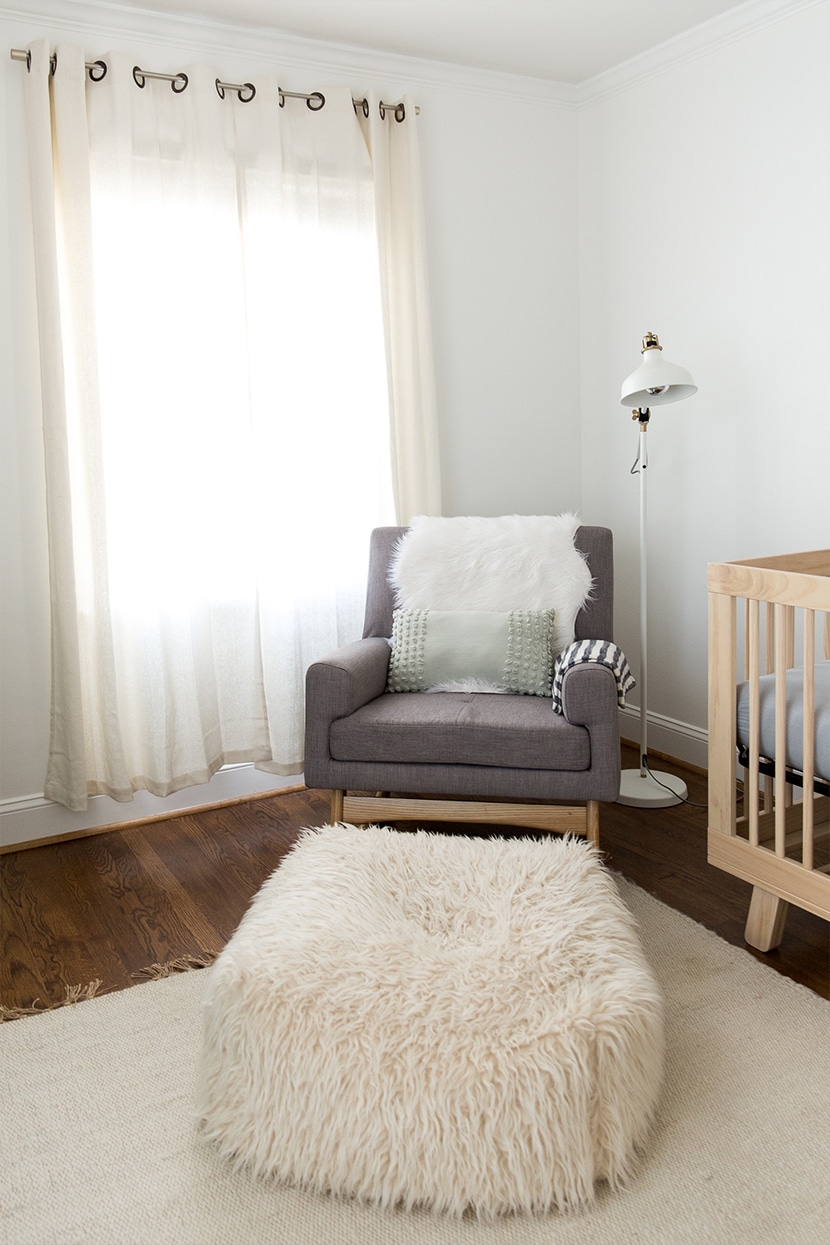 Something that a lot of people suggested to us was to get good curtains for his room. It was hard to choose something because I didn't want to spend much or have any more color in the room. We matched the curtains to the rug and pouf in an off-white. The room is painted in Behr's Ultra Pure White so there is a subtle contrast between the curtains and the wall, which worked way better than we expected. The curtains came from World Market and the rods were from Target.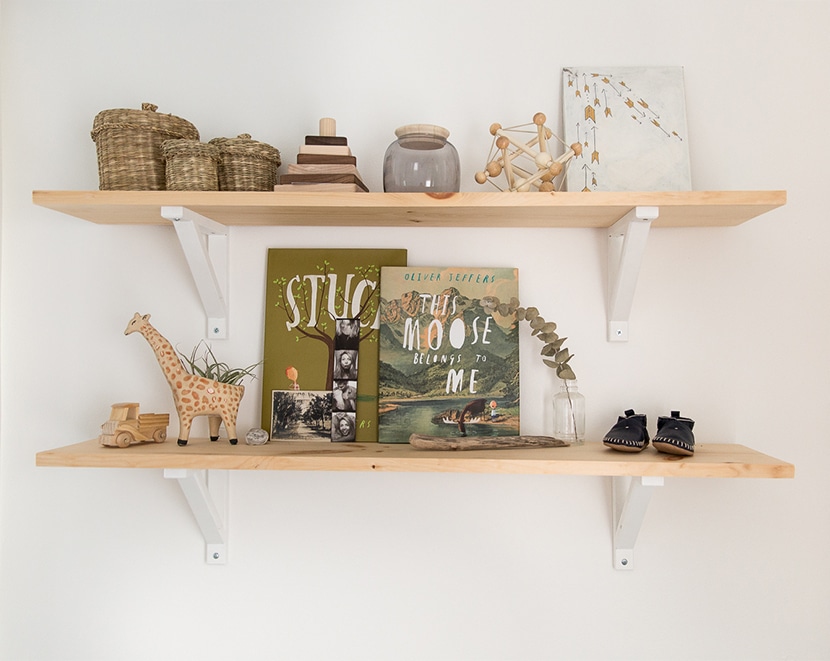 When it came to decorating his shelves, we stuck with focusing on choosing items that centered around a color theme of greens, teals, navy, and natural wood tones. We gathered items that were gifted, photos from trips we took, postcards from favorite places, a rock found on a trip to the desert, driftwood from Lake Michigan, books we loved, and toys that captured childhood. Keeping to a specific palette helped pull all the items together without feeling cluttered.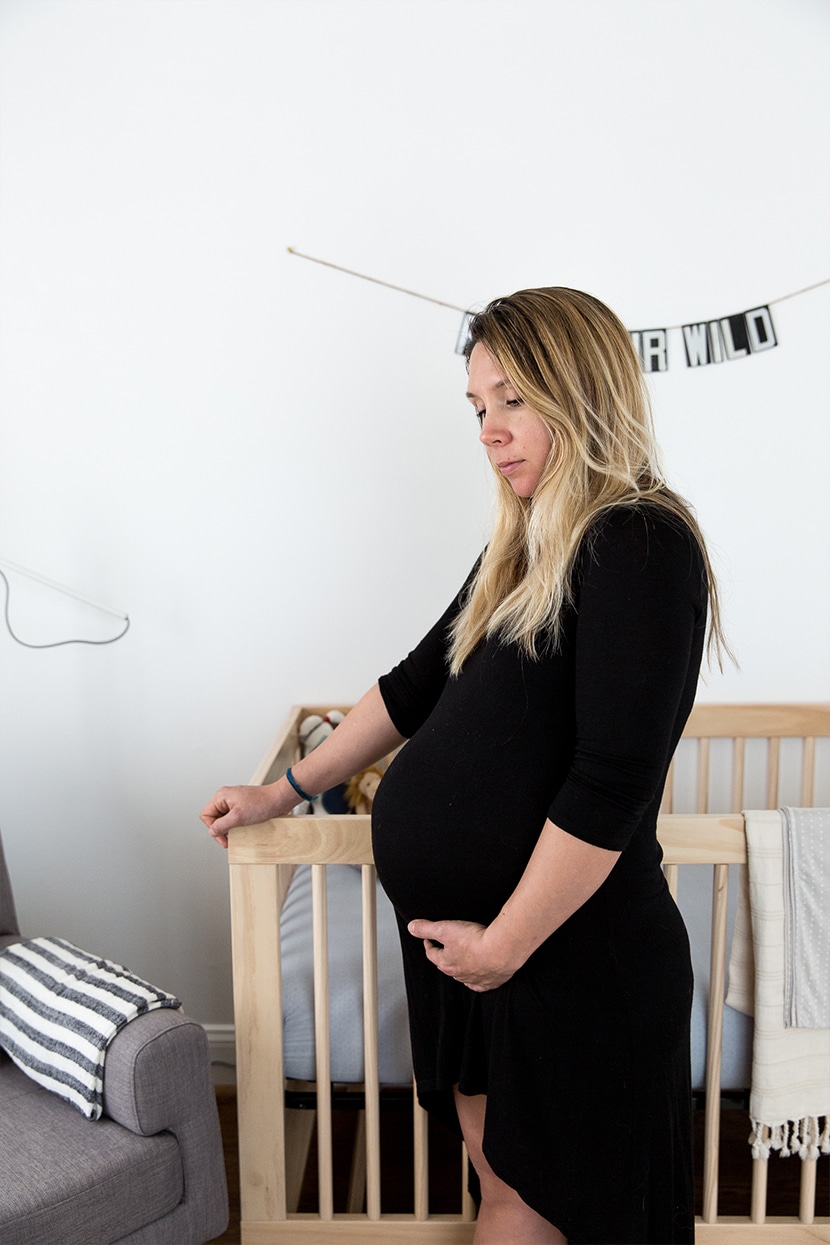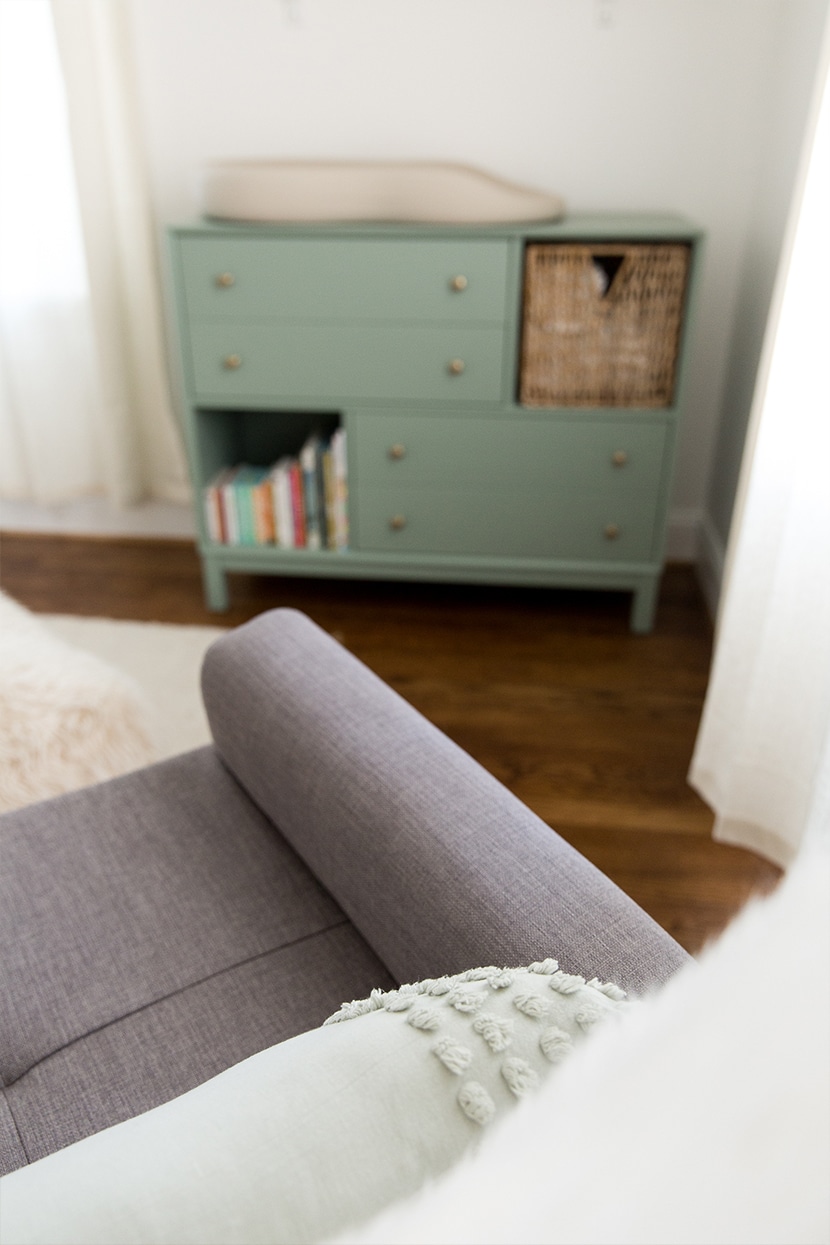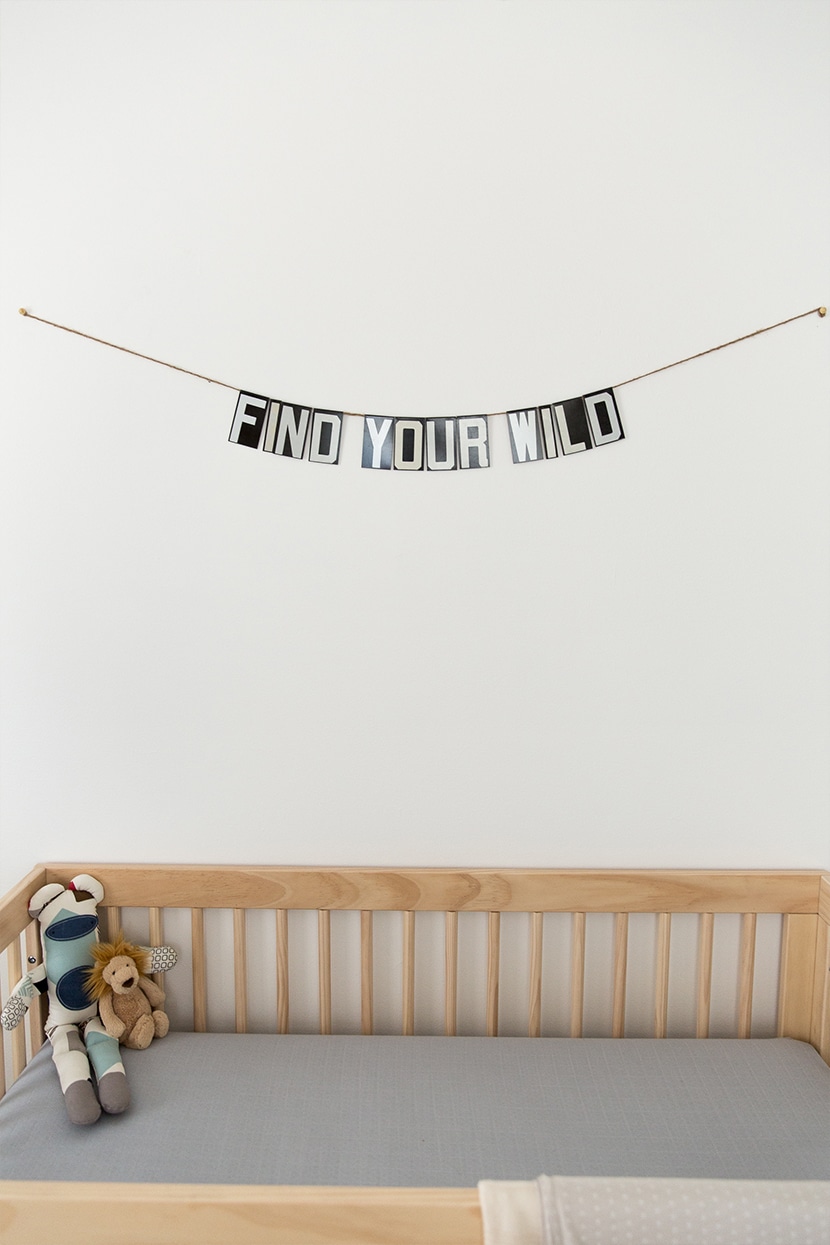 Though it will be quite a while before our little guy will be sleeping in here we love that this space is set and ready for him to enjoy as he grows big enough to embrace some independence. For now, he is bunking with us in this bassinet which has worked out wonderfully thus far. Because of his size we most likely won't transfer him to his crib till we return from our regular trip to Michigan this summer. Till then this space will be for rocking, playing, and reading.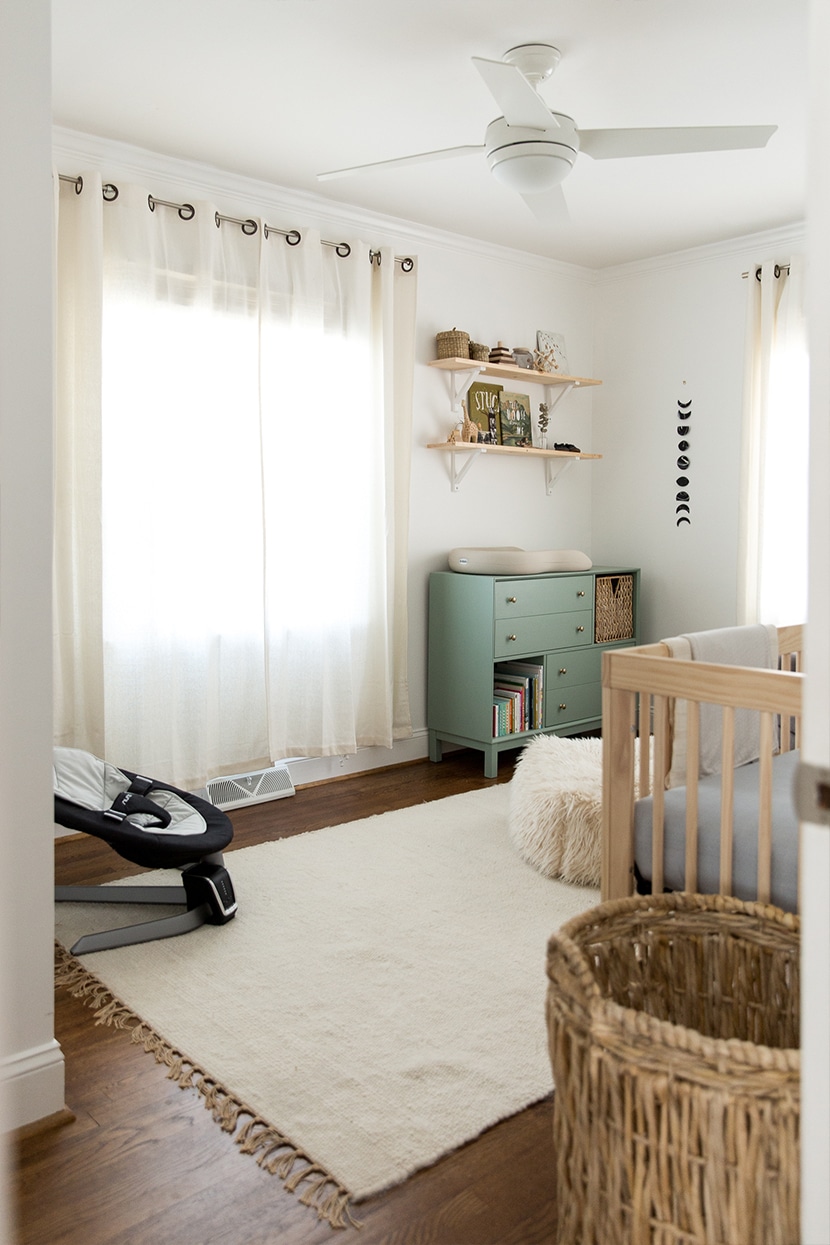 To find out where everything is from please see the links below.
Paint Color: Behr Ultra Pure White in Matte
Vintage Letter Bunting: Oh Albatross
Swing chair: Nuna Leaf with the Nuna Wind attachment
Basket: World Market
Crib: Hudson in Washed Natural Birch from Babyletto
Crib Mattress: Lullaby Earth Breeze Mattress
Crib Sheet: Aden & Anais
Stuffed Animals: Lion is from Jellycats and Bear from DwellStudio
Rug: Urban Outfitters
Curtains: World Market
Curtain Rods: Target
Rocking Chair: Nursery Works in Pebble and Birch (purchased used)
Pillow in Chair: Urban Outfitters
Faux Sheepskin on chair: Safavieh
Faux Fur Pouf: Urban Outfitters (similar)
Dresser: Ikea (see suggested DIY here) ***** THIS DRESSER IS NO LONGER AVAILABLE****
Dresser Knobs: Ikea
Dresser Paint Color: Behr: Green Trellis
Dresser basket: Ikea (similar)
Floor Lamp: Ikea
Shelves: Ikea brackets painted white with wood from Lowe's
Dreamcatcher: Gifted
Moon phases: DIY to make your own here
Items on shelf: Seagrass baskets  |  Wood Stacker Toy  |  Glass Jar  |  Arrow Art – gifted  |  Geometric Toy  |  Wood truck  |  Giraffe planter  |  Stuck  |  The Moose Belongs to Me  |  Leather Moccasins
Changing pad: Keekaroo Peanut in Cream