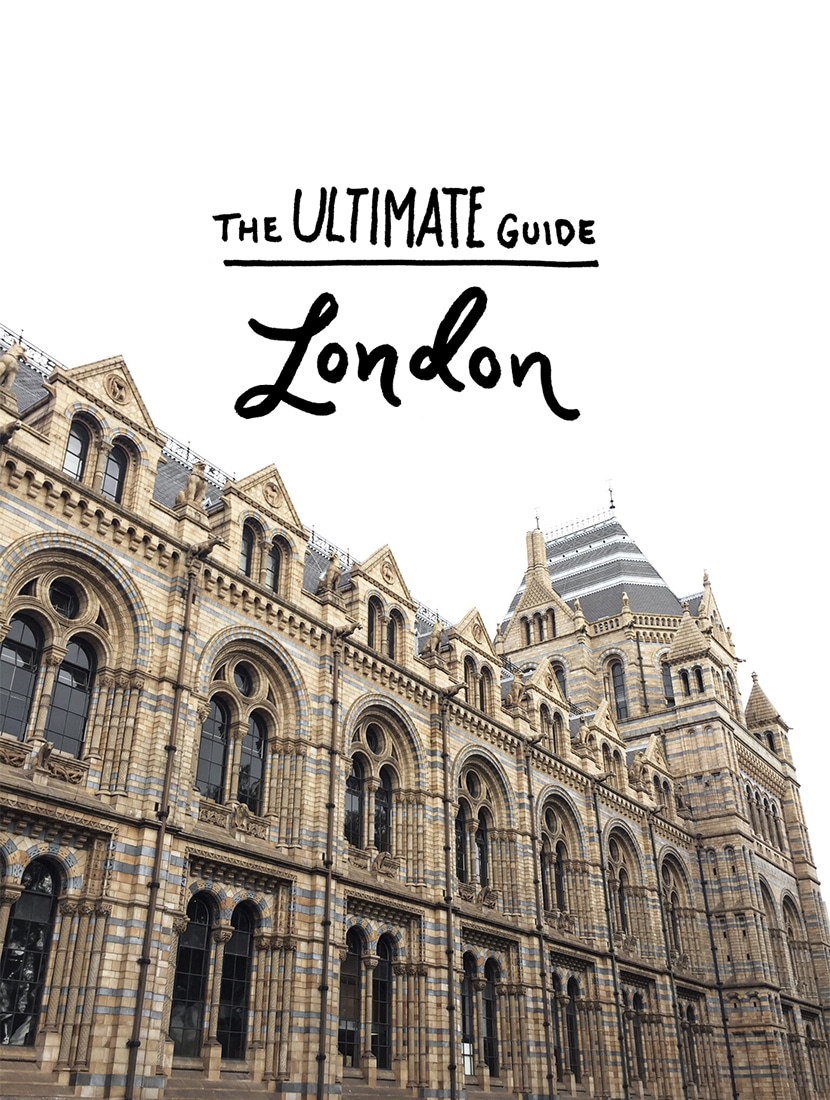 When we shared that we were headed to London we received the most incredible list of recommendations. I was blown away by not only the vast amount of recommendations but the quality of them. We were barely able to crack the surface on them all while we were there, but we felt terrible letting it all go to waste so we wanted to create a list of all of your recommendations with coordinating neighborhoods so you could plan accordingly. London is a large city and so taking it one bite at a time is very important. The problem I found when looking at guides was that they were lists and most things would be all over the city so hitting them all in a smart way was hard. Instead, I wanted to give you a neighborhood/tube stop for each place and then I have placed all of them on Google Maps for you to see as well. We find starring all the places we want to go makes it easy to know what we want to see and experience in a city.
Our hope is that this helps you see this amazing city with even more ease and less exhaustion. There is a lot to see so let's just get started.


Dishoom (Shoreditch)
Ye Olde Cheshire Cheese (Temple)
Grenadier (Knight's Bridge)
KaoSarn (Brixton)
Elephant (Brixton)
The Clove Club (Shoreditch)
Bar Remo (Soho)
Gordon's Wine Bar (Embankment Stop)
Electric Cinema (Notting Hill)
Muriel's Cafe (Soho)
Sticks and Sushi (Covent Gardens)
Kettners (Soho)
Elliots (Borough Market)
Duck and Waffle (Liverpool Stop)
Ottolenghi (Soho, Canonbury, and Shoreditch)
The Breakfast Club (Borough Market)
Truscott Arms (Warwick Station)
The Wolseley (Piccadilly)
Le Creperie du Hampstead (Hampstead)
Tuscanic (Shoreditch)
Gelupo (Shoreditch)
Granger & Co (King's Cross, Clerkenwell, and Notting Hill)
The Modern Pantry (Clerkenwell)
Bourne & Hollingsworth (Tottenham Court Station)
Cookhouse Joe (Soho)
Polpo (Soho)
Counter Albion (Shoreditch)
Little Venice (Warwick)
Rochelle Canteen (Shoreditch)
Dabbous (Fitzrovia)
DuckSoup (Dean Street)
Planet Organic (Bloomsbury)
Lantana Cafe (Bloomsbury)
Yoobi (Soho)
Tokyo Diner (Soho)
Honest Burger (Soho)
Pizza East (Highgate Rd and other locations)
Andina (Shoreditch)
Natural Kitchen (Marylebone)
Roti Chai (Marylebone)
Quality Chop (Clerkenwell)
Serpentine Cafe (Hyde Park)
Cereal Killer Cafe (Shoreditch)
Cornercopia (Brixton)


Big Easy  (Chelsea)
The George (Strand)
Ye Olde Mitre Pub (Barbican)
Black Friars Pub (Barbican)
Lamb and Flag (Covent Garden)
Newman Arms (Soho)
Fernandez and Wells (Mayfair)
El Camion for drinks (Brewer Street)


Federation Coffee (Brixton)
Tap (Soho)
Candella Tea Room (Kensington)
Workshop Coffee (Clerkenwell)
Alchemy Coffee (Temple)
Monocle Cafe (Chiltern Street)
Ace Hotel (Shoreditch)
Ozone Coffee Roasters (Shoreditch)
Monmouth (Borough Market & Neal's Yard)
Sketch (Mayfair)
Brill Coffee (Exmouth)
St. Katherine Docks (Tower Bridge area)
Kaffeine (Bloomsbury)
Store Street Espresso (Bloomsbury)
Yumchaa (Bloomsbury / George Street Station)
The Orangery (Kensington Palace)


Ace Hotel London (Shoreditch)
The Rockwell (Kensington)
The Laslett (Notting Hill)
One Fine Stay's Selections
The Ampersand Hotel (Kensington)


Oxford Street
Marylebone High Street
Brick Lane

Tate Modern (Southwark station)
Victoria & Albert (South Kensington Station)
Royal Academy (Piccadilly Circus Station)
Hayward Gallery (Waterloo Station)
British Museum (Tottenham Court Road)
Natural History Museum (South Kensington Station)
National Portrait Gallery (Charing Cross Station)
Science Museum (South Kensington Station)
The Saatchi Gallery (Sloane Square Station)
Serpentine Gallery (Kensington Gardens)
Tate Britian (Pimlico Station)
Photographer's Gallery (Soho)
Whitechapel Gallery (Aldgate East Station)


Big Ben (Westminster Station)
Tower Bridge (Tower Hill Station)
Tower of London (Tower Hill Station)
London Bridge (London Bridge Station)
Houses of Parliament (Westminster Station)
Palace of Westminster (Westminster Station)
Westminster Abbey (Westminster Station)
Buckingham Palace (Victoria Underground Station)


Labour & Wait (Shoreditch)
Brixi (Brixton)
Harvey Nichols (Knightsbridge Station)
Selfridges (Oxford Street)
Prada (Bond Street)
Harrods (Knightsbridge Station)
Liberty London (Oxford Circus Station)
Cath Kidston (Piccadilly)
Fortnum and Mason (Piccadilly)
Toast (Notting Hill)
Folklore (Canonbury)
Justerine and Brooks (Green Park Station)
Berry Brothers (Green Park Station)
Margaret Howell (Marylebone)
The Good Hood (Shoreditch)
Present London (Shoreditch)
Magma Book and Magazine (Clerkenwell)
Nook (Stoke Newington)
Dark Sugars (Shoreditch)
Daunt Books (Marylebone)
Olive Spencer (Shoreditch)


Walk the Southbank along the River Thames to The Shard
Picnic in Hyde Park (Lancaster Gate station)
Wander Kew Gardens
Every Man Cinema (Hampstead)
Thames Clipper
The London Eye (Southbank)
Go to the top of The Shard
Wander to Notting Hill
Walk London Fields (Hackney)
Wander Regents Canal
Wander Phoenix Garden (Tottenham Court Station)
Have a Picnic on Primrose Hill in Regent's Park (Regent's Park Station)
Watch the Changing of the Guard at Buckingham Palace
Visit Holland Park (Holland Park Station)
Walk The Millenium Bridge (Across from Tate Modern)
Whirled Cinema (Brixton)


Borough Market (London Bridge Station)
Brick Lane Market on Sunday (Shoreditch)
Broadway Market on Saturday (Hackney)
Columbia Road Flower Market (Bethnal Green)
Exmouth Market (Exmouth)
Spitalfield Market on Sunday (South Shoreditch)
Camden Horse Tunnel & Camden Market (Camden Town)
Portobello Market (Ladbroke Grove Station)
Maltby Street Market (Southwark)
Druid Street Market (Southwark)


Oxford University (Oxford City)
Petersham Nurseries (Twickenham)
Cotswolds
Nottingham
Hampstead Heath
Brighton
Here is our full Google Map with everything from the list above. I highly suggest using this while you are there. Google Maps stays loaded up if you load it before leaving wifi. Also, download a tube map app on your phone that works without wifi as well so you can easily find a great route around the city.
As always if you have any other tips or suggestions please leave them in the comments. I try to go back and add in places people suggest when I have extra time.
I hope this helps so many of you have an amazing time in London! It is a great place to visit.