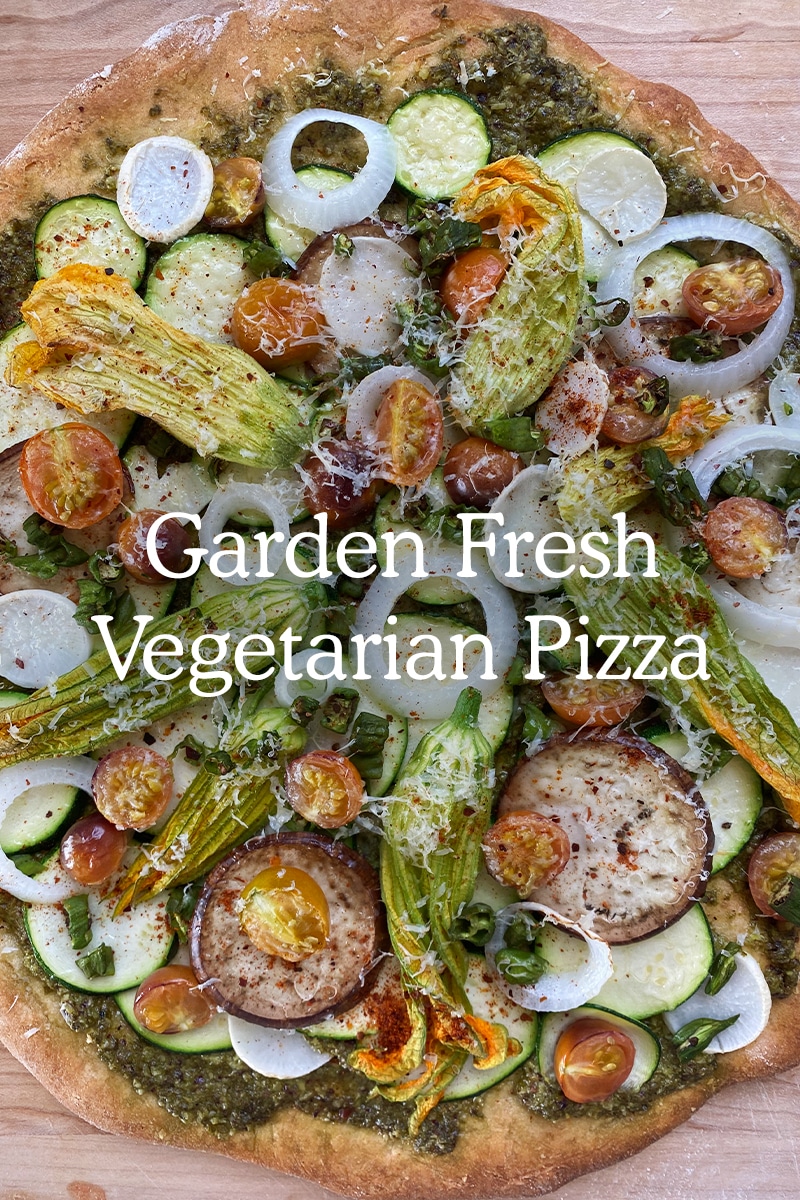 Summer is a time full of produce! Using it all is a lot of work, but that's why I love making a garden fresh vegetarian pizza to bring some of the best of the garden all together in one place. This simple throw together recipe will get the whole family eating the whole garden without an issue. Nothing beats a pizza cooked over real wood fire and now you can make your own from the comfort of your home with the use of this Pellethead Poboy from Pizza Oven – Pellethead!
Making a summer vegetarian pizza is so easy and really just needs to be about having fun with the fresh veggies you find at the farm market or from your garden. Switching to farm to plate has been really life changing.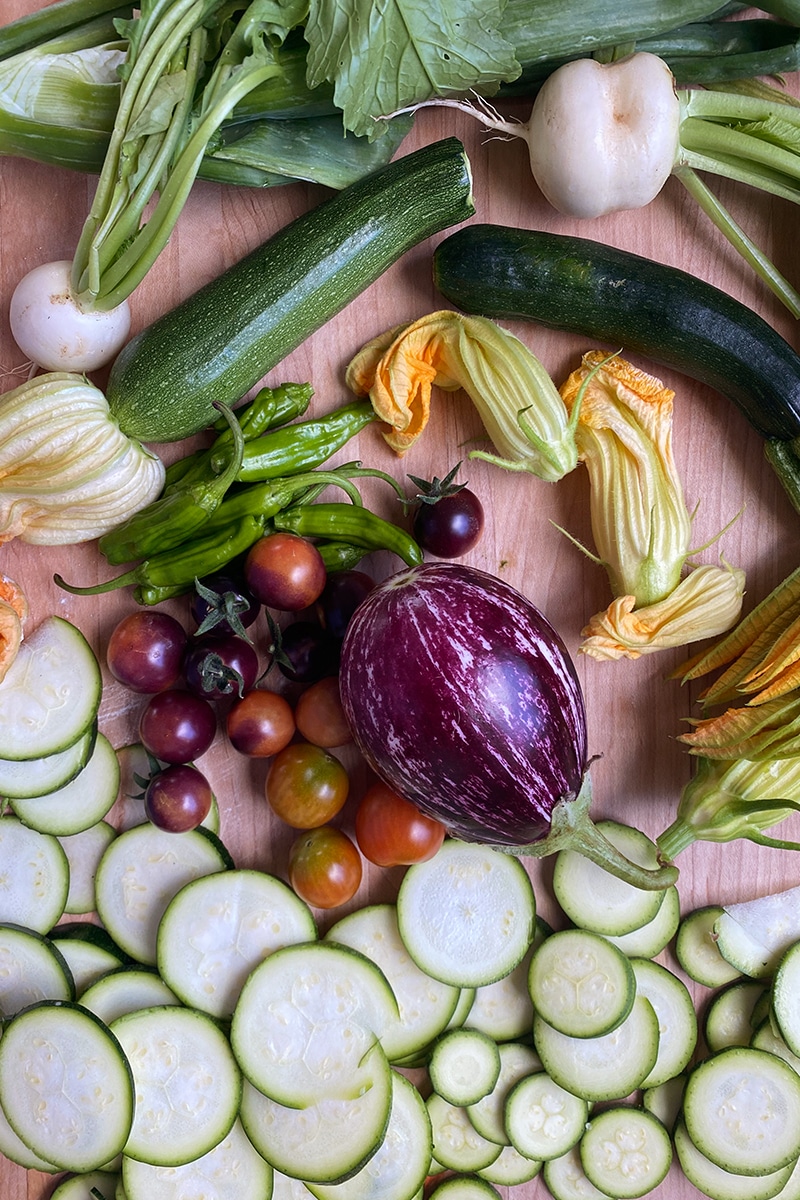 Using the fresh food from the garden can be really hard and particularly can feel overwhelming but I love adding all of it to this garden fresh vegetarian pizza.
Here are my favorite ingredients from the garden for this vegetarian pizza recipe:
Fresh pesto: I use this recipe to make my pesto and it even gives you alternatives to seeds and herbs or greens to add in to use up whatever may be needed to be used. We eat a lot of pesto in this house because it is a great way to get in plenty of healthy herbs and greens into little people.
Zucchini: You can put all that zucchini to work on this pizza and it is really good this way. I have sliced it like above or even chopped it into matchsticks. It works either way. I suggest using the nice little ones for this as they will put off less water into the pizza.
Tomatoes: Use cherry tomatoes if you have them. They are less watery and really sweet treats in a bite of pizza.
Eggplant: You may think I am nuts but cut it really thin on a mandolin and you deeply enjoy it right next to the tomatoes and zucchini.
Peppers: I love using shishito peppers on this recipe. They are mild and rarely spicy but when they are it compliments the tomatoes really well. They are also bright and green and cook up really nicely.
Turnips: You read that right. Potatoes are good too, but I REALLY like turnips here. Use that mandolin to make them super thin for the pizza
Broccoli: chop it up small and little and sprinkle on top
Squash Blossoms: They are intense looking but trust me here. You could pre fry them if you wanted, but I like them just tossed in a little oil. When you harvest you are looking for the male ones, but make sure you still leave a few on your plants. You can also take the female flower off the bottom of a squash but these are harder to snag at the right point without harming their production so I stick with male flower harvest.
Green Beans: Once again seems weird but they are really great on pizza and they get so crispy under the heat of the oven!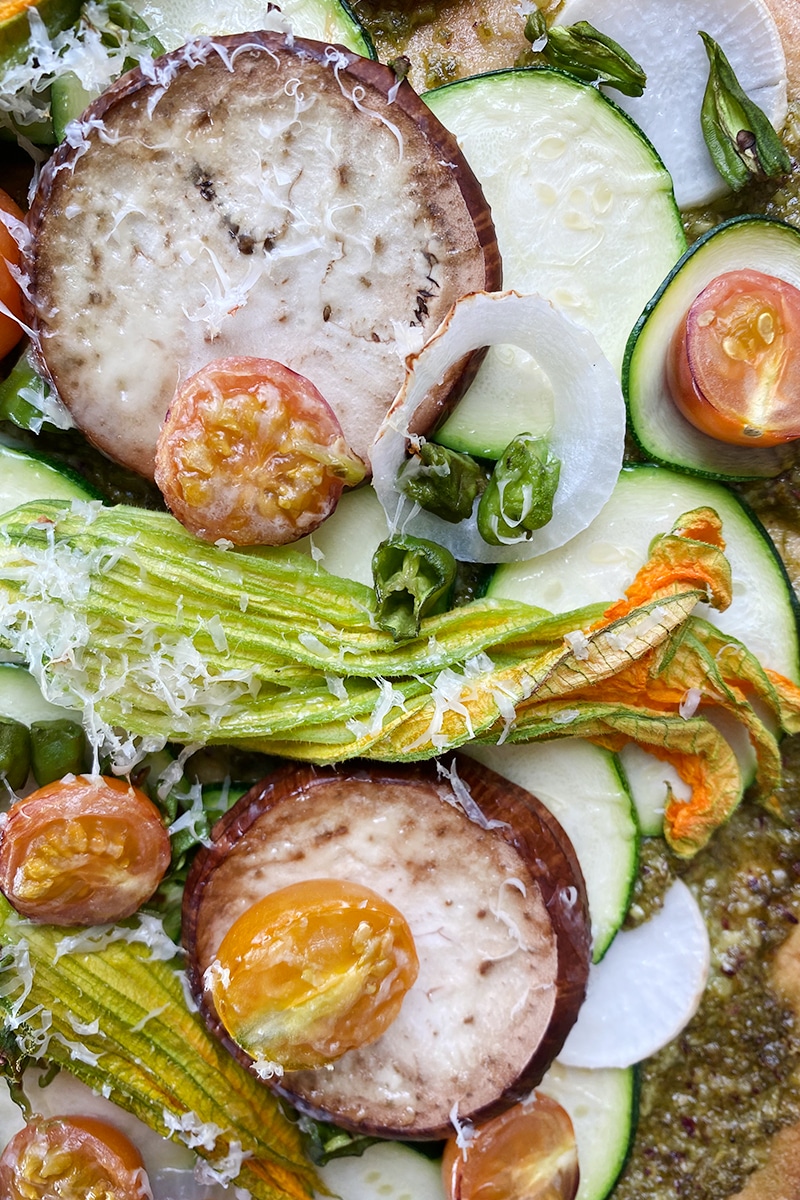 This recipe doesn't call for you to use Parmesan if you don't want to, but I really like a little bit on top because really good parm works beautifully with garden fresh veggies. Parmesan works great for vegetarian pizzas but you can very easily add some fresh burrata instead if you would like.
If you love this garden fresh vegetarian pizza recipe you will also love the following ones as well:
Print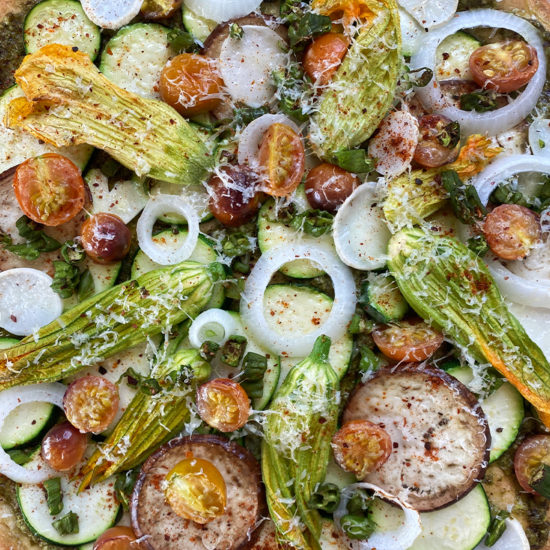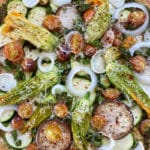 Vegetarian Garden Pizza
Author:

Prep Time:

20 minutes

Cook Time:

15 minutes

Total Time:

35 minutes

Yield:

8 slices
---
Description
Make use of all those veggies from your garden this summer with this quick to whip up vegetarian garden pizza that everyone in the family will like.
---
1 Pizza Crust of choice – I like this recipe for a quick yeast dough
1 cup fresh pesto – use this recipe to make your pesto
1/4 cup chopped kalamata olives
2 tbsp Olive Oil
A mix of the following veggies:
peppers of any kind really but banana, sweet peppers, and mild hot peppers (shishitos included)
Tomatoes – cherries are the best
Thinly sliced zucchini and summer squash
squash blossoms
kale or arugula or spinach
fresh herbs like basil in particular!
Onions of any kind
Thinly sliced Turnips
Eggplant thinly sliced
Maldon Sea Salt or any course sea salt for sprinkling on top
Optional Ingredients:
Parmesan (if you are doing this vegan you can skip this)
Red Pepper Flakes
---
Instructions
To make the pizza:
Make your dough according to the instructions. I don't bake well so I trust others who are better.
If you are using squash blossoms toss them in a little olive oil so they crisp up nicely when you cook them in the oven.
Spread the pesto on the pizza evenly.
Layer on anything flat to the pizza first this would be your turnips, thinly chopped zucchini, eggplant, or anything else like that.
Then add the chunky things like olive, tomatoes, or onions to the pizza
Finally top with the squash blossoms if you are using them.
Add any additional condiments
Cook the pizza till your crust is golden brown and all the veggies are getting nice and crispy. I suggest high heat but it depends on your crust. I typically cook all pizzas at 450 Fahrenheit.
---
I hope you all enjoy this simple but awesome vegetarian pizza recipe this week! Enjoy summer and the bounty of summer from your gardens.