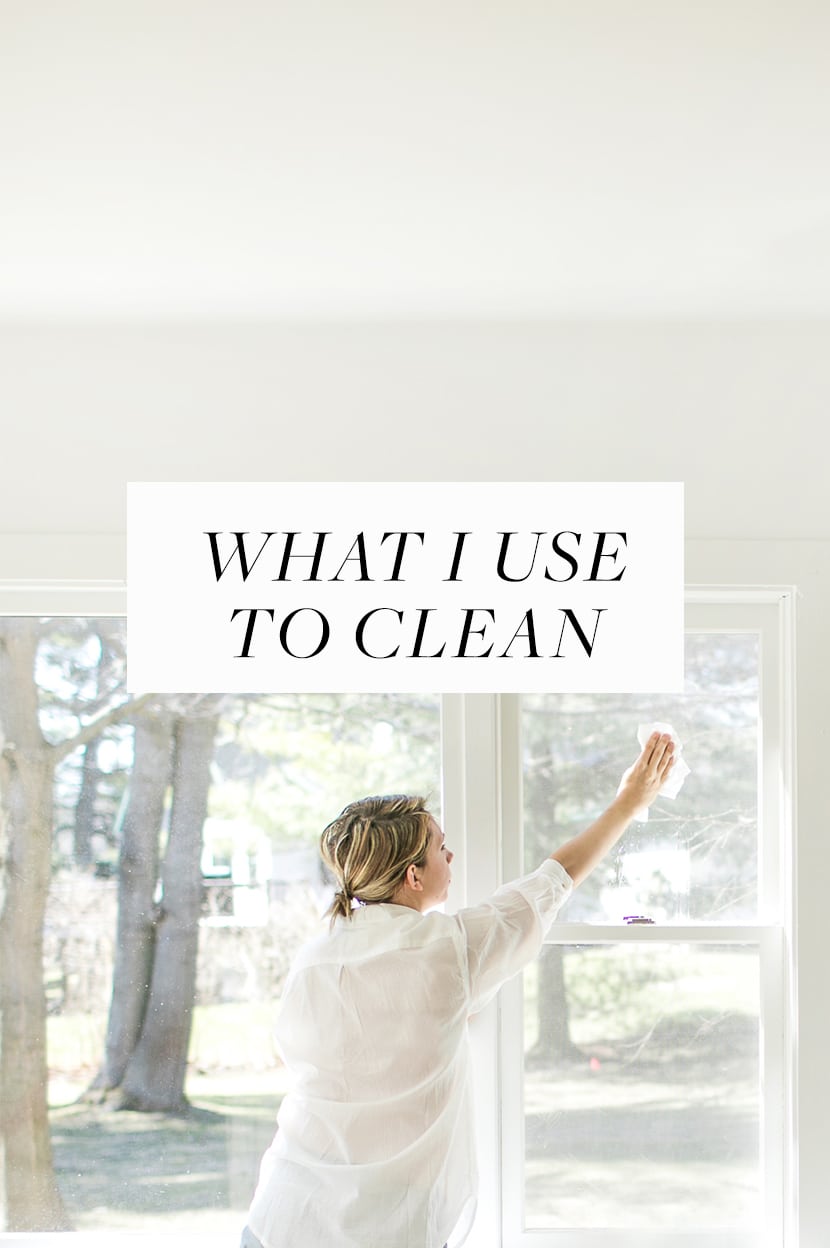 Since moving into our new home I have made a point to clean even more eco. I feel like with all the moving we did it was hard to setup a real system for eco cleaning. I did my best and kept my products clean, but I hadn't really grabbed onto how to reduce waste in the process. I still pick up things like antibacterial wipes when flu season is high when one of us gets sick in order to lessen the chances for visitors or ourselves of getting sick. We very rarely use paper towel. We always have them on hand for those moments of nasty messes with a toddler, but recently I started reusable towels and washing them weekly or every few days depending on the week. I have specific towels for bathroom cleaning and kitchen cleaning. We also keep reusable kitchen towels around and eco-friendly dish scrubbers.
Living out on land where we no longer have trash service but have to pay for each bag of trash we dispose of it has made me hyper aware of what we put in the trash and how much trash we create. That said, I have found just by switching up how we clean things has made a huge difference. Also, with how important water is to our family I have wanted to be aware of our footprint in keeping our land and water healthy so I am hyper-critical of cleaning supplies we use. That said, I have come down to the following products below as well as the classic vinegar, water, and lemon trick. I also like knowing these are safe around Hayes as well. All together I feel we a great system that is pretty, eco-friendly, and allows us to not hurt the land around us. We tried everything we could to leave our trees undisturbed and the rest of our land well cared for that I want to be sure whatever else we use and goes back into the earth is not harmful at all. Below is everything I use and swear by along with some tips with each product.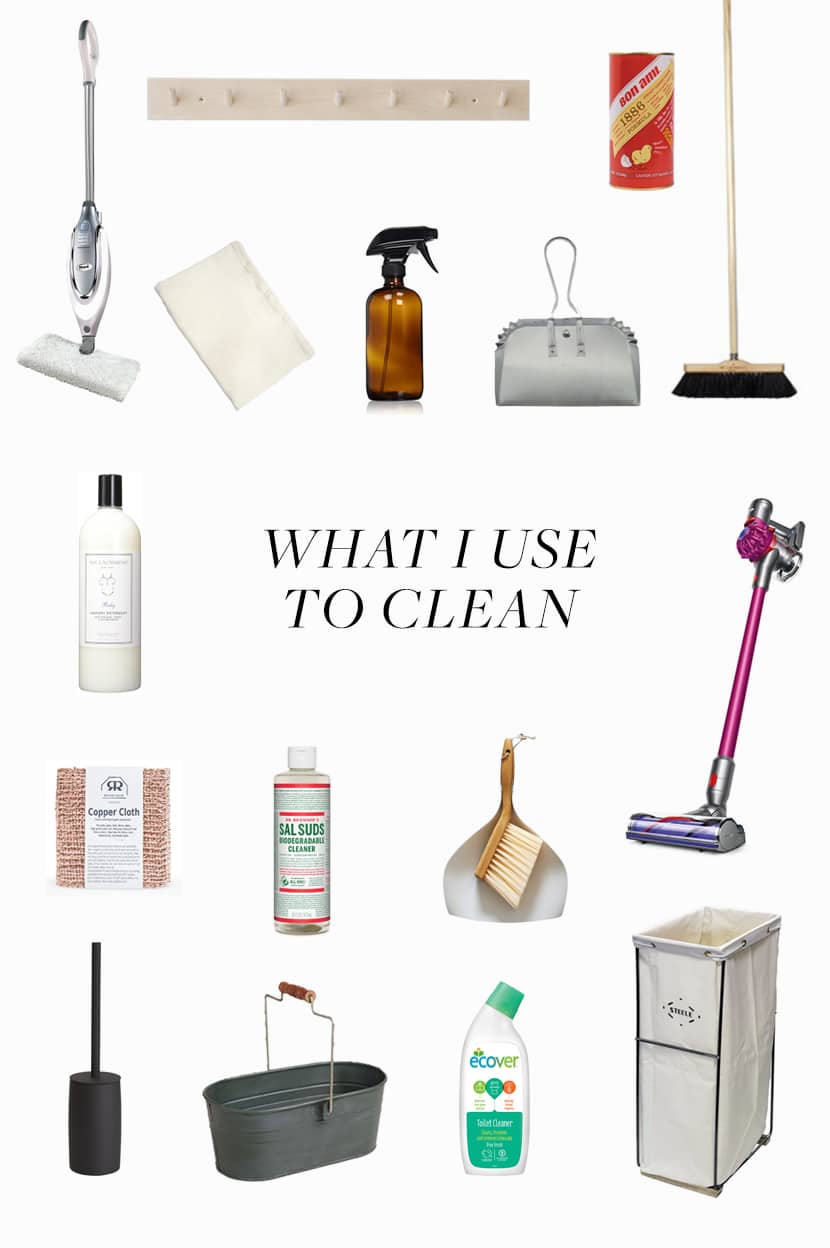 Steam Mop from Shark:
I learned about these when we had a cleaning lady when I was trying to get back to working while balancing Hayes. He was crawling and he used it to clean our floors. Now I use it once a month to do a big clean on our floors. I keep it on the lowest setting for our hardwoods but bump it up for our tile. It makes cleaning our floors and sanitizing them super easy. Plus it uses very little water and no cleaners. The steam does all the cleaning. Perfect!
Wall Hook:
I use this hook for all of our hanging tools we use so they are accessible easily. It is simple and minimal and works great!
Bon Ami:
I use this on our tubs and even used on our toilets. It also cleans our sink great when needed. It is natural and uses minerals and other biodegradable ingredients. Super simple and inexpensive as well.
Wood Broom:
I haven't got one of these yet, but it is on my list this spring as many people have recommended them. Currently, we just use a cheap broom from target we picked up. Soon that will go outside or in the basement and one of these brooms will be our mainstay.
Steel Dustpan:
A good sturdy dustpan is necessary and I love how easy this one is to hang up. No bells or whistles.
Amber Spray Bottles:
I use these for all of our cleaners. This way I can buy concetrates and they last forever for us. More on that next, but I can also create vinegar and water cleaning solutions as well. This means I can purposefully buying recyclable containers but far less of the time so I am buying maybe 2 -3 plastic containers of solution a year and each of them are able to be recycled, which eliminates waste as well as shipping etc. I use our label maker to put labels on them all so I know what is in them.
Organic Cotton Clothes:
I use these for all of our kitchen and living space cleaning. For the bathrooms I just use old clothes or shirts that are stained or worn out. This way I can make the most use out of their life before they ultimately need to be tossed.
The Laundress Laundry Soap:
I love their laundry soap. It lasts just as long for us as other soaps because you use such a small amount. I love the smell of their baby one and it is safe for everyone in the family which is so nice to know. I also keep the Le Labo one on hand to wash towels and sheets for guests when they come to visit. Since it is expensive I keep it to a limited number of things I wash it in, but gosh those are my favorite laundry days!
Copper Cloth:
These are amazing for cleaning pots and pans so you don't have to use anything harsh. You put in the elbow grease still but it lowers the need for grease fighting soaps and so on. The rest of the time we just use a recyclable dish scrubber like this.
Sal Suds:
I LOVE this stuff and it is what I clean most of our house with. It smells clean and all you need is a squirt. It costs a little but I am yet to use more than 16th of the bottle after 4 months. Good old Bronners hits the mark on this one. I also love how safe it is for our family and the earth. It is my go-to cleaner. No gimmics just a good ultra concentrated soap for cleaning everything from mirrors to the bathroom to your dishes. Safe as can be.
Hand Broom and Dustpan:
We keep this upstairs for cleaning up small messes so we don't need to tote our whole kit upstairs. Simple and pretty too. You can also get a whole home air purifier, Madison OH to clean out the dust and air particles.
Dyson Cordless:
So, I am going to tell you right now, this is LITERALLY the best purchase we have ever made in our adult lives. This vacuum is the most amazing things I have ever met in my life. I can literally vacuum all 2,500 sqft of our home in 30 minutes including the stairs. Yes, you just read that right. It sucks up things you would be shocked about. I then can empty in the woods since it is all dirt and hair from the dogs mostly ha. But for real, I LOVE THIS THING. I will shout it from the rooftops. We picked it up on a Black Friday sale knowing we needed something easier to clean our hardwoods with. It is so good I could write a novel about it. If there is anything you need in your home it is this. Pay the money you won't look back once you sweep up once. Since I vacuum nearly 3 times a day to keep up with the dirt right now because we don't have a yard it has saved us. It is high on my list of things I am thankful for as a neat freak.
Steele Canvas Laundry Containers:
We have had a Steele Canvas container since before they were a thing so I can attest that they are really that great. If we had a one level home I would get the one with casters on it, but since we don't. I have one container on the main floor that is smaller to hold towels and so on from the week and then upstairs we built our hall closet to hold three of these. I love them because I can remove the canvas bags and wash them and tote them down stairs without the metal frame. They are clean and simple. Plus, they are made in America.
Eco Toilet Cleaner:
We have 4 toilets in our home so finding a good toilet cleaner that was eco was important. I so far have found this one to be the cleanest option out there. If you have another suggestion I am very open! I want to care for our land the best we can so any ideas are welcome.
Utility Cady:
I keep a cady for cleaning supplies for cleaning days. This gives them a place to tuck away and be easily toted around the house on Saturday or Sunday when I clean.
Toilet Brush:
We have one of these in every bathroom and we love them. They hide away the gross and look chic. I think it helps to have toilet brushes so guests can clean after themselves so you don't have to use products too often. Just a good brush and refresh helps eliminate the amount of product usage and encourages whole family cleaning 🙂
So tell me, what products do you love? What do you use to keep a clean and eco home? Are their things you Love like I love my Dyson haha? I am a little obsessed, just ask Mike.
Cheers to spring cleaning whether it feels like spring or not, right?!