Here is everything you can plant in August in your garden in hardiness zones 4 – 6. August is the perfect time to plant fall crops and vegetables that love a little heat and then the cold.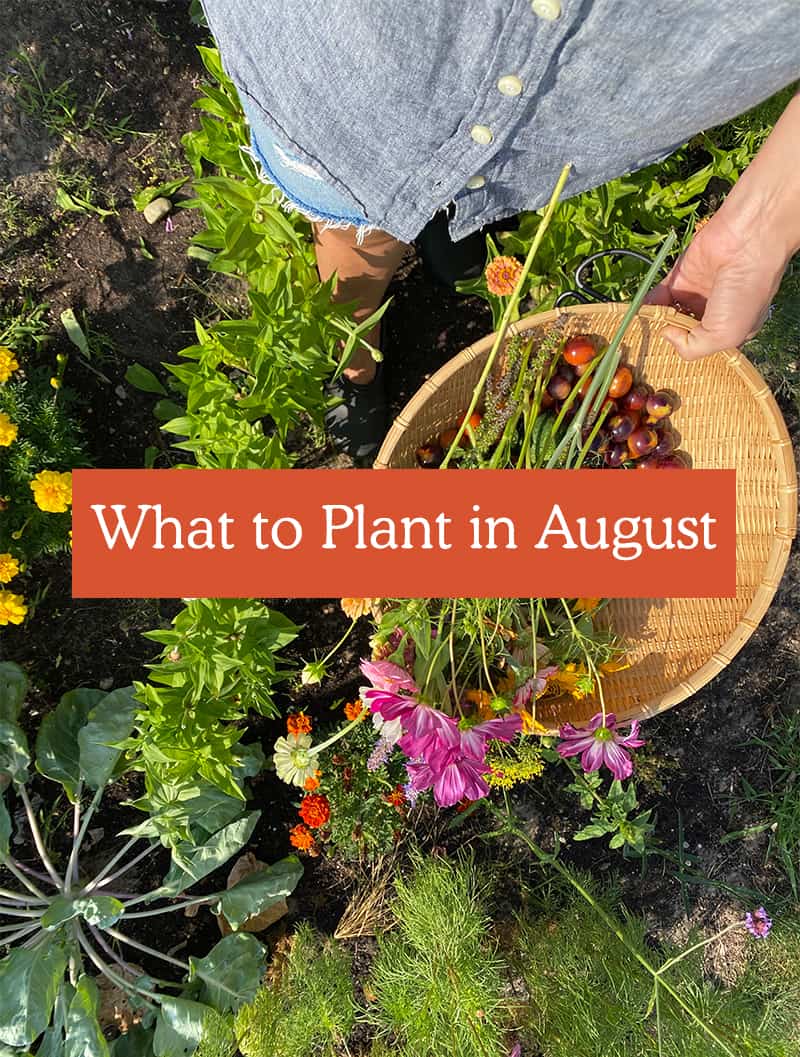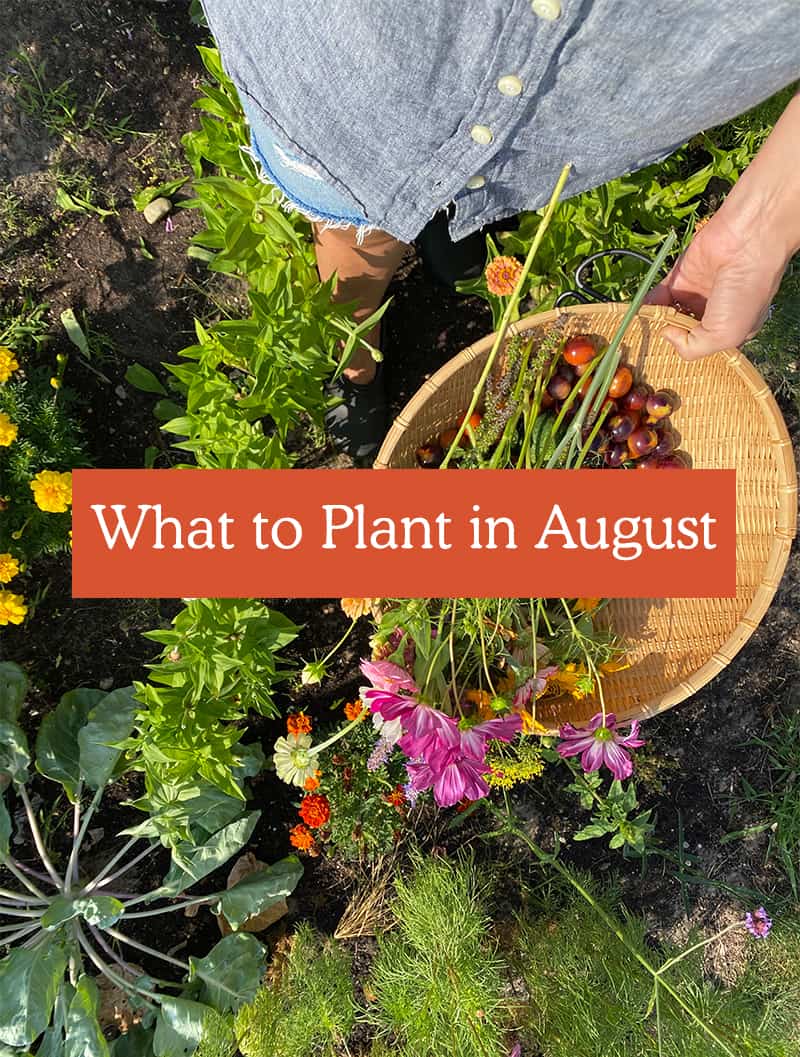 Yes, there is plenty of time to still plant in zones 5 & 6. Here is what to plant in August in your garden and how to prepare your garden for these fall plantings.
Is there anything I can plant in August?
Absolutely! August (particularly the beginning of the month) is still an awesome time to plant seeds and in fact, it is one of the best times for many fall crops because of the initial heat and then cool temps that follow in zones 4-6. There are actually specific plants that want and need that kick of heat and then to end their growing with cooler weather before a heavy frost. There are also plenty of plants that mature quickly enough that you can still plant them as a summer crop and get them before the first frost as well. The full list is below for what you can put in and even how to set yourself up for success.
What to do before planting in August in my garden?
If you are seeding or planting after your late spring and early summer crops you are going to want to do a couple of things.
Remove the dead plants that you are finished growing.
If the plants are healthy without disease or pest issues add them to your compost. If they are not you will want to place them in a burn pile for the end of the season.
Lay fresh compost on top of the growing area. No need to till at all. Just lay fresh compost, give it a little soak and you are ready for planting!
How to Crop Rotate and Succession Plant in August:
These are common terms to use in starting your fall harvesting vegetables and herbs. And they are quite easy for a beginner to even do without much effort.
Crop Rotation: A term that means to rotate vegetables through beds over growing seasons. This can be done in the whole 4 seasons or in a year/2 year model. It depends on how long you grow things. You can skip some of the intensities of it in my experience by just laying fresh compost between plantings. Crop rotation is intended to disperse nutrient usage of the soil and even for some plants to be part of rebuilding the soil. For instance, Tomatoes remove A LOT of nutrients but then plants like beans can rebuild nitrogen in the soil as well. For a simple method of crop rotation, you can check out this post about crop rotation.
Succession Planting: This term is the idea of continuing to plant things through the entire growing season. Meaning that after your spring peas you plant your summer peppers for instance. There are lots of ways to perceive what to plant behind the other, which is where the term Crop Rotation comes into play, but in most cases, I give the below very general rule of thumb to beginners:
"If it grew up, then plant down. If it grew down then plant up."
It is incredibly general but in most cases, it works really well for beginner gardeners looking to play with succession planting.
When to start planting in August:
It depends on the vegetables, herbs, and flowers you want to plant, but in general, I try to plant everything as early in August as possible. Many of the below plants have quick maturity windows so the sooner you get them in the sooner you can reap their rewards before the fear of frost.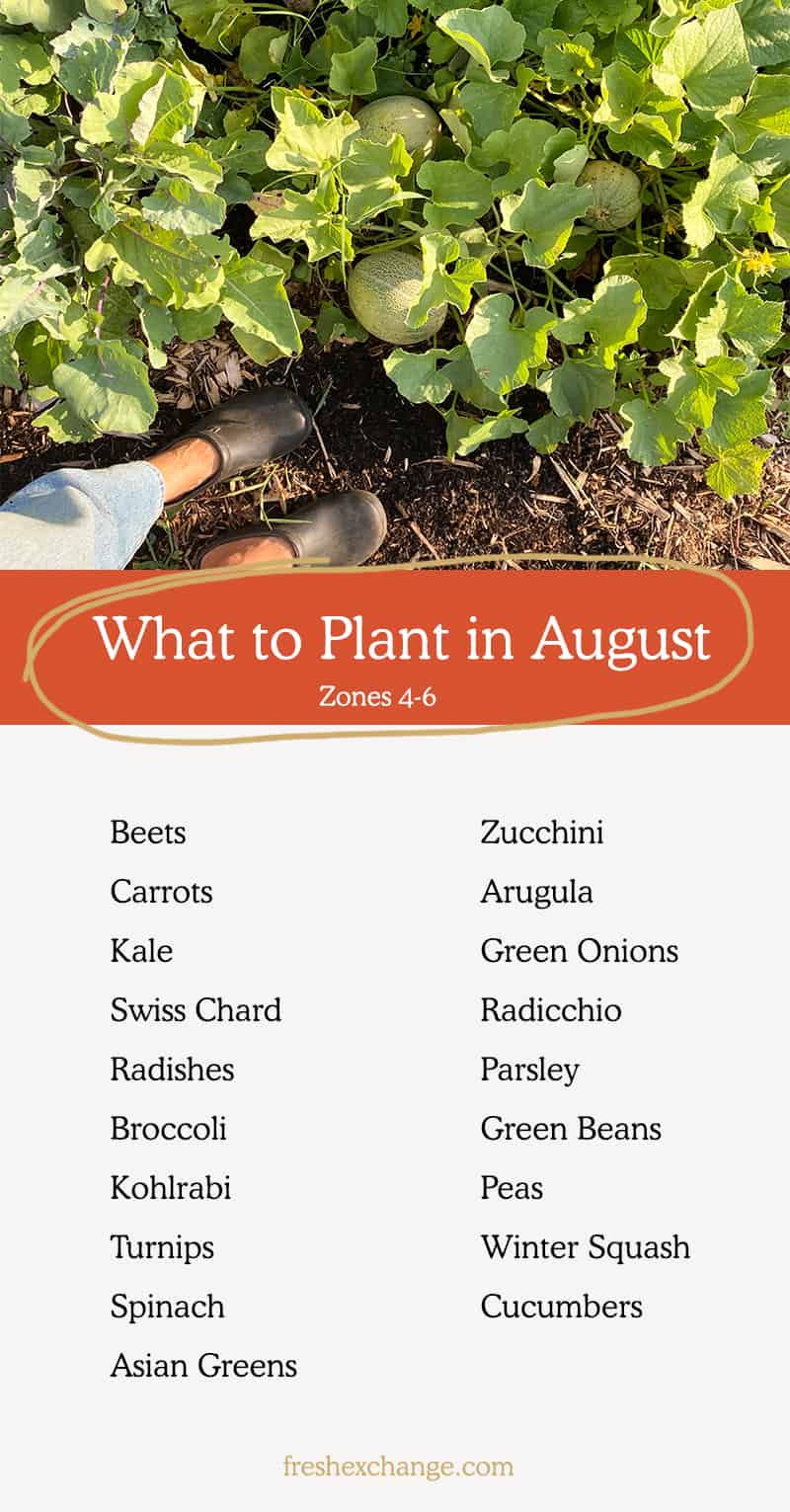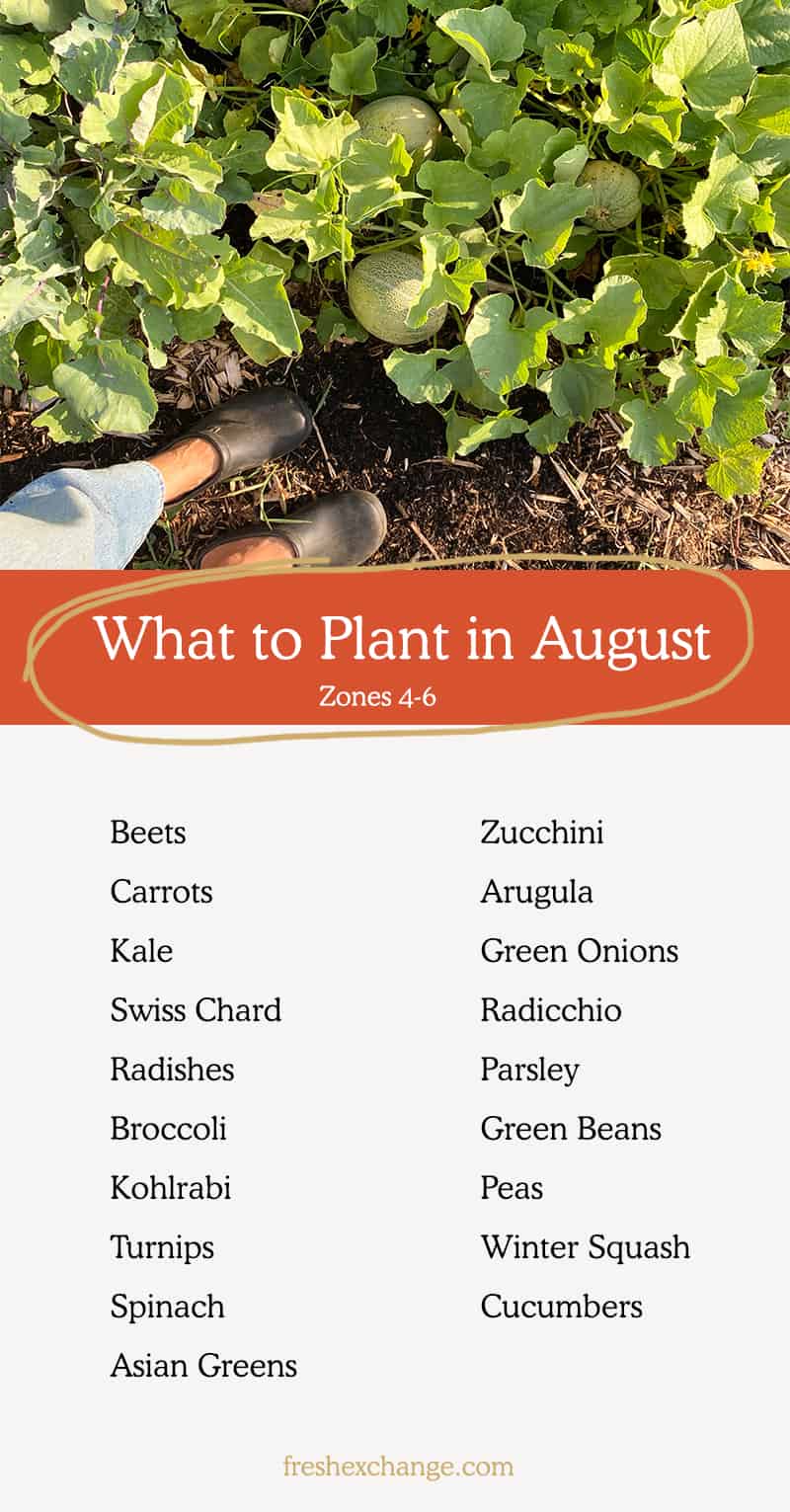 What should I plant in August in my garden?
Beets: Most root veggies love a little cold air but need that initial heat. You can sow beets till about mid to late August depending on your weather trends.
Carrots: Just like beets you can continue sowing carrots till about the first week of September or so. They need cooler weather to germinate but if placed in the shade of other plants will germinate equally as well. Thus, why they do well growing with Tomatoes as one of the best tomato companion plants.
Kale: We grow kale as a mini crop and love the Red Russian variety because it is super hardy and we have less issue with cabbage worms with it as well. I suggest growing it without a doubt. Seed it anytime in August and even into September.
Swiss Chard: Just like the kale you can grow this for sure from seed still. It is quick to grow and will hold till late in the season.
Red Meat Radishes: There are certain radishes that love the cool weather and red meat radishes are one of them. In fact, they taste terrible grown in the spring. They want the heat to germinate and then cold to grow in so seed in early to late August and harvest in September/October.
Broccoli: Another heat to cool vegetable. Though you can absolutely grow it in the late spring and into the summer it will hold late into the year and even though a light frost or two.
Kohlrabi: These are the ever-giving plants like carrots or beets. They do seed and germinate quickly and offer various chances of harvesting at different sizes.
Turnips: Similar in the family to Kohlrabi, Kale, and Broccoli, Turnips love the cool weather and can withstand a few touches of frost. They grow quickly. Seed them every 4 inches in rich well-draining soil for a quick crop.
Spinach: This is for sure the best green to grow late in the season. I say wait till mid-august to seed it so it doesn't bolt if you have a warm late summer.
Asian Green Varieties: Asian greens like Tatsoi love the cold and will hold late into the season. They are great alternatives to traditional lettuce.
Zucchini: Yes you read that right. If you lost your's to bugs or disease, no worries, seed it again! Zucchini has a fast maturity of 45-50 days. So go for it!
Arugula: This cool loving herb is awesome to fill in your basil pesto with and compliment cool-weather salads with. It grows quickly so wait till mid-August to plant.
Green Onions: Plant these early in August. How many onions grow from one bulb? I find even if worse case they don't germinate well they come back in the spring so you can use them as companion plants to your brassicas to help deter cabbage worms.
Radicchio: This is a bitter cool weather lettuce/cabbage plant that grows quickly in the right conditions. Go ahead and seed a little with your arugula or parsley.
Parsley: Fast-growing and hardy herb that will stand against the cold or early frosts if you get them.
Beans: Yes you can still get more beans! I suggest planting bush/green beans this time of year. They grow quickly and you should have a harvest before the first frost if you plant early in August.
Peas: Peas thrive in a good chill so go ahead and plant them where you had your radishes or last carrot harvest. They will love the cool weather. Plus who doesn't want more sugar snaps?
Winter Squash: Now is the time! There is still plenty of time to get them in. I suggest smaller varieties like delicata, acorn, sweet dumplings, or pie pumpkins even. They all should easily produce before the frost.
Cucumbers: You for sure still have a chance to get some out of your harvest this year. I suggest a smaller pickling variety for your growing to be quick.
Curious about what to plant at other times of the year?