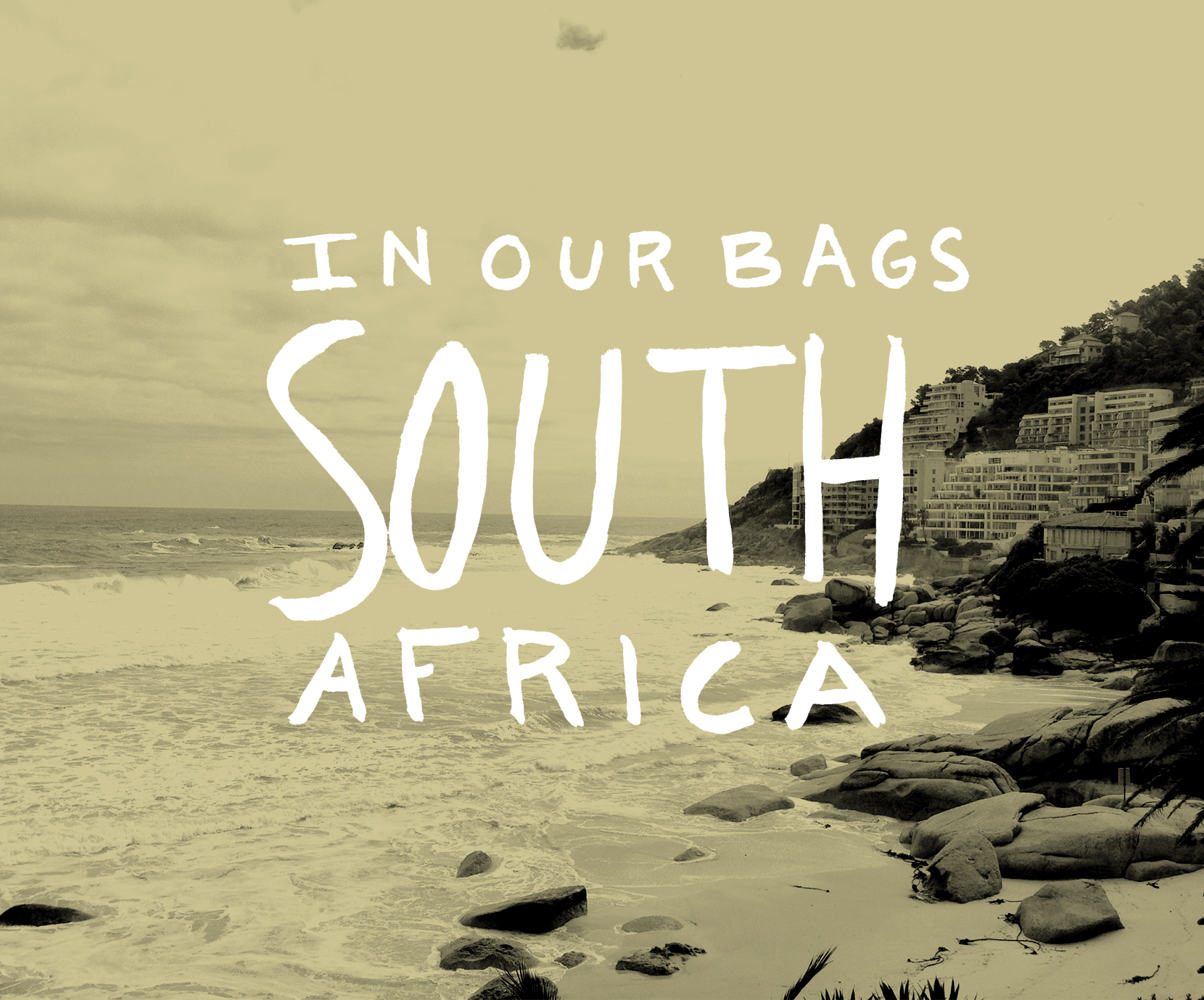 We are here. Check our instagram's but we got in late last night and landed in our apartment. All we knew was we were seriously close to the water. We watched the huge waves crash against the wall below our apartment. This morning we awoke to the revealing one of the most beautiful places we have ever been. Don't get me wrong I love Italy, but Italy I think Cape Town takes the cake and I haven't even left our apartment yet. The smell of the ocean, the constant roar of the ocean, the city crowding the edges of some of the most magnificent mountains I have ever seen in person, and the cool tropical weather couldn't be more perfect.
Before we begin sharing our adventures and what we are working on while we are here, we thought it would be great to share our packing list with you all. We are minimalists when it comes to travel and we want to help other people carry less and feel confident when they do. We each came with our 2 carry on's and that is it. You don't need much to survive when you travel for a few weeks.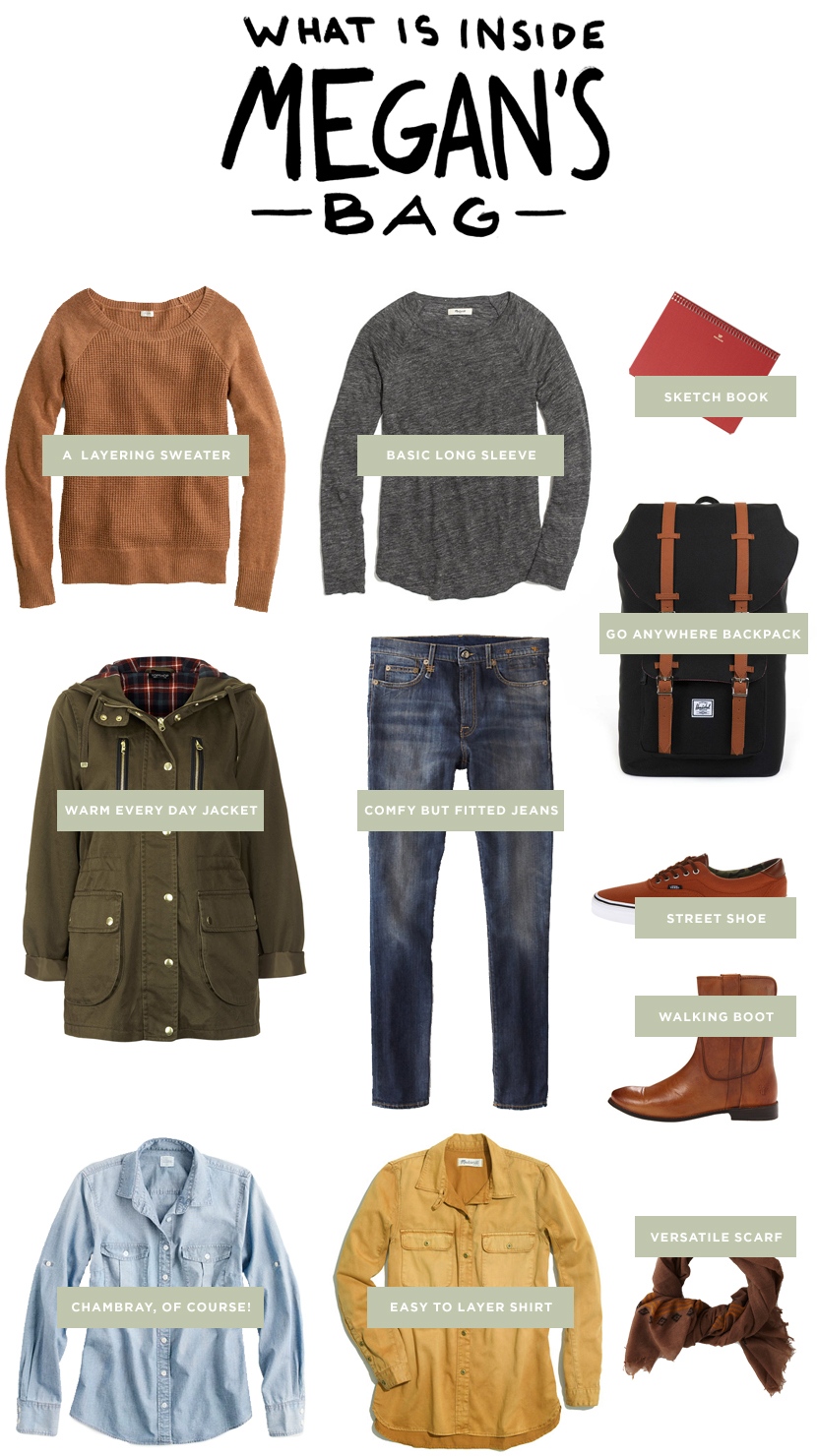 Megan's Picks:
It is just coming out of Winter in South Africa and on the coast the water brings in quite a bit of cool air so even though it is not snowing and is still 65 it can have a little chill that means you better you have layers. Also, whenever I travel for more than 4 hours I know I need layers for the flight. We left 80 degrees and arrived in 50 degrees. So when I left I made sure to wear awesome comfy thick leggings like these, a simple tshirt, an oversized button down, and my Frye boots. I made sure to have a scarf, light jacket, and sweater on hand just in case I wanted extra layers or if in my case this time extra cushion to rest my head on because we all know those pillows on airplanes are rather terrible.
Obviously there is more in my bag than this, but this is my base for everything when traveling to a mid-range temperature climate. Here is why I pack it all.
Easy-to-Layer Sweater: Whether you are going out or just hanging out drinking coffee as the sun comes up, it is important to have a sweater that can be worn in almost any situation. Pack one and make sure it is slightly oversized so you can layer on a cool night or have it hang loose over a dress.
Basic Long Sleeve Tee: I always pack one or two because I usually sleep in them or simply wander the streets and hike. I love Madewell's long sleeves in particular. They really transitional well from day wear to hiking wear to even a night out. Pretty important when traveling.
Sketchbook: I go no where without one. Since most of our blogging has hand written words on it I will write and scribble ideas for posts and type while we are wandering through places and while we are on planes. This time I haven't yet because I slept and actually watched movies for the first time in like 6 months. Just saw Silver Lining Playbook…ummm AWESOME!
Go Anywhere Backpack: I pretty much could pack for a week in this backpack and will be when I go to Palm Springs this month. It holds a laptop and all my work accessories as well as at least 3-4 outfits. It fits perfectly under the seat in front of you as well so no need to place it up above you. A definite must!
Comfy but fitted Jeans: I cannot travel long flights in jeans, but once I get to where I am going I live in them. Jeans a basic necessity you can never forget when you leave home. End of story.
Warm Everyday Jacket: We plan to adventure a lot while we are here, but on top of many of the hills and mountains it can be chilly so having a jacket that can keep you warm and not weigh you down is important. I also carry this one as well for more crazy weather. It is easy, light, and packs up super small.
Chambray: A chambray is basically like jeans. Never leave home without one.
Easy to Layer Shirt: A Chambray is great, but sometimes you want to mix it up. So I pack 1-2 other buttons ups to layer with. Buy ones made of 100% cotton and wear well. This way they will dry quickly if you don't have a dryer and can breathe well even on a warm day, but still keep you warm on a cool day.
Street Shoe: I only try to pack 1-3 pairs of shoes. So I need a shoe that can be cool enough for street wear, but enough grip to hike. Vans are awesome cause they are comfy, easy to wear, look cool with skinnies, but can grip well enough to hike simple trails in. Plus they wash up well if you get muddy.
Walking Boots: For the last 4 years I have worn the same boots. I have said it before and I will say it again, invest in great boots. My Frye's have been to 3 continents now and after this trip are going in for a tune up. Best money I have ever spent, because once they are broken in you can walk MILES in them. 10 miles a day in Paris have been walked in those boots. Also these are my go to plane travel. The leather doesn't make your feet hot or cold and they are easy to slip on and off going through security.
Versatile Scarf: A scarf is a necessity in every travel situation. Find one and stick with it. It can be a shirt, cover up, pillow, face wrap in the cold, a wrap on your shoulders, or whatever. Versatile is important when you are traveling.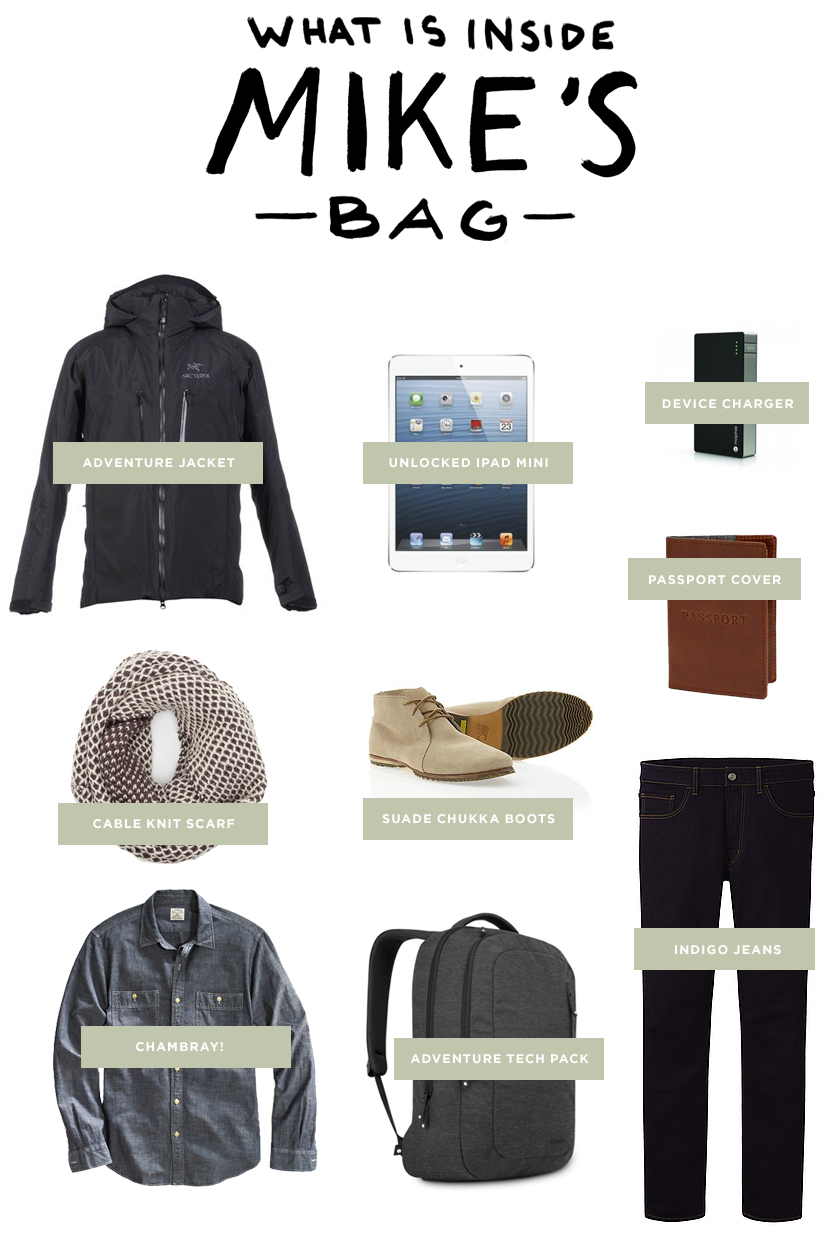 Mike's Picks:
I almost never pack in advance, I like to pack under pressure. Like an hour before we leave for the airport kind of pressure. It keeps me from packing extraneous things, and it drives Megan crazy, lol. My basic rule is pack like a Parisian. Keep a dark/neutral pallete, layer it, look sophisticatedly casual and make sure it is versatile. That way no matter what adventures lie ahead I'm ready for a hike or a rooftop wine tasting. So here is a look into my carry on bag.
Adventure Jacket – Get good gear. This is a lesson I learned fast in Michigan. My Acr'terx jacket was way more expensive than I was comfortable with, but it has been in my bag on every trip and is diverse enough to range from 65 degrees to 30 degrees. Plus it packs down small and is a good rain cover or pillow.
Ipad Mini – We've got an unlocked ipad mini for this trip. Not only is it great for all ipadish things, but once you pop a foreign SIM card into it, it's your wifi hotspot anywhere in the world. Total lifesaver.
Passport Cover – It's never a bad idea to keep people guessing where you are actually from when you are traveling. That's why we place our passports in covers. This way we can totally pretend to be local until someone talks with us.
Device Charger – When you travel for 32 hours straight you are going to need a recharge. Ok you are going to need multiple recharges. The juicepack gives up to 4 recharges once it is fully charged.
Scarf – The perfect in-flight pillow. I hate the C pillows hanging off backpacks. Not only do these not pack down well, you look like a dummy and they only have one use. Instead use a thick scarf. You look classy and you've got another layer when you get off the plane. Leave the hemorrhoid pillow at home.
Suade Chukka Boots – Again another super versatile piece. They can be dressed up, or dressed down. They are kind of the perfect travel shoe. They don't have many laces so they are quick to the TSA stripshow and they don't have to be laced to walk in them so you can get out of the redressing area ASAP. I must have walked over 100 miles in these in Europe and I think they just get more comfortable with every step. Total must get.
Fitted Indigo Jeans – A good pair of tailored indigo jeans will take you along way. Like the Chambray shirt you can dress it up and dress it down. I love Japanese mens jeans so I rock the Uniqlo skinny jeans. They are fitted, but not too tight and have a stretchy jean fabric that make them feel more like yoga pants then skinny jeans.
Chambray – This might as well be the official Gilger family shirt. It does it all. You can layer it, wear a tie with it, fold it up, or iron it out and it will always look great. I can't say enough about our love for this material.
Tech-adventure bag – I had this Incase bag in my blogger camera essentials post, and I can't say enough about it. I got it last year for our Europe travels. It has enough room for my camera gear, laptop, ipad and my carry on clothing. Plus it is sleek and doesn't scream I HAVE A CAMERA IN MY BAG. Which is nice when you are looking to not get mugged.
Hope you all are having a great Wednesday! More adventures to come!!!