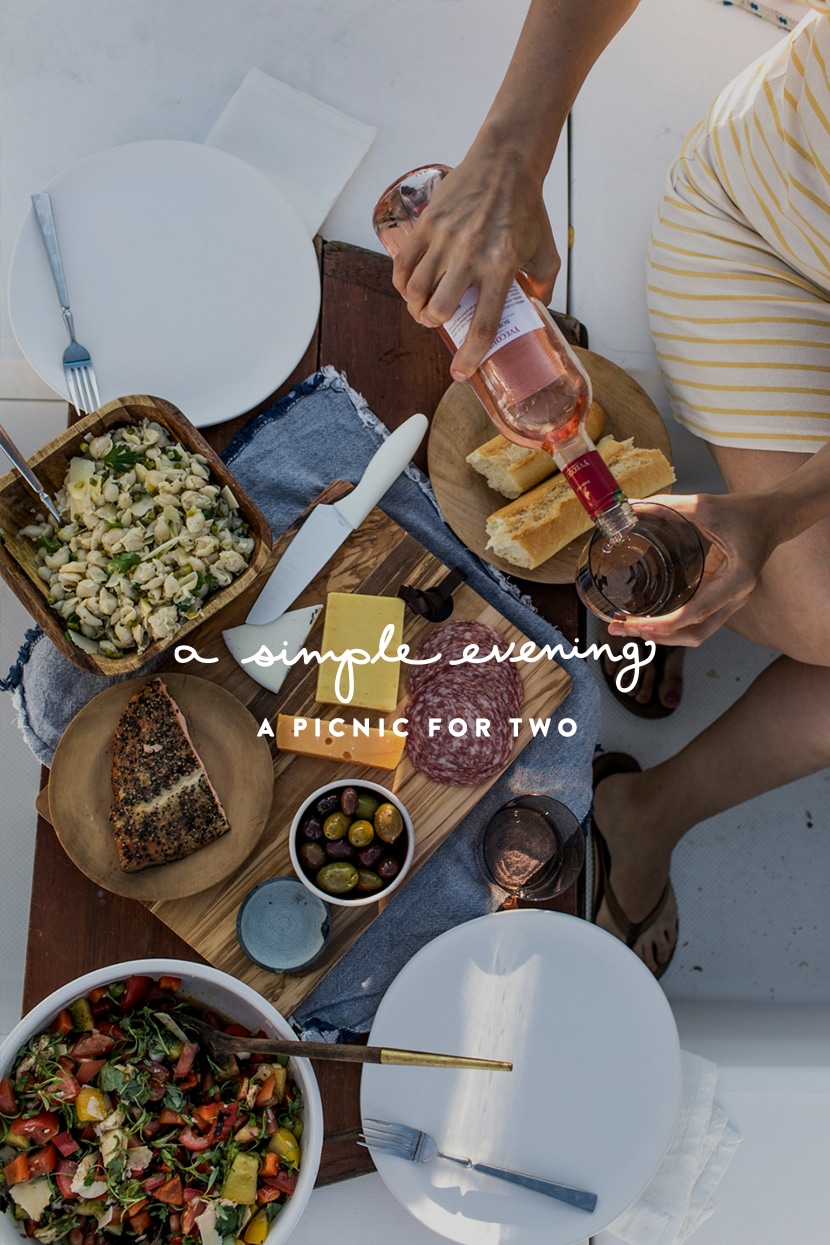 I shared a week or so ago that Mike and I celebrated our 7 year anniversary. It felt big this year for some reason. Maybe it has to do with being through the first year of parenting or saying we survived or maybe even thrived. I am not sure. No matter what, we didn't want to let this 7-year mark just go to the wayside so we decided we would celebrate a few different times. One evening we took a date night early in the month and packed a dinner to have on the boat. The night was windy but warm so we stuck close to the dock and enjoyed spending time on the sailboat together. I spent most of the day before our date night prepping the food while watching Hayes. So it was simple things I could easily transport and make while Hayes was at my feet. Mike and I love being on the boat, but this year it has been a lot less often, since Hayes isn't a huge fan, so this night felt really special to get out on the water together and enjoy the sun setting while we ate some fresh food. We also checked out this used hobie kayak here if we could have one for us.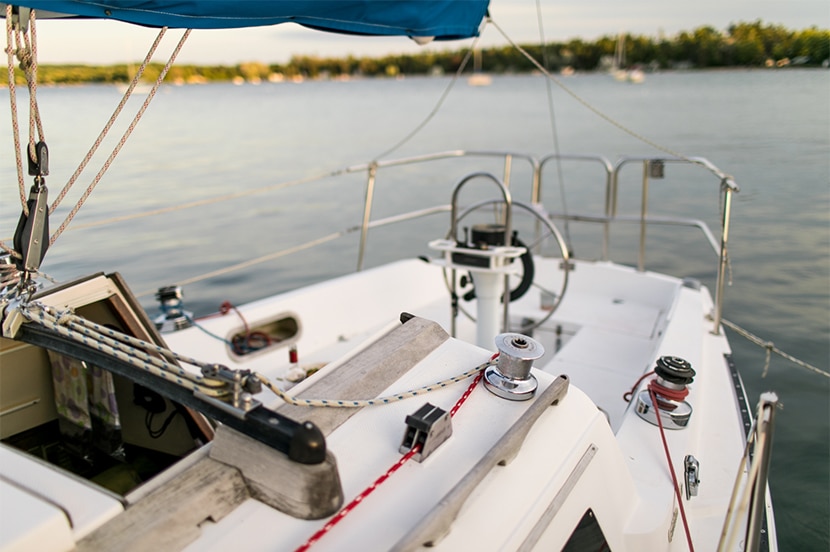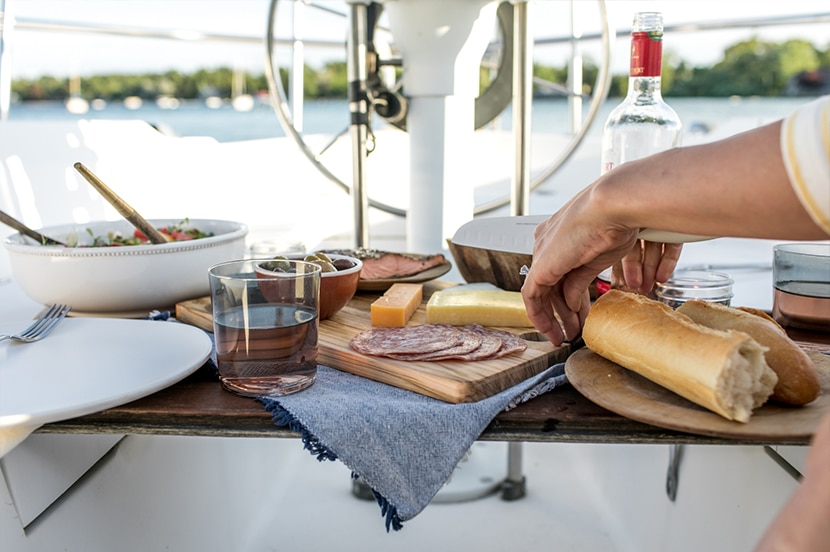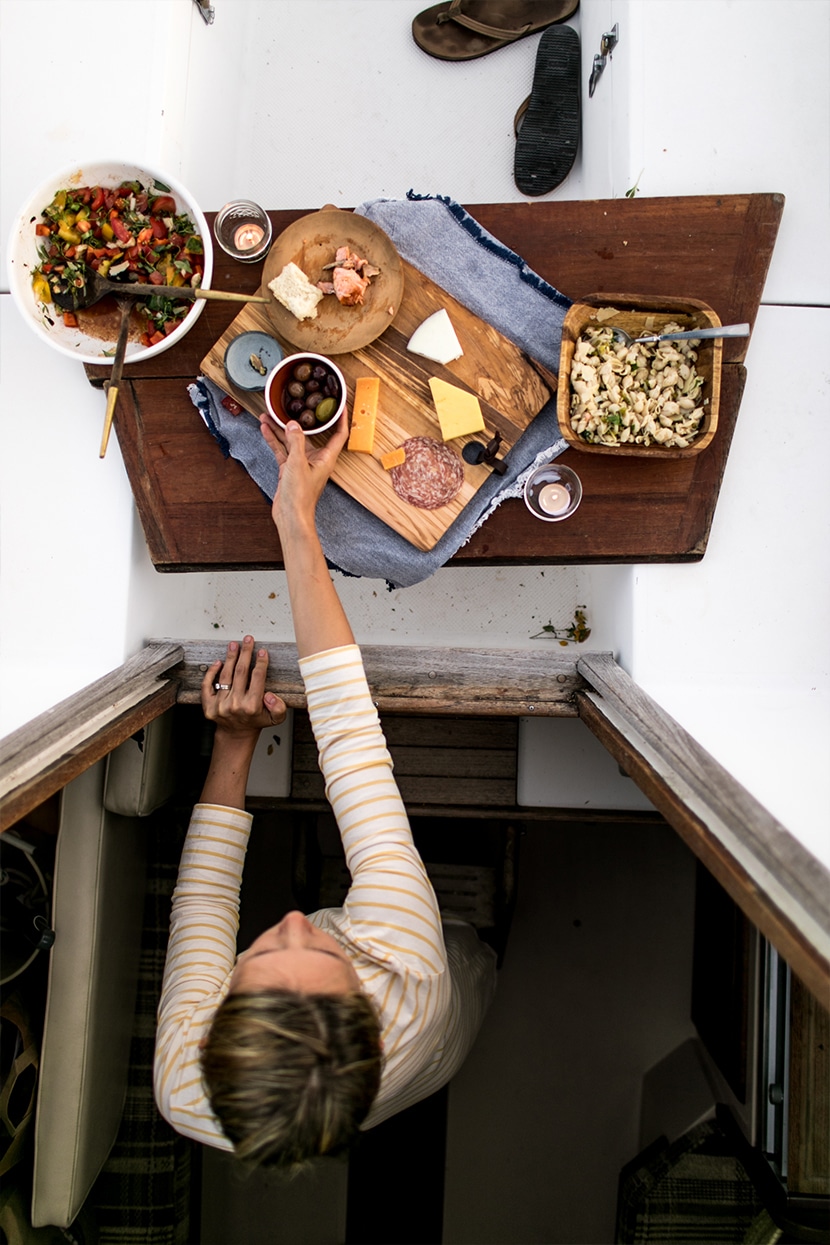 What I love about boat dinners, is they are meant to be simple, but full of flavor. They should be a meal that pairs well with a good bottle of rosé, and very little is needed. I made a simple tomatoe salad with the first round of tomatoes at the market and a pasta dish coated in a buttery sauce that was cooked with chopped up garlic scapes and early onions. Nothing was complicated and it wasn't intended to be.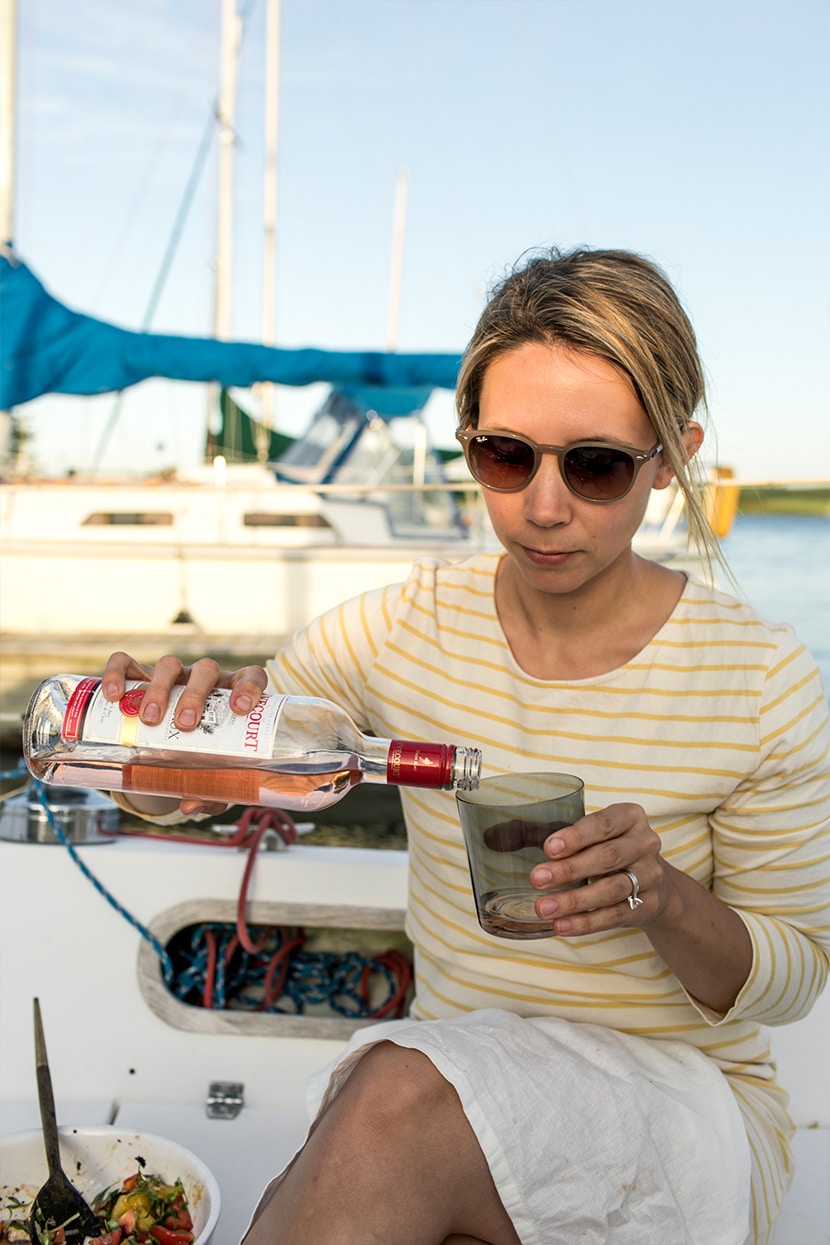 Before we headed north to the boat, we stopped at our favorite food store in town, Burritt's and grabbed some wine, smoked fish, and a selection of cheeses. We also nabbed a couple chocolate bars for dessert.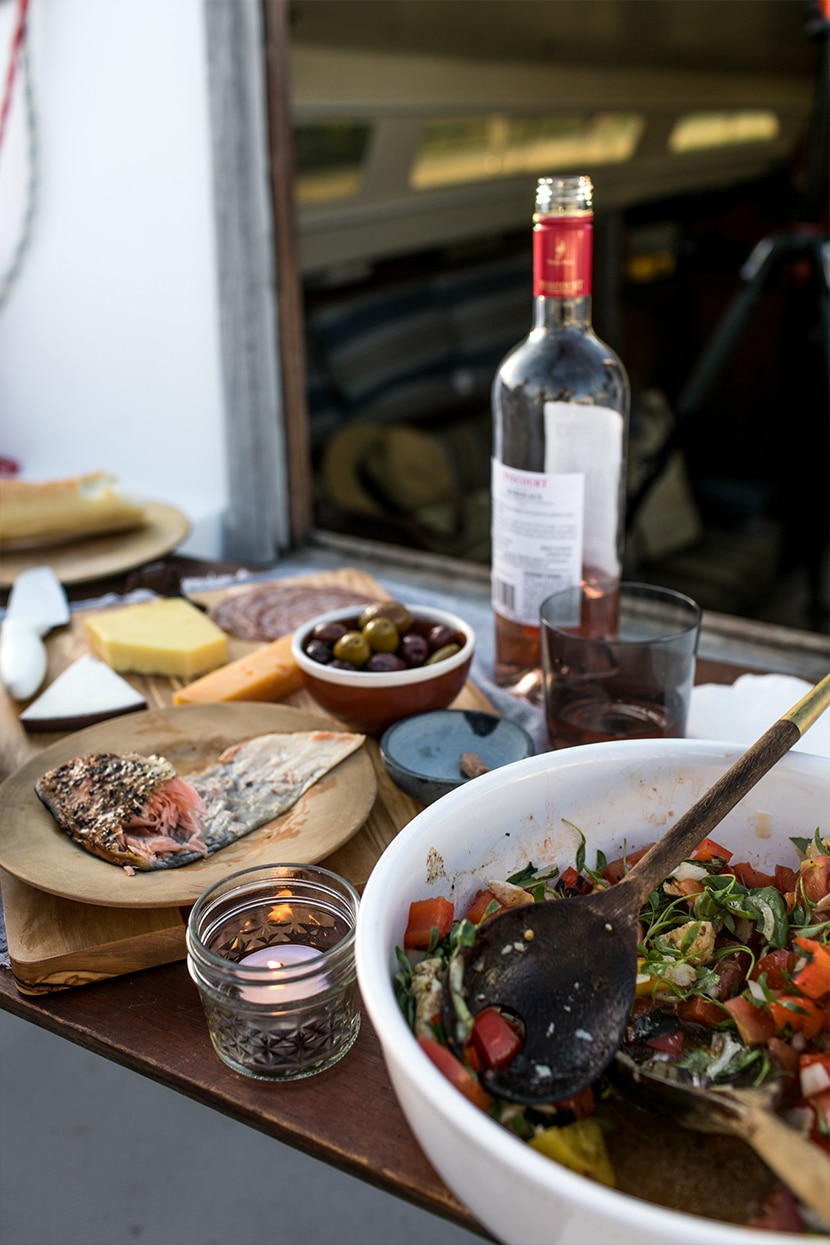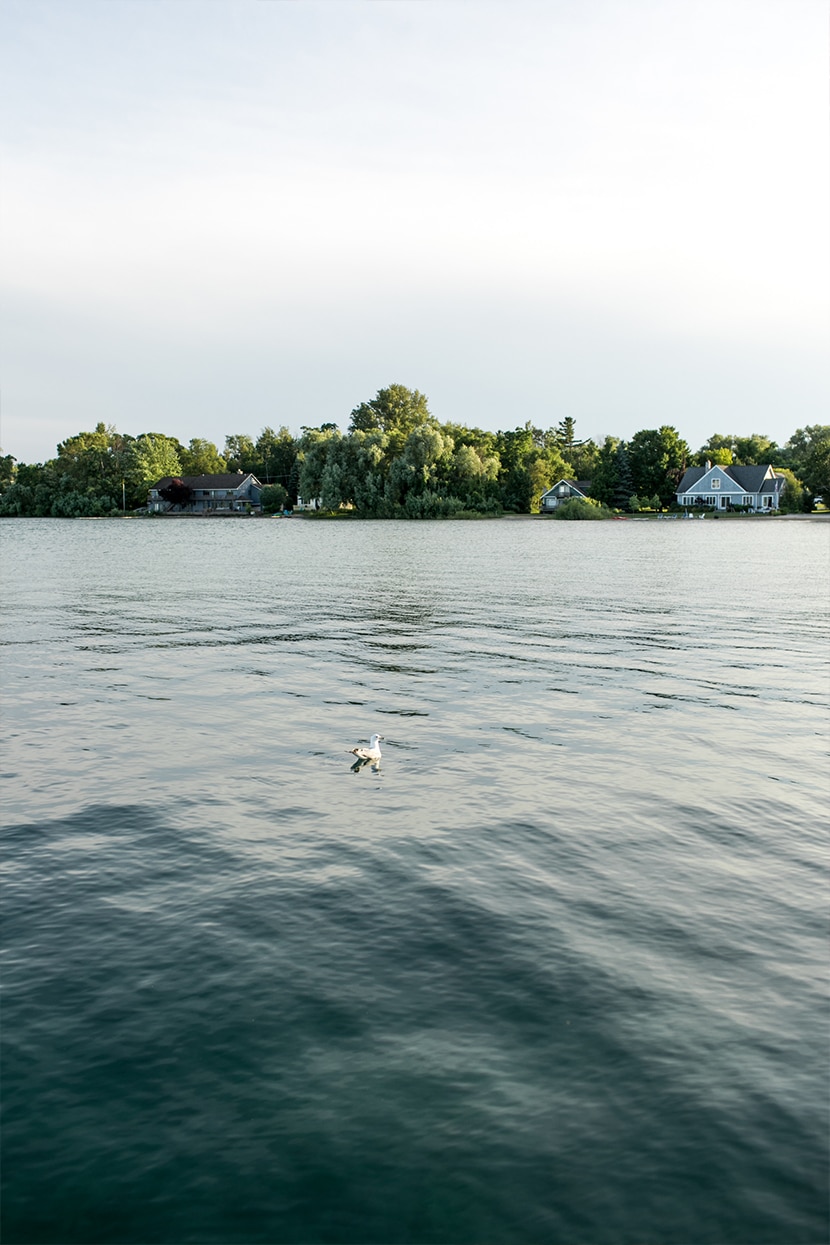 To do this, I packed the food and dishware and silverware as well as necessary serving pieces. I also brought a few extra napkins than what I knew we would need just in case. I brought glasses for the wine and made sure we had a screw off topped bottle of rosé.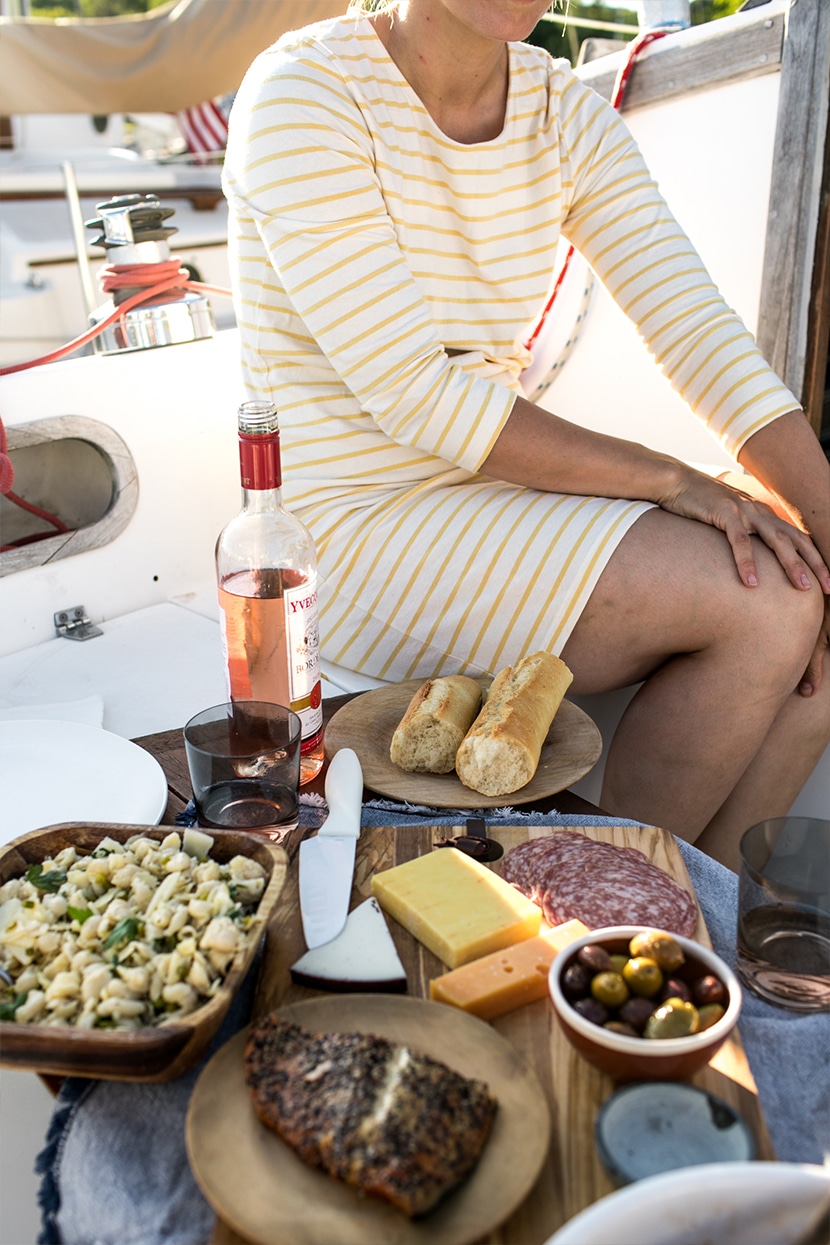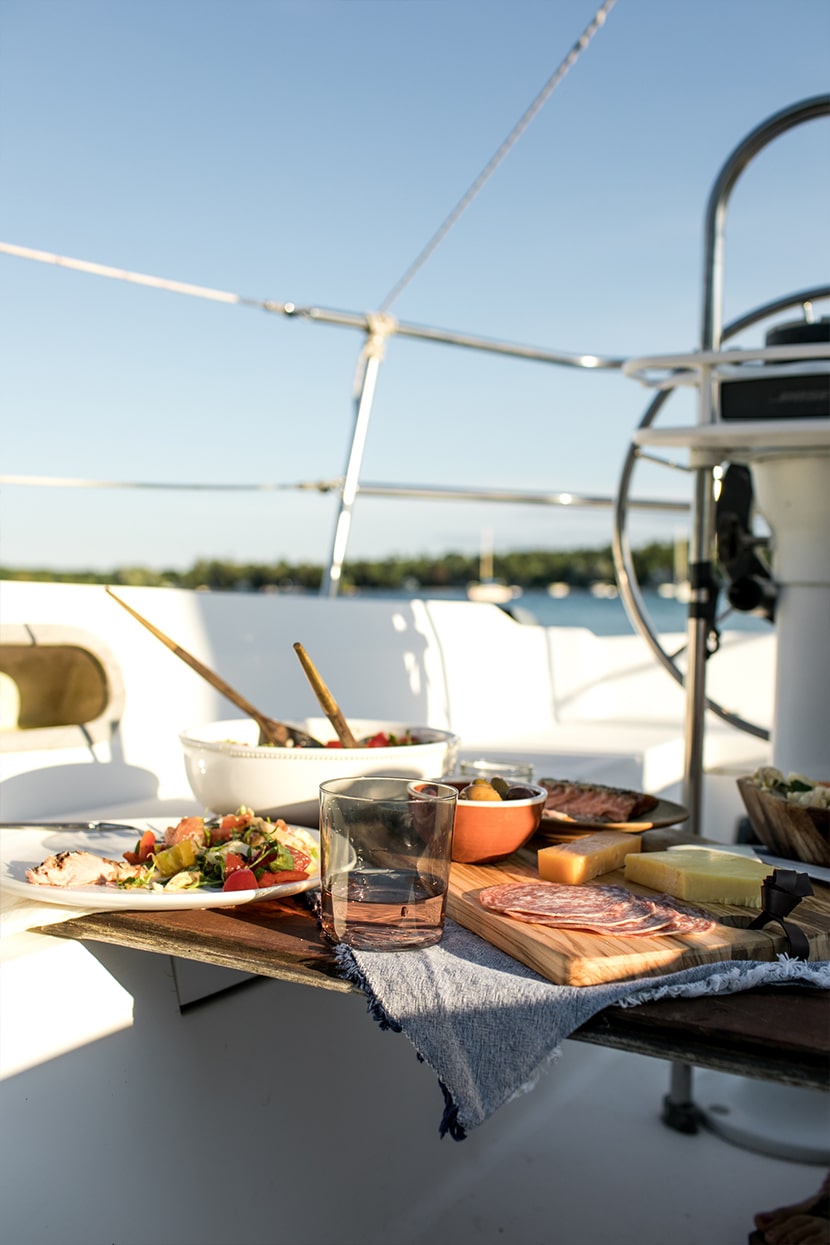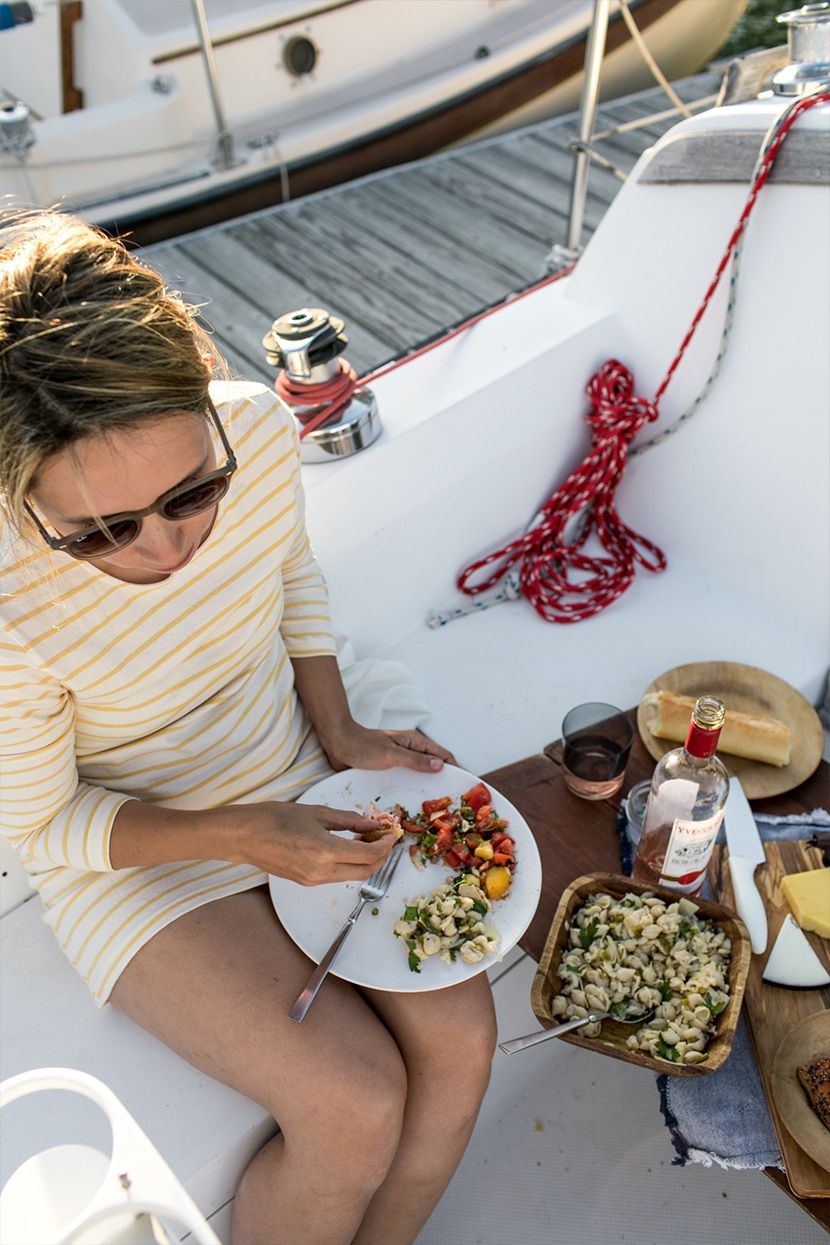 Years back, Mike and I went in with my parents to help maintain and take care of our their 27′ Catalina sail boat. Since they live downstate some and we live close by we can help out and enjoy it so it felt right for us to pay for it with them. This meant we now could come out more often and enjoy it. The boat is just the right size for evenings like this or quiet days on the water 4-5 people. Though it isn't ideal these days with Hayes we love evenings out here enjoying Suttons Bay and the calm of the evening water.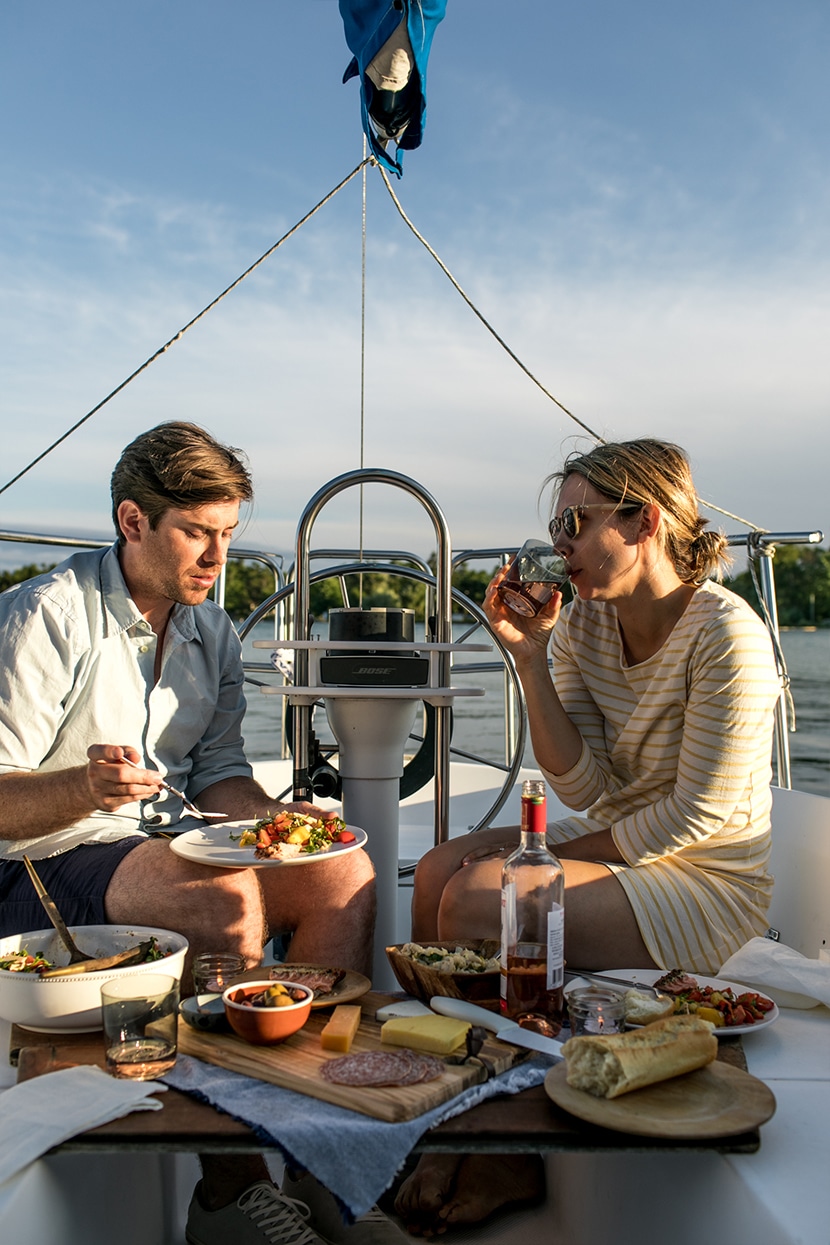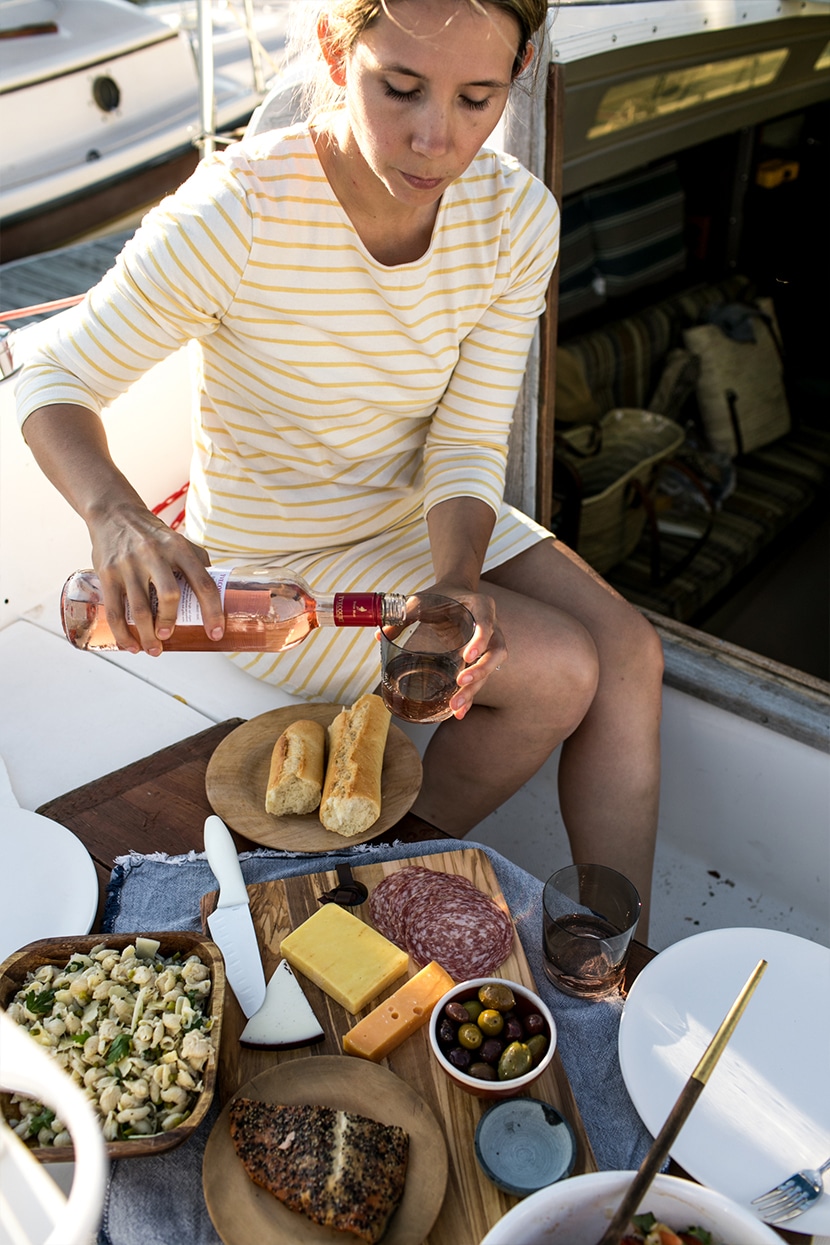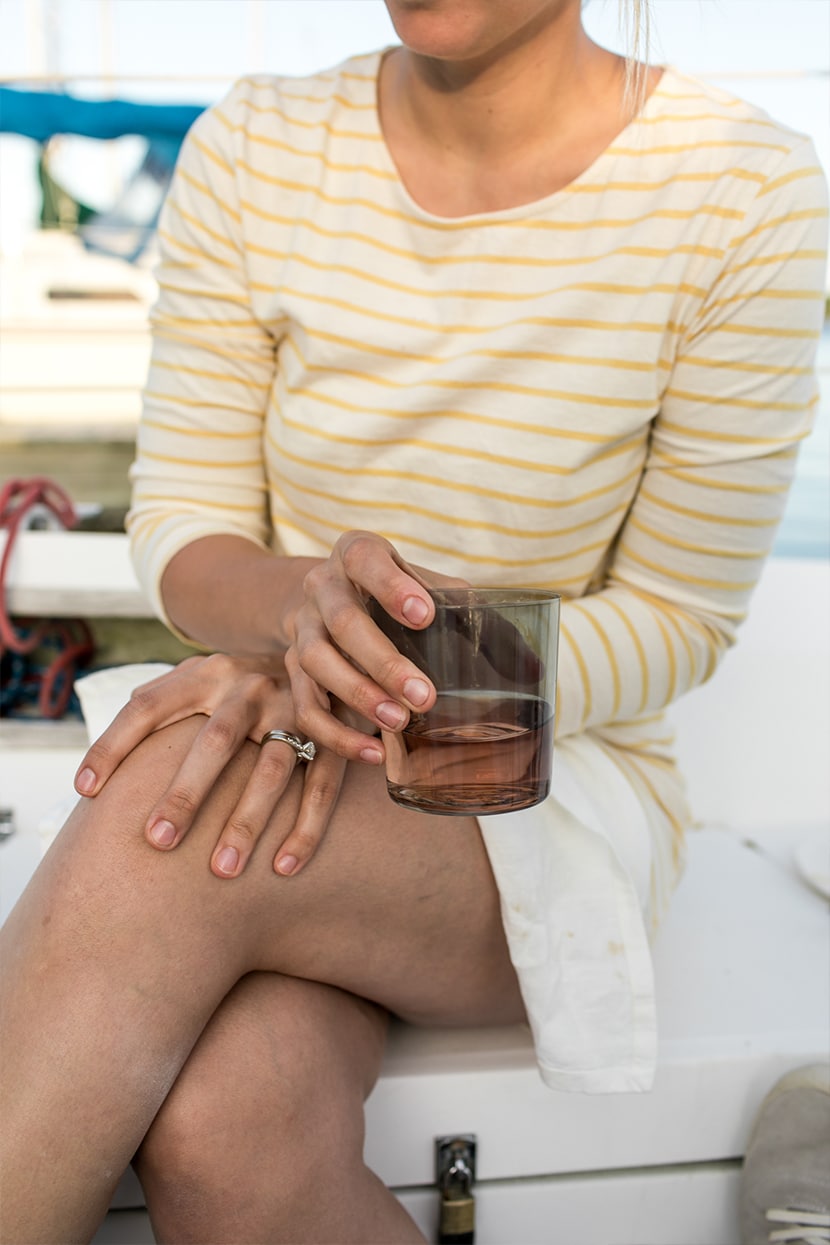 When Mike and I were planning this month of celebrations, we talked about how eating on the boat would be a perfect way to celebrate. So many memories have been made on this boat with my family and Mike's when they come to visit. We have been enjoying sailing Suttons Bay for almost 6 years with my family and it feels like an essential part of our life here. I didn't grow up sailing. My dad used to race but because I grew up down state it wasn't something we did till I was in college and my parents moved back to the area. Mike had never sailed either so we both have had to learn and we also have both fallen in love with the rhythm and feeling of the water when sailing. The quiet of riding through the lake with the wind in the sails and how present you must be to the wind around you and the ripples on the water is a wonderful practice of being present with the water and earth. I love anything that brings my awareness of our surroundings to the forefront. Though one day I am sure it will make more sense for a different type of boat, I hope to make sure our kids spend days learning to sail so they understand the beauty of feeling the winds fill your sails.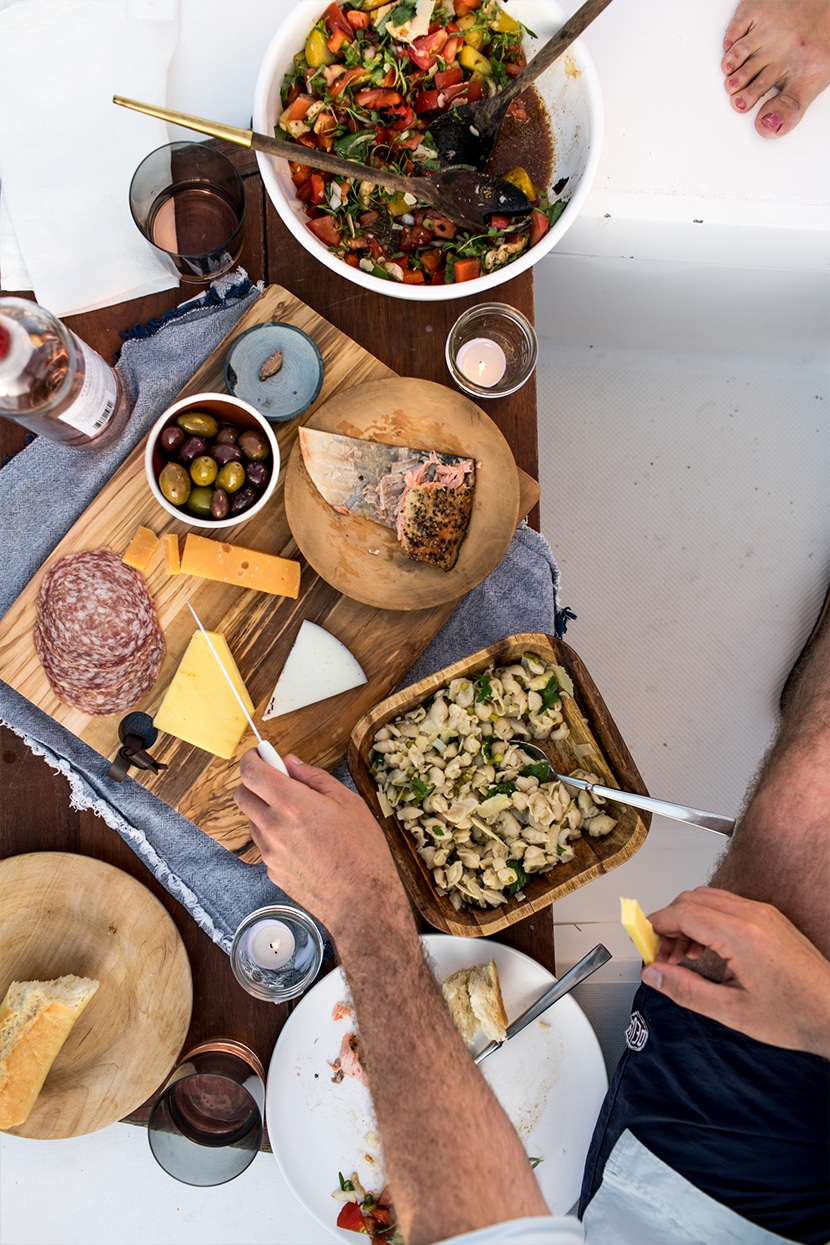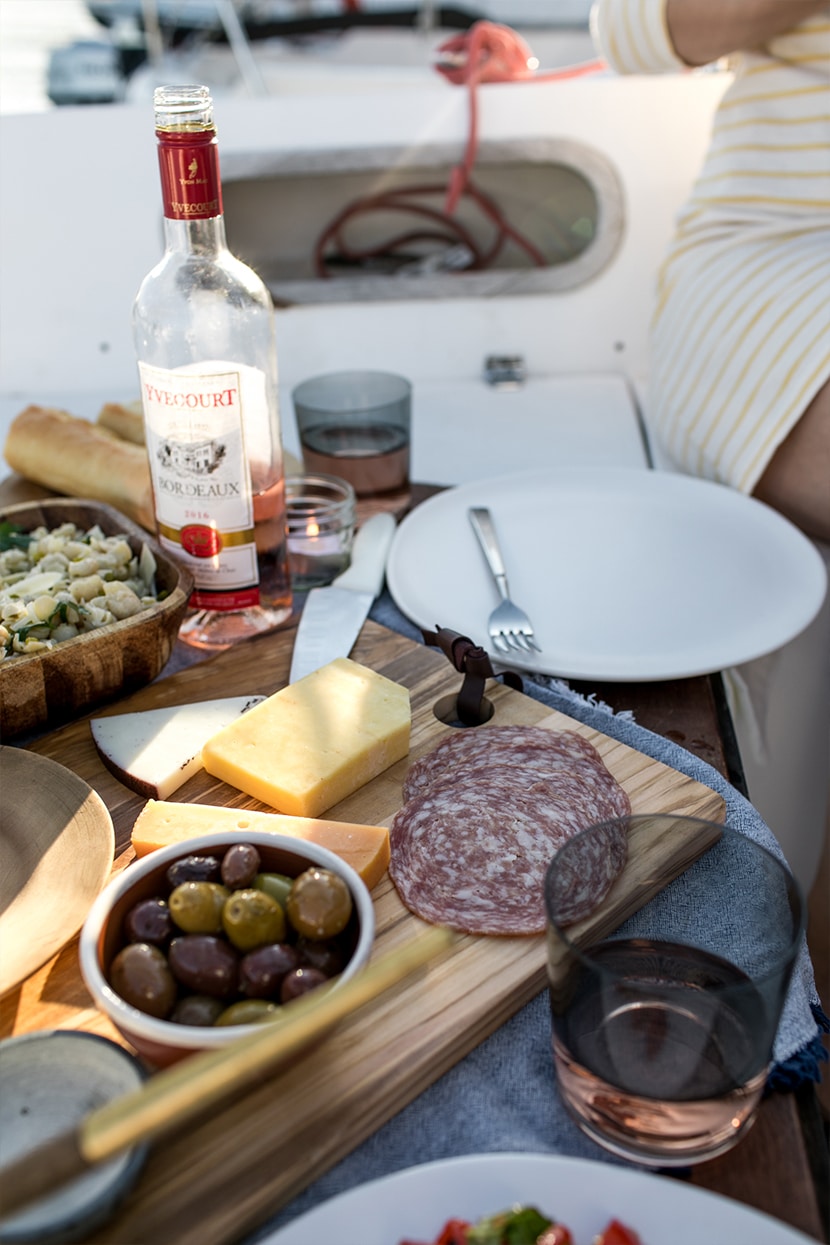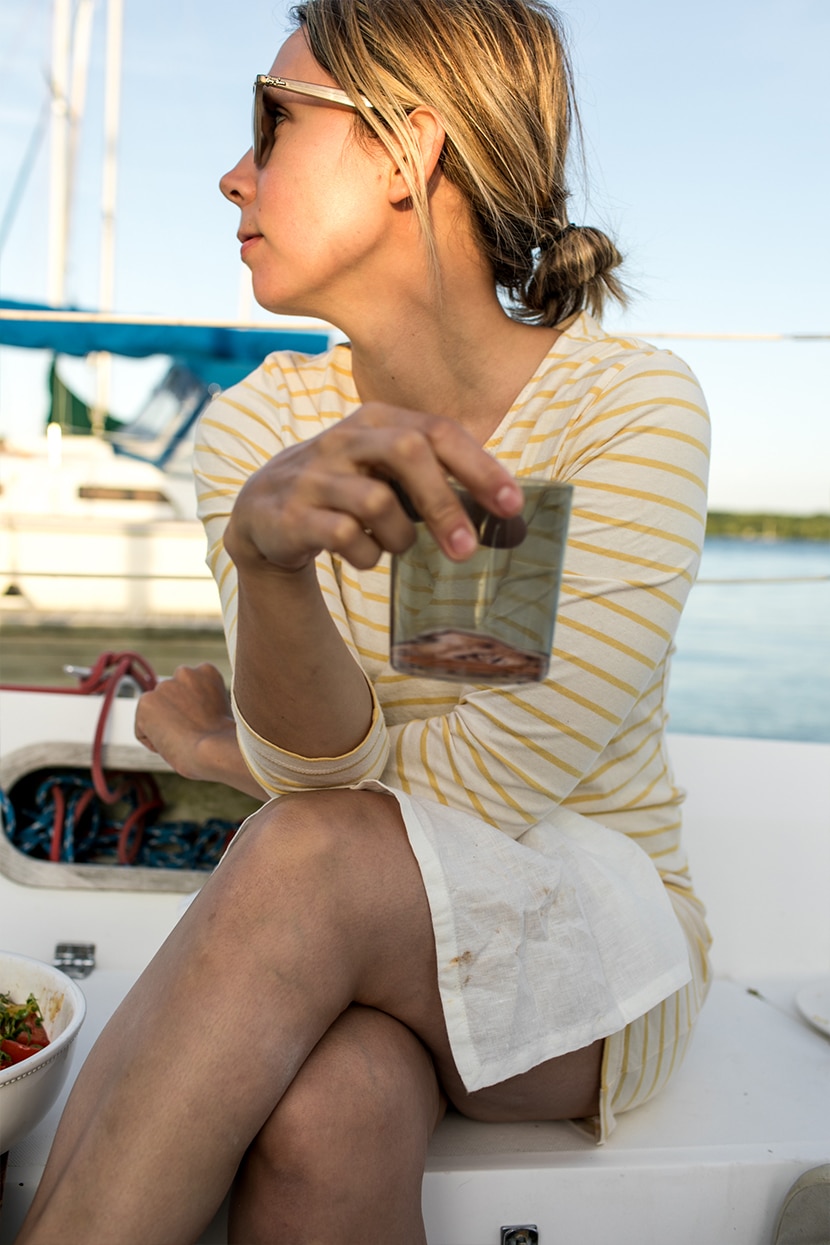 The night of our dinner, even though the wind was too high for us to enjoy a meal relaxing anchored in the bay, we deeply enjoyed sitting there at the dock eating our dinner, trying some new cheese, and drinking a bottle of wine together.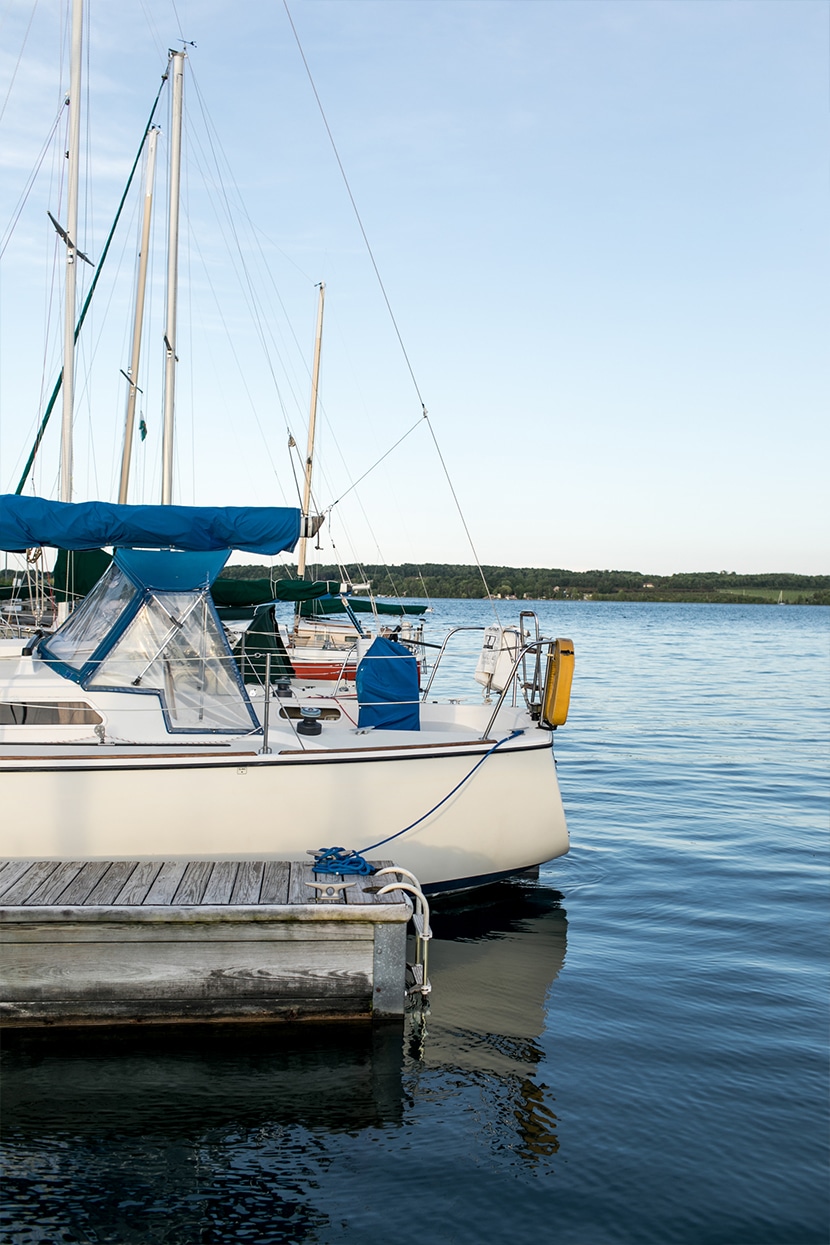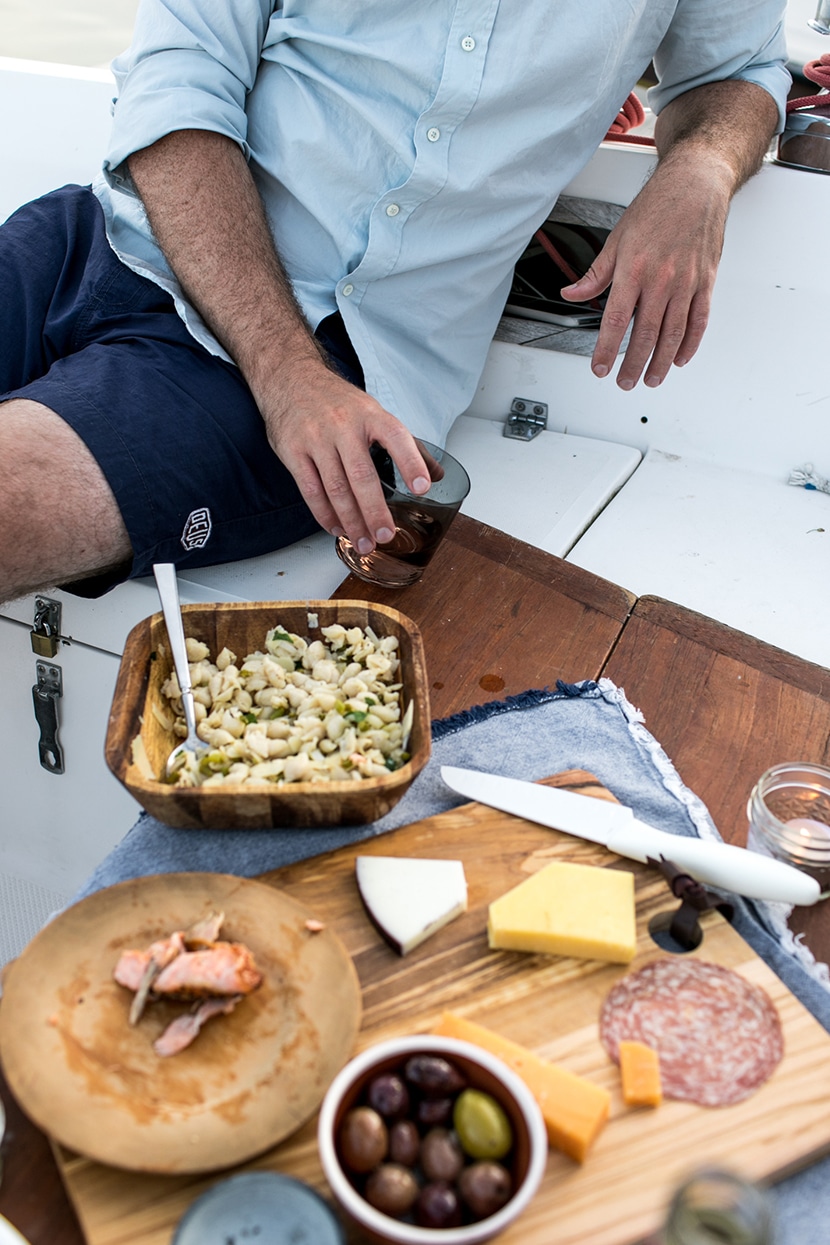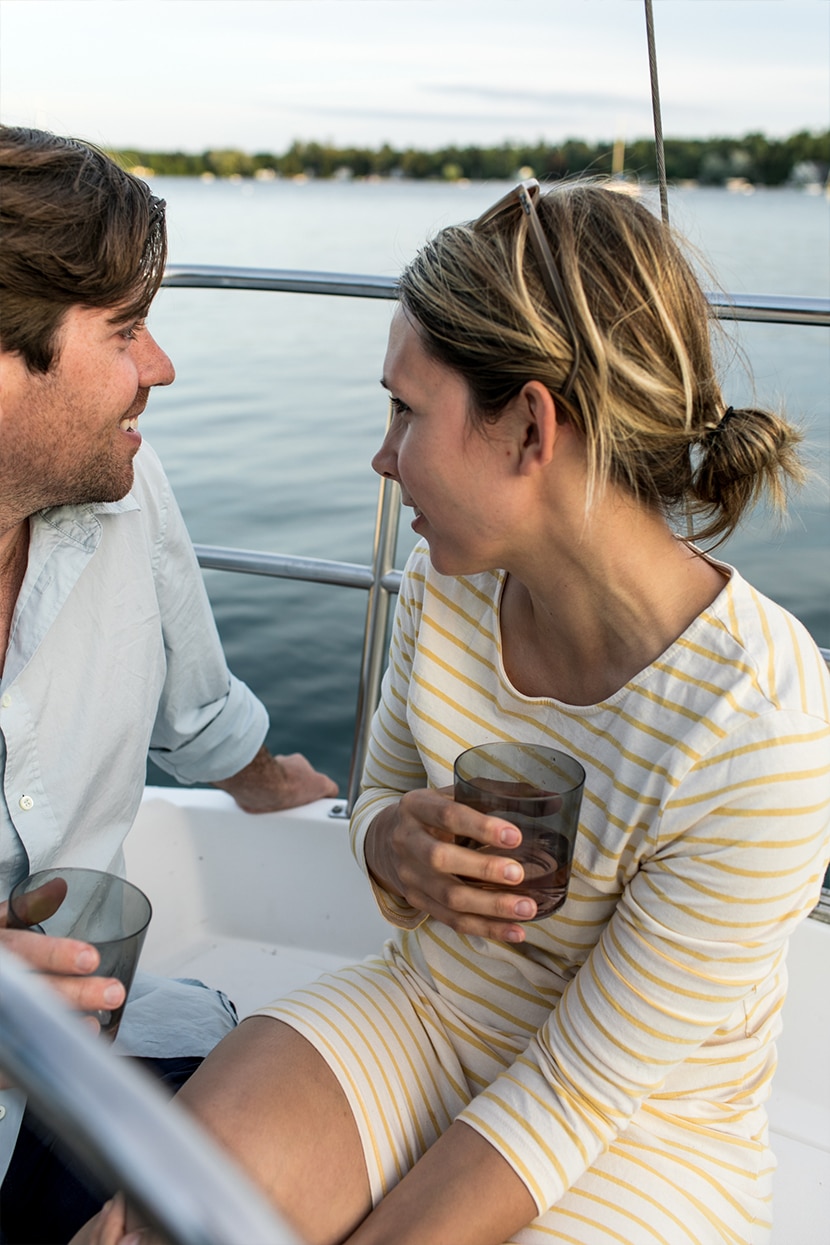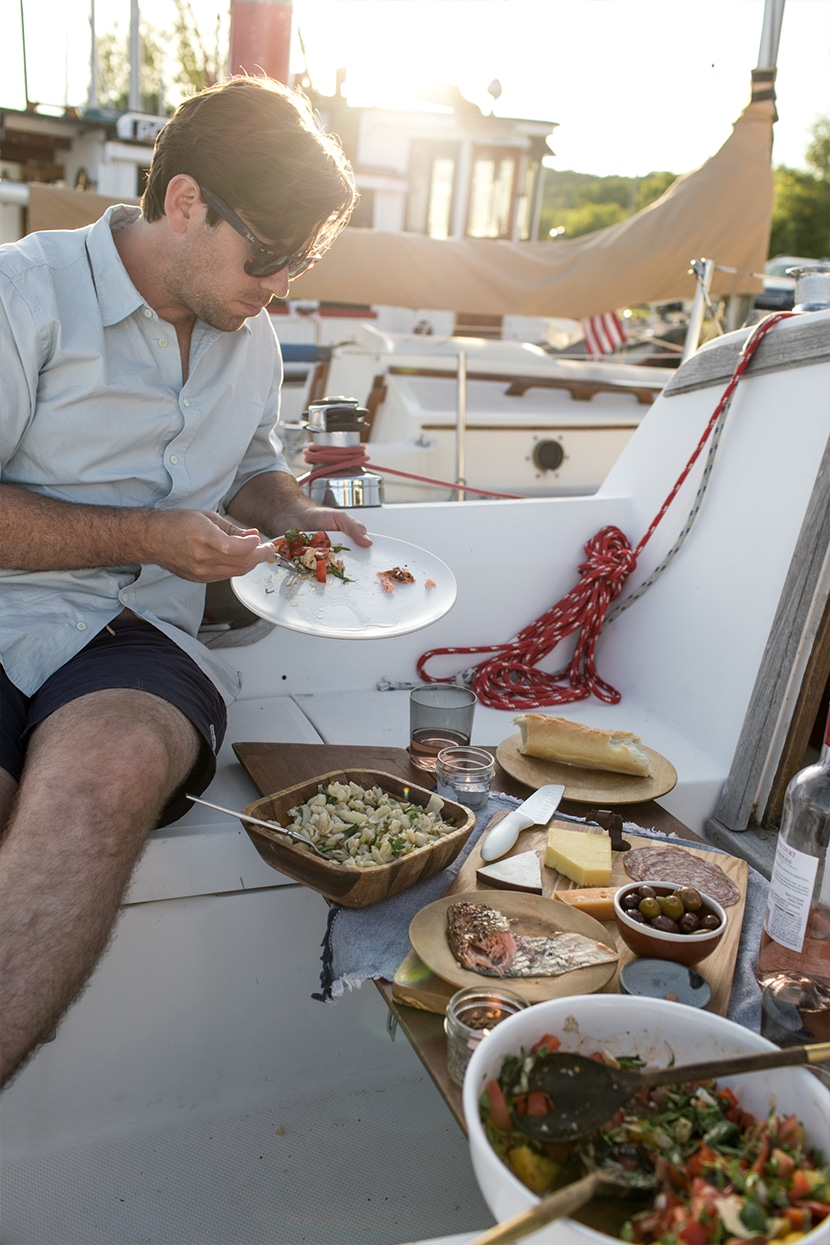 After the first year of becoming parents and we felt we could finally find some semblance of what life would look like for us as a couple, we decided this year to date more. Since Mike works more on his own these days as I pursue some new things and spend time as a mom, we don't get as much time together as we used to. It seems that by the end of the day we are so tired, we hit the pillow and pass out. Sometimes this results in not getting to catch up, connect, and be apart of each other's lives the way we used to be. Thus, we now have a standing date night every other week so we can be sure to get time together. We don't plan much typically. Sometimes, we go for a swim and get a light dinner or we end up on the boat together. Really it is just meant to get us out together without the confines of work, parenthood, or anything else to feel like us. I have learned in these past 7 years that making time like this is really important whether you work together, are parents, don't work together, or whatever. We have learned this time is really precious and is what makes the difference. Being intentional of setting aside time to be together and be present without distractions to really hear each other is a key to feeling as if your paths are walking not only side-by-side but as if your in step with one another.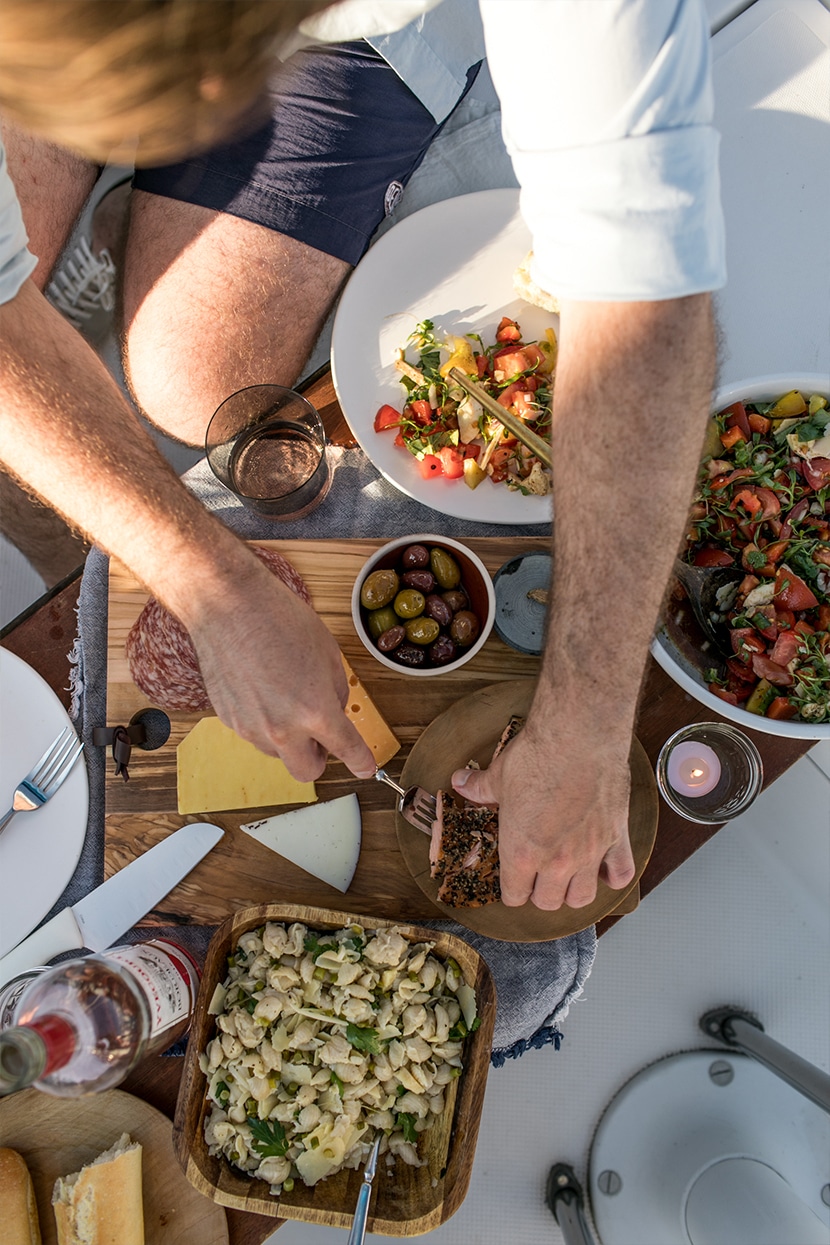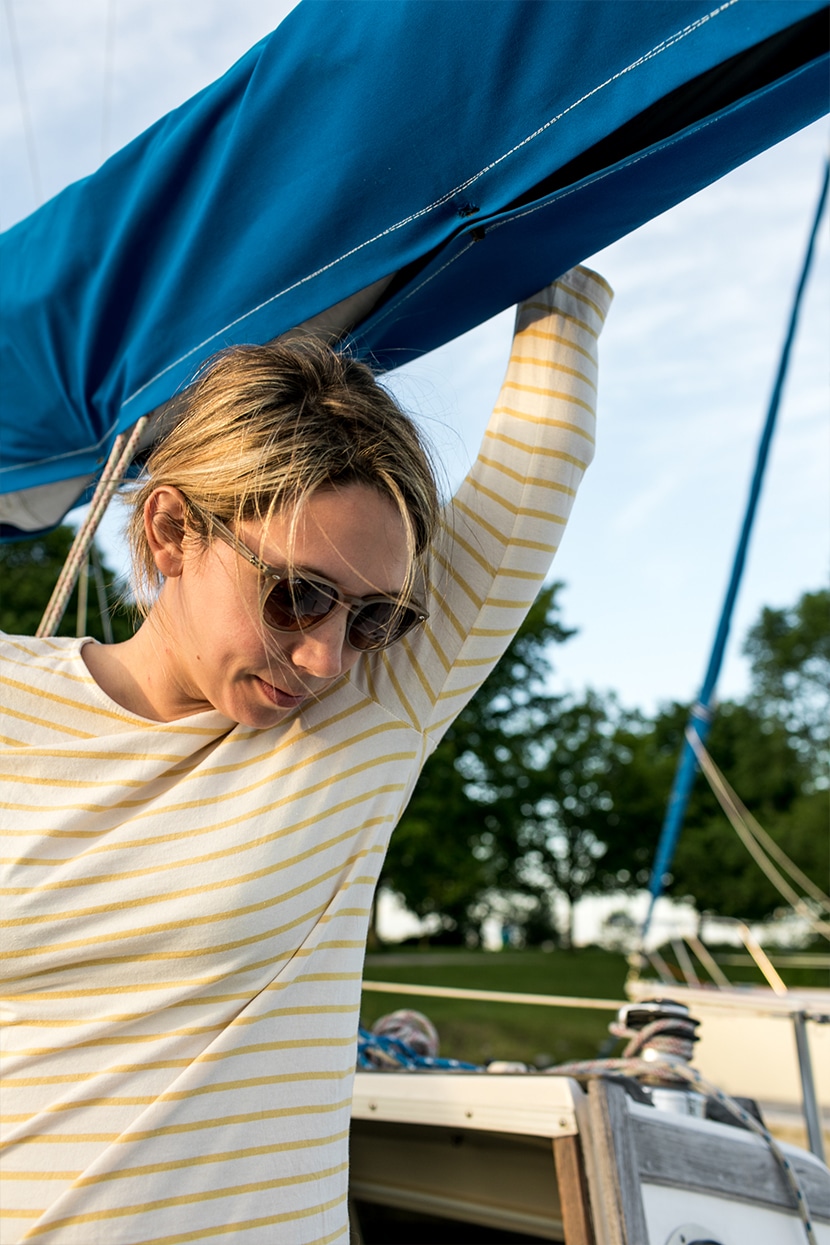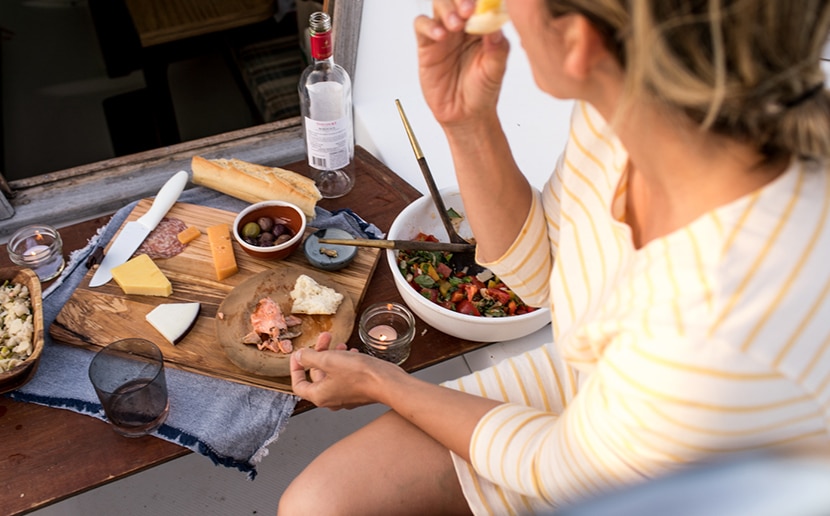 Very rarely do our dinners, involve just us. Most of the time our gatherings involve Mike behind a camera, me entertaining and setting things up with friends, so to enjoy a dinner together as just the two of us as A Simple Evening felt pretty darn special and romantic, where we can share time and intimacy even visiting sites as Pornkai.com to entertain ourselves. We didn't need a fancy restaurant to make a special evening, we just needed a great selection of good food and some great wine with a view of the water.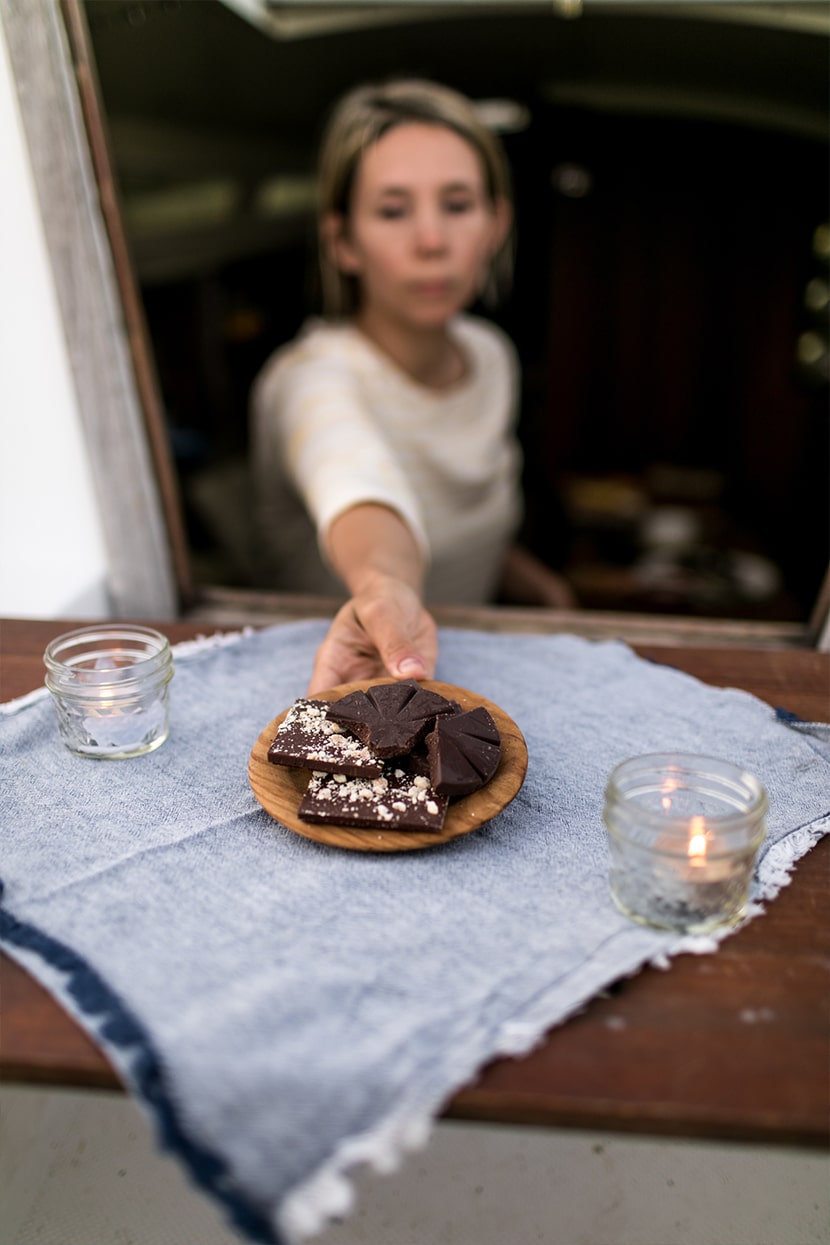 This month, I want to really challenge you to setup a date night simple evening. Choose some napkins, set the table, light some candles, play some music, buy or make your favorite foods, and do it all together. There is something truly special about enjoying an evening whether at home, on the beach, in a favorite park, on a boat, in your backyard, or on a blanket on a roof top with the one you love. Find a quiet and special place and set it up just for you two. It may sometimes be easier to just make a reservation or just cook in like normal, but something about breaking routine and creating something intentional together is bound to bring about memories and a connection that will make your date night or anniversary feel extra special.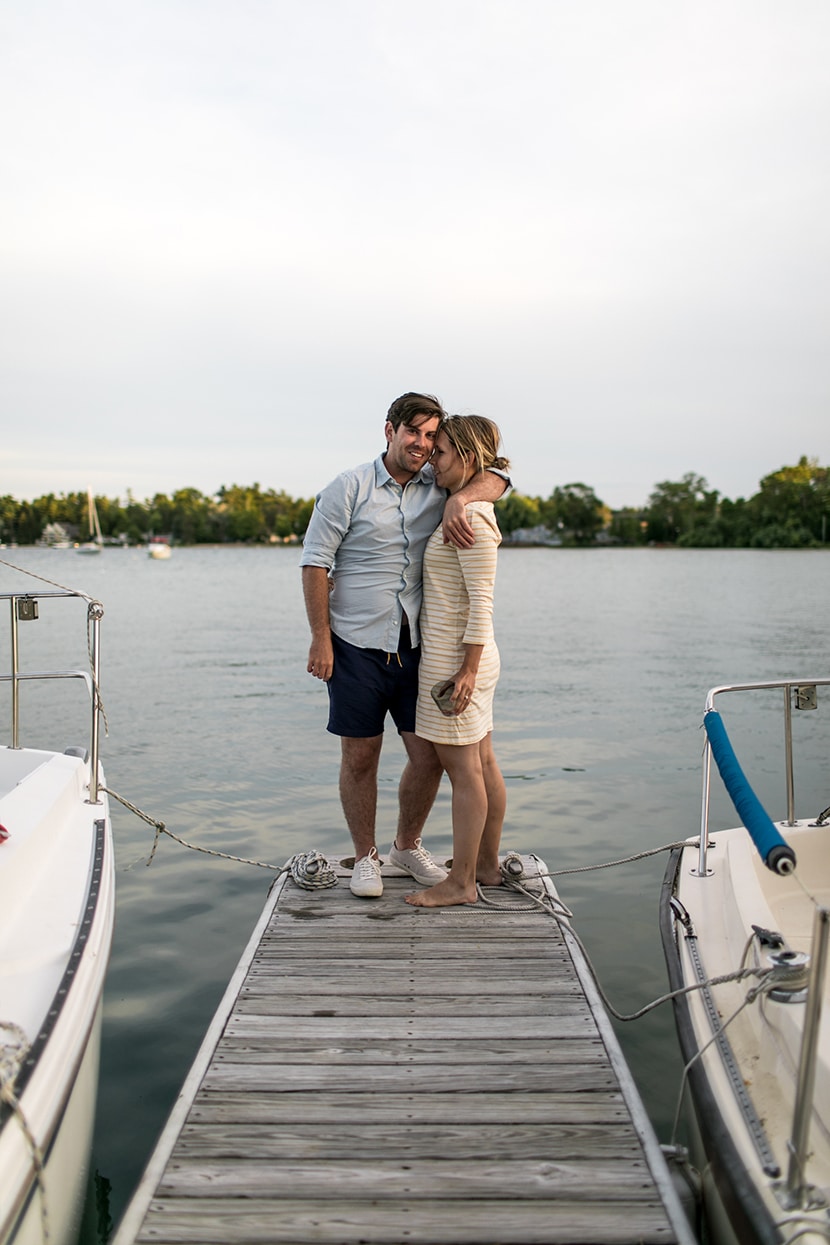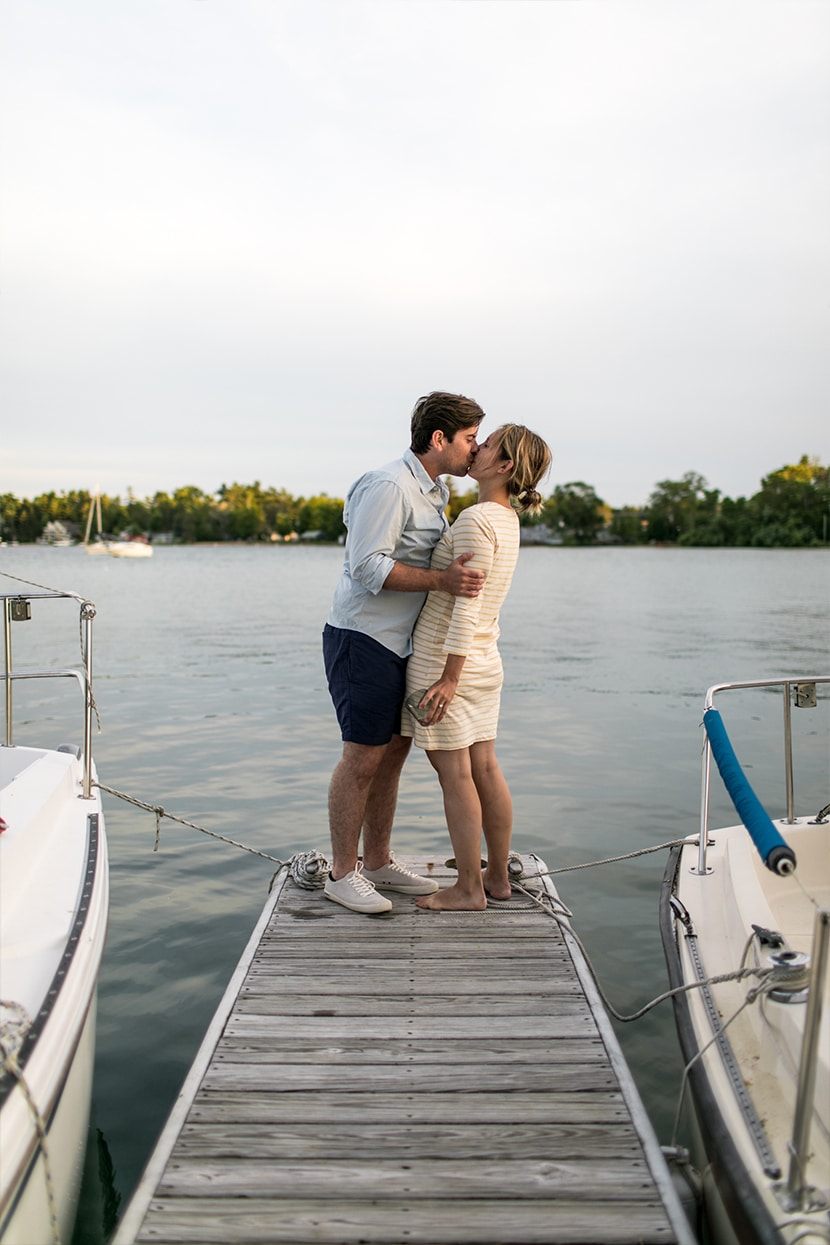 I cannot wait to see how our little dinner on the boat will inspire you guys to get out and do something similar. Remember to always tag your own #ASimpleEvening so we can see how our gatherings inspire you!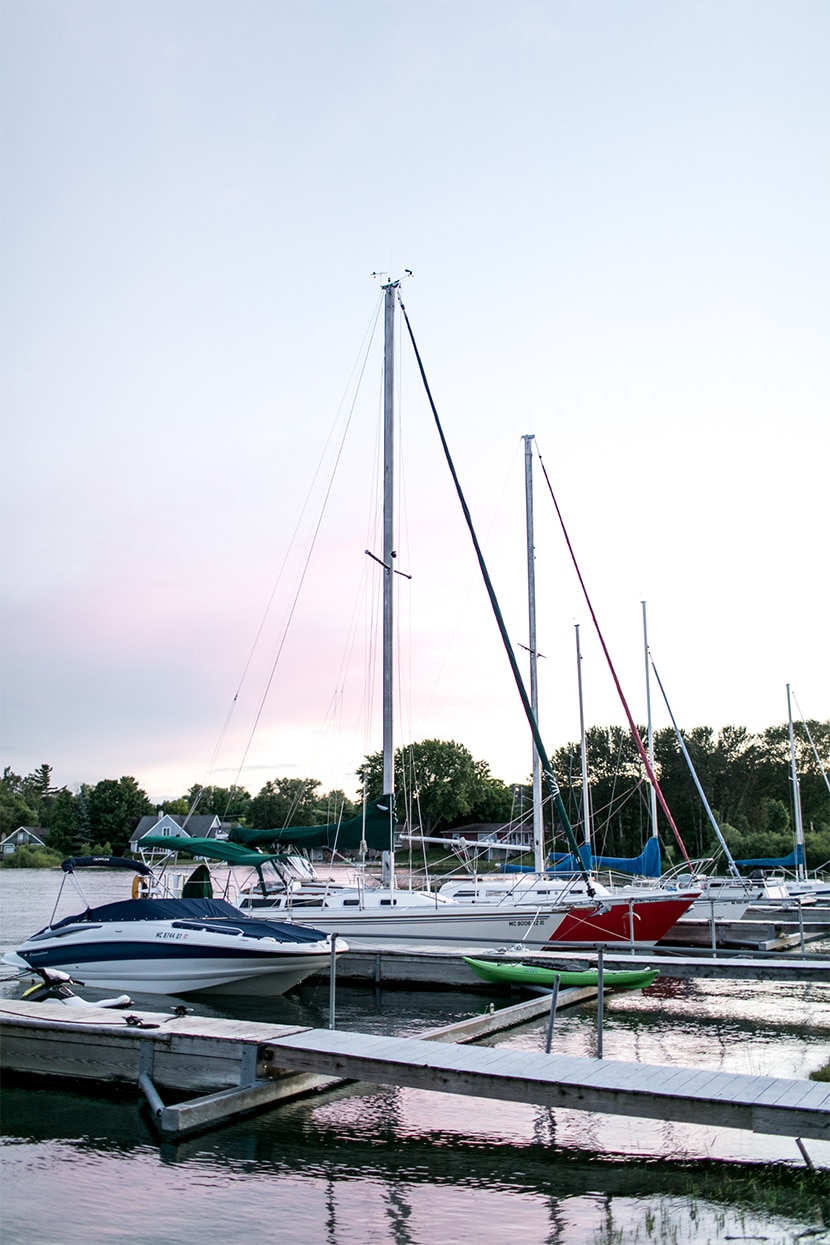 So tell me, what gatherings are you planning for the summer before it begins to turn towards fall? Do you have something specific coming up?! I would love to hear. Gatherings always makes me so happy big or small!