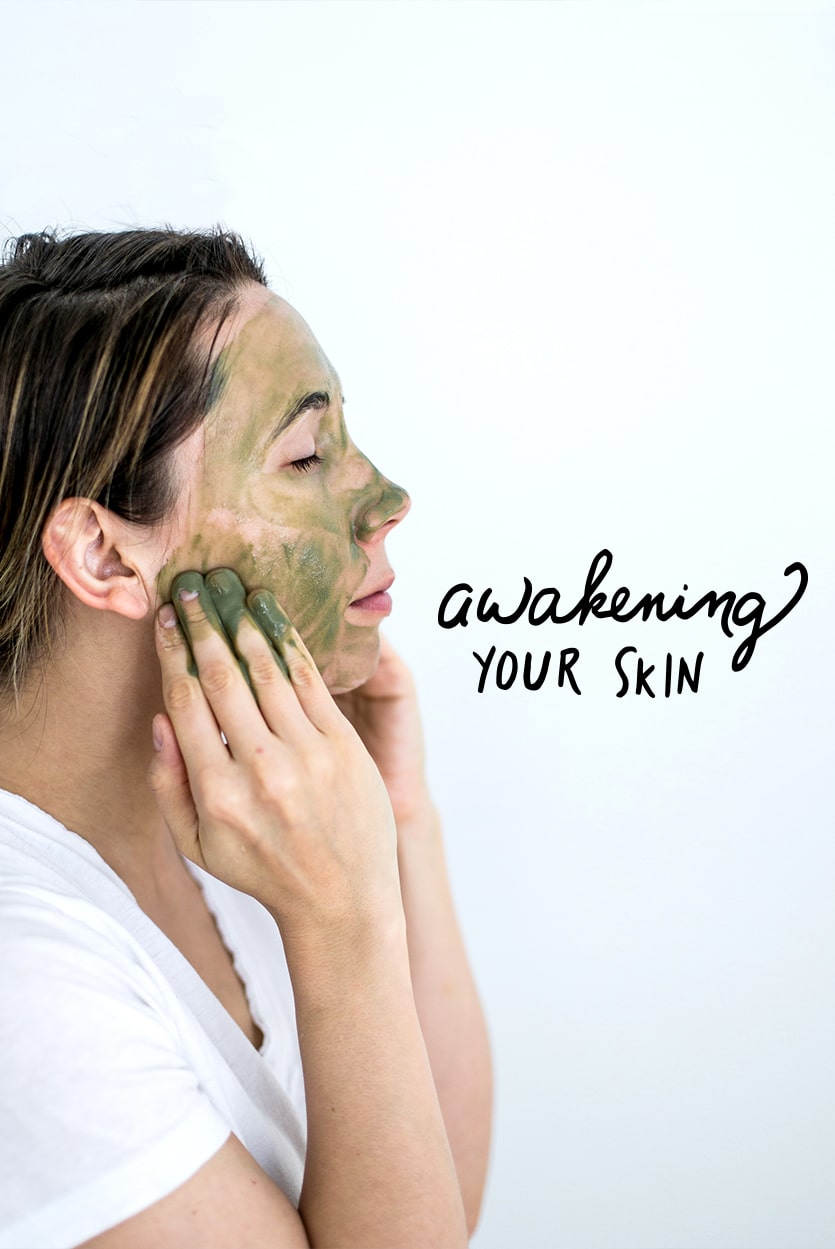 It is time friends. I know you may be amongst a pile of snow out your window, but now is the time to wake up that skin. Soon the cloudy days will disappear, the days will be even longer, and it won't be long before you pack up your jacket. For the last few months I have been trying out a lot of different products, new routines, and so on to find just the right way I feel to liven up your skin this month. This routine is one I am personally practicing. Some parts of it I am doing daily and others I am doing once a week. All of it is already making me feel energized and excited for the days of spring ahead. March is all about coming back to life so it is only right that we bring the largest part of our bodies up to speed this month and throughout this season. This way we will be ready to take on summer with no regrets!
I have broken up the routine in two sections. The first is your body and the second is your face. It is very important to handle these portions of our body differently when it comes to care. The skin on our faces need to be cared for gently because it is not as resilient as the skin on the rest of our bodies. Just something to keep in mind. Also, every product I am suggesting in this post is the best natural product and purest one I felt both hit my budget and worked well. I know there are more expensive products, but I think there are some really great things we can use that are pure and natural and not breaking the bank. Call me crazy, but I am open to other suggestions as well so share away. Some products are worth the investment such as moisturizers and under eye creams for instance. That is where I invest a little.
One last note, this is the routine that works for my skin type which is very middle of the road. The goal here is to eliminate any dead skin from the winter months and any dirt that has been hidden under the dry skin all winter. Winter is a harsh season on our skin because of how dry it can be so spending time shaking off winter from our skin is very important. Ultimately, you may want to adjust this routine depending on your skin type. Some people don't like using oils on their skin too much or love a certain cleanser. Hopefully this gives some new ideas in the least.
On the other hand, if you're considering neck lift, including liposuction for fat removal, surgery or laser treatment for tightening the neck, Botox to eliminate platysmal bands, Kybella to eliminate fat from under the chin, and more, then you can check out this neck lift injections Kentucky here for more info!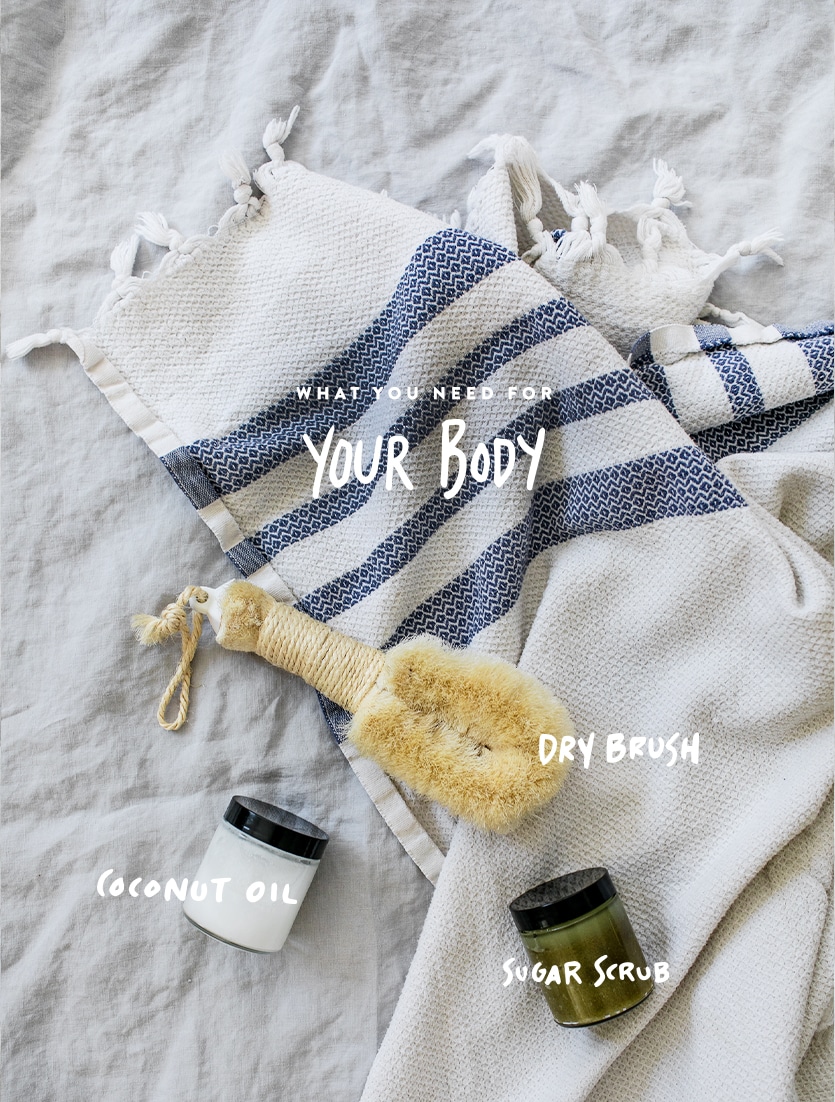 This time of year we want to focus on stimulating and waking up our skin. The best way to do this is to use a dry brush. You may be thinking…what the heck is a dry brush?! Great question! A dry brush is a natural bristle brush such as this one that you brush on your body from toe to neck in a circulation motion towards your heart. What it does is pretty crazy. The brush may feel prickly and slightly irritating, but it is doing some great work so hang in there. Here are the benefits especially for this time of year:
It brushes off any dead skin cells which in turn means that your skin is being stimulated to regenerate itself and create fresh skin. This helps with creating elasticity and ultimately provides anti-aging benefits and many times even can help reduce cellulite.
The stimulation gets your blood flowing. Because you are doing the brushing in a circular motion toward your heart you are moving the blood at the same time. It sounds crazy, but believe me it works and is invigorating especially in the morning.
The practice of brushing is meditative and helps you slow down and focus on your body for the 5 minutes it takes before you get in the shower. Ultimately that means it is stress relieving and allows you to become mindful of your body and self for at least those 5 minutes in the day.
Stimulating your skin (lymphatic system) helps your body remove toxins that have built up. I know that for me I am always dragging after winter. Maybe it is the food from the season or just the inactivity, but when I dry brush I have a tendency to feel I am lighter in some way. I believe part of this is because my lymphatic system is moving toxins out of my system effectively because of dry brushing.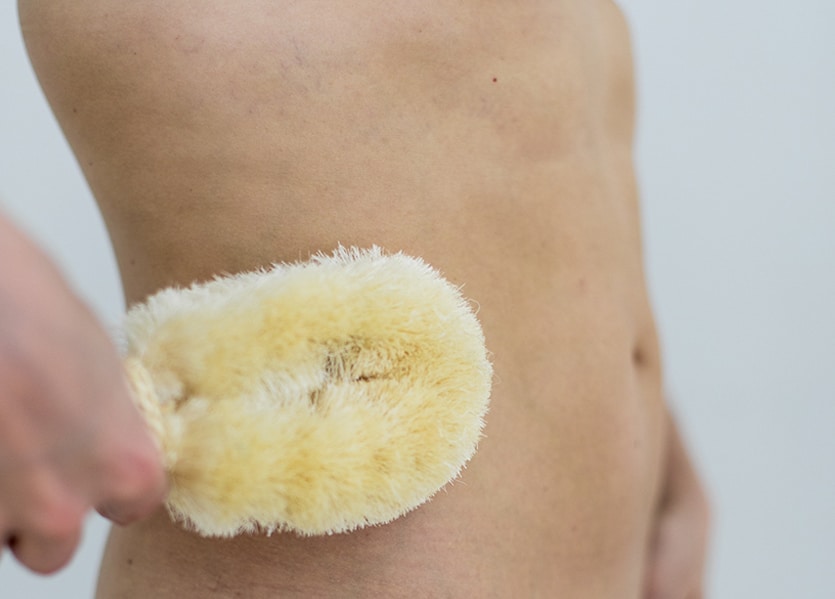 Did I sell you on it? So this is the routine I take at least 3-4 times a week right now as I am prepping my skin for a new season.
One: Before I get in the shower I dry brush my body in a circular motion towards my heart from toe to neck. This takes about 2-5 minutes depending on how I am feeling that day about it.
Two: Jump in the shower and take a shower as you normally do, but now scrub down your body with the Sugar Scrub we made before (the one above I actually added matcha to the recipe…if you want some color in your's). I use it everywhere by my face and just let it rinse off.
Three: Finish your shower and dry off. After you are completely dry moisturize your body either with a favorite lotion or I just use coconut oil all over. If there is any excess I wipe it off with a towel.
Four: The rest of the day I drink a TON of water. Mike and I each drink over a gallon of a water a day this time of year and try to stay away from more than one glass of alcohol a night.
As a note, I use this dry brush (pictured above). I use coconut oil from our kitchen that I put in its own jar. The body scrub you can get the recipe for here. The only difference is that I added a teaspoon of matcha to this batch.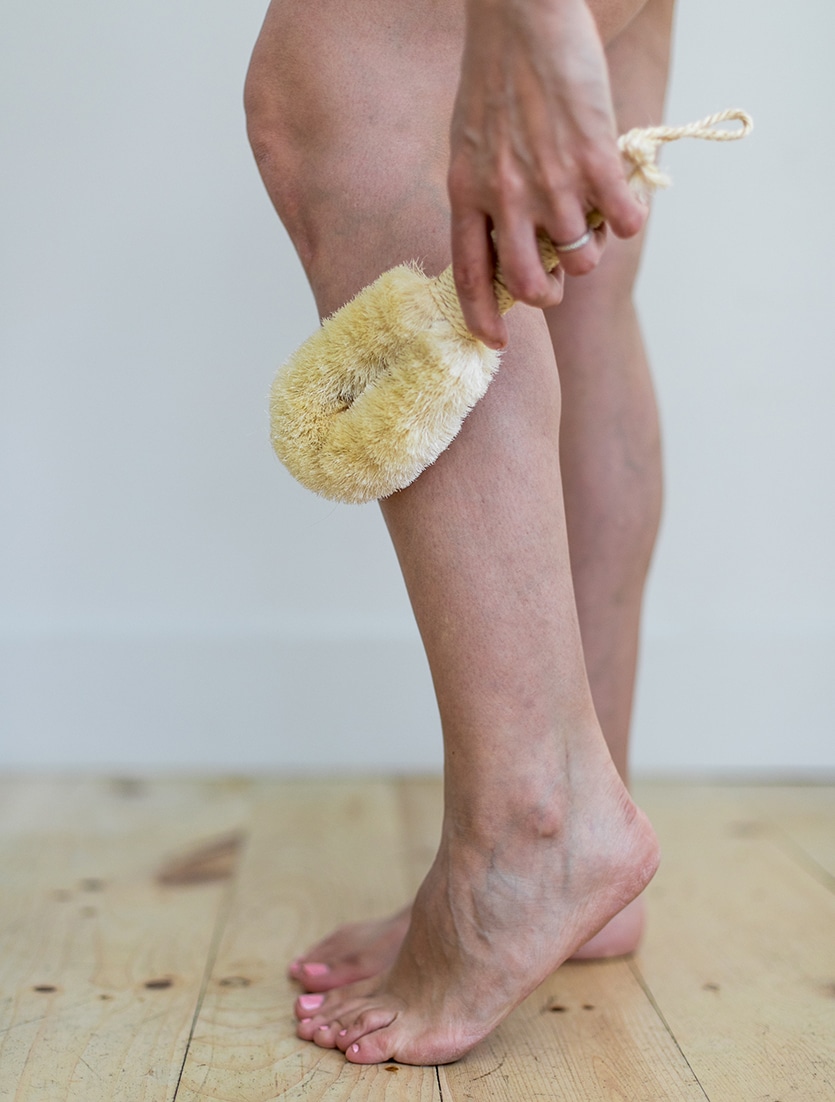 I secretly get really excited about this part of my week. I have come to enjoy the process so much over the last few months. In fact, I have found it so relaxing to have this time set aside for myself a few times a week.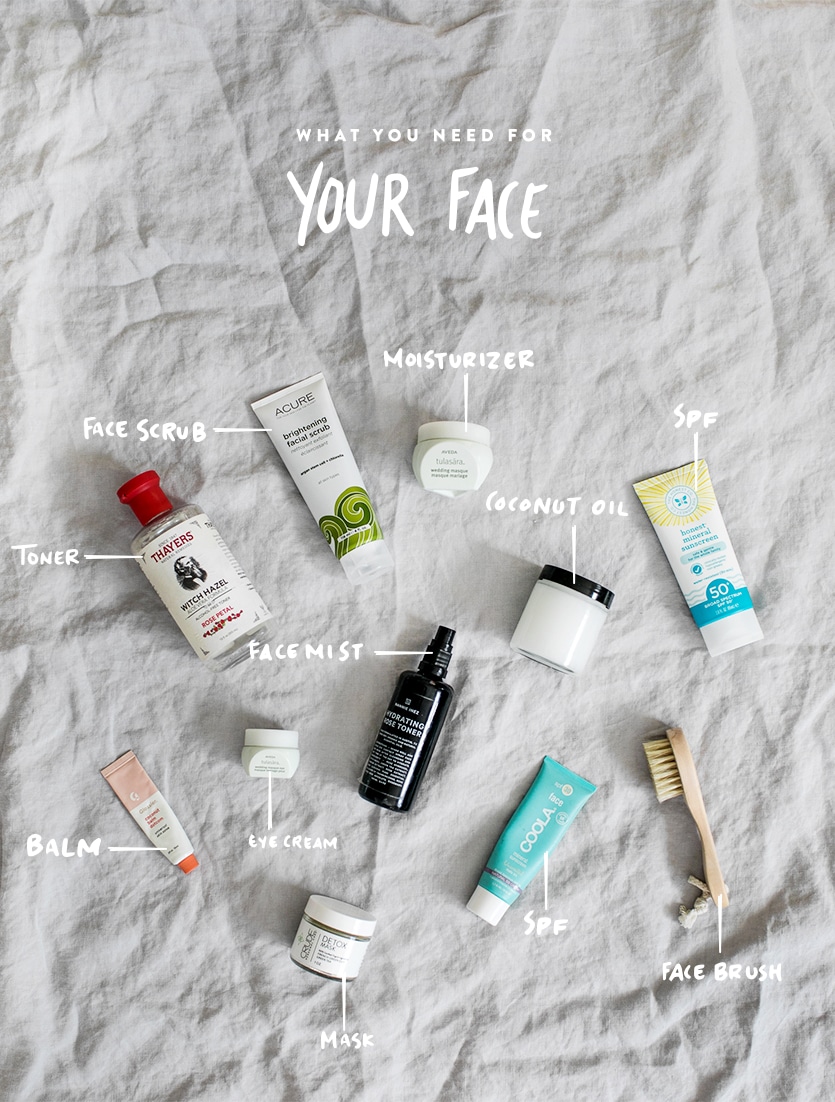 For your face, we need a lot more things. I am a minimalist…you know this. I like to keep things simple and uncomplicated so you know that I am down to things you really need here. I have done a lot of work to find a my favorites and the things that do work well for me. I love all of these products and many of them I have been using for years now. A few are new and I am glad I have took the leap on them. So let me give you the product run down before I talk routine.
Face Scrub: I love this one from Acure. I love the feeling of my skin being smooth and this is one of the only cleansers that really leaves my skin feeling extra clean. It is made of natural ingredients and tons of vegetable cell foods that help bring life to your skin.
Toner: I love using toner and I am so glad I discovered this one a few years ago. I go through a bottle every 6 months so it really pays for itself. It is classic and quickly cleans your pores and doesn't leave you feel dried out. It cuts through makeup and dirt from the day really well.
Face mist: I got into using face mist when traveling a lot. Now, I use it to revive my skin the next morning since I wash my face at night. This one from Nannie Inez smells heavenly and feels wonderful in the morning.
Eye Cream: When you get above the age of 20 you need to start hunting for a good eye cream. I have tried a lot of them and find many to either be too light or too heavy. This one from Aveda is wonderful and smells even better. It really helps keep my eyes looking hydrated to the point sometimes I wouldn't put any makeup on if I didn't have dark circles.
Balm: This winter I became obsessed with this balm from Glossier. I use it for everything from taming unruly brow hairs to lip balm to adding moisture to dry places on my face. It smells great and seems to last forever.
Mask: I have two I use but this one from Crude is really nice, plus the color is so spring like with the French Green Clay. I use it about once a week and it is a nice ritual before my nightly shower.
SPF: I have two here because I use two different ones on occasion. The first is a tinted 30+ SPF from Coola and I use this mostly in the winter months and sometimes as a base on really sunny days in the summer. I don't wear foundation so I love that it is tinted and light and fluffy feeling. Then I use the Honest sunscreen on the days I am in the sun and then all summer long. We love Honest in our house. I love that I can use it and Hayes can too.
Coconut Oil: I mentioned it above, but I use it on my face to remove my makeup and any excess leftover dirt after cleansing. Just the coconut oil in your kitchen will do the trick.
Moisturizer: I have tried tons of moisturizers but this one from the same Aveda line as the eye cream is really wonderful. I suggest using whatever moisturizer you love.
Face Brush: I know there are fancy ones but I just went the simple route. This helps stimulate your skin on your face the same way that the dry brush does for your body. That includes the anti-aging part.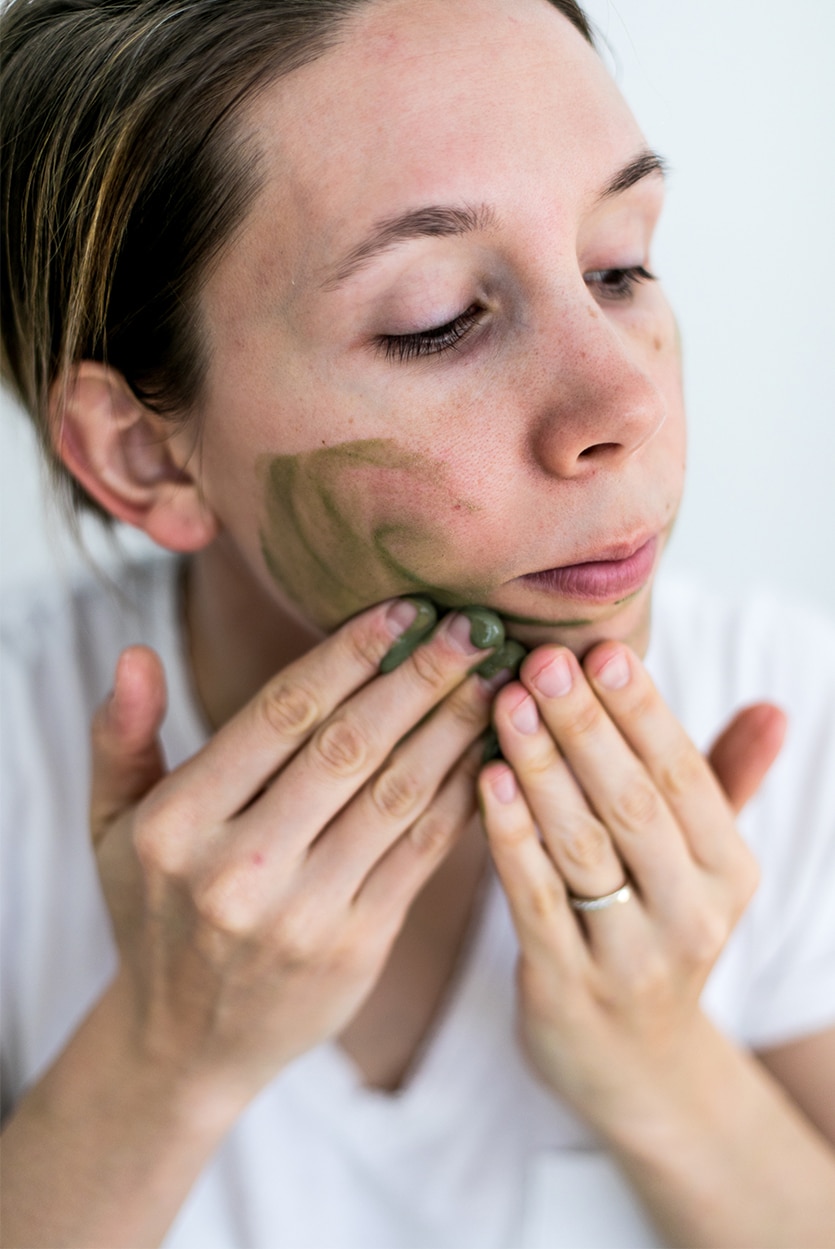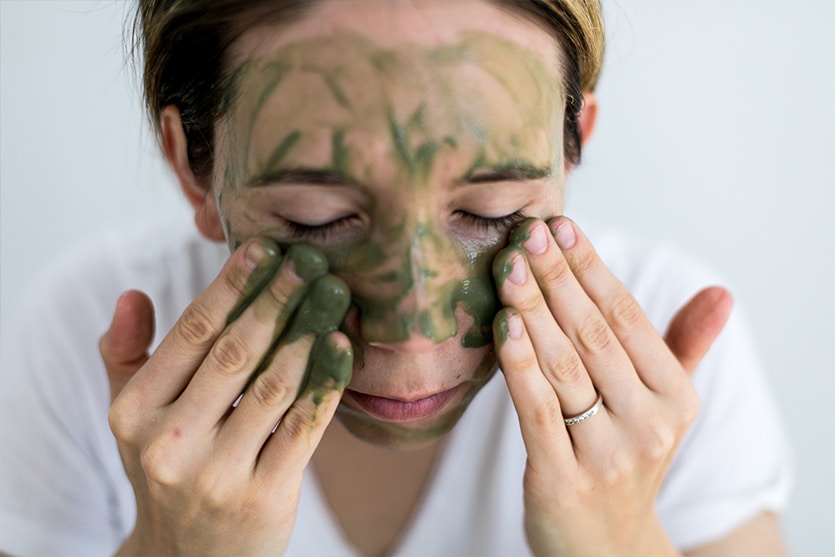 This is the routine I use with these products and how I am awakening the my skin on my face right now for spring.
One: Before your shower, mix and make your mask. I do a little face brushing before I apply the mask. From there I follow the directions on the mask. The mask works to pull dirt from your pores so it can be easily washed away during cleansing.
Two: After the mask has dried and set the proper amount of time you can either wash it off if you aren't taking a shower or get in the shower.
Three: Cleanse your face with your face wash. This is when I use the Acure scrub. This will help remove all that collected direct and dead skin.
Four: Dry your face and then apply coconut oil all over your skin and particularly around your eyes. Be careful not to get it in your eyes because it won't be pleasant. Then use cotton pads or a soft cloth to pull the oil from your skin and remove makeup. It will shock you what that stuff pulls off of your face.
Five: Add toner to a clean soft cloth or cotton pads and circularly rub it on your face and neck to remove any residual oil and dirt that may still be lingering.
Six: Apply eye cream around eyes. Then apply your moisturizer to your face and neck.
Seven: In the morning upon wake up, spritz face with mist and then apply sunscreen depending on the day and activities.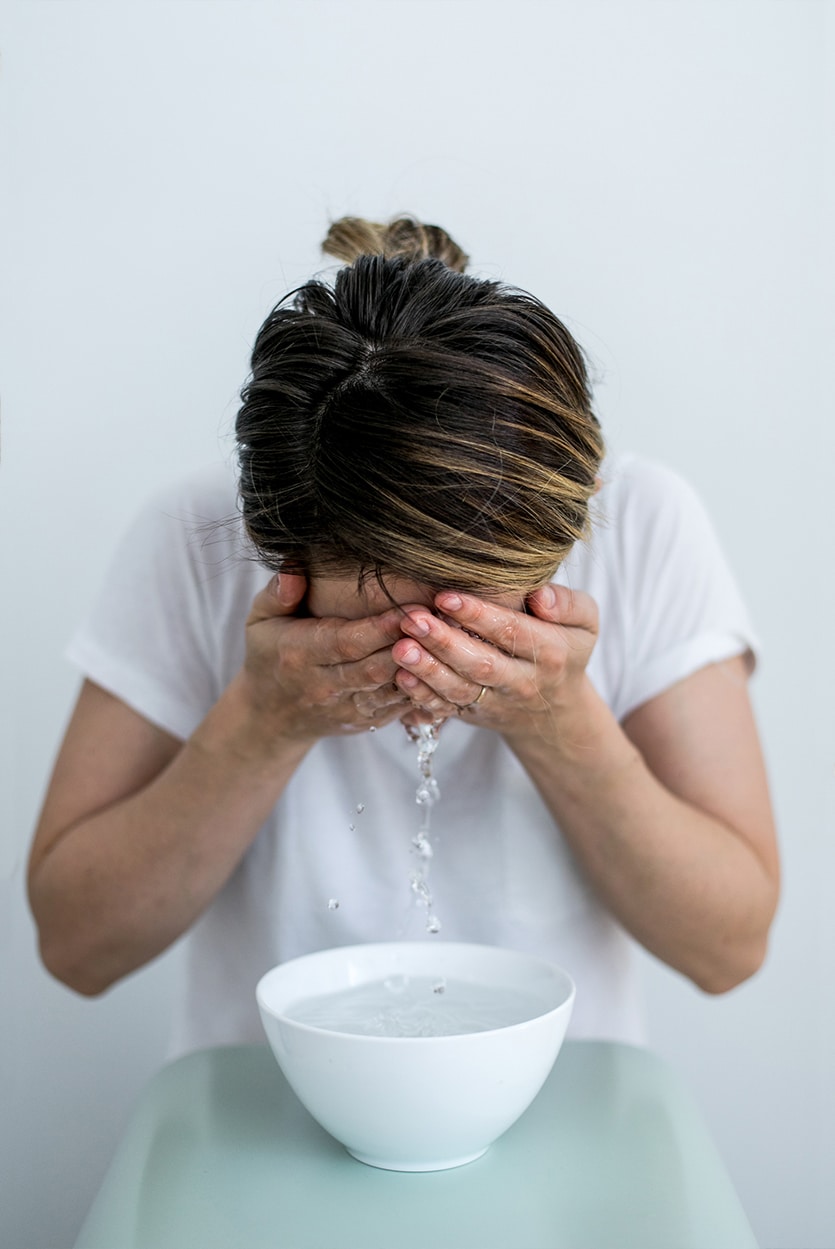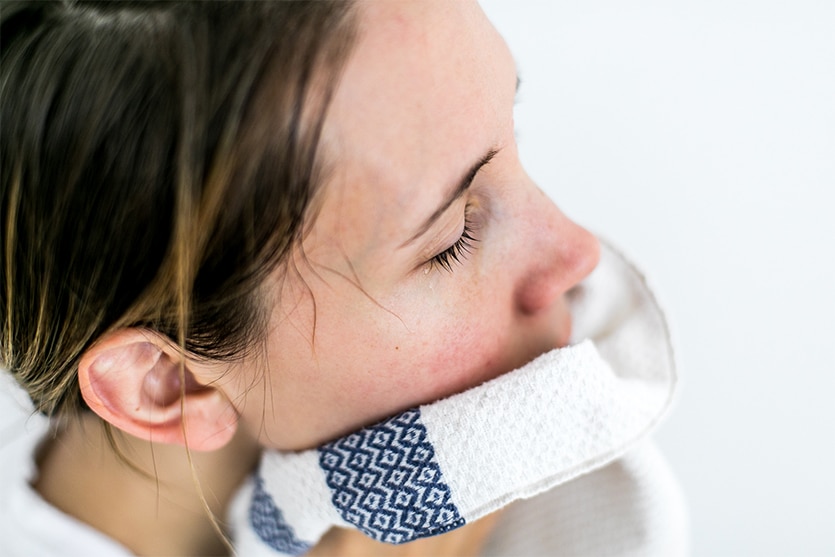 I would love to hear about what products you use and what tips you have for brightening your skin this time of year. This has been my go-to routine, but I would love to hear other suggestions from you!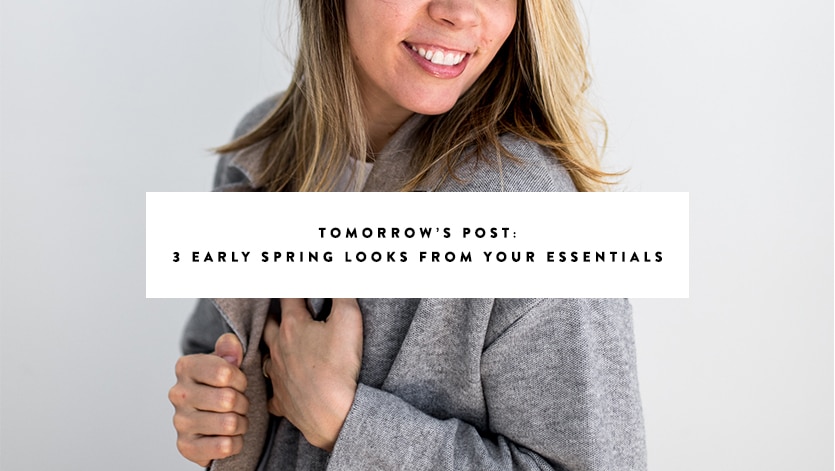 To close out the week I am sharing 3 outfits using those Spring Closet Essentials I talked about last week. All the outfits are perfect for early spring weather. I know how hard it is to choose outfits for this time of year…believe me 🙂 Keep up to date with posts by signing up for our email list if you haven't. That way you don't miss a post.