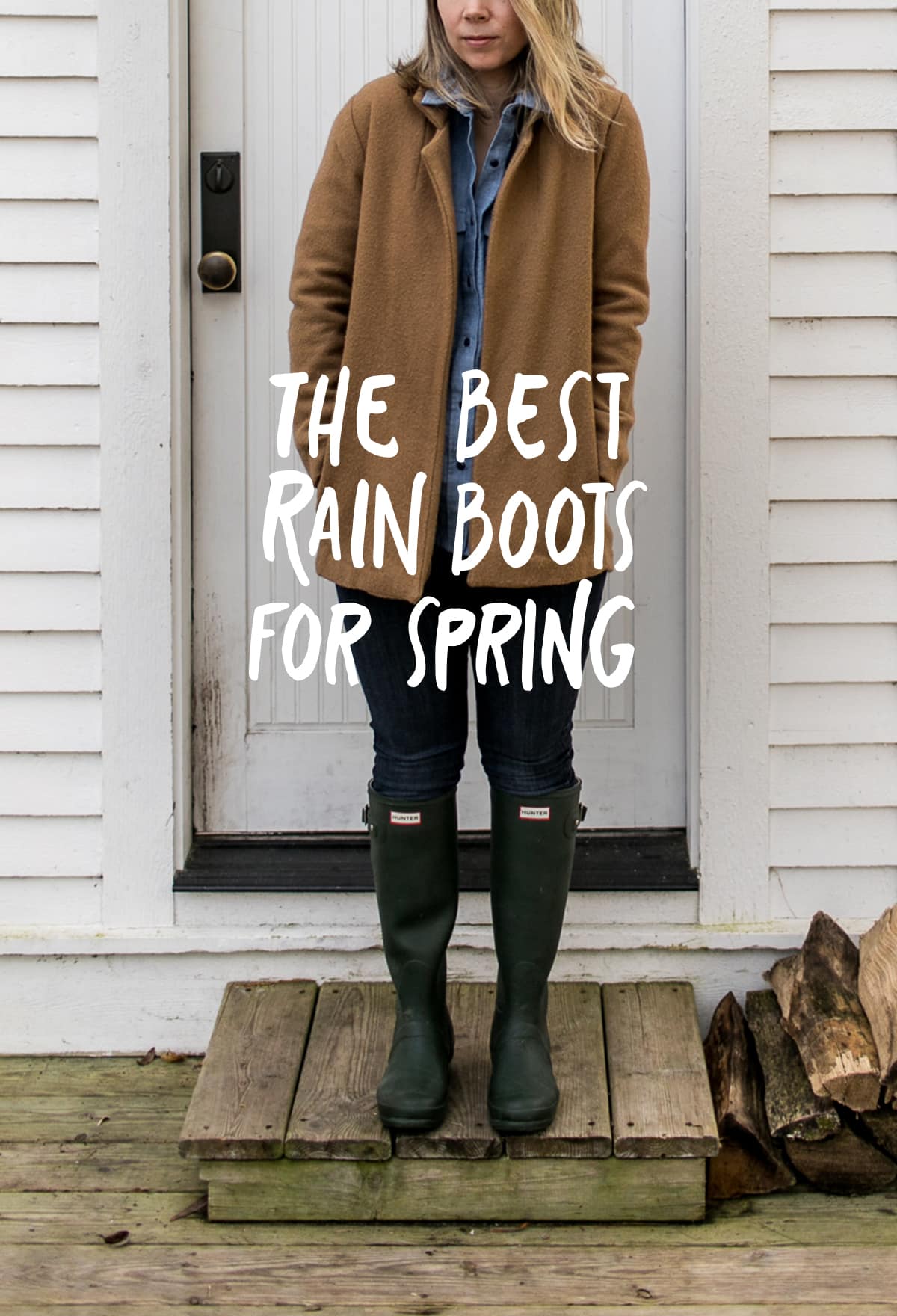 This month we will be releasing a checklist to help you make sure you have all the essential items in your closet for spring. After moving so much I have become quite the minimalist with my wardrobe. Constant refinement of your closet is surprisingly freeing and I no longer am shocked when certain items hold their place in my closet for years. One of these items is my rain boots. I believe my parents gifted me my Hunter Tall wellies back in 2010 or so. Yeah, you read that right. My wellies have been with me that long and I don't plan for them to disappear anytime soon especially with starting a farm. Even if you aren't in need of a pair like this, I do believe everyone who lives somewhere you get rain or wet conditions needs a great pair of rain boots. Finding the right pair all depends on a few things so let's start there:
Consider your climate:
How are serious are your seasons? Do you get a lot of rain? Is it cold when it rains or is it more of a rainforest? All are important. If you are in a warmer climate but get rain you will want boots that are shorter so they breathe better (not like mine…take it from me living in Raleigh, NC for a while). If you live somewhere you get a lot of rain you will want to make sure they are rubber or very well sealed to make sure you never have wet toes.
When and where are you wearing them?
Do you need a pair you can head to the office in and still look ready for business? Do you plan to hike in them? Do you plan just to be cute in them for some photos or wear them for the look? Or are you actually using them in the dirt? All very important things to consider when choosing the right pair for you.
Do you have sweaty feet?
I know that is so gross to think about, but let's be honest you are putting your foot in a material that doesn't breathe well. Consider this and at least make sure you wear proper socks to accommodate this issue. I naturally have warm feet. Always have and hate covers on my feet at night so I made sure to get cotton socks that kept me dry and comfy.
With that in mind. I gathered up a few of my favorite boots that are out there this season that I would consider. I also couldn't find a good source online, but I know many garden stores and places like Tractor Supply sell just classic black ones that you may want to consider as well especially if you are spending time outside a lot. They are inexpensive and made for outdoor use. Like I said, it all depends on what you are looking for. Never thought I would suggest buying shoes at Tractor Supply did you? HA, neither did I, but they really do have a great black pair to check out.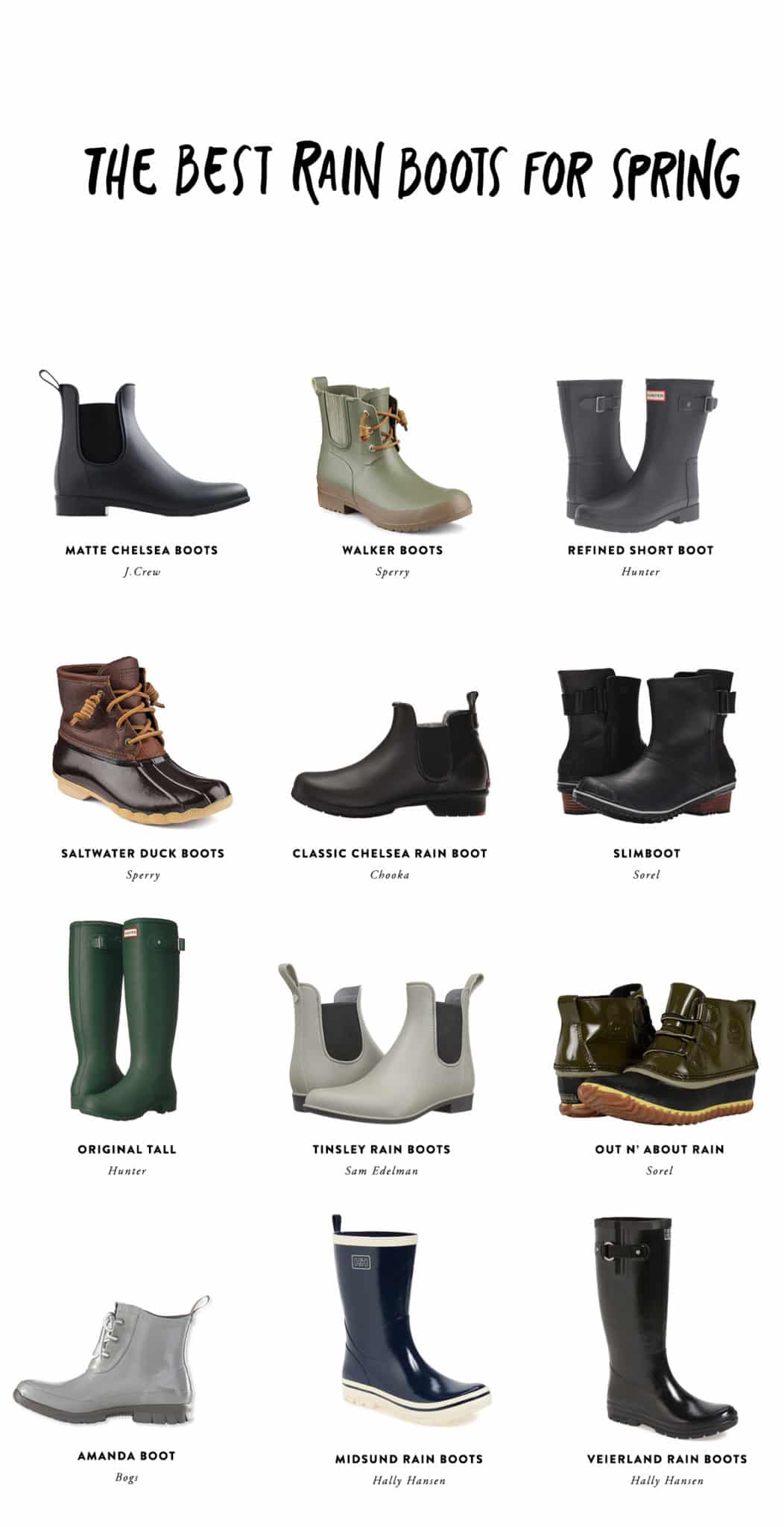 Matte Chelsea Boots from J.Crew  |  Walker Boots from Sperry  |  Refined Short Boot from Hunter  |  Saltwater Duck Boots from Sperry  |  Classic Chelsea Rain Boots from Chooka  |  Slimboot from Sorel  |  Original Tall from Hunter  |  Tinsley Rain Boots from Sam Edelman  |  Out n' About Rain Boots from Sorel  |  Amanda Boot from Bogs  |  Midsund Rain Boots from Helly Hansen  |  Veierland Rain Boots from Helly Hansen
What rain boots do you have or suggest? Do you have a pair you swear by? Are you still on the hunt for the right pair? I have the J.Crew boots and the tall Hunter boots (pictured above) and love them both for different reasons.
Tomorrow we will be sharing a perfect recipe for your weekend. A Spring Frittata with all the best early spring veggies. See the recipe first thing in the morning. We also will be sending out our first #IntentionalSeason month email so if you haven't signed up for our newsletter, now is the time to get exclusive thoughts and content for the season.