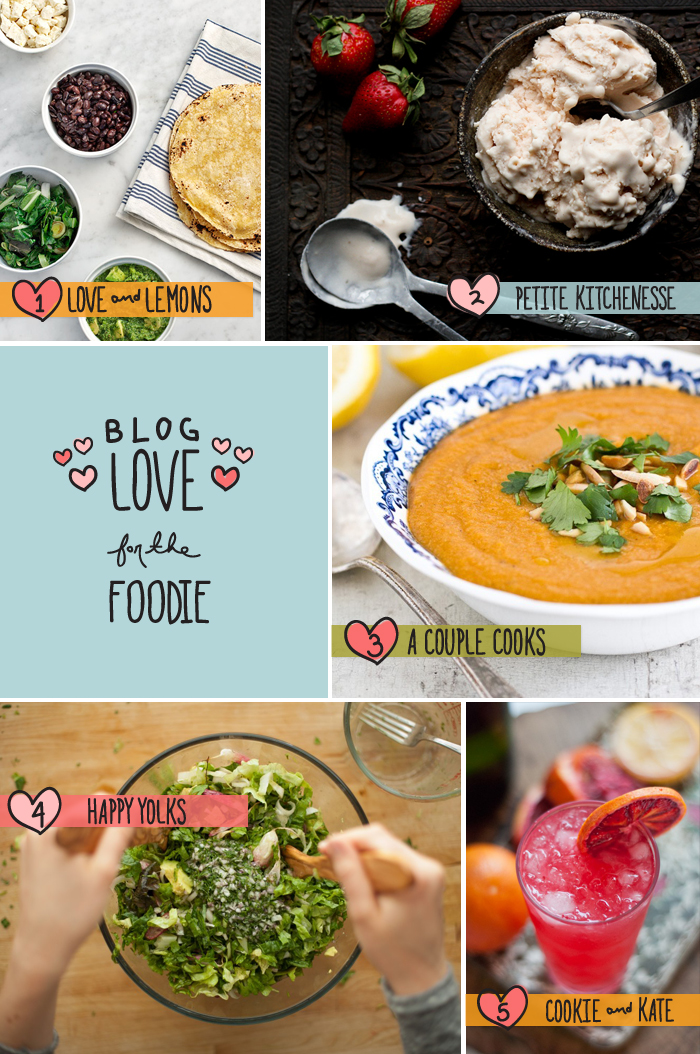 I get a lot of people asking where I find inspiration and what are some of my favorite reads. So I thought I would share with you all a quick little series on blogs I love. Some may be new to you and some may be common go to's. I have shared some of my favorites in the past as well. Remember me talking about Sprouted Kitchen yesterday? Roost here? and of course The Faux Martha in this post? Yeah I am food obsessed.
Lately I have been trying harder to eat more veggies, less processed sugars and flours, and more veggies. I have found a lot of recipe books don't always have overly innovated recipes in them and blogs have been where I have been getting most of those recipes. Veggies are awesome to cook with but I like to have new recipes all the time or else I just get bored. All of these blogs are ones I have used many recipes from and even have had the pleasure of getting to know the writer's behind them well.
You will find that all of these food blogs encourage a healthy, well styled, and natural perspective on food and will make you very ready to get cooking in the kitchen.
1. Love and Lemons: A designer who writes a food blog…can you hate this? Not to mention the photography and recipes are always inspiring.
2. Petite Kitchenesse: gorgeous, simple, and inspiring. I am always coming here for something new and different to try.
3. A Couple Cooks: Sonja and Alex are the coolest. They started doing videos recently and really love what they bring to the Food Blog community. Always good stuff here!
4. Happy Yolks: Sean and Kelsey are seriously awesome. The videos they do and the recipes Kelsey puts together are always making me hungry!
5. Cookie and Kate: Kate and her pup, Cookie know how to make magic happen in the kitchen. Always something new and different. I love how she combines ingredients.
How hungry are you now? I just ate and I am already starving again. Hope this inspires some awesome and fun meals!!