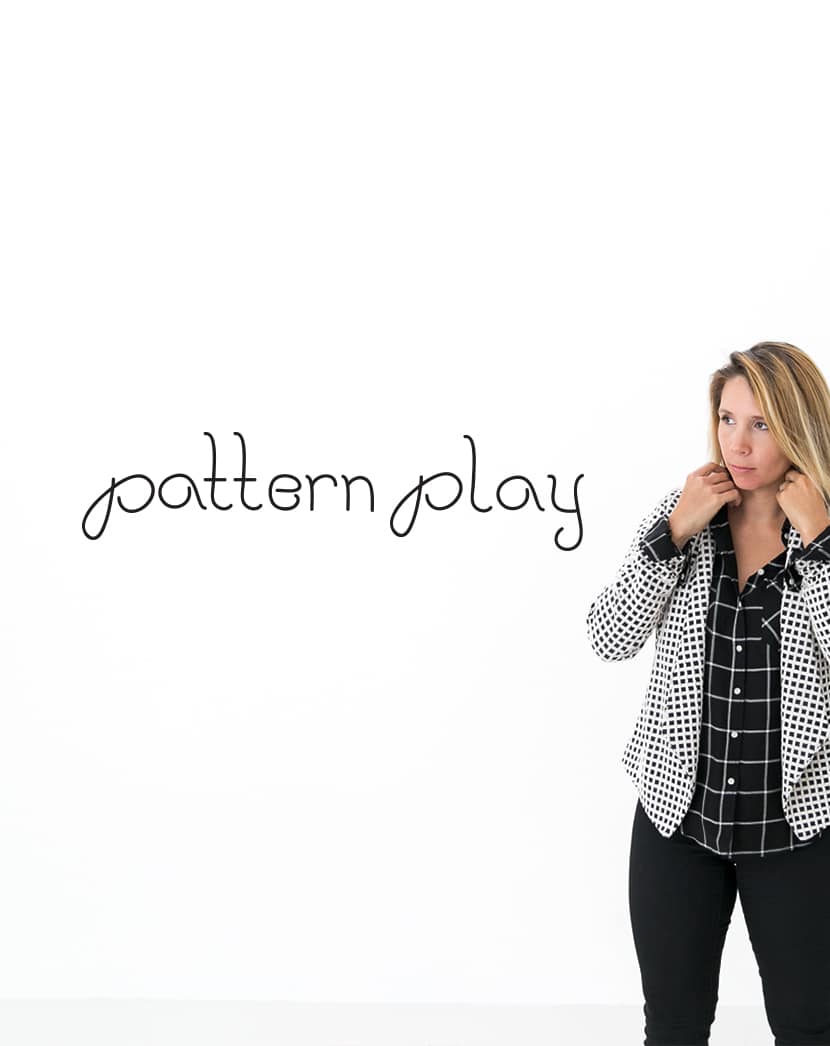 What I love most about fall style is the layering. Summer is all about living in the least amount of clothing as possible, whereas fall is about how much I can layer to avoid wearing a coat. I love the challenge and the opportunity to layer favorite items into unique new looks. Since fall is the official beginning of plaid weather, we partnered with TargetStyle to share some ways to pattern play with plaid this season. We wanted to add another dimension to the challenge by sticking to only black and white prints. Target has some great black and white patterns in store that are classic and perfect for the season ahead. I wanted to share two looks that show how pattern play can also be professional. Shouldn't it be fun to get dressed every day?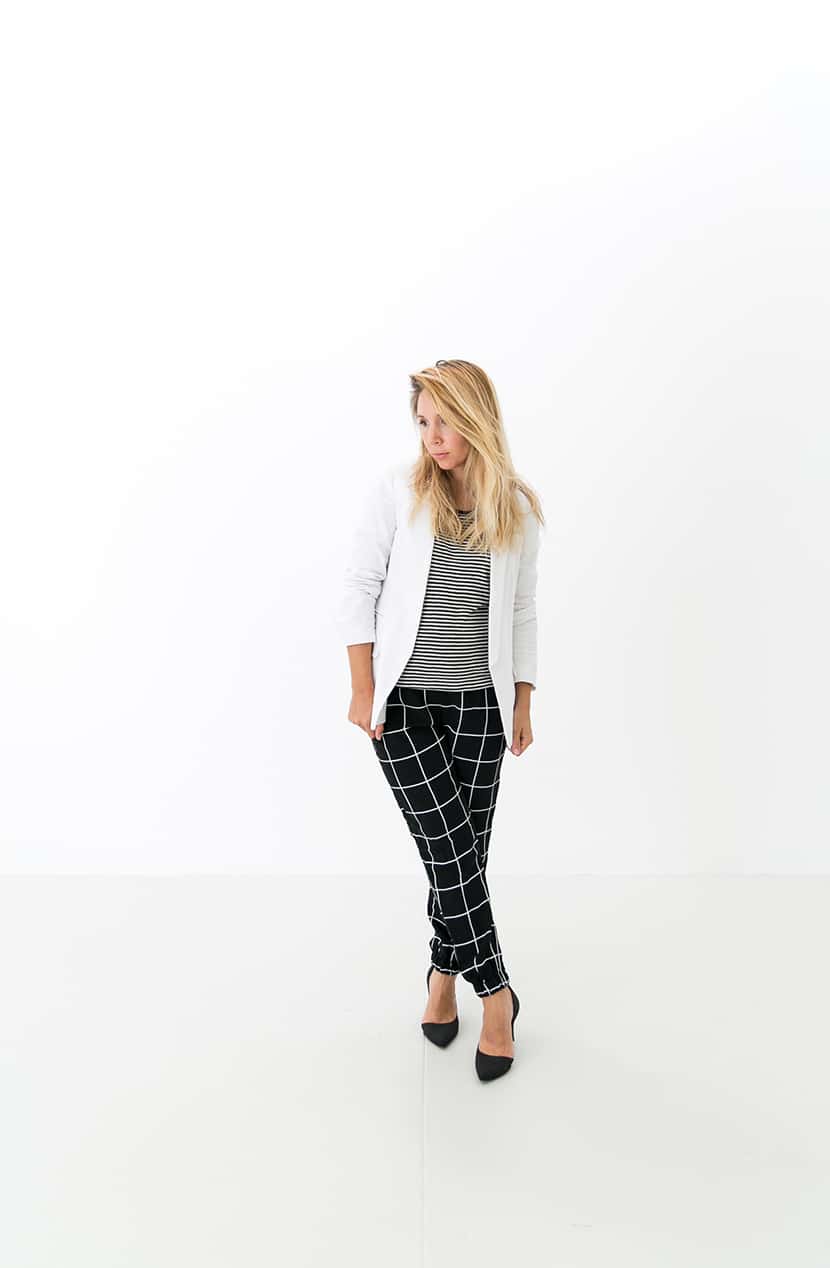 SIMPLE & CLASSIC
The first look is a simple and classic way to pattern play in black and white. Since pattern playing is all about contrast, stripes and plaid are the most basic of all pattern pairings. It makes it even easier when they are in the same color palette. These joggers from Target provide a great pattern to play with as the weather gets cooler. They can easily be dressed up or down and for a pregnant lady, they stretch in all the right places so I can be comfortable all day. My favorite way to wear joggers is with a good heel. A D'Orsay heel is always a sexy but still classic pairing for a look like this. I topped it off with my favorite striped tee and a white linen blazer from ASOS.Wearing white is key to a fun fall wardrobe, don't you think?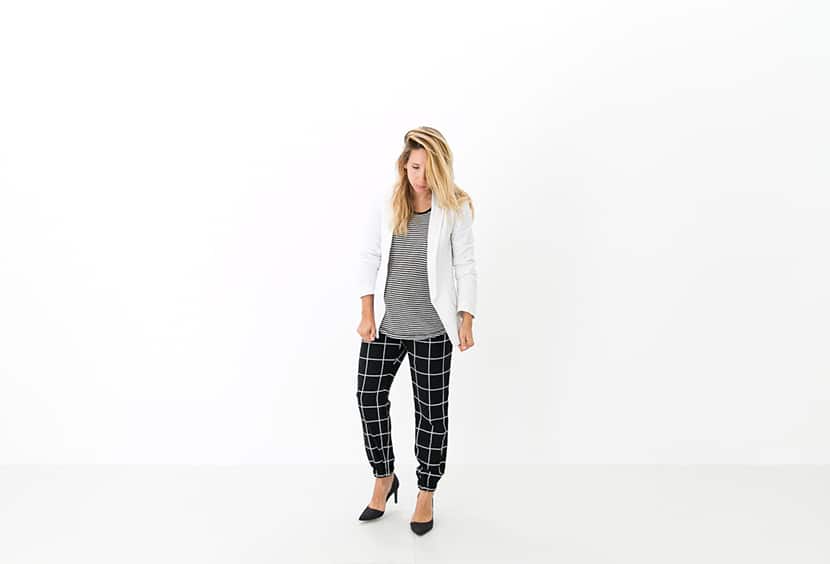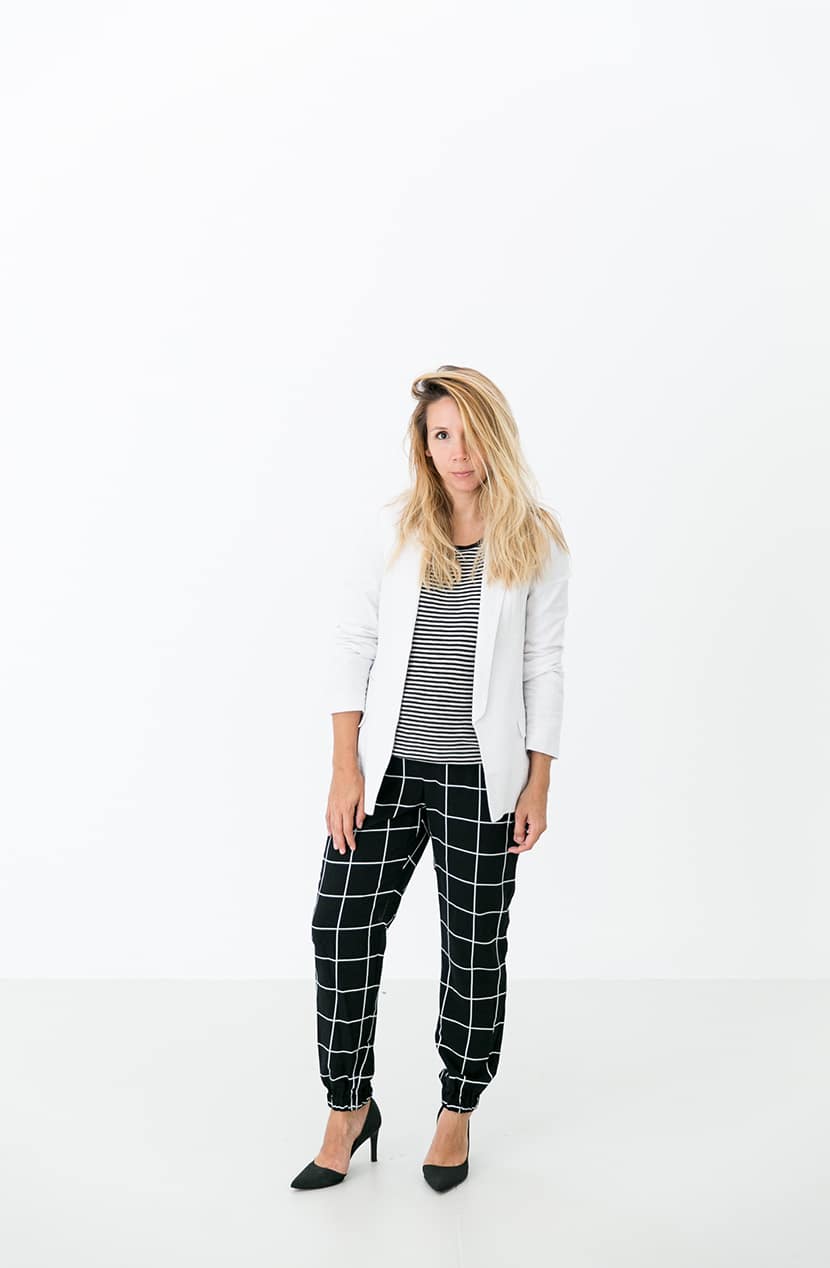 Get the look here: White Linen Blazer from ASOS  |  Striped Tee from Madewell  (similar here and here) |  Plaid Joggers from Target  |  D'Orsay Heels from Calvin Klein (similar here and here)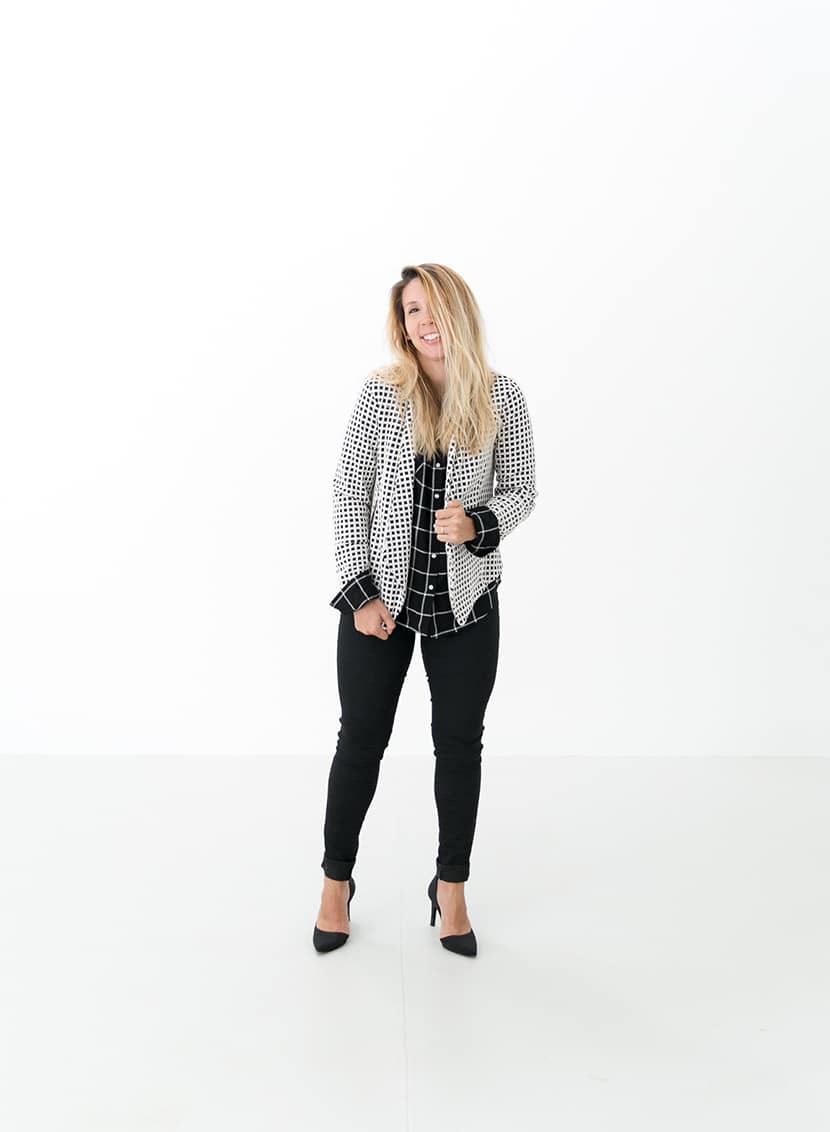 SIZE & SCALE
The second look, I was able to find a button down in flannel and the same simple plaid as the joggers at Target.
The best part is this shirt isn't just that it's chic, but it's so soft and comfortable — great for all day wear. I purchased the shirt one size up so it would easily fit by 20+ week bump. I topped the look off with an open plaid blazer. The reason these patterns pair well together is the check of the button down is larger and thinner, which makes the jacket pattern that is tighter and bolder pop against the top. Use your gut when pairing patterns. Plaids can easily mix-and-match just keep to the rule of contrasting. The easiest way to do this is with pattern size. The only other thing? Make sure the colors complement each other. Purchasing pieces from the same store or retailer can help assure that colors go together as they typically were designed to do just that. I paired the rest of the look with my new found best friends a skinny maternity legging jean and the same D'orsay heels from the first look.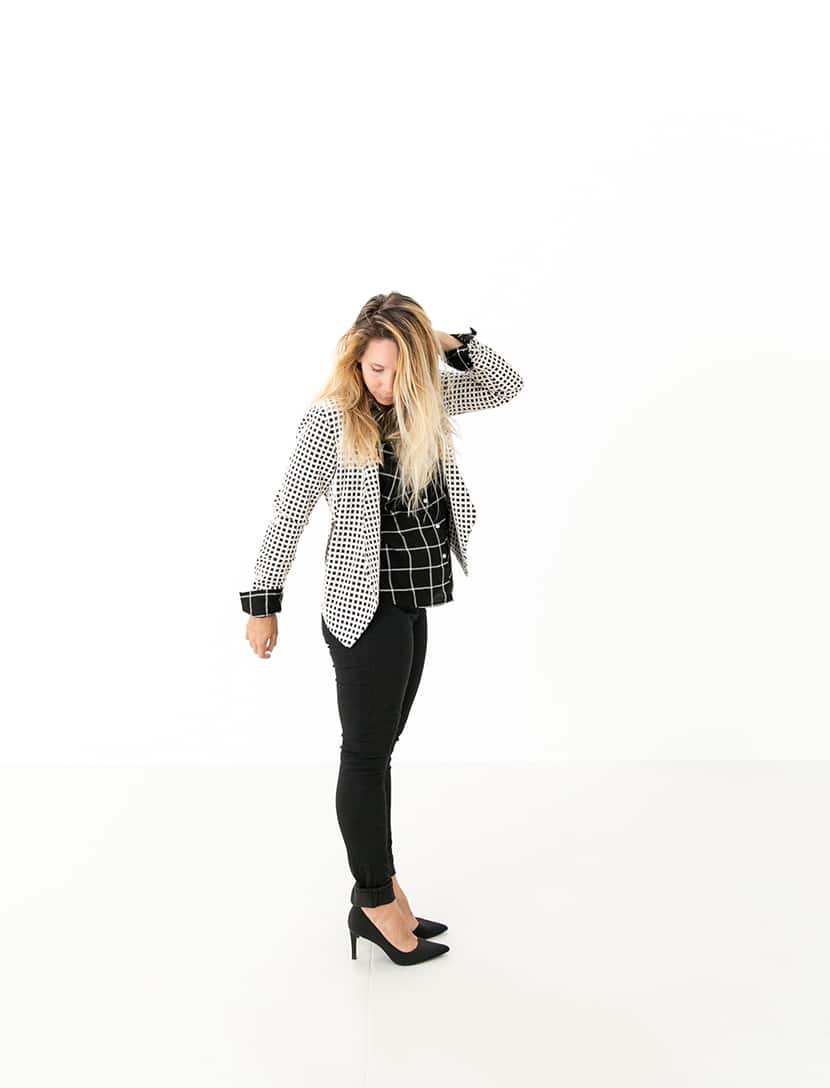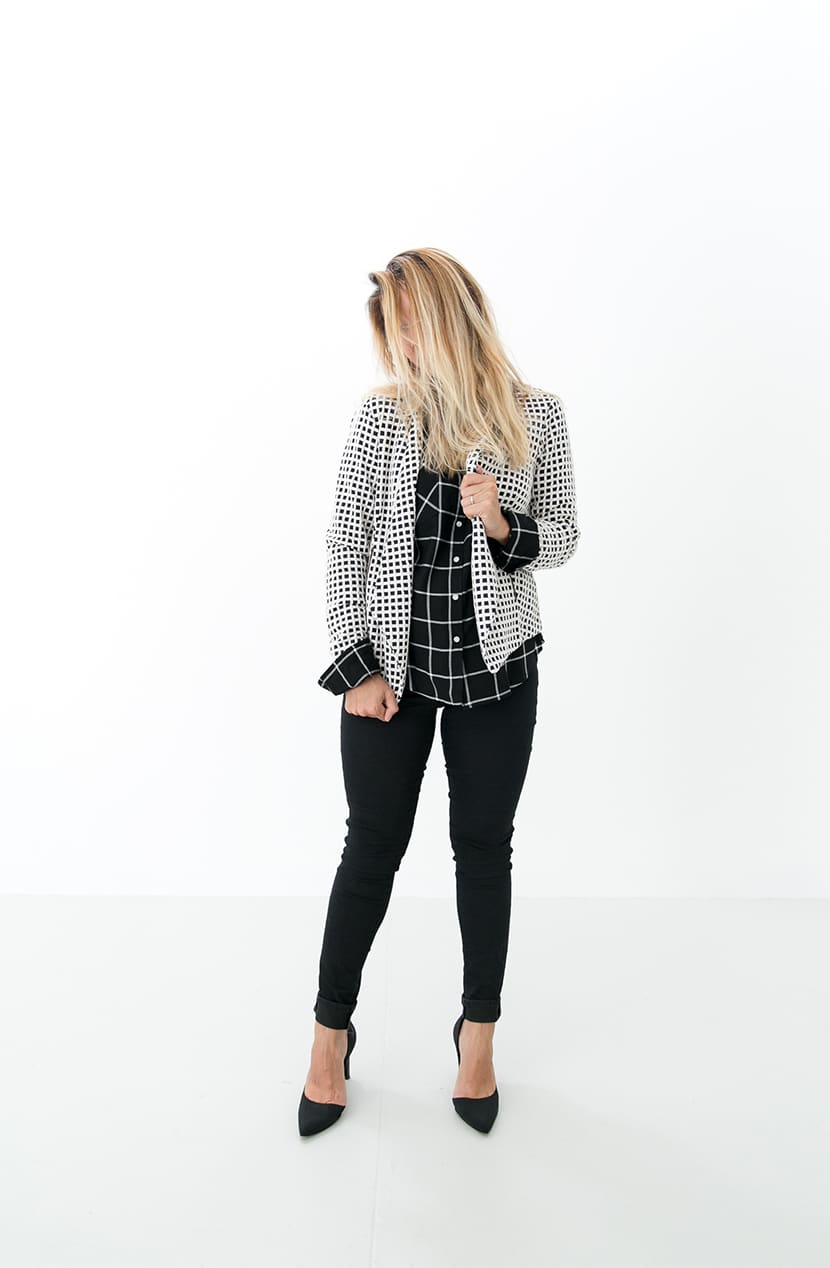 Get the look here: Checkered Jersey Blazer from Lou & Grey (similar here and here)  |  Black and White Plaid Button Down from Target  |  Black Legging Maternity Skinnies from Gap  |  D'Orsay Heels from Calvin Klein (similar here and here) 
Are you planning to add any pattern play into your looks for fall? Have you ever paired plaids together? What tricks were key to success with it? Let's hear it!!
This post is brought to you by Target Style. Shop the new Apparel & Accessories collection in stores and online.