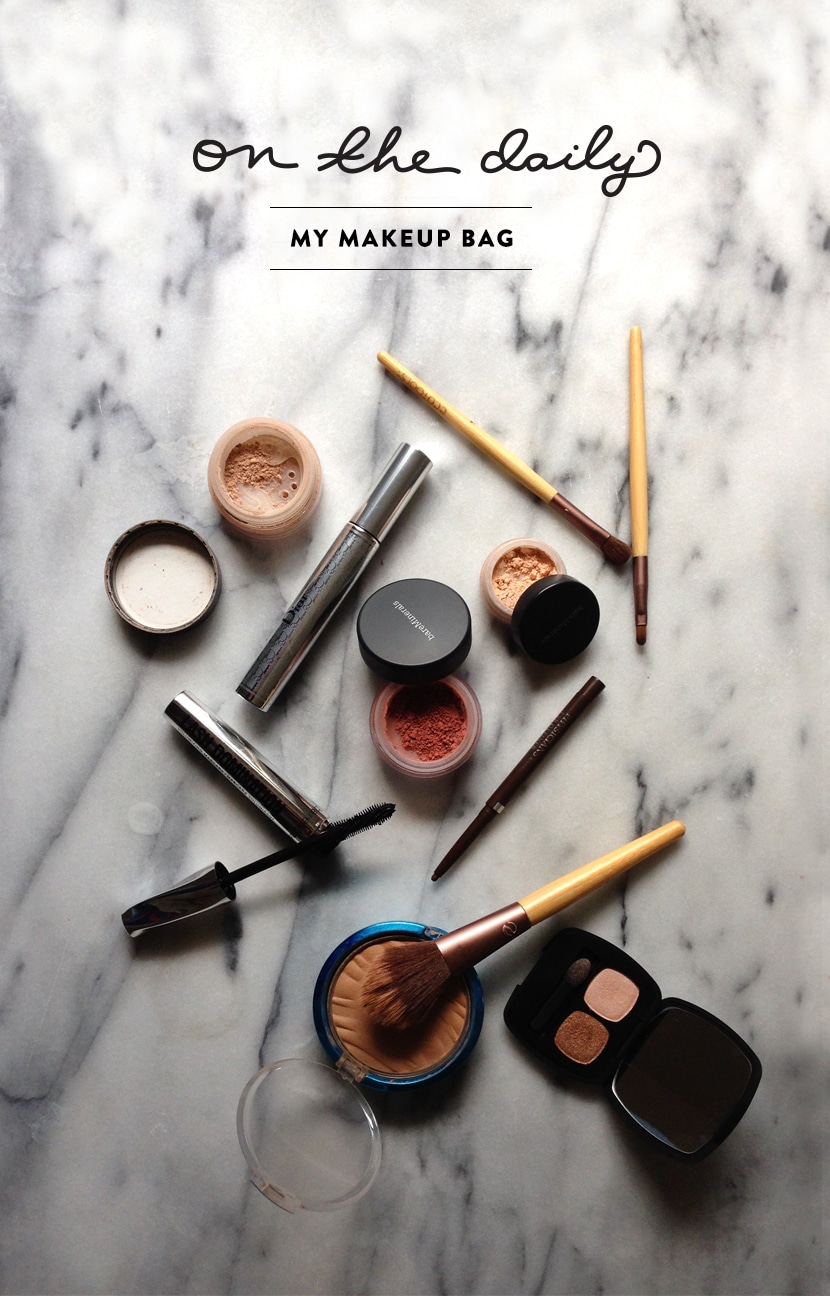 Is it the weekend already?! This week has been a little weird with traveling and super tight deadlines right, but I am excited to have a weekend at home and settle into life. We aren't traveling at all right now, not even during the holidays! Crazy?!? Right! I am a little in shock at the fact that we really can be home to set up our life.
Since being home I have been really inspired to create new series and content. You will be seeing some new things pop up this month and all of them I am really excited about. Today, we are launching one of the new series. The "On the Daily" series will be focusing on giving a look into daily parts of our lives. There are must-have things in everyone's life, so I wanted to share some of our own.
This time I thought I would begin with my daily makeup. I have never been a makeup person. I focus on purchasing makeup with low chemicals and simple ingredients. I have tried some natural and organic makeups without success, which saddens me. If you do have any recommendations of brands that work for you please let me know!!! I would love to switch into makeup that is more simple and more natural than what I have above, such as Powder brows, for instance.
The fact I am a non-makeup person means I focus more on my skin care routine than on what I apply to cover up. I will share more about that within this series but today I thought I would share what I do keep in my makeup bag and what I use each day. Whether it's day or night, I do not stray far from the collection above. Find out more info about what is pictured in the list below.
Bare Minerals Concealer in Summer Bisque:
I like the loose powder because of the natural finish. It is also easy to remove. I get pretty dark circles because of my struggle with seasonal allergies so I need something that covers, but I don't want it to be caked. This meets all of my requirements.
Ecotool Brushes:
These brushes are still my favorite even after buying fancy ones. They travel well, clean well, and I really love the natural wood look. Not to mention the aluminum on them is recycled and they are cruelty free which makes me a happier to use them.
Bare Minerals Lash Domination Mascara:
An Amazon review sold me on this one and I ordered it as I was tired of the lack of wow my eye lashes had. I have thin eye lashes that are not super long, but with this little bottle I discovered lashes I never knew I had. One solid swipe after giving my lashes a curl and it sets a great foundation.
Dior Iconic Mascara:
While traveling I accidentally picked up this mascara, and since then I have been hooked. Many people may scoff at this but I layer mascaras. After I curl and swipe once with the Bare Minerals Lash Domination, I then swipe on 2 swipes of this guy to add the final level of refinement. It does not clump but helps to lengthen in the perfect way.
Bare Minerals Eyeshadow in Peach Surprise:
Since I have super dark eyes with dark circles sometimes I need a little brightening. I add a small bit of this eyeshadow right under my brows and right under my bottom eyelashes and it brings light to them especially during photo shoots.
Bare Minerals Blush in Golden Gate:
I don't wear blush often but during photo shoots it does add depth especially during the cooler months of the year. I like the powder once again because of the finish it has. This color works great with my skin tone since I have such an olive complexion.
Physicians Formula Eyeliner in Dark Brown:
Personally, I have never been a huge fan of black eyeliner for myself. I cannot get it to work and so instead I use brown to simply lightly line the base of my eyelashes on the top and bottom. This helps to just add a little more depth. I usually feather it and blend it into my eyeshadow so it does not look so hard. Love the simplicity of this liner. It stays all day but washes off very easily.
Physicians Formula Mineral Airbrushing Bronzer in Light Bronzer with SPF 30:
My skin has a naturally darker tone to it especially during the Summer months and finding good foundation is very hard for me. I don't like liquid ones because they do not always match correctly for me. I recently read about how Hayden Panettiere uses a light brush of bronzer all over because she struggles with a similar issue. After reading, I picked up this bronzer without shimmer to use everyday and love that it never washes me out or feels heavy. Plus, it has SPF in it as well, which is a huge bonus.
Bare Minerals Top Shelf Eyeshadow Kit:
This little collection for me is the perfect group of colors. Super simple and it travels really well. What can a girl ask for in an eyeshadow kit?
Would love to know what you guys have to have in your makeup bag? Do you have any all natural brands you love? Let me know below in the comments! I am always game to try something new!