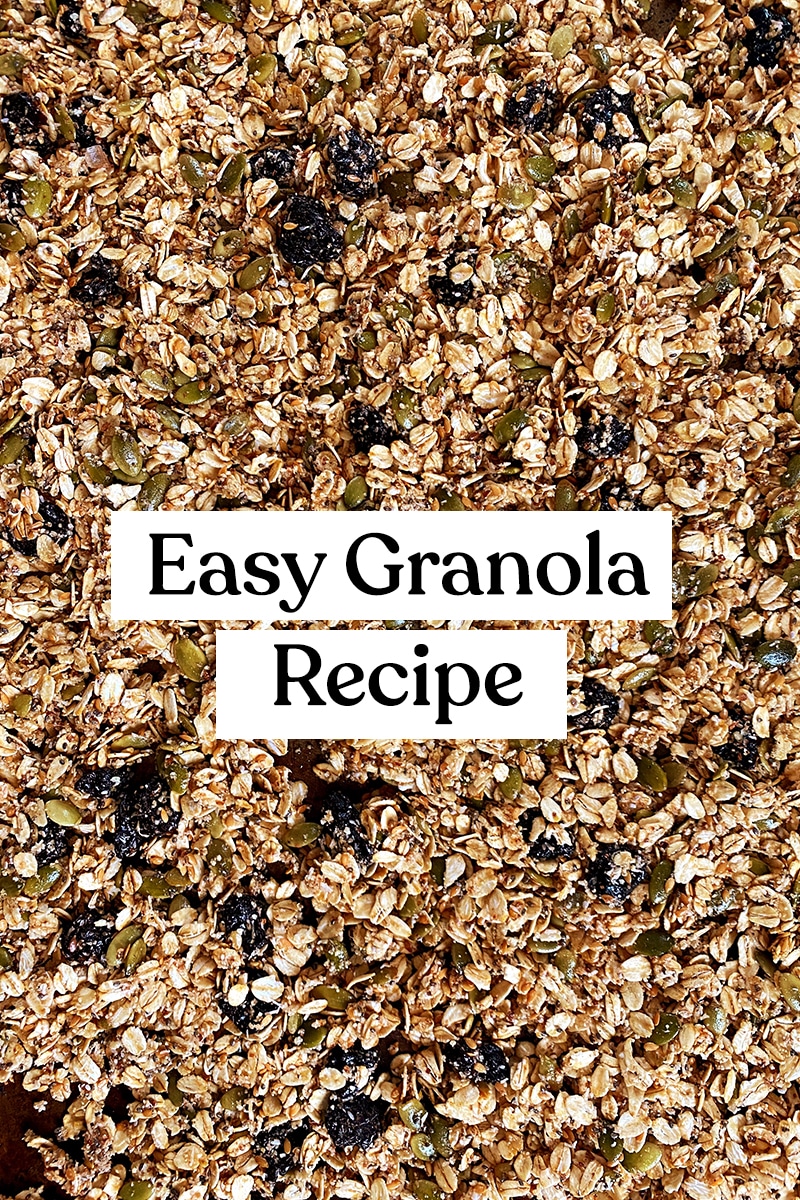 I love finding ways to make those things that cost what feels like an arm and a leg at the store. I also love figuring out how to make something that builds a healthy microbiome with great fiber intake and this healthy granola recipe hits both of those notes. Packed full of healthy fats, low sugar, and plenty of fiber this adaptable and easy granola recipe will make it easy to make your own healthy granola with nearly any staples you have in your pantry right now.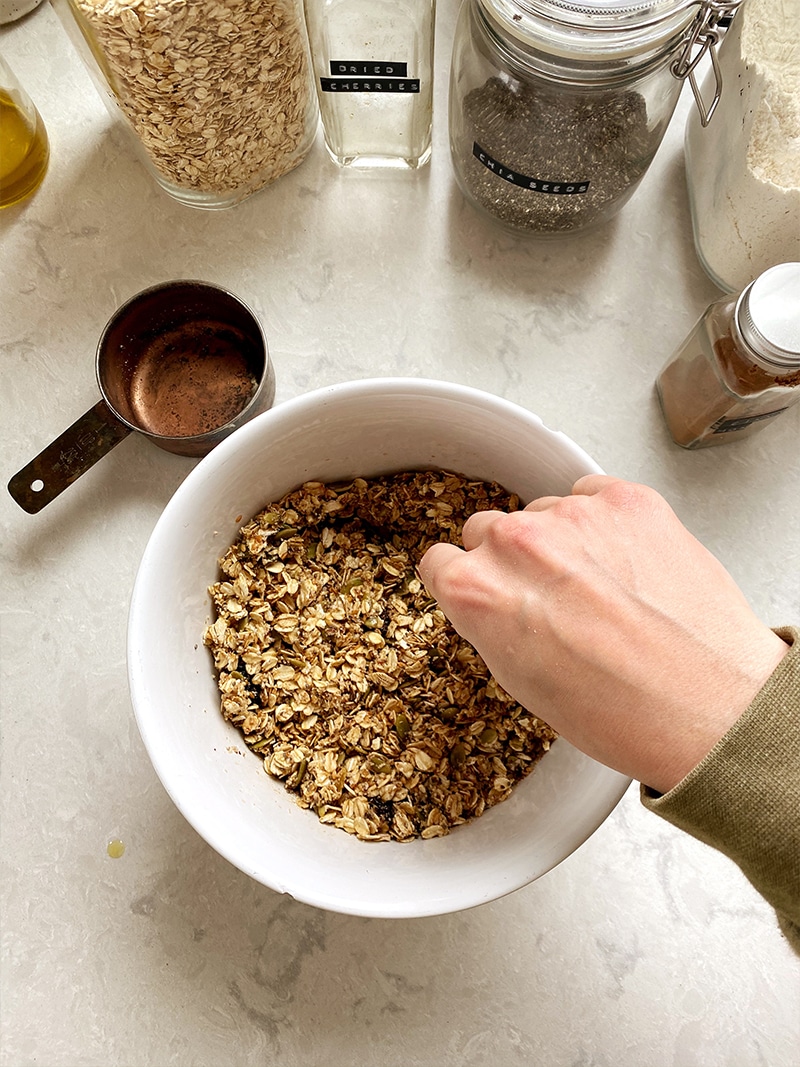 Here is what you need:
2 Cups Oats of choice…truly can use any kind
2 cups total of nuts/seeds of choice
1 cup total of dried fruits/coconut flakes/etc 
1/4 cup sweetener of choice I like coconut sugar, maple syrup, or honey (lower glycemic index)
1/4 cup olive oil
1 tbsp cinnamon
1 solid pinch of sea salt
2 tsp vanilla extract (optional)
I give these rough estimates because the main things you need to know are that you need oats, nuts, seeds, and dried fruit to make a healthy granola. The sweetener and oil will combine the granola to make it crispy and crunchy but you can literally mix anything together to make it, which makes it a great way to use up stray seeds, nuts, and dried fruit in your pantry but still make something delicious. Here are my suggestion for some items to add:
Nuts/Seeds:
Almonds (chopped) but can also use almond flour
Pistachios (chopped)
Hazelnuts (chopped)
Pecans (chopped)
Cashews (chopped)
Walnuts (chopped)
Chia Seeds
Pumpkin Seeds
Hemp Seeds
Sunflower Seeds
Dried Fruit:
Apple Chips crushed up
Dried Blueberries
Dried Cherries – tart or sweet
Raisins of any kind
Dried Coconut Flakes unsweetened
Chopped Dried Apricots
It is really fun to try different mixtures of things together and I love this way of making healthy granola because it is different every time we make it. In our household of 2 adults, 1 small child, and a baby we make it every 2 weeks for us and this is something our 4-year-old loves to eat. Below I share all the ways we use it as well if you are curious at all, but let's get baking.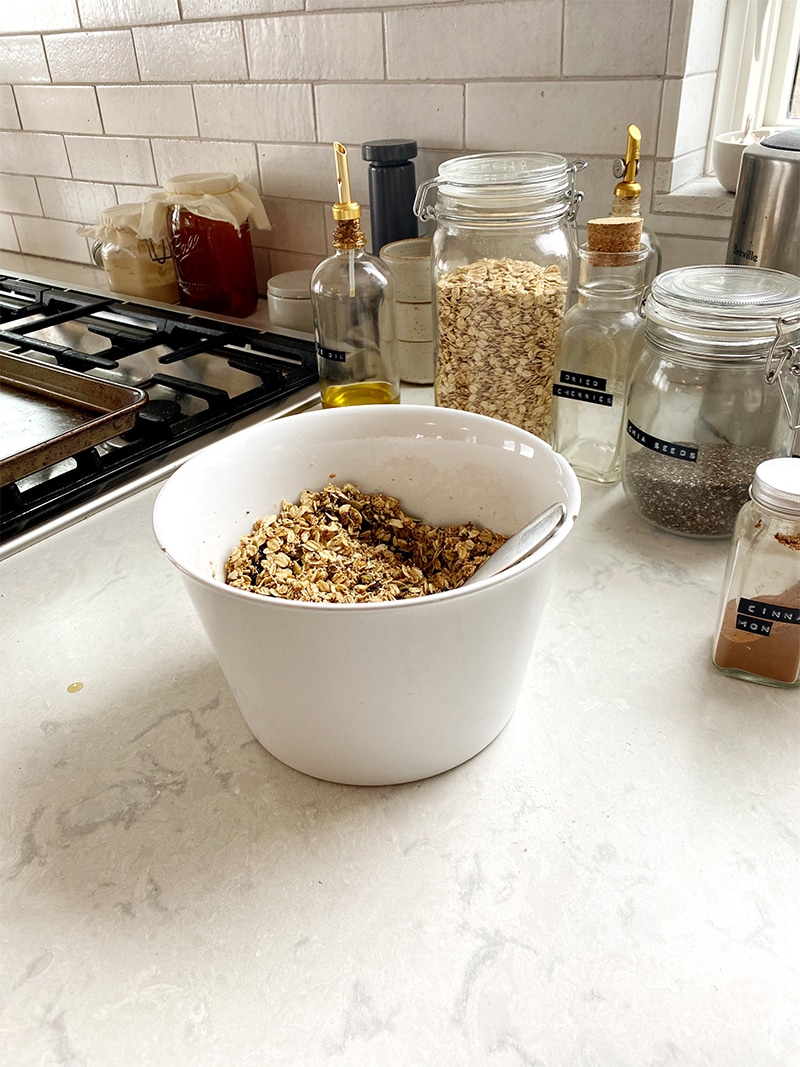 How to Make the Healthy Granola:
– Place all ingredients into a medium bowl and stir them together really well so everything is evenly coated this will make it crispy and yummy.
– Preheat oven to 350 degrees
– To measure things I use a pyrex measuring cup and just fill it up with the separate ingredients to hit the marks of 1 cup or 2 cups so I know the cumulative amount really easily.
– Once everything is mixed together, place on a large baking sheet in a flat and even layer.
– Place in preheated oven and set timer for 8 minutes.
– When timer goes off, Turn and stir the granola and replace in oven for another 8 minutes.
– Keep cooking and turning and keep an eye on it till it becomes golden brown. Once golden and crispy the granola is done.
– Allow granola to fully cool and store in an airtight jar for a few weeks in your pantry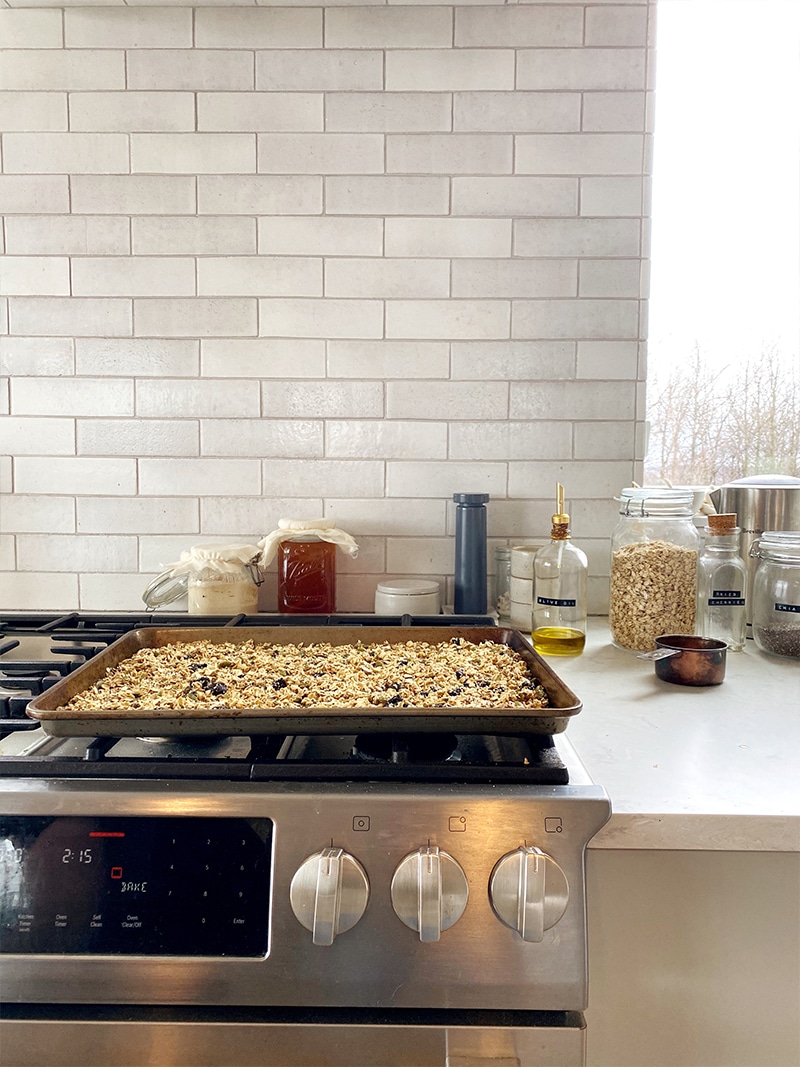 What do I use the healthy granola for?
We use this healthy granola for everything it seems in our home. We will top oatmeal with it, place on yogurt with jam from the freezer or use it top a crumble with. We will place it on top of muffins, eat it as a snack on its own. The list goes on and on. We never have cereal in the house so this is the closest thing we have to it in our home and is for sure a favorite item. Our 4 year old loves to slice bananas and place peanut butter and granola on top for breakfast some days. An easy thing he can make himself as well.
I hope you loved this recipe and if you want other simple staple recipes here are a couple we love!
No Knead Bread  |  Sourdough Crackers  |  Strawberry Rhubarb Crumble