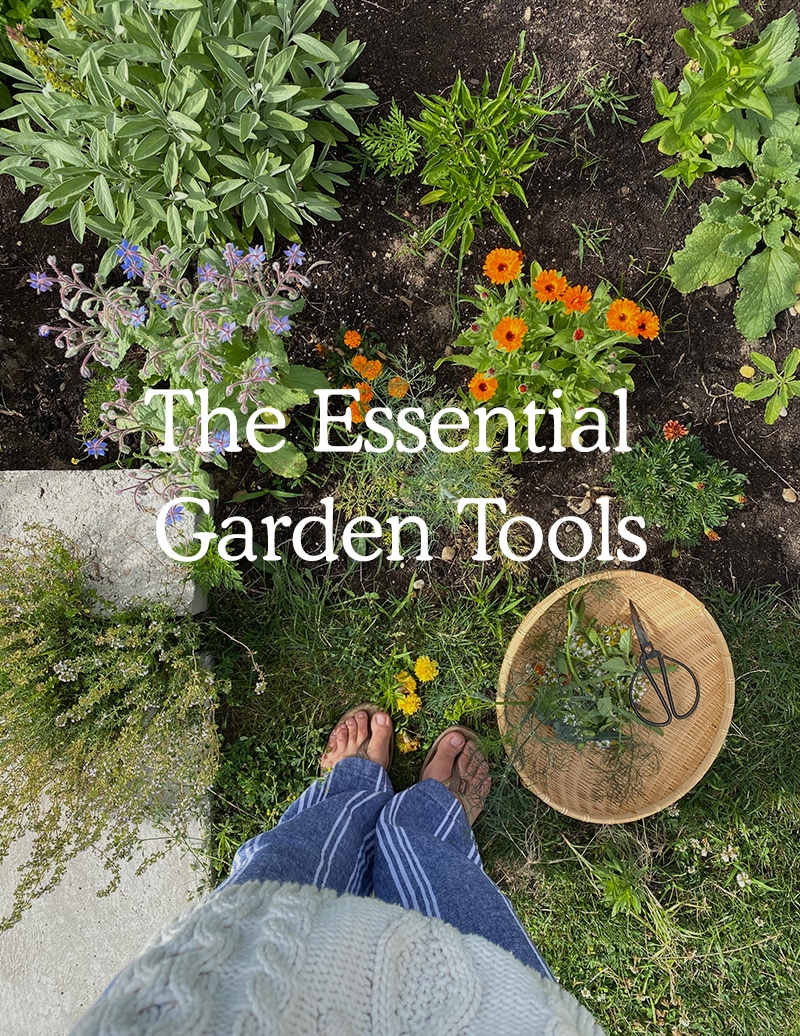 When gardening daily in the summer these are the essential tools for your garden that you need to do things well and minimally. I love gardening and having the right tools is the most important thing to making garden simple and easy. When you have the essential tools for gardening it makes it easy and simple to clean out a garden bed or create supports for a plant or clear a bed for planting. It is really simple to gather the right tools here is all you need for your garden tool shed.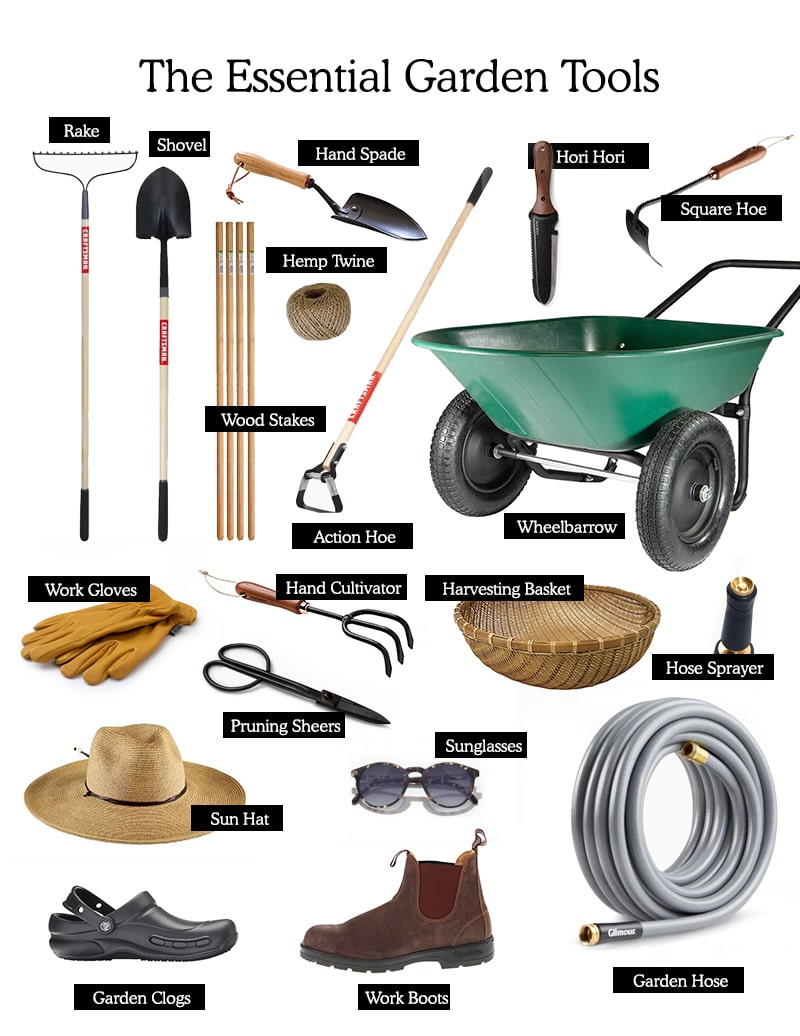 Rake  |  Shovel  |  Wood Stakes  |  Hand Spade | Hemp Twine  |  Hori Hori  |  Square Hoe | Action Hoe | Wheelbarrow  | Hose Sprayer  |  Harvesting Basket  |  Hand Cultivator  |  Work Gloves  | Pruning Sheers  |  Sun Hat  |  Sunglasses  |  Garden Hose  |  Work Boots  |  Garden Clogs
The Essential Tools for Your Garden:
Rake: I always look to get tools with wood handles on them. This way I can sand them down as they age and keep them going for years and years. A good rake with a steel head is essential to removing woods and unwanted debri or spreading compost or mulch.
Shovel: Once again look for a wood handle here. And a steel head. Keep it simple.
Wood Stakes: I always have them on hand for tomatoes or making trellises or more. They are an essential garden tool because of the number of uses they can serve.
Hand Spade: This is my go-to tool for working in our smaller beds. Digging holes and getting the right size holes for setting plants.
Hori Hori: This is awesome to remove leaves or cut vines and more but it also has a measurement system on the knife so you know how deep you may be digging down with it.
Square Hoe: This will rip woods out and cut them. It is also the best tool for removing chunks of grass.
Wheelbarrow: For moving compost dirt or clearing the beds at the end of the season. I love these two wheel styles as they don't tip over as easily.
Hemp Twine: I use twine constantly in the garden and hemp or Jute twine is the kind I like as it will decompose over a few years so if it ends up in your compost it is no big deal.
Action Hoe: This is THE best tool for weeding. I also have a hand size version, but I cannot tell you how amazing this thing is. Once you know you know.
Work Gloves: These save your hands from just getting decimated working with shovels and rakes all day. They are really good and nice too.
Hand Cultivator: This is the greatest little tool for clearing our smaller garden beds of unwanted weeds.
Pruning Sheers: I love these sheers. They are so sharp and get the job done whether I am pruning or harvesting. I highly suggest them.
Sun Hat: You need a good hat when you are in the garden and the one is above is great.
Sunglasses: These sunglasses from Sunski are the best ones I have found for the price.
Garden Hose: We have about 5 on our land that are always moving and rotating all summer.
Work Boots: These Blundstones are hands down the best boots you possibly could have for garden work
Garden Clogs: I have sloggers and crocs but I love my crocs the most for warm days in the garden in the summer.
So tell me what are your favorite tools for the garden? Is there anything you cannot garden without?