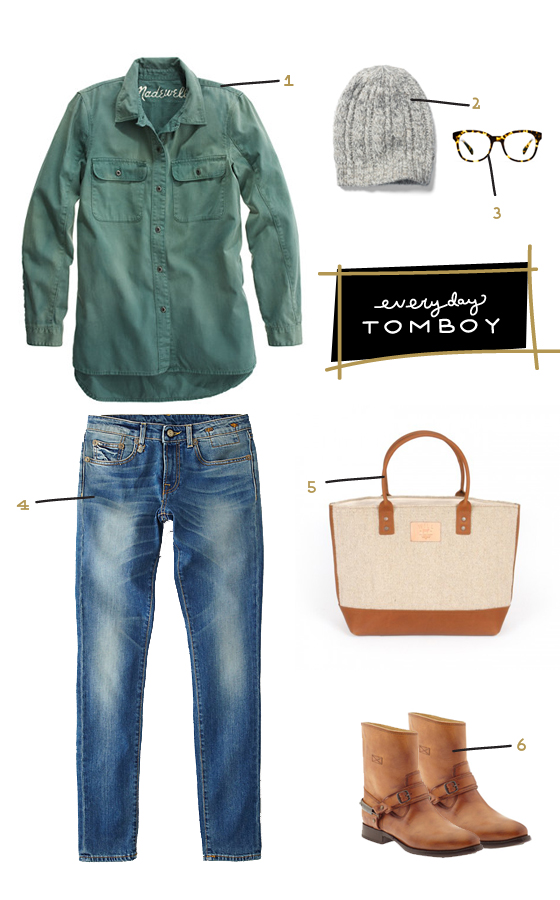 Growing up my mom would always try to put me in dresses and skirts and no matter what I always ended up making a mess of myself or throwing a fit about the fact I had to be so girly. I have never been the super girly type at all. I love a great dress because it has to be simple, but most of the time my favorite things are basic, high quality pieces, that are everyday friendly. I have dubbed my most comfortable "me" look as everyday tomboy. I am a button down freak and am in need of replacing some of my older ones since my body has completely changed since I was an athlete in college (thinner arms, smaller boobs, and a tinier waste) so this one from Madewell has my name written all over it. I love how rugid it feels like my grandfather may have worn it in World War II but it still could be dressed up with a cool maxi skirt to a dinner party.
As part of my daily outfit I wouldn't live without my Frye boots. I swear by them and these harness ones that just came out in their Spring collection have my eye. They feel rockstarish but with a classic country girl kind of vibe. Metal and leather is always awesome in my book.
A floppy and cute hat like this gray one are a must when you are like me and go almost a week without washing your hair. So by day 6 or 7 a hat is almost necessary. I love wearing them this time of year as it makes getting ready way faster and with some great Warby's it makes makeup a lot less necessary. Perfect for everyday work-at-home attire.
The one other piece that is a must in my daily wardrobe is a bag from Will Leather Goods. I have this one, but have been in love with this wool and leather one for a while. Their stuff is the best because it wears so well, stays clean naturally, and it is super versatile.
So if I could everyday wear the same thing this would be it. I am a total tomboy and when I pretend it isn't true I find myself feeling super out of place.
What are your staples to your perfect outfit?
1. Station Workshirt from Madewell
2. Cashmere Janis Hat from Club Monaco
3. Mallory Frames from Warby Parker
4. Broken In Skinnies from Steven Alan
5. Wool Tote from Will Leather Goods
6. Lindsey Spur Boot Short from Frye