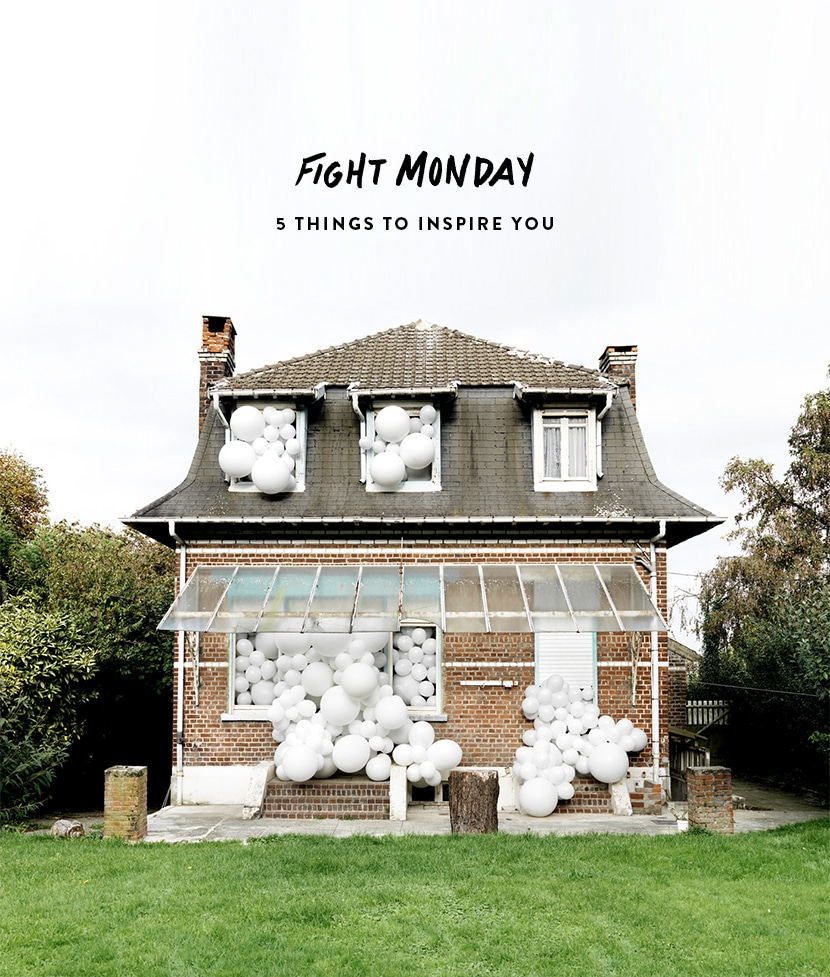 Image via Charles Pétillon for his Invasions installation
I think I have read about 2,000 tweets and Facebook statuses commenting on how ridiculously cold it is right now in the eastern half of the US. This means you may be reading this from your bed, hiding under your covers, and wishing that today wasn't Monday. I get it. I wrote this last night in order to inspire me to get my own butt out of bed and make the trek to do annual blood work in those cold temps so I hear ya! Sometimes certain Mondays need more inspiration than others. Sometimes we need a little something to help us shake off what is keeping the covers over our head. So, even if it is just awful cold outside I hope these five inspiring things will get you as fired up as they do me.
Brené Brown Kicks Ass:
About 2 months ago one of my good friends sent me this video. She is not a blog reader, she barely uses instagram, and I just recently convinced her to start using Pinterest. My friend doesn't assume to understand my work, but she knows how at times things have hurt me and bothered me. So, she sent me this video. I never took the time to watch it, but the other night I was really needing a mental reset and a new perspective. I thought of my friend's email and I spent 20 minutes listening to a video that really changed me. It has been with me all weekend and I have been telling everyone about it. Brené nails it on this talk at 99U and if you are a creative you need to make your Monday better by listening to this right now. It will have you pumped up about facing the day and all the fears you have been struggling with. I promise!
An Installation to Make you Happy:
This installation by Charles Pétillon called Invasion is really winning right now. Thinking about white fluffy things that don't involve the cold makes me feel hopeful. But for real, these spaces filled with balloons is just warming me up inside. It is so simple and beautiful.
Get Your Flow On:
No for real. Whether you are stuck at home by choice or not, put your sweatpant wearing to good use and get warmed up with a little workout. This time of year when it's cold I have a hard time motivating myself beyond much more than yoga, but a good yoga workout can leave you feeling energized, warm, and less whoa is me. The best part, you don't have to go anywhere cause this Youtube channel has a ton of great flow sessions for you to do at home. The best part, when this cold passes you will be ready to slip into that dress you bought at the end of last season. I give you double points if you find a way to do your yoga whilst under the covers in bed.
A Pantone Color Project:
Mike and I have been loving following the Pantone Color Project that my friend, Lindsay Stetson Thompson has been doing on her instagram. She is killing the matches and if you want to see something bright, warm, and inspiring I suggest you start following her and her project right now.
Make Something Warm:
I mean if it is going to be freezing you better just embrace it. So grab all the warmest things you have, run to the store, get all the ingredients for this creamy white bean soup (add some hot sauce), go back home mix it up, and then cuddle in bed with your soup and Netflix of choice and a bottle of wine. That should make it all better. That's my plan anyways.
I hope this little list gets you motivated enough to at least make the most of this Monday. As for me, I may choose to work from my bed, don't judge me, k?
Happy Monday friends!