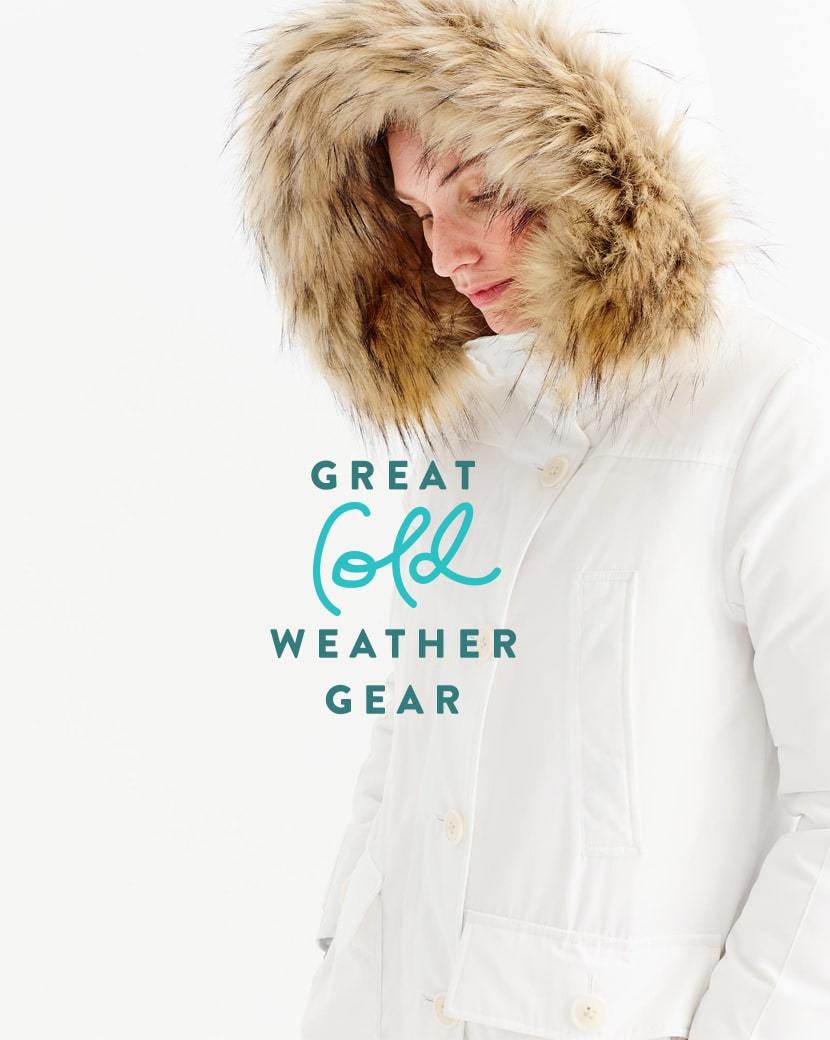 I have been anxious to write this post because I am currently making a few purchases for our life back here in the north. According to the Farmer's Almanac this winter is going to be an interesting one. Moving back to Michigan meant that we didn't just plan to stoke a fire in the fireplace and hunker down all winter. To survive the long winters (yes there most likely will be snow on the ground for 6 months or more), we knew we would be getting outside nearly every day. This means that I needed gear that was going to stand not only against the harsh conditions but that would also be things I WANT to wear as well.
Now growing up I knew winter wear as things that just were oversized, didn't really compliment a figure, and were meant for the one sole purpose of keeping you warm and they did a great job at it. Moving back I have been determined to remain stylish while fully embracing the conditions especially knowing we will be in the throws of it for about the half of the year… give or take a month or so.
Because this is such a large part of our life especially as we begin the process of moving on to our land and start doing some farming, I thought I would dedicate a whole post to the gear and things I am looking at and what I am purchasing. I am sure some of you are on the hunt for some stylish and well-performing gear as well, so I thought I would just do the research for you.
I have broken it all into key pieces for you guys, but if there are pieces you don't see in here but are thinking about let me know and I would be happy to make an update to the post.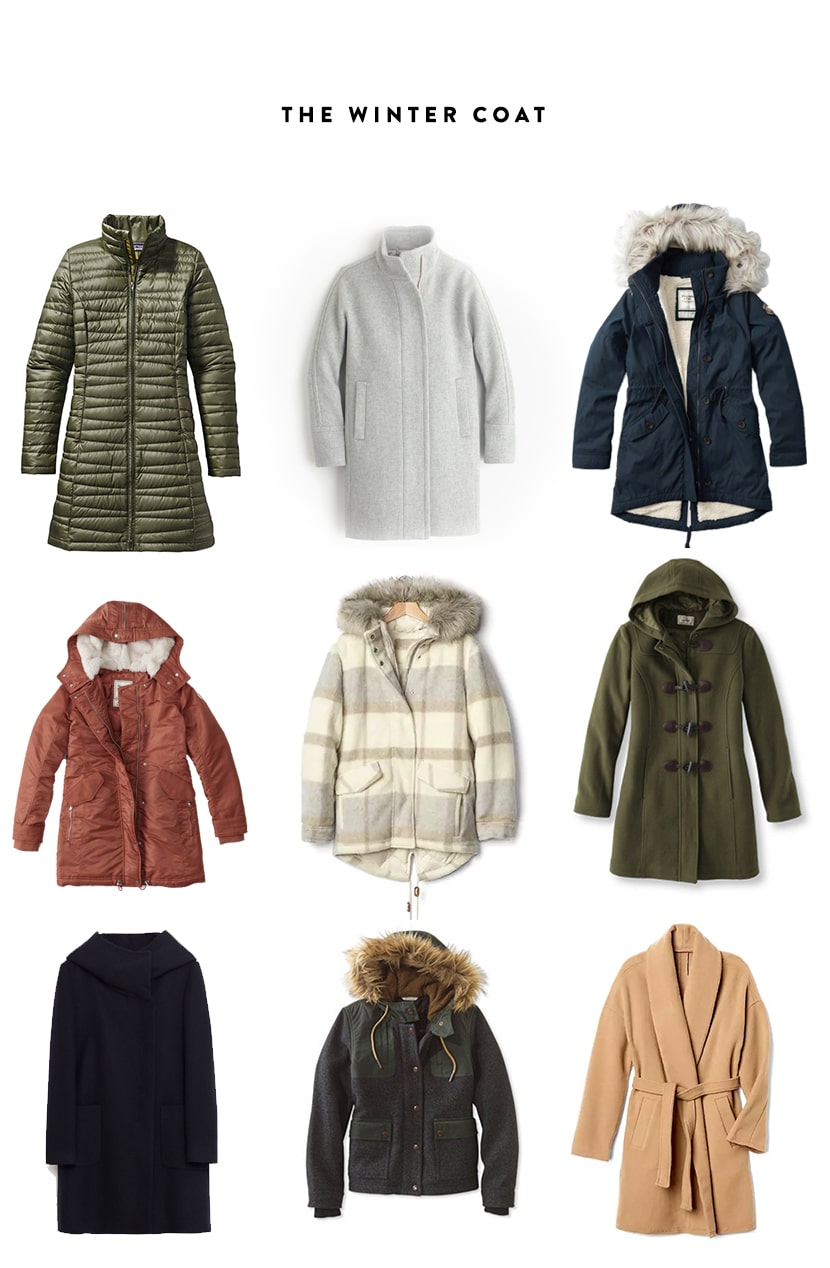 The main piece you need to survive any winter is at least one great winter coat. Now, living in Michigan in the north I have about 5 different coats I rotate through throughout the winter. There is the one I wear to go out in, the one I wear for hiking, the one I wear when it so cold you never want to go outside, the one that is more for layering, and the one for just quick trips to the store. They all have a purpose, but I rounded up similar ones to the ones I make sure that are in my own closet. I love all the styles and warmth of these coats and think provide a wide variety of options.
Long Down Coat from Patagonia | Long Stadium Coat from Jcrew | Cotton Parka from Abercrombie & Fitch | Down Parka from Abercrombie & Fitch | Hooded Patterned Wool Coat from Gap | Long Toggle Pea Coat from L.L. Bean | Wrap Collar Wool Coat from Zara | Short Boiled Wool and Waxed Cotton Coat from L.L. Bean | Wrap front Wool Coat from Gap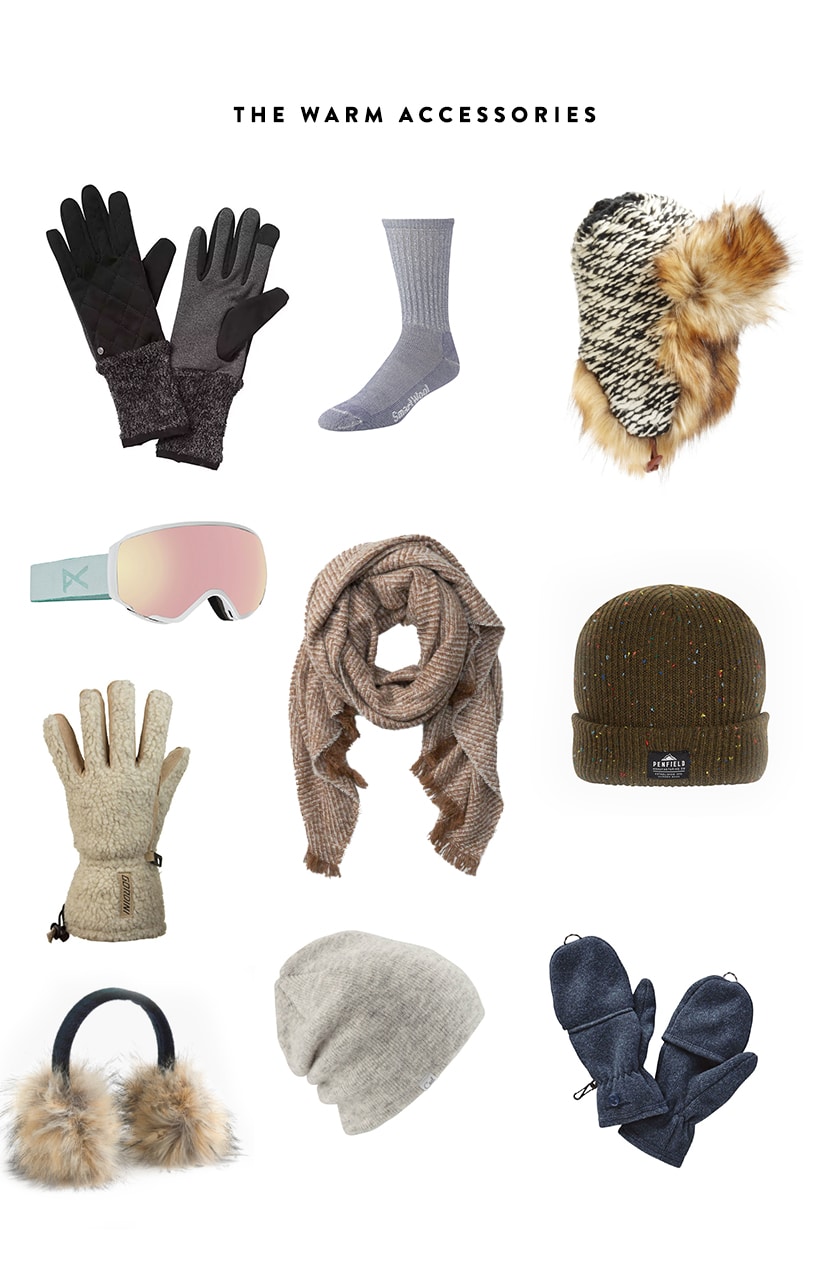 The small additions during the cold months make the difference between freezing toes and fingers and warm and toasty on even the coldest day. I swear up and down about how I will NEVER buy any other winter sock than the ones from Smartwool and I love mittens but sometimes you just need your fingers too so I love convertible mittens. Also, you cannot have enough winter hats, but I love finding extra wild ones like these custom velcro hats just for the days you need a little pep in your step. Oh and the goggles, well if you live in a place like Northern Michigan and you sometimes need to get the mail in a blizzard…well you might need some. But for real we do wear them a lot on hikes on snowy days. We invest in them, but if you don't do enough activity to warrant the price there are cheaper options. Definitely get some that have UV-protection though.
Simple Colorblock gloves from Athleta | Classic Socks from Smartwool | Wild Thing Hat from Free People | Goggles from Backcountry | Blanket Scarf from Abercrombie & Fitch | Beanie hat from Penfield | Sherpa Gloves from Backcountry | Furry Earmuffs from Jcrew | Beanie from Coal | Convertible Mittens from Patagonia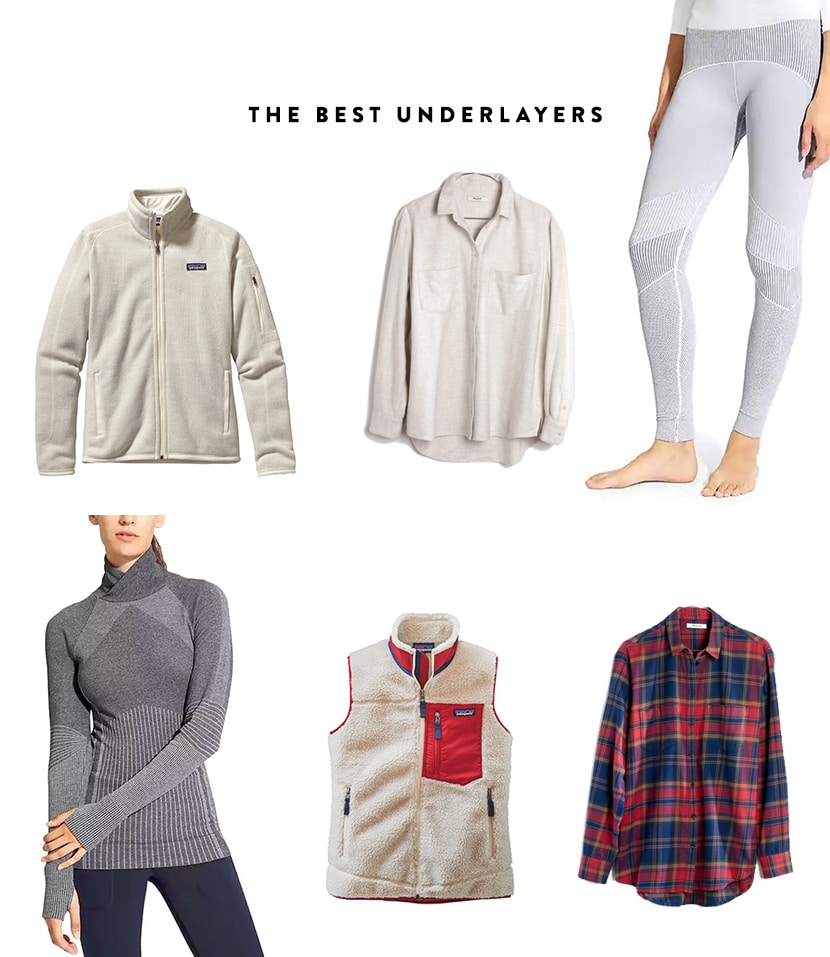 I think what makes all the difference is how you layer in the winter months. I have been on the hunt for the right layers this season and here are a few I recently made sure were in my closet.
Better Sweater Full Zip Fleece from Patagonia | Boyfriend Flannel shirt with pockets from Madewell | Cozy leggings from Athleta | Easy Roll Down Turtleneck from Athleta | Sherpa Vest from Patagonia | Flannel Shirt from Madewell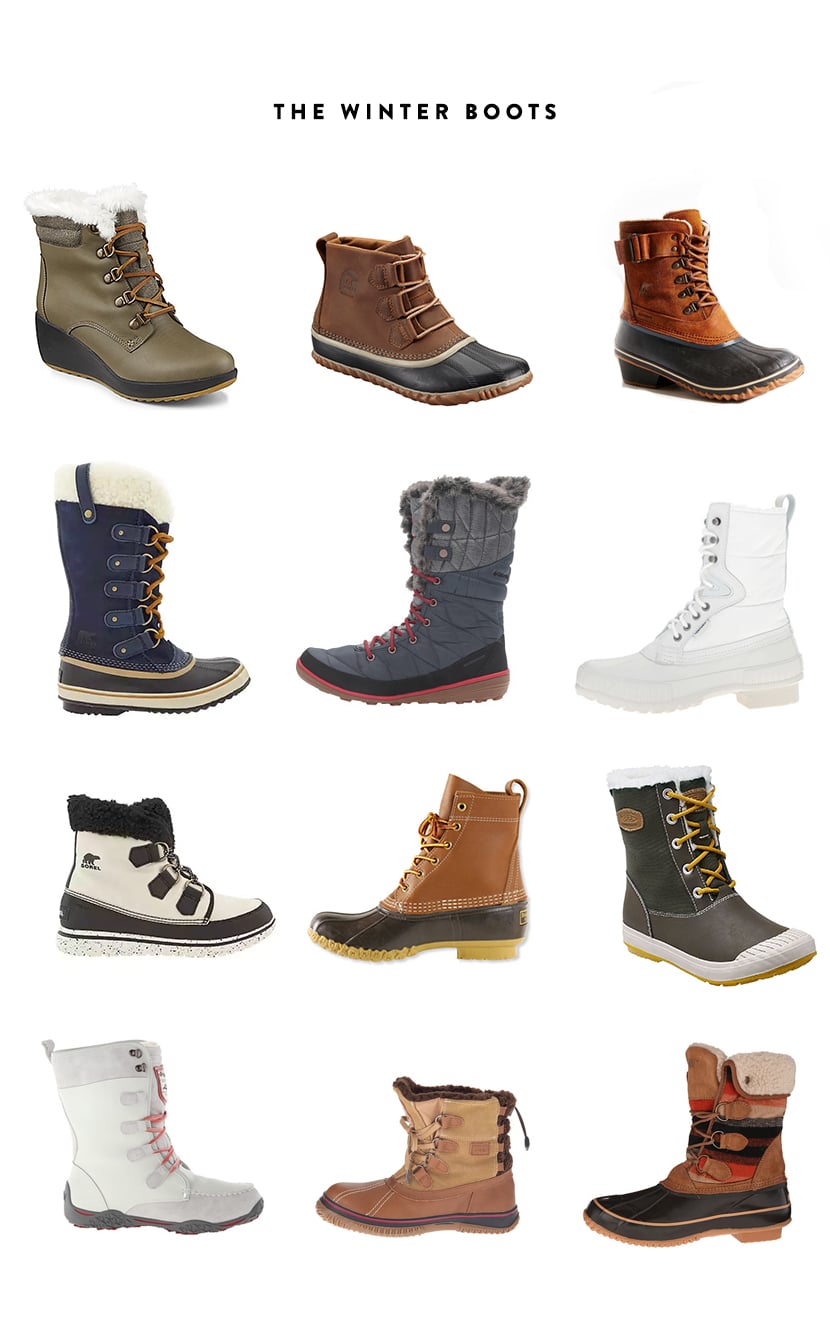 Oh, the winter boot. The most necessary item to winter life. I will be completely honest here and tell you I have tried a lot of them and been sorely disappointed. What I landed on for our life up north came down to a pair of Sorel Caribou boots for the cold cold snow to my knees kind of days. I also recently purchased a pair of Bean boots from L.L. Bean and do not feel they will disappoint me this winter whatsoever. They are so comfortable and lightweight. I know they will be perfect for snowshoeing as well. I did gather up some few other pairs that cross the lines of totally practical and very hip. A few of these were ones I recently considered. All of it depends on the kind of climate you are in for the winter months.
Heeled Boot from Sperry | Out N About Boot from Sorel | Duck Boot from Sorel | Joan of Arc Boots from Sorel | Navy and Fur boots from Columbia | White Boot from Tretorn | Black and White Boots from Sorel | Bean Boot from L.L. Bean | White Sole Lace-up Boot from Keen | White with Red Laces Boot from Pajar Canada | Short Boots from Pajar Canada | Striped Boots from Khombu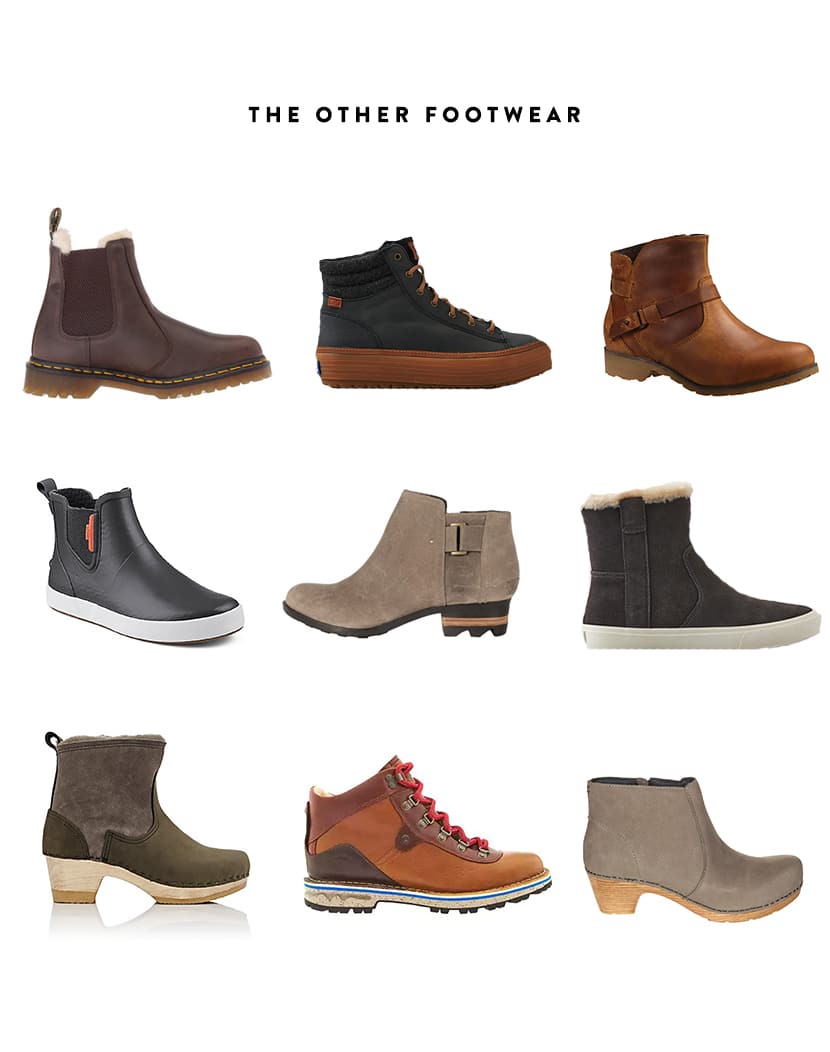 Now, if you are anything like me just wearing your boots all winter gets boring REALLY quick so what other things can you put on your feet to go out for dinner with friends or to just get out. I never want to ruin my other shoes especially if salt gets on them or water gets on them. So I have hunted down a few pairs of shoes that are great options to wear during the crazy weather of winter but you will stay warm but also your toes will stay warm. My one tip is that no matter the shoe before you wear it, waterproof it! I use this all the time on all my leather shoes I wear in all four seasons.
Fur lined from Dr. Marten's | High Rise Leather Sneaker from Keds | Leather boot from Teva | Chelsea Slip-on Sneaker from Sperry | Ankle Boot from Sorel | Pull-on Fur Sneaker from American Eagle | Fur-lined Clog Boot from No. 6 | Red Lace Hiking Boot from Sugarbush | Ankle boot from Dansko
What items do you use and swear by for surviving winter? I would love to hear because so many of you have already had wonderful recommendations!