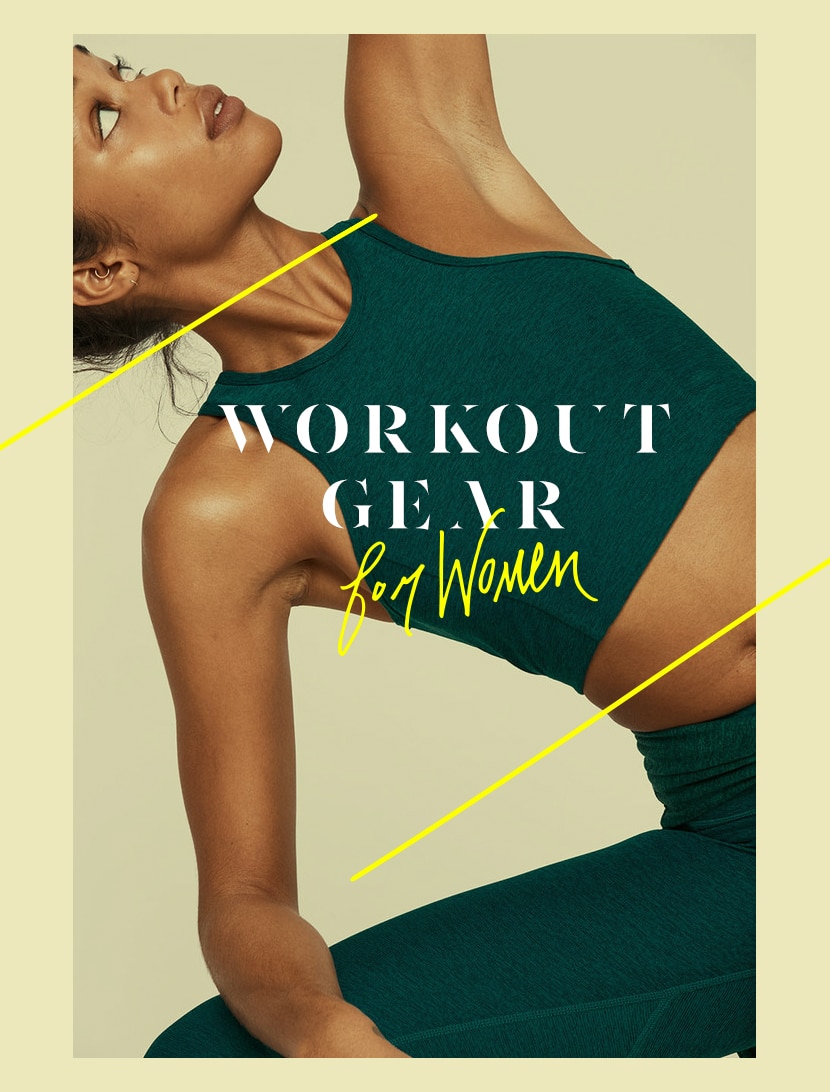 Though I will not be jumping into a heavy workout routine in January being on my 9th trimester this week, I still am eyeing all the awesome workout gear for the year. These days I am focusing on walking for a few miles a day and getting in some prenatal yoga three times a week. I am itching to get back to my normal workout routine even though I know it won't be probably till later this Spring. I miss the sweaty days at a gym that leave me feeling positive, excited, and focused on life. It isn't the easiest to slow down for someone who built their day around their gym visits, but it is a good challenge of letting go and learning to be patient in this time.
So, to keep me excited about the Spring and to inspire many of you who are most likely looking to get active right now or in the coming months, I have rounded up some of my favorite gear for the season. I have always been someone who loves fitness wear and feel most myself while wearing it. Thus, I always love finding a new pair of leggings or rocking sneakers. That said, whether you plan to get a massive sweat on, go to yoga, hike a favorite trail, walk around your neighborhood, or run errands these are the perfect pieces to help you make the most of whatever level of workingout you plan to bring into the new year.
This month we will be sharing more fitness posts than normal. You will also be seeing them integrating more content focused on healthy living as the year progresses. Working out and health is a huge part of Mike and I's life as we feel when we are the healthiest so our creative life and business life follows.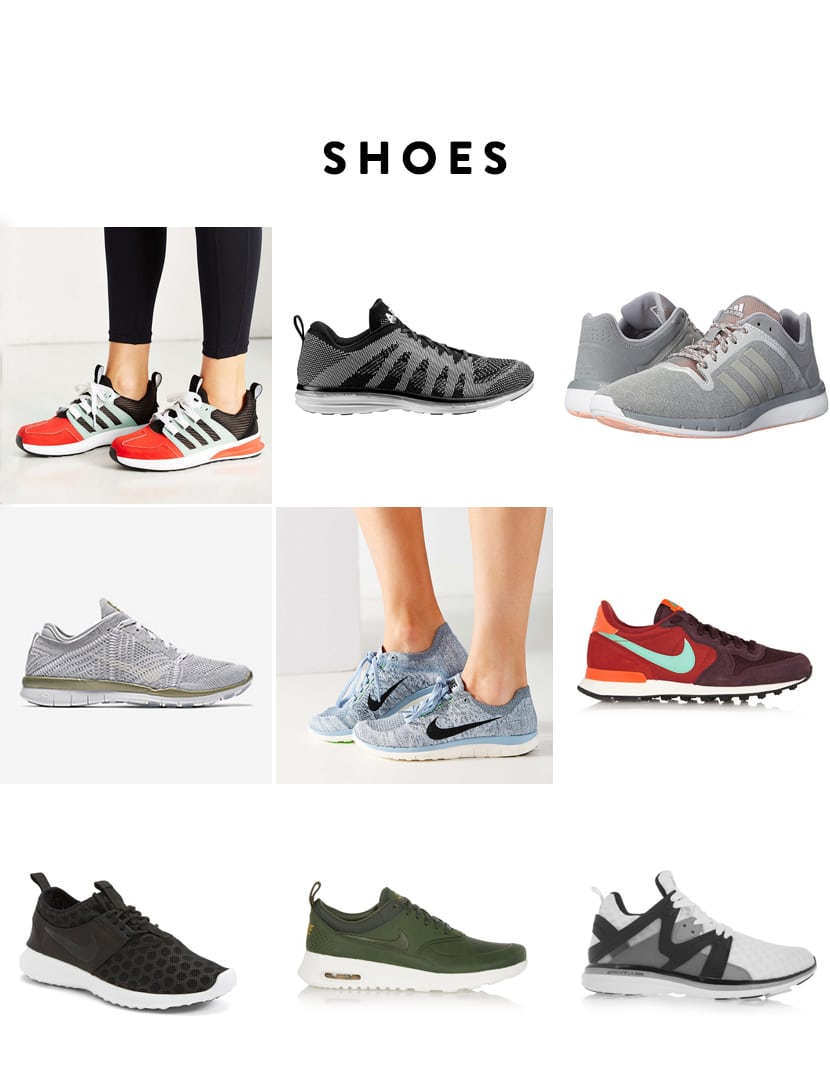 I LIVE for a good pair of workout shoes. Since this time of year this is about the only workout item that matters in my life I have been eyeing all that is out there right now. I try to veer from Nike but ultimately I usually find myself back there no matter what. They have some of the most hip designs and most comfortable options.
(Top left to bottom right)
Leather Loop Sneaker from Adidas $80 | TechLoom from APL $140 | CC Fresh from Adidas $75 | Free Metallic Flyknit from Nike $130 | Free Flyknit from Nike $120 | Suede Internationlist from Nike $43 | Juvenate from Nike $85 | Air Max Thea from Nike $115 Ascend Trainer from APL $185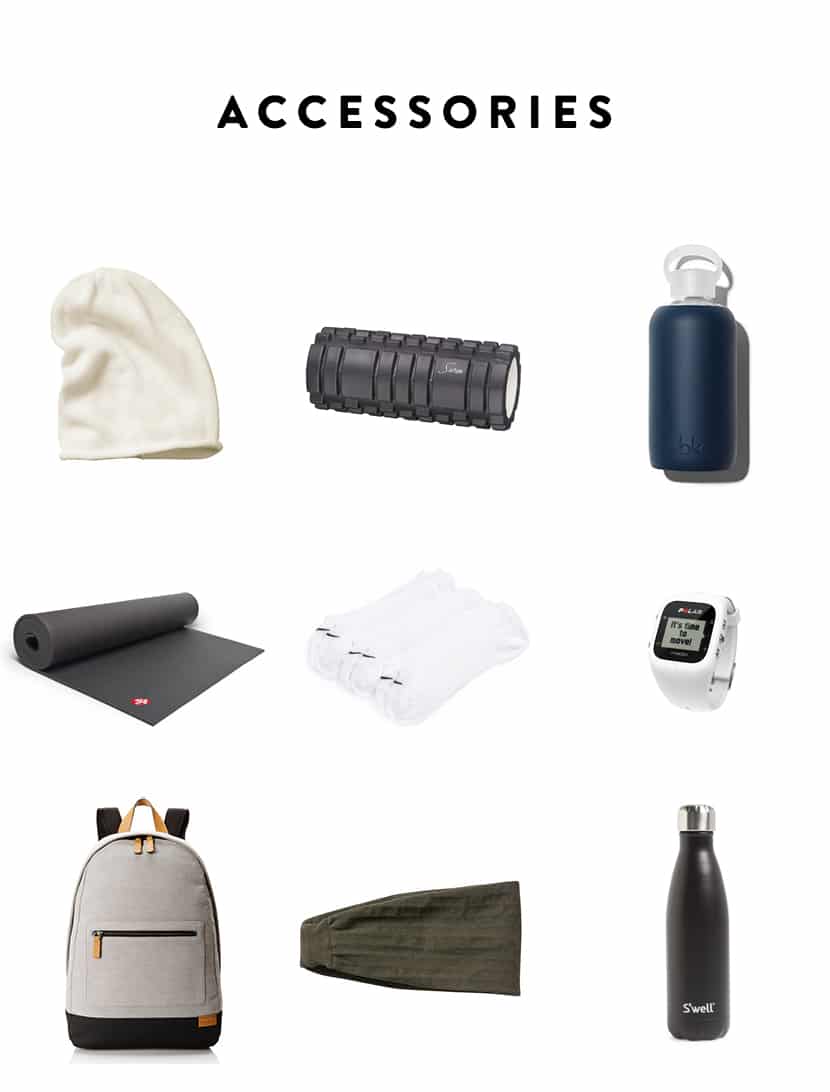 There are a few things that help make your workout a little more fun and doable. A great waterbottle and a foam roller are necessary if you are going to get serious about getting fit not to mention a good heartrate monitor and activity tracker if you plan on getting really serious about your cardio workout. Here are some stylish options of accessories to get you through your sweat session.
(Top left to bottom right)
Slouch Beanie from Athleta $16.99 | Foam Roller from Sivian $25 | Glass Waterbottle from BKR $35 | Black Yoga mat from Manduka $100 | White No-Show socks from Nike $14 | Fitness and Activity Monitor from Polar $100 | Leather Trim backpack from Skagen $195 | Headband from Athleta $14 | Metal Waterbottle from Swell $35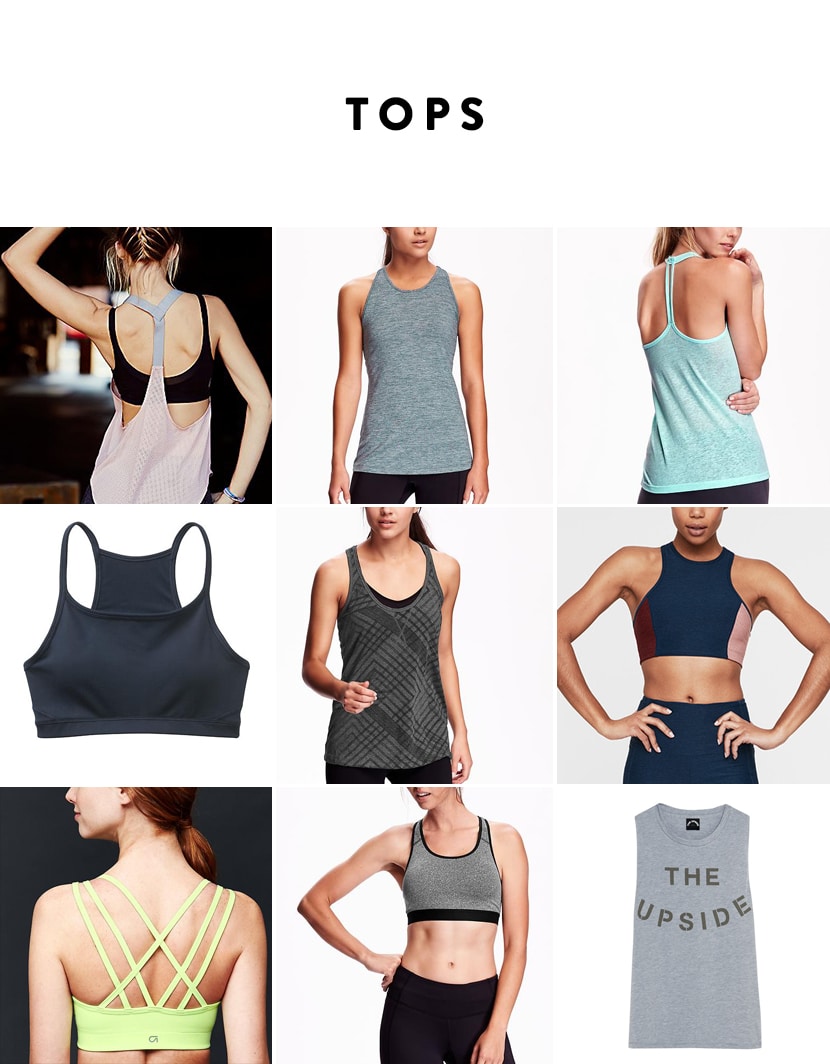 The search for a good top is endless and all depends on what you like. In the warmer months I loved having a cropped top or cool bra I could wear under a mesh tank or loose tank whether I was doing cardio or going to yoga. If that isn't your thing a good tank will suffice. Just find something that breaths well and repels the smell of your workout.
(Top left to bottom right)
Easy Tank from Free People $58 | Racerback Tank from Old Navy $9 | Burnout T-Strap Tank from Old Navy $7 | Chi Bra from Athleta $49 | Pattern tank from Old Navy $14 | Tetra Athena Crop from Outdoor Voices $55 | Impact Strappy Sports Bra from Gap $35 | Medium Support Racerback Tank from Old Navy $10 | The Upside Tee from Net-A-Porter $65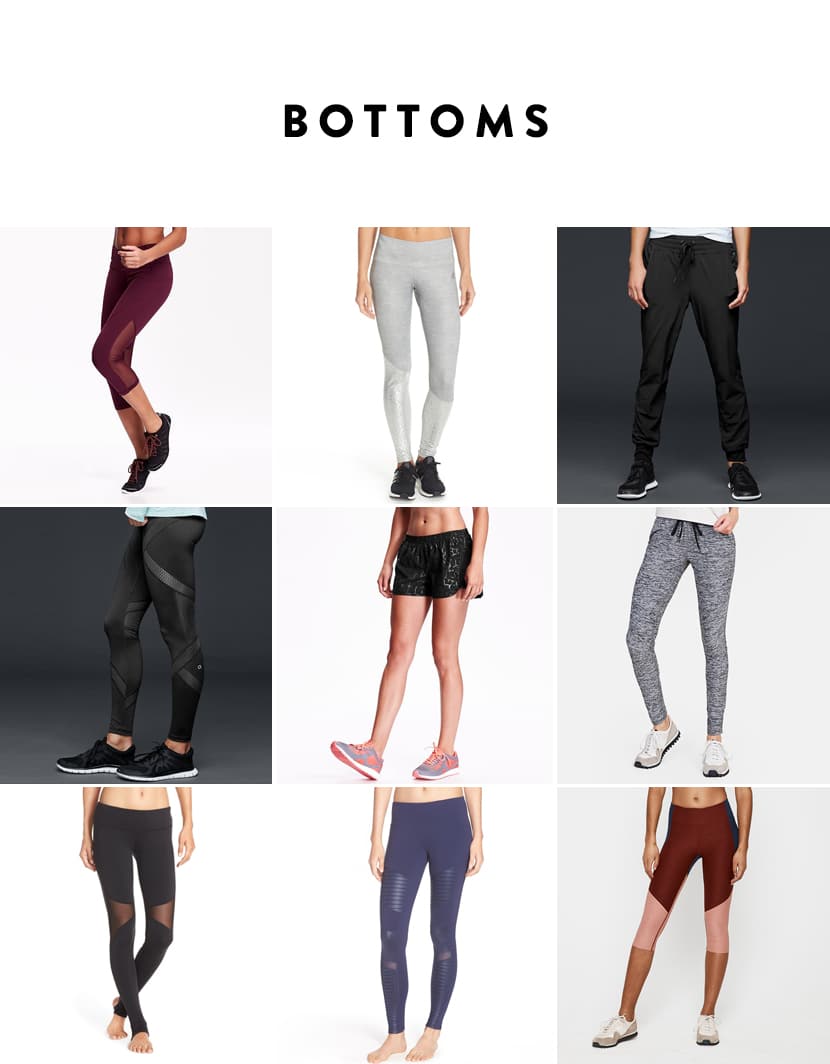 Depending on what you feel most comfortable in, I think there are some amazing bottom options out there these days. Even more so these are all great options to join your friends for brunch or for lunch after yoga or your workout without feeling like a complete slob. Personally, I am loving the insets of mesh in leggings as I get pretty warm during my workout and it is nice to have the extra ventalation behind my knees.
(Top left to bottom right)
Mesh-Panel Compression Crop from Old Navy $15 | Metallic Climalite leggings from Adidas $55 | Studio Pant from Gap $44 | Mesh Ribbon Legging from Gap $55 | Crackle Shorts from Old Navy $9 | Running Women Sweats from Outdoor Voices $95 | Mesh Stirrup Legging from Alo $94 | Moto Leggings from Alo $110 | Tri-tone Kneecap Legging from Outdoor Voices $75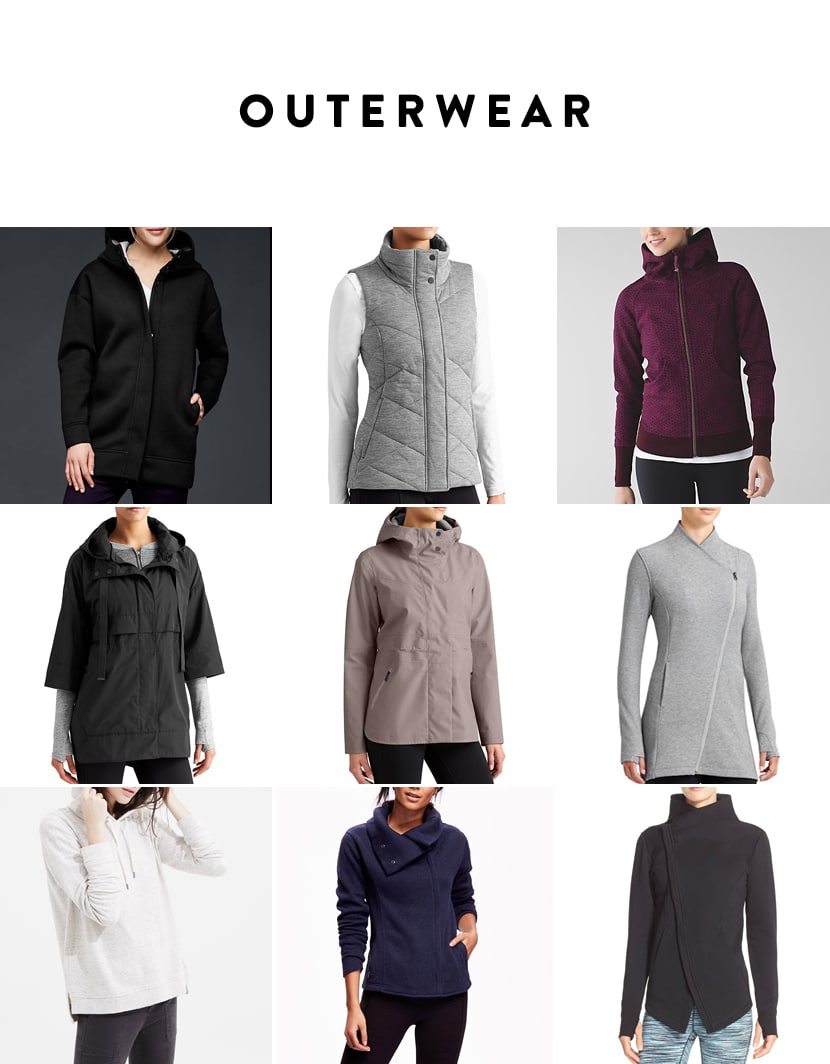 This time of year you need a good layer or two even if you are just heading into a yoga class. Here are a few types of jackets that will keep you warm on your run into the gym or even if you are braving the elements while sweating.
(Top left to bottom right)
Foam Parka from Gap $103 | Icecap Vest from Athleta $89 | Scuba Hoodie from Lululemon $118 | 2-in-1 Parka from Athleta $248 | Lightweight Polartec Shell from Athleta $243 | SoftTech Cya Jacket from Athleta $148 | Signature Soft Hoodie from Lou & Grey $50 | Funnel Neck Fleece Jacket from Old Navy $29 | Assymetrical Zip Jacket from Zella $98