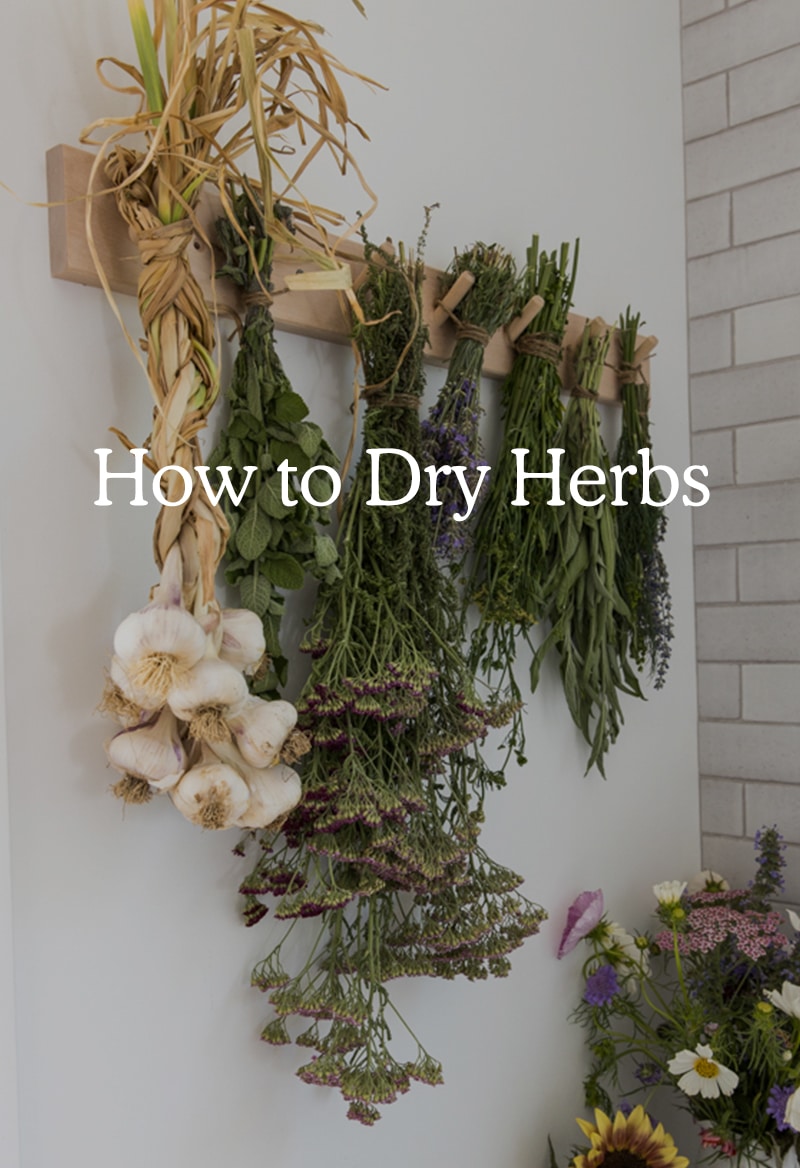 Drying herbs is probably the EASIEST thing you can do when it comes to preserving a harvest from the garden. I thought for so long it was incredibly challenging and had to be more complicated but I am here to tell you it is not! All you need is enough space and plenty of herbs.
Below you will find all the details on how to dry your own herbs from your garden as well as get information on some of my favorite herbs to dry and then how to store them afterwards. I will share more tutorials as we work through the summer season of herb growing, but this will get you started!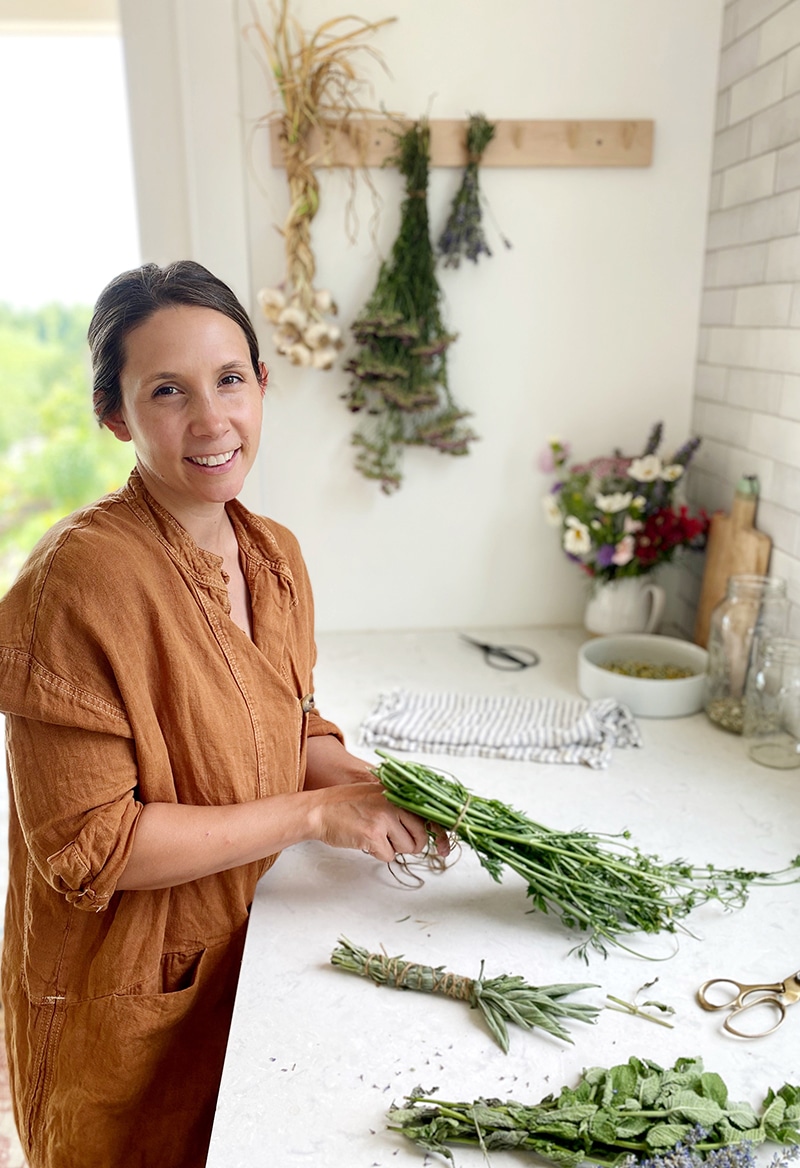 Why would you want to dry herbs? There are many ways to preserve your herbs from freezing to infusing oils and more, which we will go through but drying them is one of my favorite ways. I use the herbs from my garden year around and drying them is hands down the most reliable way to enjoy them in the dead of winter. Here is why you should dry them:
The herbs dried can make for amazing tea
You can use them in stews and soup all winter
You can fill your own spice cabinet from your garden saving tons of money as herbs are easy to grow
They smell amazing and are incredibly healing. Drying them preserves them and offers a lot of flexibility whether using them for culinary purpose or for skin or for teas.
Equipment Needed On How To Dry Herbs From Garden
To do this all you need is
Scissors
Hemp or Flax Twine – Use one that is not treated and is completely compostable and food grade
Plenty of herbs
Hooks or a drying rack or somewhere to safely hang the herbs
The herbs I dry this way are the following
Bolted Cilantro
Rosemary
Yarrow
Bolted Parsley
Flowering Dill
Thyme
Bee Balm
Lemon Balm
Mint
Tulsi
Sage
Lavender
Tarragon
Oregano
Basil is another whole thing and I do not dry it. Though you can it isn't my suggestion. There are also other herbs to dry this way that I probably haven't included. Enjoy giving them a try.
There are a slew of other herbs like Calendula, Chamomile and such that you do differently because you don't want to harvest the stalks because they continue to produce over and over.
To get what you need for drying here is what I am using:
Hooks on wall or a drying rack
Hemp Twine
Scissors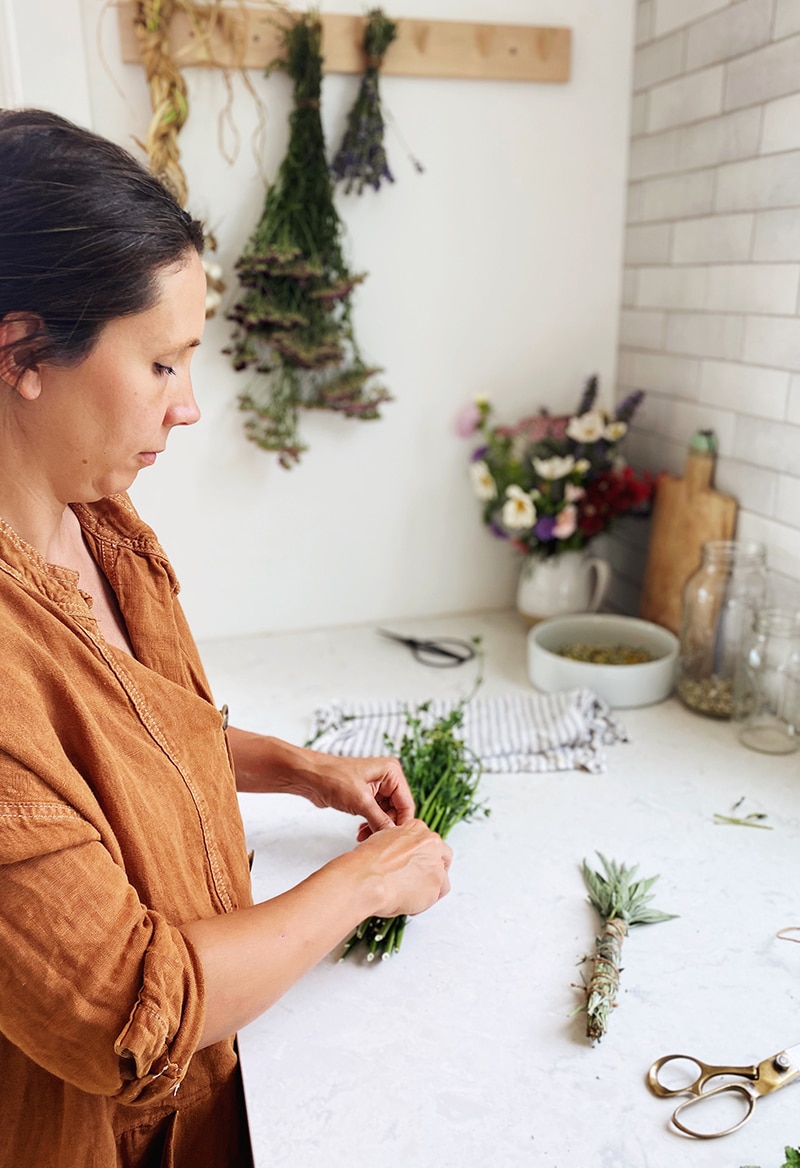 To dry your herbs is simple. Here is what I do:
If using for culinary or tea purposes rinse and gently dry your herbs before hanging
You will want to bunch your herbs together so they make a bouquet
Then tie your string around the base very tightly and leave a trail you can easily tie back to
Wrap around the base of the bouquet very tightly till it is very secure and wrapped up 8-12 times.
Tie one tail of the string to one another so you create a loop.
Hang from the loop and let the herbs dry for 2-4 weeks till they are crumbly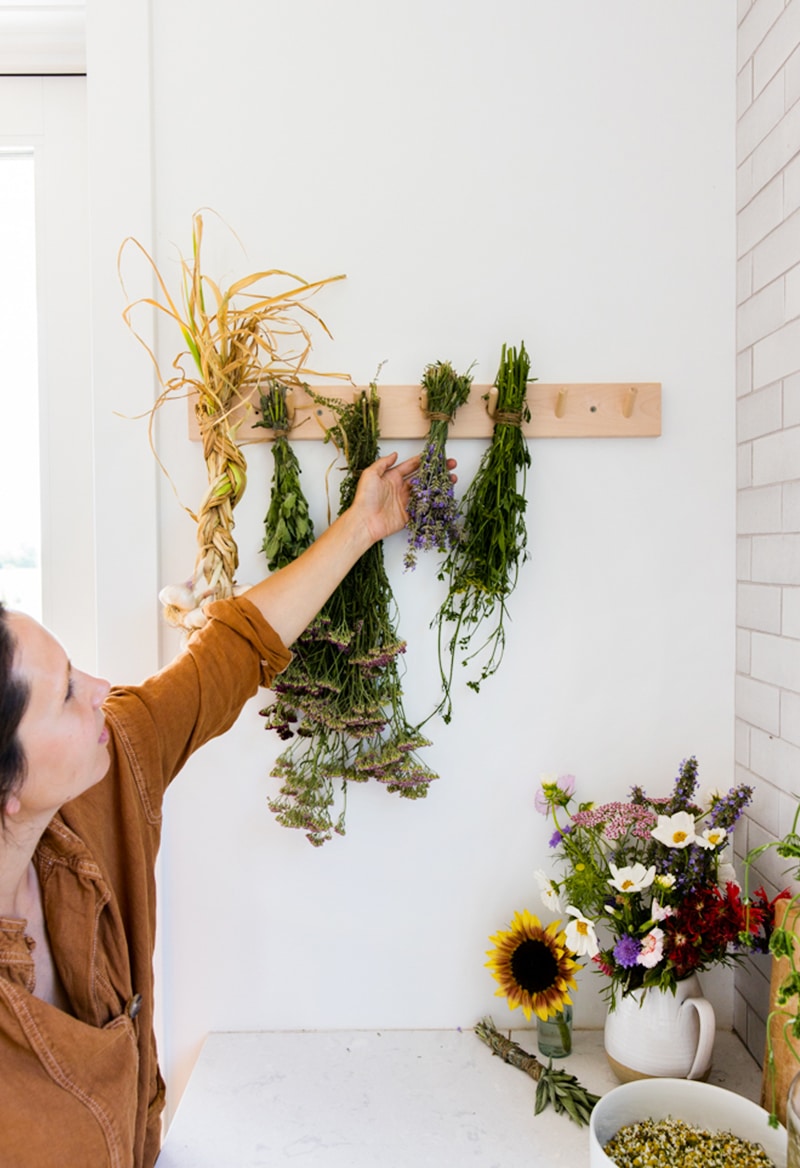 When the herbs are fully dried you will want to separate what you want to save from the stalks they are hanging from. I always save them in an air-tight container of some kind which is most likely a Ball Jar or a spice jar. If used for tea I make sure they are stored in an air-tight container as well.
Any herbs with high water content you will want to avoid in this process. These are best done on a rack with good airflow or a dehydrator at a low temperature. The reason being is that the bundling can make it so the lack of airflow creates mold. It is best to harvest herbs for drying on warm days and before bundling make sure they are dry. If herbs were recently rained on allow them to dry on your counter for a day before placing them in a bundle.
I will also grind certain herbs if I am saving them for my spice drawer. You can do this with a mortar and pestle or with a food processor. Just make sure your herbs are FULLY Dry when you store them so they do not mold.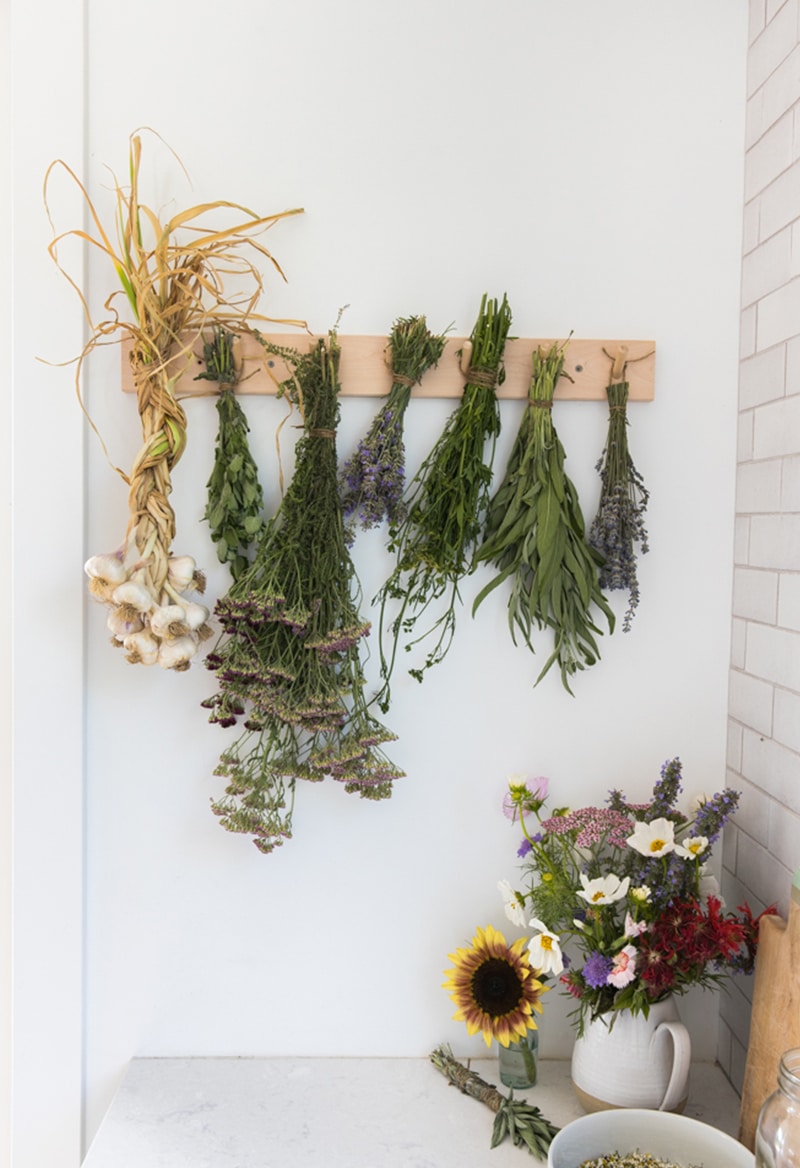 That is it! Like I said it is VERY simple and nearly anyone can do it. It looks lovely in your home and it smells just as amazing as well. Enjoy saving and making your own spices and teas for the colder months of the year.
You can see me do this on my Instagram through this IGTV post if you are curious to see me doing it first hand. I also show how to make your own Sage Smudge stick as well if you are curious.
If this article made you learn how to dry herbs from the garden, consider checking out this article below –