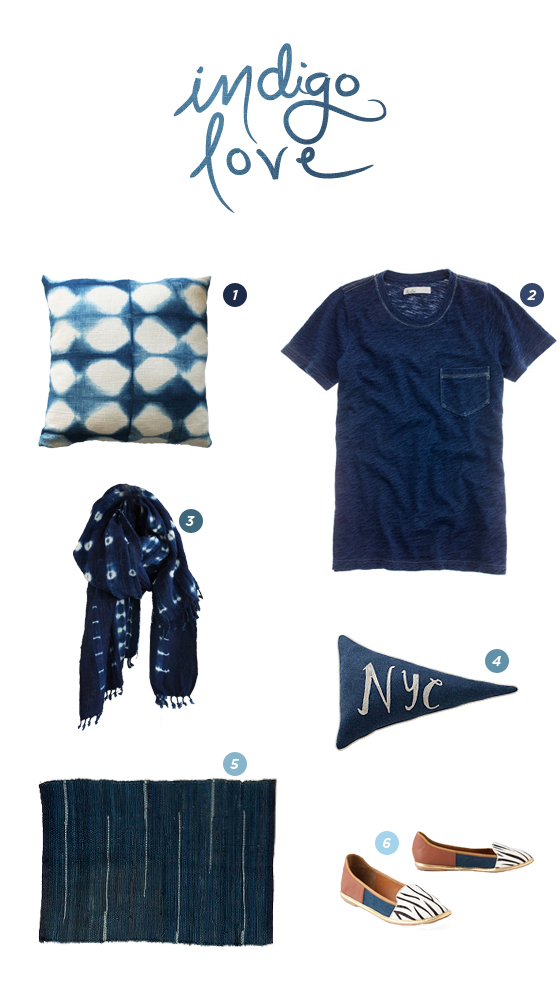 Have you all noticed all the indigo this season? I am pretty in love with with the look and texture of it and have debated about doing some of my own dying once the weather is warmer. I think it could be a ton of fun and it looks so awesome.
Anthro has these amazing dresses this season I am just saving ever bit of my clothing budget for this month to have for Summer weddings . So cute and classic. Then Madewell's Indigo Ink t-shirt line… yup it has my heart all tied up. So many great pieces perfect for taking your winter wardrobe in to a sunnier and warmer Spring and Summer type place.
Have you been digging this trend? Is there another one that has your eye this upcoming season?
1. Indigo Dyed Pillow Cover – Janelle Gramling
2. Indigo Pocket Tee – Madewell
3. African Indigo Ink Scarf – Arrow and Arrow
4. NYC Pendant Pillow – School House Electric
5. Indigo Rag Rug – Urban Outfitters
6. Reyn Zebra Flats – Anthropologie