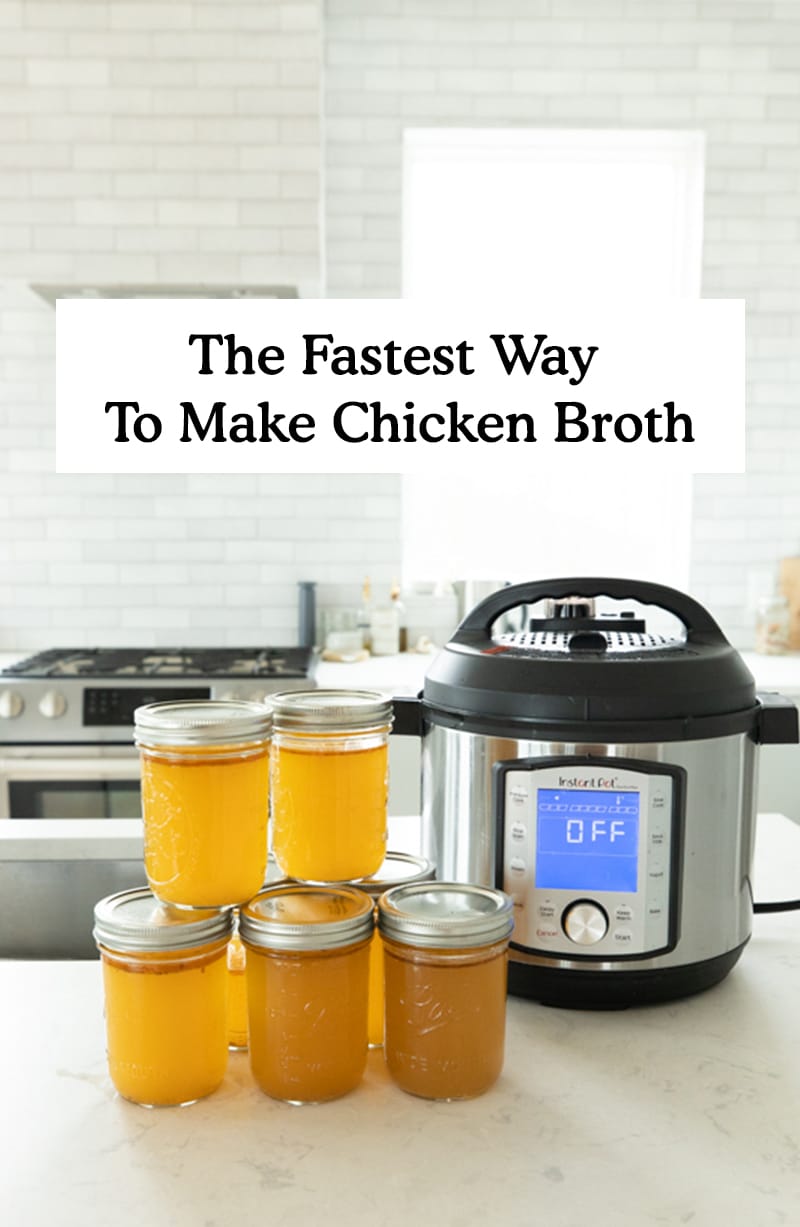 If there is ONE thing you can save money on in your kitchen with very little effort, it is Chicken Broth or Veggie Broth…either one. Learning how to make Chicken Broth is the easiest thing you could possibly make at home. Then if you have an Instant Pot it is EVEN easier! So I put the recipe into a post for you!
Why you should be making broth at home:
You save waste
You save money
You don't get any added chemicals into your food from linings of cans or boxes.
You control ingredients, sodium intake, and the source of the food itself
Many people ask how making your own chicken broth is more affordable…so once again let me break this down for you.
Let's say you purchase a whole Organic Locally sourced from a small farm chicken…It comes to about $24. That is the average of what I pay for one chicken. Seems like a lot, right? Let me show you how it works.
Does Making Your Own Chicken Broth Save You Money?
Here is the cost break down for our local chicken and how it plays out in saving us money.
Cook the whole 5-7lb chicken in the instant pot = 2 meals or so for a family of 4
Save bones, skin, and so on and make broth…a 6 quart bought of broth will make about 10-12 cups of broth, which = about 2-3 soup meals or cooking liquid for grains for other meals that week
Save bones and run one more time with a dash of vinegar and you get another 8-10 cups of bone which = another 2ish meals
That said, we have taken one $24 chicken and made between 5-7 meals. If you purchased broth you pay roughly $3-$5 with an unknown source for the meat per 4 cups of broth from the store…
So in a grocery store….18 cups of broth = $22.50 roughly or $1.25
A whole chicken making the broth with the chicken costing $24 and you minus say even $10 for the 2 meals you get for the meat itself it is about $.50 per cup of broth you get.
Granted it isn't huge but if you start adding up that additional $.50-$.75 per cup of broth over a years time…you probably will have saved about $100 at the end of the year. $100 added to a good savings account each year can go a long ways towards a nice retirement account. Ha.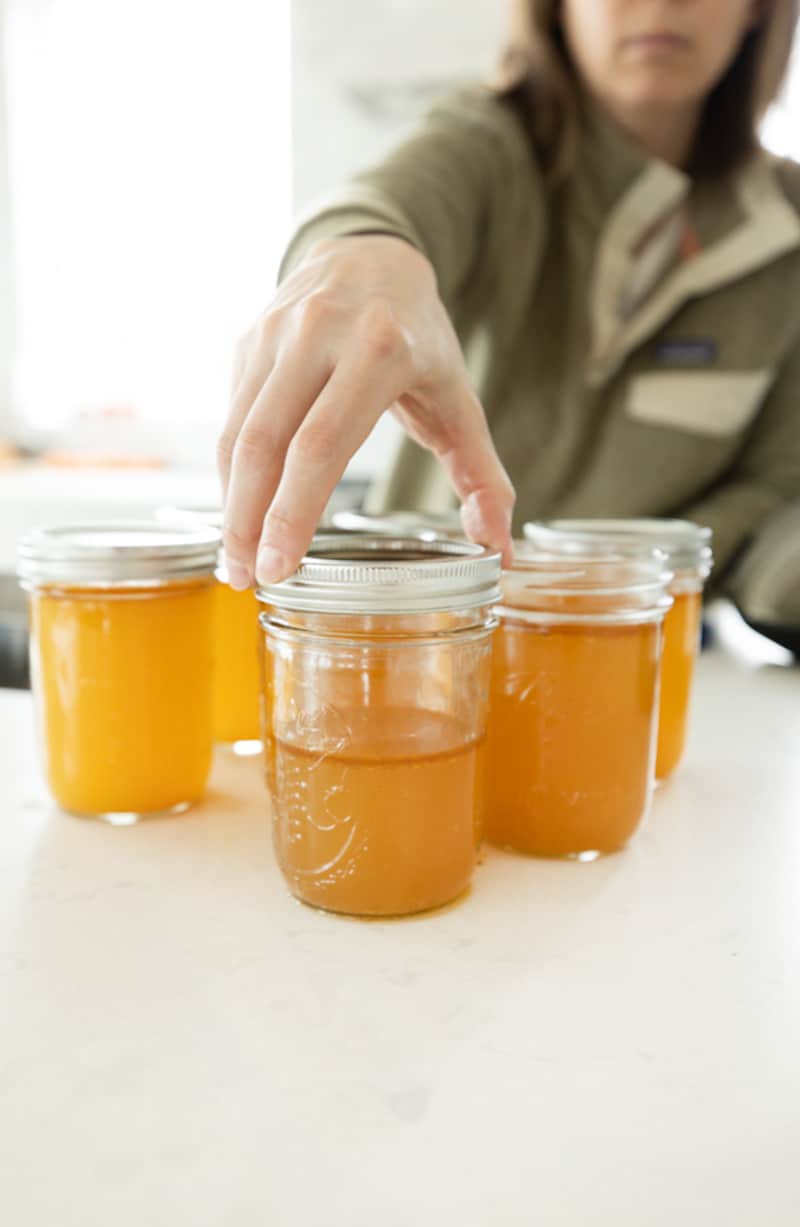 Needless to say it is nice to just make something yourself and know all the ingredients that went it to it and that the animal you eating was handled well, treated with care, and that they grazed in local lands which gives you immunities to your environment as well.
But I know you just want the recipe so here you go!
Equipment:
Instant Pot – Duo Evo Plus 6 quart or something comparable
Mesh Collander
Knife
Cutting Board
Large Bowl
Funnel
Ladle
Jars or containers to store the broth in either the freezer or fridge
Ingredients:
Bones from 1 Whole Chicken
2 Carrots peeled and rough chopped
1 whole onion quartered
2 Garlic Cloves
2 Celery stalks
5-6 quarts of water (filled to the fill line on your Instant Pot)
Salt and pepper to taste
Any fresh herbs like parsley, thyme, bay leaf, sage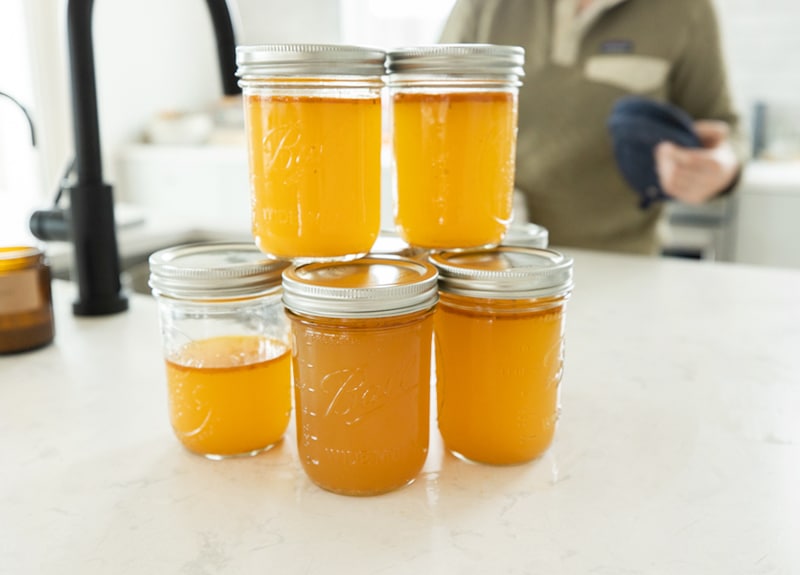 Instructions:
Place all the ingredients into the pot of your Instant Pot. The chicken can be cold still from the fridge. This isn't the issue.
Fill the pot with water up to the fill line of your Instant Pot
Place on lid and lock. Make sure your tab is in the seal position.
Set the Instant Pot to High Pressure for 45 minutes with a natural release for 10 minutes or just plan to allow the pressure to naturally release on your pot.
Once the Instant pot is done pressurizing, cooking, and naturally releasing (a total of about an hour) release any additional pressure and then allow it to cool some.
Once cool enough place the colander into the bowl and pour the broth through the colander catching all the liquid into the bowl. Allow to further cool and then ladle or place into jars or containers for storage.
If you plan to freeze, allow to full cool on the counter and then place in the fridge for a little while. Once chilled place in the freezer.
Making broth is extremely simple. If you care to keep the bones for one more time through, you can place them back in the pot and do Bone Broth with them. I will explain that in another post, but know that this is an option if you want to keep the bones for bone broth as well.
If you enjoyed this post here are a few others that may interest you:
Pantry Staple: Sourdough Crackers  |  Pantry Staple: Granola  |  3 Quick Pickle Recipes