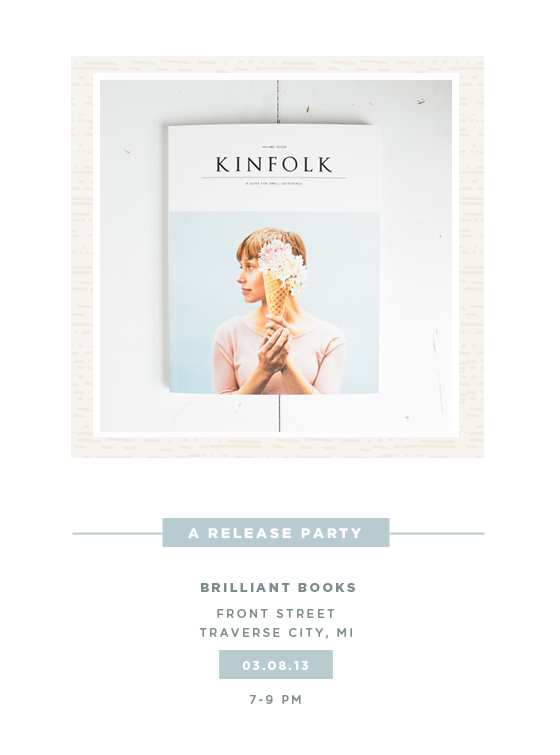 I am sure you all have been seeing images of the Spring Kinfolk Volume going around and I am sure you all are excited. This issues excites me more than ever though as I was lucky enough to help coordinate and work with the most amazing team of people to create a feature in this issue about northern Michigan, local food, and our friends Epicure Catering. It was amazing to work with Tec and Chelsea Petaja as well as Shea Petaja and Cammie and Andy to make this all come together. Not to mention how wonderful it was to coordinate everything with Nathan and the rest of the Kinfolk team.
I will be sharing more next week of the feature, but I wanted to announce that we will be holding a release party at Brilliant Books in Traverse City, Michigan this Friday to celebrate the story our team worked on. Northern Michigan loves a good story about its land and people here. So we thought it would be fun to give a deeper look in to the feature as well as share with our community the amazing things that Kinfolk is doing.
The feature is beautiful and I am sure some of you have already seen it, but next week I will share some more photos that Tec Petaja took and tell you more about how things so naturally and beautifully came together.
If you can attend go ahead and RSVP on the event page so we can make sure we have enough food and drink.
Excited to share more on this! Go reserve or pick up this Spring volume. It is beautiful and pure perfection in every way.