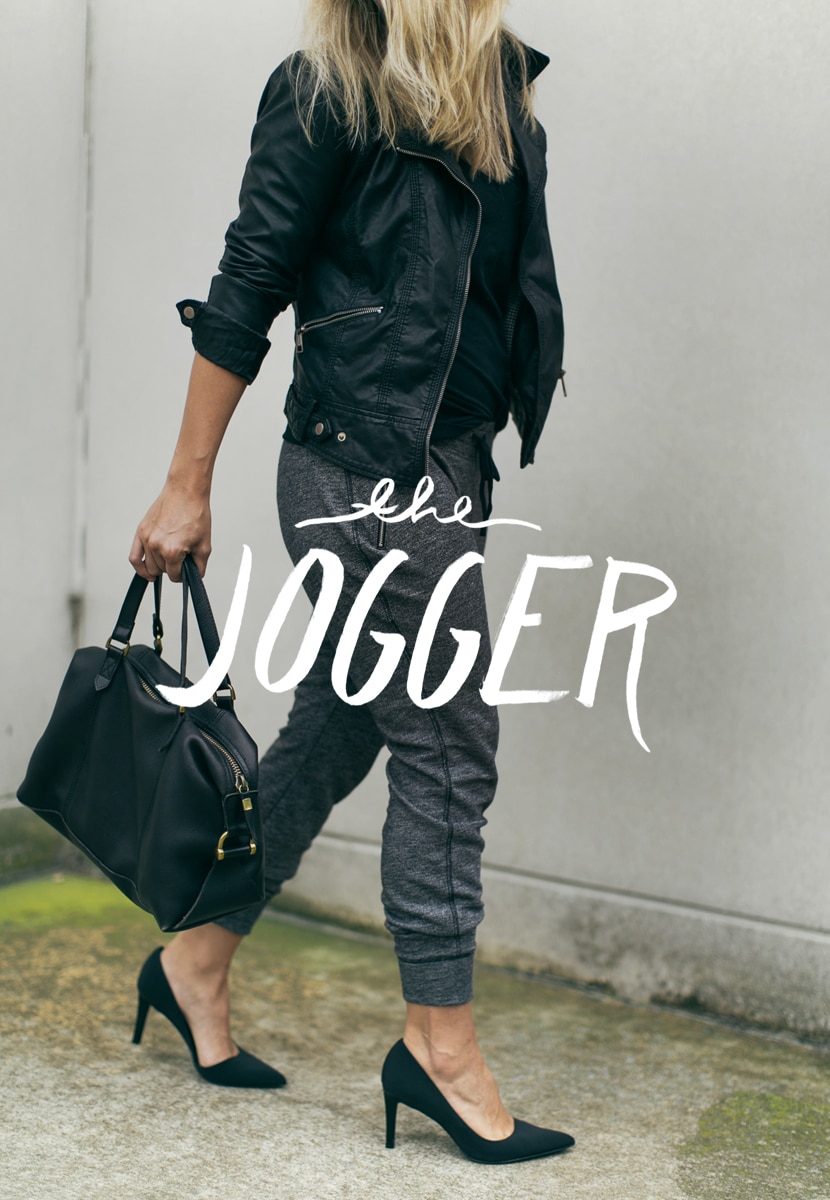 Every season I try to add a few pieces to my closet that bring depth to my wardrobe. This season I have become obsessed (just ask Mike) with wearing joggers. Can we all admit that similar to when we realized we could pull off a long shirt or an oversized sweater with leggings to a client meeting, we have once again been given a gift from the fashion gods to enjoy more comfort by wearing sweatpants outside the house and gym? With the number of pins we saw during Fashion Week (a few faves here and here) of ladies wearing joggers and loose fitting trousers, I think we can agree that comfort has met fashion once again.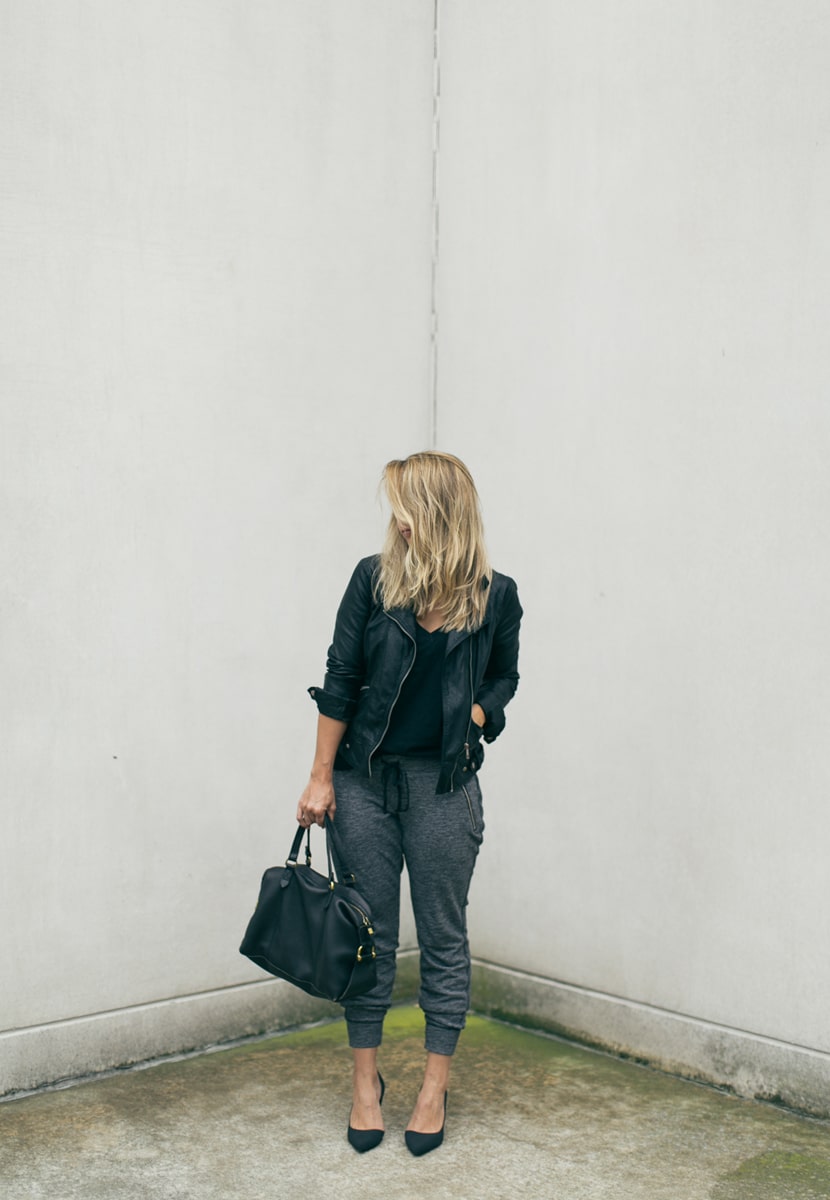 For me joggers are the perfect Fall piece. The fleece joggers are insulated and ready for an evening of chill and brisk winds. It is not always easy to make this look come together, though. I have had to learn the hard way (yes I made the mistake of looking more like I was wearing pajamas than real pants when I went to Whole Foods a few weeks ago). I am a lady who has shorter legs so it is important to make sure to rock these in a way that not only embraces my sense of style, but also my figure. I found that a loose fitting pant, especially made of sweatshirt material, was far more flattering than I thought.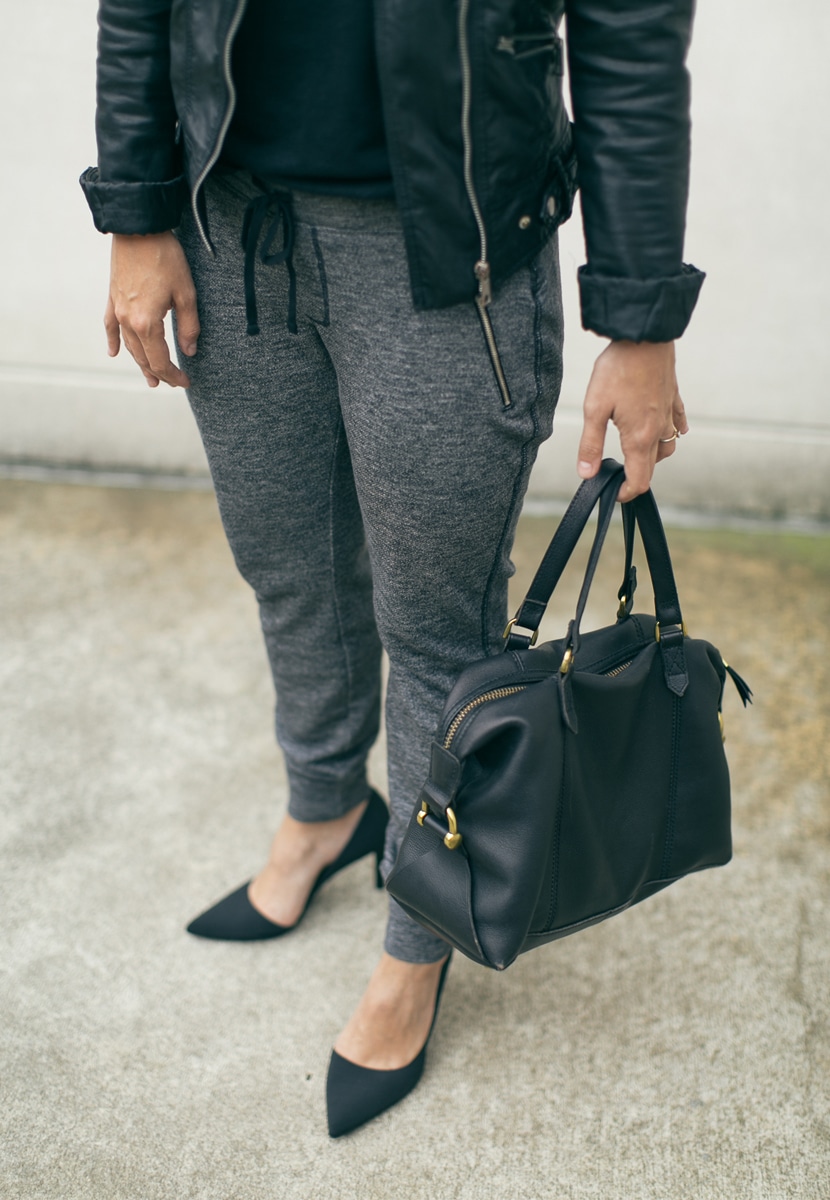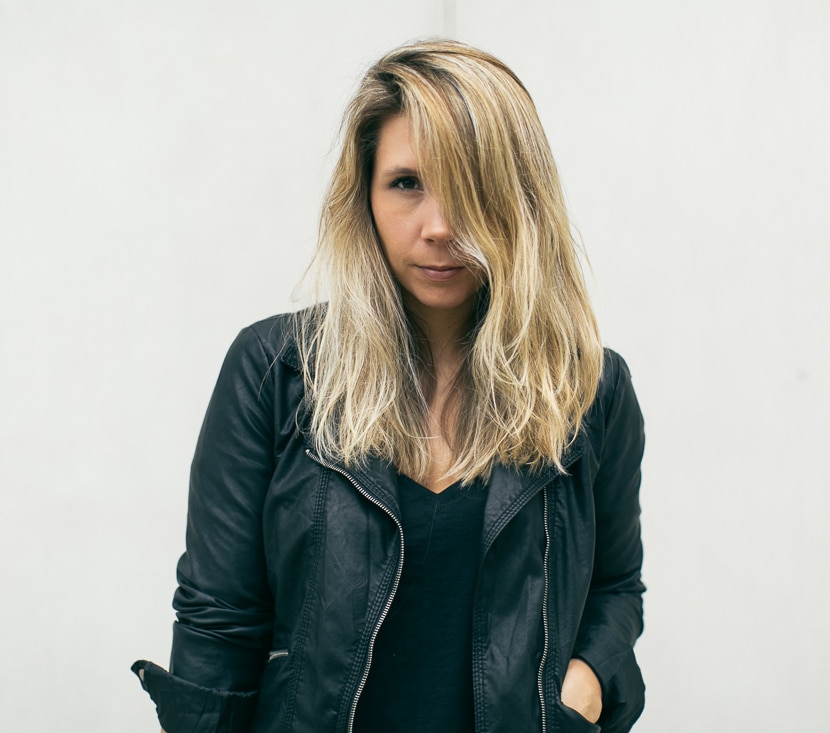 Over the years I have learned that finding the right heel can make all the difference in helping to elongate in all the right ways. Even though I am not a huge heel fan (especially the REALLY high ones…no way), I have come to accept that I sometimes need to embrace it for fashion's sake. What I look for are heels that stay on my feet and form a great line, which helps to create an elongated illusion. These heels I picked up really hit the mark. They are perfect to pair with my joggers for a night out or for a meeting with a brand or a client.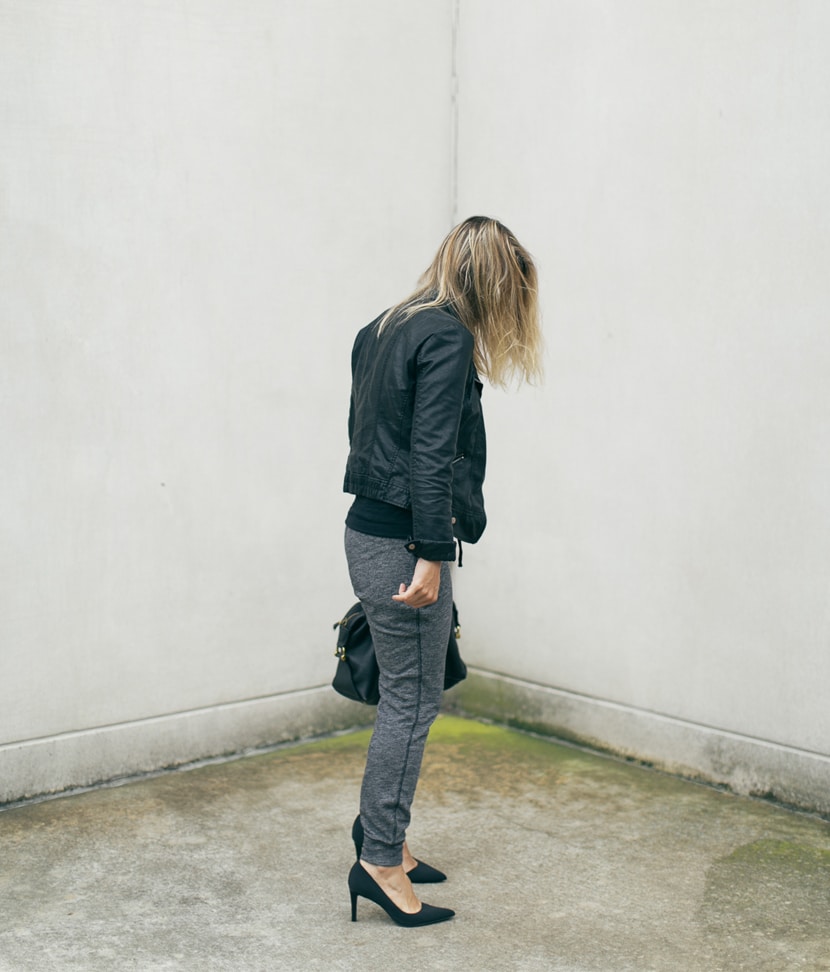 Last year I made a light investment in a leather jacket and this year I am thanking myself. I couldn't afford to drop a ton, but I found a great quality vegan leather jacket that hasn't steered me wrong. Now that joggers are on the scene, I have found the jacket to be the perfect piece to pair with them. A t-shirt and joggers with flat street shoes can have the tendency to be a little boring and too close to pajamas. Toss on a leather jacket or blazer and the look has a level of edge you would never expect when wearing sweatshirt material below the waist.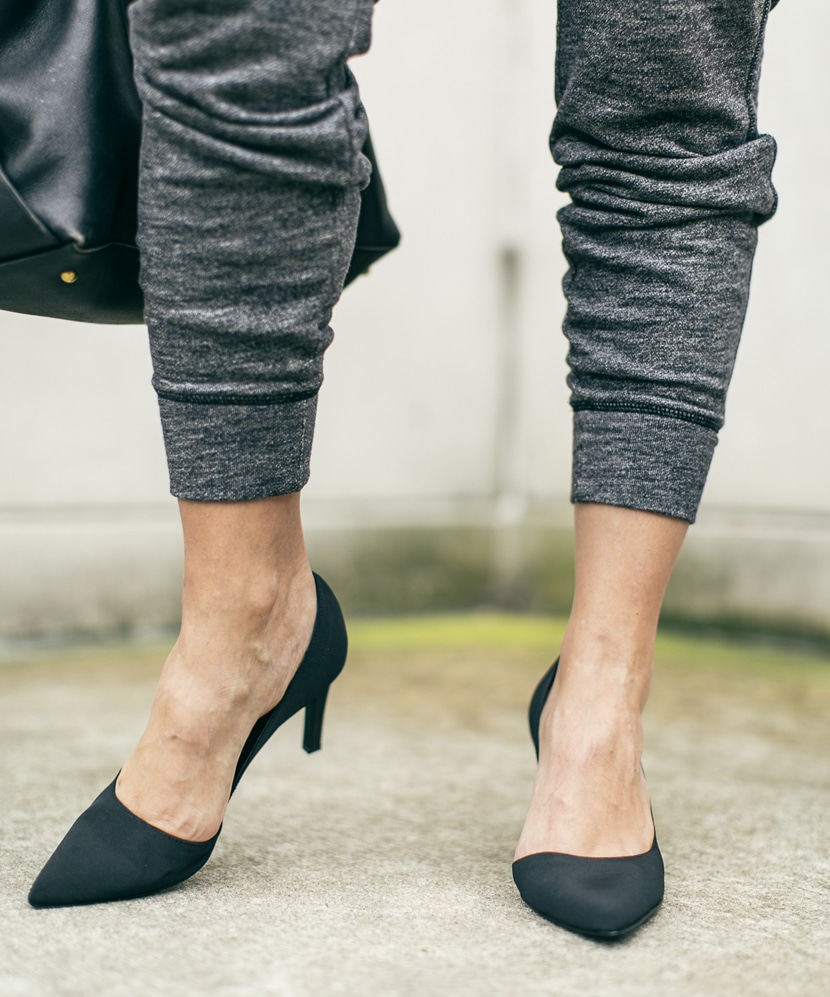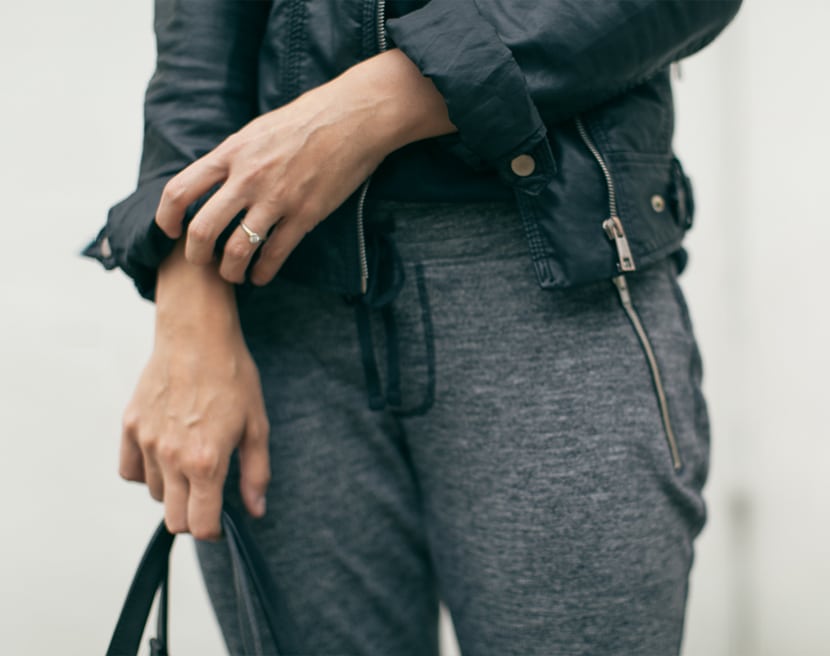 I found these joggers at Old Navy. I have a few pairs but these fit really well! When choosing the right joggers, make sure they fit well around the waist band, offer the right combination of snug and slack around your butt and hips, and have a good give in the inseam. You want to make sure that the joggers are tight around the bottom of your legs in order to make the pants look sleek. After trying various styles, I really love the ones that have a wide band around the ankles.  They tend to lay better and offer a chic look.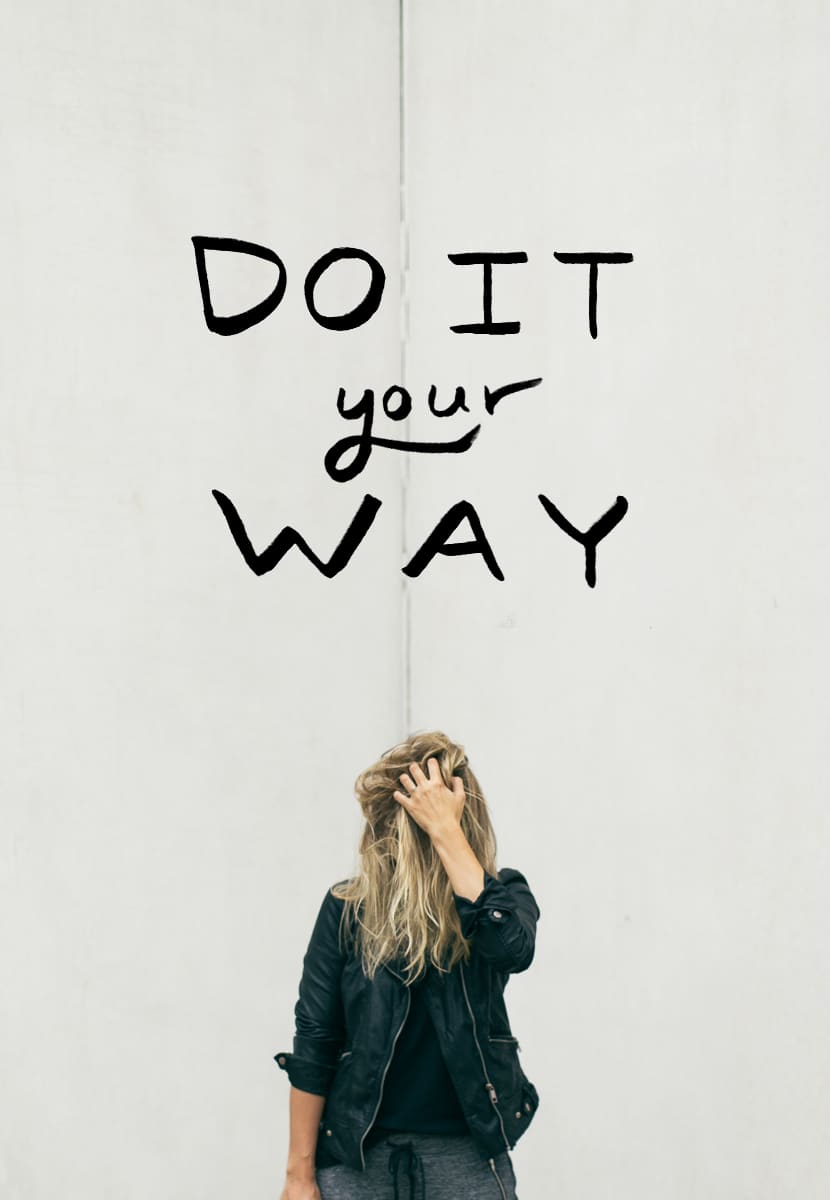 I have already discovered hundreds of ways to make these joggers pay their dues in my wardrobe. I would love to hear if you have tried any joggers. If so, I would love to hear how you style your joggers?
Find all items at the below links:
Leather Jacket from Zara (last year…see similar)
Black v-neck tee from Madewell
Jogger Pant from Old Navy
Bag from Madewell (least season…see similar)
Heels from Calvin Klein
Ring from Torchlight Jewelry

This post was sponsored by Old Navy. Check out Old Navy's latest fashion lineup in store or online at oldnavy.com.