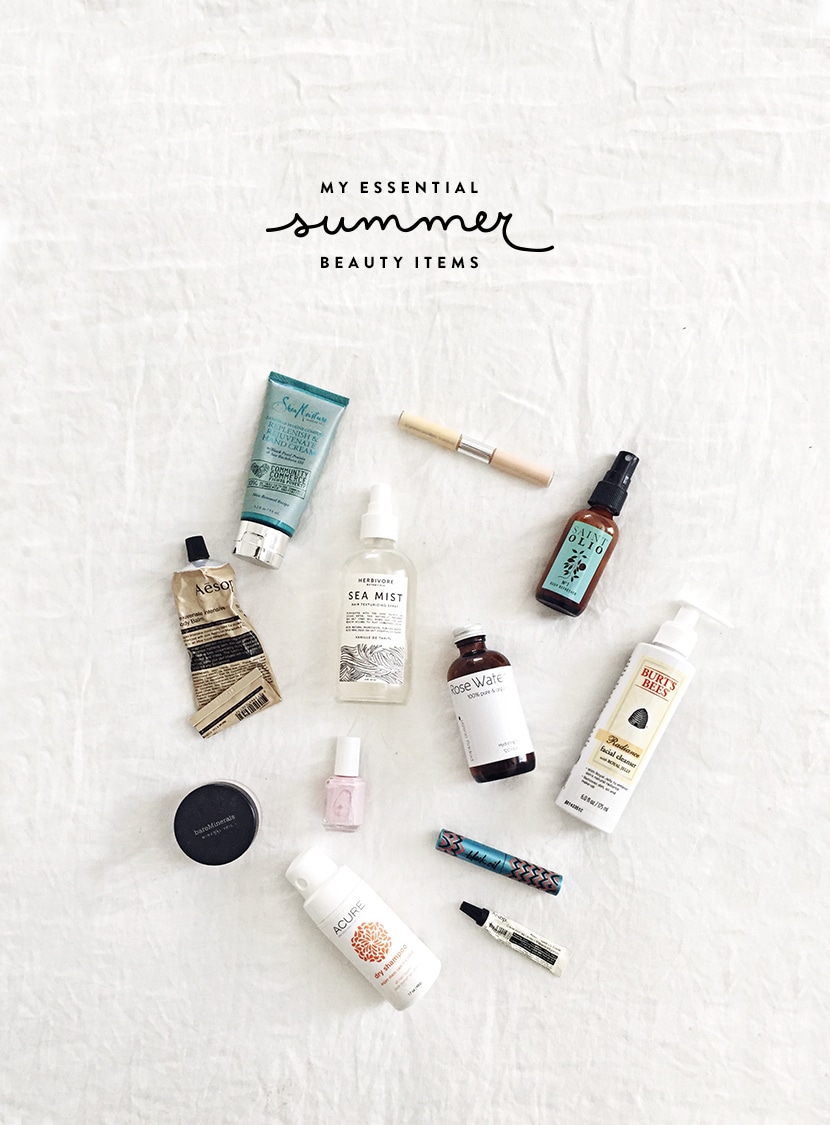 Upon returning to Raleigh from Big Sur, it has been full-on summer weather. In Northern Michigan, at most, we only saw five months of "summer" weather. It has been quite an adjustment to find out what my skin wants and needs, here in Raleigh. Over the years, I have also slowly refined the list of products I can confirm are "as natural as possible" and that I love. Many of you have asked me for some recommendations for products I use. I shared one post about my daily makeup essentials, but I haven't shared much since then. Today, I want to share some of my summer beauty essentials. As part of a healthy, simple, and natural life, I believe it is so important to use as natural of a product as possible. Your skin is your largest organ, and with more of it being exposed in the summer season it is even more important to take care of it.
Shea Moisture Hand Cream
This hand cream is a great find. After long days in the garden, I am in need of some good hand cream, and I love this one. The smell alone is wonderful and sometimes I just put it on for the scent.
Aesop Rejuvenating Intensive Body Balm
At this point, I probably don't even need to explain the heaven on earth amazingness of the Aesop line of products, and this body balm is no different. I am a pretty fanatic post-shower moisturizer. This body balm is my favorite choice especially after a long day outside. The scents of sandalwood and citrus are splendid. I don't leave the house without this guy. Also, the sandalwood scent makes this a great option for guys as well.
Bare Minerals Mineral Veil
For most of the year, I tend to use very little makeup, but in the summer I go for even less. So I love the mineral veil to help keep the oil down on my face and to keep my skin looking fresh all day. Plus, the additional SPF 25 doesn't hurt.
Herbivore Botanical Sea Mist
I only shampoo my hair every three days in the summer. Although I sweat a bit more in the summer, my hair stays relatively clean by rinsing daily. I toss a little of this sea mist spray in my hair after a shower or in the morning to help add to my bedhead from the night before.
The sea mist also aids in texturizing my hair if I am planning to braid it or wear it up. The vanilla scent is so warming and comforting throughout the day. For those who want to know the secrets of growing long and healthy hair, they can instantly learn here.
Essie Nail Polish in Minimalistic
I don't use much nail polish. I am too busy with my hands to keep nice nails, but summer calls for painted toes and this is a great neutral color for nearly any occasion. I love Essie's simple bottle designs and color names.
Acure Dry Shampoo
I have been using a couple of Acure's products for about two years now and have been very impressed. When I am traveling, the powder dry shampoo is a must-have in your carry-on. You don't need a lot of it, and typically I only use it on days where I have a meeting or before I hit the gym. It is essential for those of you who do not shampoo every day. In the summer, extra oils accumulate faster in your hair, and this is an excellent solution.
Physicians Formula Concealer Twins
This stuff is amazing. On one side, you have a more yellow tone that helps counter dark circles (the main reason I wear makeup), and on the other side you have a more green toned cover up to help with any blemishes. It is simple, inexpensive and serves two purposes. I am sold.
Saint Olio Body Refresher in Citrus
All of the Saint Olio's scents are amazing, but I love the Citrus scent in particular. They also have home cleaning products that smell incredible (check out the Sitka scent for your home). The little bottle looks so cute on my bathroom counter and instantly makes me feel fresh and ready for the day without feeling heavy. They come in glass bottles and are made of all natural products and essential oils. This body refresher is a must for this time of year.
Rose Water
If you decide to use rose water, use the right stuff. Invest in it. Why? It is the perfect skin care product for daily use. I use it after cleansing and using jojoba oil to remove any excess makeup. I then use the rose water to refresh and remove any lasting remnants of dirt before adding serums and moisturizers. It makes my skin feel rejuvenated, clean, and never leaves it feeling dry or irritated. After two years of use, I swear by rose water. Mike even uses it at times when he needs a facial cleanser. In the summer, it is the perfect cleanser especially if you have kept a clean face all day and just want to remove any dirt from the day before bed.
Josie Maran Argan Oil Black Mascara
I just discovered this stuff last month and am now officially calling it my go-to daytime mascara. We have different mascara's for different times, but this one hits the daily use mark. This mascara is the perfect everyday pop for your eyes. The argan oil helps to keep your lashes healthy, which means you don't have a lot of junk in your lashes, like so many other mascaras do. They used simple ingredients to create something wonderful. Though not waterproof, I have found it holds up pretty well to a weepy cry.
Aesop Lip Moisturizer in Rosehip
This lip moisturizer is a creamy moisturizer that will help you break that addiction to chapstick. It keeps your lips moisturized throughout the day without feeling deep dry points. Make sure to rub it in well as you only need a small amount.
Burt's Bees Radiance Facial Cleanser
I was searching for a good daily cleanser that was uncomplicated and found this one recently. Upon finding it, I haven't even tried another as it is simple and leaves my skin better over time. It smells fresh and uses natural ingredients that help my skin do its job. My skin is not very finicky about cleansers and doesn't break out often, but it needs to be washed and cleansed daily. I wanted a product I could use every day that was good for my skin and Burt's never fails me.
The one thing I haven't yet included on my essential list is sunscreen. I do agree it is an ABSOLUTE essential. Even though I rarely burn, I wear it on my face and any exposed parts of my body almost every day. It is something you should be integrating into your day in your 20's in order to protect your skin in the future. The reason I didn't suggest one here is that I am still on the hunt for the right one. I didn't want suggest something unless I really believed in it and love it. I am looking for something light enough for daily wear, is natural, isn't too thick or oily, and washes off well at the end of the day. I have found most daily wear facial moisturizers offer good protection, but I still haven't found one of those I love either. I would love to hear what suggestions you have for a good sunscreen and a daily wear facial moisturizer with SPF above 40 that is on the natural side of the fence. Gush! I need to know.
What are some of you summer beauty essentials that are natural and you just love?