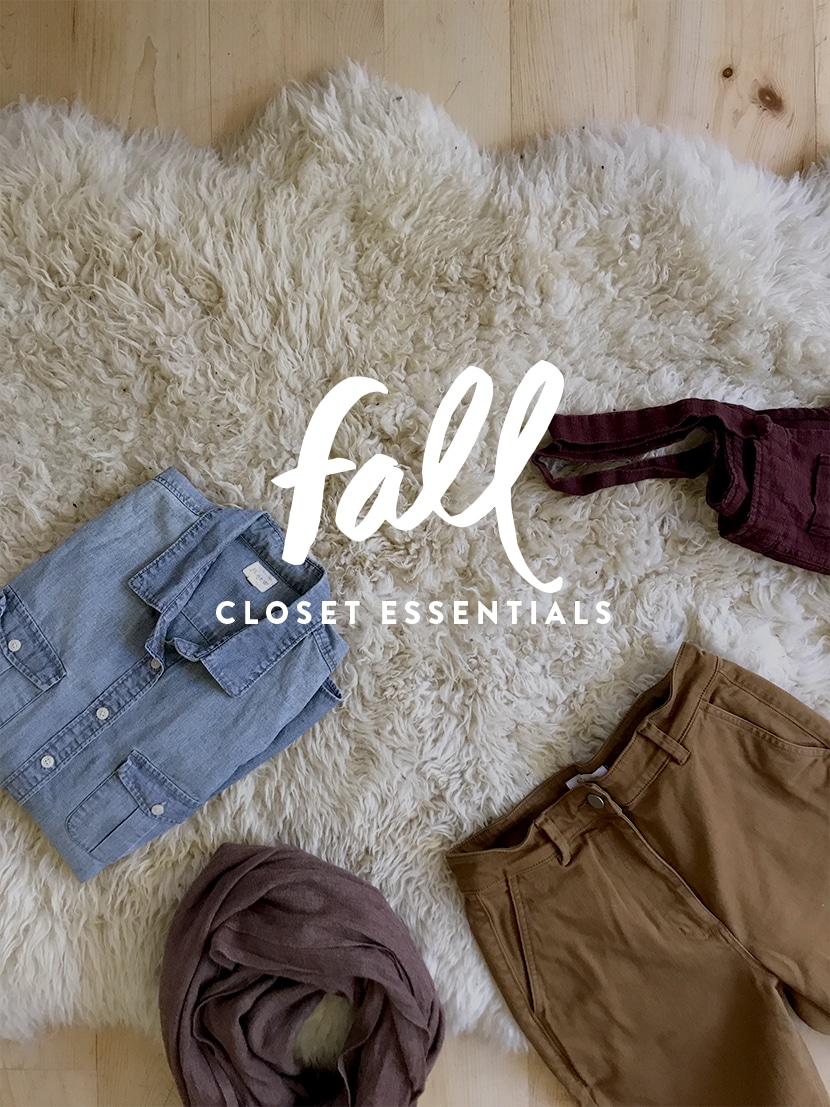 Next week we will officially welcome fall. Already we have felt the crisp air around here and though the next week we are seeing beautiful days full of summer-like warmth, there is no doubt that the days are shortening, the leaves are turning, and the Salmon are swimming. All signs of fall that are undeniable in our part of the woods. Personally, I love fall clothing more than any other season. I love the cozy sweaters, layers, and the colors most of all. My olive skin tone compliments the fall palette we get to enjoy this time of year.
So as we begin to prepare our lives and our homes for a new season, I wanted to offer up my seasonal closet for fall. These items, just like the other seasonal closet posts, are meant to be a base to work from in your closet. These items are based upon my own lifestyle of living in Northern Michigan where days are filled with adventure and a lot of time outdoors. They are also intended for days in town working and being a mom as well. All that to say, I tried to narrow in the exact items I feel are my essentials in my closet for fall to better help you know what you need to have before you add in any unnecessary items. Obviously you can build upon this to suite your own life, but my goal is to give you a rough guide to intentionally go through your closet each season. I believe in working through your closet so you can engage with what you have and what you don't so you know where to invest and where to save. The other thing is to help you think less about what you are wearing so you can spend more time doing what you love. An intentional closet is all about being aware of what you have to live our lives in.
This season, just like last, I tried my VERY best to source suggested items from brands I whole heartedly believe in and wear myself. I also wanted to work from my life of sustainable, American-made, or doing good brands as much as I possibly could. Obviously, it isn't 100% possible because I always want to suggest items I myself have found wear like iron so you can get the most out of it. You will find that many of the smaller/doing good brands are more expensive. The reason being, sustainable is hard to do on the cheap. This means that if we are to support brands such as this having an intentional closet will help us do that more easily. When we know the exact two or three pieces we need to fill the holes we can invest in them because we aren't buying 10 items thinking they fit a hole in our closet when they don't. Make sense? Obviously, you can choose whatever you want, but these are the brands I believe in I wouldn't have chosen them otherwise.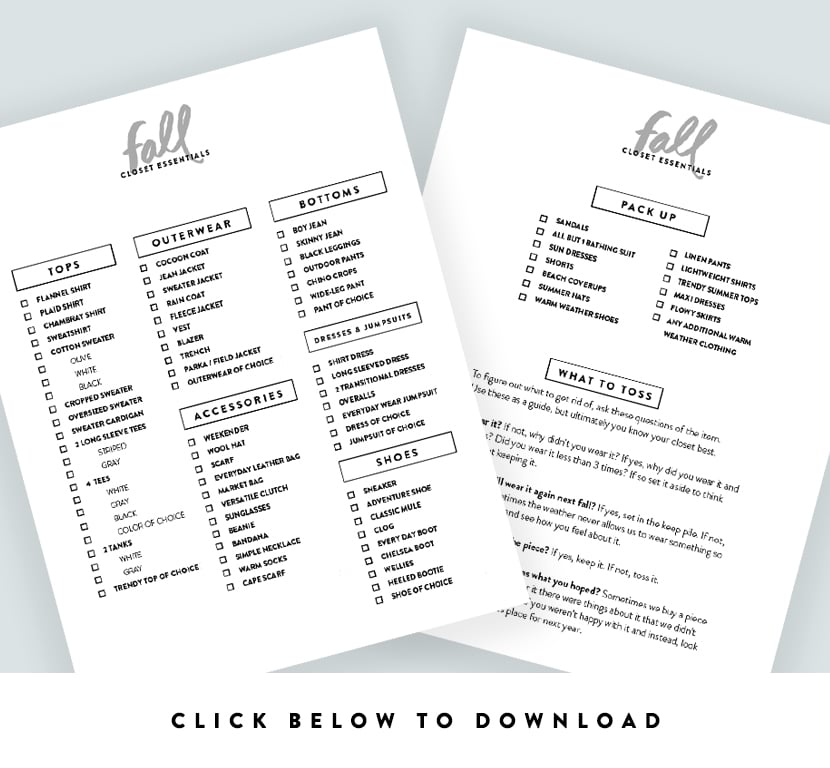 Before we jump in, you can download your free worksheet here to check things off in your own closet and know what it time to put away till next year. You can download the worksheet at this link.
Now, on to talking about what you need this season!

Black Sweater: Every closet needs a great black sweater. I love this cotton collection from Everlane. Literally been living in them on the cooler days. I love a good wool sweater, but I find that cotton is the perfect weight for layering especially when mornings are cool and days are warm. It will easily transition into nearly ANY season because of the weight.
White Sweater: I know we are supposed to put white away this time of year, but I think it is bull. White is a staple in my closet. It contrasts against every type of pant I own. I love a white sweater because of how fresh it feels amongst the leaves and colors this time of year. Also, as a mom, I stick with a cotton sweater. It is easier to keep clean in white 😉
Olive Sweater: This turtleneck Olive sweater is currently sold out, but I have a feeling they will be bringing them back because of how popular they have been. This sweater has been on repeat almost every day. I love it and I know it will be holding strong till the first day of summer next year. It looks amazing with dark skinnies and a jean jacket on a cool day.
Cropped Sweater: I love cropped sweaters because if they have a loose waistband you can layer them so well and show off the shirt underneath nicely. This one from Faherty is in such a unique but useful color. I could see this being a staple for years.
Chambray: A good chambray is a year around essential to have. I have searched high and low for the right one in terms of weight and wear. Continually I come up to my JCrew ones. I have three. One for adventure and dirty things, one for dressing up, and one for every day. They are on repeat year around. The weight is warm in winter and cool in summer. It cannot be beaten.
Plaid Shirt: You can choose any type of plaid you enjoy or fits your style, but I love having a plaid shirt this time of year. I try to find one that fits the palette of my closet so everything can layer together easily. This one is from Faherty and is a wonderful weight.
Sweater Cardigan: Any type of cardigan will work, but I personally LOVE this one from Taylor Stitch. It is a wonderful weight, made in top notch quality, and is the perfect color.
Flannel Shirt: My flannel I wear all the time is from Madewell, but I love this one from Faherty as well. A flannel shirt is essential because it can act as a mid-layer on those cool mornings and warm days. I find them to be perfect for relaxed weekends or layered under a sweater.
Gray Tee: You still need tees obviously so I gathered up a few different styles here in colors I would suggest. Gray being one of them. This one is from Taylor Stitch and is a beautiful weight for wearing it through the years. The kind of fabric that gets better with age. That is what I am talking about.
White Tee: I have this tee from Mollusk in Indigo and wore it all summer. It is still one of my favorites. I love the way it layers and hangs. As a mom, it is perfect for relaxed days or evenings out.
Black Tee: A black tee is essential to have to layer under a field jacket or denim jacket. It looks clean, put together, and chic. I love how Everlane does their black shirts. They hold the color really well, which is so important with black.
Color of Choice Tee: I chose the color above because it fits my life, but I love this cut from Everlane. The fabric is dreamy, thus why I suggested it twice.
Top of Choice 1: I left three areas for tops of choice. I think it is important to have a few pieces that are out of the essentials list. This adds depth and variety to your closet without too much clutter. It also allows you to enjoy those few pieces you may pick up that may not fit in a said category. I love this bohemian one. It would be fun for warm afternoons in the fall and even layer well into early winter. I love pieces that still encapsulate summer but can be worn further into the year.
Top of Choice 2: This shirt from Elizabeth Suzann is all the heart eyes for me. I love loose flowy clothes, but I feel when it gets closer to cooler days, you want items that can feel warm too. This tunic top would be adorable with leggings or paired with a favorite boy jean or cropped pants. On cool days you can layer nearly anything over it.
Top of Choice 3: I don't have a lot of things in my closet I would say are for getting out of the house, but I have a few pieces each season that can be worn to meetings and so on but still fit my relaxed vibe. This top from Amour Vert is pretty perfect for that.
Sweatshirt: I love having a sweatshirt because they are like having a thick long sleeved shirt this time of year. They make for a great layer and are easy to dress up or down. These ones from Everlane are pretty dreamy.
White tank and Gray Tank: Tanks are still necessary even if there is a chill in the air because they can layer under a sweater on a mid temp day and provide another layer without making you too warm. They also look great under blazers and jackets as well.
Striped Shirt: It is an essential no matter the season. I always have one in my closet because stripes are the greatest thing to keep around. They are classic and work no matter what the day holds. A true necessity to me.
Gray Shirt: I love a gray long sleeve tee, because it doesn't feel too relaxed or up tight. It layers well and goes with everything.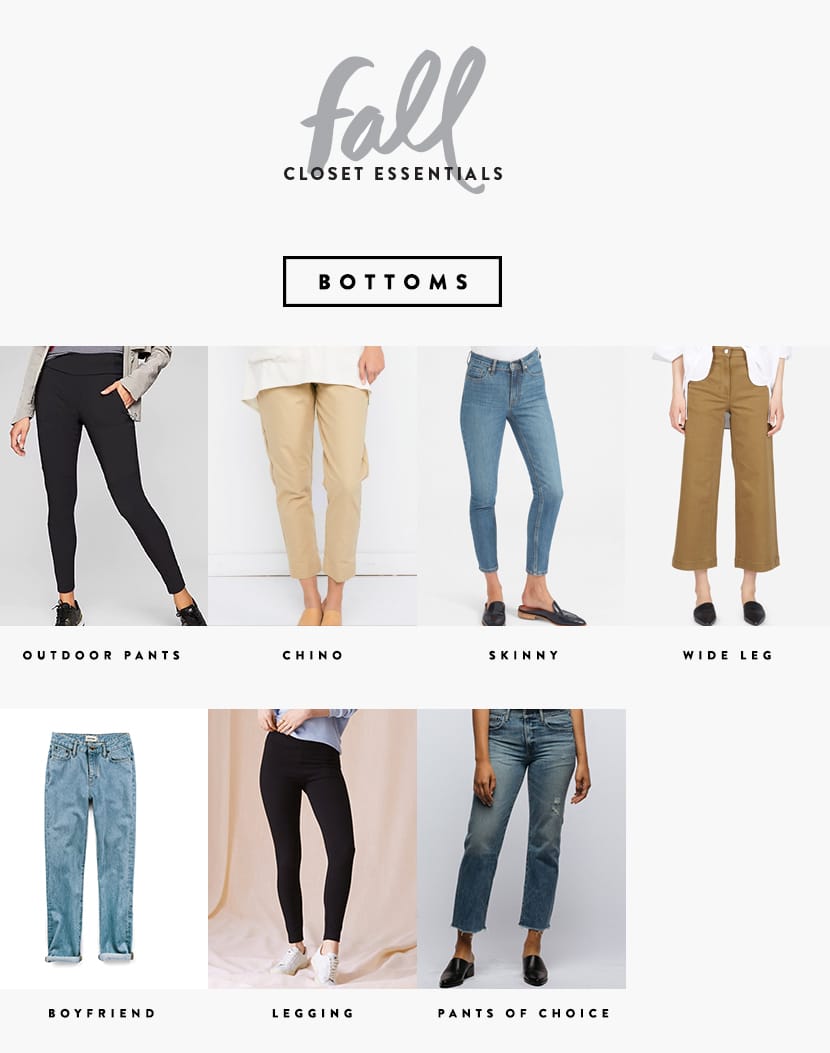 Outdoor Pants: We do a lot outdoors this time of year so I love having pants that aren't strictly leggings to go out and hike or do other things in. It is really nice to enjoy outdoors in something intended for that activity. Recently Athleta made a collection of COOL hiking pants. I am kind of in love currently.
Chino: Though we don't hang onto chinos into winter, I love the fabric for this time of year. It is comfy, relaxed, and balances well with the changing temps every day. Plus, these chic ones from Elizabeth Suzann will come in handy come Thanksgiving with the elastic waist 🙂
Skinny: This is an item you could have a couple of in my mind. I am anxiously awaiting to try Everlane's new denim. These ankle skinnies are kind of my dream. Total mom goals!
Wide Leg Crops: These wide leg pants from Everlane are budget friendly and top-notch especially when it comes to the butt pockets. Seriously have three pairs because they are that great. One suggestion, if you buy them, get the pockets on the front sewn so they don't poke out. Taking mine in this week.
Boyfriend Jeans: I live in Boyfriend jeans. Most of my days are in them. I have been eyeing these ones from Taylor Stitch for a while. They are classic in every way.
Legging: It is that time of year to pull them out. I love a good pair and this year I need to invest in a new pair. Thinking these Ponte ones from Lou & Grey will be the winners.
Pants of Choice: I am always going to choose more jeans. I love jeans, but you choose what you want. I have been loving these vintage cropped jeans from FashionABLE this summer already. I do one big roll to the fringe is up and it looks pretty sweet.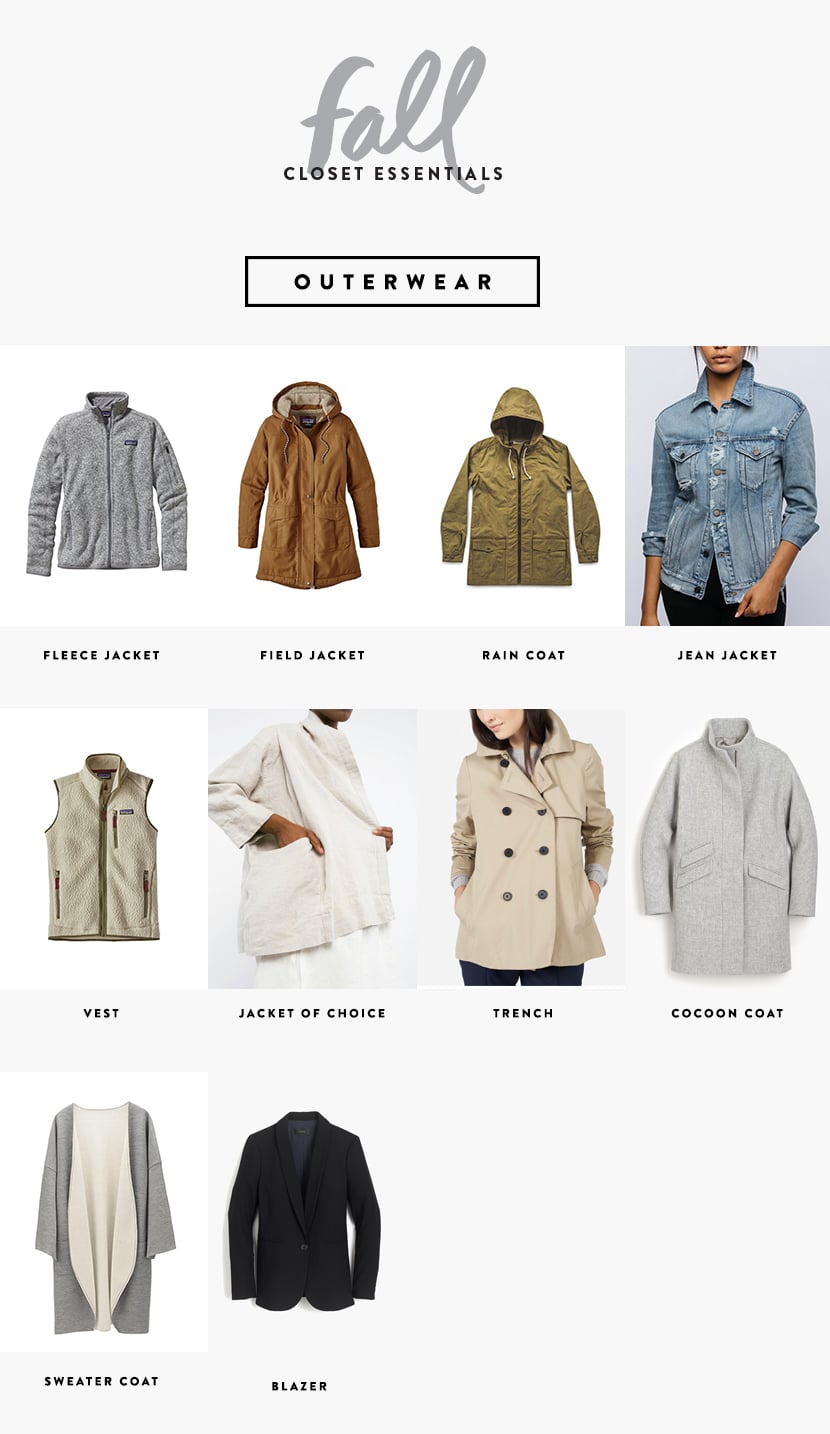 Fleece Jacket: Outerwear is my favorite! This jacket from Patagonia is basically an essential. There is no question. I live in it all fall and spring and then layer it in the winter. It is so comfortable and Patagonia is such a great company.
Field Coat: We aren't quite ready for our heavy coats just yet (hopefully) but having a good warm coat is important. This one from Patagonia is a perfect choice for fall and on those light days of winter and spring. It looks really chic but still will be warm. Important!
Rain Coat: I love typically choose a waxed cotton jacket for rainy days. I love how they breathe, wick water, and how they don't feel like a rain coat. This one from Taylor Stitch is gorgeous and if I didn't already have one I would be making this one a permanent resident.
Jean Jacket: Let me count the ways this is an essential in your closet. I can easily come up with a 100. Jean jackets may be reminiscent of your childhood, but they are a perfect layer this time of year especially. Do not underestimate its power.
Vest: This is the investment I am making this season in my closet. A vest is a necessary item for life in Michigan. I do not have one, shamefully so I will be changing that. They are great to wear on their own or under a parka on cold days as an extra layer.
Jacket of Choice: I left this open for you to choose something that fits you best. I personally love having a light layering piece in my close this time of year. So I am eyeing this one from Elizabeth Suzann.
Trench: I am not a classic trench girl, but this cropped one from Everlane does it for me. I have had the same one for over 5 years now and it still is amazing!
Cocoon Coat: I love these coats. In some parts of the country, this would be all you need all winter. Here this is great for less cold days but offers the warmth. They are very chic but still easy to layer with and very versatile piece for the cooler months of the year.
Sweater Jacket: I love a sweater jacket, especially when it is reversible. This one from Cuyana is made of Alpaca so it will breathe well and be warm on the days you need it most.
Blazer: I love blazers in fall because they can act as a jacket, look chic, and still be played down. My kind of piece. It has always been a staple in my closet for years.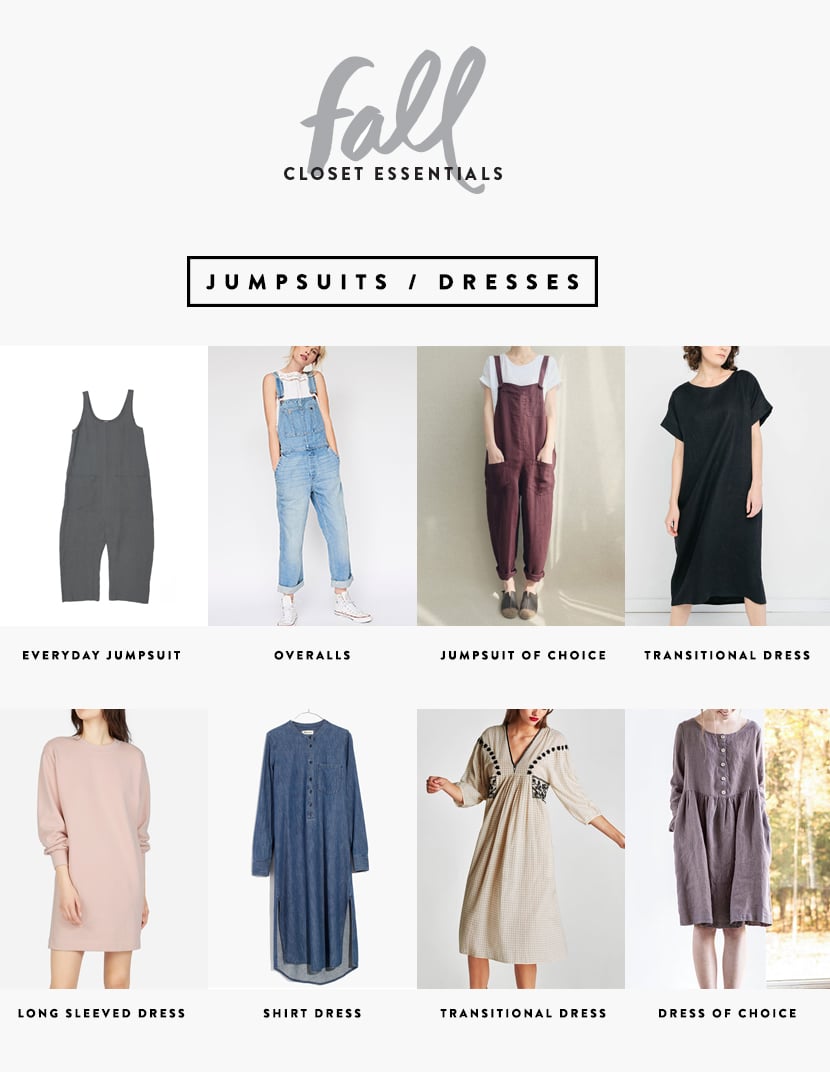 Everyday Jumpsuit: This is still the time of year you can use a jumpsuit. This one from Ilana Kohn is one that will transcend the seasons. This time of year though it will be easy to layer shirts under like overalls but still is really relaxed and easy to wear on its own on warm days.
Overalls: I have been on the hunt for the right overalls. Still have yet to find them, but they are an essential to me especially with my lifestyle. Let me know if you know of ones that are classic, fit well, and have a great wash. Thanks!
Jumpsuit of Choice: I LOVE these burgundy heavy linen overalls. They have been on repeat this summer and fall. Easy layer and super comfy. Obviously though choose something that fits your better here. Maybe you want a fitted jumpsuit or something else that is better for your day-to-day.
Transitional Dress 1: A transitional dress is one that you would have worn this summer but can be layered with tights, boots, and a coat very easily if need be. This one from Elizabeth Suzann fits that category very well.
Long sleeve Dress: I love this long sleeve terry dress from Everlane. The color is unique, but still neutral. It is thicker so it will be warm and easy to pair with leggings and clogs.
Shirt Dress: A great shirt dress is a necessity this time of year. Shirt dresses were meant for fall I think. This denim midi from Madewell is pretty perfect! Pair it with favorite boots, clogs, and layer with a long sweater.
Transitional Dress 2: Another one to keep from your summer. I love this one because of the colors it has but it still nods to summer days at the same time. Perfect to layer throughout the season.
Dress of Choice: I am obsessed with Not Perfect Linen and this dress is so sweet. I could see wearing this a lot throughout the fall and almost every season.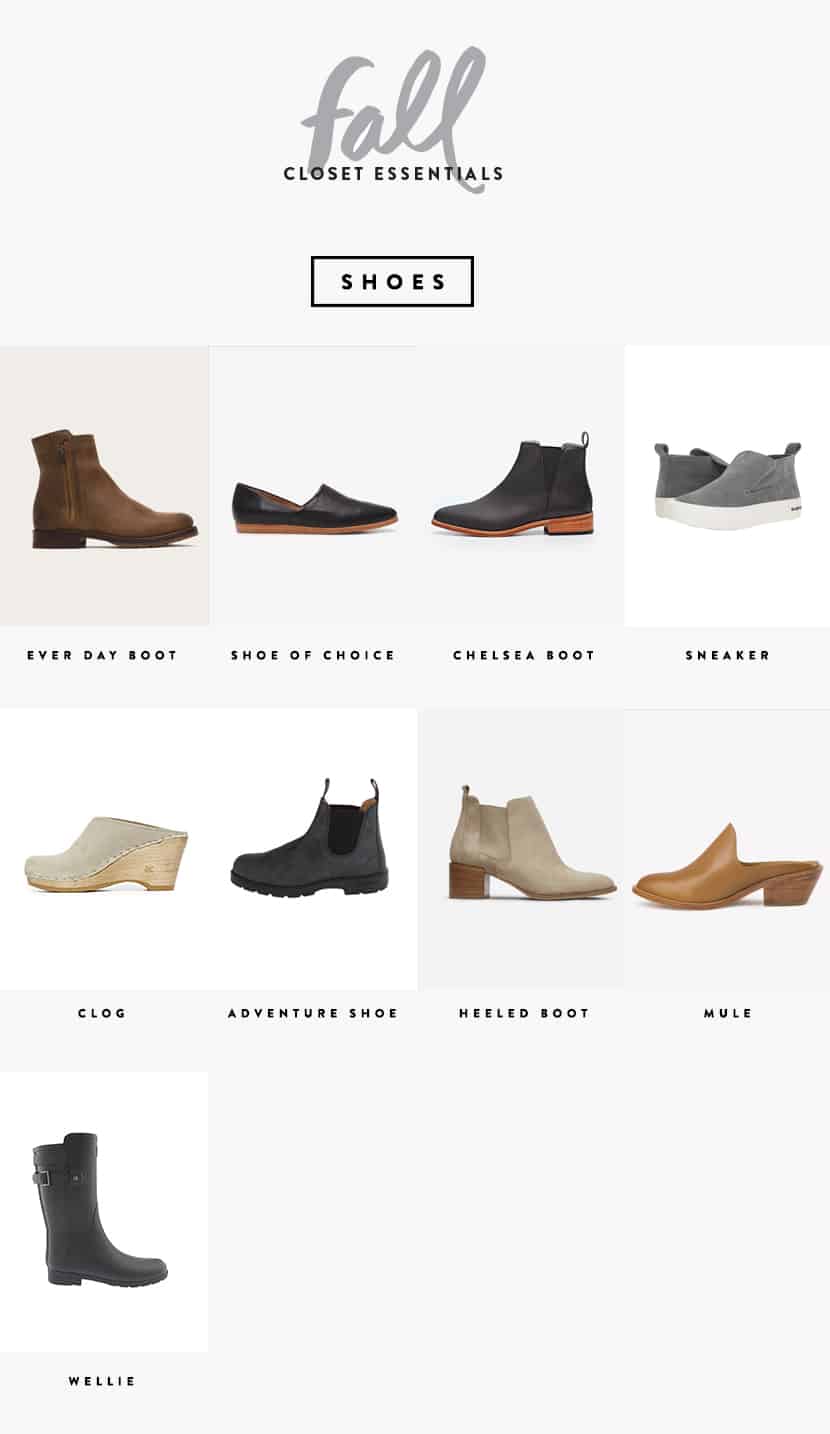 Everyday Boot: We all need a boot we can slip on and go. Ideally, they are water ready so if it is rainy you don't have to worry about it. These ones from Frye are beautiful and perfect for everyday wear.
Shoe of Choice: I love these slip-ons that are a take on the D'orsay flat. They feel more casual and easy to wear through the fall on warmer days but aren't sandals. A huge win!
Chelsea Boot: We all need a Chelsea in our life. These ones could qualify for the Everyday boot but I feel they deserve their own place in your closet. If I have one other obsession then denim it is boots. These guys are wonderful for walking a city long and hard but still looking chic.
Sneaker: Any sneaker will do, but I am a fan of high tops that slip on. I love these from Seavees so much.
Clog: I jumped on the clog train when I became a mother. Since I have been in love with them. I have been eyeing a pair from No. 6 for a long time. These are dreamy to say the least. It is my heel because Lord knows I cannot do much else than this.
Adventure Shoe: I will say it for the 100th time, I LOVE BLUNDSTONES. Seriously guys, if you live somewhere where you are out in the elements a lot, these guys need to be on top of your shoe list. They are perfect and so comfortable. Plus, Blundstone is a great company!
Heeled Boot: I have one pair and I wear them on date nights through the fall, but not often more than that. I love them and have had the same pair for years. Still great!
Mule: This is one I am still getting integrated into my life. It doesn't make a lot of sense for me, but it is great for work or nights out. It is dressier than a clog, but still a chic heel.
Wellie: Another Essential cannot live without item to have on your list. In the fall or as it gets cooler, make sure you have warm socks as the plastic of them transmits the cold into the bottom of your feet. You don't want to be cold when you are trying to stay warm and dry.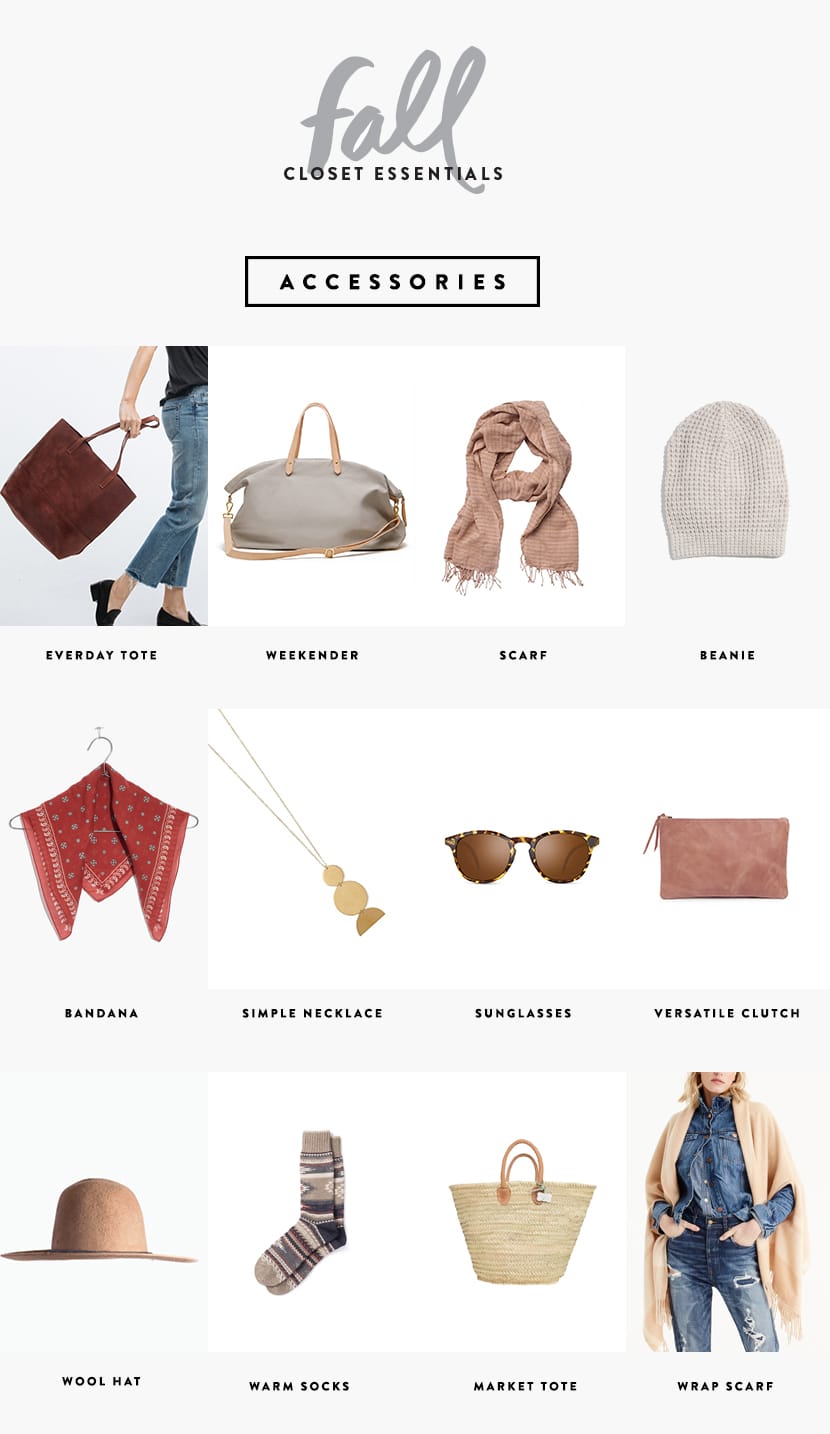 Everyday Leather Tote: A great leather bag will last a very long time and in fact, the more worn the bag is the better it looks too. I have one from FashionABLE and I love how it already aging these days.
Weekender: You have to have a good weekender. Fall is still a great time to get away on short weekend trips. This bag from Cuyana is beautiful and fits everything you should need for a great getaway!
Scarf: The layering begins this season so having a nice weighted scarf is important. Toward the end of the season you will want heavier ones but most of the season a nice medium weight scarf should do the trick.
Beanie: I always have one on hand this time of year. Some mornings you need one to hide your hair or it is just chilly enough to warrant one on a hike near the lake.
Bandana: The perfect accessory. I have fallen in love with the bandana trend and couldn't be happier it is a thing. It fits our lifestyle here so well. Madewell has a wonderful collection!
Simple Necklace: I always keep one on hand that can go with anything in my closet. I don't have a lot of jewelry but this necklace is one of the pieces.
Sunglasses: You cannot go anywhere without sunglasses especially during the fall because it can be quite sunny. We love Sunski sunglasses from Huckberry too.
Versatile Clutch: I always have a clutch on hand because it either can be tucked into your bag or be used for a night out. I love the color of this one from FashionAble.
Wool Hat: time to put away your Panama hat and bring out the wool one. I love Westerlind and these hats from them are really amazing.
Warm Socks: I keep a few good pairs of warm socks available this time of year. I love wool ones and ones that can peak out above my Blundstones and other boots.
Market Tote: You aren't done with going to the market just yet so keep that market bag handy.
Cape Scarf: The perfect way to stay warm on a cool evening around the fire with friends. Having a cape scarf is great because you can either use it like a scarf OR wear it like a cape. Win win in my book.
So tell me what essentials are you including for fall? How does your wardrobe change through seasons! I cannot wait to see how you change your closet and hear about it!