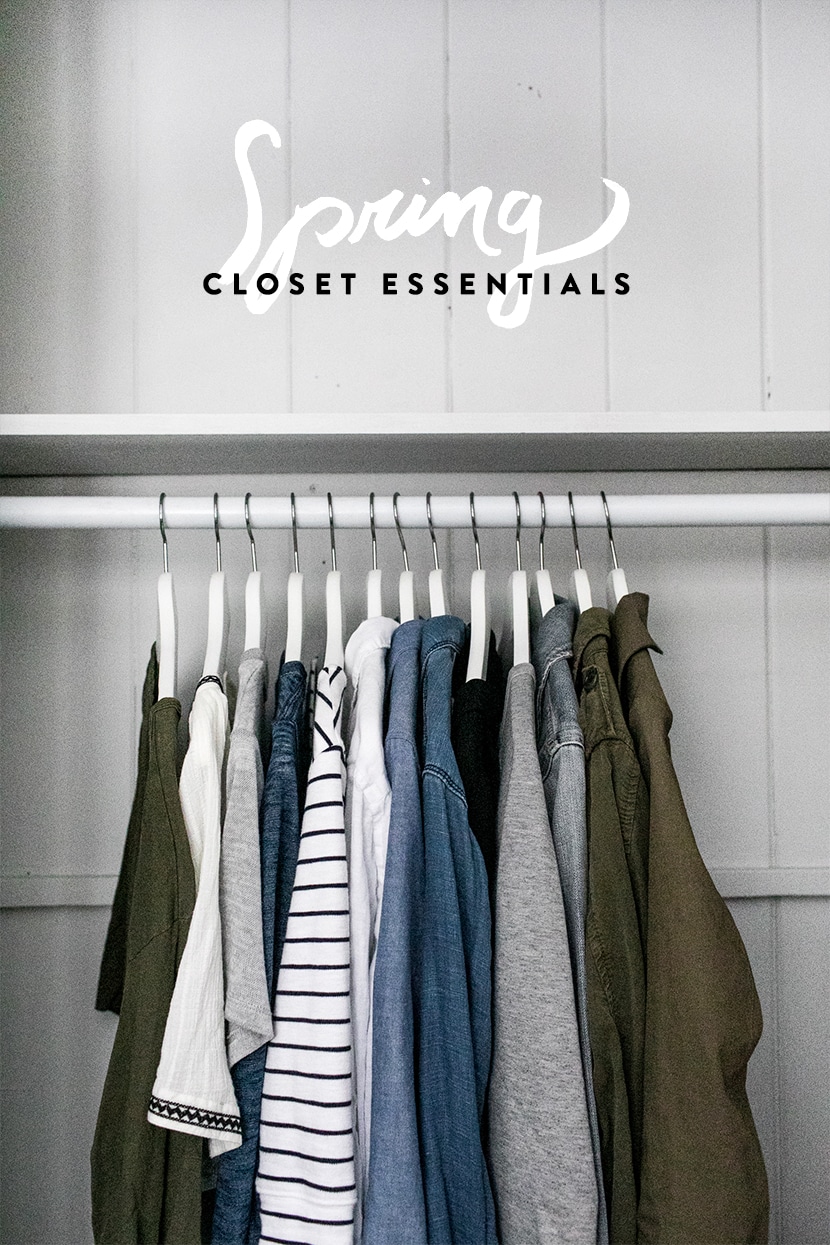 One of the essential parts of being mindful of the seasons is our closet systems. My father always told me whenever I whined about the weather growing up that there was never bad weather only poor clothing choices. At the time as a young girl, I hated that statement especially as a teenager wanting to be like the girls I saw on MTV wearing shorts and t-shirts on spring break. Now after moving away from a seasonal life and now coming back and choosing this lifestyle, I understand what he meant.
Our closet systems shift with each season, some pieces will show up every season and never leave their place, but others are meant for only days or weeks of a season. Some years will also be different as well. Sometimes summer won't be as warm and sometimes it will be warmer than average. This is why having your essentials for each season covered is extra important. So each season I will be giving you a checklist of the essential items you need for your closet as well and pulling together a large list of suggestions and descriptions of the pieces I included. This checklist will come out within the first few weeks of the season so you have plenty of time to update our closet for the season. Then each style post I will be utilizing only pieces from this list of essentials so you have ideas and inspiration of how to use your own items and provide a spark of inspiration when you get bored with the pieces.
Now, this isn't a capsule wardrobe. I love that idea, but I have found from practicing it that it can feel limiting so instead I decided to make a strict list of essentials for each season. I then will many times add in other items I find fun for that season, but when I make sure I have the necessities for each season, I find I have more intention in my closet without being limited at the same time. The process of organizing my closet each season makes sure I weed out anything that isn't being worn and it keeps my closet focused and clutter-free as well. Each season I put away the things that won't serve me for that season. This way I actually am aware of everything I have and what I do actually need. Ultimately I find it helps me spend less time hunting for outfits each day, I spend less money, and I buy things I actually love.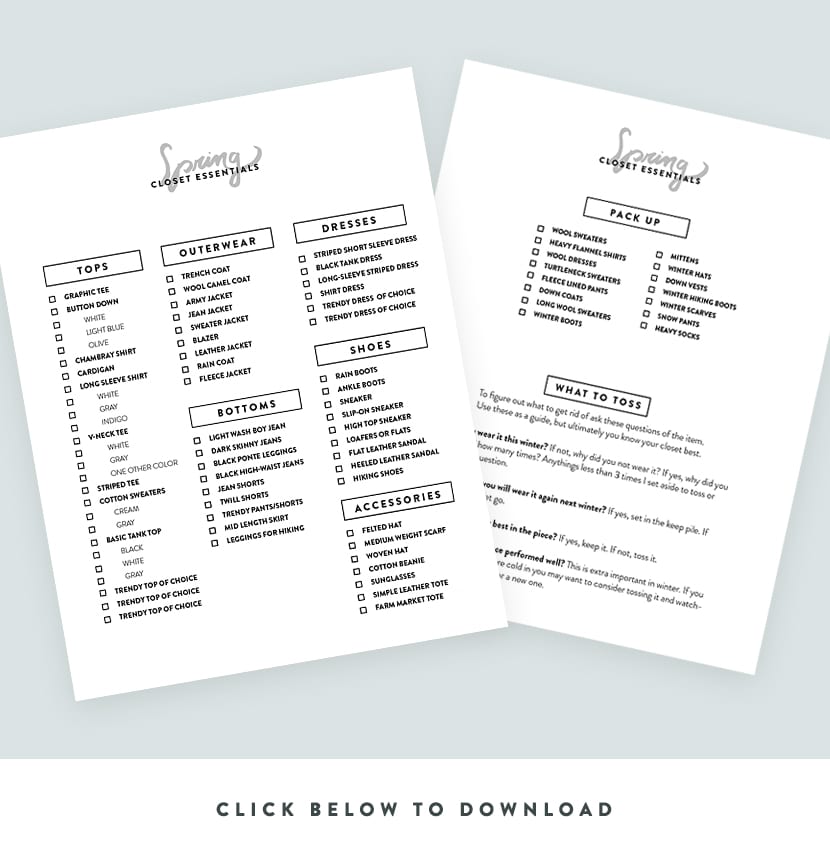 With all that said, here is YOUR CHECKLIST for this month. Just click here and you can download a printer-friendly sheet to help you as you figure out what you need this season, what needs to be tossed, and what needs to be put away now that winter is over. You will find this list is based on my personal style, which means you won't see lots of color or florals or patterns. This is an essentials list so feel free to add those things on top as you see fit to accommodate your personal style.
Now let me give you a visual overview of what you will need this season and why so you can see what I have in my closet.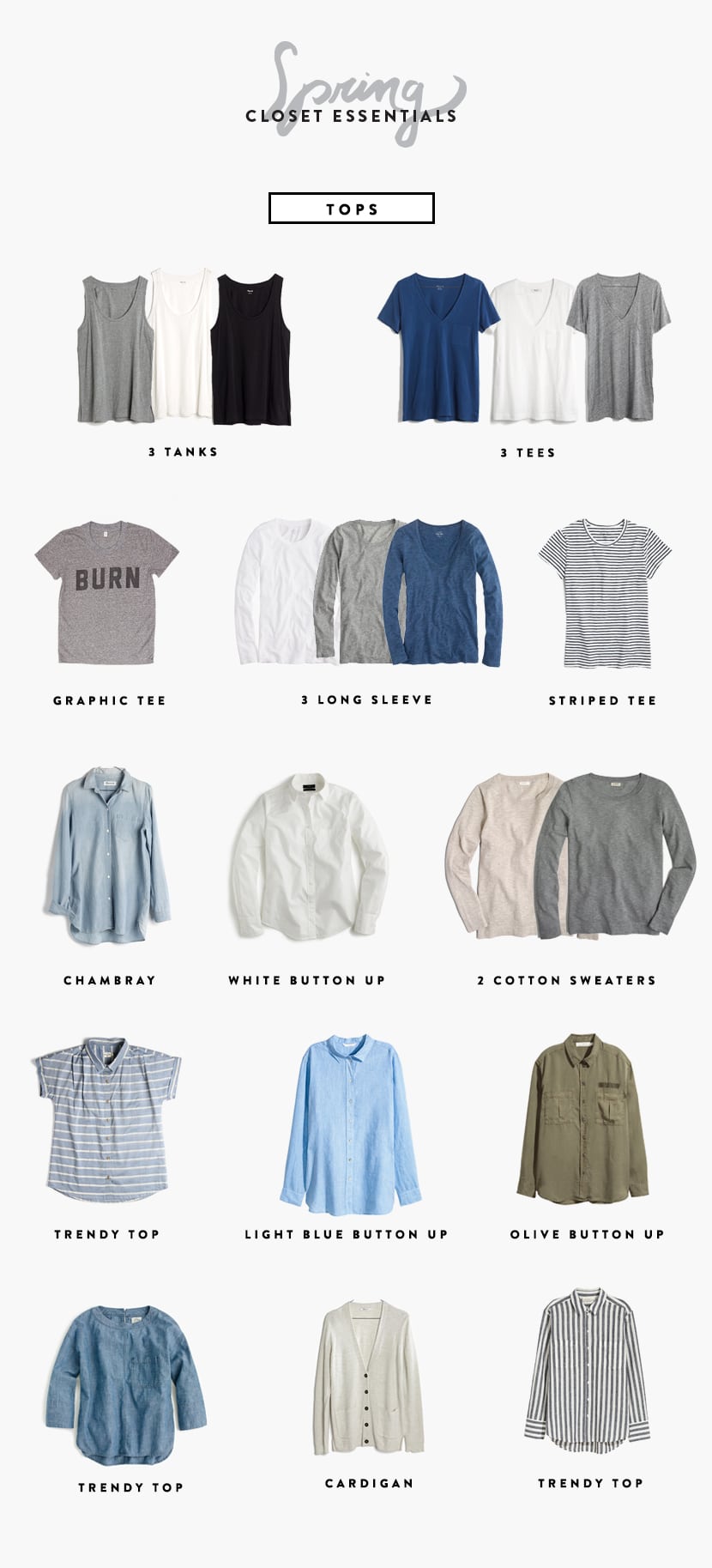 3 Tanks:
Tanks are perfect for layering under a button-up or a sweater especially this time of year. Layers are important in spring because in the morning it can be cool and the afternoon the sun warms everything up.
3 Tees:
I live in t-shirts, especially in the spring and summer. So I love to at least have 3 classic colors on hand. I actually have more, but I know most people don't wear the number of t-shirts that I do. These are the colors I always have on hand, but this collection of tees from Madewell has a lot of great colors at a great price so I suggest them. You also may want crew necks, which is okay as well. Whatever works best for you.
Graphic Tee:
A graphic tee is a great way to make nearly any outfit casual. From tucking the tee into a skirt, wearing with jeans, or layering under a button-down. I love Bridge and Burn's graphic tees in particular.
3 Long Sleeve Tees (Gray and White and Indigo):
Long sleeve shirts are an important piece of a wardrobe this time of year. You can layer them under jackets on cool days or under a dress to make it a little warmer.
Striped Tee:
Like I said I wear a lot of tees, but a striped tee is an essential in any closet. In fact, I have kept mine in my closet year around. I find a black and white tee to be a perfect item to have on hand to either layer under a blazer for a meeting or to wear with a pair of shorts.
Chambray:
This is another shirt that stays in my closet year around. I have two that are slightly different weights and textures, but you should at least have one in your closet. I love this one from Madewell because of the relaxed cut of it.
White Button Up:
I particularly lean toward linen this time of year because on cool days it won't feel cold on your skin and warm days it won't feel stiff or heavy. I look for linen shirts whenever possible. An easy steam and they relax and lay perfectly instead of needing a perfect press. Though there is nothing like a perfectly pressed shirt and in fact, my favorite guilty pleasure is to dry clean my white button up.
2 Cotton Sweaters:
You still need great sweaters in spring and summer, but you don't want one made of wool or anything other than cotton. The cotton breathes and wears in a more casual way so you can layer it and feel warm, but during a warmer day not feel too warm. Cotton is my go-to fiber in the spring in summer.
Trendy Top 1, 2, and 3:
I left these places in the list mainly so you could choose three shirts that you feel are essential to your own closet. These would be items that you wear often and you feel are essential to your lifestyle. An essential is chosen by the number of wears you can get out of it and how many ways you feel it can work in your closet. I chose three above, but choose what you feel is best for you.
Light Blue Button Up:
Once again I choose a linen here, but I love a great light blue (not chambray) button up. It is great for work and for casual afternoons in the spring. The light blue color looks great in spring too.
Olive Button Up:
I have two of them in my closet because I wear them so much, but one that has an army look to it is a lot of fun to keep in your closet. When I travel I typically layer mine as a light jacket especially this time of year, but it also can be tossed under a great blazer to look more professional.
Cardigan:
Any type of cardigan will do here, but make sure it is cotton. This may be one that is just open and has no buttons. Really it is up to you and what works for your style.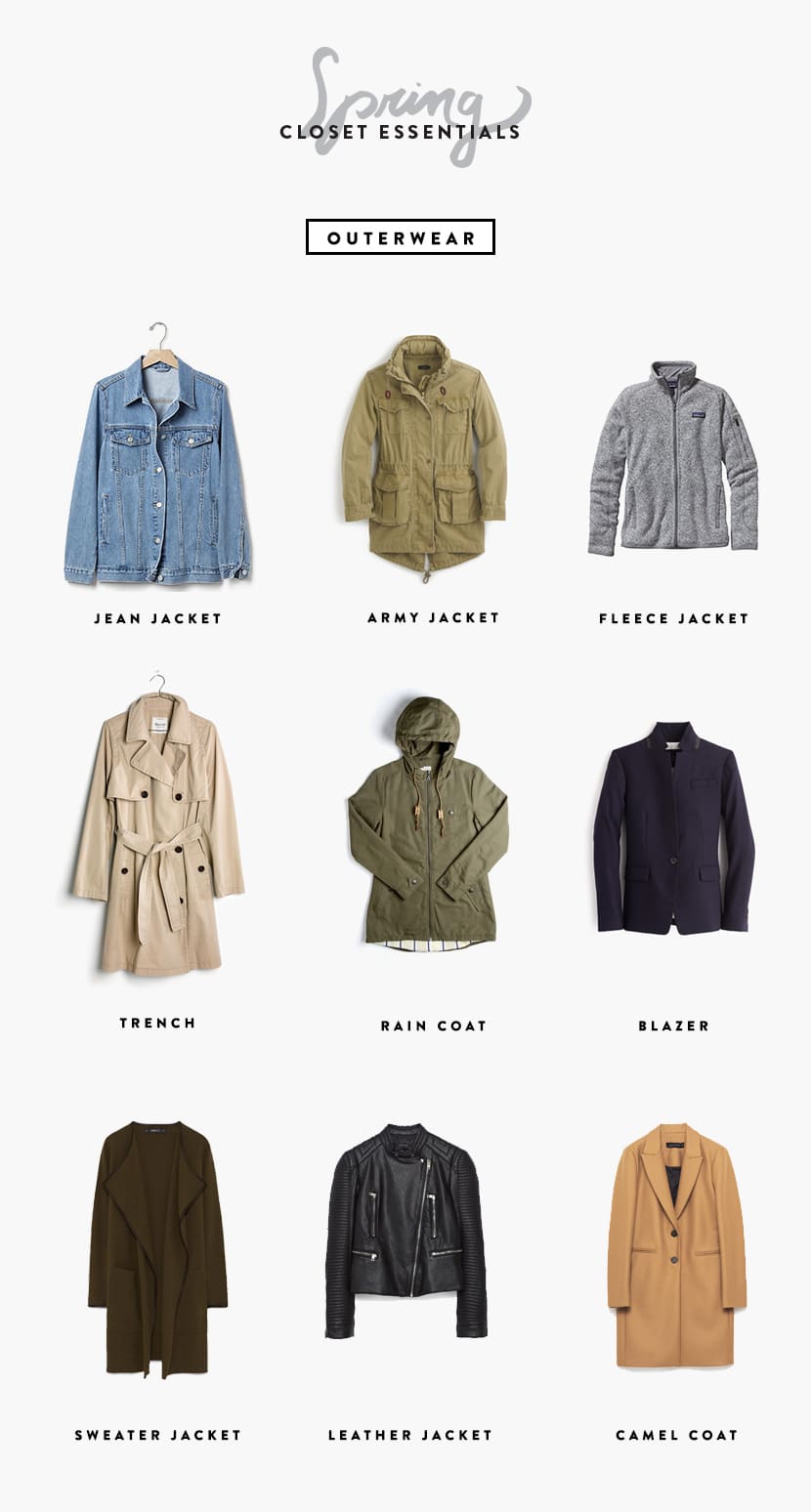 Jean Jacket:
I live in my jean jacket once it hits above 60 degrees here. It is my jacket I keep in the car from spring to fall because I never know when I will need an extra layer, but it always does the trick and goes with almost everything I wear. I have one from Levi's but I couldn't find the same one on their site, which is too bad because it is an awesome jacket. BUT I love this one from AYR as well. I suggest getting one that isn't cropped but one that is a little longer and make sure it gives room for layering.
Army Jacket:
When I travel especially in the spring, I love army jackets. They typically are made of a strong canvas that deters that chilly wind of spring and keeps outfits comfy and casual without a lot of bulk. I love this one from Madewell.
Fleece Jacket:
My favorite any time of the year jacket that I wear nearly 3-4 times a week is this fleece jacket from Patagonia. I love it for hikes or just a quick layer when it is a little chilly outside. It is so comfy, washes well, and fits great. I cannot say enough great things about having this in my closet (I will also admit I bought it because my dad had one…haha…my dad and I have similar styles haha). It may be outdoorsy, but when you live in a seasonal climate these pieces are essential.
Trench:
I am not someone who likes the long trench, but a trench is essential to the transitional seasons so I picked up this cropped one from Everlane and I have never looked back. I love the fit of it and the color, but if you want a long one I suggest their drape trench.
Rain Coat:
There are a lot of great rain coat options, but for where we live I love having a waxed cotton jacket. I have one from Bridge and Burn that has been with me for over 3 years and it still looks brand new even after traveling nearly everywhere with me. A great waxed cotton jacket should become better with time and if you feel the wax is wearing off you can have it rewaxed…crazy, right?! I also love waxed cotton because it breathes well which is hard to find in a rain coat, but more about that next month as I will be rounding up the best raincoats for spring.
Blazer:
You should never be without a blazer in your closet even if you work from home. I think a blazer is one of the most powerful pieces in a closet. You can instantly turn any outfit into a work outfit so choose a great one. Jcrew does a wonderful blazer for women (why is it is so hard to find!). It fits well and has that extra level of quality to it, which makes a huge difference in a good blazer and a great one. This is a place to invest a little.
Sweater Jacket:
Sweater jackets are a wonderful thing this time of year. I love ones like this one from Zara. It is chic and can be worn to work but also could be thrown over your leggings on a casual weekend.
Leather Jacket:
A leather jacket is similar to a denim jacket in the number of uses. I love it for going out during the spring and fall. It cuts the chill in the air, but still looks cool and makes you feel like a rockstar. If a leather jacket isn't your thing you can eliminate this one and replace it with another essential coat for your lifestyle.
Camel Coat:
Though I told you to put away all of your coats, the one you need to keep is this one at least till it gets too warm for a coat like this. A great camel coat is a necessity still in spring. Wear it open with some sneakers to get coffee or to pick up groceries. It will look chic, but still keep you warm.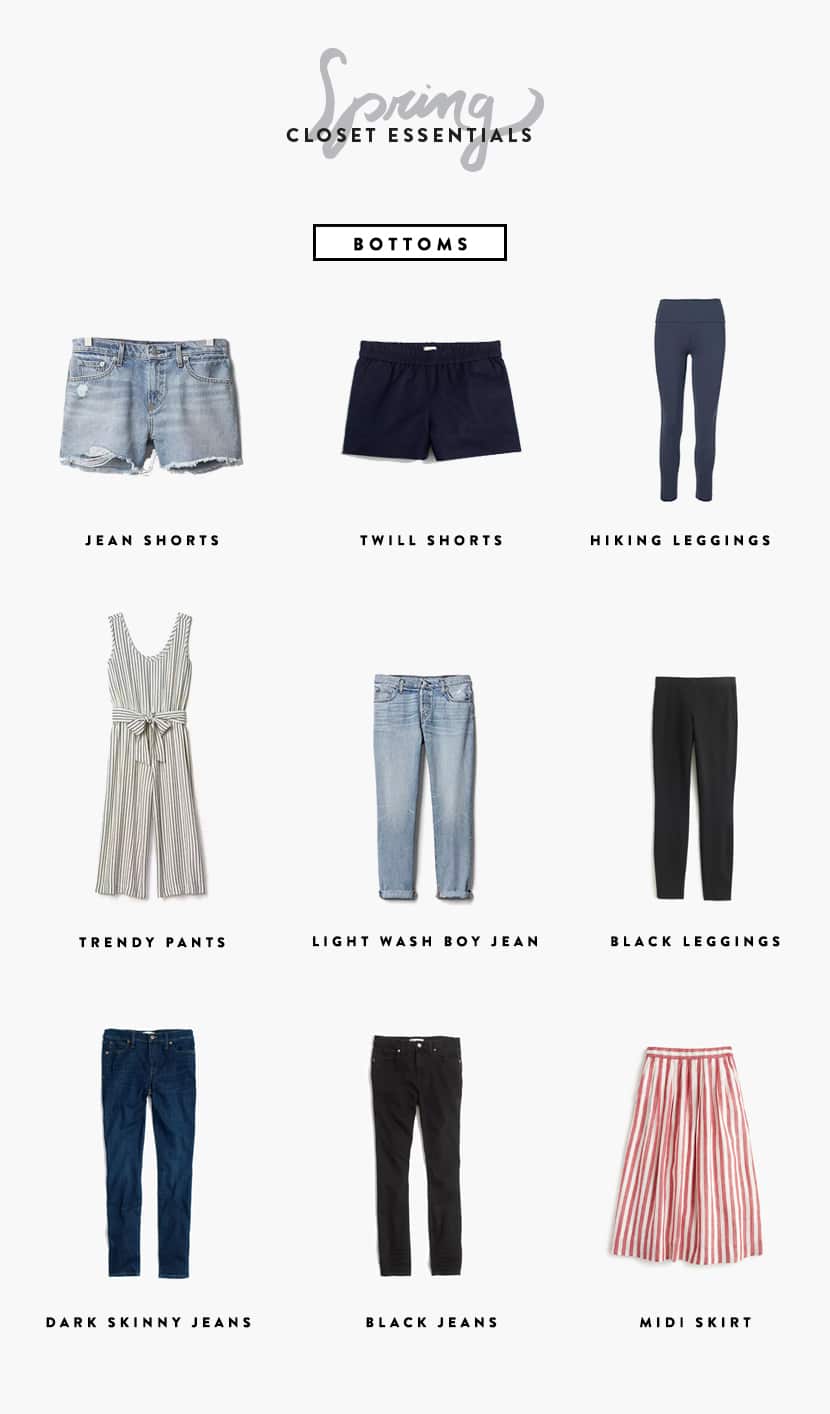 Jean Shorts:
I love how jean shorts have taken a new shape these days with a more boyfriend cut that is relaxed and less of a squeeze. This time of year I wear them a lot on warm days in the garden with my Hunter boots, but they work great on warm day hikes and more.
Twill or Linen Shorts:
I am a big fan of elastic waist shorts because they are casual and comfortable. My kind of style, but any type of twill short will do well here. The reason to have these are they will dress up more easily than a pair of denim shorts.
Hiking Leggings:
I keep a pair of leggings to hike in as a staple in my closet. These are also best used for working out as well, if that isn't something you want or need in your closet as an essential swap them out for something that fits your style better.
Trendy Pants:
You can choose whatever type of pant you want to fill this slot, but personally, I love jumpsuits especially for spring and summer. I love their ease in getting dressed and like to keep at least one in my closet. This one from Gap is winning my heart this season.
Light Wash Boy Jeans:
If there is one thing I wear the most it is my light wash boy jeans from Gap. I dress them up with heels or wear my slip-ons with them. I then toss on either a cute tank or tee or an oversized top with them. They are my favorite thing in my closet for spring.
Black Leggings:
I know you thought you were going to ditch the leggings with spring arriving and just wear dresses, but the truth is black leggings hold a place in a closet till it gets above 65, which for us doesn't happen till May. So I will still be giving these guys a place in my closet for now. I love them with an oversized shirt, long jacket, and sneakers.
Dark Skinny Jeans:
There is nothing better or more classic than dark wash skinnies. I look for pairs with little to no whiskers. Though I love Madewell's skinny jeans, I think AYR may rival so check them out. I LOVE mine almost too much. The best part…for us short legged ladies *raises hand* they have a 26in and a 28in inseam option. YUP!
Black High-Waist Jeans:
My favorite thing besides my light wash boy jeans is my high waisted jeans. They are classic, hide that tummy I still haven't had time to work off post baby and make my legs look longer when I tuck in a button down. All wins and very much an essential piece for spring.
Midi Skirt:
I don't wear a lot of skirts because I have such tomboy style, but I love a nice skirt in the spring. They make for a great dress up for a baby shower or get together for brunch. Having a great one to dress up or down is for sure an essential. I love this linen one from J.Crew.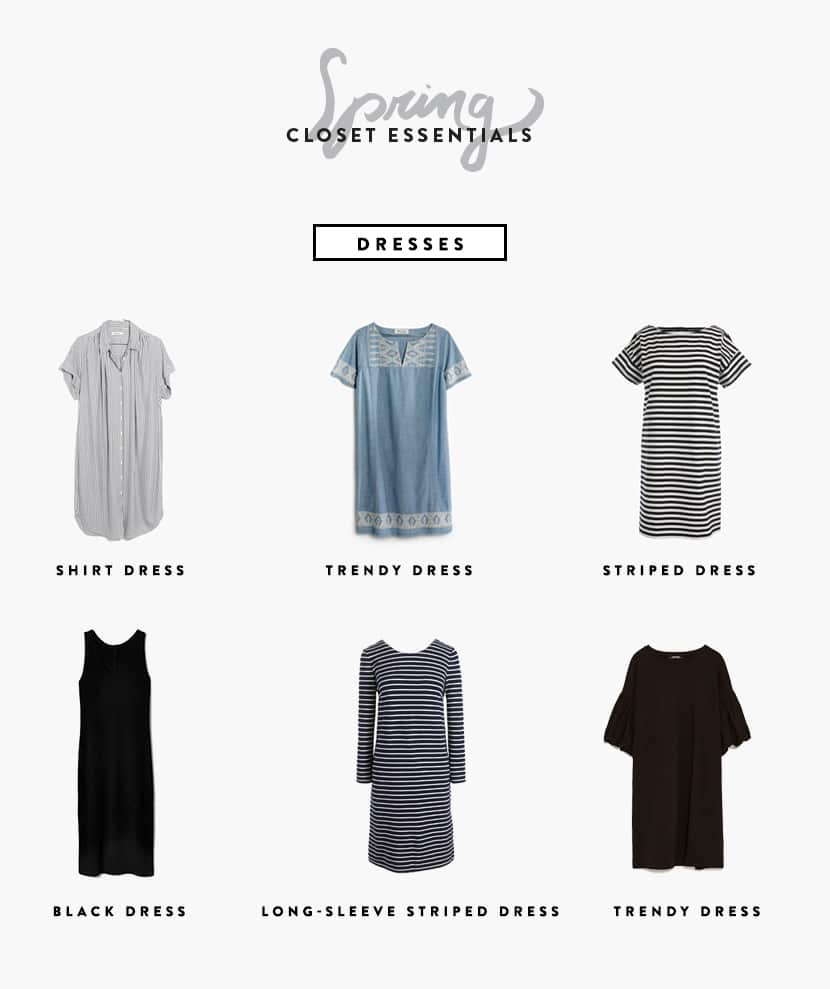 Shirt Dress:
I love shirt dresses, especially after I had Hayes. I have about 5 of them in my closet I rotate through depending on the season, but I find them to be the perfect dress for me because of the cut. They look great for meetings with a blazer or leather jacket or you can toss your jean jacket over for a day to the market. I am eyeing this one from Madewell right now for spring and summer.
Trendy Dress 1 and 2:
I am not a huge dress person in the spring because it really isn't warm enough here till May to consider dresses as an option, but I know you don't all live in Northern Michigan so I am leaving two holes here to fill in a couple dresses you feel are essential to you. I think choosing one spot for a dress you can dress up for an event is always good. I love this puff sleeve black one because it is simple, but has some trend to it. I also think an embroidered dress is a trendy staple that can work well in most closets as well.
Short-Sleeve and Long-Sleeve Striped Dress:
A striped dress is a magic thing in a closet. Believe me. When I travel I only take a striped dress and a black tank dress with me. That's it, because they serve every purpose possible. A tee style one is casual but toss on any jacket above and you will have a whole new outfit whether going to a meeting or just getting coffee with a friend on a Sunday.
Black Dress:
A simple black dress is the best thing you can ever have in your closet. I need to mine this season so I am eyeing this one from Gap because of the length and the sleeve style. A black dress like this that fits well can be dressed up or down. Though it isn't a spring-like color so to speak it is a necessity in your closet. Believe me.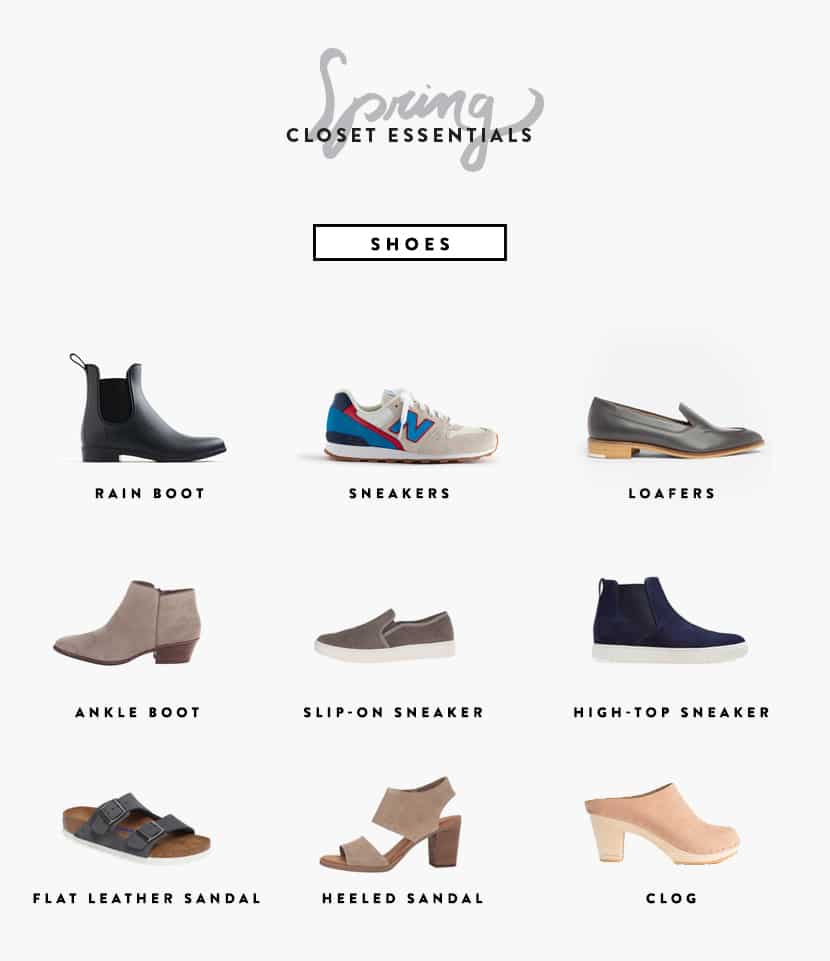 Rain boots:
I wrote a post about the best rain boots out there and you can check it out, but there is no way you can survive spring without a pair.
Sneakers:
I am a sneaker girl. I wear them a lot and they work with everything in my closet. My favorite thing is wearing my boy jeans rolled up with a great sneaker and tee. Even if that isn't your favorite outfit, you should have a great casual pair of sneakers on hand to wear with leggings or to run errands. I love these ones from New Balance. Simple and classic.
Loafers or flats:
I need to add these to my closet because spring is a great time to make sure you have them. Finding the right pair can be hard, but I love Everlane so I can only imagine these loafers are pretty amazing.
Ankle boot:
This is the time of year to rock your boots especially if you had to hide away your nice ones because of ice, snow, and salt all winter. I get so excited when the snow finally disappears so I can pull these out this time of year. I have two pairs of these Sam Edelman ones and I love them!
Slip-On Sneaker:
I have a post coming up about wearing these guys, but I LOVE LOVE LOVE wearing slip-ons. I have been into them since high school and my closet doesn't go without a pair I love these ones and I also have ones from Vince that make my heart so happy.
High-Top Sneaker:
When I travel these our my favorite shoes to wear. I slip them on and I don't look back. TSA lanes don't have anything on my high-tops. Easy on and off. Sure, they are on the pricey side, but there is a cheaper entry style pair here so you can see if it is worth the investment. I won't lie that these shoes are my favorite ones I own though. I wear them all the time. High tops may be a stretch for you style wise and it took me some time, but I love how they look with skinnies and after traveling in Europe so much and seeing other women wear them I fell in love. Plus, as a mom, I love them even more.
Flat Leather Sandal:
Though I won't slip sandals on for a while since snow just fell again here, I live in my Birkenstocks and other flat sandals all summer. I have two pairs I swear by and consider my essential items in my closet, but you should have at least one pair. Choose a black and camel leather color depending on your wardrobe.
Heeled Sandal:
You should have at least one pair of heels you can wear this spring in your closet. I don't wear heels much, but I always like having a pair on hand for the right occasion. I love these ones from Toms!
Clog:
This is the only heel I wear on a regular basis. I love clogs this time of year in particular. They look great with dresses and with jeans. A good pair does cost some so it might be something you invest in if you don't have a pair.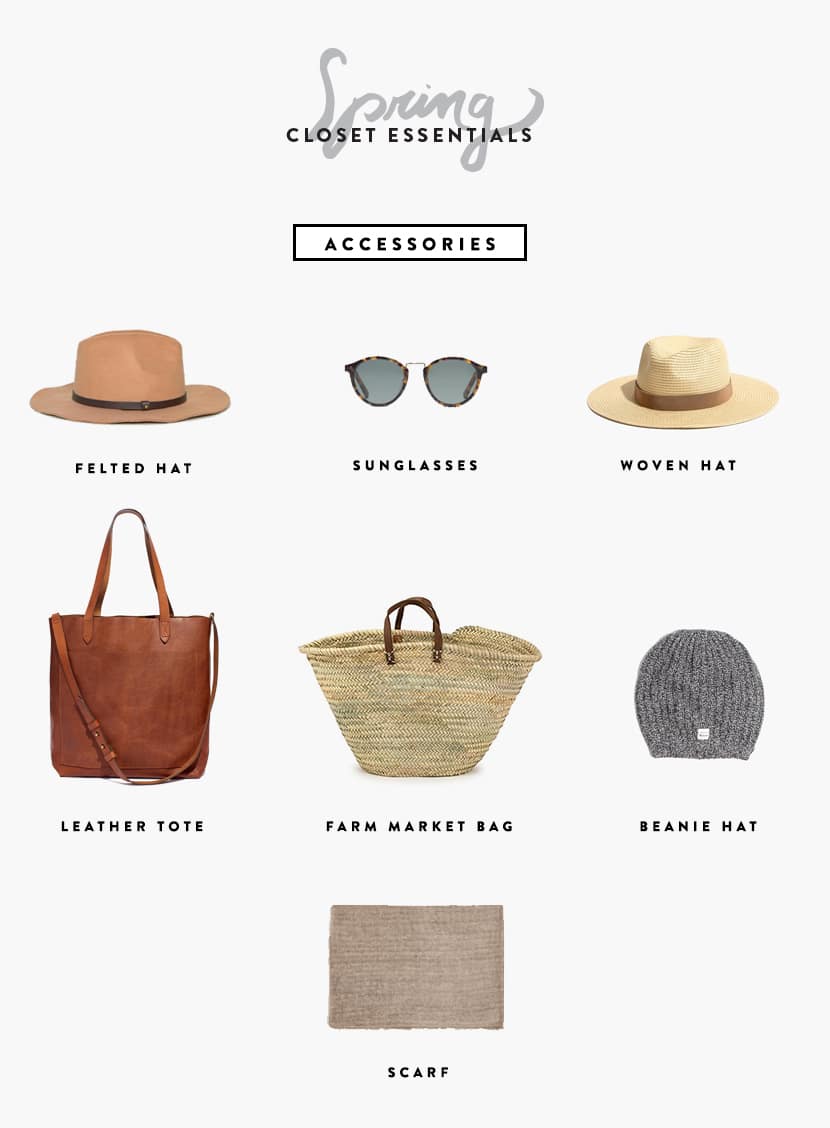 Felted Hat:
Spring is a great time for a felted hat because it keeps you warm, the sun off your face, and the weather away as well. I wear mine a lot this time of year when outside in the early months of spring.
Sunglasses:
Sunglasses are always necessary. I have a few pairs that all depend on the season, but I stick with a simple tortoise shell pair as my essential pair.
Woven Hat:
As spring begins to change to summer a great woven hat will replace your felt hat for the most part. Perfect for happy hours on the patio or days wandering the shore. I love this one because it is packable. A huge bonus!
Leather Tote:
I am not a bag person. They are really just a means to an end for me so I love a tote like this one from Madewell. Classic and simple and fits everything from Hayes's favorite book and toys to my chapstick and wallet.
Farm Market Bag:
I love having a tote that is solely for market stops during spring, summer, and fall. I love the simplicity of a french market tote, plus they work for travel, weekend trips, and more.
Beanie:
Don't pack it away just yet because you will be using it a few times I am sure. I keep a lightweight beanie around for chilly days.
Scarf:
I keep at least 1 scarf around each season. They serve so many purposes and extend outfits especially when traveling.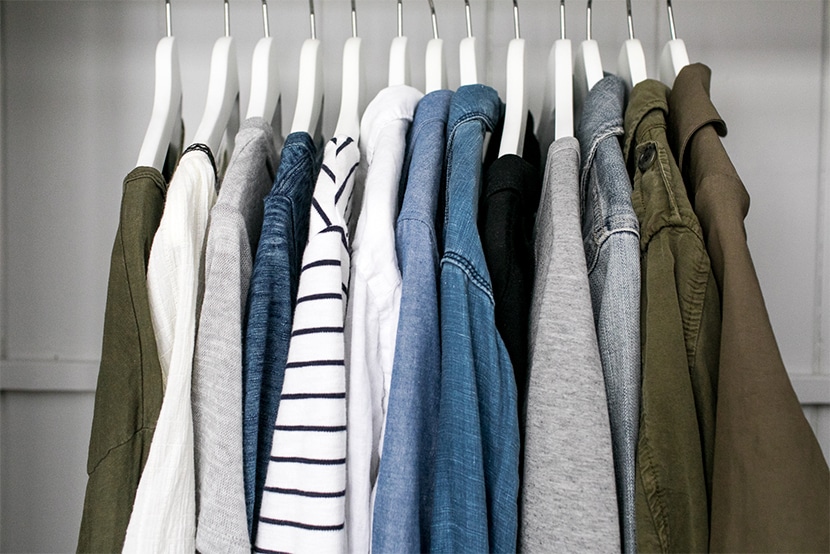 I am so excited to begin this series with you and would love to hear your thoughts on this season's essentials list because each year I will make updates with suggestions and things you guys would like to see added. We will resurface this post each year for you with a proper coordinating edit as well so you always have a place to go to help you keep your closet seasonal and well-stocked. Just remember there is never bad weather only poor clothing choices.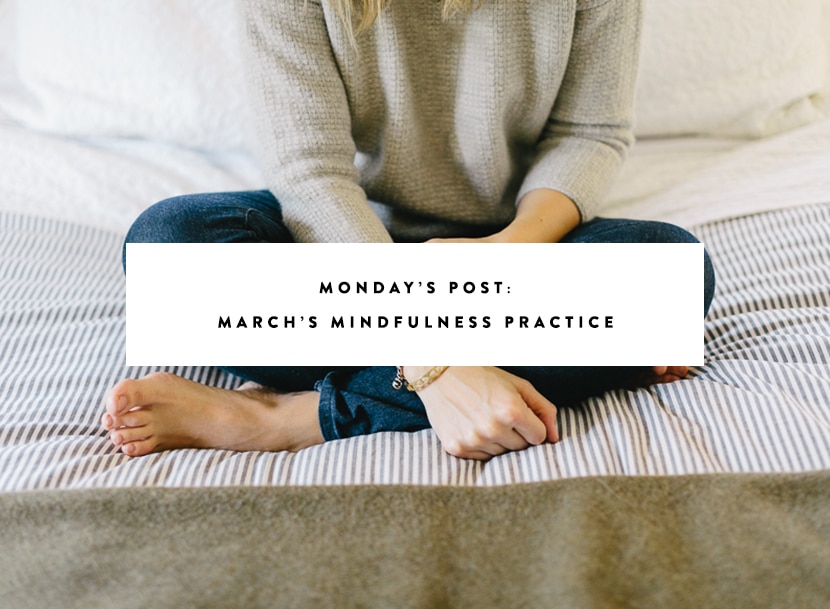 On Monday, we will be sharing another new monthly series. We will be sharing a monthly mindfulness practice or mindfulness ideas for that season. This first one we will be giving you a worksheet to print and a rhythm to practice a few times a week as we enter spring. These practices I am doing as well so it is exciting to share with all of you knowing we will be in some way practicing them together. Mindfulness is an important part of finding happiness and joy in the routine of life no matter what may be going on beyond the present moment. Excited to see you on Monday!